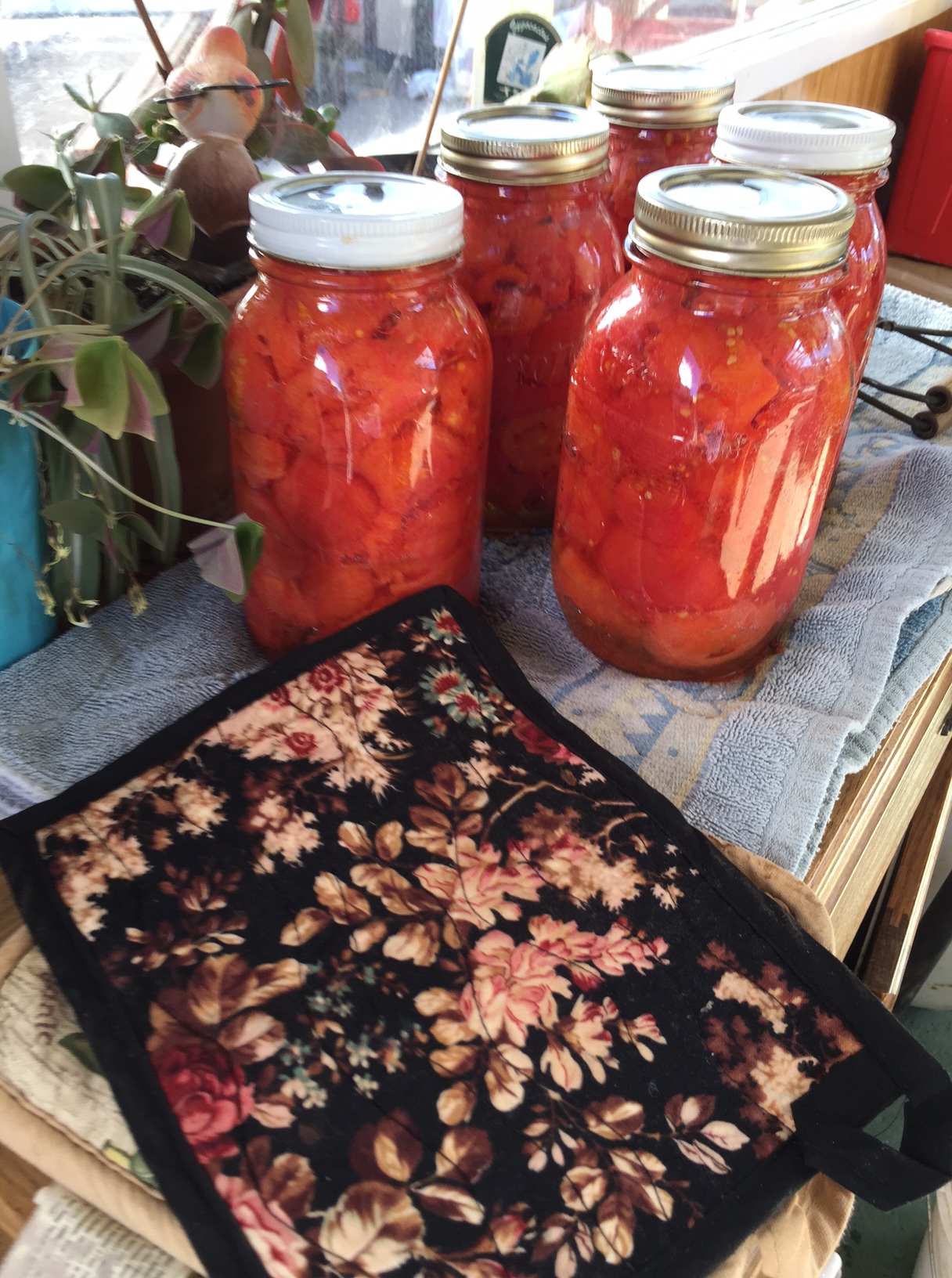 I have been wanting to make a menu plan for a few weeks, but haven't had time.  I've been too busy gathering, canning, and preserving for winter.  I will assure you, we have been eating never-the-less!  Now, it's time to plan meals that use my preserved food.  I am not one to can/freeze food and then want to hoard it.  I figure I've gone to all that work, now I want to use it up!
I usually plan one meal for each evening, and plan the leftovers for lunches and perhaps one night later in the week.  This week, I'm trying something a little different.
When I plan menus, it saves me time, money and stress.  Since I get home at 6:30, 3 nights a week, the rest of the family gets hungry before I get there most of the time.  Last week, I made chicken breast, drumsticks and turkey meatloaf on the weekend, and put them in the fridge.  Then, it was easy for Rob to grab what he wanted, make a couple of side dishes, and serve dinner.  The girls clean up the dishes, since it's their chore, and they save me a plate.  Except for the night they didn't, but that's another story:)
I asked him how it worked, and he said it helped him a lot.  When he gets home from his job, he is tired, but has been trying to do at least 1 extra job around the house or shop each evening.  I'm all for that!! So, if dinner is cooked or in the Crock pot, it makes that do-able for him.  Because I have appointments for the girls both Wednesday afternoon and Friday afternoon, I will make sure the meals are pre-cooked those days, as well, or in the Crock Pot.
Sunday: We had ham and scalloped potatoes for our family Sunday dinner.  My sister hosted this week, and I made a small broccoli salad, marinated cucumber salad, and lettuce salad.  I used garden produce in all 3 salads, with only a few purchased items.  The garden is coming to an end, but there are still items out there, and I want to use them.
Food for Rob to choose from for the next few days and lunches for himself and the girls.  I will also use some for lunches during the week:
I cooked a roast in the crock pot while I was gone today.  He can serve it as meat on a plate, or take it in his lunch, or make a sandwich.
Spaghetti sauce:  I will make this and use it for lasagna one day, and spaghetti another.  I have a quart of tomatoes that did not seal and needs using up.  I also have zucchini from the garden, and I may make part of the noodles in the lasagna out of them.  I usually put a little chard in the sauce, too.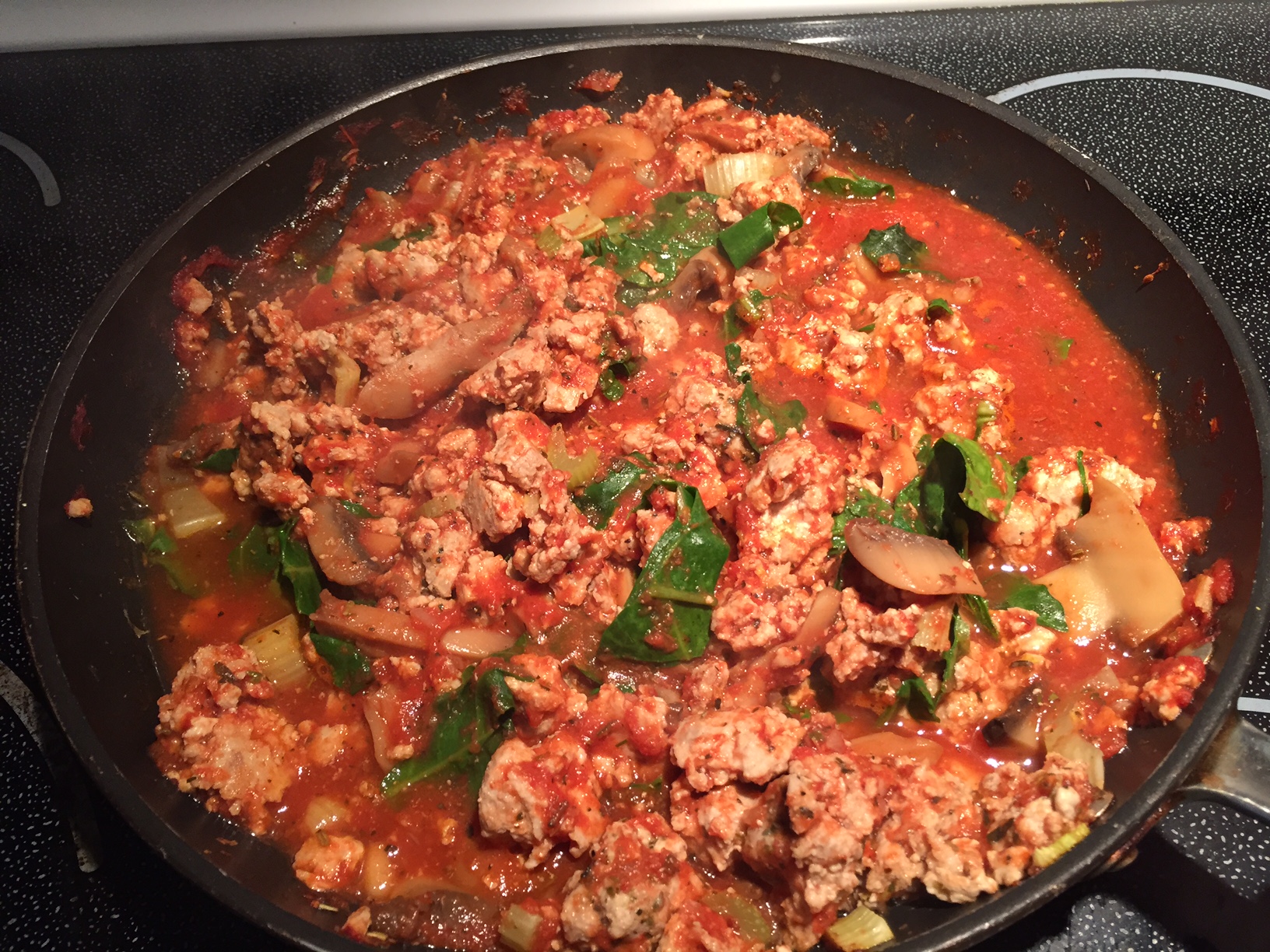 I am cooking up some taco meat right now.  If people are hungry after evening youth group, they can have tacos, if not, it will be a choice in the fridge.
I want to do a beef stew with carrots, since I have 4 gallon Ziplocks left from what we dug up.  I also have some garden potatoes and onions.
You may notice a lot of beef-based meals.  Let's just say we had a LOT of chicken last week:)
I want to do either potato soup or clam chowder.
I have a loaf of rosemary potato bread I got from the day-old section when I visited Bob's Red Mill.  We had some for lunch today, but will add the rest to meals during the week.  The non gluten-free ones in the family love having a treat that has wheat in it occasionally.  Since I don't even keep a speck of all-purpose flour in the house, I don't mind buying them things when I can.  I always have whole wheat bread for their sandwiches, but I don't make it anymore.
I plan to make gluten-free foccocia bread.  I have a recipe that has zucchini and parmesan on top.  It's good.  I will also make cornbread, as Rob is hungry for that.  If there is time, a batch of muffins would be great for breakfasts.  Of course, I can make any other baked item that comes to mind, if I have time.
In the garden, we still have purple beans, lettuce for salads, cucumbers marinading in the fridge, snow peas and raspberries.  The cherry and pear tomatoes are still producing well, but the larger tomatoes are not very prolific any more.  Still, I may get a few.  The basil and cilantro are great from the last planting I did.  There is chard and kale, and a few zucchini and peppers.  I have 1 head of lettuce from the store to mix with my limited supply of leaf lettuce, and can start buying a few veggies, if needed.  I think there will be plenty for this week in the garden, though.  We should use some of the preserved green beans if we run low on fresh produce.  There are an AWFUL lot of them out there in the shop:)  It's so fun to look back on our summer's labor, and just settle down to start eating it up!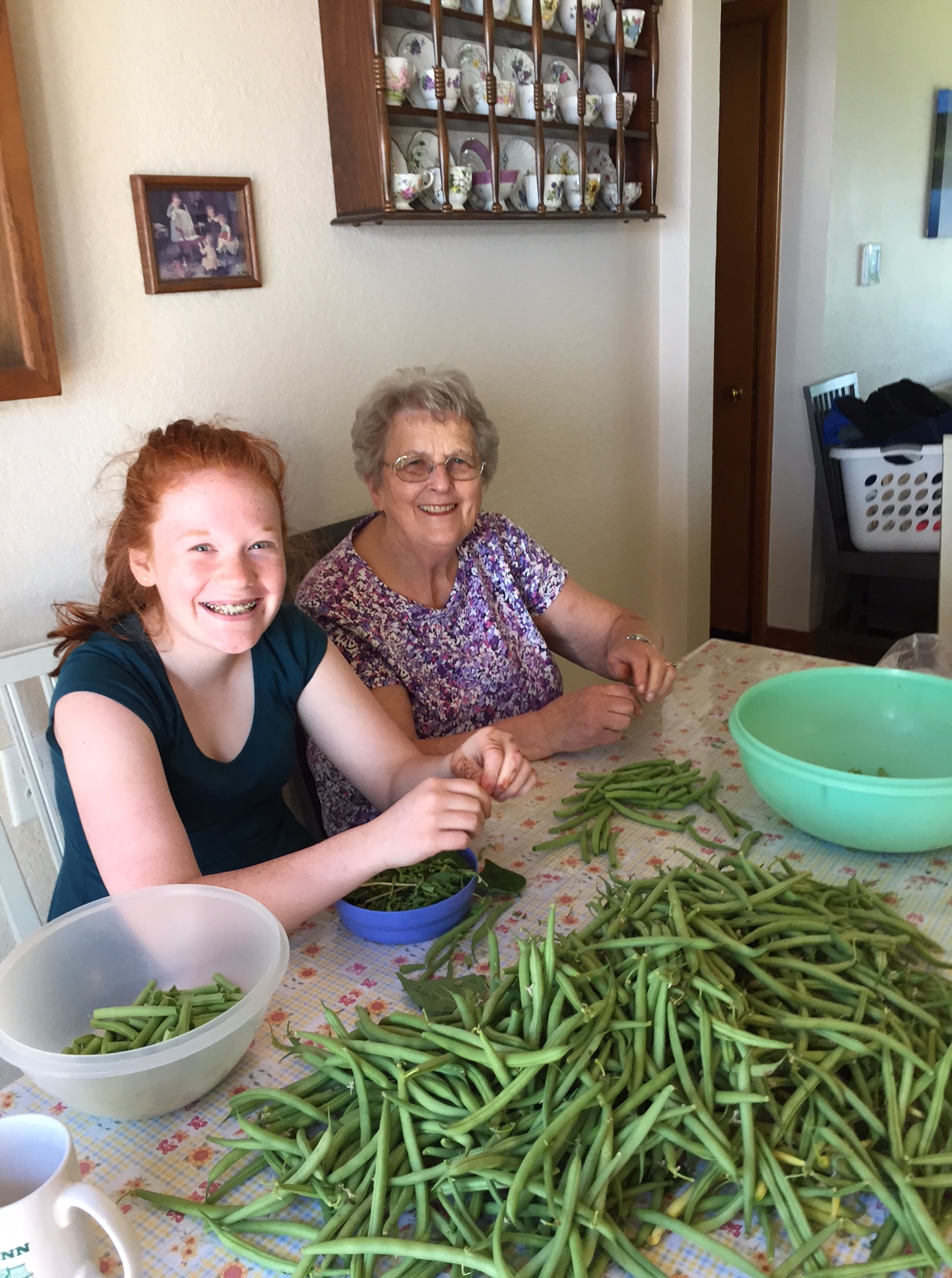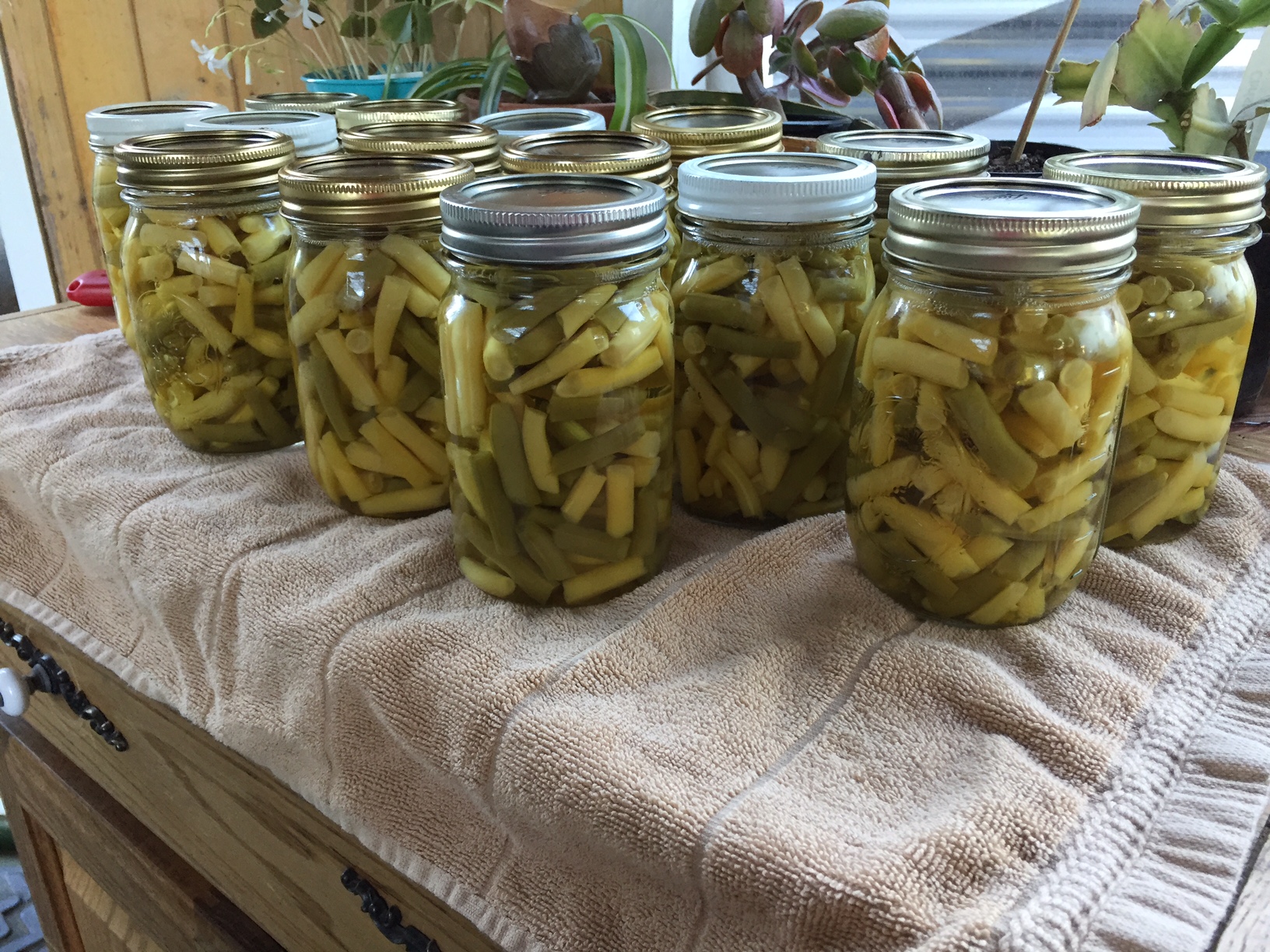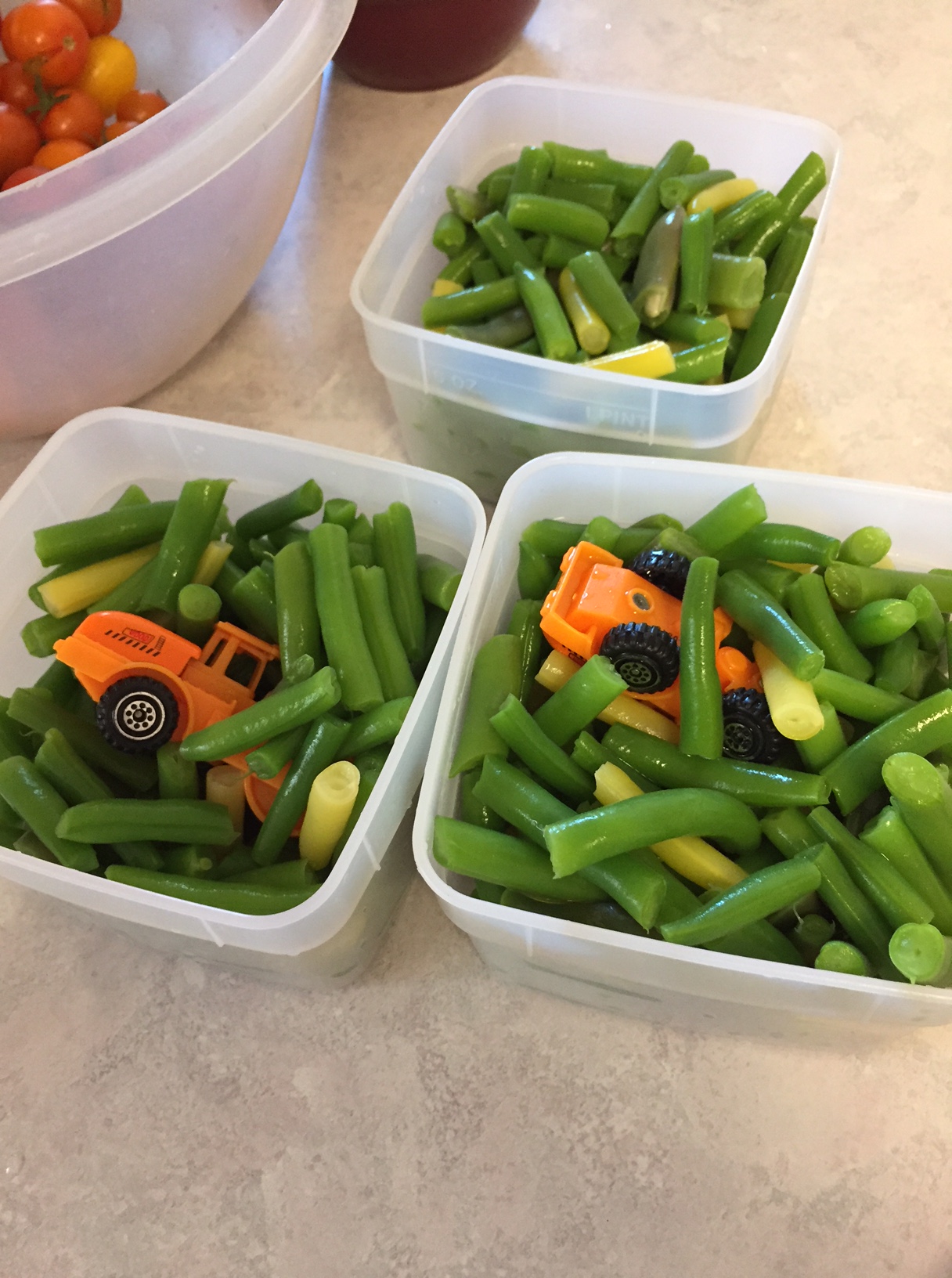 Now, I will get busy cooking.  I will do a couple of things tonight, and likely the rest tomorrow.   I will continue searching this week for a great deal on Rob's coffee pods, and butter for a price I like:)  Otherwise, I think we are set for a while.