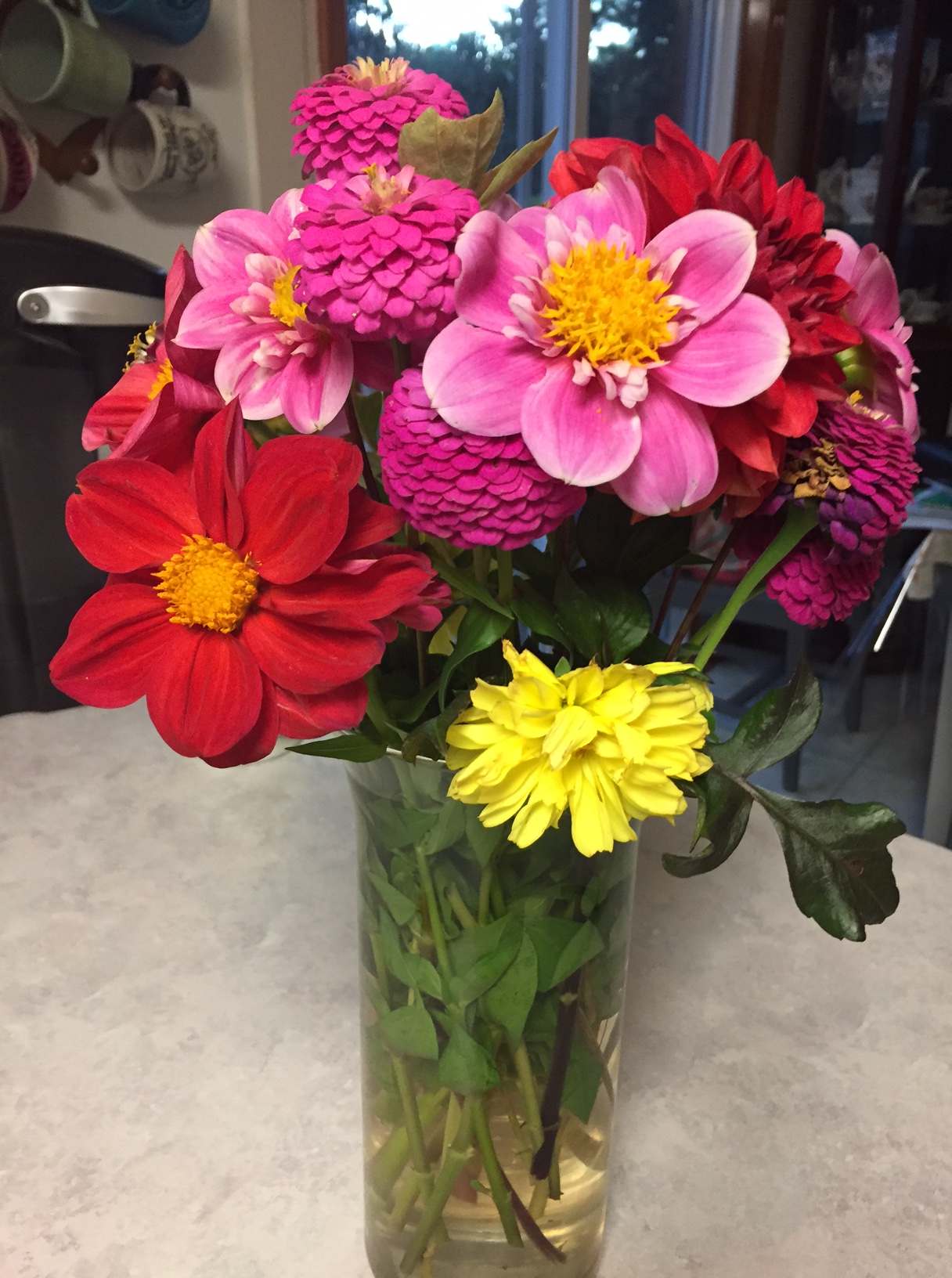 I picked a bouquet from the garden and yard.  Even though things are starting to wind down around here, with the advent of fall, there are still nice flowers to be had.  They seem to be perking up a bit since it started raining.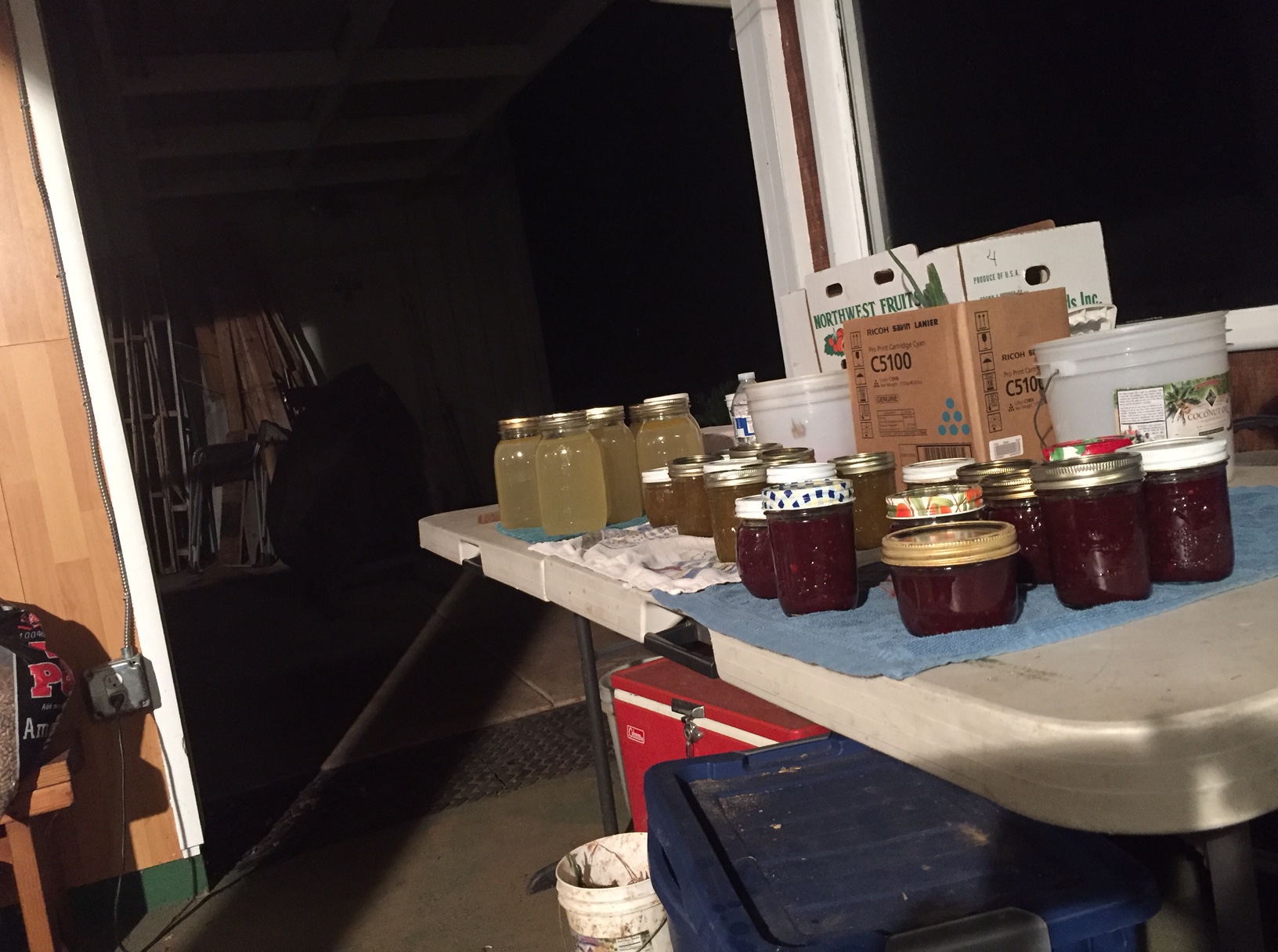 I did a bit of late-night canning.  Thankfully, the covered porch has a really good light!  I am hoping to finish up what I want to can soon, so we can thoroughly clean this area up.  It's on the "targeted" list!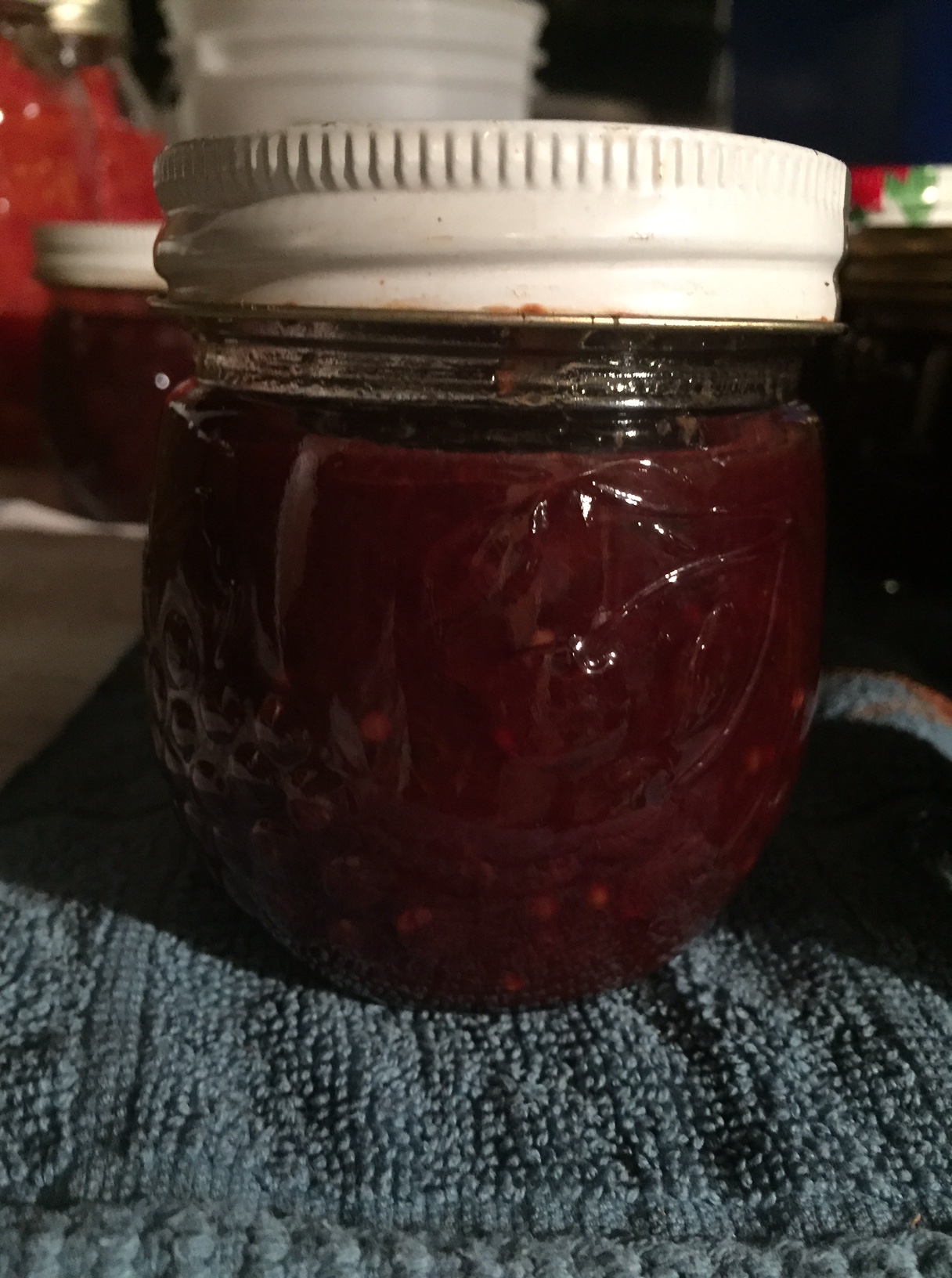 I had wanted to try plum sauce this year, and I love how pretty it looks in the jar.  It used the last of the Italian prunes, and has hot peppers in it, but they didn't give much of a "kick" to it, so I added some red pepper flakes.  It still isn't very spicy, but is good.  It's more like a barbeque sauce than a jam, and Rob plans to use it for that.  If we like it, we will make more next year.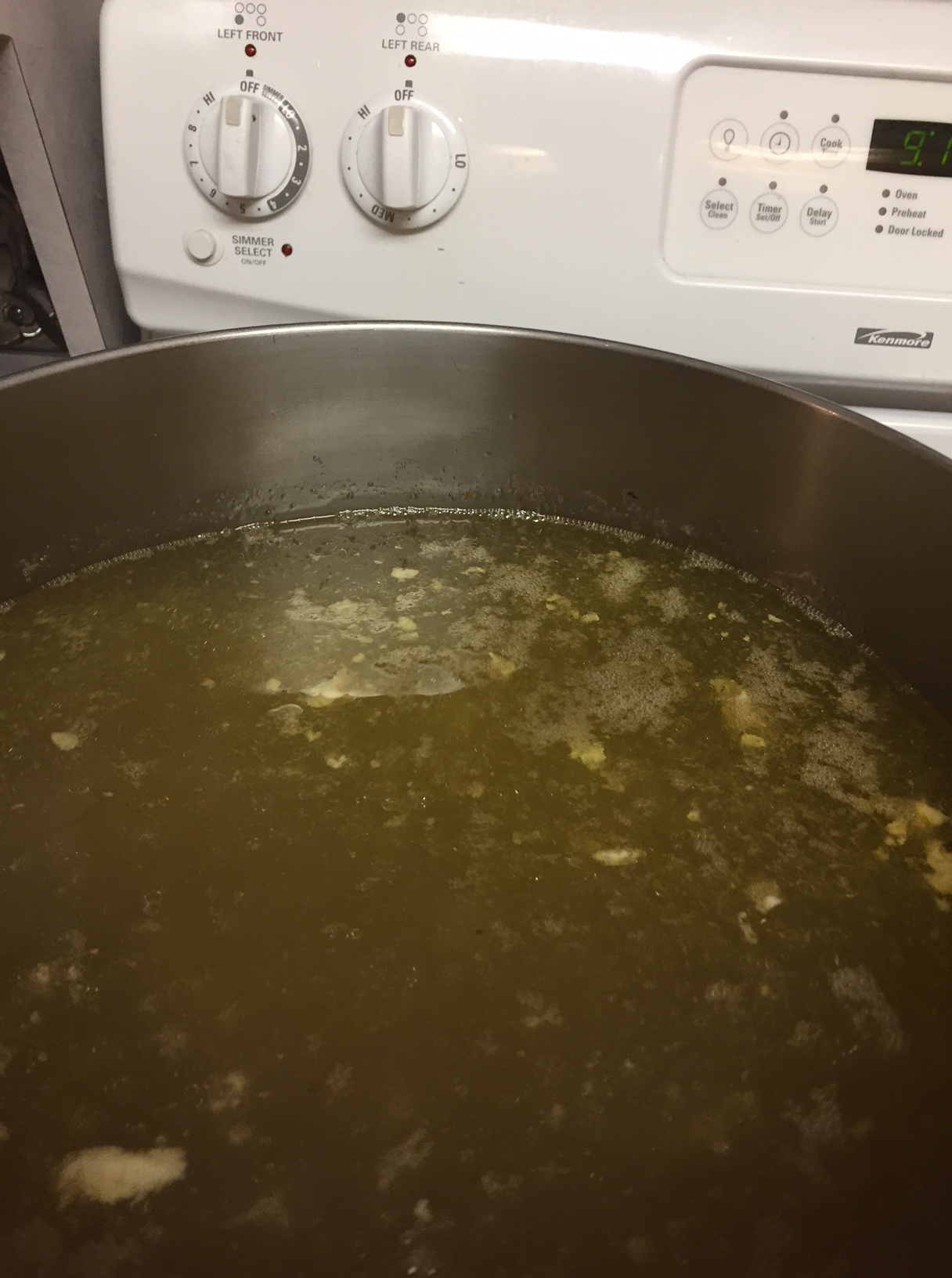 I bought 2 chickens for 88c/lb.  I roasted them both, then Rob made a huge kettle of broth from the bones.  In the end, for around $10, we got several quart-sized bags of frozen chicken meat, 7 quarts of broth and 6 pints.  I canned the broth.  I do freeze broth as well, but sometimes, I like the convenience of canned broth and the fact that it is shelf-stable, so I always have some on hand.  I also have pretty full freezers at this point, with all the fruit, meat, and reduced-priced bread I have them stuffed with.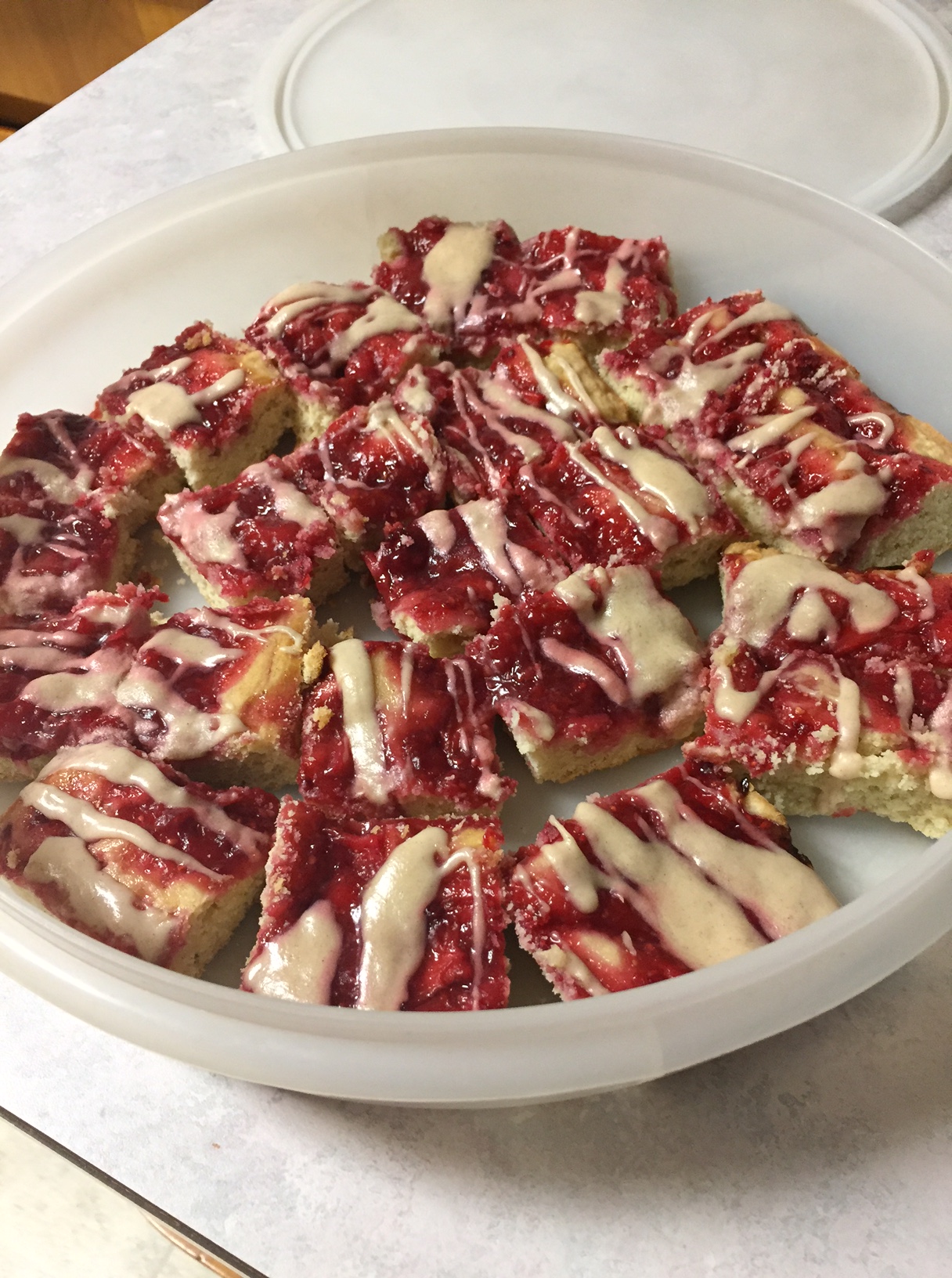 I took the 1-2 cups of raspberries and strawberries (mixed) that I picked on Friday and thickened them up into a sauce, using sugar, white grape juice and cornstarch.  Then, I made a recipe for some cake-like bars I used to make, converting them to gluten-free.  They were perfect for my contribution to family Sunday dinner.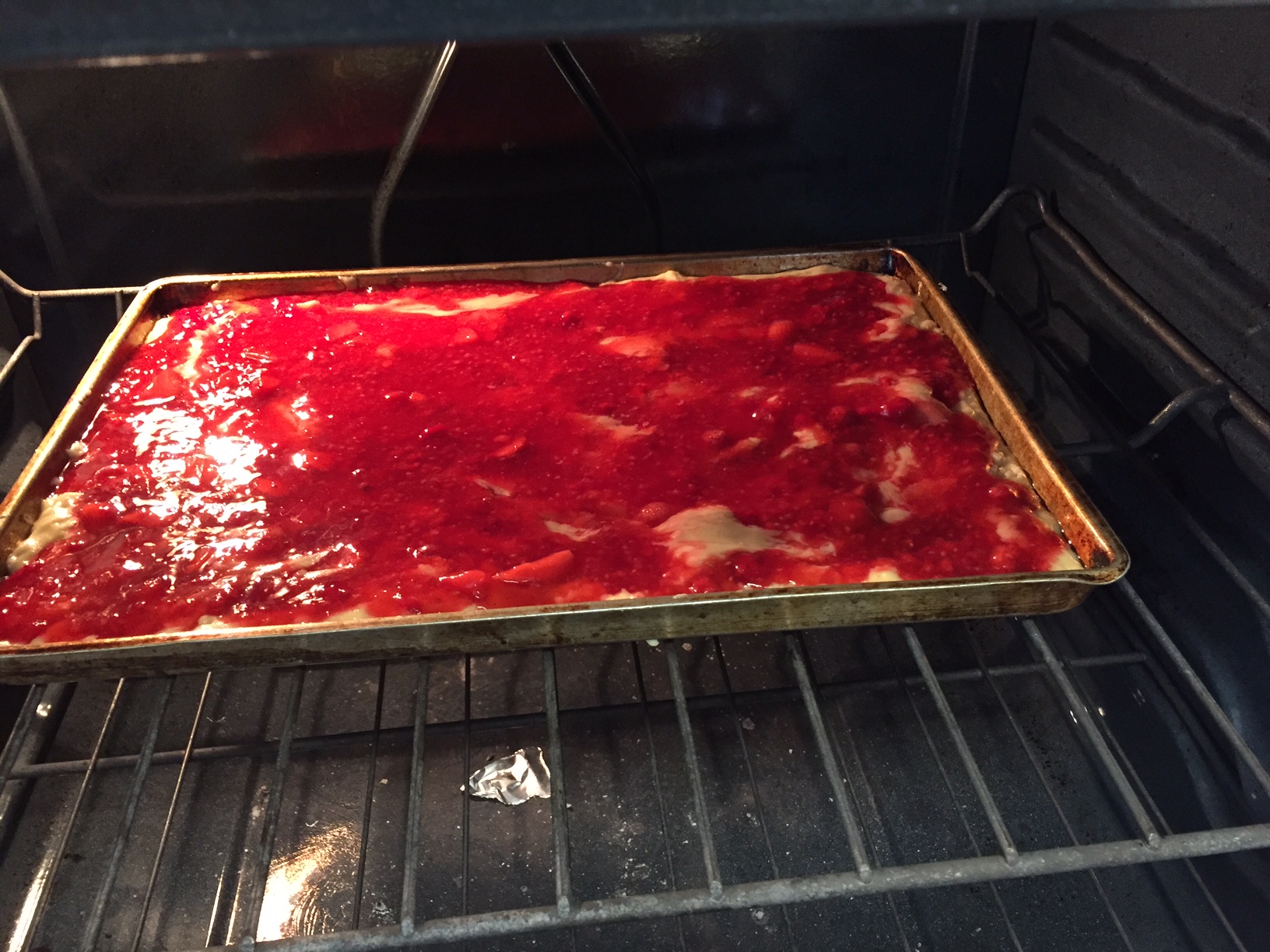 I poured the thickened berry sauce on top of the cake-like batter and baked.  After it was done, I made some cinnamon-spiced buttercream frosting and thinned it out with milk until it was the right consistency to drizzle onto the cooled bars.  They turned out great!
Rob stopped by a cannery that is in our area.  He found slightly dented cans of various items, with no labels, for $2.50 per case.  For smaller cans, there were 24 in a case, and the large cans (pumpkin), were 12 to a case.  So, the cans were around 10c or 20c a can, according to size.  He got a few cases, some for us, and some to share.  I was especially happy to get the pumpkin since I grew neither pumpkin or squash successfully this year, and he bought himself pickled beets.  Even though I made a few jars, he can eat them every day, if they are available, and has downed 2 cans already.  I made a pumpkin pie, pumpkin custard, and pumpkin cookies–all from the one can I opened.  It held about 3 cups of pumpkin.
I picked purple beans, cucumbers, cherry tomatoes, snow peas, raspberries, a few strawberries, and zucchini this week from the garden.
I cooked too much food:)  I had to freeze some of it.  This week, I will be working on using some of those frozen meals, and other items I have stuffed in every corner of the freezers, such as the 59c/loaf bread I got a while back.