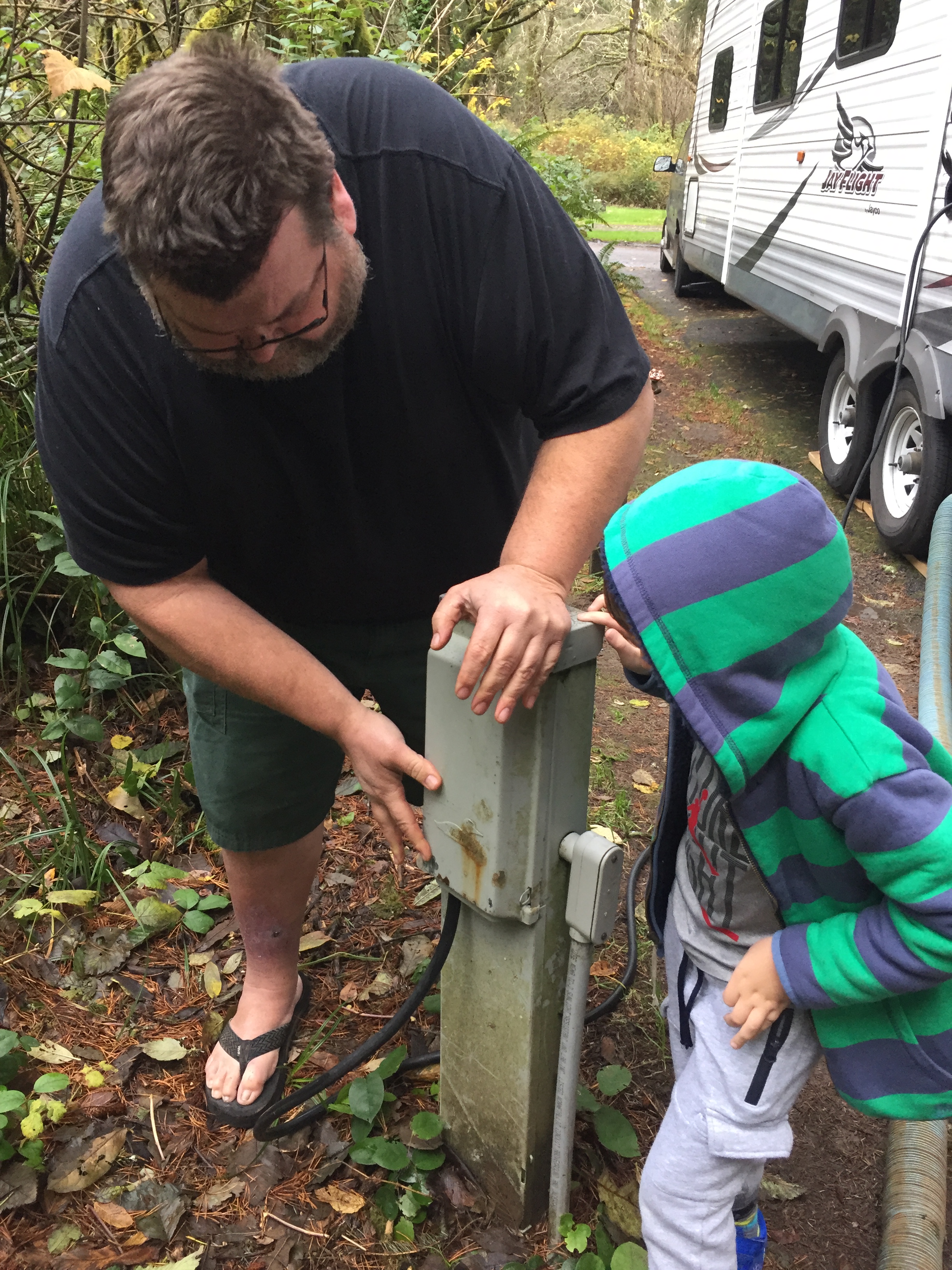 Last week was a holiday week.  None of the kids went to school, and Rob only worked Monday morning.  So, we spent the first part of the week spending time with Jake and Patsy, cleaning like crazy, setting up tables for the dinner on Thursday, and pre-cooking food.  We had plans Wednesday, so that day was not available.
In the meanwhile, the computer crashed.  Completely.  We had to use 1/2 of Tuesday, which was the day I had saved to completely finish cleaning, to take it in to the only Apple store around–over an hour from our house.  After waiting to see what the problem was, we left it there with 2 choices of issues it might have, and told them to call us when they figured it out.  In the end, the hard drive was unfixable, and we had to have it replaced, which meant it was blank when we got it back.  So, we've spent hours trying to put things back on it where they belong.  We are not computer geniuses, so it's taking us a while.  A long while!!!  After several hours of work, I finally got some pictures to load, although I've tried many, many things to get them all to load from my phone, and they are not all there yet.  I just need to spend more time at it, and I'm about out of that this week:)
On Wednesday, we went out all day.  We visited my oldest daughter, who was not going to be able to make it Thursday due to a badly sprained ankle.  Then, we did a few errands in her area, and headed up to see Harnet.  After spending some more time on errands,  Rob graciously agreed to drive myself and Harnet, plus Jake, Ja'Ana, Patsy and Danait up to an Ethiopian grocery store up in Portland. On MLK Blvd.  During rush hour.  In our 15 passenger van.  In the pouring rain.  To buy special green Ethiopean coffee that Harnet needed. What a man!  Have I mentioned I'm married to a saint?  (At least that day he acted like one!!).   We hit bad traffic going up, but found a really great parking spot right away, got what was needed, and sailed on to drop her off, then home.  So, it all worked out!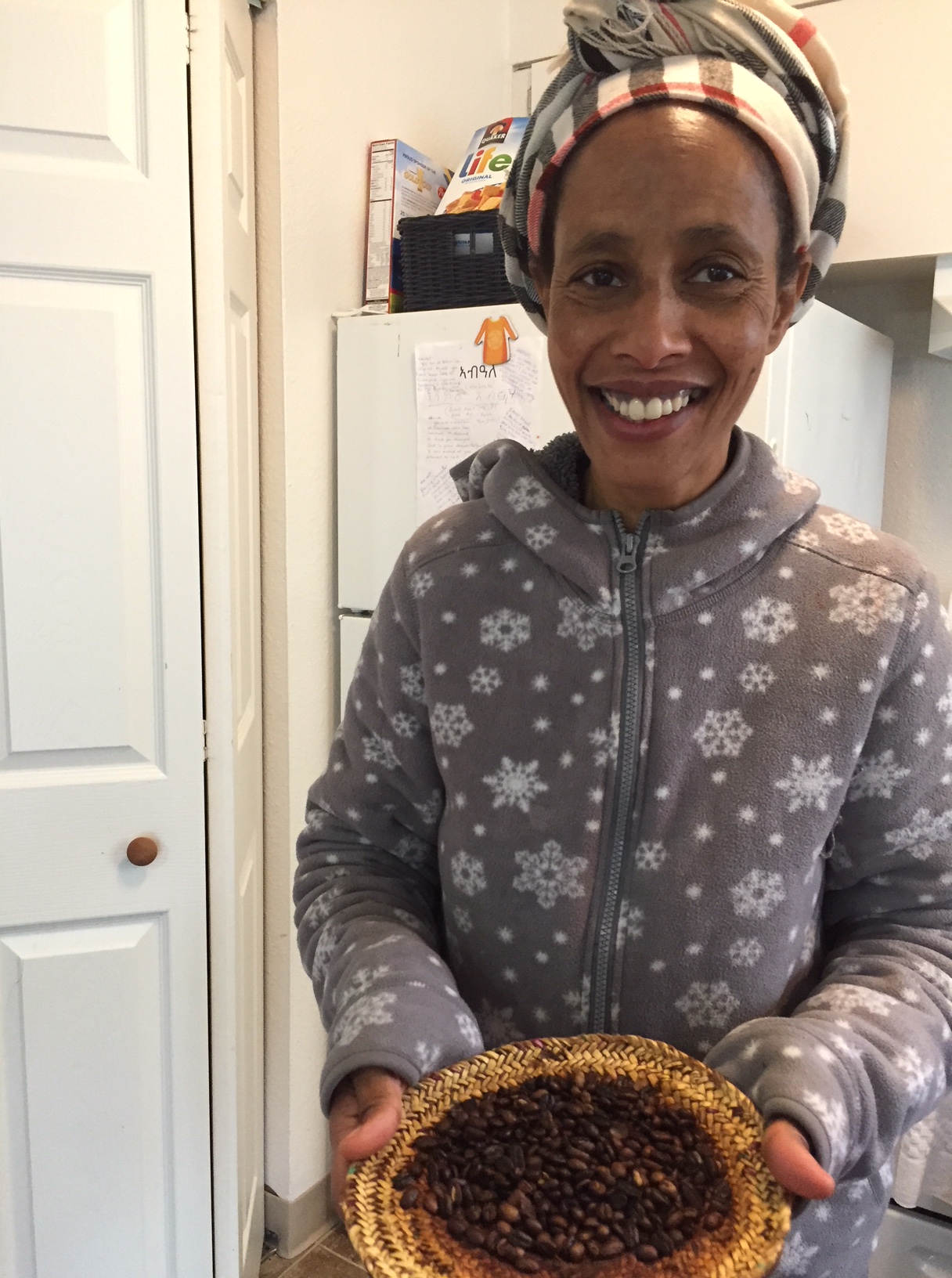 I met Harnet through my oldest sister. They have been friends for a couple of years.  Now that we are friends, too, and my niece Alissa has become part of that loop as well, we all really wanted her and Danait to come to Thanksgiving.  And, we wanted her to make coffee for all of us.  So, it was really our fault she needed special coffee.  We were happy to help her get some.  Now that I know what she needs, exactly, I may just order a small bag from Amazon, just in case this coffee crisis comes up again:). Everyone enjoyed the coffee tremendously, but little Danait really kept everyone entertained.  We all enjoyed the day so much.  A little person really adds to the fun in our family, and she went from person to person, happily and cheerfully.  Such a charmer!
The day after Thanksgiving, we took off for a couple of days camping.  Jake went, of course, as he has been asking frequently when "we" were going to take "our" camper out and go camping.  It was rainy and cold, and we had a ball.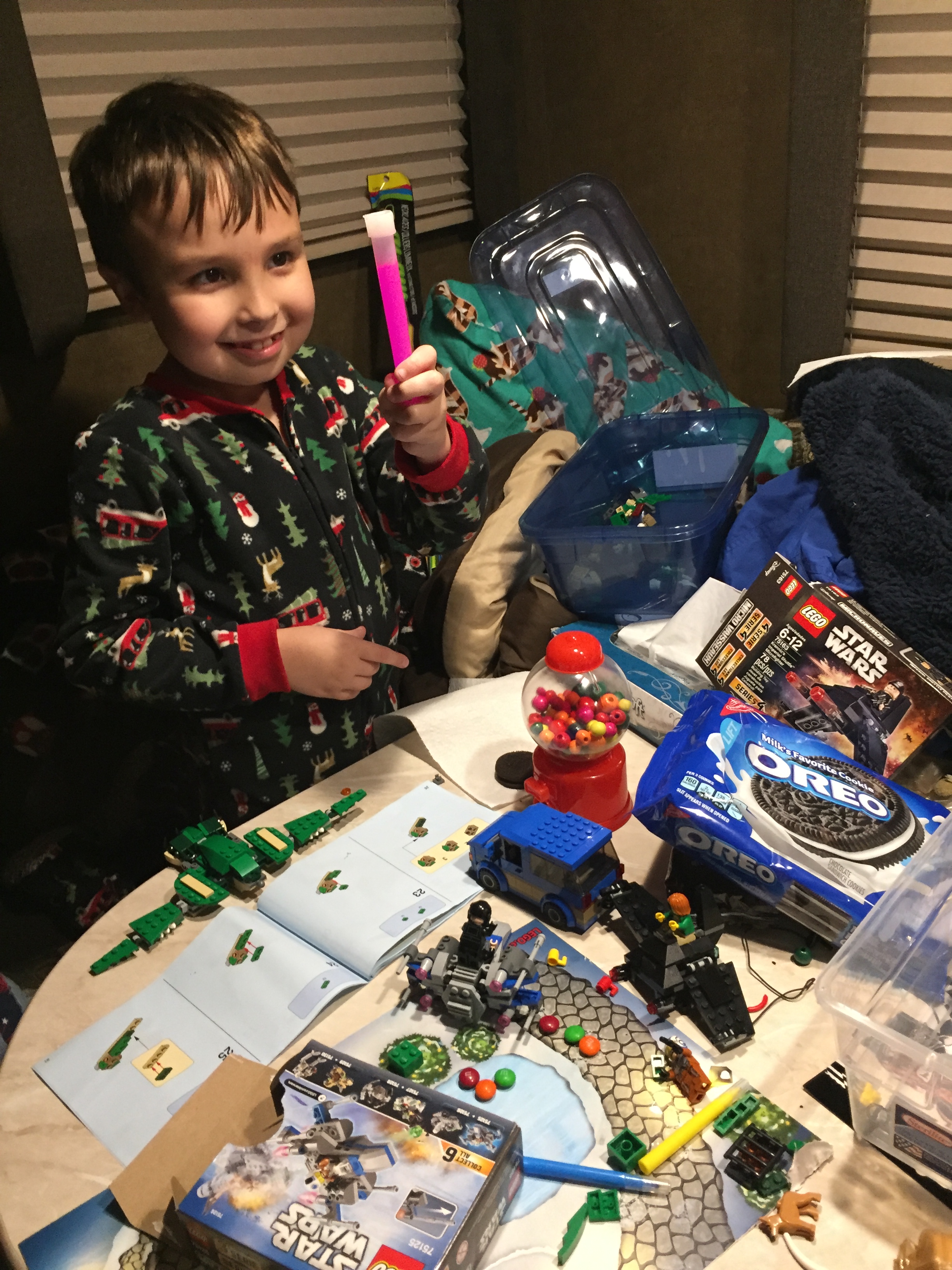 He built Legos for hours.  We all ate junk food for hours.  He played with his junk food for hours.  We visited the Dollar Store and let them spend their chore money.  He bought a gumball machine and some beads to put through it.  That way he can get "gum" over and over and put it back. He doesn't want to chew gum.  At least not bubble gum, he says.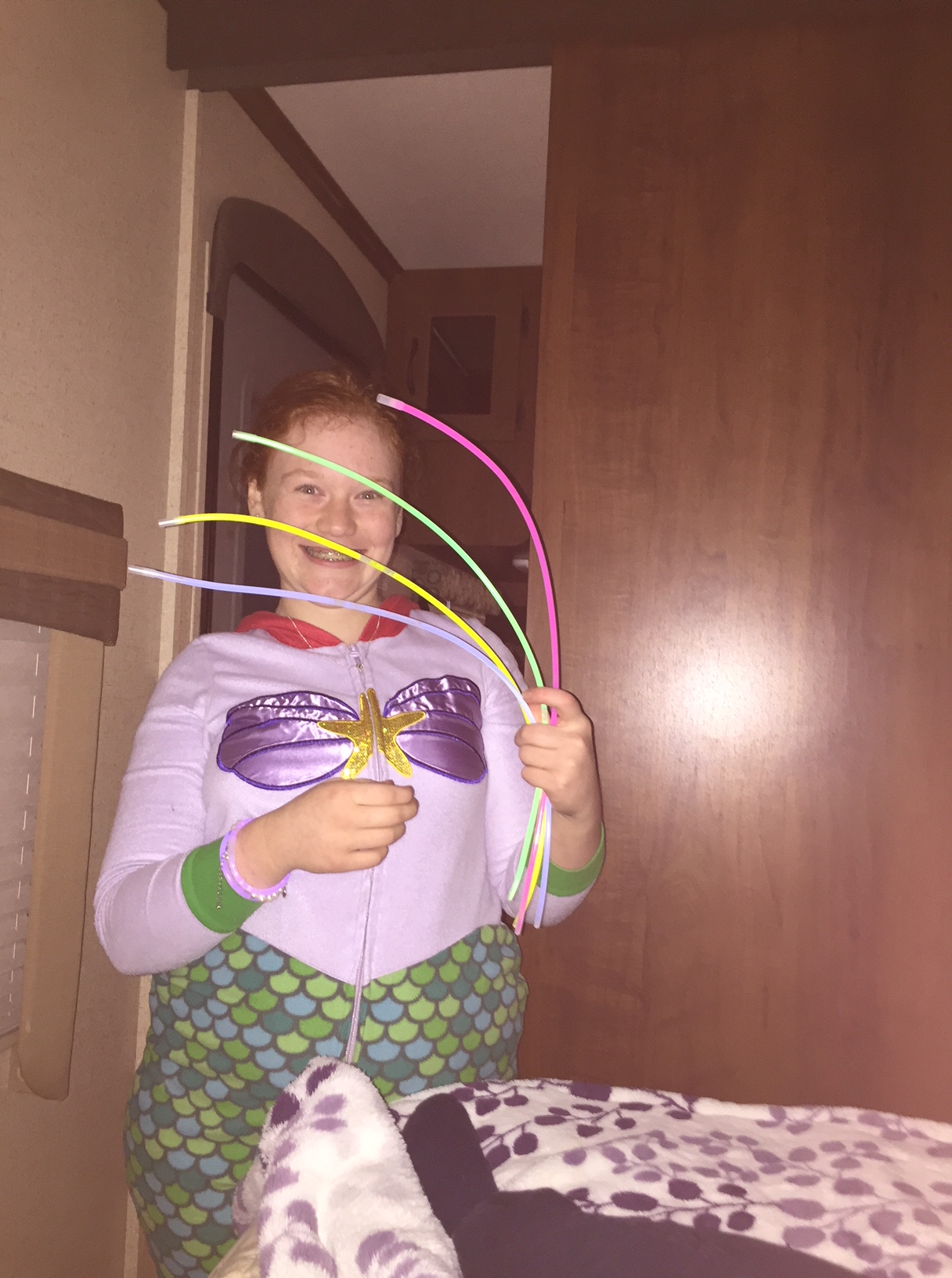 We had glow sticks each evening.  They were dollar store and clearance finds.  Patsy waved them.  Jake turned them into light sabers, and he and I had a war.  Darth Vader (Jake) won that one for sure!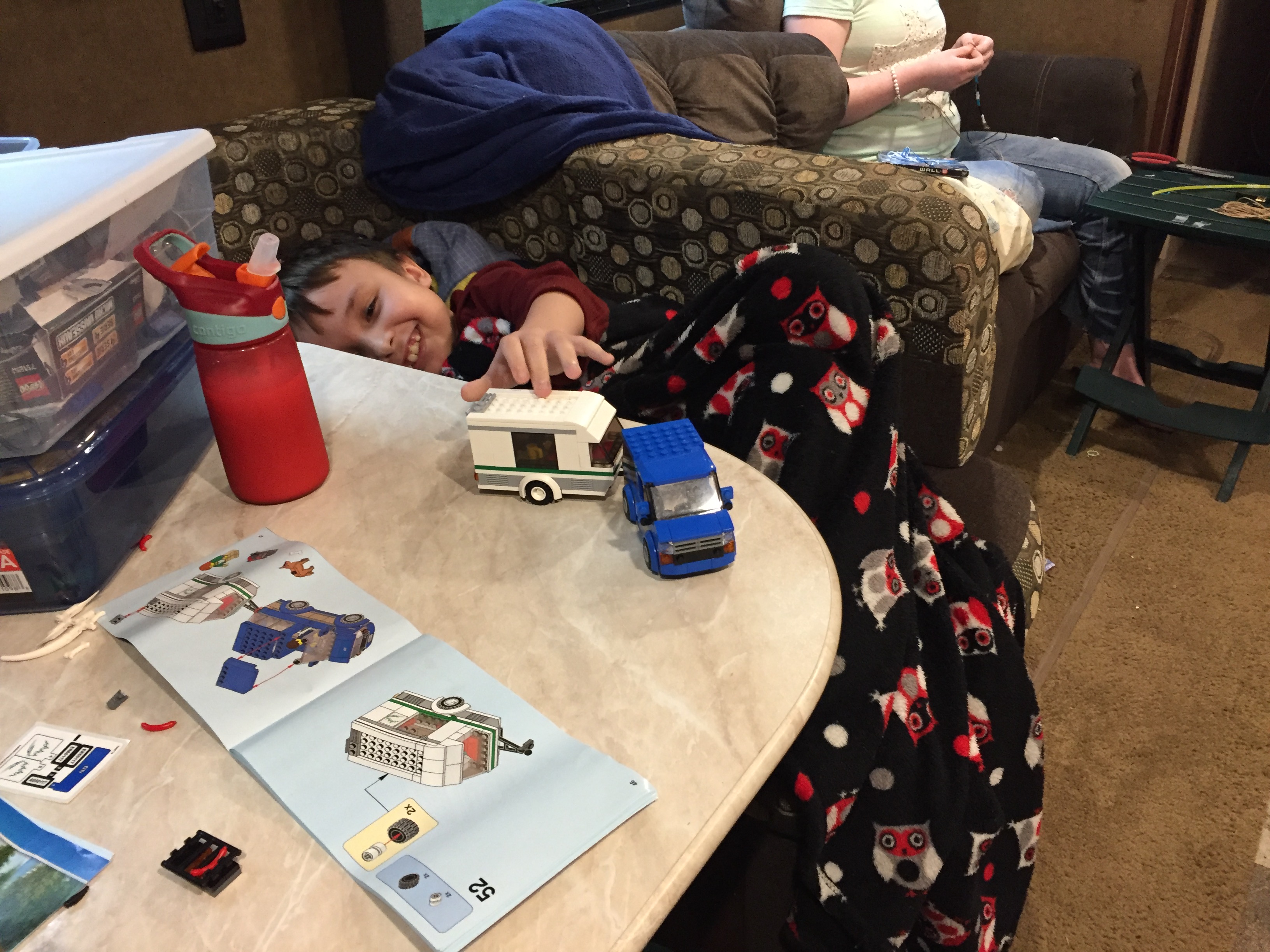 He built a camper in the camper:). He liked that little nook so well that he slept in there the 2nd night, instead of on the couch as he usually does.  The first night, the jacks shifted a bit, as they often do, and the camper had a slight downhill slant.  He loved it so much because his toy would roll better.  When Rob tightened them the next morning, he was really quite put out at him for a little bit.
It was very economical to camp.  We used our park pass that we get for adopting children out of the state system.  We have to pay the registration fee. $8, I think.  We ate all meals in the camper, except one.  Rob keeps change as he gets it, then cashes it in before trips so we can eat out at least one time, if possible.  We grabbed Thanksgiving leftovers and things from our fridge at home and used the pantry in the camper for the rest.  I keep it stocked and it is good to use those items up sometimes.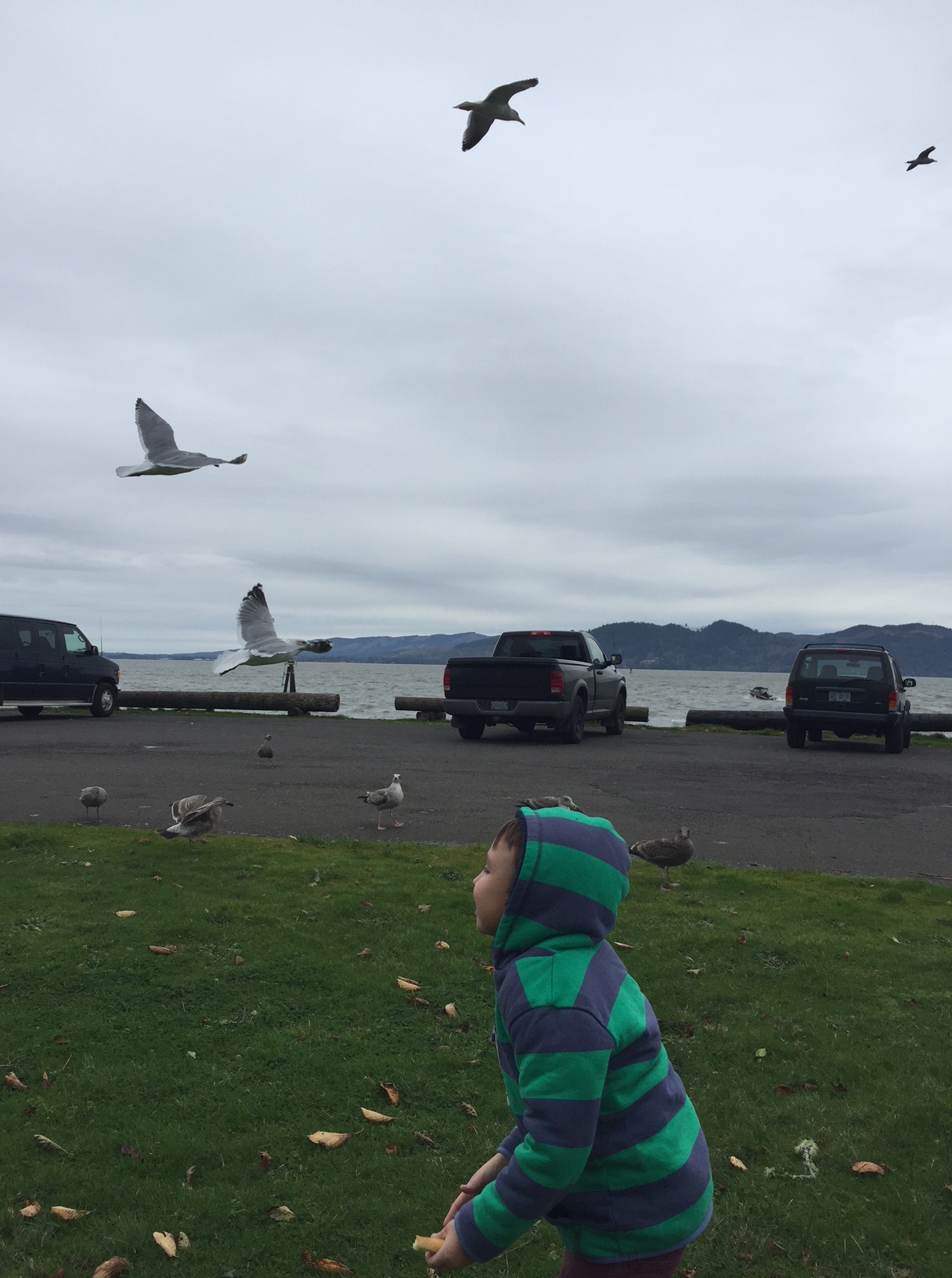 It was very windy, but we fed the seagulls some old bread.  They were quite entertaining, and even caught some of the pieces mid-air.   Other entertainment included looking at the beach from the warm van, looking at the outlet mall from the warm van, and getting out of the warm van to go back into the warm camper to build more Legos, read more books, and watch endless movies.  We watched Chitty Chitty Bang Bang, Paw Patrol (thank you so much, Abbie!), and part of a couple of others.  I finished the chapter book we were reading aloud–"Snowbound With Betsy" by Carolyn Haywood.  It is very good for young readers.  It kept his interest, and it's cute.  Even Rob liked the part he heard.  In fact, when I finished, Jake wanted me to start over, but I didn't.  Instead, I got another book about Betsy from the same author from the library today, and will start it with him tomorrow.  I read "The Girl of the Limberlost" by Gene Stratton Porter.  I've read it many times, but it was in the camper, and I enjoyed reading it again.  Ja'Ana basically read and slept all weekend, and made Rob watch "Soul Surfer" with her.  She knew he would cry all the way through, and he did not disappoint:).
It was fun to get away.  Winter camping is much different from Summer camping, but we still like to do it.  We needed to get some rest, and did rest, but were a bit tired anyway when we got home.  That is because on the last night, the wind kicked up so much, that Rob woke up around midnight and put the awning in.  You don't want it to get twisted in the wind.  I woke up, too.  Then, around 2, the power went out in the campground, so he got up again to turn things to propane so I could still shower in the morning.  I woke up, too.  Then, just as we were drifting off, the power came back on, and that woke us up again around 4.   He fell back to sleep, and they all slept until after 9.  I didn't.  After we came home, I took about an hour nap.  Ahhh…..It was a new week before I knew it!!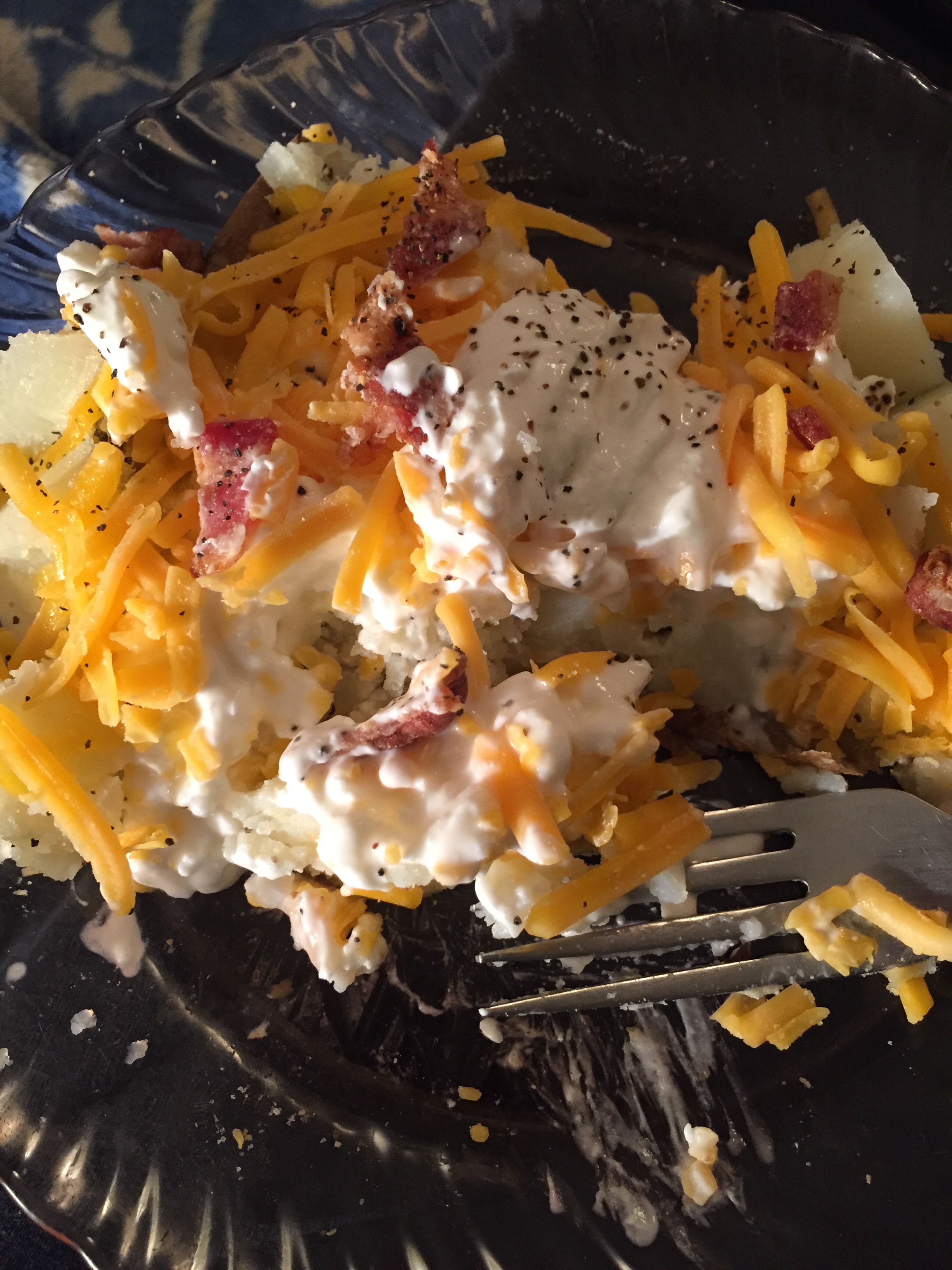 We've been cooking.  Baked potatoes with cottage cheese and cheddar cheese were one night's dinner.  Rob BBQ'd chicken for Monday and made shrimp fettuccine for Tuesday.  Tonight, I made homemade chicken strips.   I'm sure I'll cook some more, as there are several days left in the week!  LOL!  But, this is it for now.  I hope your week went well, too.