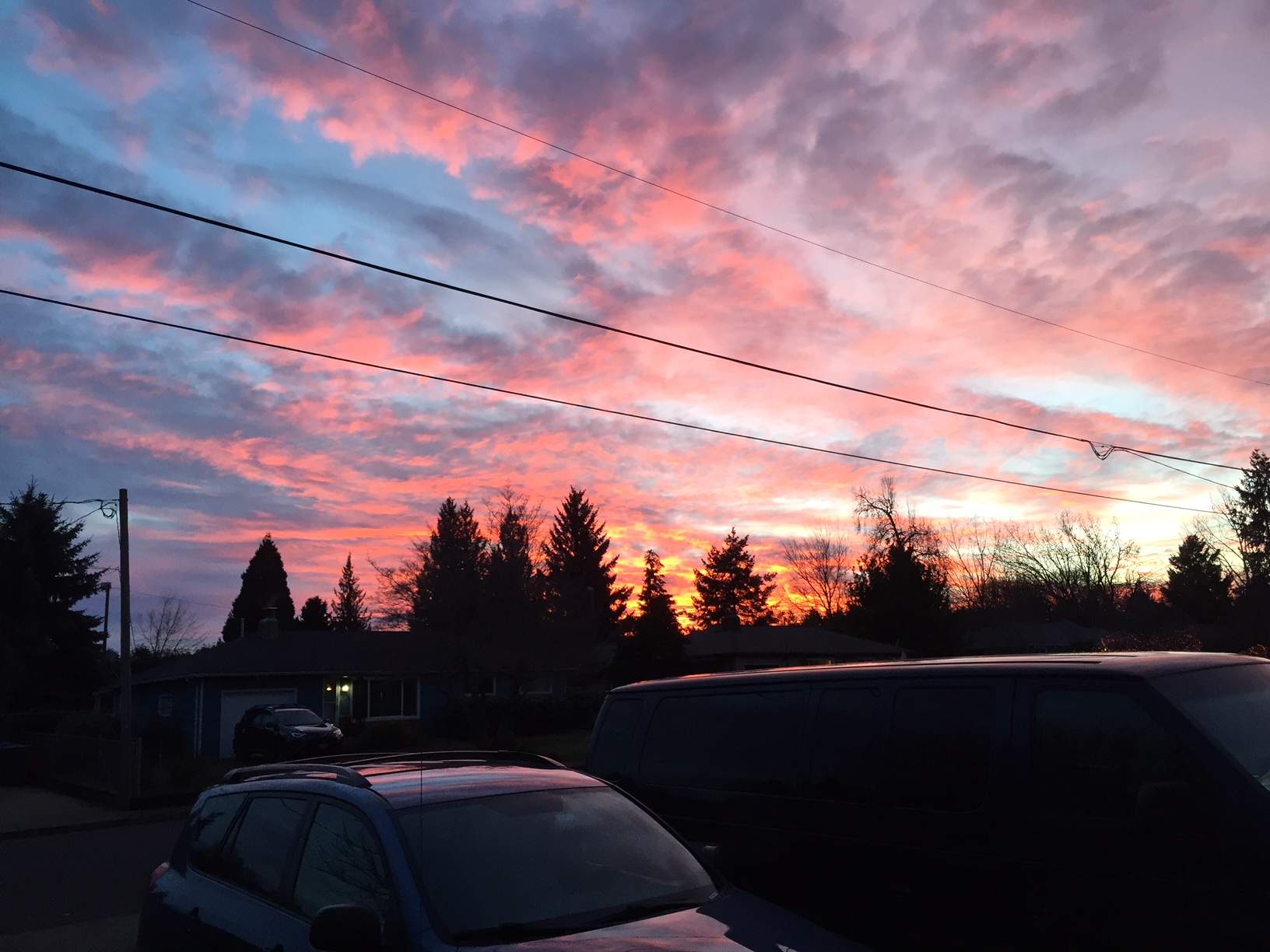 We had the most beautiful sunset for New Year's Eve.  I had to run out and take a picture, it was such a gorgeous sight!  Even the power lines didn't ruin it for me, and that's saying something. We saved money by staying home tonight and enjoying this sunset, playing games, and watching movies.  Since I had a full house, which included my niece, Michaela, our movie choice was "CARS," a favorite of hers.  And, the game of choice was Yahtzee, which was no surprise.  What was really fun was watching her help teach our friend how to play it and giving advice for those times when there were multiple choices.  We all had a good time.  Everyone went to bed a little later than usual, but we did not choose to stay up until midnight.  However, you could say the fireworks that went off in our neighborhood gave us little choice in the matter!
We had a week of healthier eating, which is always nice during the holidays.  I found all those tomatoes on the mark-down rack at Fred Meyers for only $2 total.  I got a bag of organic sweet potatoes and an orange squash in a mark-down bag for $2 total at Natural Grocers.  I made sweet potato fries, baked squash and froze 2 bags of cubes for another day, and we've used almost all of the tomatoes already.
I was able to use several coupons for free or greatly reduced items.  There was a coupon on my phone for a free package of fruit strips, but our Fred Meyers did not carry them, so they kindly substituted another organic gummy snack for them for a whopping $5.19 for free!  Wow!  I got marked-down milk for 89c/1/2 gallon, some marked down bread for 79c/loaf for the good kind, and big boxes of 20-24 cans soda for $3.99.  There were several other good deals, too, so I stocked up on those items.  I thought I was all set for groceries for a long while, but we did eat up a bunch of it already, so I'll probable get a few things in the next couple of days.  I shouldn't need much, though.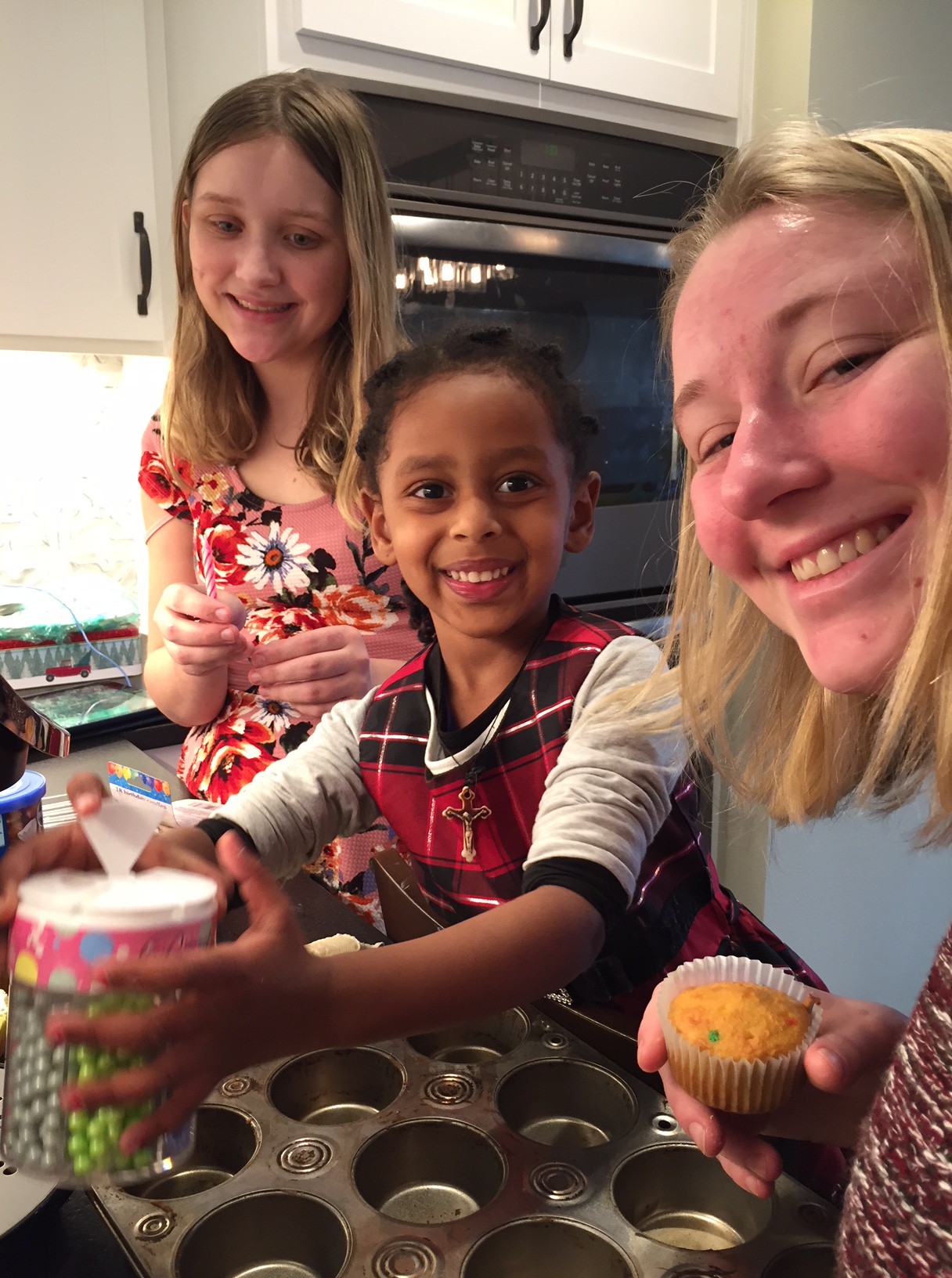 We had another big family gathering.  This time it was at our normal Family Sunday Dinner time, with additional friends and family added in.  We were jointly celebrating the birthdays of Alissa, Jake and Rob, as we usually do around the new year, as they all have January birthdays.  Alissa and Caitlyn had some unfrosted cupcakes and Danait helped them frost and decorate them.  I made a gluten-free chocolate layer cake–so yummy.  Even with the gluten-free ingredients, which are more expensive, I'm sure my cost was $10 or so for the cake.  To buy one around here is at least $25-$35, minimum.  My mom brought ice cream, and of course my Aunt Janet brought chips.  She and the children have a long-standing agreement:) Harnet cooked Eritrean food on Saturday (Coalwa, which is a beef dish, and lentils with beri-beri spice), while I watched and cooked rice, and Gail made some chicken.  There was salad, too.
After 10-12 unexpected guests dropped in on her on Friday for lunch, with only 1-1/2 hour's notice, I was glad it was my turn to cook the bulk of the meal Sunday:) I'm also glad I got her one of those 20-pack Diet Cokes.  She's going to need it if she keeps up the pace!  She said she made chicken, cut in tiny pieces, so it would cook fast and go farther. She mashed potatoes.  Lots of potatoes.   She had plenty of other food in the house, and cooked it up.  They have gone through over 100 lbs of potatoes and 100 lbs of various meat/proteins this month, with all the entertaining they ended up doing!  She hosted several parties for teens (at least 3), an out-of-town guest, guests who wanted to visit the guest, friends and family multiple times, and her business party (her employees and families).  I should have bought her 2 boxes of Diet Coke!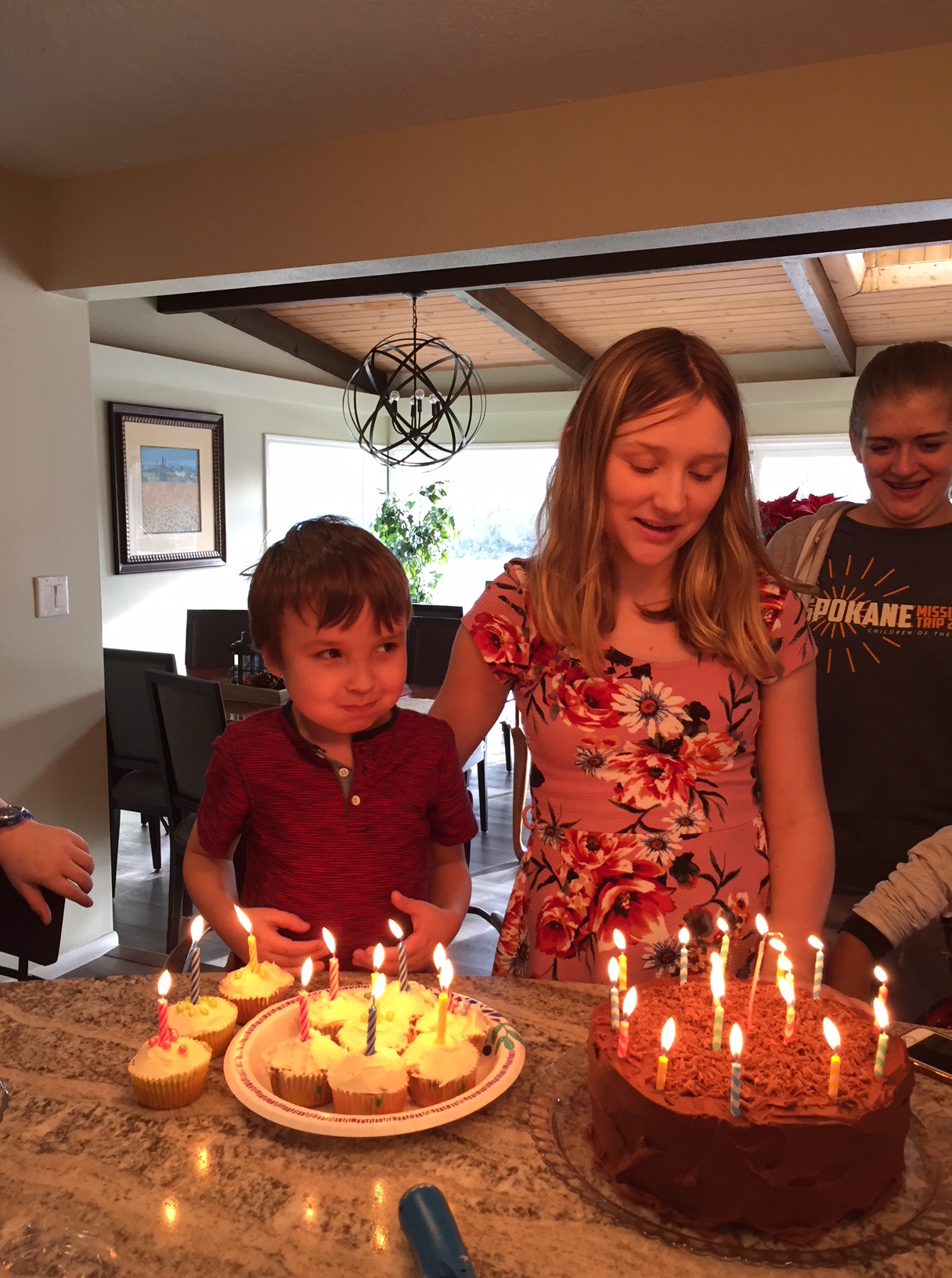 Gifts were purchased when I did my Christmas shopping, and one of Alissa's gifts was a cookbook I got from the library used book store (the book looks brand new) for only $2, which left me plenty in my budget to spend on the rest of her gift!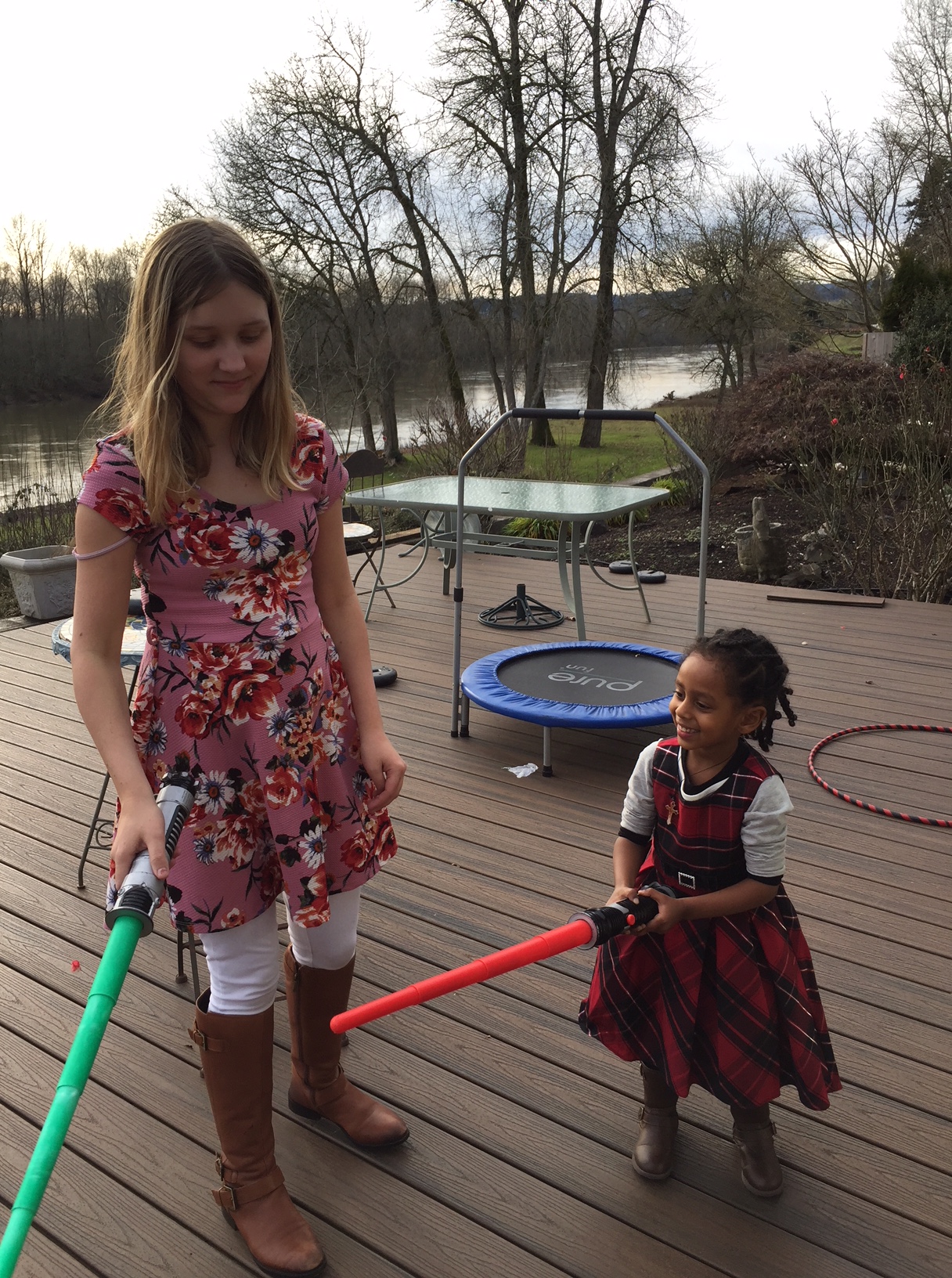 There were light saber wars!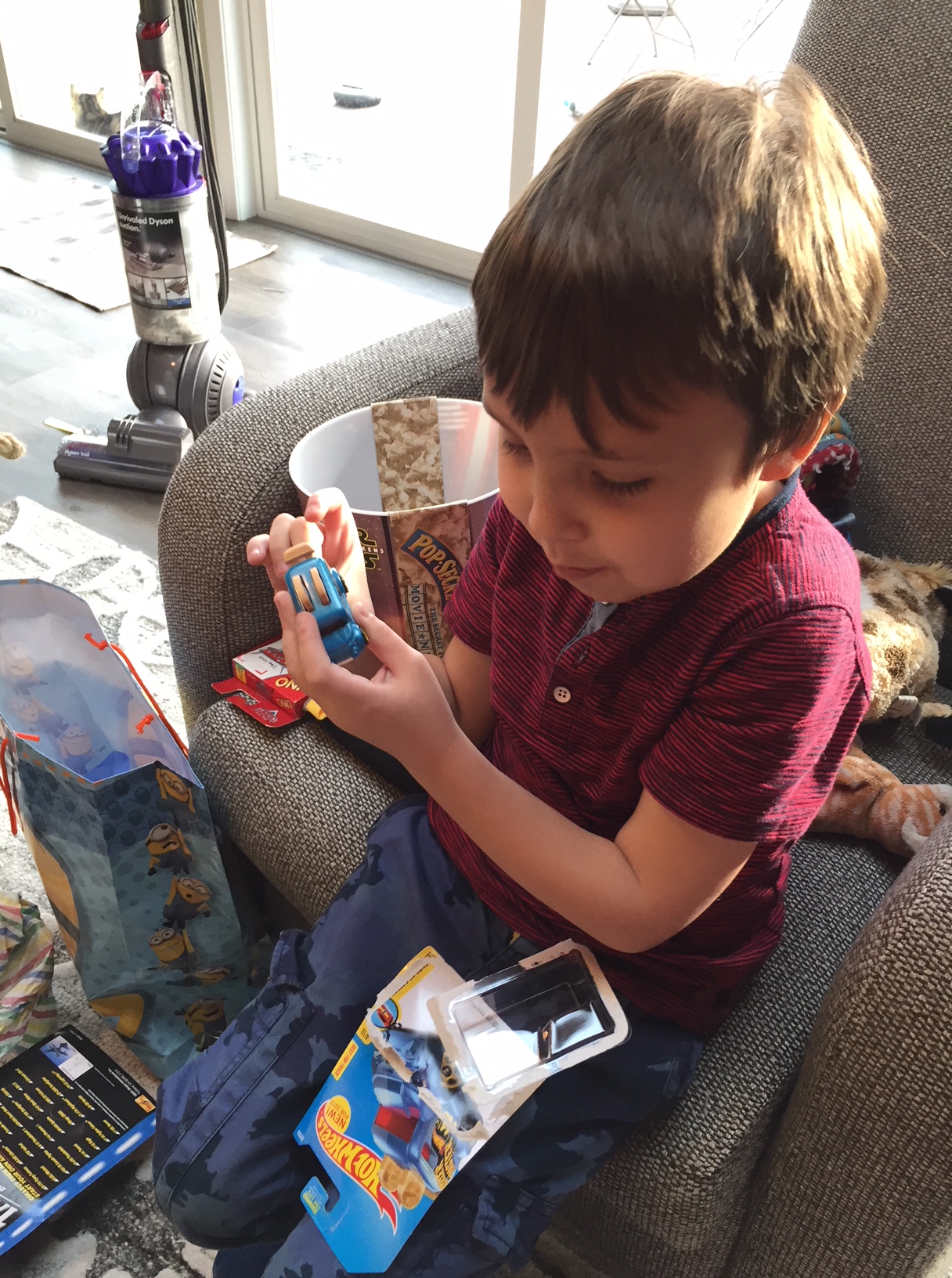 The toaster Hot Wheel car was a hit!  The toast even pops up and down.  It was another of the toys that Fred Meyers had a high value coupon for over the Christmas season, so I paid very little for it.
Now that all the fun commotion is drawing to an end, and it's back to work and school tomorrow, I hope to spend a little time today getting organized for the week ahead.  It's a miracle, but the house is actually quite clean and the laundry is under control (go Rob!)  I want to cook a little bit of food–muffins, for one, and make out a menu plan for the week.  I have a few house guests to take home sometime today, and I'll check the ads to see if peanut butter is on sale anywhere.  It is absolutely unbelievable to me that I'm out of peanut butter!  I bought so much (like 10) not that long ago.  But, I am.  I have some correcting to do for homeschool that's I've been chipping away at and I'd like to do a little more today.  It's been a wonderful holiday season, but it's time to get back down to daily living, and that's nice, too.  In January, we always eat a little healthier, spend less money, and clean more–all good things.  This January will be no exception–at least that's the plan:)
So, to you and yours from all of us….Happy New Year!