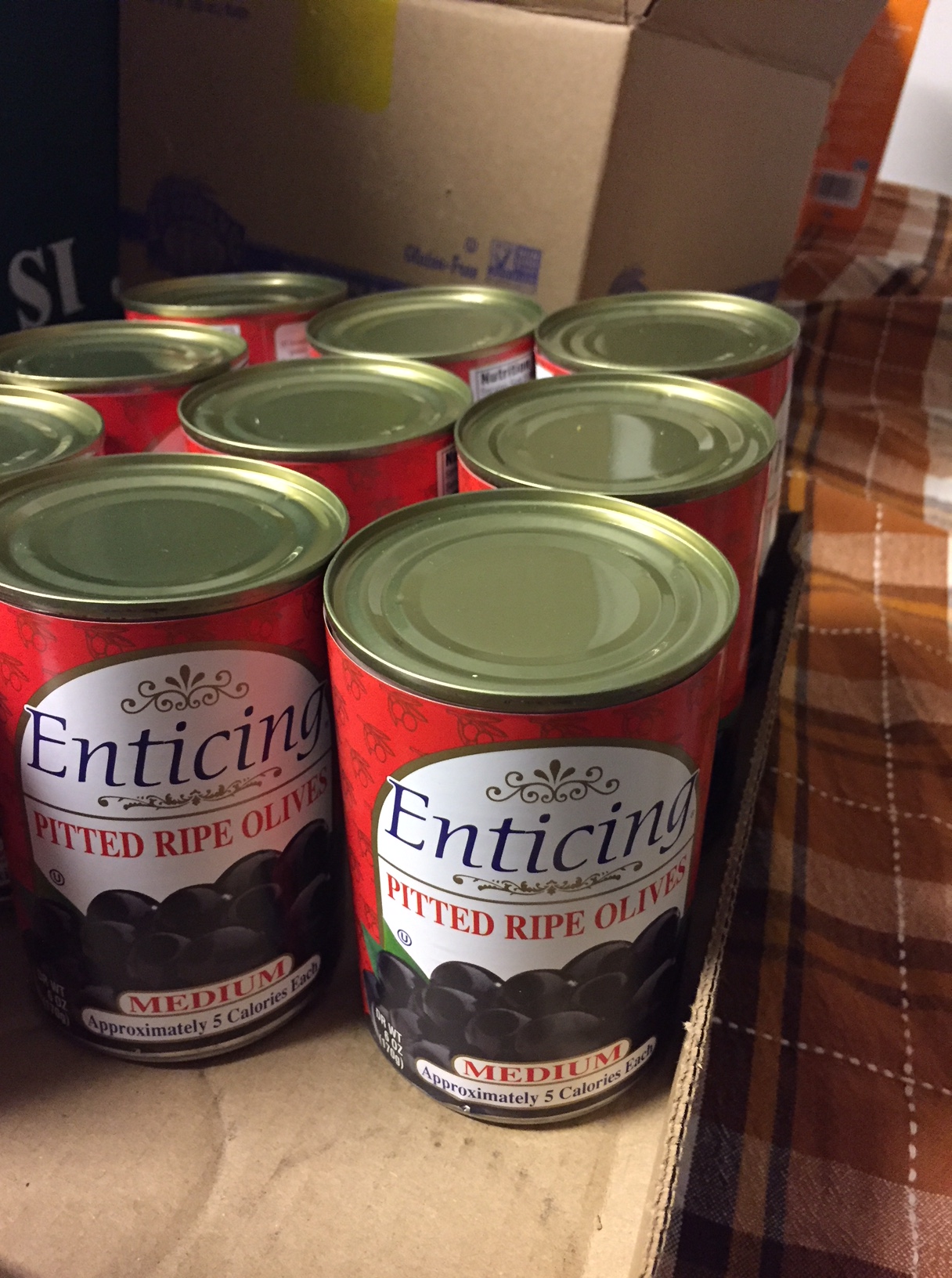 Keeping my pantry well-stocked is important to me, even on a month where I'm not planning to spend a great deal of money.  So, believe it or not, I was almost out of olives!  Now, to some, like my mom and aunt, that would be good news!  To me and my sisters, a tragedy:). Rob spotted these medium-sized olives at Grocery Outlet for 79c/can and so he snagged me a case. We've used 2 cans already.
I grabbed the 5 packages allowed of grated cheese from Fred Meyers on Saturday.  I got Rob a birthday present from the clearance rack while I was there.  His birthday is at the end of the month, and I struggle with what to give him every year, coming so close to Christmas.  But, this is a small thing that I know he will enjoy.  Better yet, I thought of another idea I will work on this week.  We will be watching both our niece and nephew that weekend, so any celebrations will be group efforts.  I think another chocolate cake is in order, for sure.
Our 1/4 beef arrived.  It was taken to the butcher shop in December, but Rob went and picked it up yesterday.  I had to do some major freezer arranging to fit it in, so now I'm even more committed to emptying out a few more items.  I like the freezers full, but not crammed to the point where I worry they will pop open.  I had been emptying them and they were in great condition, but now they are really full!  Buying the beef in bulk saves a lot, compared to purchasing little by little. We have done it for many years this way, but have cut our order down from 1/2 to 1/4 as our family is smaller.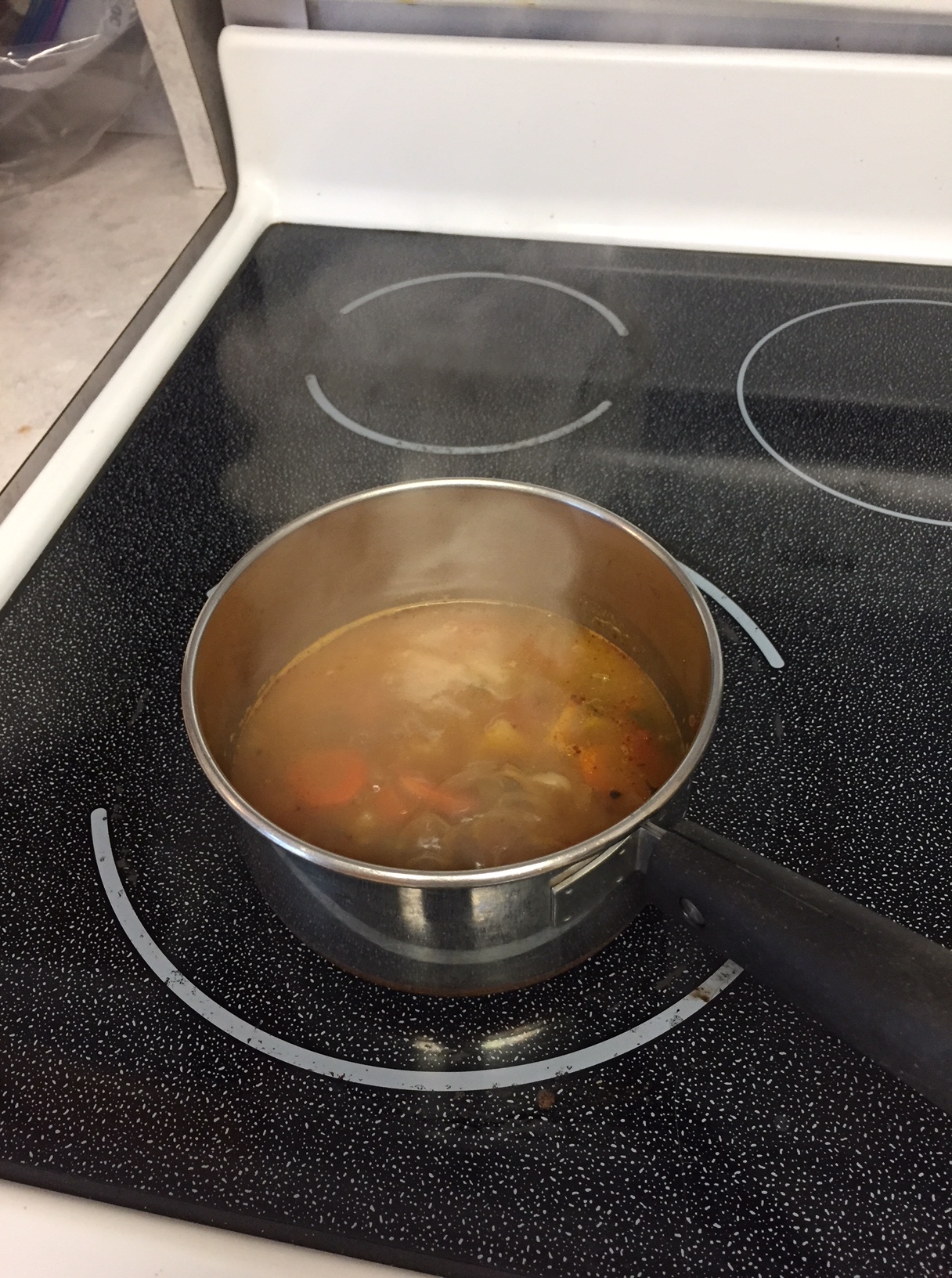 One of my goals in January is to use things that have been around for too long.  This soup is some I canned in 2011.  I ate it for lunch, and it was still delicious.  I felt so virtuous when I ate it:). I also used some peppers I pickled a few years ago.  I put some in refried beans and some in chili.  They worked fine.  When a friend made them, they were crisp.  Mine turned out mushy, and so people didn't want them that way, so they just sat there.  Now, I'm using them up in creative ways.  I've also used several frozen bread items.  I buy it when it is on the day-old rack at Fred Meyers and freeze it.  But, I needed space more than extra bread this week, so I targeted it.   I will try to post later in the week about the other goodies I cooked.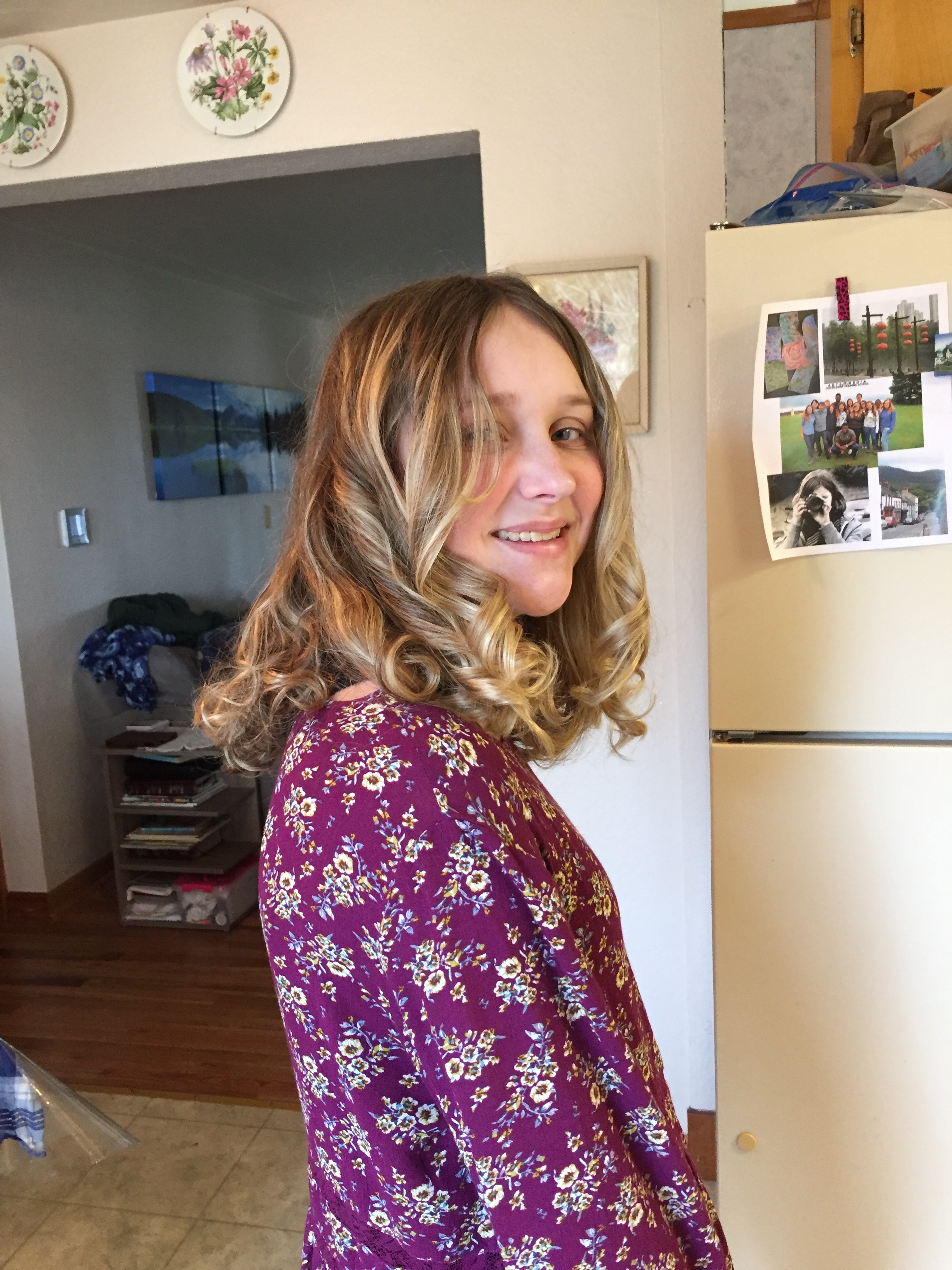 One day, Alissa came to my house for school, as usual.  She had her hair in curlers.  After she took them out, some hair was curled and some was not.  So, we curled the rest with a curling iron, and it turned out great!  (We also did school, if you were wondering). Ja'Ana had taken a job for the holidays where Lovana (older sis) works.  They just needed a dish washer for the break, and Lovana said, "My sister will do it." And, so she did.  But, there was a mix-up, and they thought the break continued one more week than it did.  So, they scheduled J for a few days last week.  Therefore, Alissa and I had a fun week of school, and we made J a list of work she had to do in the evenings!  I tried not to make it too hard, and it worked out.  This week, we will hit it harder, as both girls will be here, as usual.  So, it was win-win for everyone, and J ended up getting a few hundred dollars out of the deal.  Alissa still has her after-school job, so she enjoyed buying Christmas gifts for everyone this year, even more than she usually does.
We got a microwave!  Rob went to a hardware store out in Mt. Angel, Oregon, where we have bought appliances for years.  It's just a little store in a little town that has excellent customer service and good prices.  They showed him the choices. He did not pick the most expensive or the cheapest, not the simplest or the fanciest, the largest or the smallest, but one that met our needs for a good price, and within an hour, he had it home.  I'm sure glad to have one again.  I use it a lot.  With my work schedule, I cook a lot on the weekends and warm it up during the week.  We've managed, but…..this will be better.
We went swimming as a family at the YMCA and I took 2 exercise classes this week.  We've been enjoying watching Netflix, Rob's Christmas gift from Lovana.  When we moved in here, the price of cable, plus internet, was less than our bill at our other place for phones plus internet, because we dropped our phone land line.  So, we got cable.  I've especially enjoyed the ice skating that was on this week, as I have not gotten to watch it for years and years.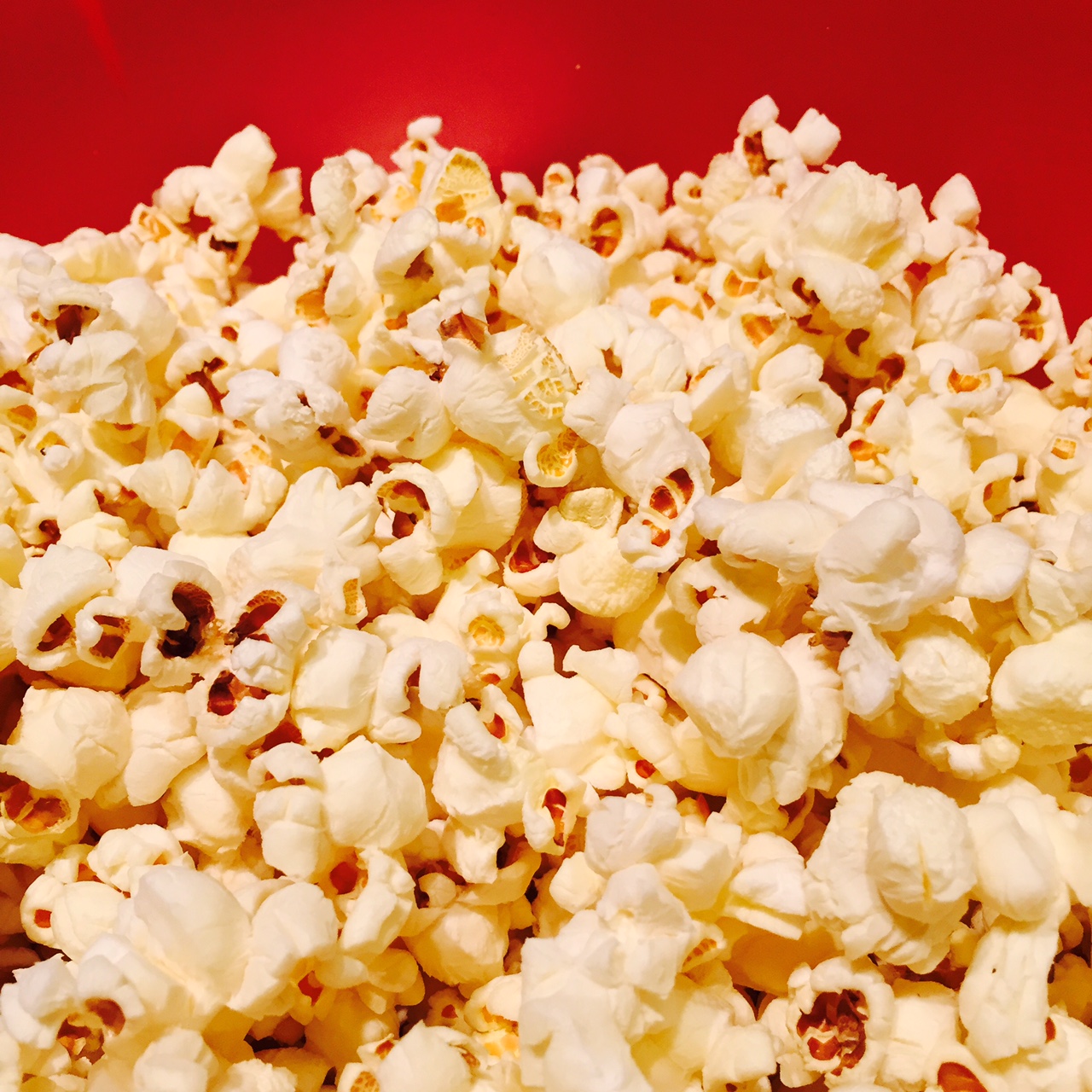 Jake spent the weekend.  He wanted popcorn, so we enjoyed the frugal, tasty snack.  We had him help Rob run errands.  He went swimming with us, and decided to run around the track 2 times as well, while we were at the Y.  We read out loud several times.  Right now, we have moved on to "Little House on the Prairie" and he is loving it!  We just finished "Little House in the Big Woods."  It's been so rewarding to see him making this transition to enjoying it when I read chapter books.  This is our 4th, and I'm such a proud auntie!  It's so fun to see how indignant he got when the Ingalls' dog, Jack, got swept away when they were crossing the creek because they forgot to put him up in the wagon, and how happy he was when Jack showed up, all right, by the campfire that night.  (I know I have a few new readers–for you, Jake is my special-needs nephew, who is going to turn 10 this coming week, whom I work with as both an auntie, and as his personal support worker for DD services, so spending time with Jake is both rewarding for me as a person, and generates some funds for the family.  When I work with him, I try to help him go forward in his development, in some way.  You can read about some things we have done here and here.)