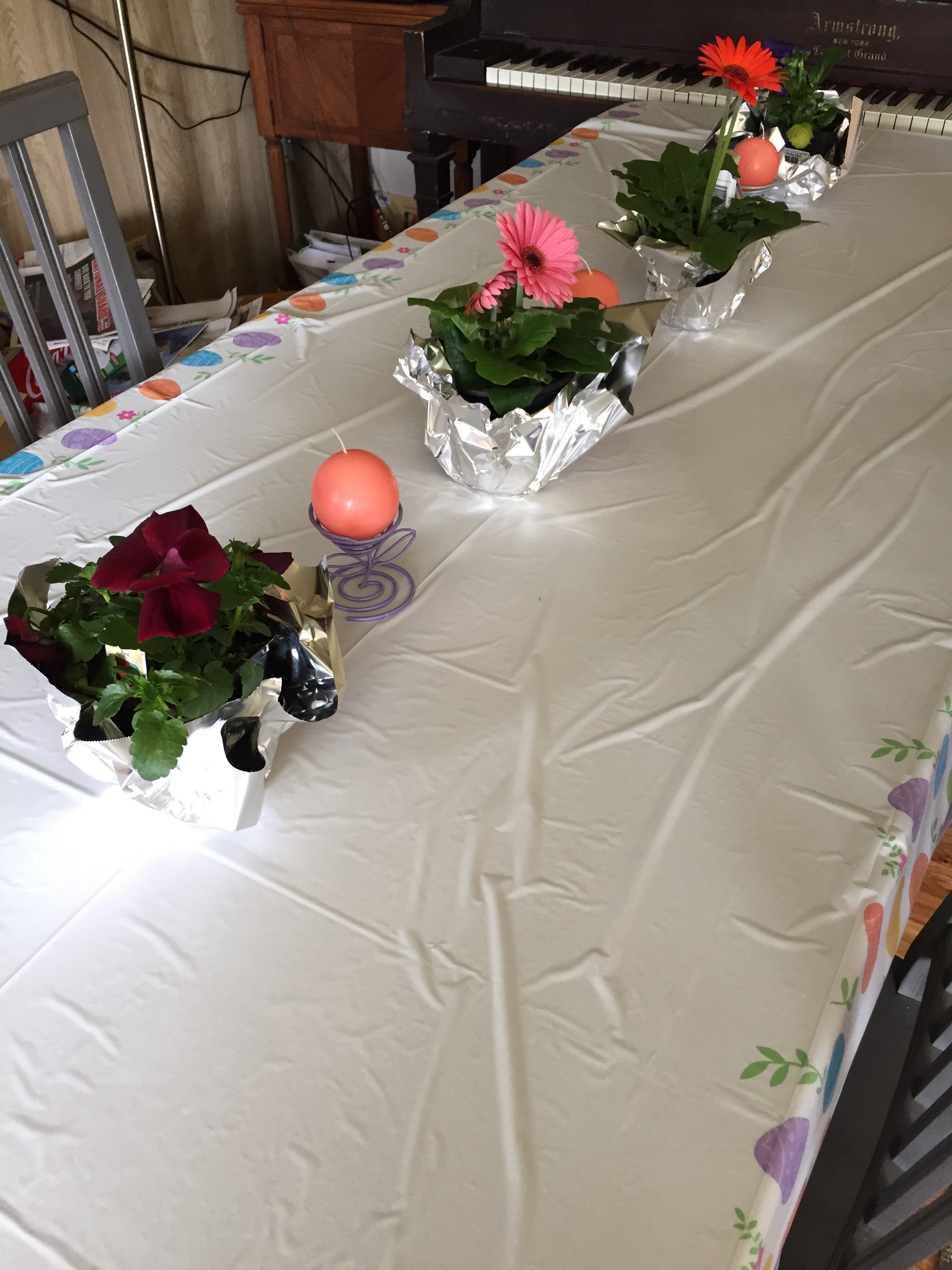 Happy Easter!  We had a wonderful day, full of family and food.  We got up super early and went to the 6:30 sunrise service.  It was a great service, and I loved being there, even though I felt like I needed toothpicks to hold my eyes open:)
My decor was simple.  Rob bought me some flowers, and I put them on the tables.   Some tables had candles, some just had flowers. He also grabbed a couple of plastic tablecloths, which I used on 2 tables and used a cloth one on the other table.  I put more pansies on the table outside, as the weather looked like it would be nice and some people might choose to eat out there.  Contrary to the promises made by the weather apps yesterday, it rained!  We enjoyed ourselves despite the rain, and also celebrated both Ron and Lovana's birthdays.  We also enjoyed the company of one of my cousins who I have not seen for a long time.  That was very special to hear about all she has been doing in her mission work in Nicaragua.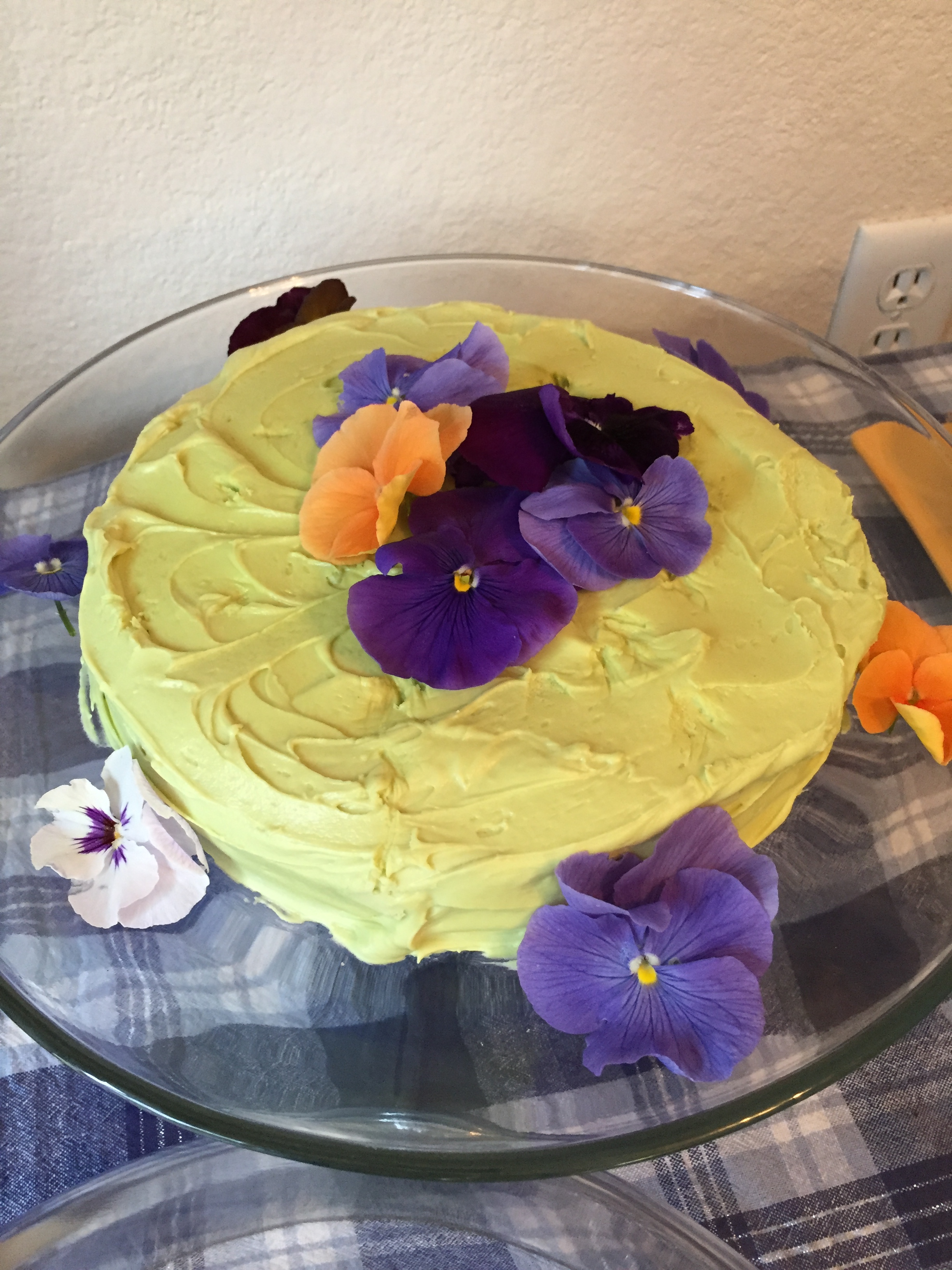 The cake looked great.  It turned out terrible!  I had experimented with some egg replacer and a gluten-free mix, and it didn't turn out well.  You win some, and you lose some.  Thankfully, we had 2 kinds of cookies and an apple crisp and no one went hungry or missed out on dessert.  Besides all that, my aunt brought her usual basket of candy-filled eggs and Jake and Patsy found them after Alissa hid them.  Then, as is tradition, they insisted hiding them for Alissa to find.  Everyone got a little baggie of candy, even the adults!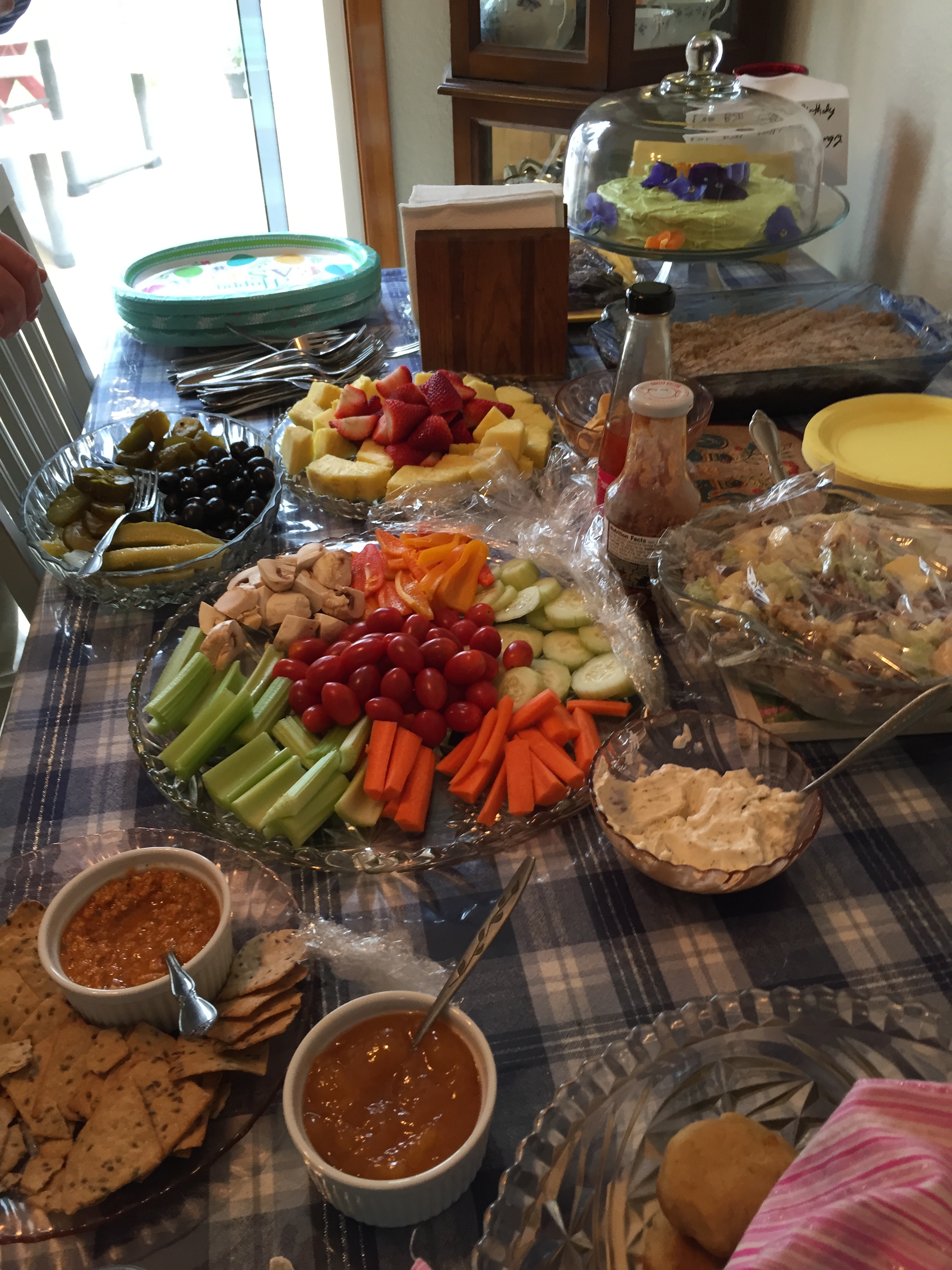 We had mixed grill.  Rob grilled a ham in a pan on the bbq, basically because I tried it in both crock pots and couldn't get it in either.  Boy did it turn out great.  He also did some shrimp skewers and some teriyaki chicken.  I made easy choices so people ate according to their allergies and needs.  They included apple-celery-walnut salad, veggie tray and dip, sunflower seed romesco dip for crackers, and a fruit plate.  I also put out pickles today, that I had canned last summer.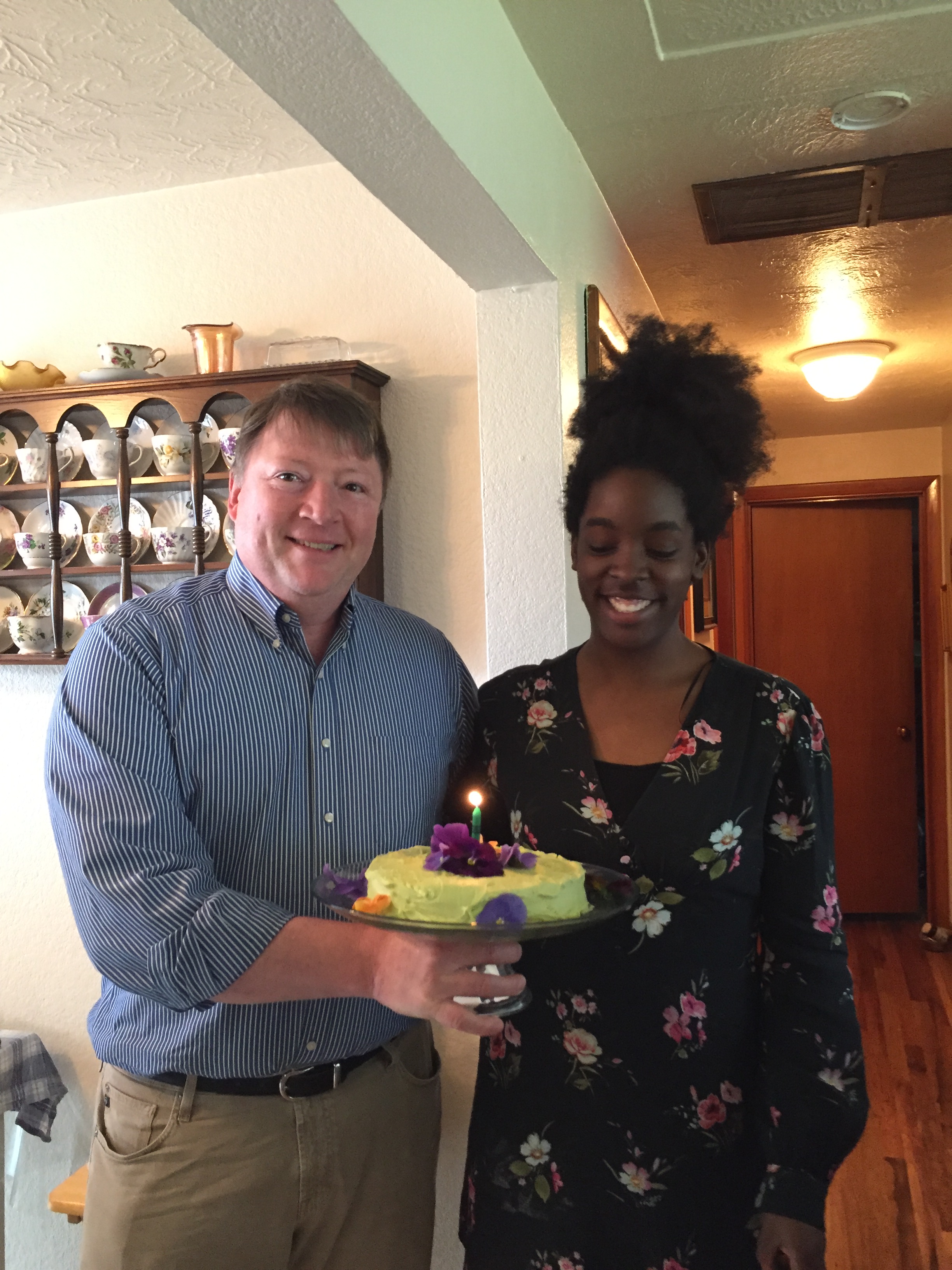 I love what we gave Ron for his birthday! It was a "May you never be hungry again" kit.  There are days when he comes in from work, starving, because he didn't take the time for lunch, or didn't have any cash on him at the moment.  We divided a handful of 1's and 5's between several envelopes, and then Rob wrote funny locations on the outside such as "put this in your socks, put this in your visor, for your pocket, glovebox, with your toothbrush" and so forth.  It was not costly, but added some fun to the day.
I spent several hours over the last couple of days cooking, cleaning and organizing myself for the dinner itself.  Thankfully, I was able to get a few other activities done as well.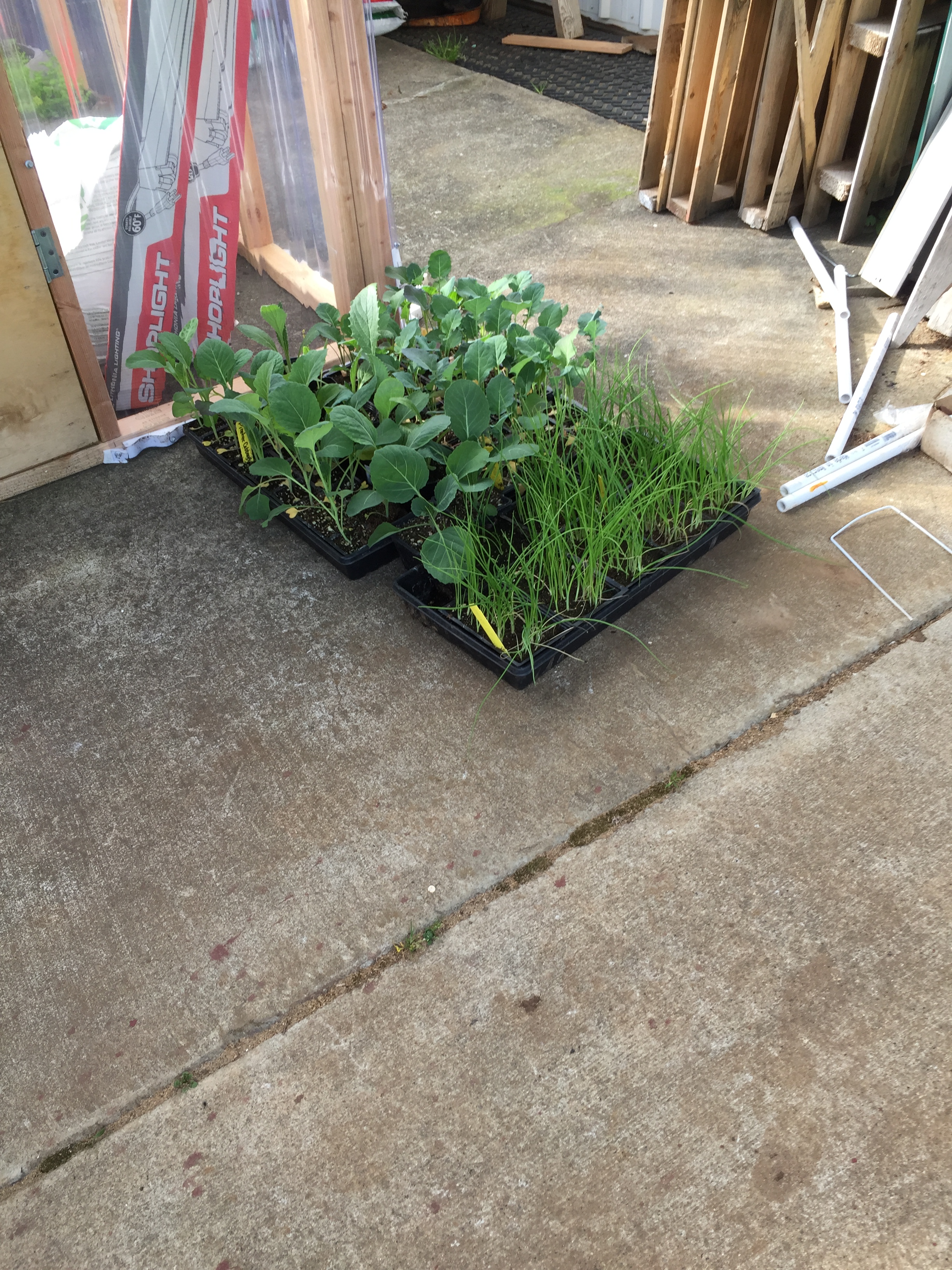 I hardened off cabbage, broccoli, artichokes and onions.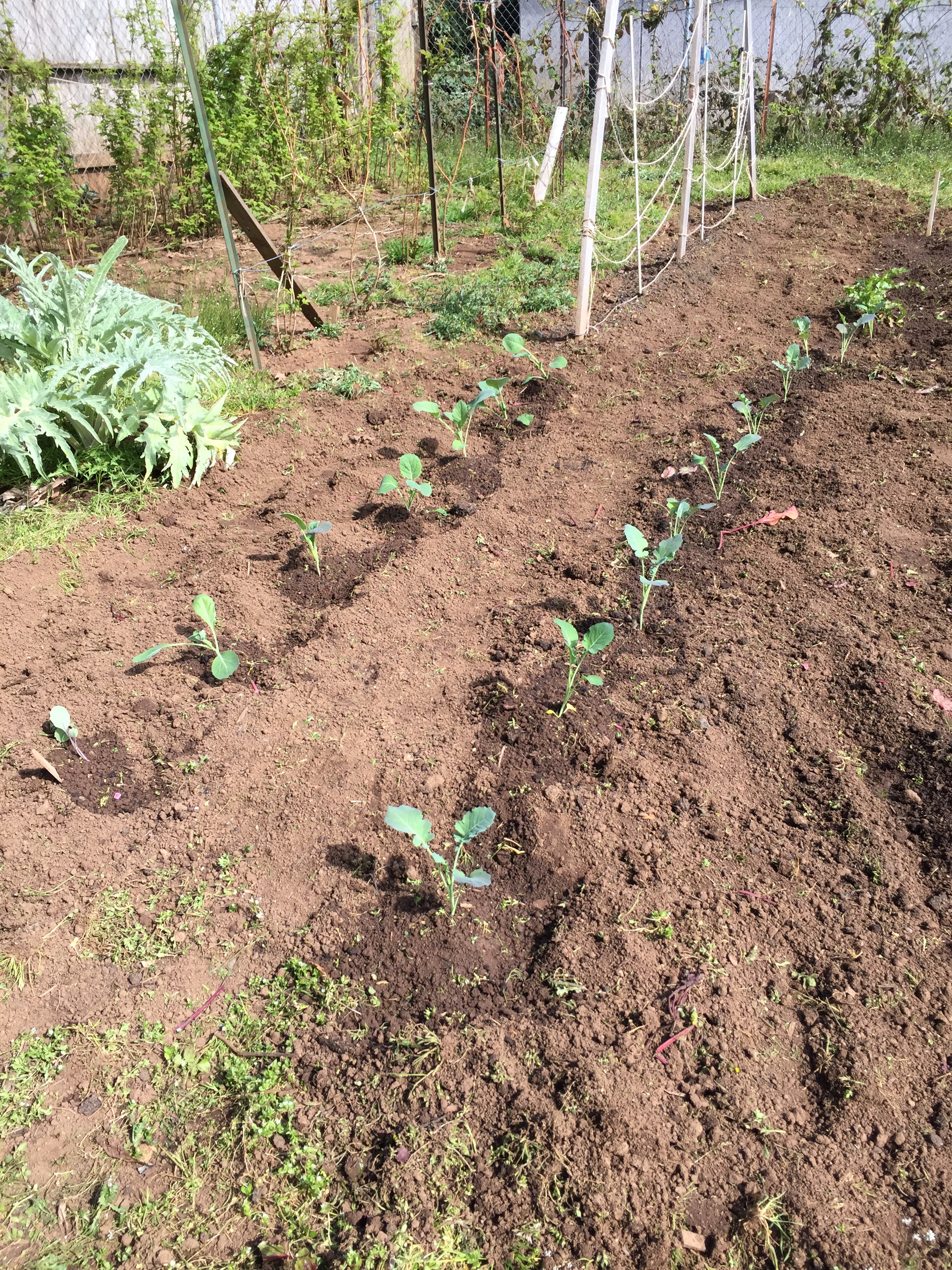 I used the tiny tiller to till up 2 small parts of the garden and got cabbage, broccoli and artichokes planted.  Patsy and I also planted seeds.  We planted carrots, beets, several kinds of lettuce, snow peas, and spinach.  We also planted some potatoes.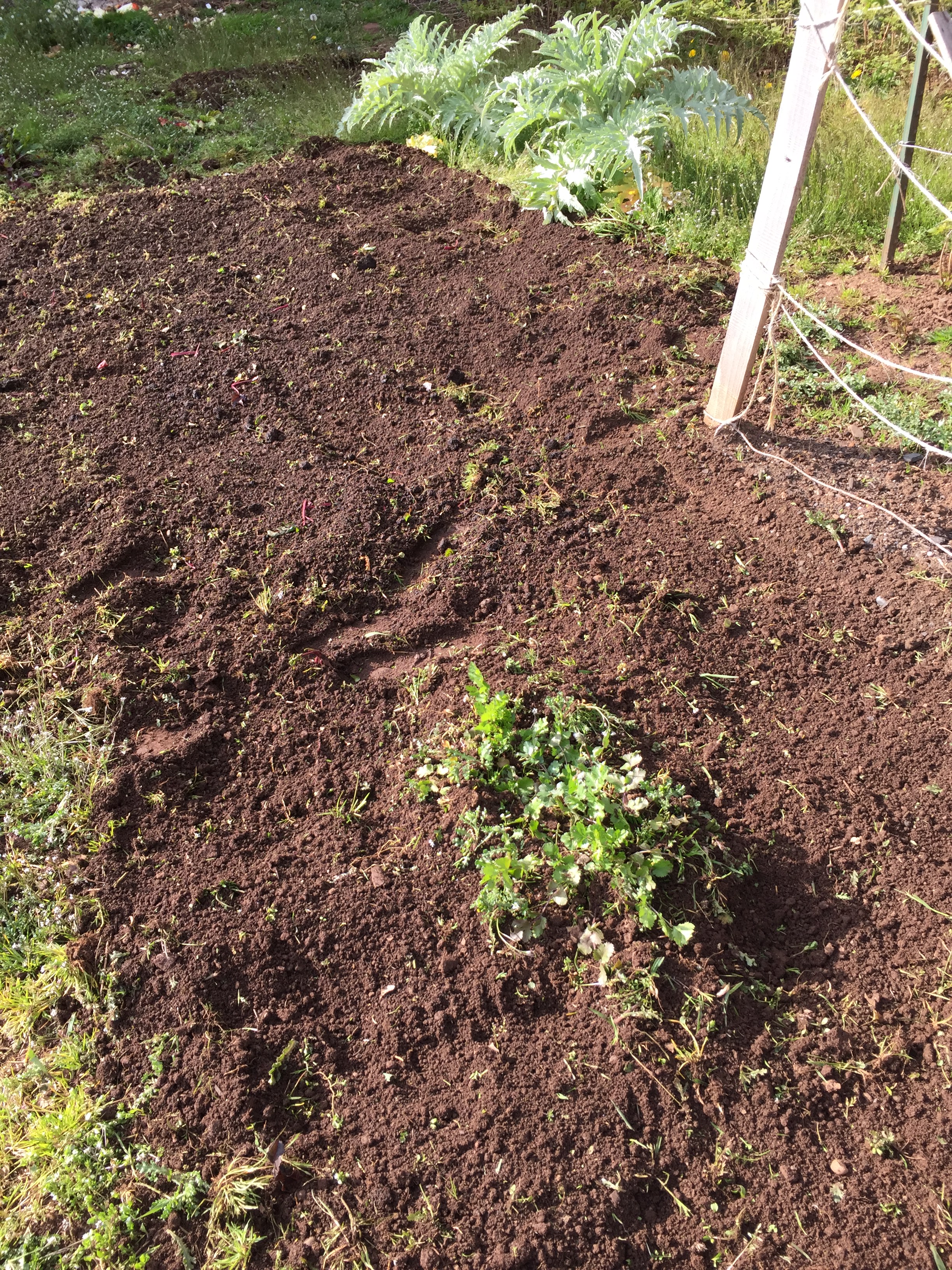 I found some overwintered cilantro, and tilled around it.  I also saved 1 tiny volunteer lettuce, and some beets that had lived all winter.  I actually picked about 1 cup of tiny beets and 1 small artichoke.  The peas I planted are starting to poke up out of the soil, always a cheering sight.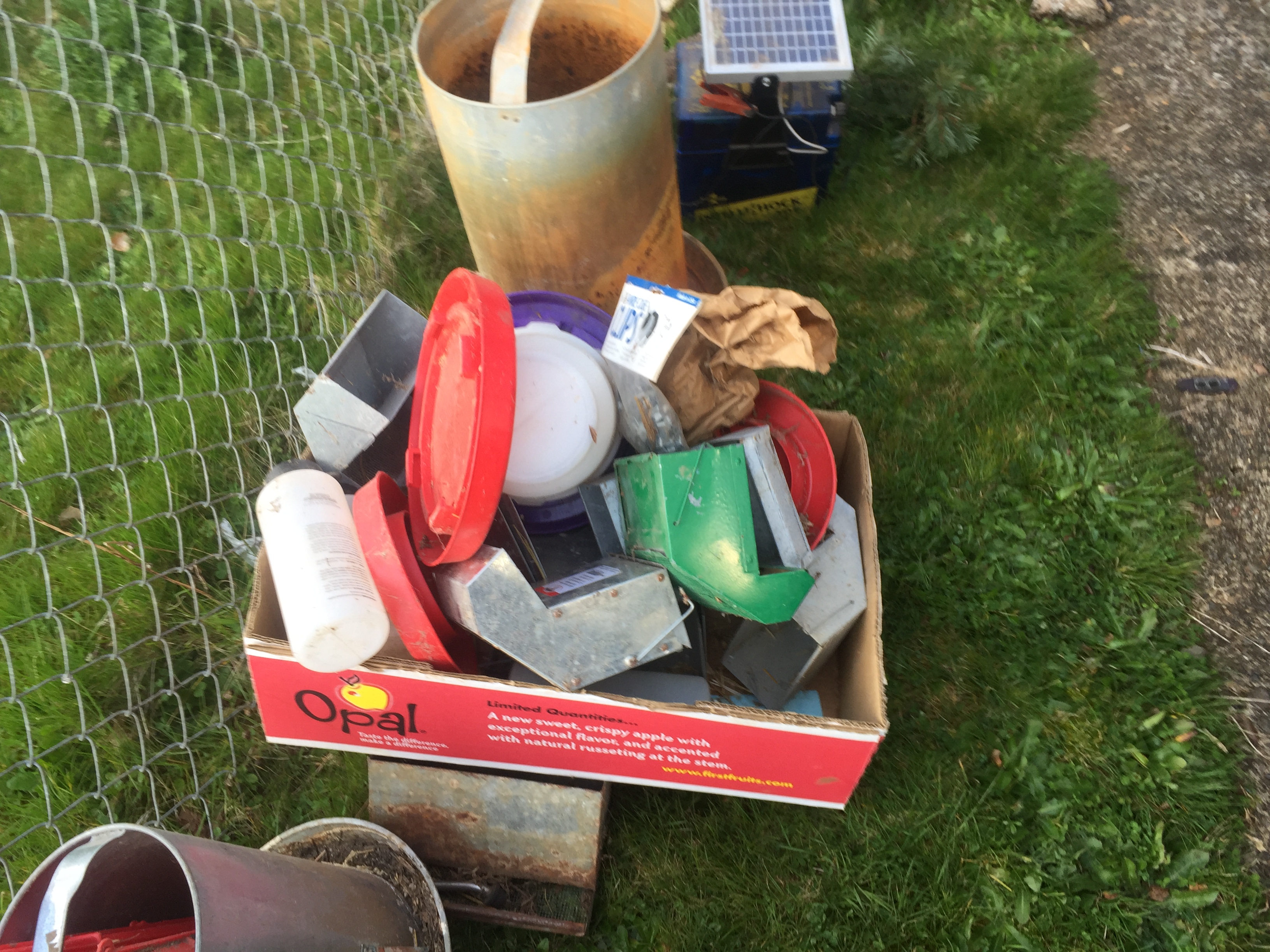 Rob decided to have a garage sale.  He had some old items from our previous property that had been cluttering up my brother-in-law's barn.  He filled the van a couple of times in the past few weeks, and hauled the items down here.  Lots of it was still in the van, so he was eager to get it out.  I grabbed a few items here and there from the house and shop as I found things I could live without, and Lovana cleaned out some clothing.  Rob put a Craig's List add up, and hung some signs Friday morning.  I had an appointment, so left him to it!  When I got back, almost all of his stuff was gone, and the garage sale was slim pickins' indeed. Most of the junky household stuff and clothing did not sell, but a little of it did.  I made him  some lunch and he kept selling, but by 3:30, the horde had diminished to a tiny trickle, mostly because the good items were gone and people started slowing, looking, and just driving on. He even sold a large item he was trying to sell at the same time.  He packed up the remaining items, which consisted of a few boxes and items, and donated them.  In the end, he made around $200, plus the cost of the other large item he sold.  Garage sales are always a lot of work, but it was worth it this time!  It's also nice to know that all of that stuff is no longer cluttering up the place.
Our taxes are finished and filed.  Rob always organizes that process and we pay our accountant to do it.  We've had this accountant for a few years now, and they always find something that saves us, or gets us, money that we did not know about.  This year was no exception.  We will be getting a refund (whew!) from Federal, and need to pay State (boo).  Thankfully, the refund is the larger one!  (double whew!). It's not as big of a refund as we have had in the past, but since I don't have to pay, I'm delighted.
I was able to go shopping for clothing for myself.  I had gift cards and birthday money from my last birthday and Christmas.  I needed a few things for our upcoming trip to Washington D.C.  Ja'Ana and I will be traveling with my sister, 2 nieces and my aunt as a homeschool trip for the 2 girls.  They are studying government this year, and my sister got the idea for this trip.  So, she's taking us on a big adventure and we leave next Saturday!  I've been trying to find the time to go to shopping, and finally made it.  I was able to hit really good sales at Macy's and got several things I needed.  I had a specific list, including a light jacket, prayed before I went, and found everything I needed for a price I could afford.
After eating dinner, we went over the plans we have made.  My aunt has done a lot of work figuring out what tours we can go on.  We were accepted for a tour of the White House, along with several others she had requested for us. It's going to be pretty exciting, and the girls will be receiving 1/2 of a school credit for the trip, once they do some write-ups when we get back.  This will be a busy week for me!