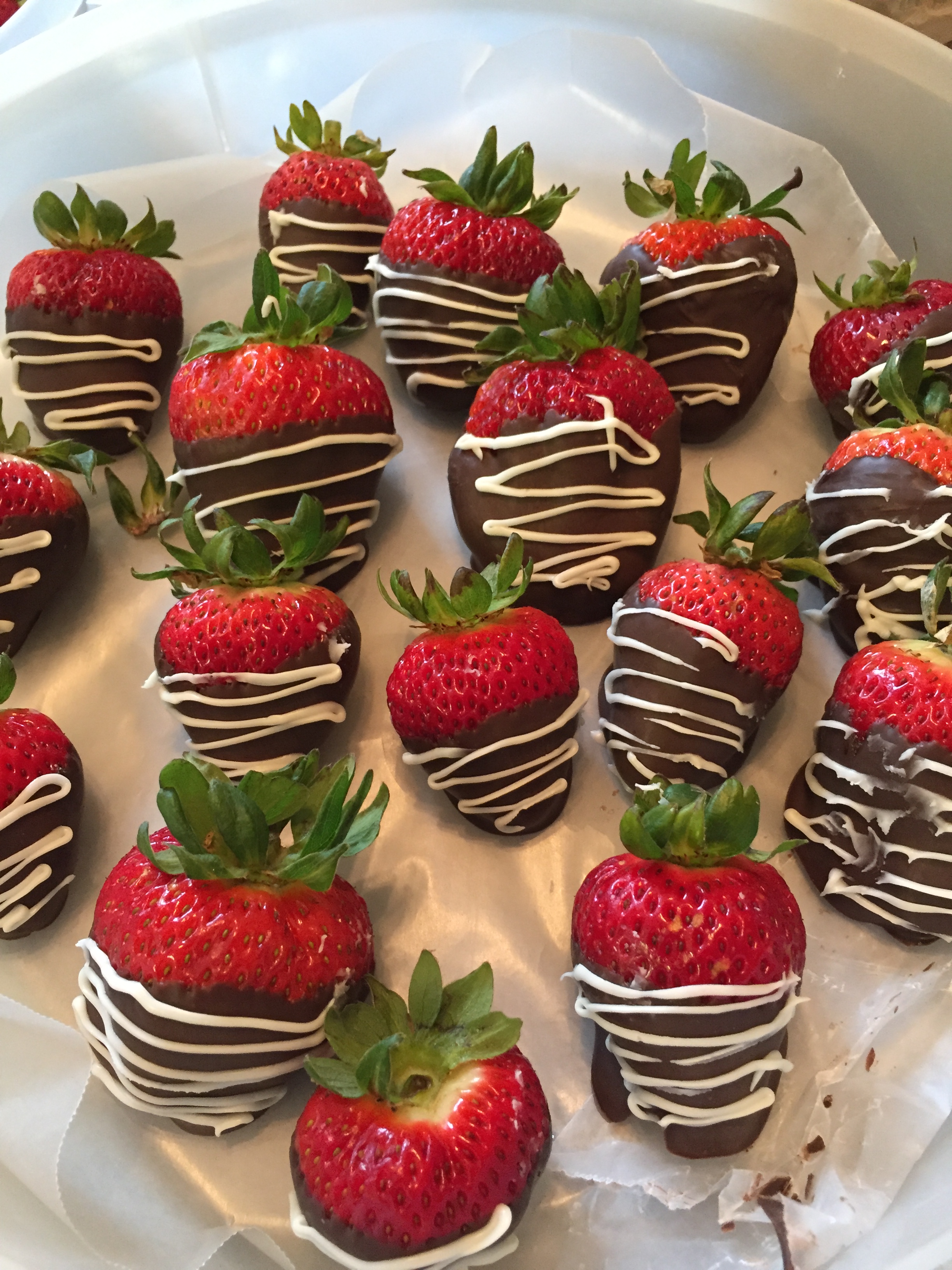 This week ended up being a bit busier than I thought it was going to be.
One thing I did was help my sister with a brunch she was giving at her house.  She and my brother-in-law are leading a team on a mission trip this next summer, and this brunch was to inform people about it and give them a chance to visit with the team, so they can pray and support the team more effectively.  She did a lot of the cooking, and I made several items as well.
One was chocolate-dipped strawberries.  I used dipping chocolate I got on the Whoo-Hoo (reduced) rack after the holidays, white chocolate chips from holiday sales and on-sale strawberries.
It ended up being a lovely spread of food, and there was a wonderful turn-out and a large part of it was consumed! We had no idea of how many were coming, so I'm glad there was enough, but not way, way too much.  We have some leftovers, but not too many.  Whew!
I took Michaela to her Horses of Hope afternoon.  She gets to ride, and gets to help around the arena.  Her dad or sister usually take her, but today they were busy, so I went.  I have many talents.  Taking care of horses is not one of them.  I was very appreciative that they respected my feelings and let me pet a horse if I felt like it, and did not require me to do anything else:).  So, I just took pictures, and admired Michaela's skills. Michaela was delighted to show me around, introduce me to the different horses, and have me walk along with her as she took her horse ride.  Because the horse she rode is new to the facility, there were 3 workers who assisted her, one on each side, and one in front.  They are using her and a few other seasoned riders to help train the new horse to be a good therapy horse.  I thought that was really nice of them to say and she was so proud to show off her skills to me!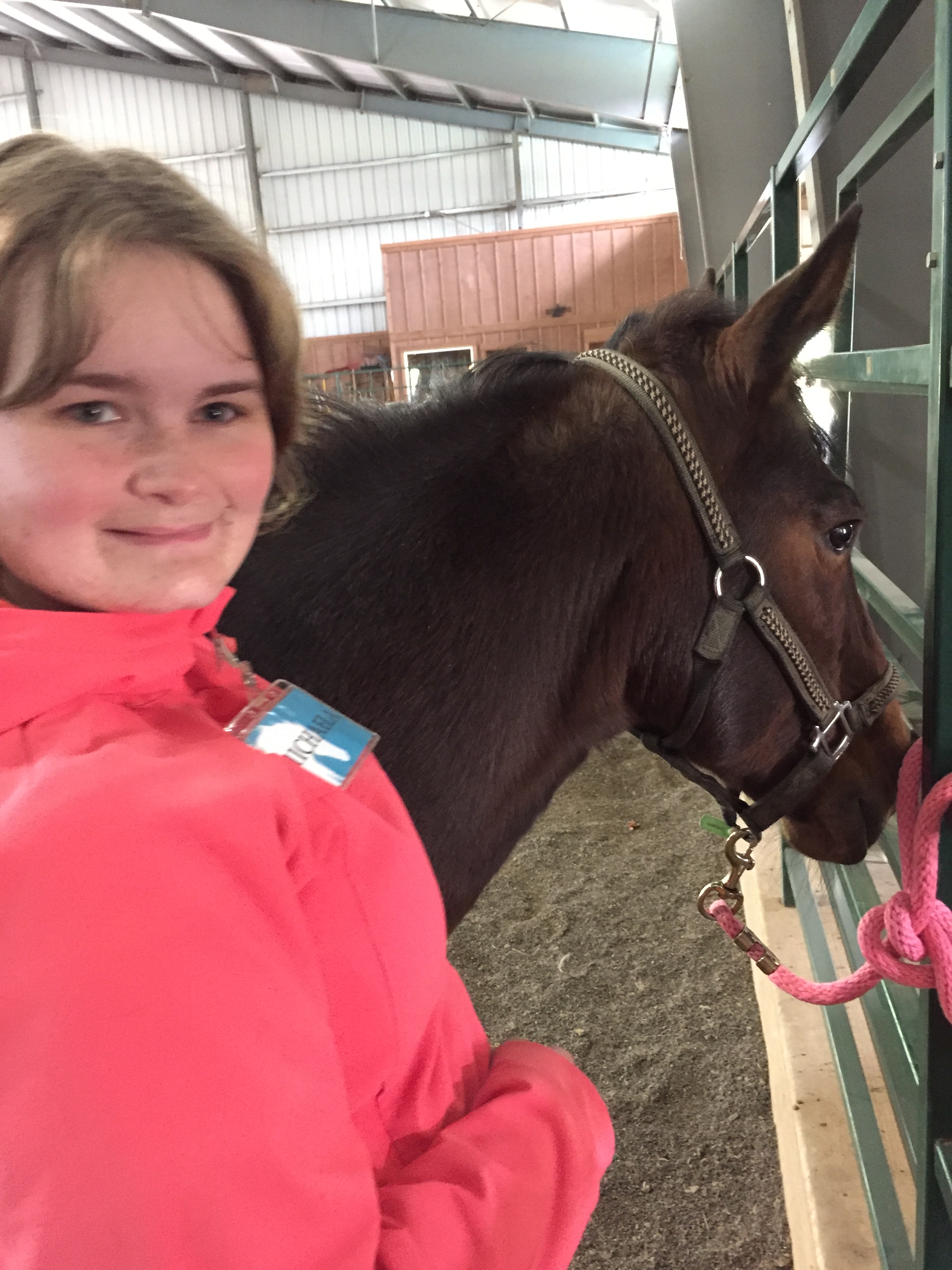 Rob hung out with Jake and Patsy today.  Between the two of us, we logged in quite a few extra hours with Jake this week.  He was sick on Thursday, so I spent the entire day over there with him.  Have homeschool….will travel:). So, I took the books and Ja'Ana, and we did school over there that day.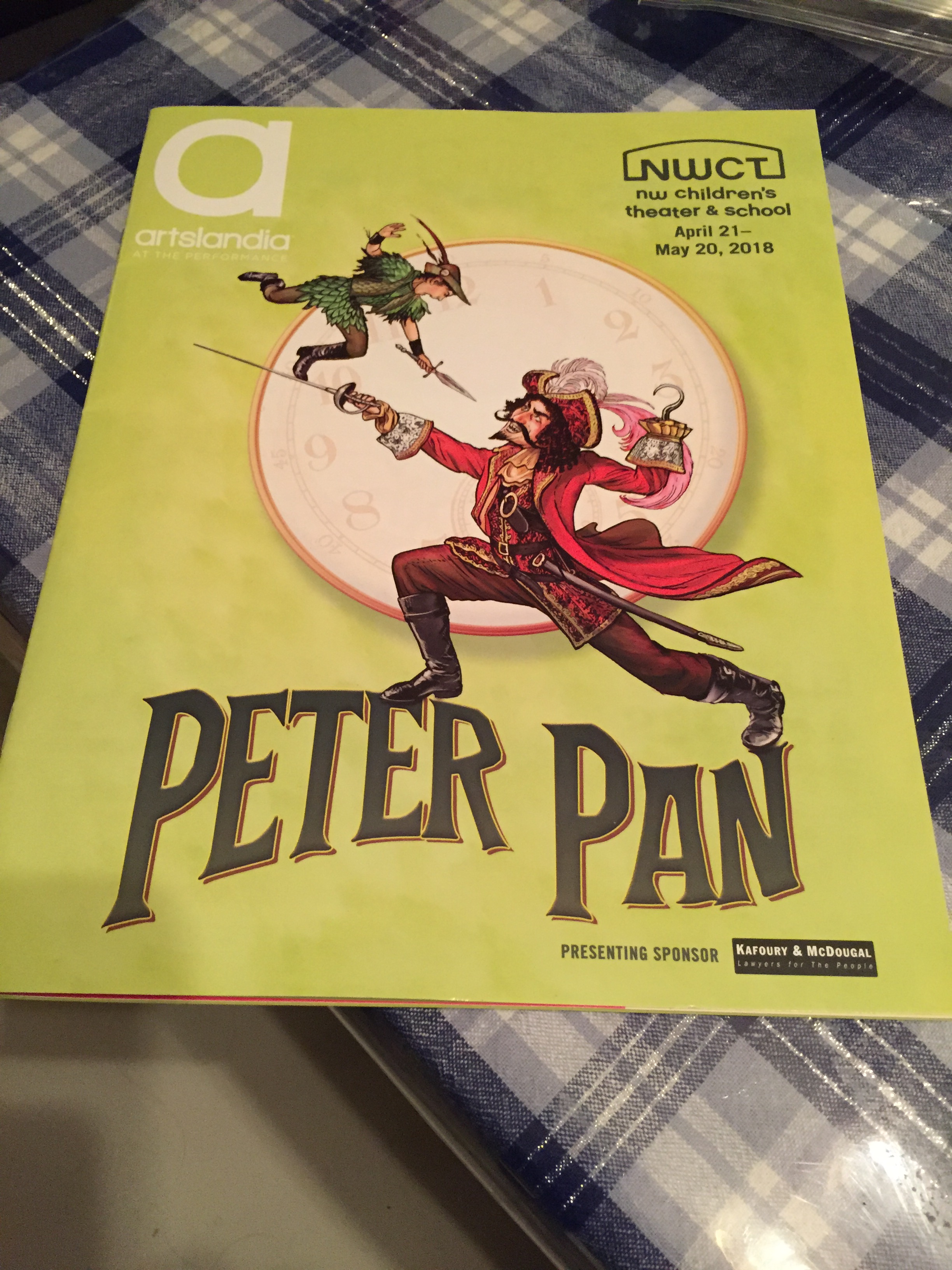 I had tickets to Peter Pan up at the Northwest Children's Theater in Portland for Friday.  When I found out that Rob, Jake and Patsy did not have school Friday, we were able to get them tickets, too.  It is so nice that they let the homeschoolers purchase tickets to the school matinees for a very reduced price.  Rob got to spend time and visit with a friend he has not seen for a while, who also attended the play with his daughter.  He had such a good time and it was especially rewarding to take Jake to his first play up there.  He loved it.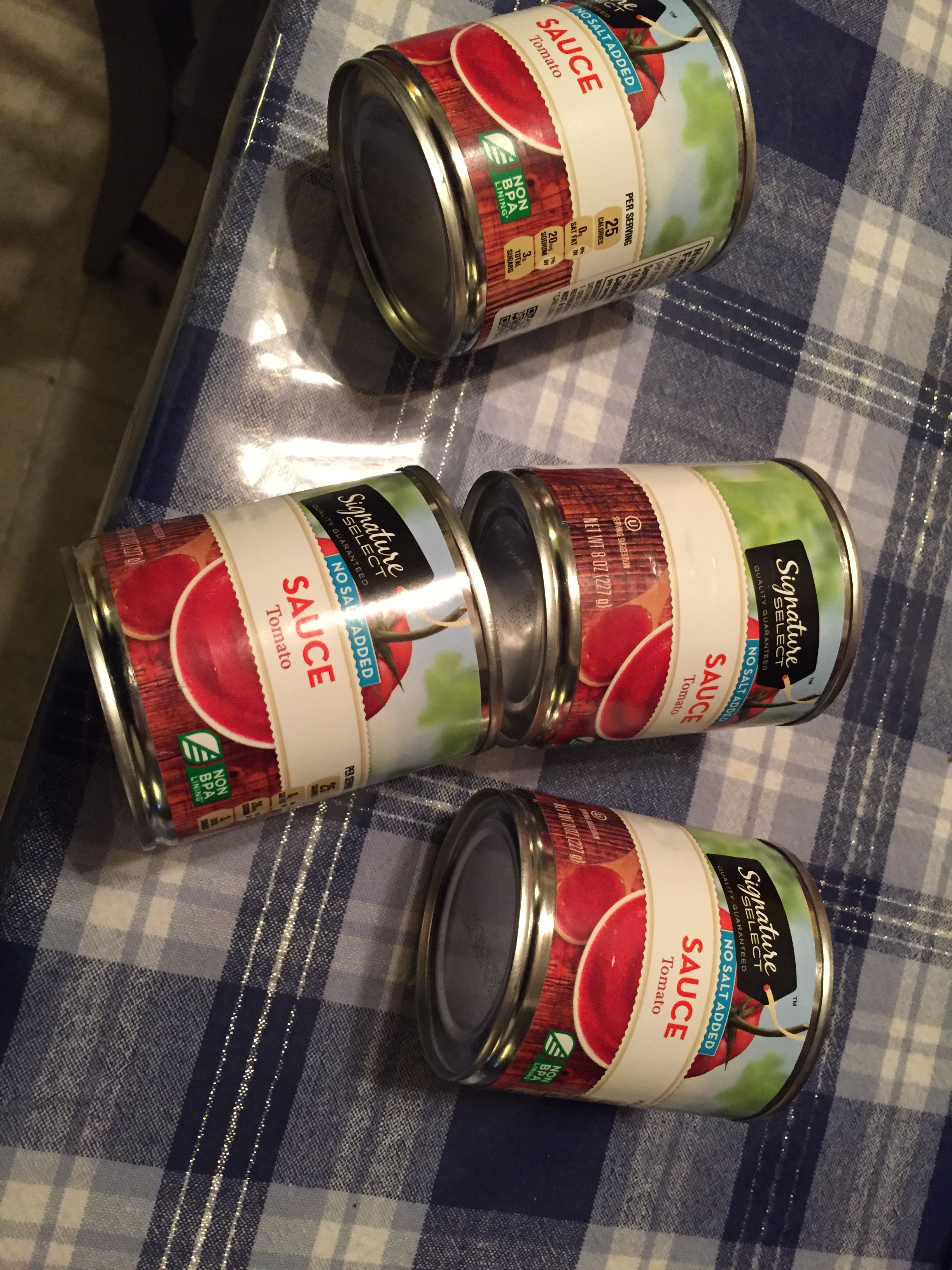 I decided to shop at Safeway for the fruit and other things I needed this week. The produce is so nice at our Safeway, and I needed a bunch of fruit for the brunch.  When I casually mentioned to the cashier how much my daughter is enjoying playing the Monopoly game, she said it was almost over and gave us some extra tickets.  We ended up winning 4 cans of tomato sauce, which Rob picked up today.  He also got 12 apple juices, because they were only 77c/ 64 oz. bottle.  We were delighted to stock up at that price!  He only got a few more tickets today,  but we still won a few more things.  There were some tickets from another day that did not get redeemed today, so we will pick these items up tomorrow after church.  I didn't know Patsy had a little stash on the fridge under a magnet, but I'm glad to have found them before the game was over.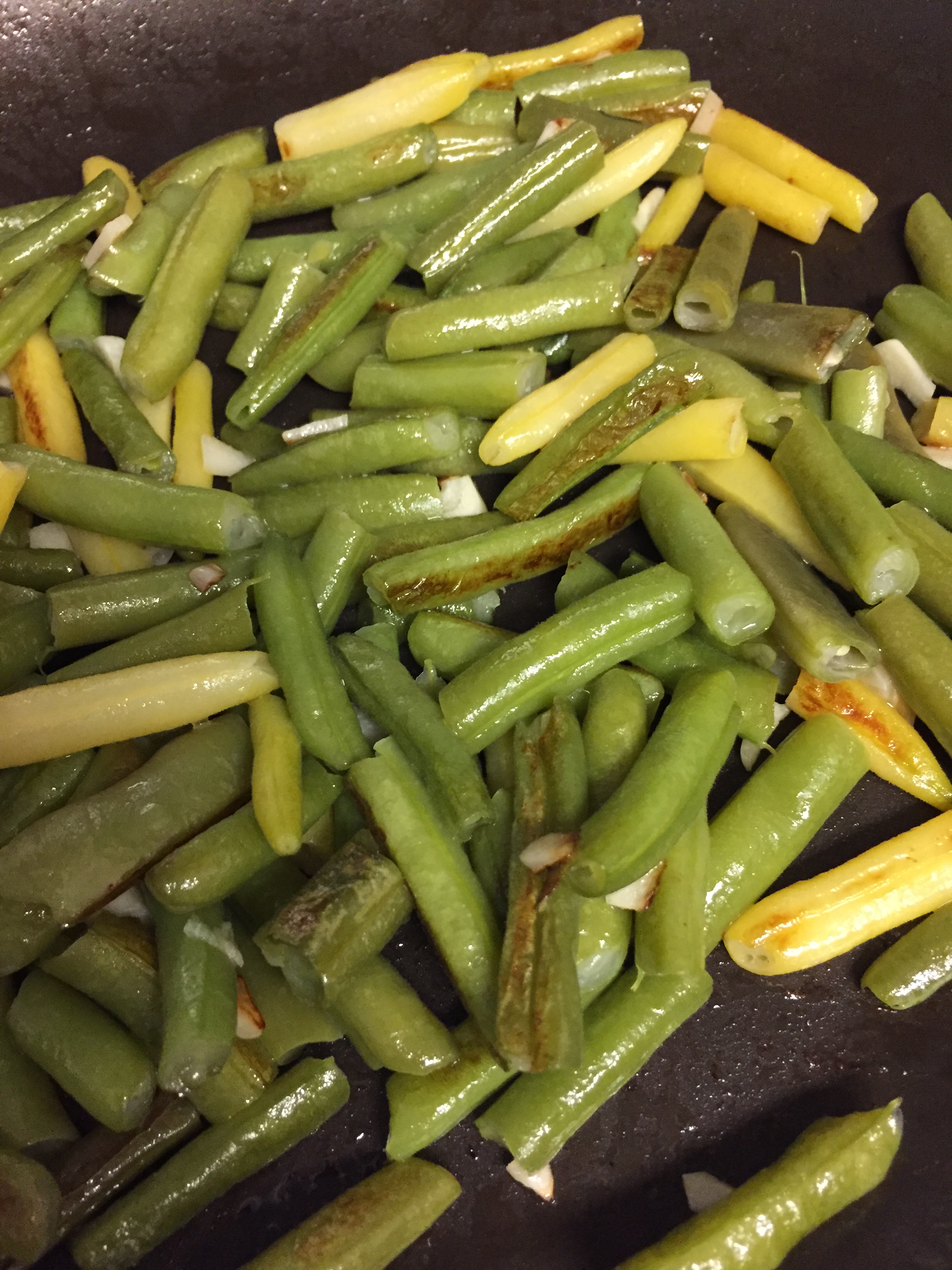 We keep eating home-frozen beans, and other goodies from our freezer, cupboards, and pantry.  I am pleased with how one of the freezers is starting to look—there is some wiggle room in there now.  I'm going to keep focusing on that project.
This week, it was nice to receive some very useful items from people.
My mom saved some pots for me to use in the greenhouse.  I have been hardening off plants, and was able to give her the flowers I grew for her from the seeds my sister brought her from England.  She kindly left enough for me to plant around here, too.  It was amazing how many flower plants we got from that little packet.
While in D.C., my aunt noticed 2 things.  1) My travel-sized bottles of shampoo leaked (thankfully they were in a ziplock bag) and 2) My phone ran out of charge before we were done with our daily sightseeing.  So, she had some extra silicon bottles she gave me, and a portable charger she did not need, and she gave it to me as well.   Those are going to come in very handy.
One of my sisters gave me a lovely flower, which I have been enjoying, and will enjoy some more once I get the table cleaned off again!  Right now, it's hidden behind the pile of stuff that has migrated to the table after this wild weekend!!  Between the brunch and the boy who ended up spending 2 nights….Wow, just wow!  I have a pretty big mess:). I expect tomorrow afternoon after church will be the time to do a bit of tidying up.  My sister has a meeting, so I will be coming right home after church for once, eating leftovers, and then I'll have some time to clean, I hope.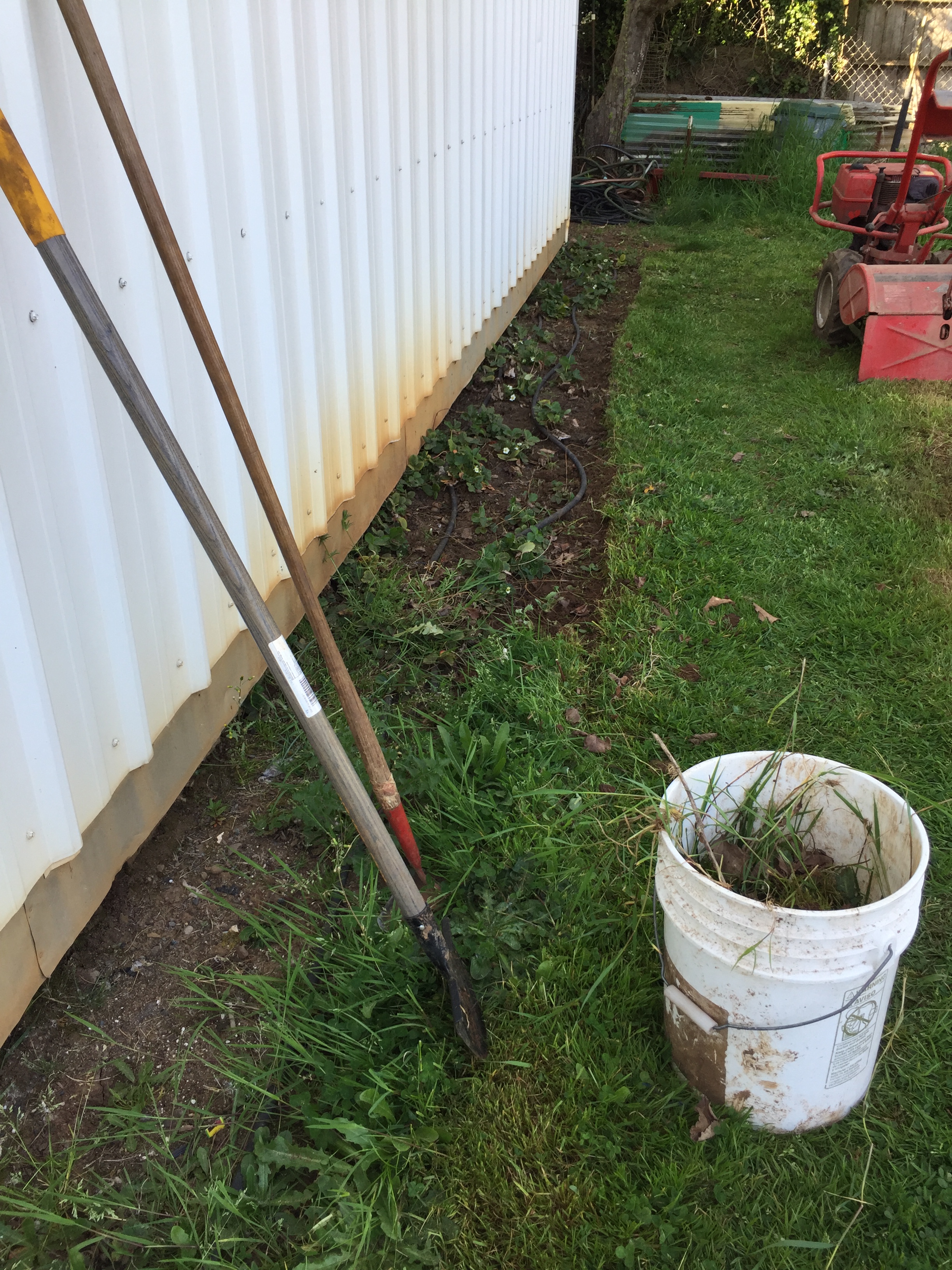 I got 1/2 of my strawberry bed cleaned up.  The plants I cleaned around are the new ones I planted last spring, and this end are very old plants that were here when I moved in.  The new ones are thriving, the old ones, not so much, which is normal when strawberries get too old.  I plan to put some bags of dirt around the berry plants and some bone meal and fertilizer, and will likely transplant runners from the new berries down to this end where there are huge gaps.  But, first, it needs to dry out again after the recent rain so I can get out there again.  It's quite a bit of work, as the grass is trying to take over.
We are having to work outside in small bits of time we can carve out between work, homeschool and the rainy weather.  Sometimes I feel frustrated because I can't finish up jobs I start in one session, but I keep reminding myself that breaking it into 2 days still gets it done!  Little by little:)  Patsy and I mowed the lawn again, this time lowering the blades after our first "mow" last week. Rob tilled a little bit in the garden.  It needs another time through on another day.  I have little seedlings up from a few weeks ago when I got into the garden for a short while.  I always enjoy seeing that!
I have several appointments this week, again.  We continue going to doctors/dentists/eye appointments/therapy, etc. for ourselves and the children.  Because Rob's job is on a year-to-year basis (he only has a 1-school year contract each year), there is always a possibility that he won't have insurance during the summer if they don't promise him a job in the fall.  In that case, he would have to apply again in the fall for another position.  This can happen if the dynamics change in the classroom in any way, such as if a child that he work with moves or changes schools.    In any case, it won't hurt to get these things done anyway!
I hope your week went well.