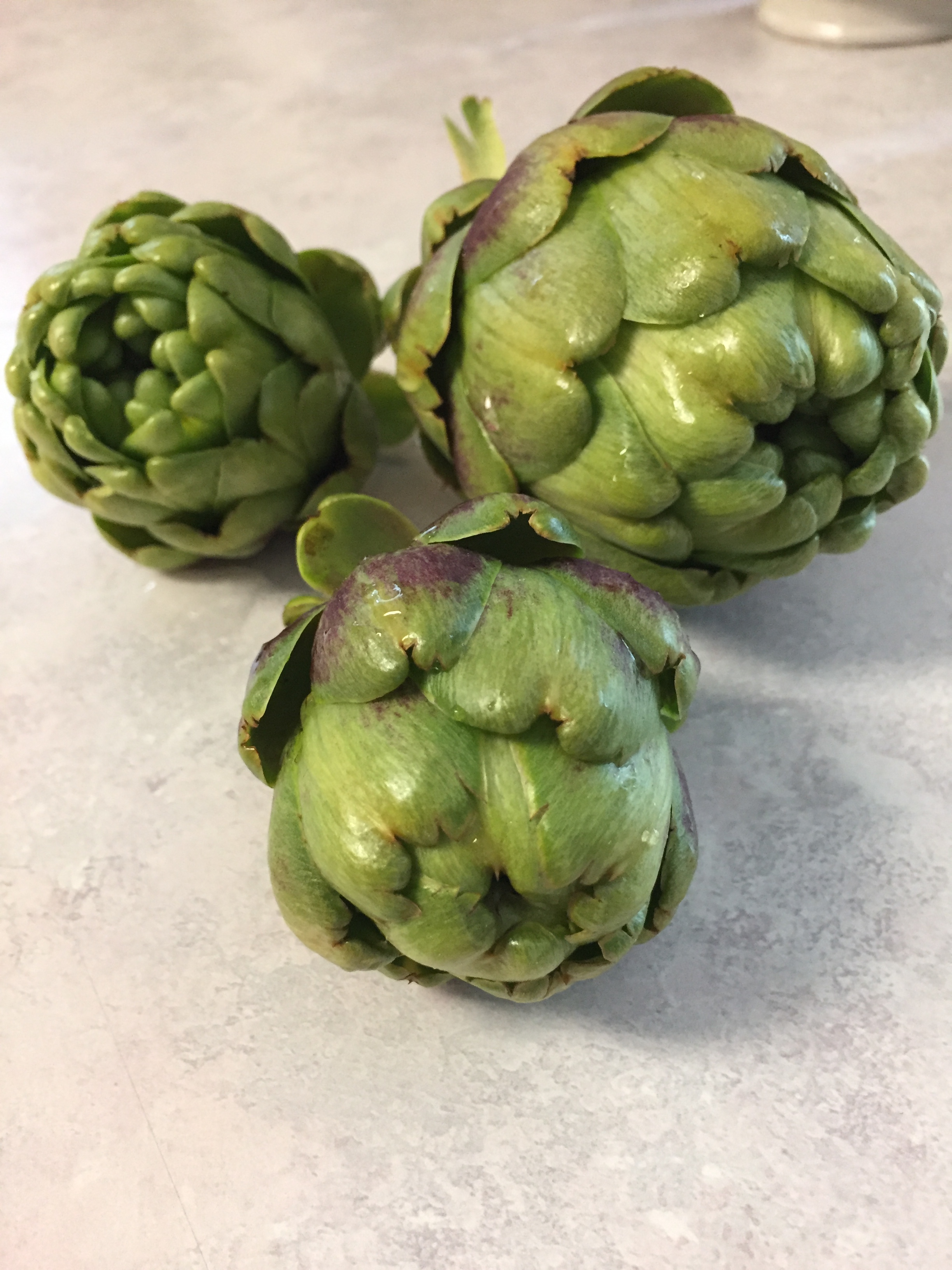 We had lots of great food this past week!  My most exciting thing were the artichokes from my plants in the garden.  They were small, but  tasty!  Patsy and I finished off all 4 (1 not shown in picture), with lots of butter.  Yum!
I was able to get a large amount of groceries right after I returned from Washington D.C., so really didn't need much for the family this week.  We are still using them along with things pulled from my storage.   I did go shopping for fruit and other ingredients for the brunch last Saturday, and also got quite a few free items from Safeway that I've been incorporating into the menu.  I picked up 2 dozen eggs while I was at Safeway, but then a couple of days later, picked up 5 dozen at Costco for around $1/dozen, a better price.  We eat a lot of eggs, so I'm glad to be stocked back up.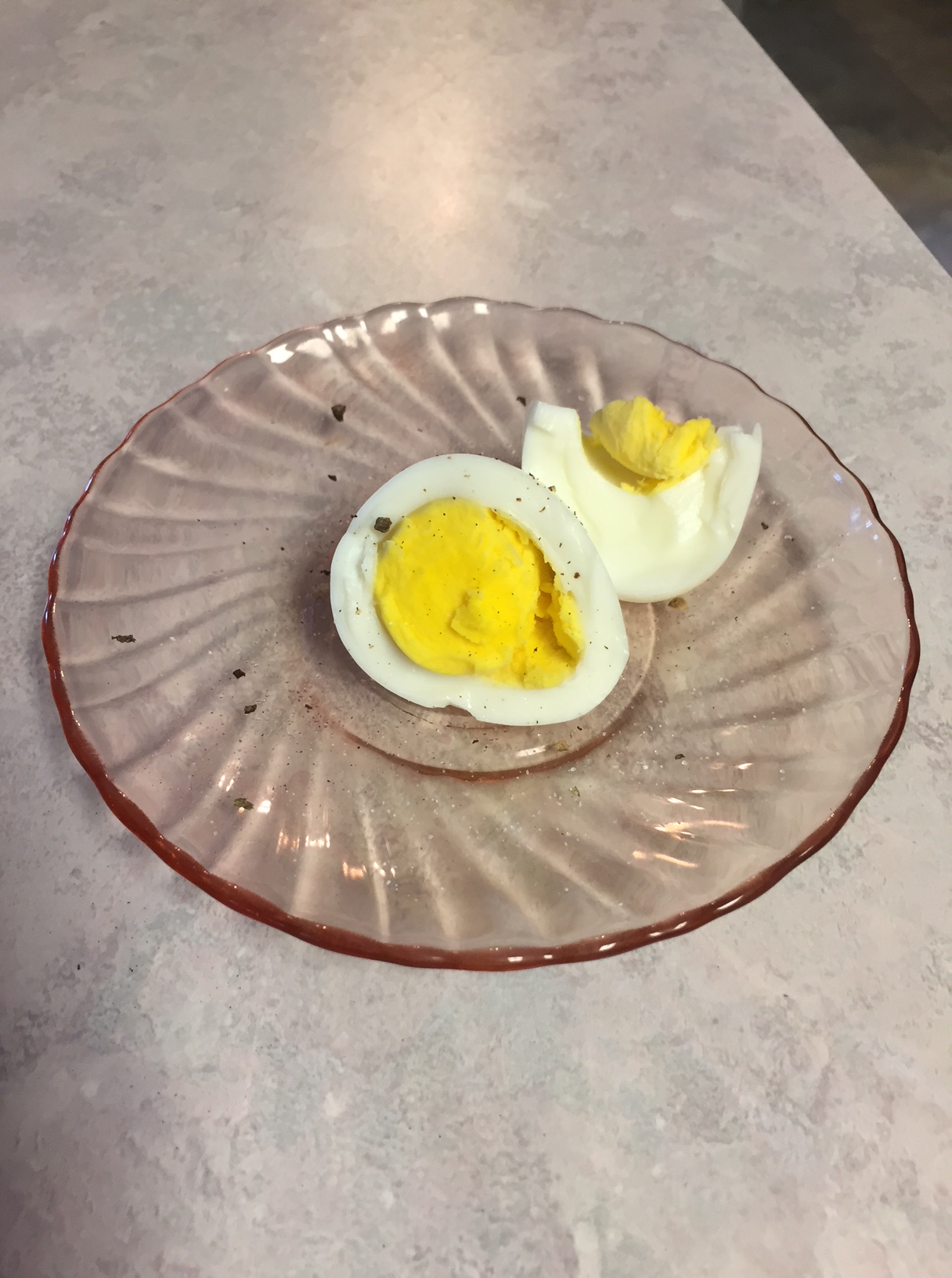 I boiled a few more, as I usually keep boiled eggs on hand.  I grab them for quick breakfast food and for something to grab for a snack or lunch.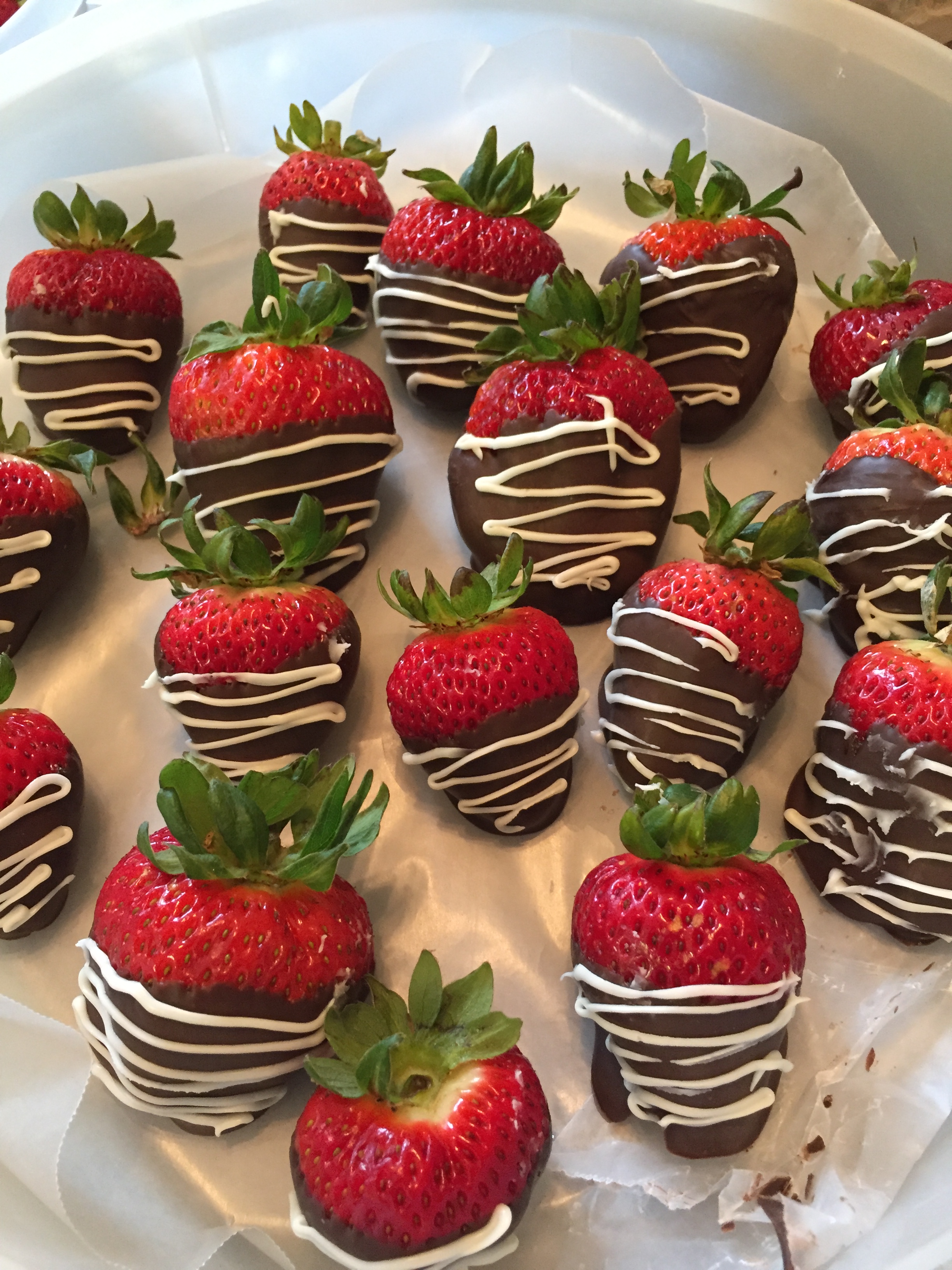 Of course, those strawberries were one of the highlights of the week.  People at the brunch gobbled them up.
We've been pulling items from the freezers and cupboards and pantry in the garage.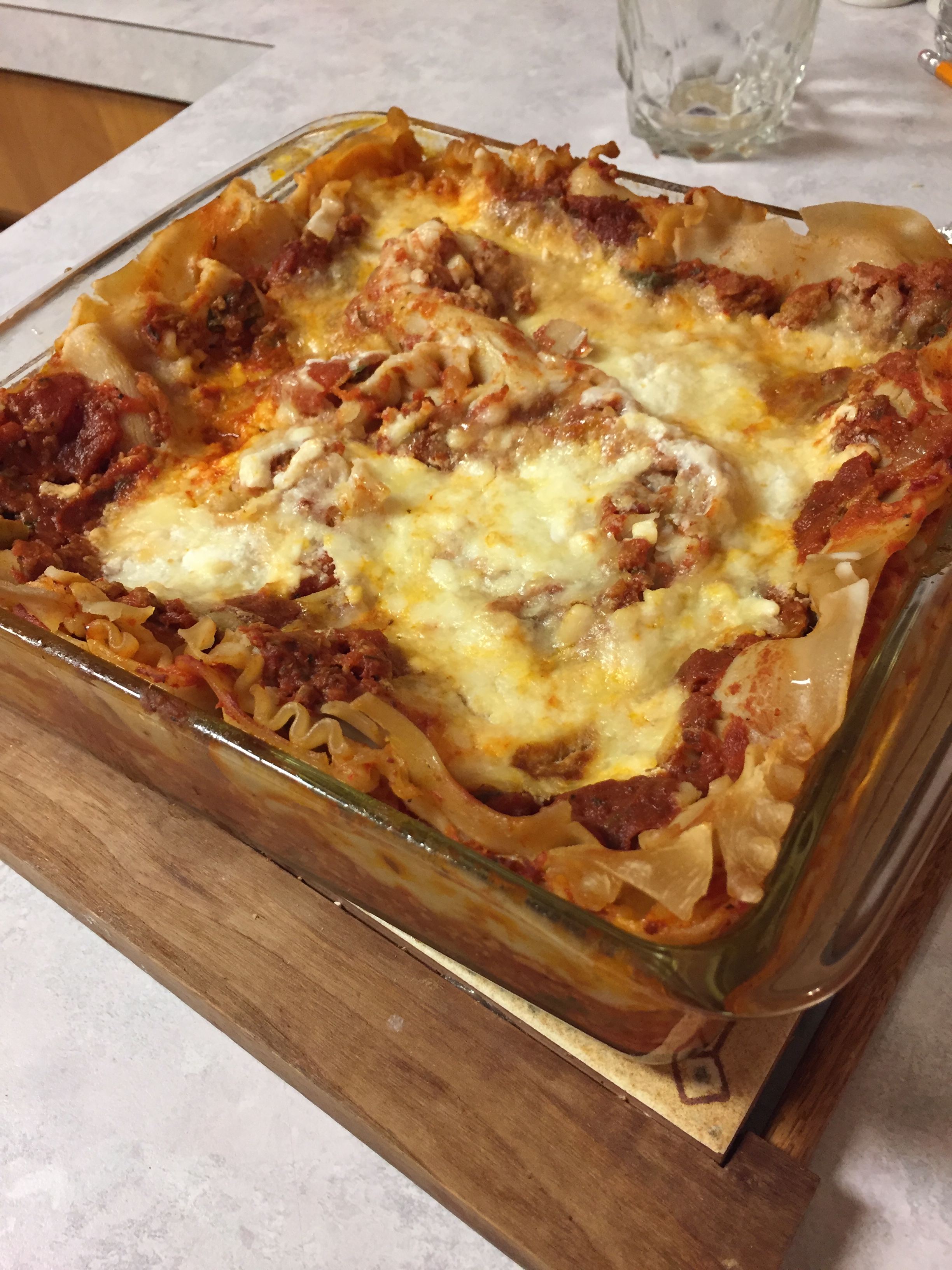 I made lasagna with a few noodles I had left in a box, and 1 layer of a yellow squash I made into flat noodles, some frozen spaghetti sauce I had previously made with a free Safeway can of tomato sauce added in, and some frozen cheese mixture I found in the freezer.  It used up lots of odds and ends, and we are still working on the pan I made (this picture is for illustration purposes only, it's from another time–it had more noodles, this one had that summer squash in it instead of part of the noodles, but they look basically the same).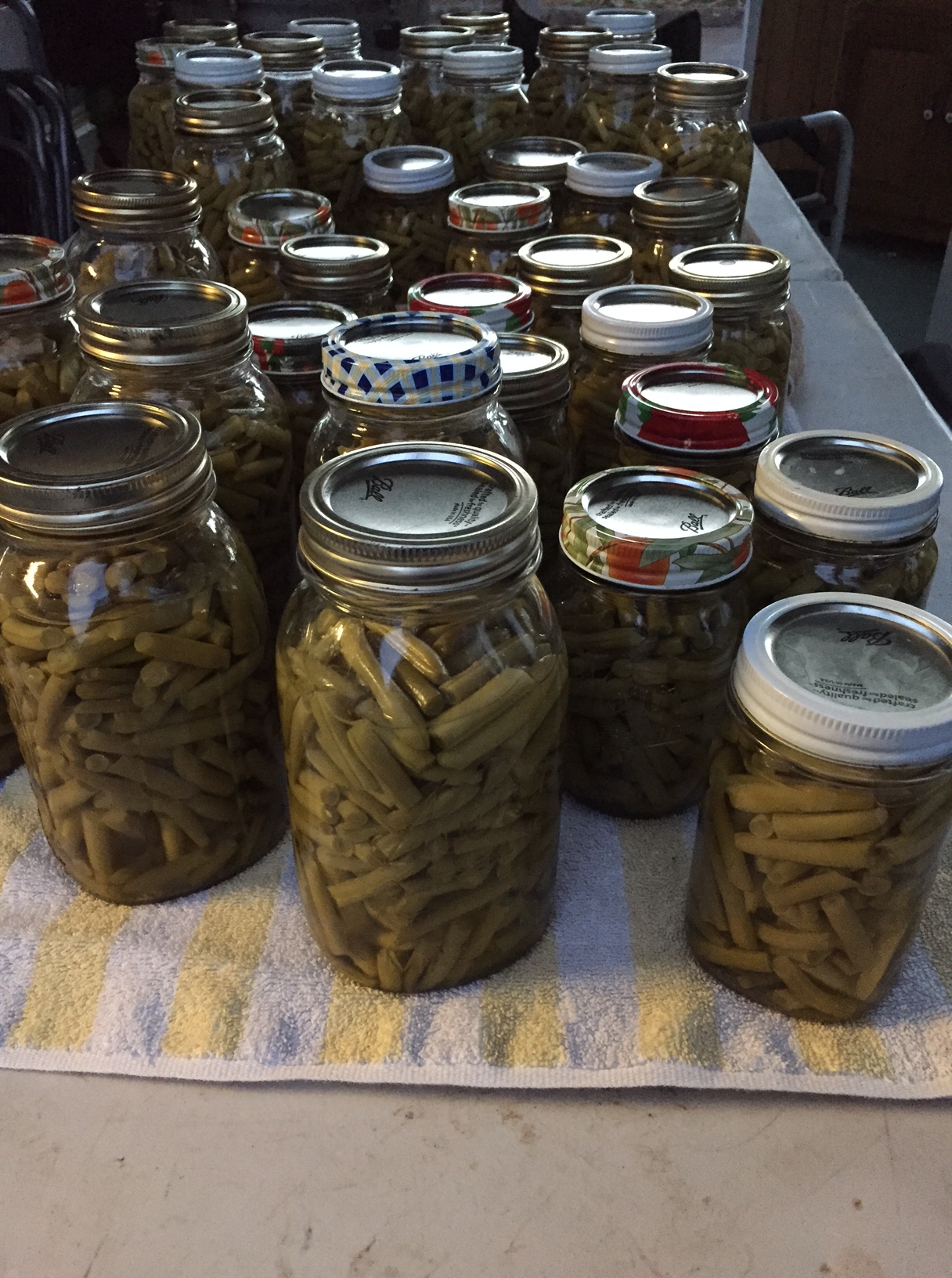 My bean supply from last summer seems to be growing!  Not really, but although we keep working on it, there are lots of jars and frozen containers left.  I will grow less beans this year, but I sure enjoy them.  We had them a few times this week.  We also ate some frozen corn.
Rob BBQ'd steak from the cow we bought last fall.  I made a whole chicken and used it several ways.  I made Sloppy Joe's with a packet Safeway substituted for gravy that was my free item.  I added so many things to it to make it how we like it that I won't bother with the packet next time–just make it from scratch like I usually do.  Still, free is a very good price and I'm grateful to have won the packet.  We had salmon from a package I bought on $5 Friday.  I had a couple of gluten-free fish sticks I had in the freezer.  We had lots of salads.
We ate pancakes that had been frozen another time, biscuits from the freezer, and several other odds and ends I pulled out.  I am starting to see a little wiggle space in the kitchen freezer, as well as the shop ones.  I had a pre-baked pizza crust getting dry in the freezer, and so made a simple pizza with a little Sloppy Joe sauce with mozzarella cheese on top.  Patsy ate some of that for dinner with her artichokes and salad.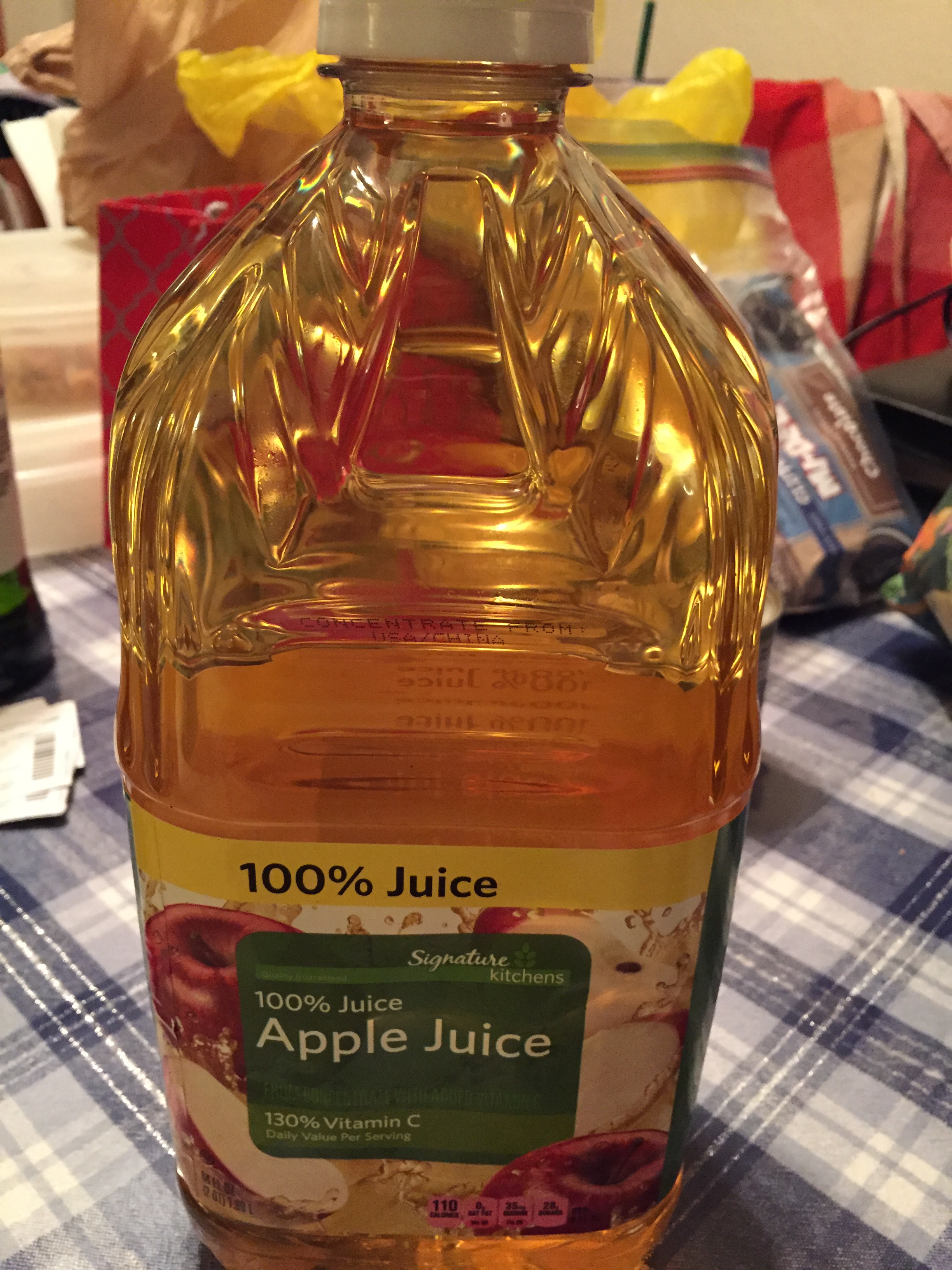 Everybody has been enjoying the 77c/bottle apple juice.  In the end, we bought 17 of them, between Rob and I.  I have also been making popsicles with it, in my molds.  The kids love them, and it's something Jake will eat that is healthy.  Patsy made a batch of brownies.  I was eating too many of them, so froze most of them and carried them out to the shop freezer.
We used up the Southwestern beans I made for the brunch last Saturday in tortilla shells, and there were a few quesadillas made by various family members this week.  I made potato pancakes from leftover mashed potatoes, an egg, and 2 green onions.
Some of the food items in the fridge are starting to be used up, but the yogurt supply remains large!  We got so much, for so cheap during that big shopping trip.   I want to clean out the fridge and keep using odds and ends from other places before I buy many groceries.
I plan to make chicken soup tomorrow out of the remaining bit of chicken.  There's lasagna left.  There's some leftover steak, and baked potatoes.  There's lots of lettuce for salads.  There's yogurt and sour cream and lots of eggs.  We will use up the leftovers in the next couple of days.
The milk supply will run out in a couple of days and I have extra kids this weekend, so need a few things for them to eat, so I will shop a little bit this weekend.
I will go back to Safeway, as I have a small handful of free item coupons to redeem.  The checkers have been very generous with the tickets, as the game is almost over, and the kids love opening them.  I love getting the small prizes, and have coupons for tuna, more gravy mix, bagels, a donut, and more tickets.  The awesome thing, is that they keep giving me more tickets when I redeem the free items!  Then, I win more free things!  I did buy a few items for my sister, and a couple of things I needed, because I understand that they have to make money somehow and I think it's fair to do so, and the items were needed.
So, win-win for everybody, especially Michaela who has gotten to eat 2 free donuts so far:)  I took her to the store one day, and Jake another day, and practiced looking at prices, finding the items, talking about the difference between a good bargain and a bad  bargain, and so on.  They were both good outings.  Jake started opening the tickets in the back of the car until the seat was littered with the little bits of paper he tore off, so then we had a lesson in cleaning up the car.
The garden will be giving me some lettuce soon (in the greenhouse), green onions are growing, more artichokes will come, parsley and cilantro and basil (in greenhouse), and there are tiny beets, carrots spinach, and lettuce growing nicely.  I have much to do out there, but it's started anyway.