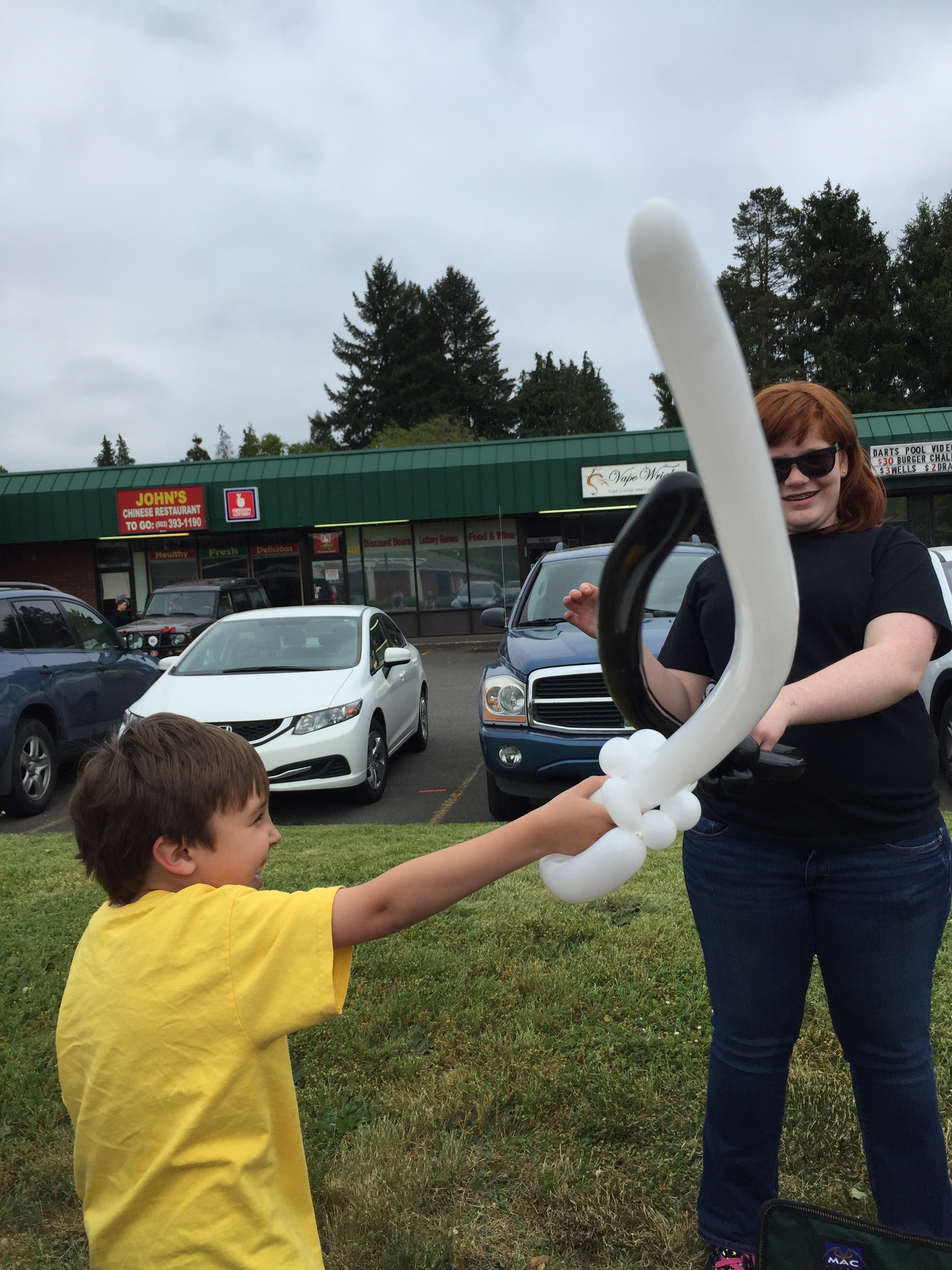 Yesterday, we enjoyed the Iris Festival Parade with the family.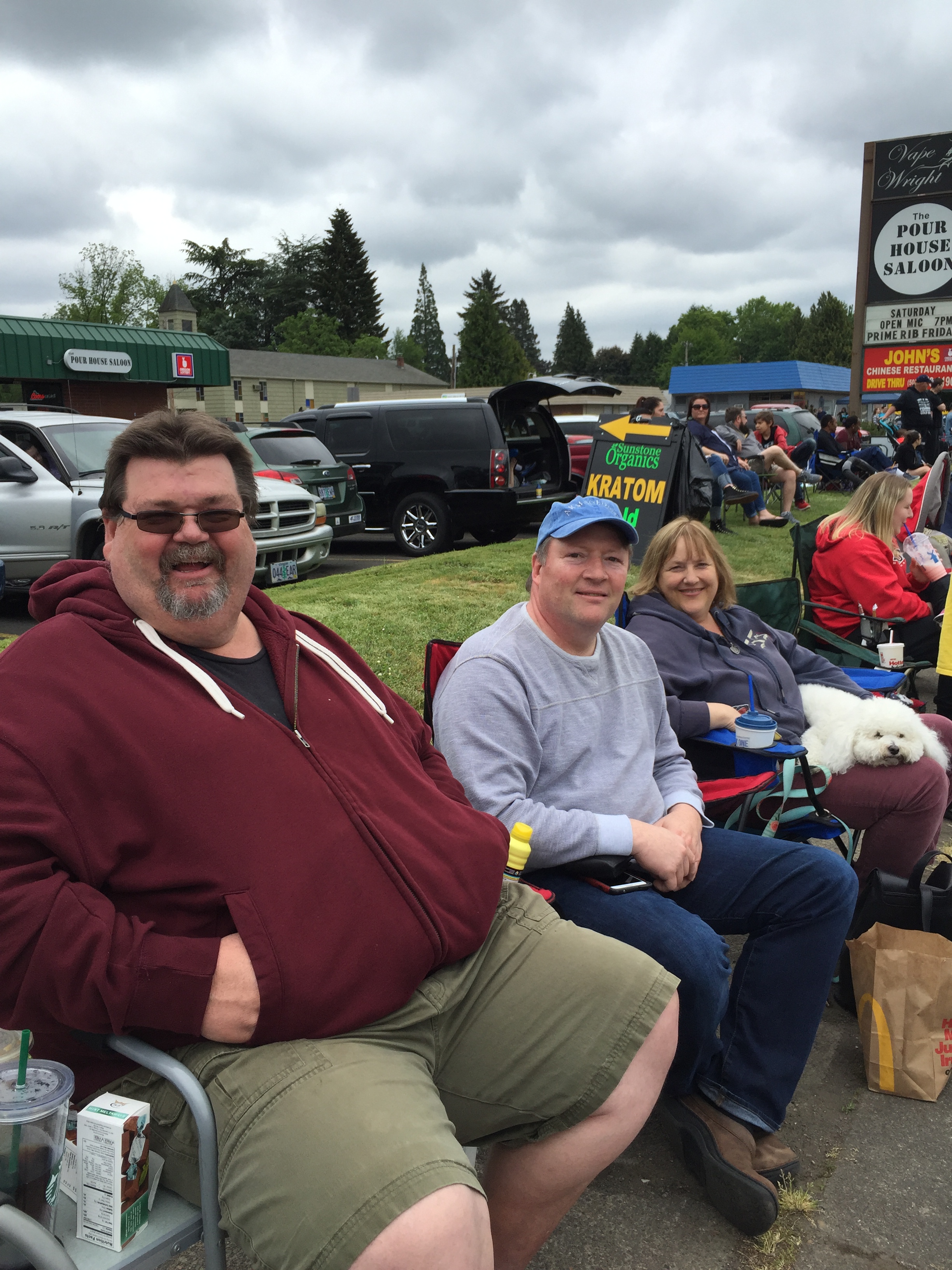 We had never been to this particular parade before, although my sister and brother-in-law have been every year, for years and years.  So, they knew things we did not.  I read a sign that said the road closed at 9, so figured we needed to be much earlier than that.  So, we were extremely early, and wondered why there were a few empty chairs along the sidewalk, but no people.  So, we waited, and waited, and waited, and wondered where they all were.  We did have a great time talking, something that is rare these days to find enough time for:) A few people trickled in, but around 9:30-10, all of a sudden, they all showed up from the side streets, carrying lawn chairs, snacks, drinks, and so on!  All of a sudden, the road was full of eager, chattering people, and soon after that the parade came along.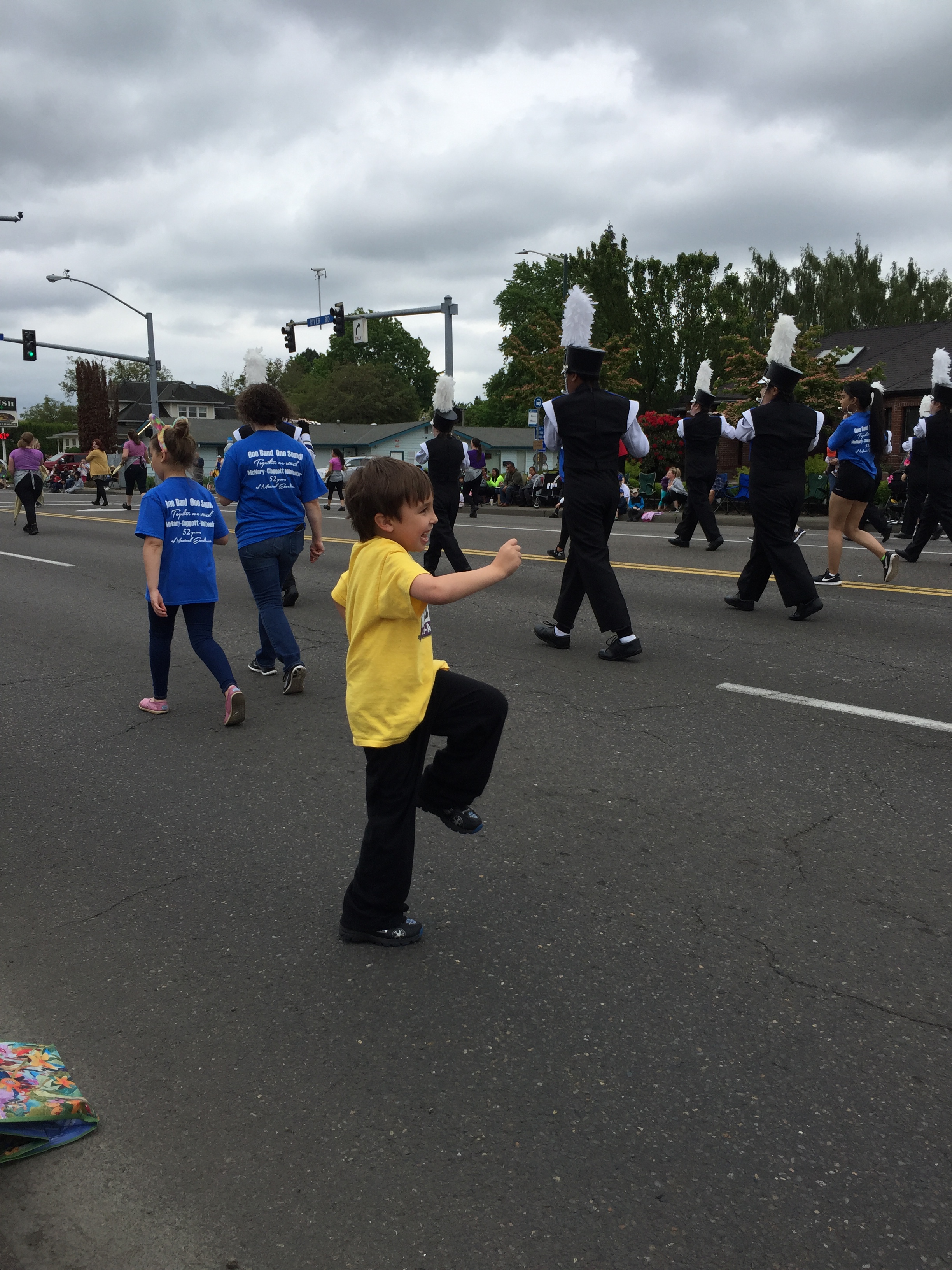 It was my favorite kind of parade.  There were a couple of marching bands, choirs of elementary school kids, fire trucks, classic cars, and trucks with hay bales on the back, bearing princesses of various sorts, and in one case, Santa Clause!  There were iris flowers stuck all over the vehicles, which were pretty.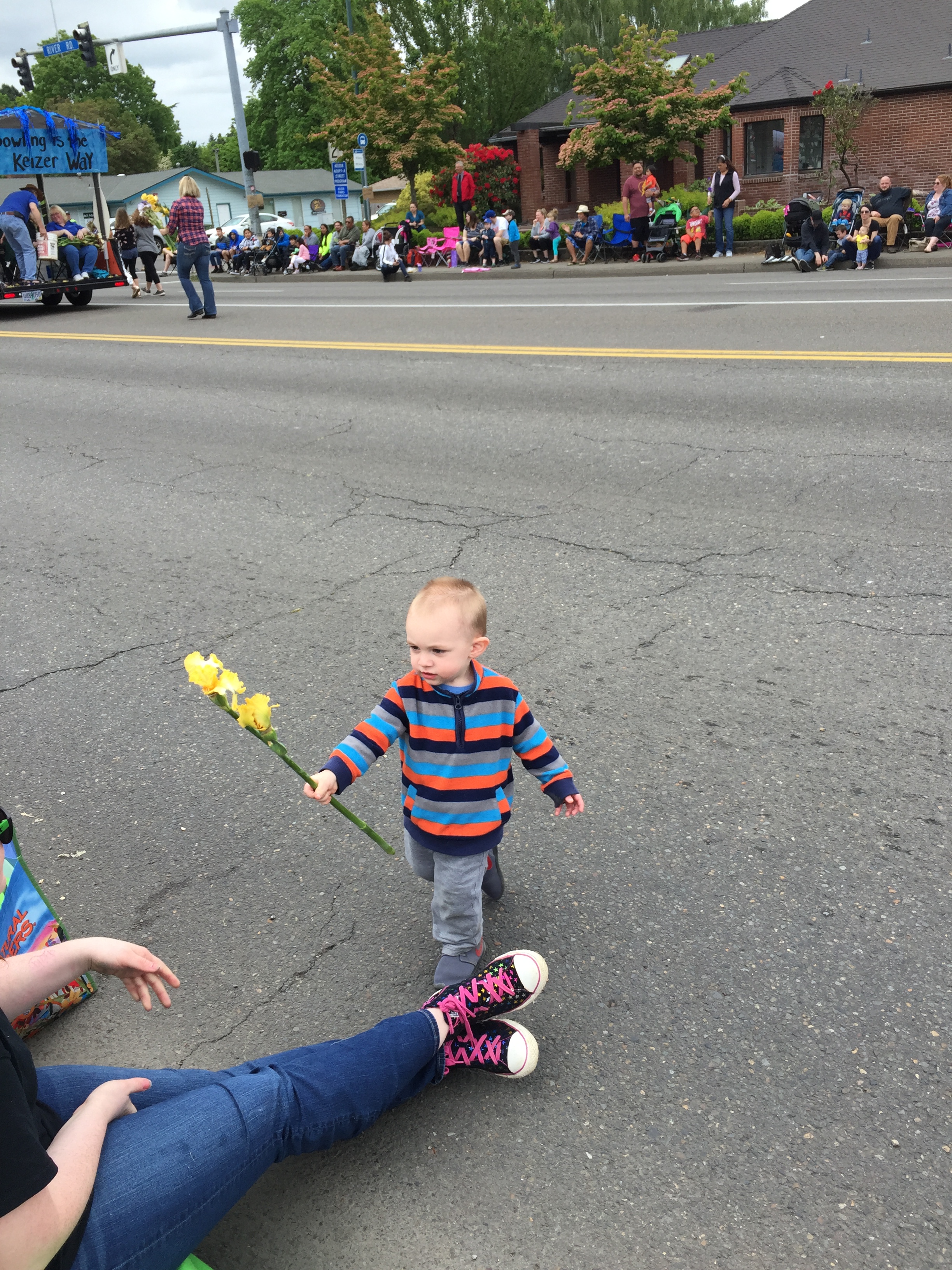 A couple of ladies that Rob works with came to join us, and one brought her son.  He struck up an acquaintance with Patsy right away and we all enjoyed watching how much he enjoyed the parade.  Someone from one of the floats gave him an iris, and he promptly brought it to Patsy.  How sweet!  I really enjoyed putting some faces to names of people he works with.
There were many freebies for the kids–a bounce house, free snow cones and bubbles, candy galore…..they had a blast!   Even the Chinese food restaurant gave out free teriyaki chicken after the parade!  It was a very inexpensive outing for the family–Rob got a coffee early on, and our group bought and shared a few candy bars from the school kids who very ingeniously went along the parade route selling them before the parade started for their fundraiser and I got a cup of egg flower soup because I couldn't eat the chicken.  We skipped the rides at the carnival, and buying anything at the booths that were set up.  It was a super fun morning!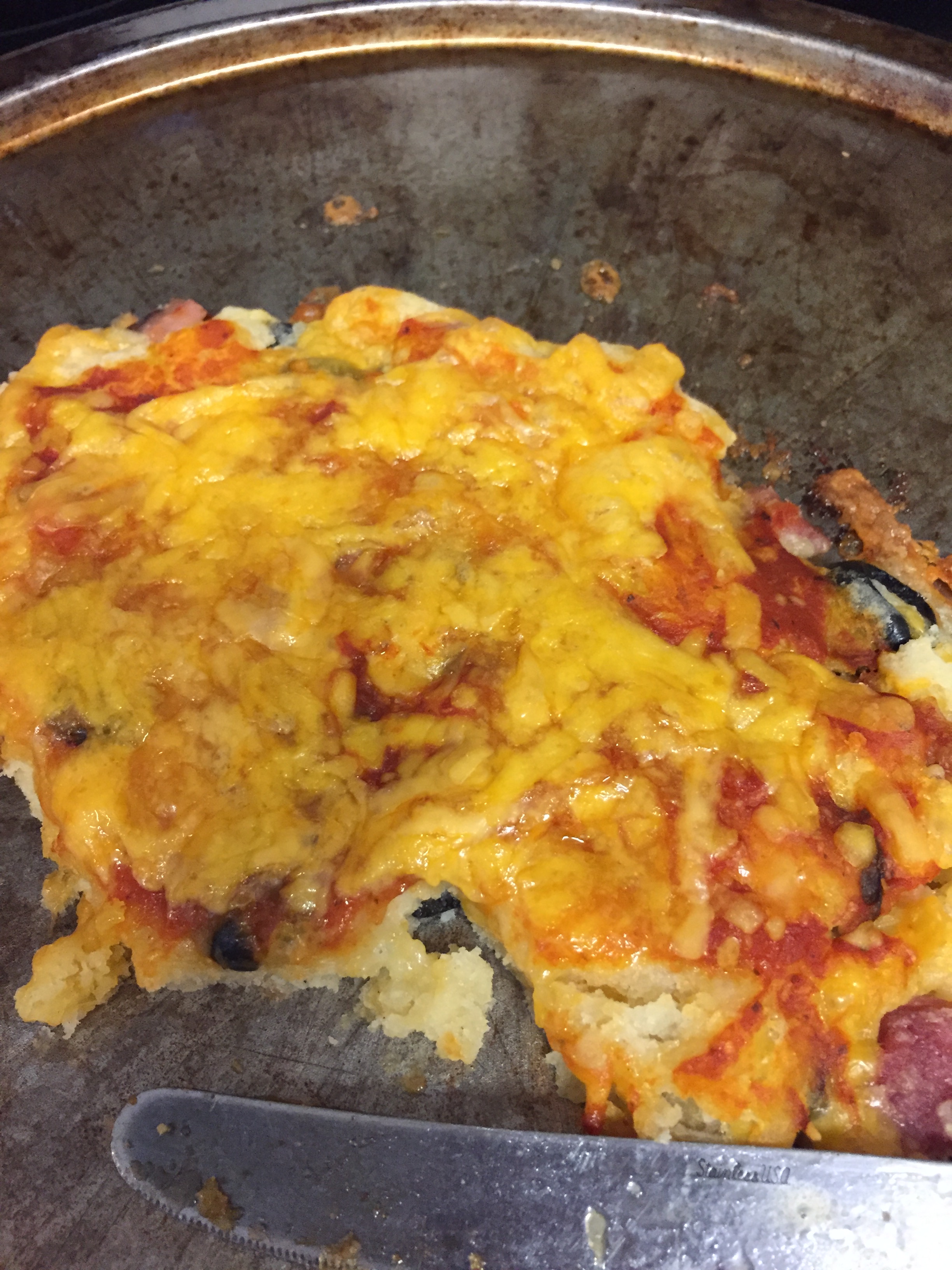 Before the parade, Rob made this cheesy, ham and olive-filled biscuit that was probably awful for us, but tasted oh, so good!
I cleaned for several hours on Friday.  I am trying to do some deep cleaning, and worked on the kitchen.  I even got the window washed, inside and out!  The more I clean, the more dirt and clutter I see!  At least I got started:). I had to put cleaning on the calendar and was ruthless to decline other things that tried to steal my cleaning time!  Sad, but it worked, at least this time!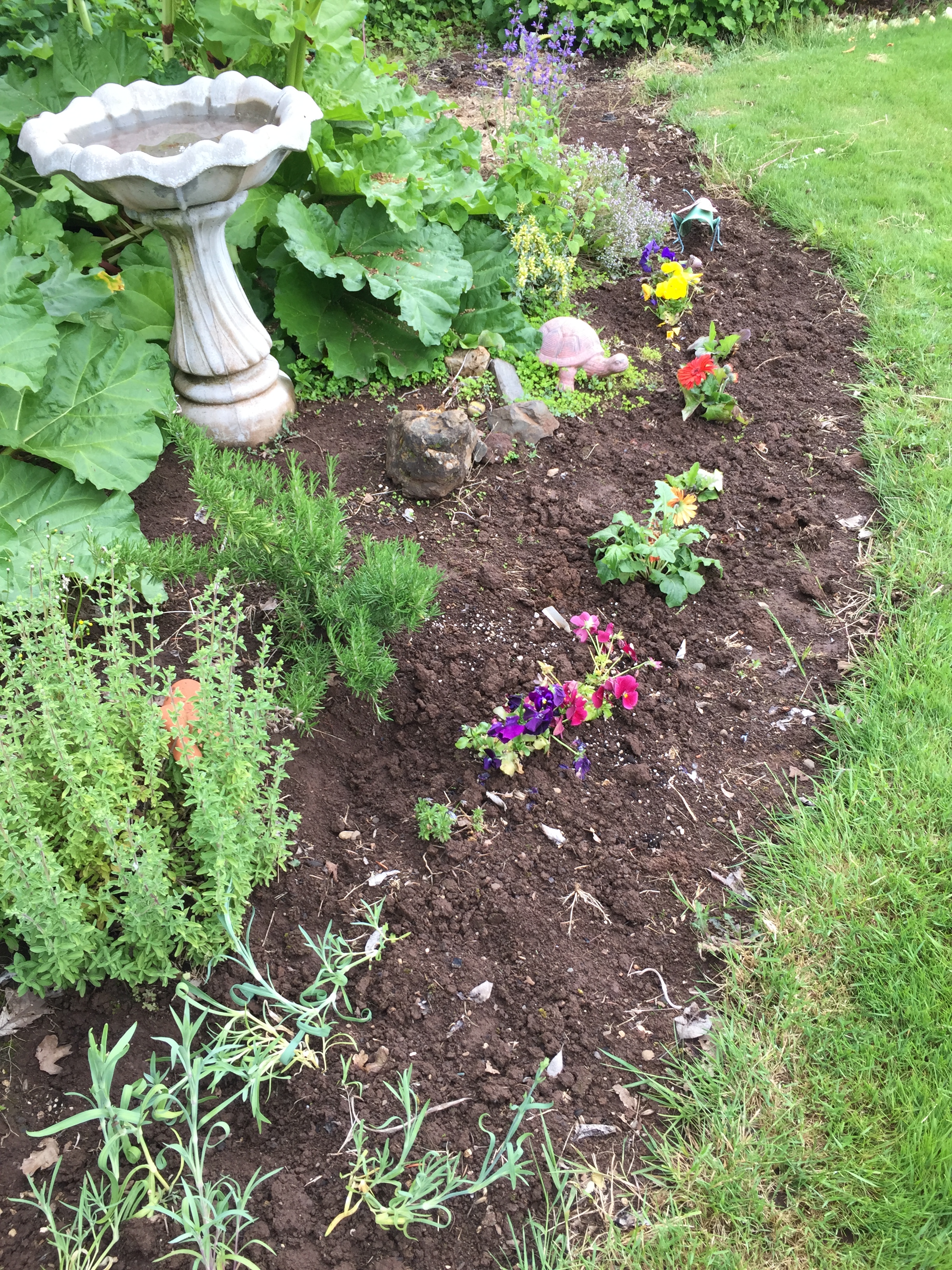 I worked in the yard and garden for many hours, in little blocks of time.  If I had 15 minutes, I used it! If I had an hour, I used that.  I am really getting somewhere, but have lots left to go:) We got the sprinkler system set up in the garden, and the grass chopped out around the permanent sprinkler heads in almost all of the yard.  I keep finding one here and there that I missed, but we are getting them freed from grass!
I used herbs from my herb bed.  I used rosemary on some roasted potatoes.  Yum!  I used thyme in split pea soup.  Double yum!  It's nice to have them out there, freed from weeds and more established than they were last year.  I hoed up quite a few of the 1000 or so baby parsley plants, but there are still lots left, surrounding the turtle!  I noticed I am low on chives and parsley in the spice cabinet, so I hope to eventually dry some of each.
I was able to get both Friday Freebies from Fred Meyer this week, because I went early on Friday.  They've been running out of the more desirable items.  I got a free car charger and a Lara bar.  While there, I got the odds and ends of groceries I needed.
I stopped at a garage sale on my way home and purchased some picture frames to put some of Ja'Ana's graduation pictures in for the upcoming party and the table display I have to make for the actual graduation.  I paid $2.50 for 3, in various sizes.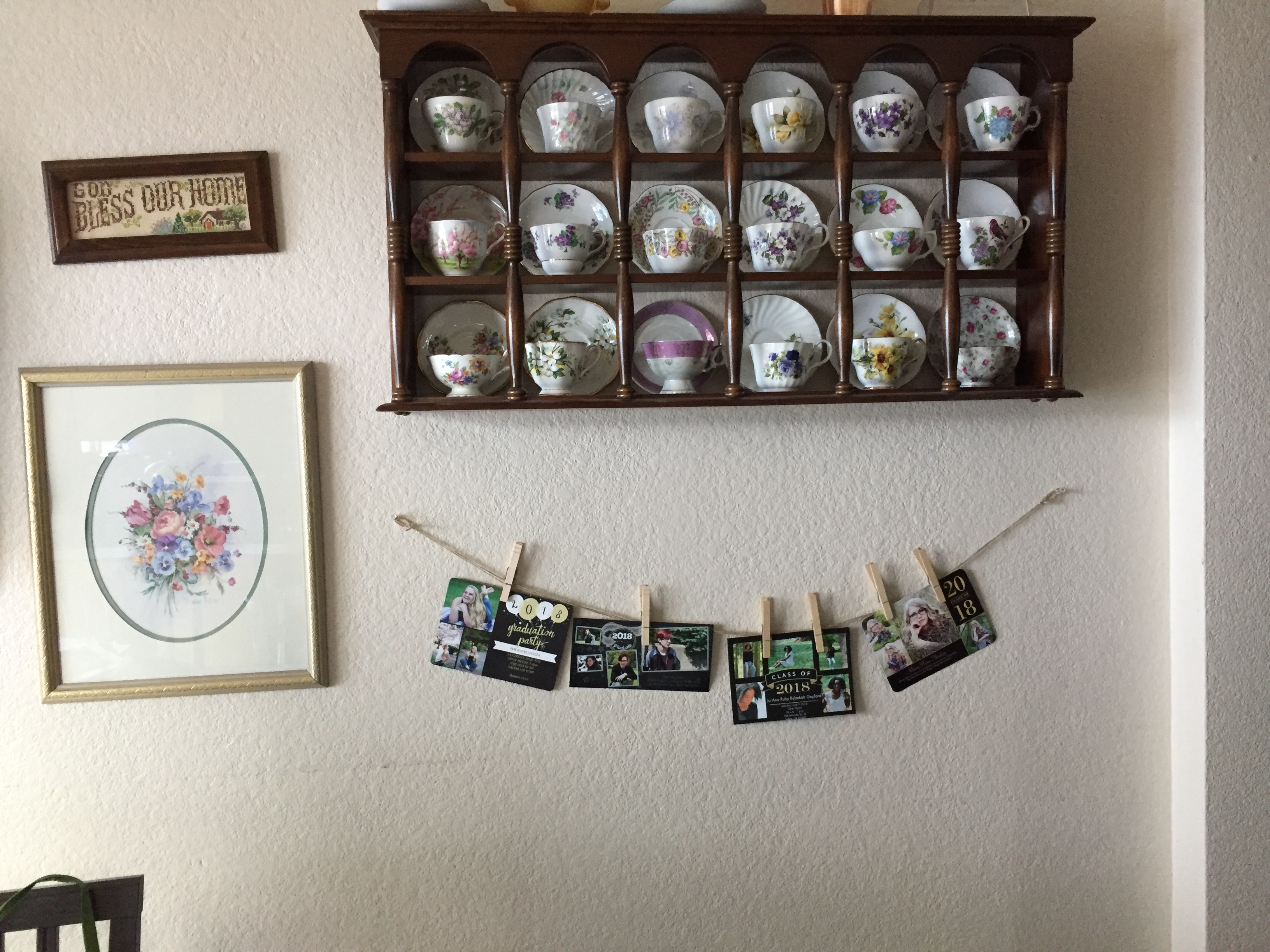 I used a string, clothespins, and some push pins to put up the graduation cards we've received.  There are a couple more kids who may send one, so I can put up another string underneath this one if they do.
Rob and Lovana stopped and picked up some free wood and Rob plans to chop it into firewood-sized chunks.  It's time to start preparing for next winter, and while not a lot, it's something and was free!  He will keep his eyes out for more, and may buy a cord if he finds a good deal.