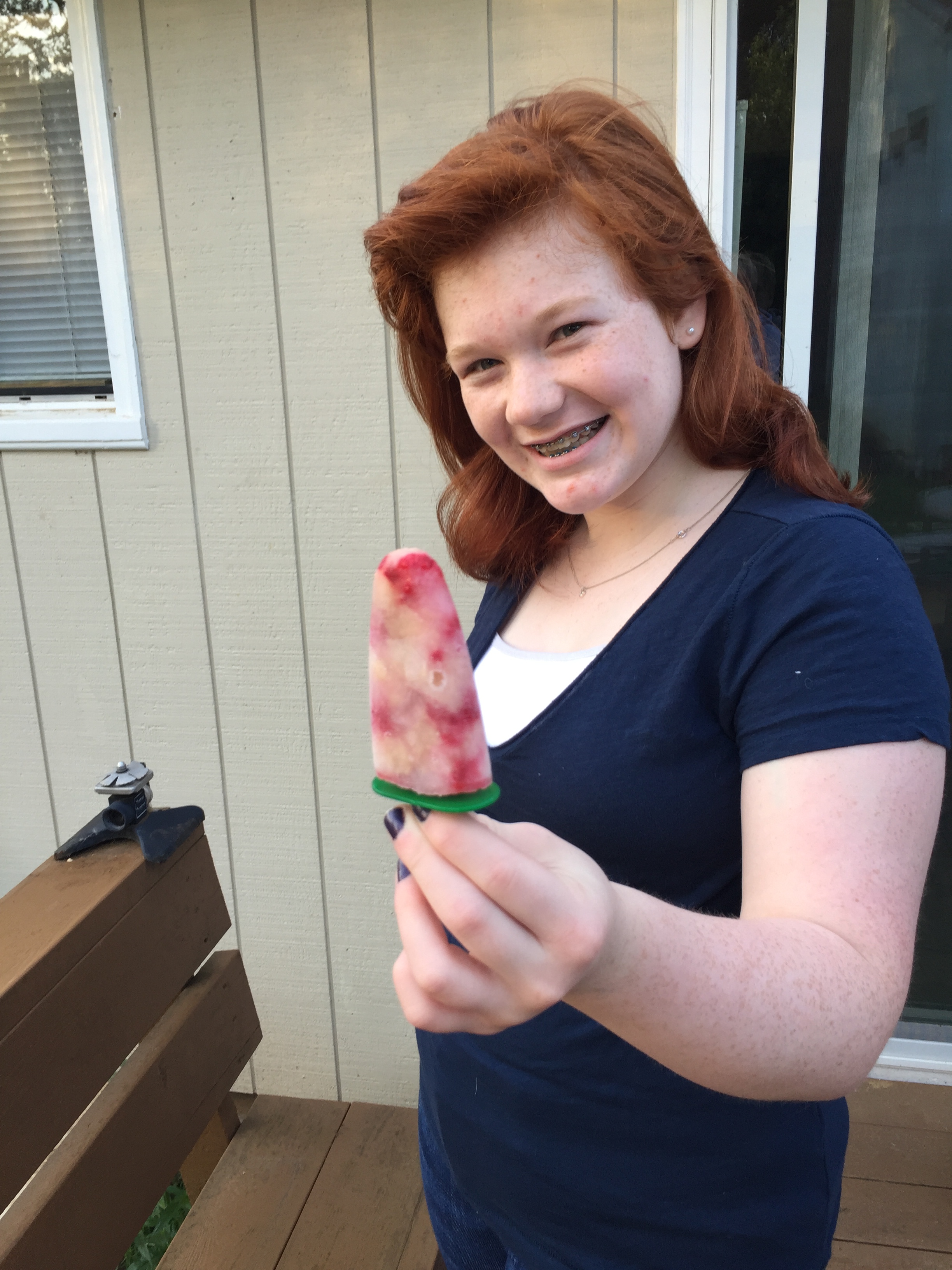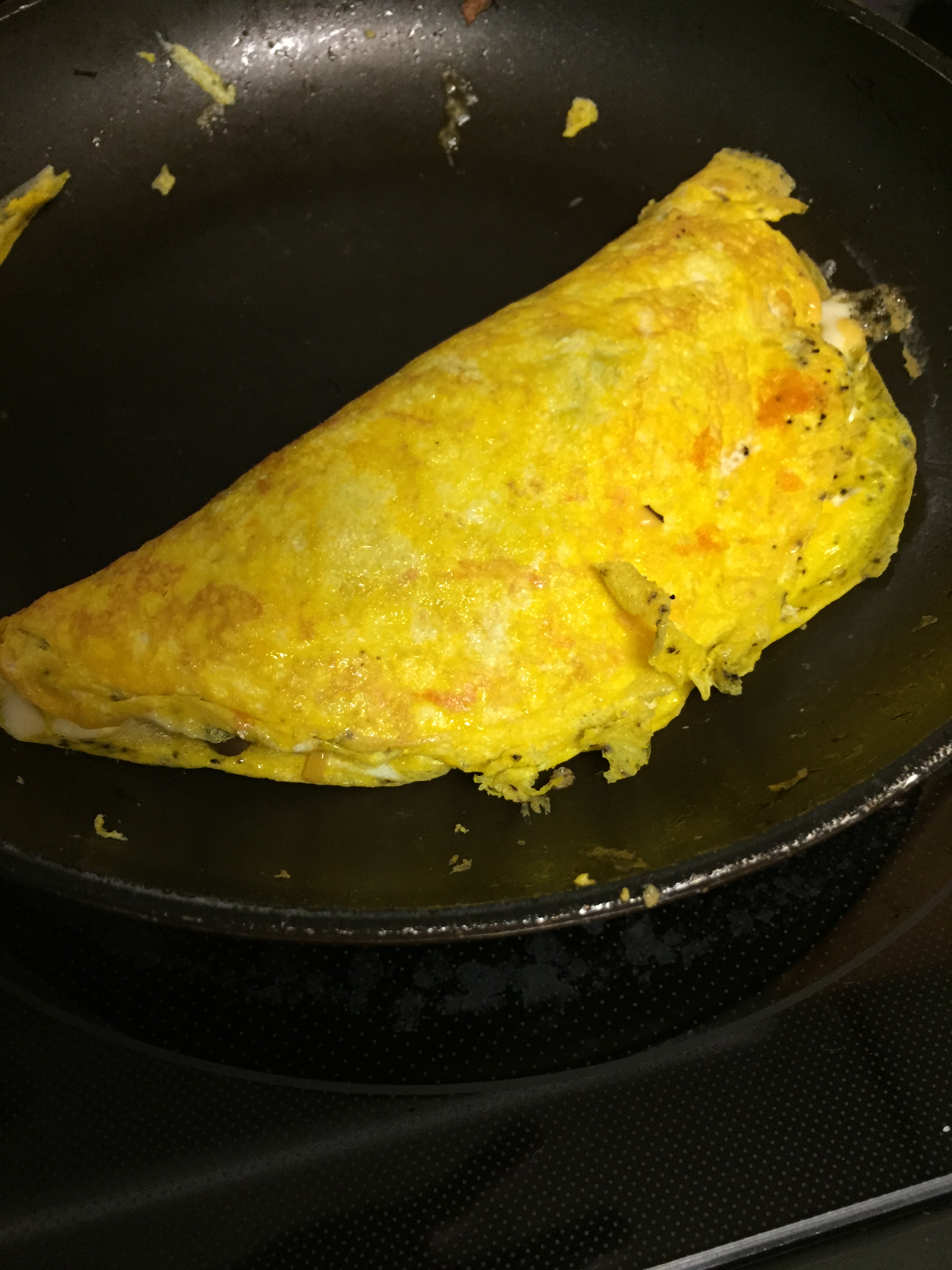 This week has been a week of "finishing up."  Michaela finished up her school program and graduated last night.  Alissa and Ja'Ana finished up their schoolwork yesterday, as well.  I am almost finished correcting it, as I have worked all week on that project.  I finished up some mushrooms that were starting to "go" in omelets one day.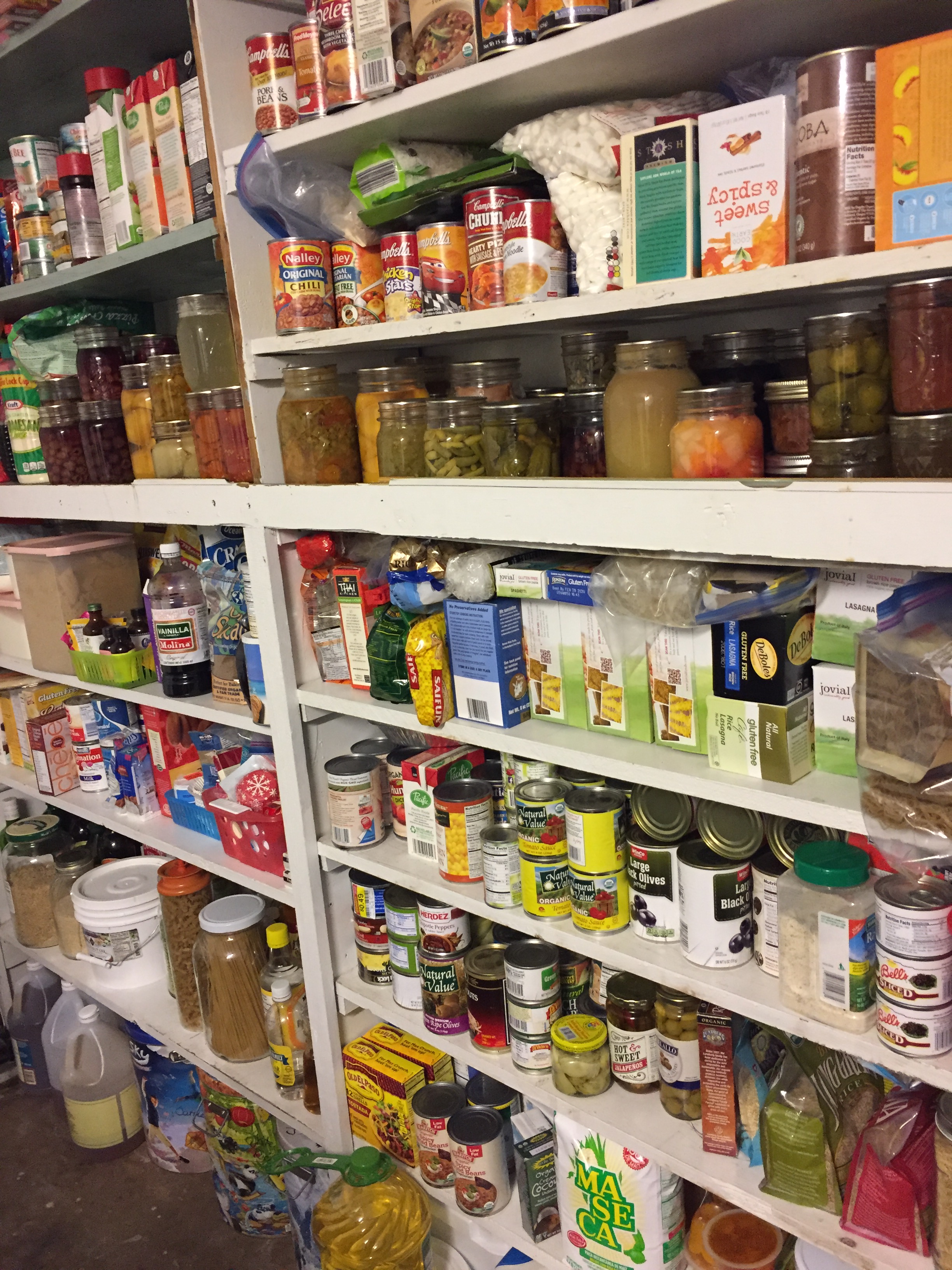 And, there were a lot of food items that needed finishing up as well.  Because the girls needed to do independent work, with only a bit of help, I cleaned my food storage shelves in-between helping them.  I found that we had finished up a lot of things, and have much left in other sections.  I am still searching for white rice.  I thought there was a lot, but….  There are a couple of other places to look in the garage before I despair:)
I decided that I would not shop this weekend as I usually do, but, instead, finish up some of the odds and ends I found while cleaning.  Clearly, we are not short on food:). On Thursday, I had a bean-cooking day.  I found dried beans tucked away in many locations and wanted to use some.
I cooked a package of mixed beans.  1/2 of it I used with a ham bone that had been previously frozen at the holidays to make ham/bean soup.  The other 1/2 I cooked plain, and froze for another day.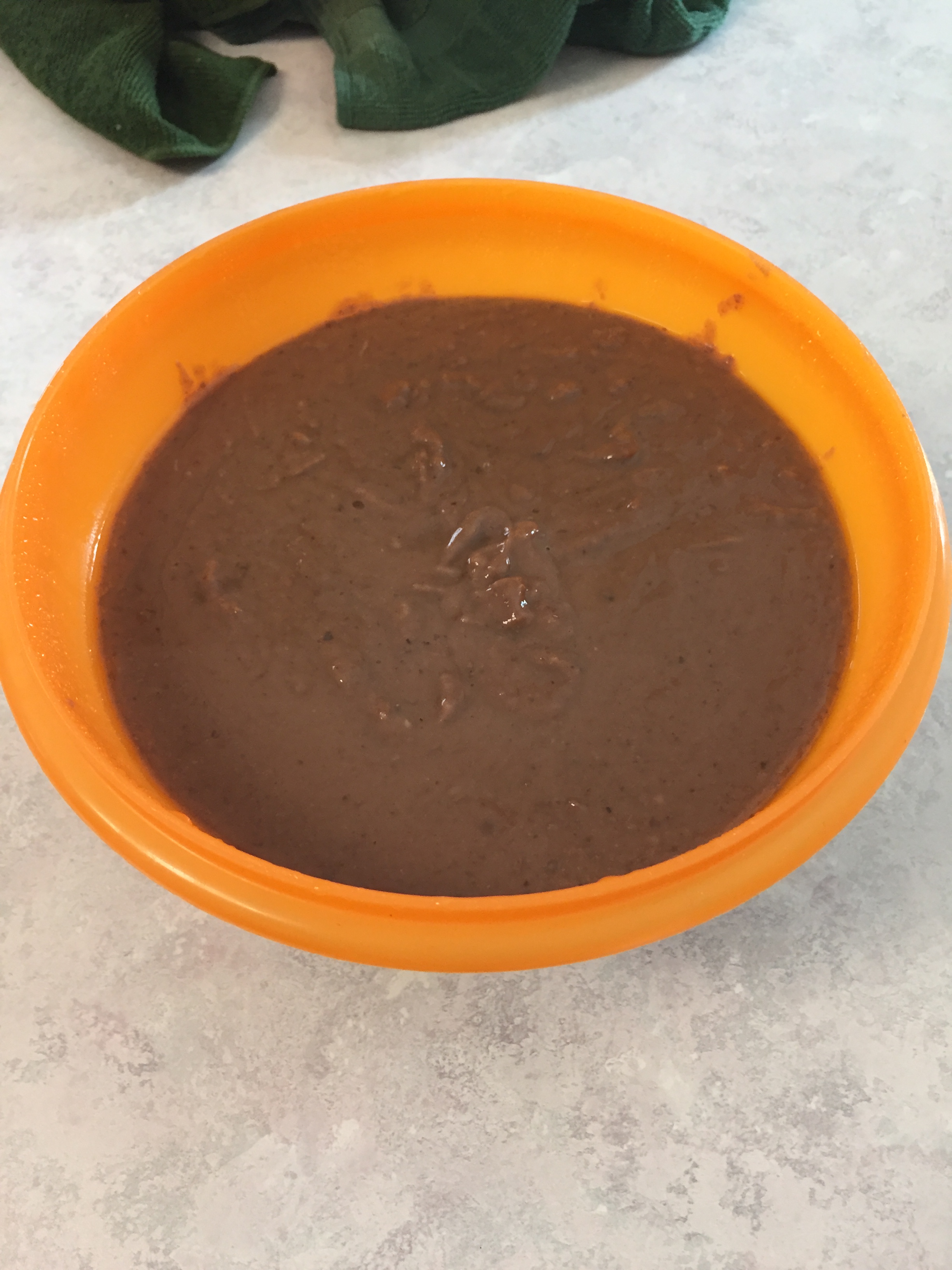 I soaked a huge amount of pinto beans, and threw in a few black beans that I wanted to finish up, added lots of various frozen peppers from 2015's garden, a big onion that was starting to sprout, salt, and water, and put the Crock Pot on low all day.  Last night, I used my immersion blender to grind it up, and today, I'm going to freeze many, many little cartons of refried beans. There is another bowl, much larger than this one, as well.  We like the homemade kind so much better, but since I've been busy lately, we've had to resort to the canned ones, which are still good.
I also made a big pot of chili from the rest of the pinto beans.  I froze a few small containers of that for dinners for Rob and Patsy when I get home from work late, plus a few of the ham/bean soup.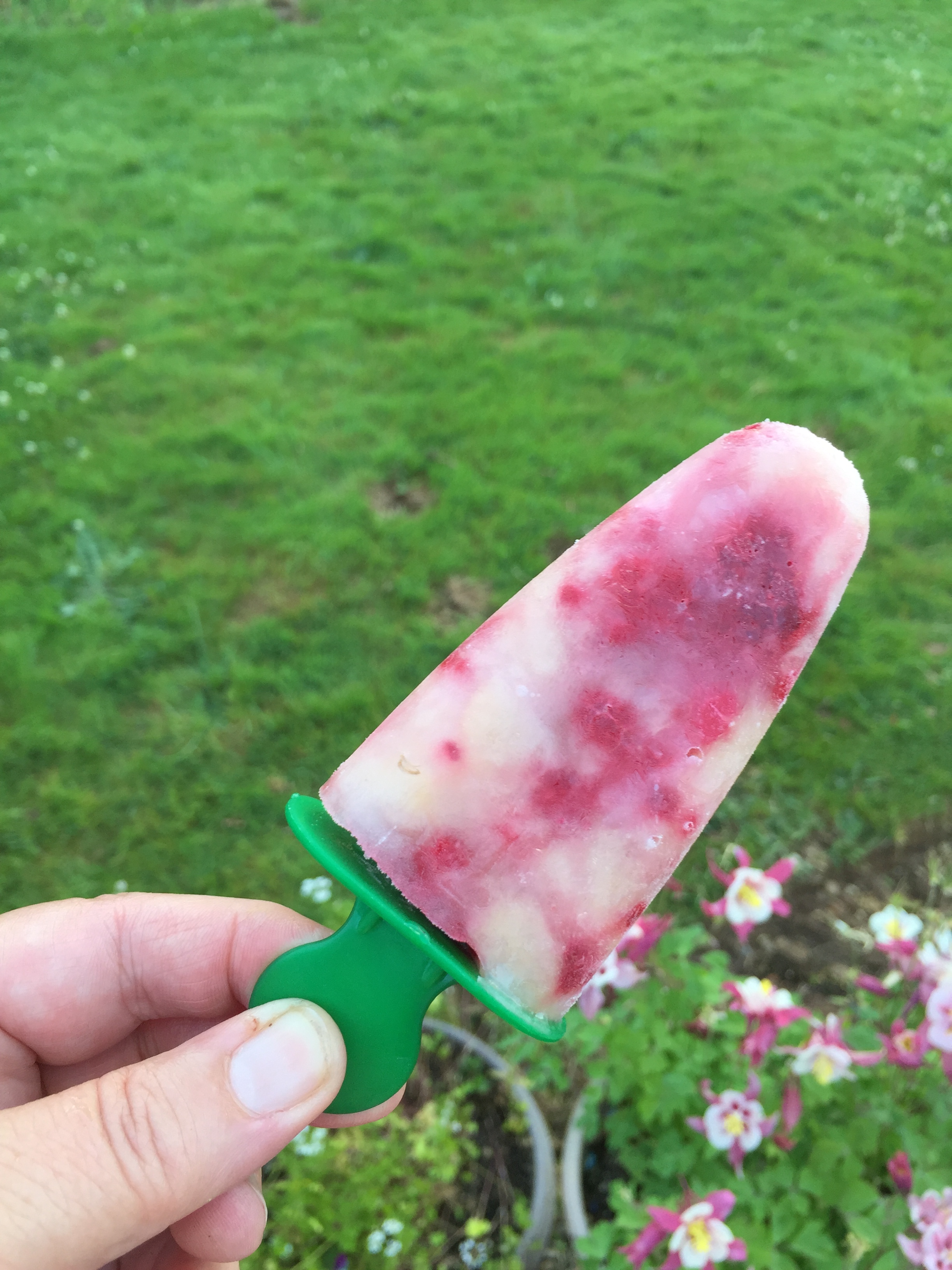 I made more popsicles.  I used some canned pears that I am targeting, along with the crumbled up frozen raspberry bits that always collect in the bottom of the ziplock bags.  I cut the pears into very small chunks, stirred in the berries, poured some of the liquid from the pears in and added a very little sugar, since the berries are super tart.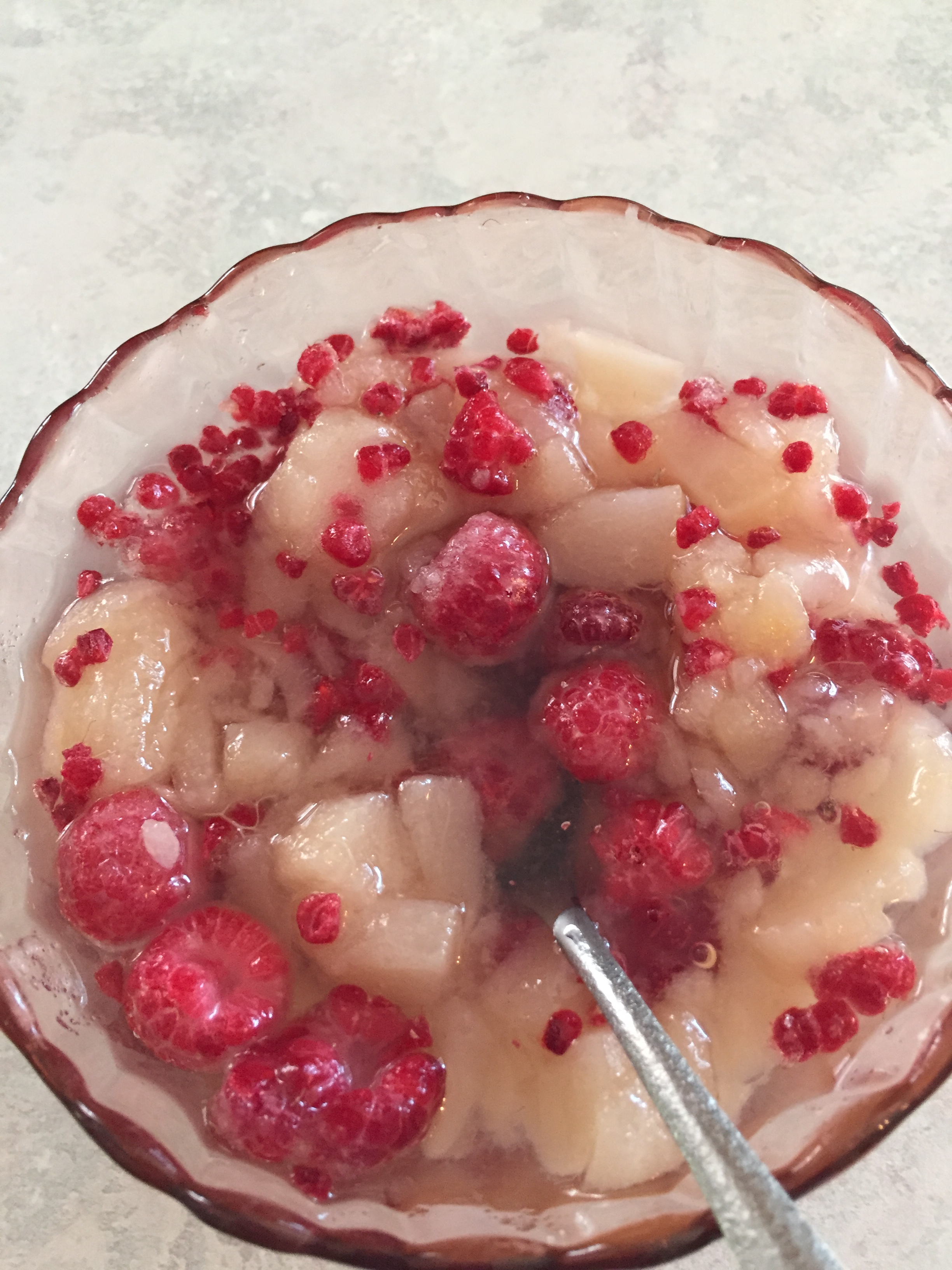 I spooned it into the molds and froze the popsicles.  They were a big hit.  I've already made them again and anticipate doing it frequently.  You can see that I used some of the whole berries in the second batch, and they came out great as well.
We had salad a couple of times from our garden lettuce.
I am so happy to have the storage shelved wiped off and organized.  Now I know what categories I need to fill. I often fill things up in the spring, and shop very minimally during the summer.  With a shelf full of stored items, the freezers, my canned items, and the garden, we usually don't need a lot on a weekly basis.  I have to put some money out up front, but it saves me a lot of time and money in the summer because I bought in bulk, and have the garden for produce, so I don't have to spend time at the stores.
Rob and I slipped away and ate at Subway one night.  Big date:). But, I'll take what I can get, and am happy for every moment I can spend with him.  I'm glad summer is coming because we will be able to work together with the kids.  We have lots of good ideas of things to do with them.