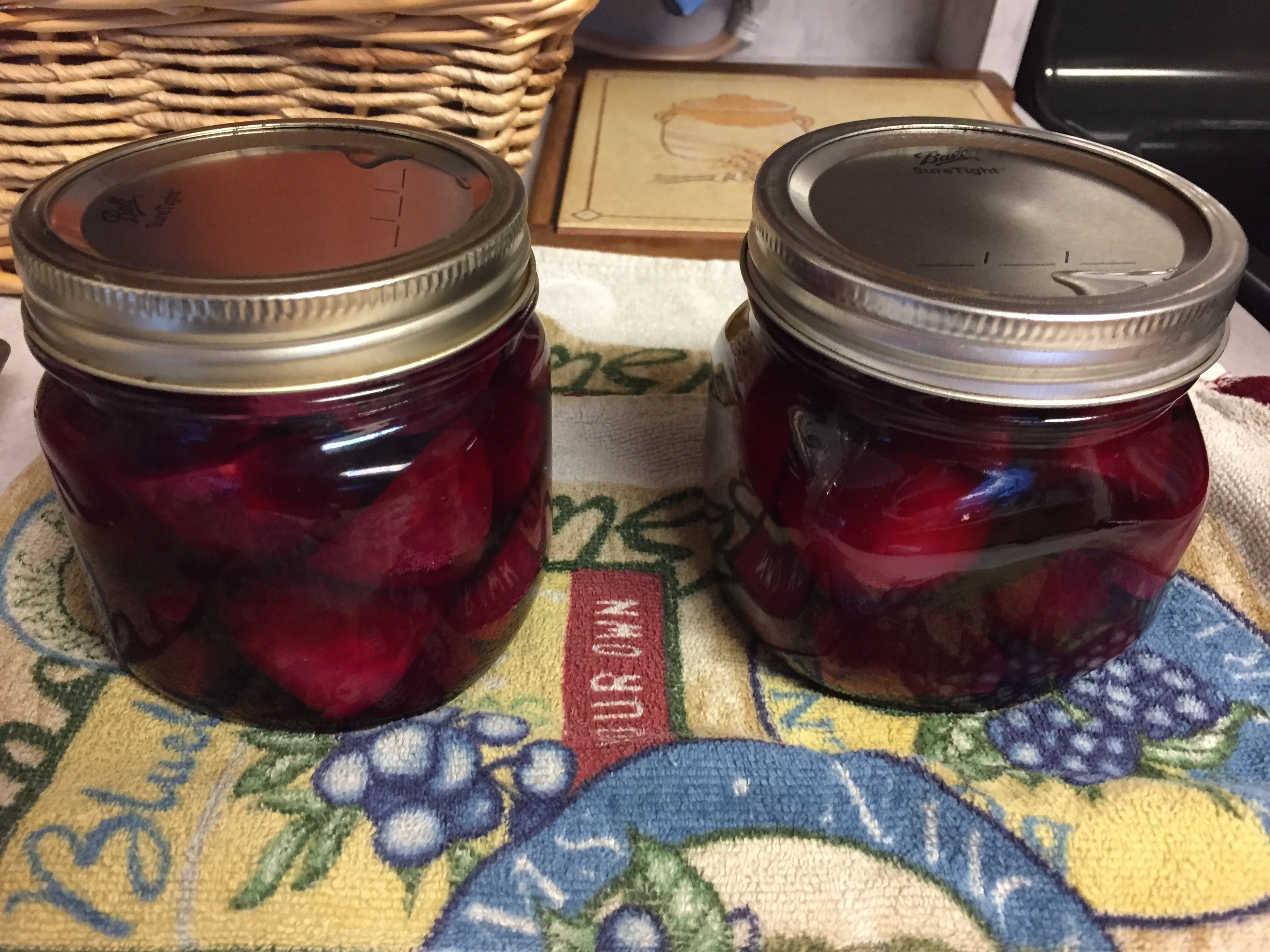 I went to the garden with a large bowl, and picked every beet that was of good size.  I was hoping to get a big batch of pickled beets.  I got 2 pints:). Sometimes it turns out that way.  I am glad to have the 2 pints, though, and there are more beets that will grow larger.  It was odd because the ones that were large were getting quite large, and were needing to be used, and the rest were super tiny.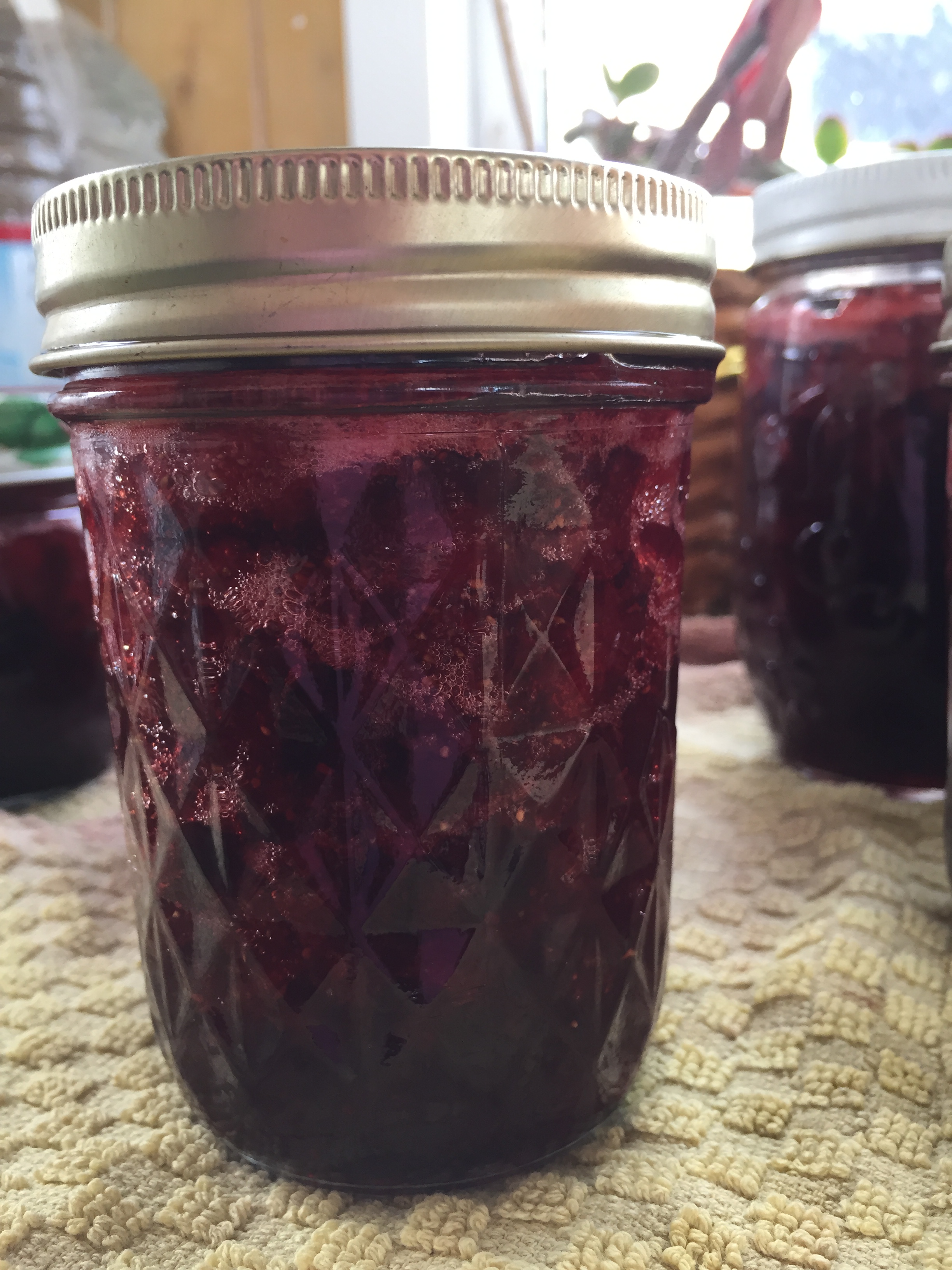 I used strawberries that were frozen in 2015, plus the small amount I picked from my bushes to make a batch of jam.  I am only picking a handful of berries at a time from my bushes right now, so will freeze them when I get them for smoothies next winter if they don't get eaten on the spot. I was happy to use up the older berries in a yummy way.
I processed 40-50 lbs cherries into pie filling, canned cherries, cherry jam and frozen cherries.
I picked and froze more raspberries, blueberries and blackberries.  I weeded and hoed.  I planted a few more lettuce, snow pea and fall zucchini seeds. Towards the end of summer, my zucchini often succumbs to the powdery mildew so I usually plant another bush or two that will come on then and just pull out the bad ones.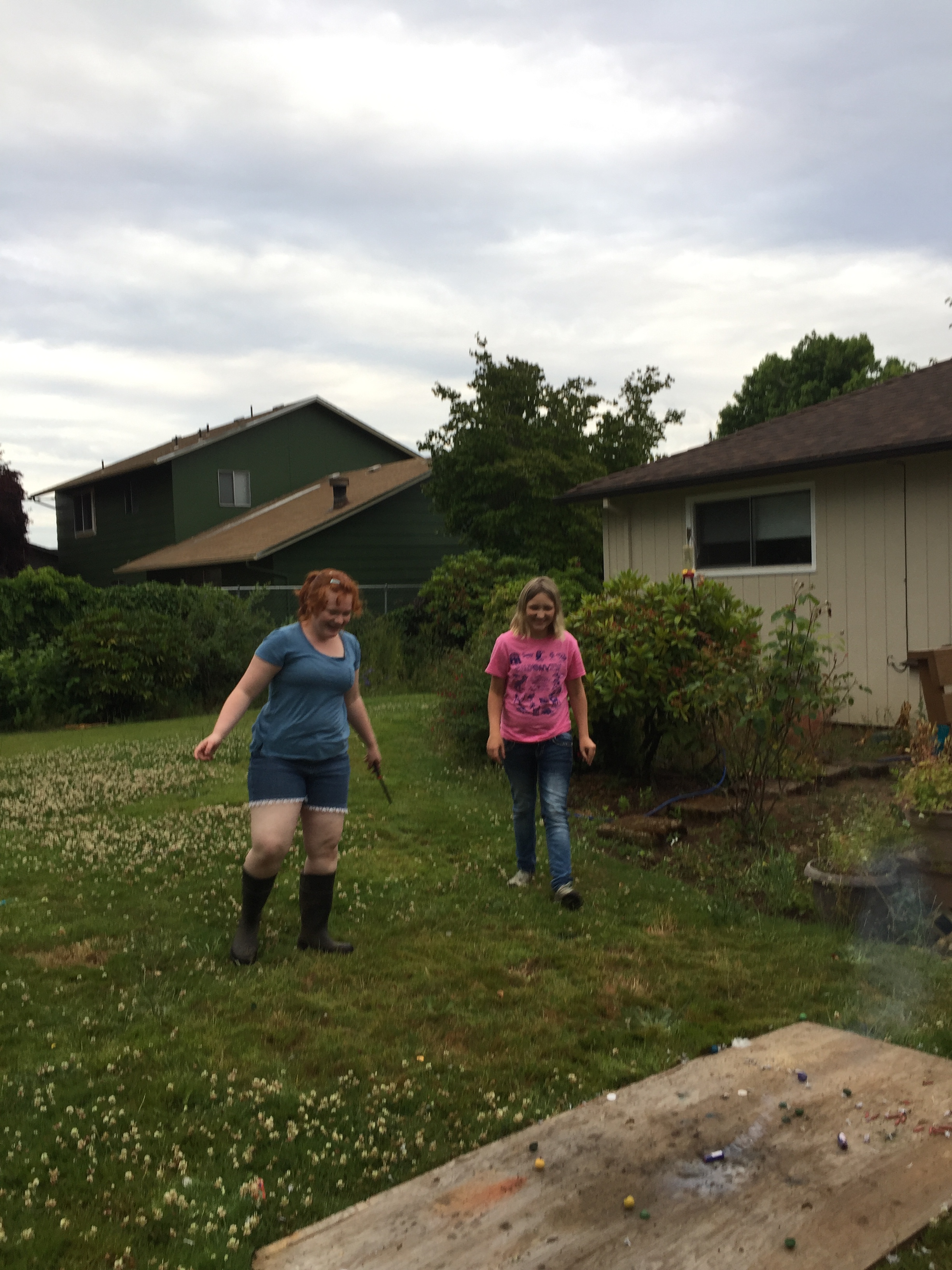 We had a simple 4th of July celebration at home, and my aunt and niece came over for that.  We bought a very few fireworks, and my niece brought some, too, and the girls had a great time lighting them off.  Then, my niece was still wound up from the excitement, and didn't want to take her dog home while others were still blasting off fireworks, so she, Patsy and I watched the movie, "Heidi" until 11:30.  We really had a good time.  I was a little tired the next day…..I'm not as young as I once was:)
We had a wonderful birthday breakfast with my Mom yesterday.  Rob and I went to a few garage sales later in the day.  I found several things that were on my list:  very small Rubbermaid containers with lids for 10c and 25c (somehow they have disappeared, probably due to the amount of lunches we take places and the fact that they are sometimes put in the microwave), a large tea ball that I will use for spices when I make relish and so on for a quarter, and some children's books for 25c.
I got a dress for Patsy for $2. I'm very pleased with how far the clothes money I set aside last spring is stretching.  I got her a sweatshirt and 2 tops down at the beach last week, which were new and on great sales, but the rest have been from yard sales.  
The best find of the day, though, was a hiking backpack and mat for $10.  This will go to our niece, Alissa, as she was using a borrowed pack on the last trip and it was not adequate for the hike.  It was more like a day pack, and this one will hold enough items for the 2-night hike she is planning on joining in on next.
I am still searching for a few things, but am super glad with what I found so far.  It is taking time, but right now, I have more time than money.
I am very happy to report we now have health insurance.  My daughter actually had a need to go to the doctor, so that happened just in time.
This week will be pretty calm, as my kids are going to camp, and I will not have my niece and nephew until Wednesday.  I hope to get a few projects around the house done tomorrow and Tuesday.
I took Patsy to the library and they are no longer going to charge money to borrow DVD's.  I'm super excited and will be checking their movies out ASAP!  We only saw the sign as we were checking out, so hadn't even looked at them, as they have been $1 each to borrow the entire time we have lived here.  At our old house, we didn't have hooked-up t.v. for 10 years, but instead used library videos because they were free there.  I'm going to check out their selection here and see what they have.