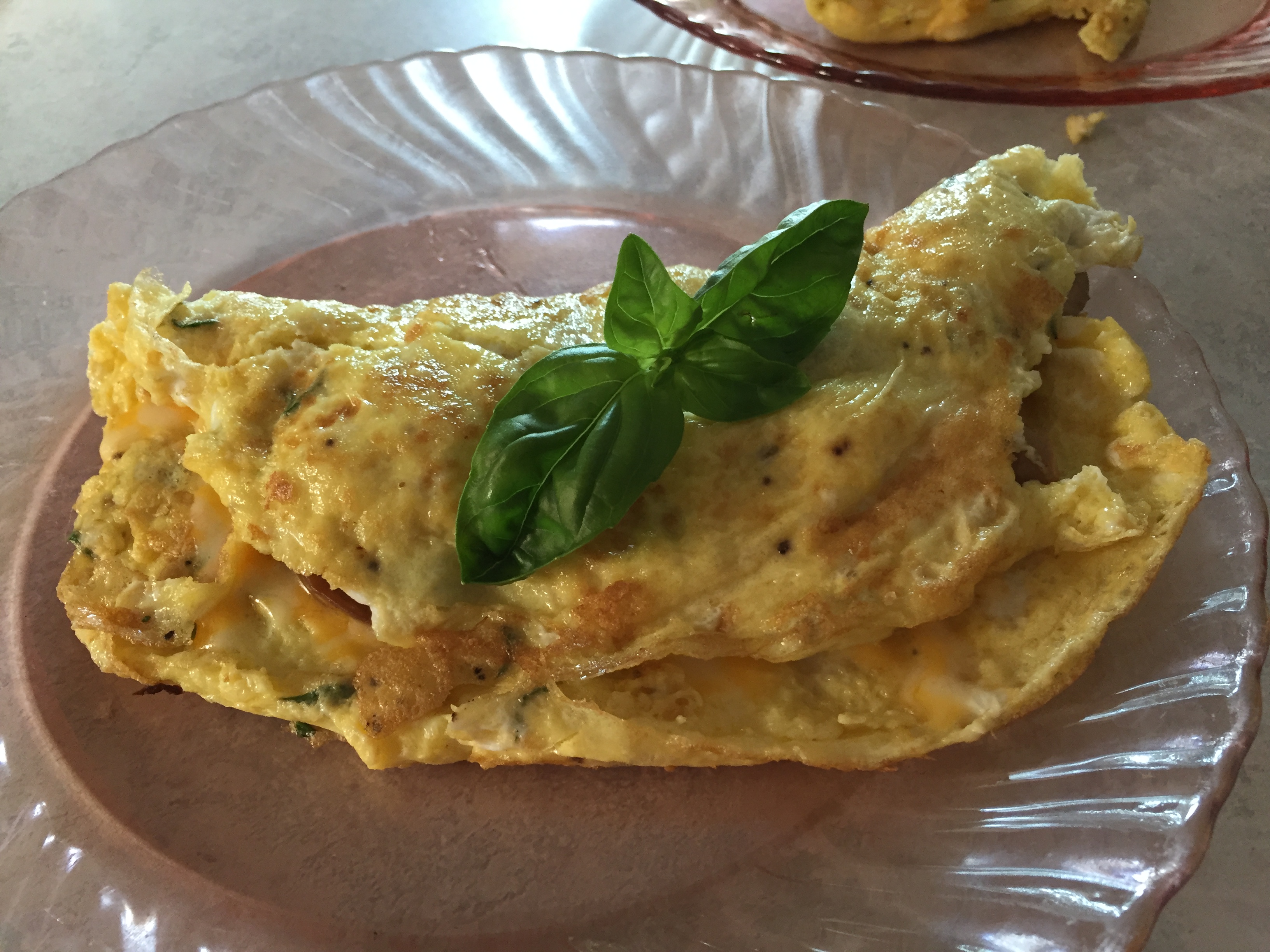 I continued cooking up a storm this week.  This morning I used the last of some clearance mushrooms in omelets for breakfast.  I put a little basil from the garden in with the eggs to give it a little different flavor.  Rob wasn't sure what it was, but he liked it:)
We got gluten-free bread for $1/loaf at a salvage grocery store. We bought several.  I froze a few, and gave a couple to my sister.  (Mom, be warned–I'm sending a couple of loaves up to your house one of these days–hope you have freezer room).  At the same store, I got Enjoy Life gluten-free, dairy free chocolate chips for $1/bag.  If you need them, you know what they are and how much they usually cost–usually around $5/bag.  I'm not dairy free, but they work fine in cookies regardless.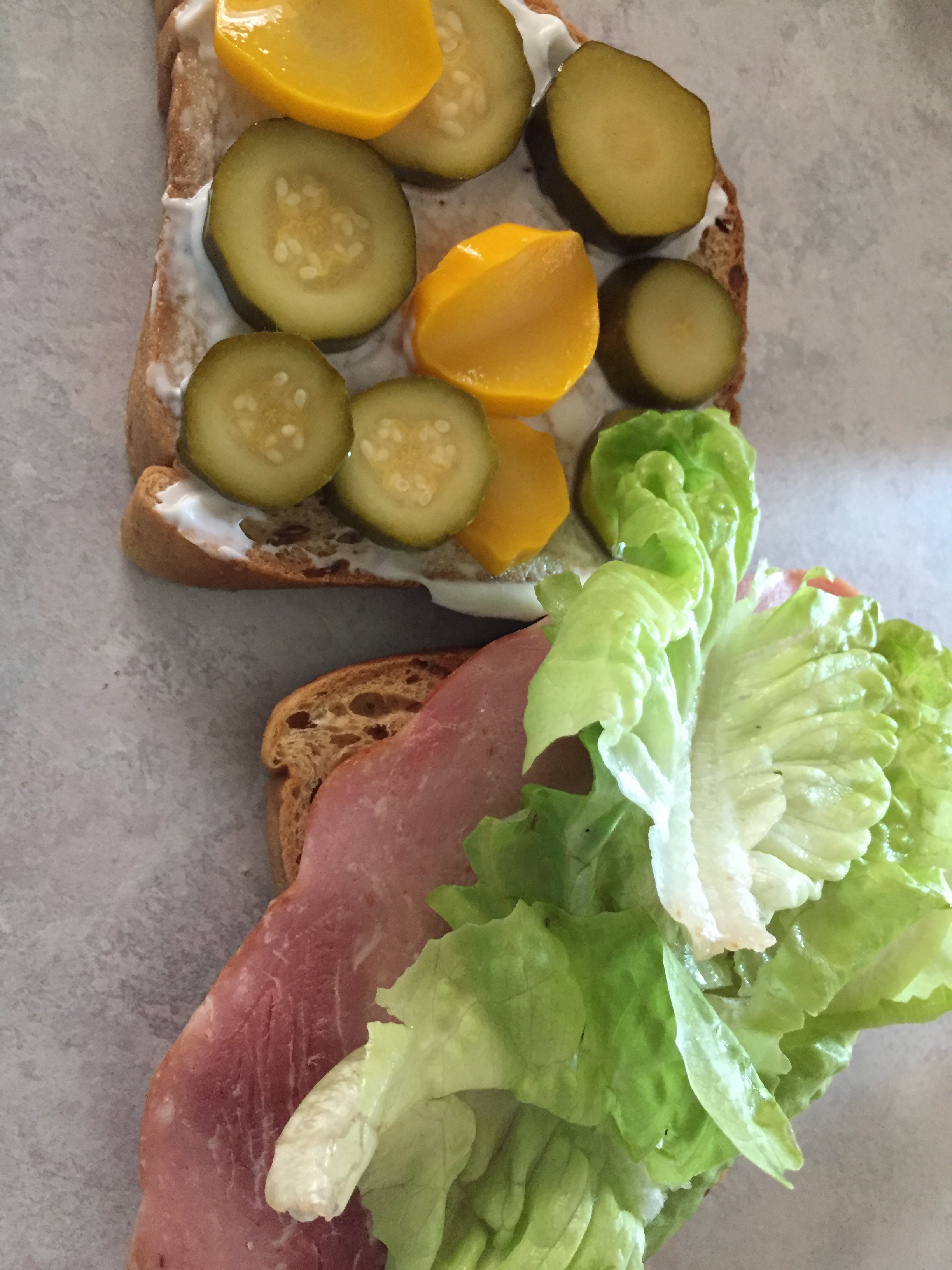 I made a sandwich with the gluten-free bread, garden lettuce, ham, and some of those zucchini dill chips.  We opened and ate the first jar, because I don't want to make them again if I don't like them, but they were very good. They will improve with time, so should be terrific.   I'm glad, because the zucchini bushes are still producing heavily out there.  I picked them extremely small for these pickles, so bought myself a couple of days that I don't have to pick any.  (I mean, over 35 in one week?  What's next week going to bring with the hot temperatures we will have–either lots more, or they will slow down in protest.  Either way, I'm happy)
We were able to get together today for Family Sunday Dinner for the first time in a while,  due to vacations, etc.  Rob made brisket from the freezer, and I made coleslaw from cabbage my sister grew, zucchini and other veggie stir fry, sliced garden tomatoes, and canned corn.  There was also watermelon and drinks from others.  It saves us at least $100 every time we eat as an extended family after church vs. going out to dinner, and I doubt we could have taken the 14 people that came today out to dinner for that amount.  My sister's family used to eat out a lot on Sundays, and is thrilled that we all do this now.
I will go grocery shopping sometime later in the week, but never found the time on either Friday or Saturday, my normal weekly shopping times.  The few items I picked up mid-week were enough. Since we are making out just fine, I'm concluding that I really didn't need those other items on the list quite yet, so am just hanging onto the money until I really need them.  Having so much garden produce is really helping me stay out of the regular grocery store.
We have been pulling meat out of the freezers that has been there for a while and using it up.  This week, I used some very old turkey drumsticks and pork chops, along with the not-so-old meat and other items we also ate.  Both older items were just fine.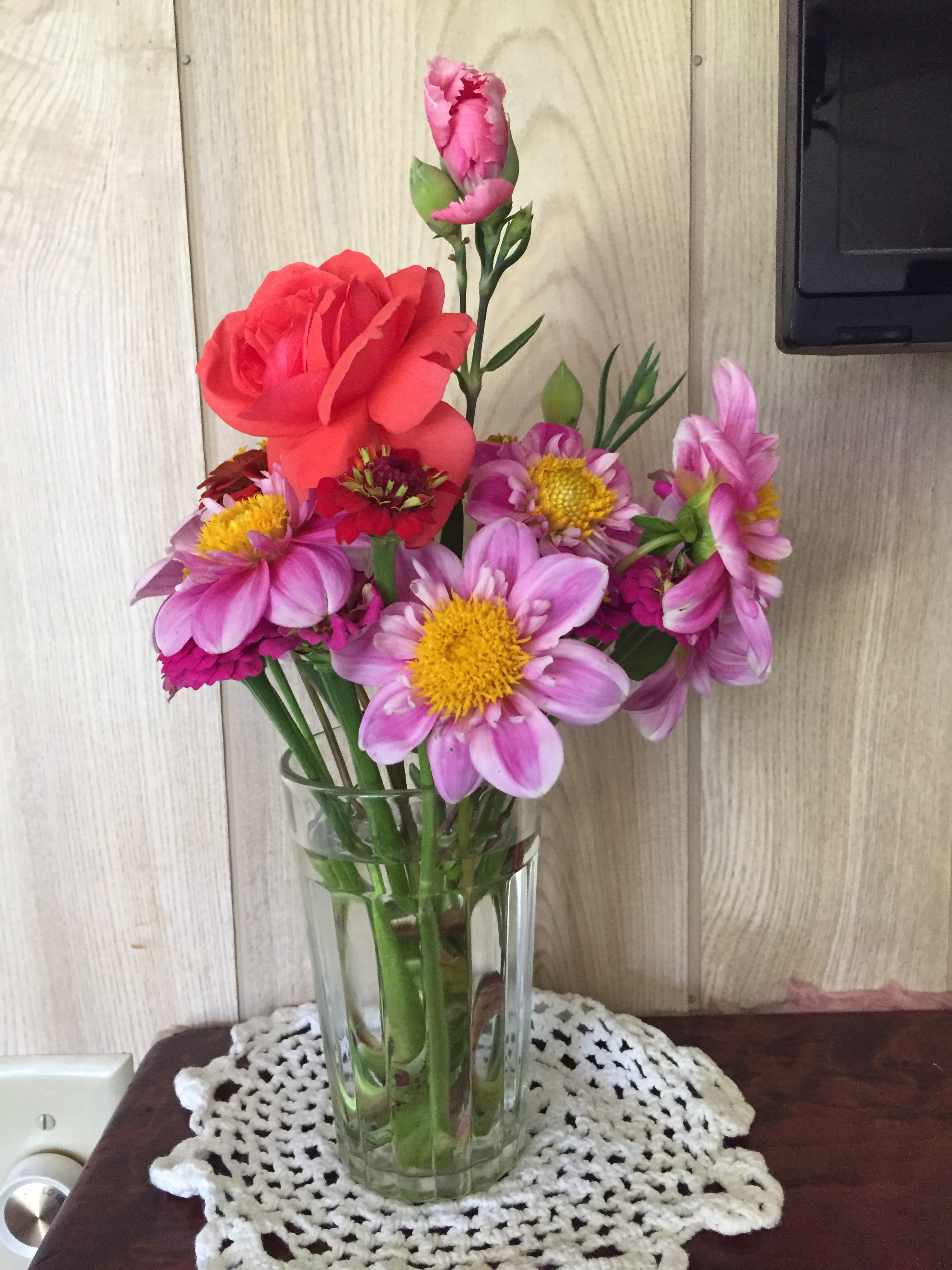 We continue to enjoy flowers from the yard and garden.  Patsy especially enjoys making bouquets.
Rob got a box of jam and jelly jars for free at a garage sale.  There are at least 20 in there. I usually give jam as gifts for Christmas, so am glad to have more jars for free.  The included pectin was from 2009, so I'm going to throw that away.
He found some items at yard sales that he has already listed and sold and made a small profit.
He also spent hours on the phone again, getting the insurance corrected–our new cards came with our old insurance still listed as an option on them–oops!  He was on hold for 2 hours, but prevailed and it's all supposed to be fixed by tomorrow.   Once that is done for sure, he will spend the time needed to change our doctors.  The new insurance doesn't cover our old primary care physician, and so we need a new one.  All of this is taking lots of time and effort, but is necessary for us.  We are very thankful to have insurance.  Between working with the kids, going to yard sales, and all these phone calls, he's keeping busy, which is good.
We also spent a good amount of time cleaning in the shop one morning, and where we cleaned looks awesome.  We want to spend some time out there again very soon.  Whatever we find that we don't need, we are getting rid of.  If we collect enough, we will have another garage sale.  If not, we will send it to charity.  He cleaned so much last winter that I don't know if we have enough good stuff for another yard sale, or if what's left would be better sold another way, or is just trash.  There's only one way to find out!
I wouldn't actually pay someone to sort my things at this point of my life, but am sure I am saving money by doing it myself vs. paying someone.  It does, however, make me feel very calm and cheerful when I get things cleaned up and tidy, and that's worth a lot to me in other ways, all money-saving aside.  It's part of thriving for me.  In fact, on Saturday, I cleaned the front room so well that Lovana thought we were having company!  It gives me a certain peace to sit down in a clean room.
How did your week go?  Did you get anything cleaned, sorted or any food preserved or grown?  Or do something else that you count as thriving or brings you peace?