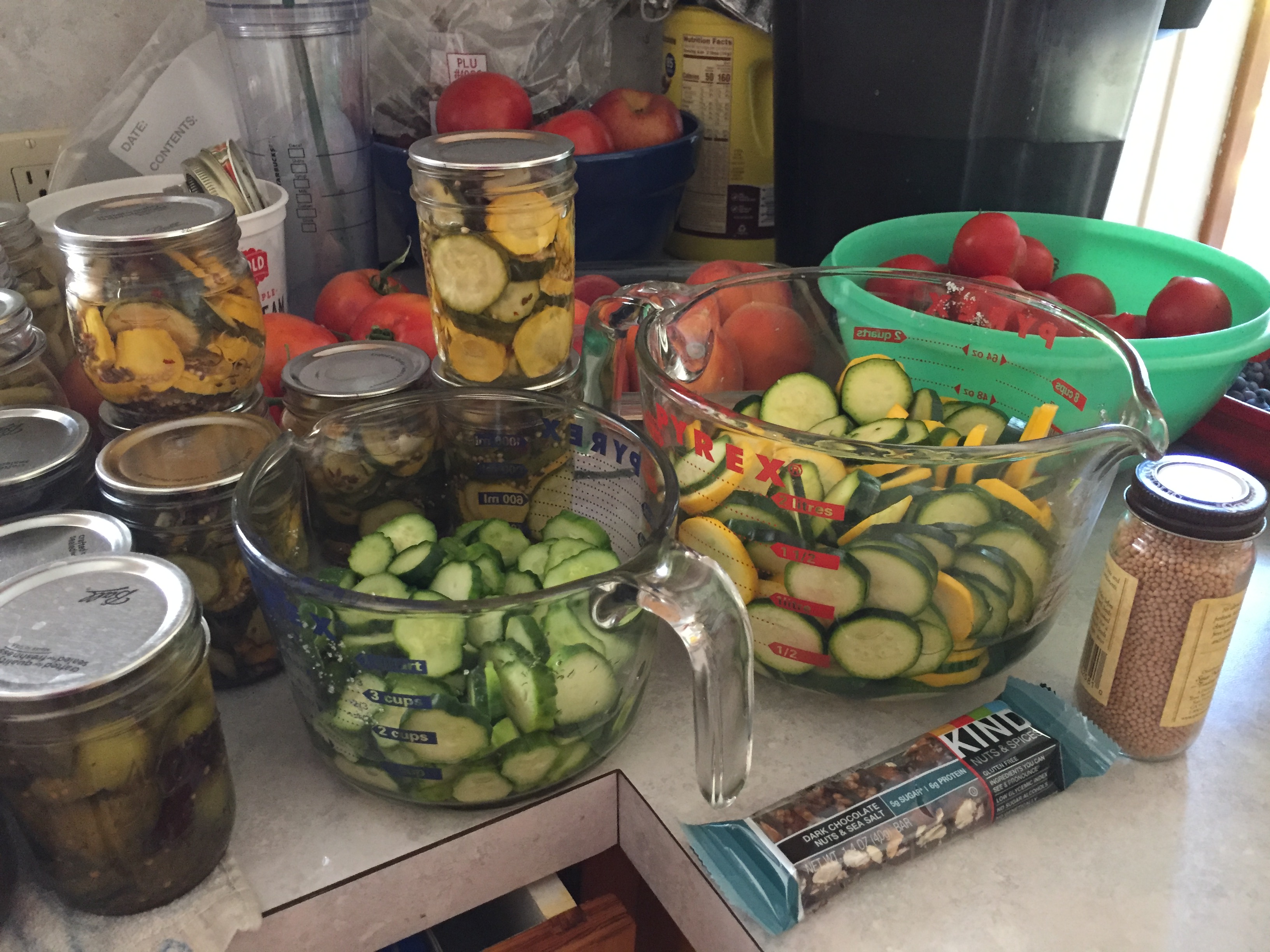 It was all about food preservation this week!  As you can see, it's starting to crawl toward the edge of the counter–but I'll let you know I took care of it before it fell off!
I did several more batches of zucchini dill chips.  I did 2 jars of cucumber dill chips, using the same recipe,  and 1 pint of dill pickles.  I finished and canned the sweet pickles.  It's a 4-day process, with something to do both morning and evening for the 4 days.  Rob and I canned 7 quarts and about 22 pints of green and yellow beans.  I froze peaches and made peach jam.
I picked tomatoes, dill, basil, cilantro, potatoes, cucumbers, a lemon cucumber, numerous zucchini, snow peas, green and yellow beans, lettuce, blueberries, strawberries, raspberries, and a few carrots from the garden.  I picked peaches at my sister's house, along with some wild blackberries.  She also gave me a small cabbage and some jalapeños.
I got bulk dill seeds for a much lower price than the little jars cost.  It did take 3 different stores, but I finally found some at Natural Grocers, of all places.  It was 3-4x the amount of dill seeds in the bulk package for less than 1/2 the price of the jar I passed up at the other stores.  I refilled my mustard seed from a large bulk package I've had for some time.
I got the KIND bar at Fred Meyers as my Friday Freebie.  At Safeway, I got a Uncle Ben's Ready Rice packet for free.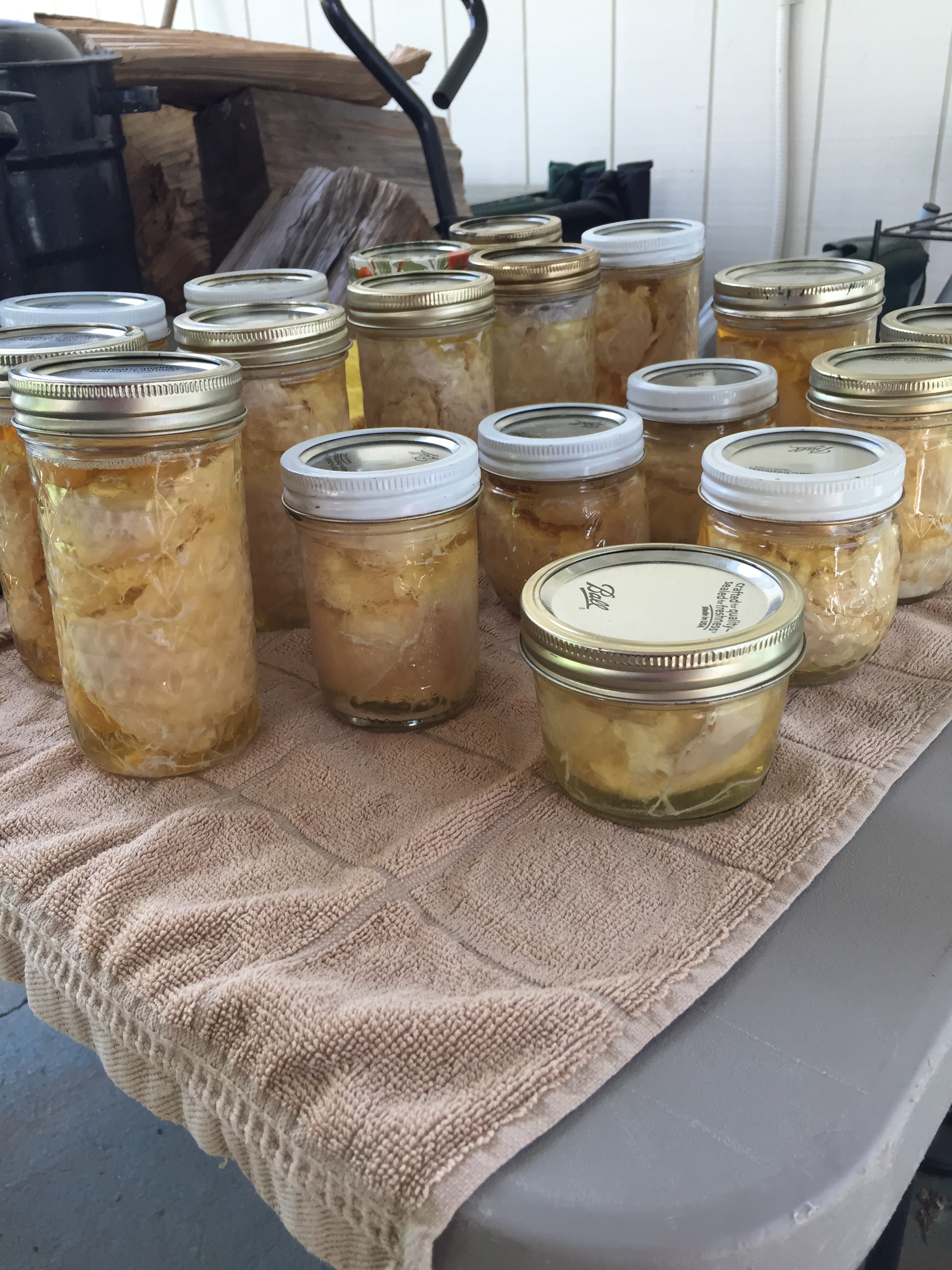 Safeway had bone-in chicken breast for 79c/lb.  Ever since Jeannie, at GetMeToTheCountry blog told about canning chicken, I've been dying to try it.  I seized my opportunity and bought the 4 allowed packages.  As she did, I cut the chicken off the bone for Rob to load into jars, and boiled the bones with water to make broth.  Then, he watched the canner for the 75 minutes that were required, and we had 18 little jars of canned chicken.  We also canned 7 quarts and 6 pints broth. Broth is done in 25 minutes, but he still sat there and watched every minute.  That's what we do when we are using the pressure cooker.  I was very low on broth, and was delighted to get that.  This was our first time canning chicken, but I've done broth numerous times, and I love having the convenience of canned broth on the shelf.  I don't love paying the price for what is basically water and salt boiled with bones–it's much more economical to make my own.
I used all the little jars Rob got for free last week at a garage sale.  There were way more than the 20 I estimated–probably closer to 35 or 40.  In the same box, I had not noticed the 3 boxes of small-mouthed jar lids.  I happily used them as well.  There were lots of rings, too, and many of them are nicer than the ones I had.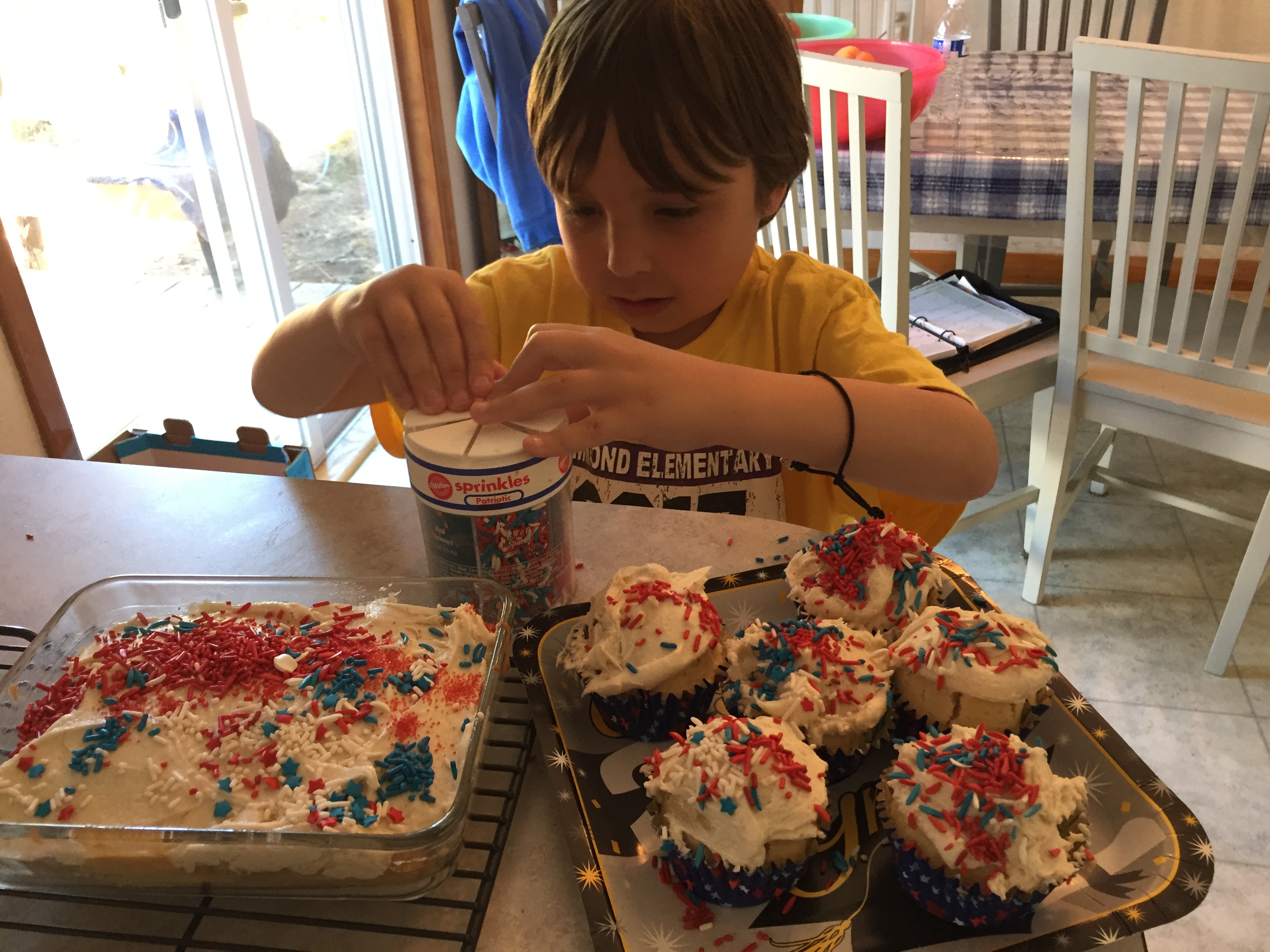 We watched Jake 3 days, and Michaela 2 days.  Among other activities,  I helped him make cupcakes and cake from a mix and some sprinkles that had been around for quite some time.  He had fun, and I was glad to send most of it home with him. Rob took Michaela to her volunteering activity and some other errands, and we took them to the YMCA to swim.  I let Jake play in the sprinklers with Patsy, and you would have thought I had taken him to the zoo or something, he had so much fun.
Watching the kids meant that we did the picking, most of the processing and especially the canning with the pressure cooker when they were not here.  So, I put in several early mornings and late nights.  I paced myself and did part of a job one day (like snap beans) and the rest the next (like the actual canning).  I have a couple of days to re-coup as their older sister, Caitlyn, wants to spend a couple of days with them while their parents are out of town.  She has the time, and misses them.  They were all here for lunch today, and we mapped out the week.  Once she goes back to work on Wednesday evening, Rob and I will take over, and it will be busy, busy, busy for the rest of the week.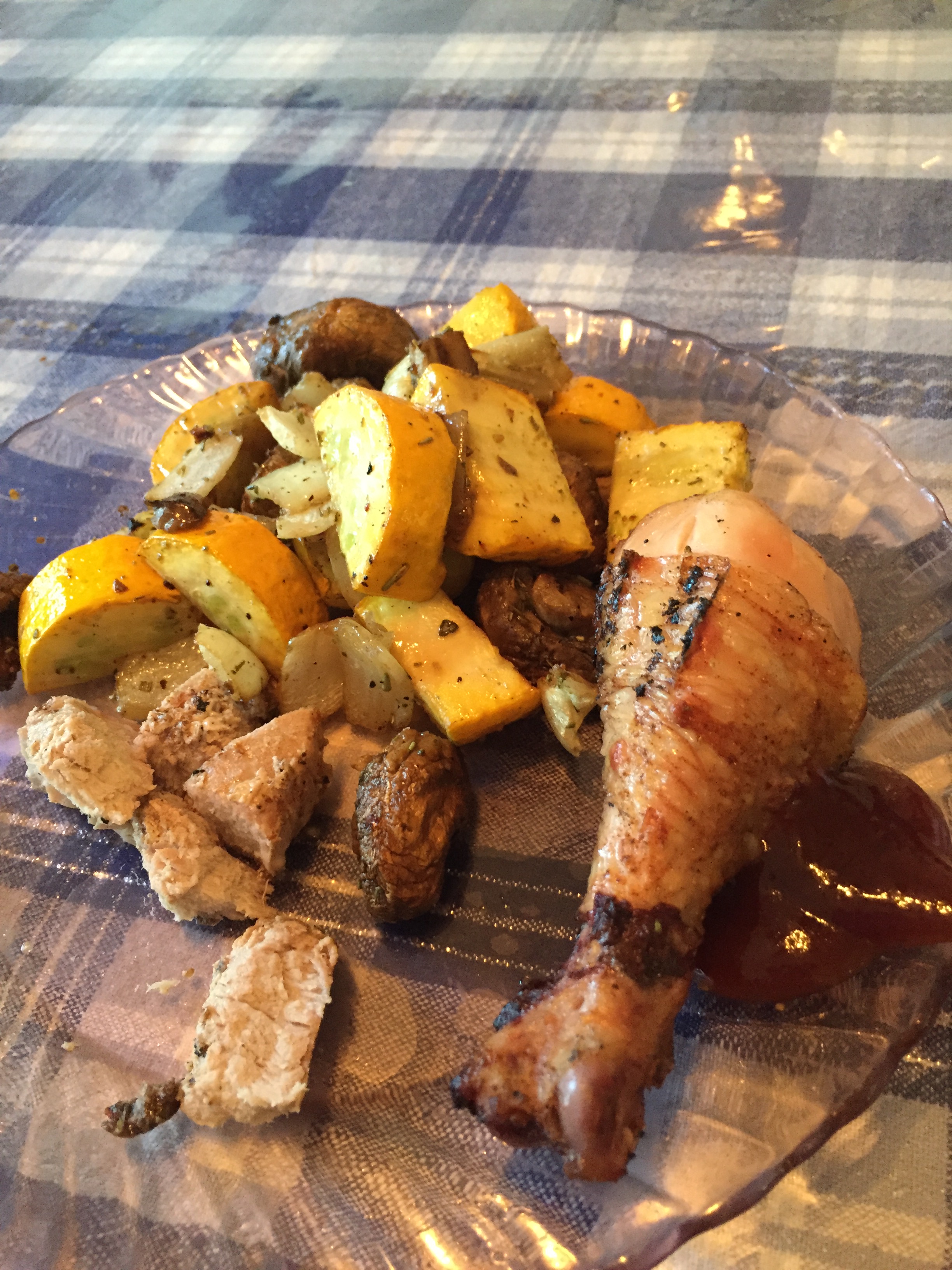 We had stir-fry at least 5 times, with various veggies at times, but it always included zucchini.  We had chicken several times.  When I was in a big hurry, I just chopped off some of that not-yet-canned chicken breast and stir-fried it with zucchini and onion.  I used the last of my store potatoes to make mashed potatoes today because Alissa requested them.  I will use garden ones next. Lovana made zucchini cupcakes with cream cheese frosting and chocolate zucchini cookies.  I made a crock pot of Marinara sauce, using frozen peppers from previous years and canned tomatoes.  I used it 2 times with frozen chicken meatballs the needed using up.  I still have a bunch left to serve or freeze in the next couple of days.
I mended a swimsuit for my sister.  I have some more sewing I'd like to start, now that my machine is out:). I also have extra cleaning I'd like to get done.  There may be a little more preserving to do, although Rob has been gently asking me how many zucchini dill chips I think we need..even when some will be gifts:).   It's still blistering hot, for a couple more days, so I'll be glad to stay inside tomorrow.
Do you have any preserving or other money-saving projects you hope to do this week?