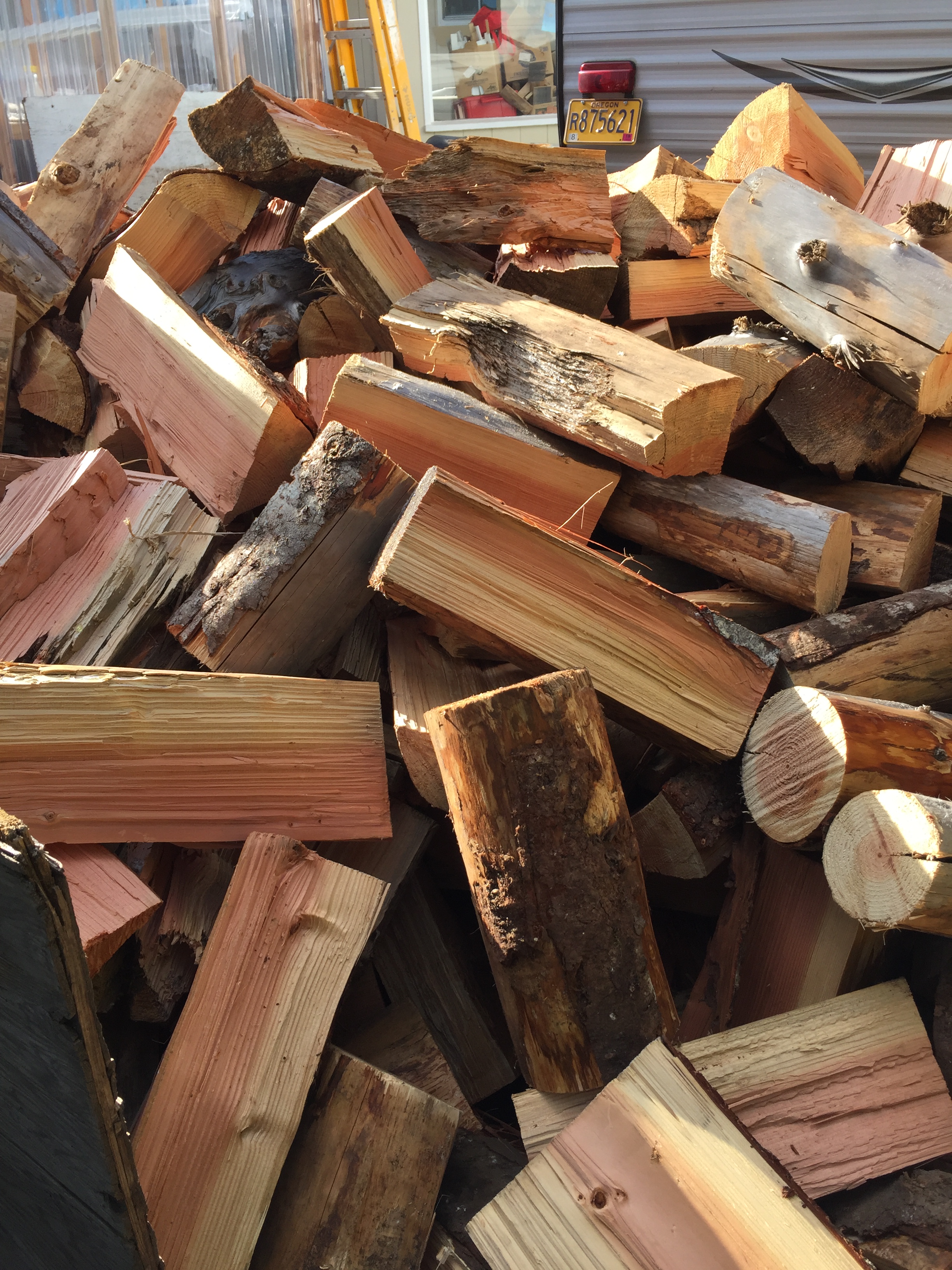 Last weekend, while we had the camper out, some friends dropped a trailer of wood by.  It was chopped, split, and dry.  We are so thankful and grateful.  I've been stacking it in the back shed several times this week, but am not quite done because there's a lot.  Isn't that wonderful?    When we got home, Rob backed the camper up as much as he could, but will probably need to hitch it up and back it in a little more once the wood is out of the way.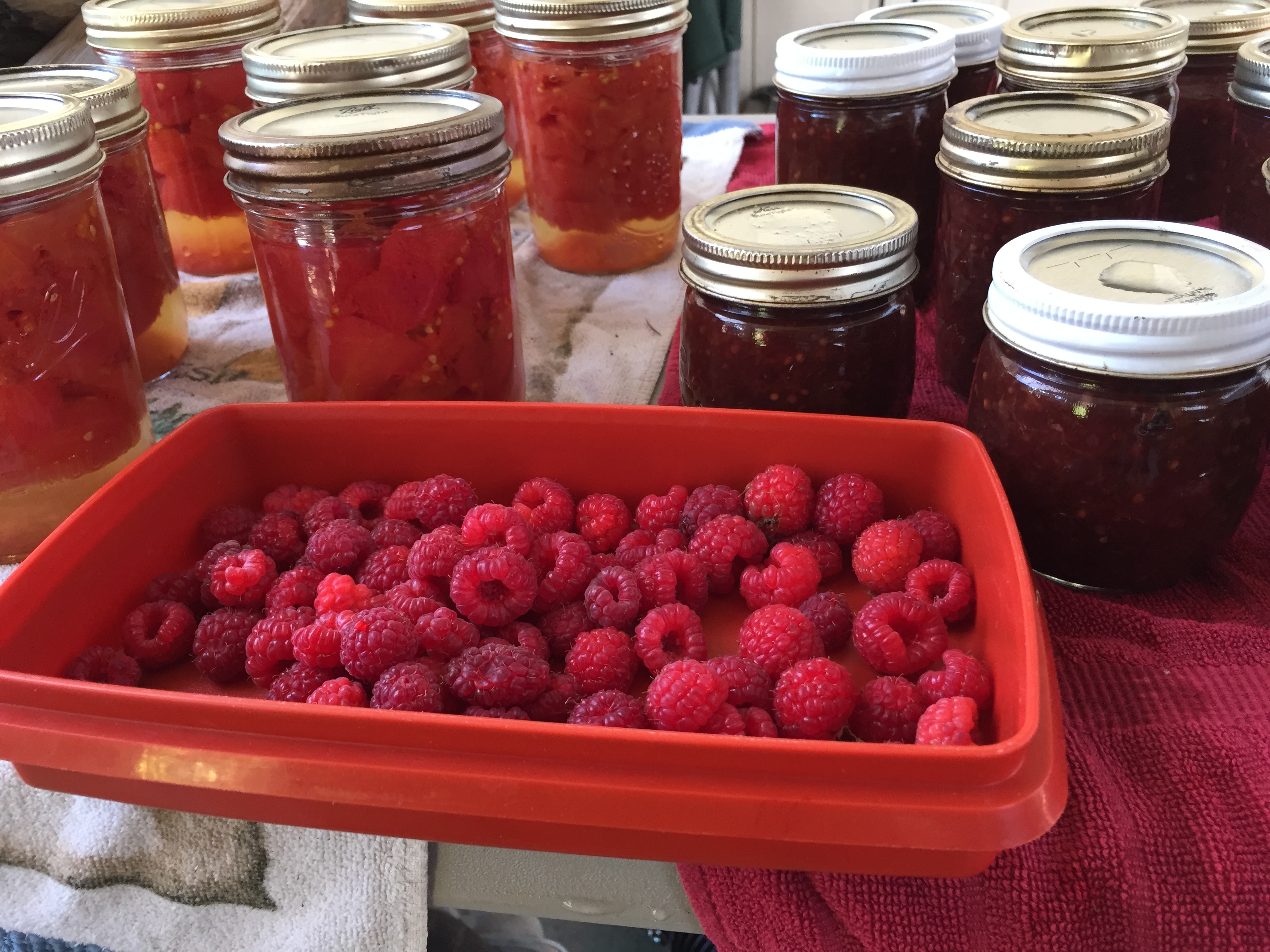 The canning continued.  I did more tomatoes, pickles, plum sauce, salsa, and froze my unexpected crop of green beans.  I think they ended up yielding around 6-8 pints–tons for bushes that were supposed to be done!  When I did the salsa, I didn't quite have enough tomatoes for the entire batch, but too many for a 1/2 batch.  So, I added about 5 cups of chocolate cherry tomatoes from the garden, and it worked beautifully.  It has just the right amount of zip, which makes me happy.  It varies so much from the peppers you use.   I've been getting a few raspberries every couple of days and have been freezing them as well.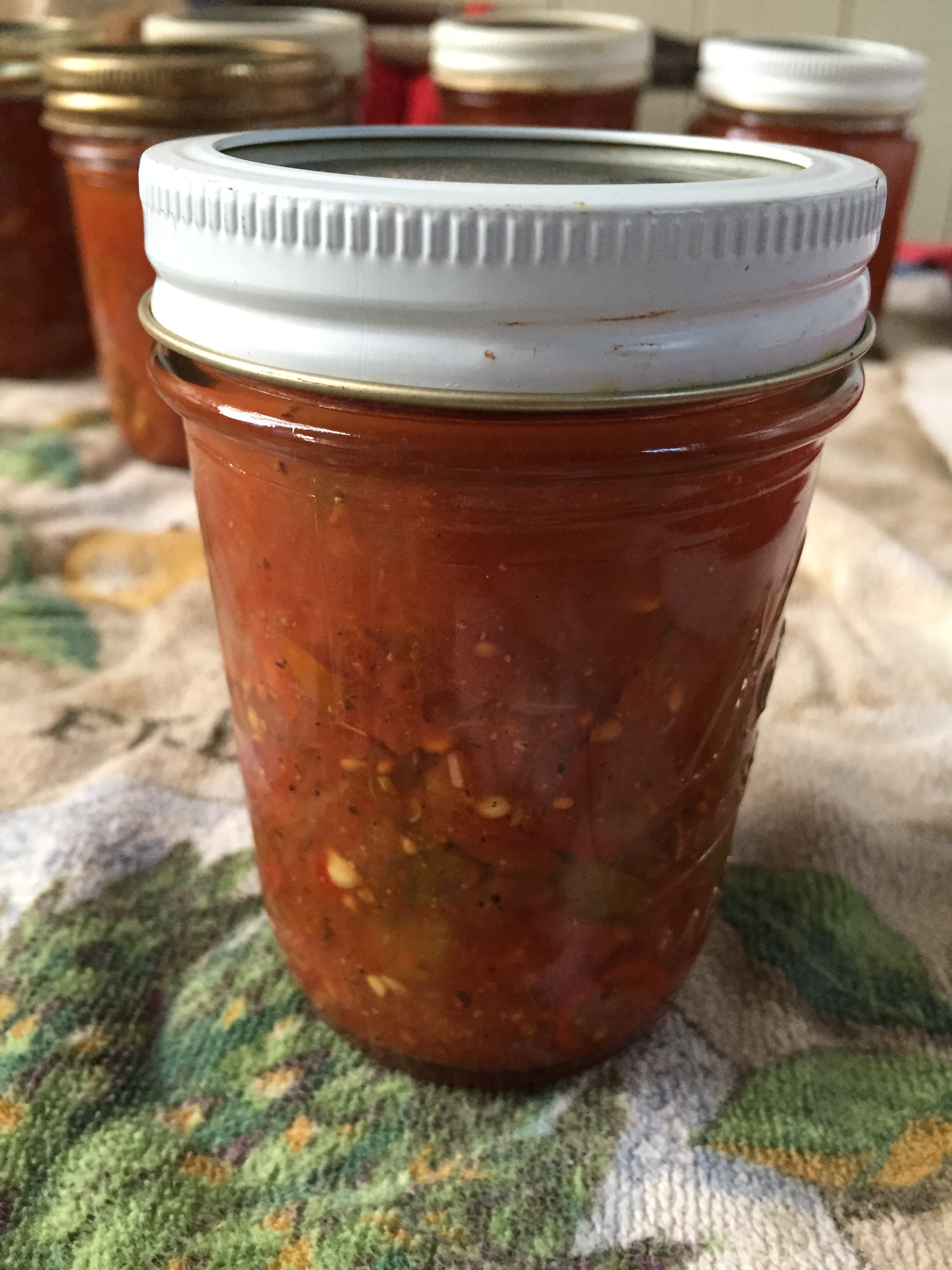 I gratefully accepted tomatoes from both my sister and aunt.  All the dribbles and dabs are starting to add up to the 50 pint goal I have.  I'm over 1/2 way there now, and I just picked a large bowlful yesterday evening from my garden, and Rob picked a few from my aunt's.  Thankfully, they hold for a few days after picking them.  I also picked Italian prunes (plums) from my sister's house for the plum sauce and she gave me apples and pears for eating while I was there.  I have now robbed all the peppers that were ripe in her garden, and almost all from mine.  I'm glad things are getting used.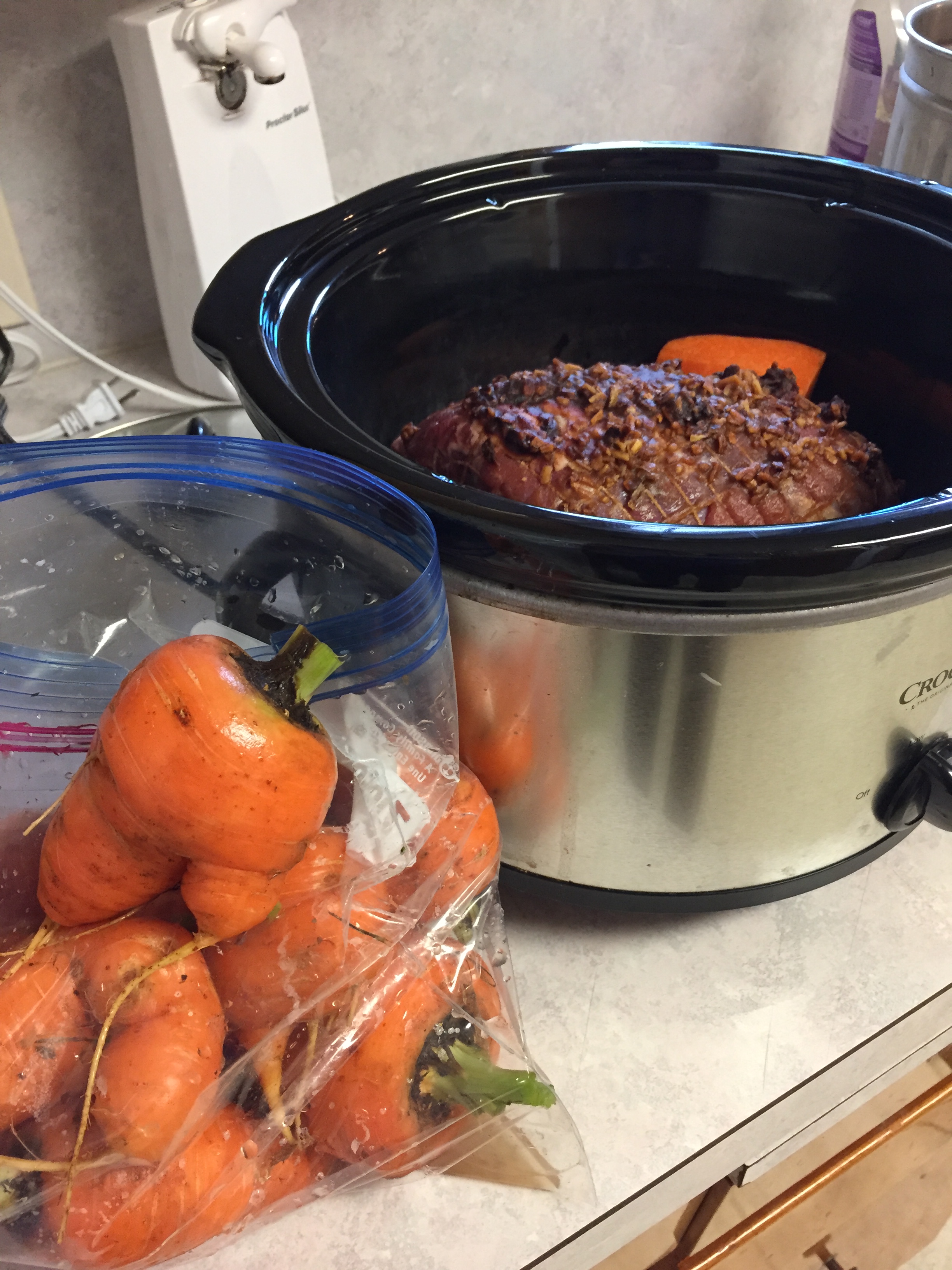 I pulled up more carrots. They sure got huge this year.  There is about 2-3 feet of row left to pull, and then we will have eaten them all.  I put them in the crock pot with a roast and some potatoes this time.  We've had that twice this week so far.  It is so good–reminds me of my childhood where we had roast almost every Sunday after church.  I also cooked some chicken, we opened some of the soup I canned, plus there was one jar that did not seal from the chicken-rice soup I canned this week.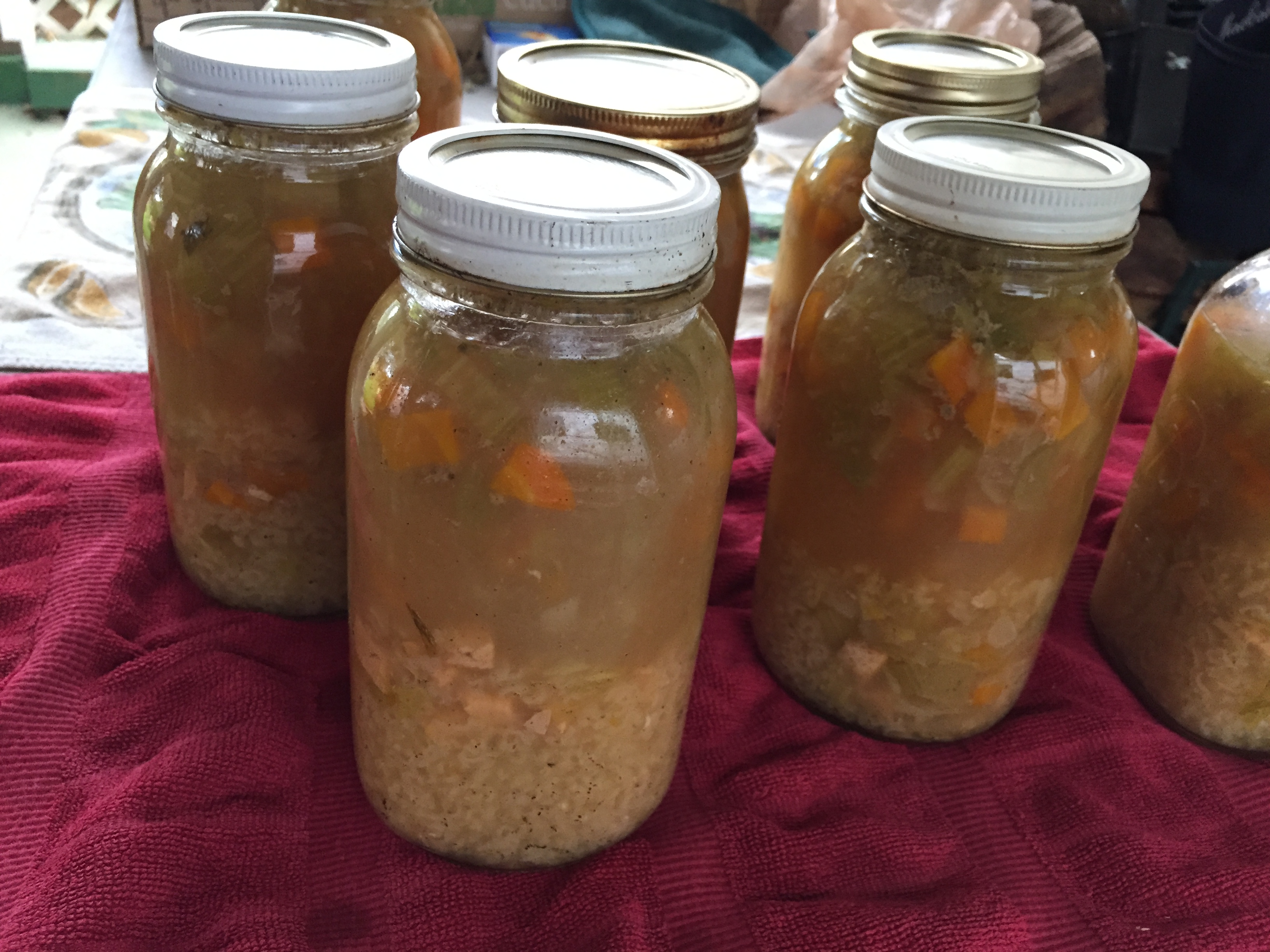 I have not bought very many groceries for several weeks now.  Today, I made up for it.  I found wonderful sales for Tillamook cheese for $4.99/loaf–must buy 3 (are you kidding?  Thrilled that I could have 3!!!). Eggs for 96c/dozen, cereal for 99c/box, grapes for 96c/lb, several free items like French bread, a lentil pasta kit, some random drinks, a snack bar, and then many, many assorted items I had ran out of or just wanted because they were good deals and we would eat them, such as refried beans for $1/can for really busy nights when I run out of my home-made stash, a little sugar, some brown sugar–mundane, everyday items.  I used a $5 off $50 coupon at Safeway.
People have given us bottles and we drink beverages. Here in Oregon, bottle deposit is 10c/can or bottle.  Over time, we have taken the empty bottles and cans to Bottle Drop and had the money put onto my card.  For the first time, I used my Bottle Drop card in a store.  They have a program where they give you 20% extra at certain stores.  So, I redeemed $50 worth, and got to spend $60.   That was $10 in absolutely free groceries and the $50 felt free, although it wasn't, as you pay bottle deposit on most beverages you buy, even water, here in Oregon.
These 2 stores (Fred Meyers and Safeway) were my goal for today.  We did Grocery Outlet a few days ago for the few things they had there that we use.  I also did Natural Grocers for a couple of things I needed from there.  But today was the big shopping trip.   I loaded coupons onto my store cards.  I took coupons from the displays when available while shopping.  I loaded Ibotta rebates onto that app. I matched the store coupons to the Ibotta rebates to find items that were very low cost and some were even free.  Then, after shopping, I submitted the receipts to Ibotta, gaining around $17 in rebates and bonuses.  So, today, I paid around $140 for what the receipts say was over $300 in groceries and will have around $17 coming back when I cash out that app.   (Of course, $50 was for returned bottles, but I'm still very pleased.) It did take a long time to do all that, but now I'm set again for most items for quite a while, I think.
We cooked for the college aged kids at church on Tuesday.  We were way, way below the set budget because we made tamale pie and used dried beans that I cooked and froze for this reason ahead of time.  I used our garden cucumbers and cherry tomatoes on salad made from purchased lettuce.  I got another bunch of zucchini, so made a squash/onion medley, which surprisingly got eaten up.   I made a fruit crisp and Rice Krispie treats for dessert. (I only did both because I was using up some frozen fruit that needed to be used and thought I needed more dessert, which I actually did not, but you never know)
We had 6 doctors' appointments between Rob, myself and Patsy.  We made it to all of them on time, and the insurance covered them, which is a huge blessing to us.  While I was at mine, I got my flu shot and found out that my blood sugars were in a better place than they have been for quite a long while.  I've been working hard at it, and can always do better, but was very encouraged by that news.
I did exercise class twice, using our membership at the YMCA.
I bought some items for Patsy that were sorely needed at a sale at Macy's and saved a large amount from regular prices.  I got myself a few things as well, using a gift card from my birthday.  And, no, we will not be modeling some of these items or showing pictures of them, but, we are still very happy to have them for such a low price.  To get a certain discount, I had to use my Macy's card, which I promptly paid off then and there to make sure we did not end up with a bill we don't need right now.