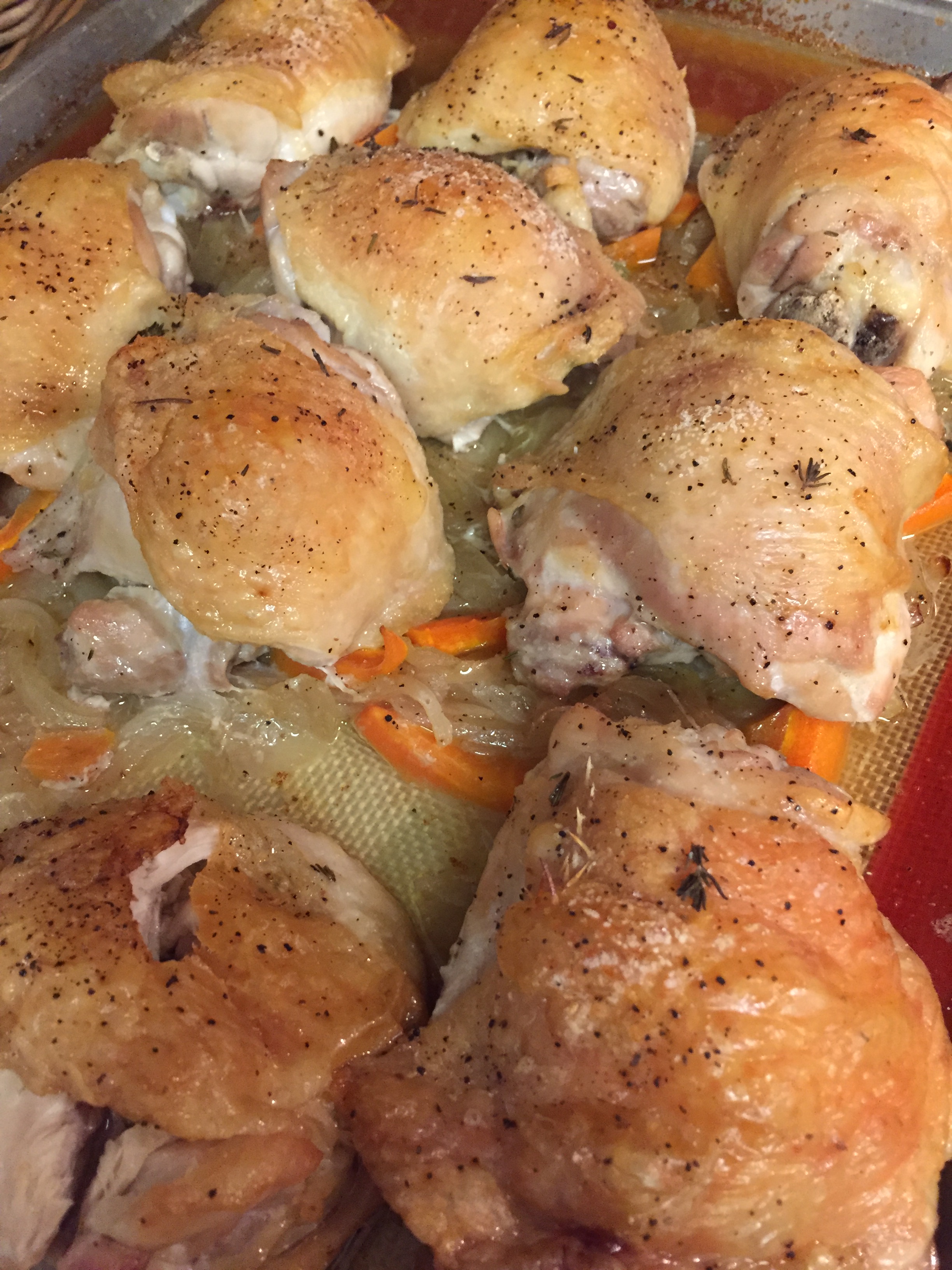 I tried a recipe for French Onion Chicken.  It was from Cooking Light magazine, but I did tweak it a bit.  First, you cooked a lot of onions.  I used a little bit of butter, a small amount of beef broth, and about 4 huge onions and used a non-stick pan.  I used even less butter than the magazine called for and no cooking wine.  They got nice and cooked in about 15 minutes.  I put 1/2 of them on a baking tray, and the other 1/2 I used to make some French Onion Soup. I used chicken thighs I got on 30% off instead of the whole chickens that were called for.  I put down a layer of cooked onions and some carrot sticks (my addition) and laid the thighs on top and sprinkled them with fresh thyme.  I did not make herb butter and put under the skin, although I'm sure it would be delicious.  We don't need those extra calories around here right now.  I decided to set my oven at 425 degrees.  That was hot enough for me, even though the recipe called for 450.  Then I baked them until they were done, about 40 minutes.  (They were not super cold as I had returned from the store and made them a little while after that without putting them in the fridge for hours as would normally happen.).  They were really, really good.
I made French Onion Soup with the other 1/2 of the onions.  It was good with little pieces of bread (some regular and some gf) with cheese slices melted on top.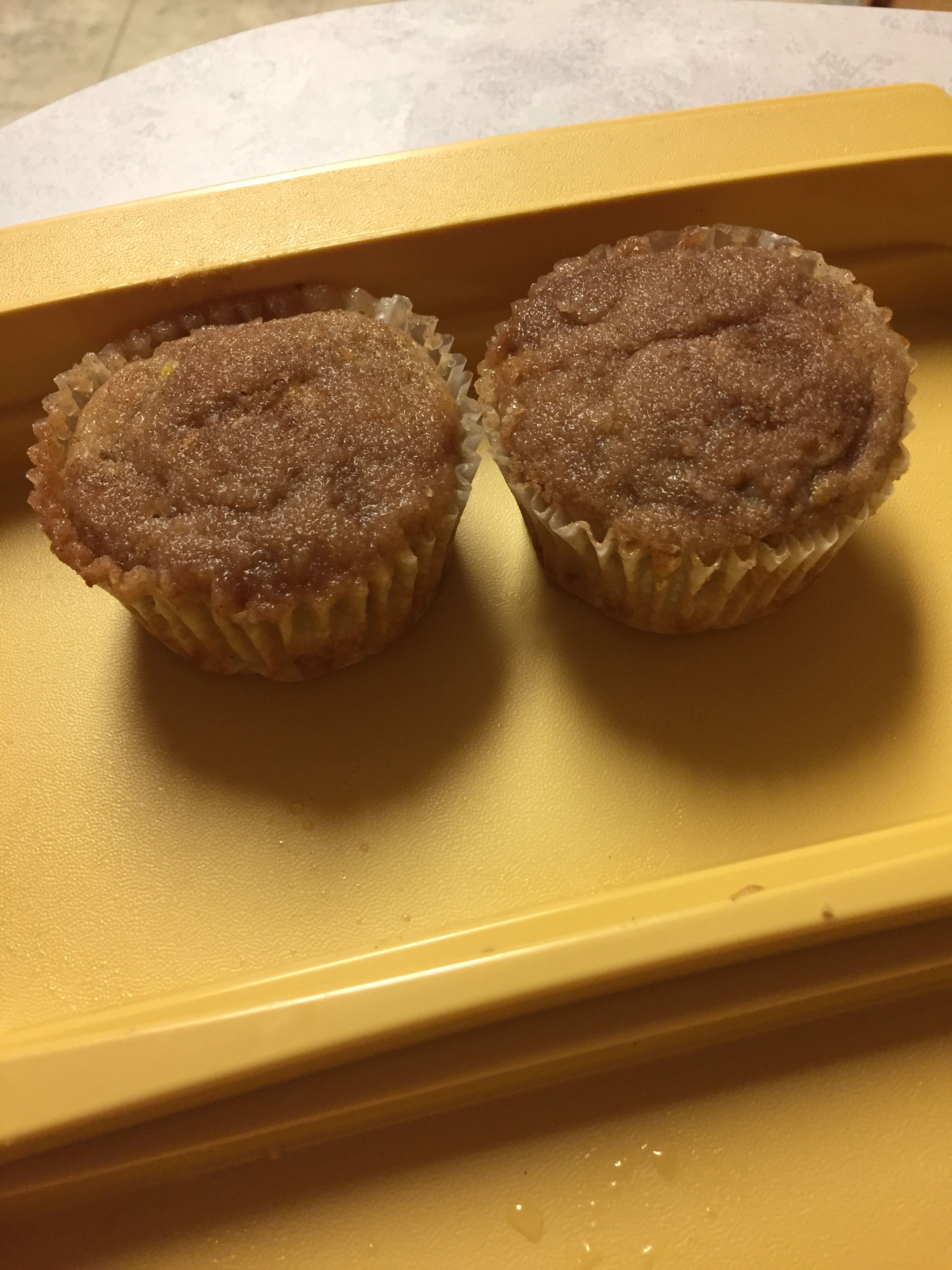 I made another batch of zucchini muffins, with a cinnamon-sugar topping. Everyone liked those!
We have had lots of vegetables–tons of salads, canned green beans, carrots, cherry tomatoes, etc.  My aunt gave us some low-calorie salad dressing that Rob has been loving.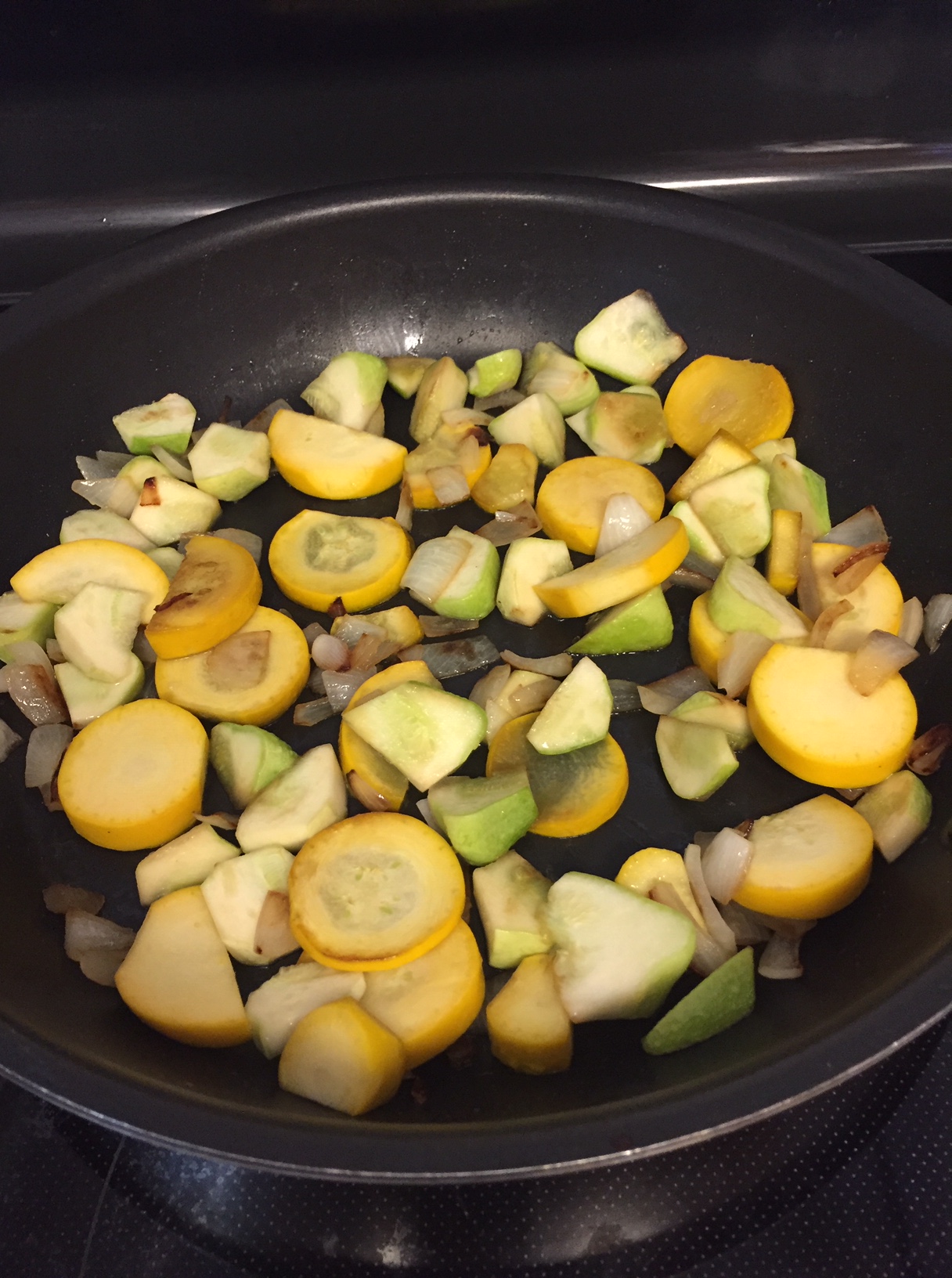 I used some of the last zucchini I will be getting.  There is a tiny bit left, but the bushes look like they are dead or dying, and the fall rains have finally started, so they won't get better:). I'm trying to use up the garden odds and ends while I still have them.  There are still cherry tomatoes and a couple of cucumbers out there, at least there were a couple of days ago.  I'll bet they are cracked after all this rain we've had yesterday and today.  Their days are numbered, too:)
I made baked pear slices with cinnamon sugar and raisins.  They were great!
I went out to breakfast with a couple of friends, and had an omelet.  It was good.  I ate half for breakfast, and the other half several hours later for a late lunch.
We ate many other things, of course, but those were the most exciting ones!