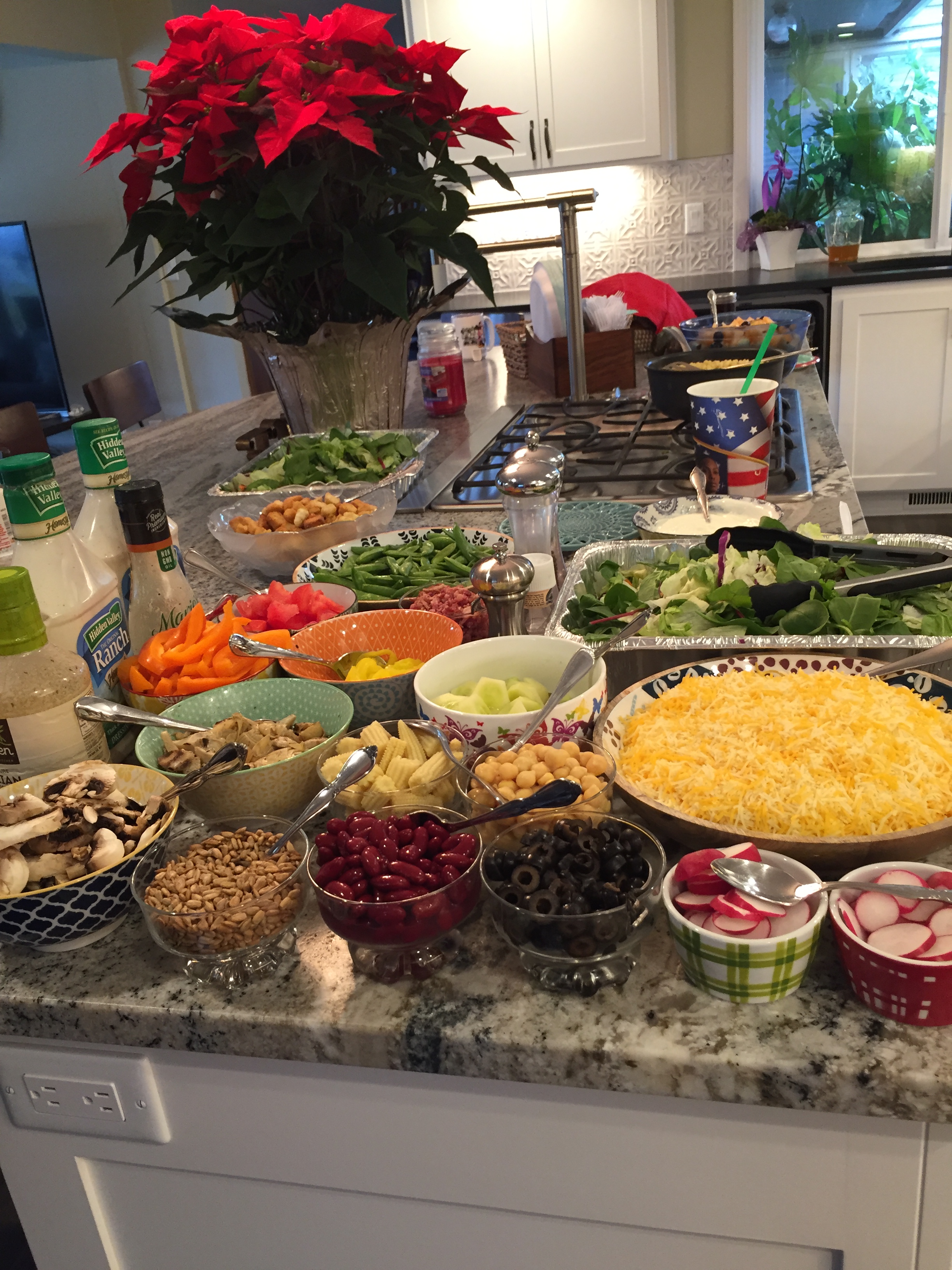 There were 2 occasions in the past week that we fed crowds.  I'm sharing the menus in hopes of giving good ideas to those who need or want to feed large groups on a budget.
The first occasion was over at my sister's house.  She was hosting a high school gathering.  There was no way to know if there would be 5 kids or 40.  It was a bit of a challenge.  She decided to serve salad bar, baked potato bar, fruit salad and ham.  Her reasoning for these choices was to provide many, many options for the kids who needed to eat gluten-free, dairy free, or chose to be vegetarians.  There are some of each in the youth group.
She got the hams and asked Rob to BBQ them the day before.  She asked me to bring desserts.  She cut and chopped, cooked and simmered the rest.  It was all delicious.
In the end, there were about 20 people at the gathering, so there was too much food.  (Better too much than too little–that's our motto!) We were able to send the rest of the berry-apple crisp to an evening youth activity and they ate a bunch more of it there.  We all ate salad for a couple of days afterwards, along with potatoes.  She made a twice-baked potato casserole with some of them, using the cheese as well.  She plans to freeze some of that, as an experiment to see how it freezes, for another  day. We were both pleased.  There was lots of food.  The kids loved it.  Everyone, no matter what their dietary needs, had plenty to eat.  There was plenty of opportunity for them to visit with one another, then have their discussion/lesson.  (By that time, I was long gone, with Jake in tow, so they could focus on the youth)
The second occasion this week was feeding the college-aged kids at church.  There are several teams who rotate through with this project, so we have a turn about once a month.  My niece, Alissa, is really enjoying being a part of this project.  We are not only practicing her cooking skills, but are using it as part of her homeschool math.  She has been figuring out budget, cost, helping shop and cook, and figuring out how much food is needed for "x" amount of people, etc.
We pulled out the big roaster oven this month.  It was about 1/2 full of chili.  I made the chili Sunday night, using soaked pinto beans from the huge 50 pound bag Rob got for such a low price a while back.  There is a budget from the church for this project, so they bought hamburger and the rest of the ingredients.  The chili was refrigerated and was very easy to put into the roaster yesterday, warmed and transported with no fuss.
Alissa wanted to make potato soup. We used 10 lbs of potatoes, celery, onion, milk and a tiny bit of sweet rice flour and filled 2 crock pots each 1/2 full.  That way, neither pot, or the roasted sloshed over on the trip to the church.  Rob put the crock pots in a box, wedged in with dish towels, and that helped, too.
Rob made cornbread from mixes.  A large pan of regular, and a small pan of gluten-free were plenty for the job. We put out honey and butter.  He shredded a brick of cheese and cut onions, to put in the chili, or the potato soup, as desired.  It was desired.  The entire 2-lb brick was consumed.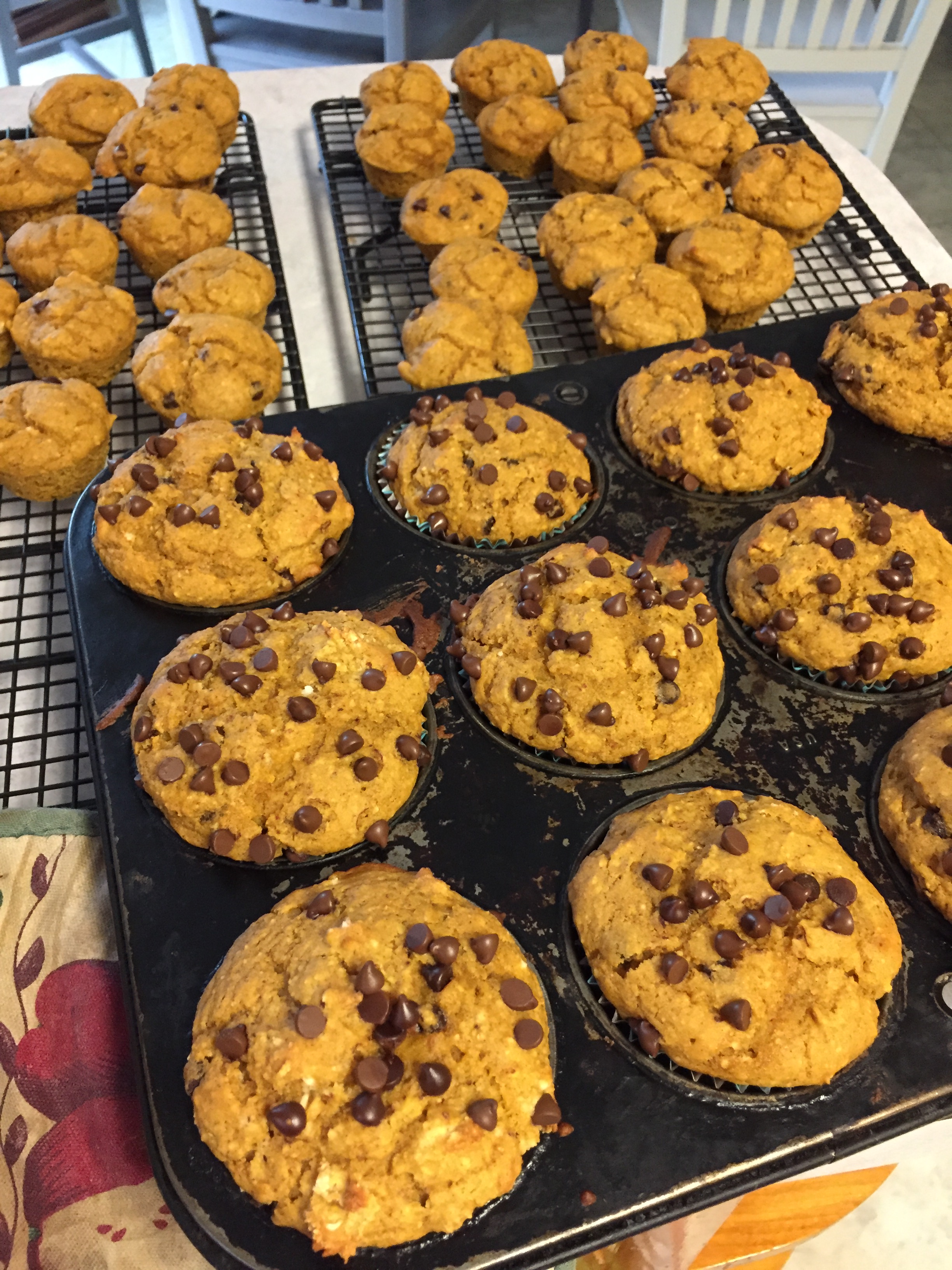 Alissa made 2 boxes of brownie mix, and added crushed peppermint to one of them.  I made some pumpkin-chocolate chip muffins for the gluten-free people.  I had previously made them, and froze them to make yesterday easier.
In the end, there was hearty chili with toppings, potato soup with cheese if desired, cornbread, muffins, brownies, and a veggie plate. Water is always the drink they put out for that group, and they always set up the tables and put out paper goods.  When they move on to their singing/Bible study, we clean up and parcel out the leftovers, as is their practice for that group.  We leave them in rows on the table, in little take-home cartons, baggies and bowls and the kids take them home for the next day's lunch.  It's a really good system, I think.  The attendance seems to pretty consistent, around 25–more or less, so it's getting easier to plan for how much to cook each time.
This was a very low-cost meal.  I shopped around, and got the best prices on the food items that were purchased, but did not need many expensive ingredients.  Potato soup was very simple, and inexpensive, and they LOVED it!  The chili was a hit, too, and the cornbread was almost gone.  I bought very few veggies, and most of them were still there:). We are still getting a feel for what this group likes, as we have not been doing this for long, and I'm coming to the conclusion that it's FOOD that they like:). They are so appreciative, say thank-you many times, and generally let us know over and over how much they like it—who wouldn't want to cook for them? 🙂  They are a joy to feed.