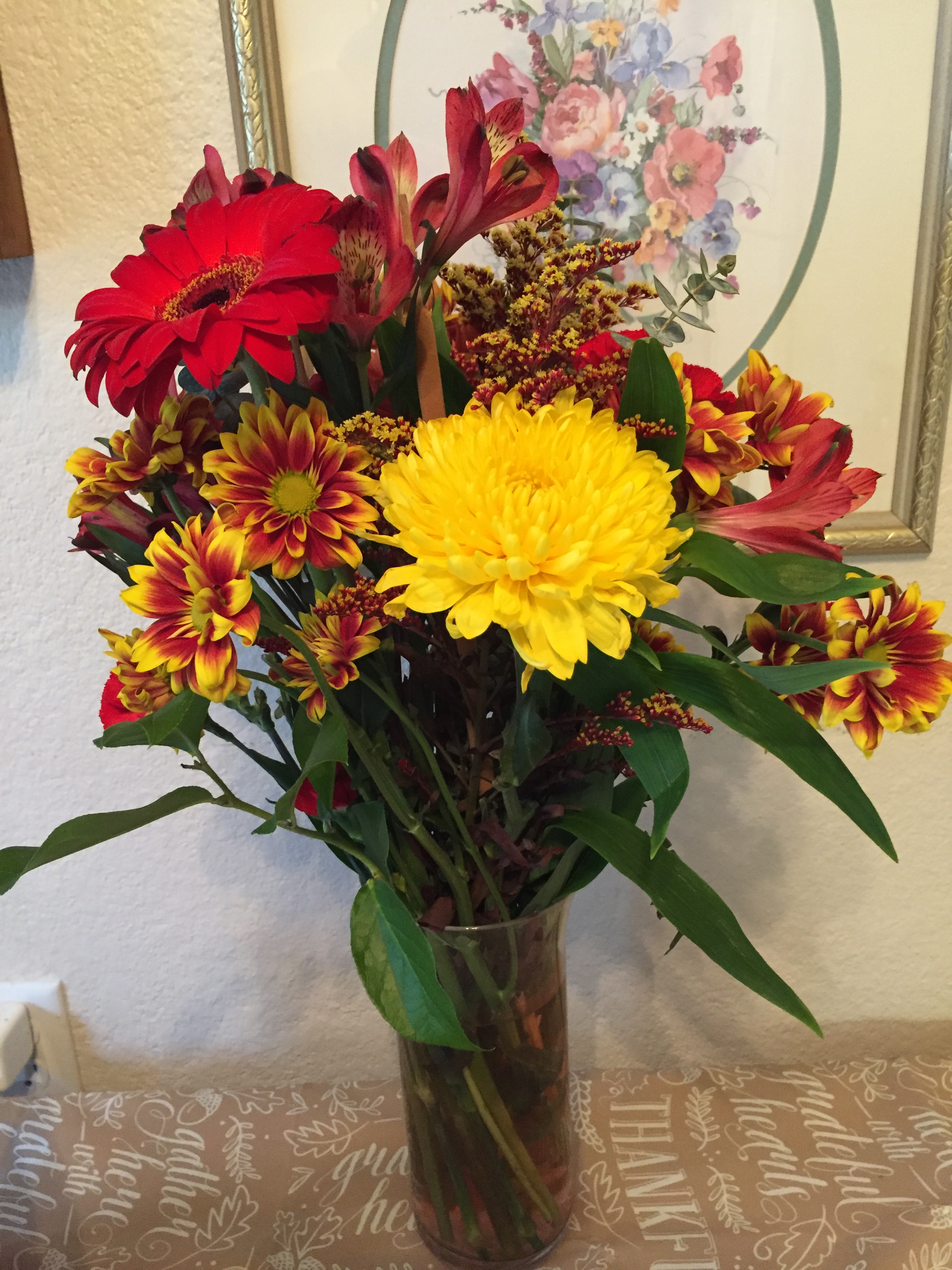 I was given a beautiful bouquet on Thanksgiving.  They made such a nice addition to the holiday atmosphere.  They were special to me because they were a very thoughtful gift from Allison.  She is the love of my autistic son, Anthony's life.  Rob was able to pick them both up on Thursday so they could join us.  Although they live in different homes, they are very committed to each other and are very sweet.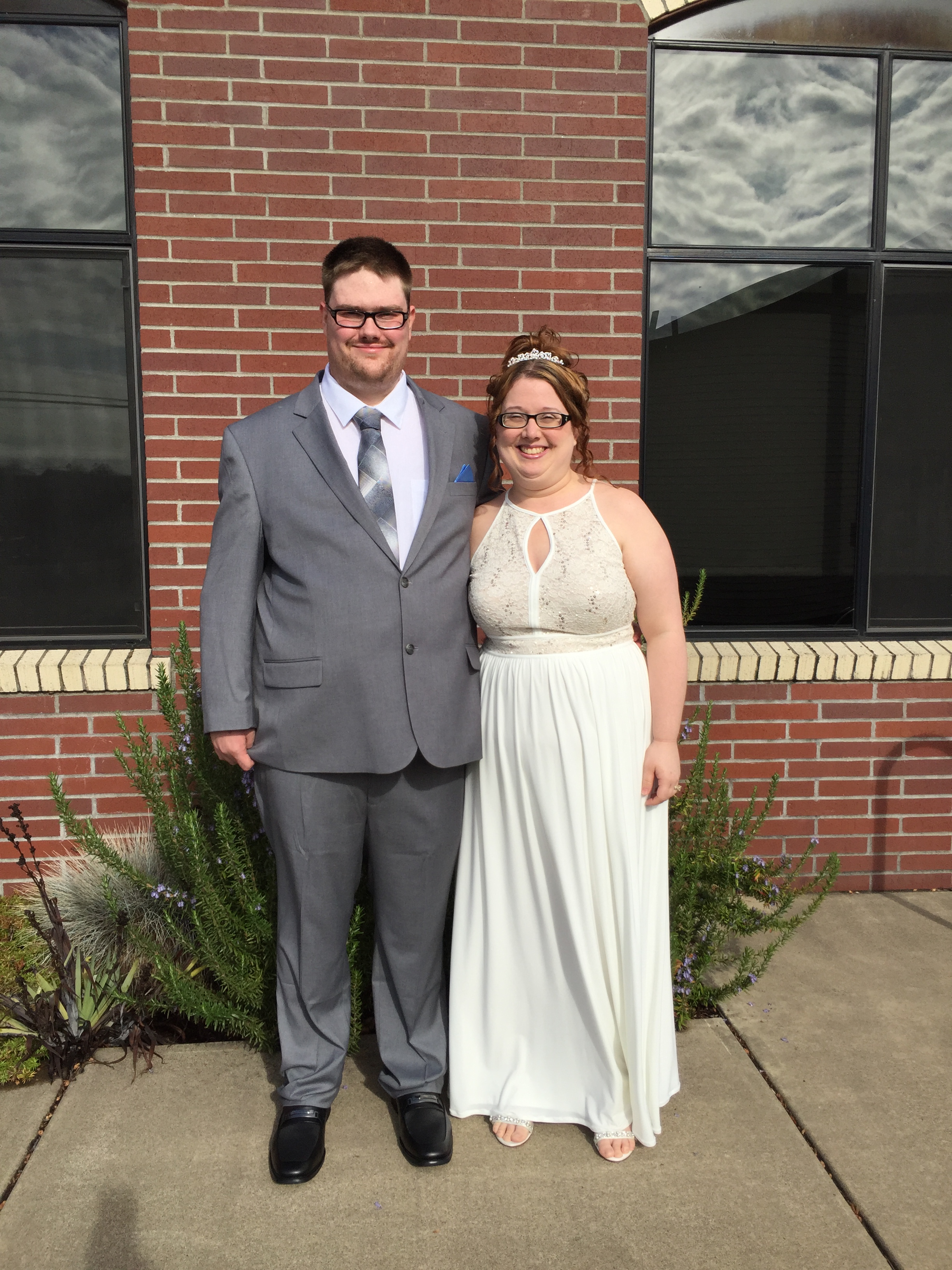 This is a picture from a few weeks ago–they are such a cute couple!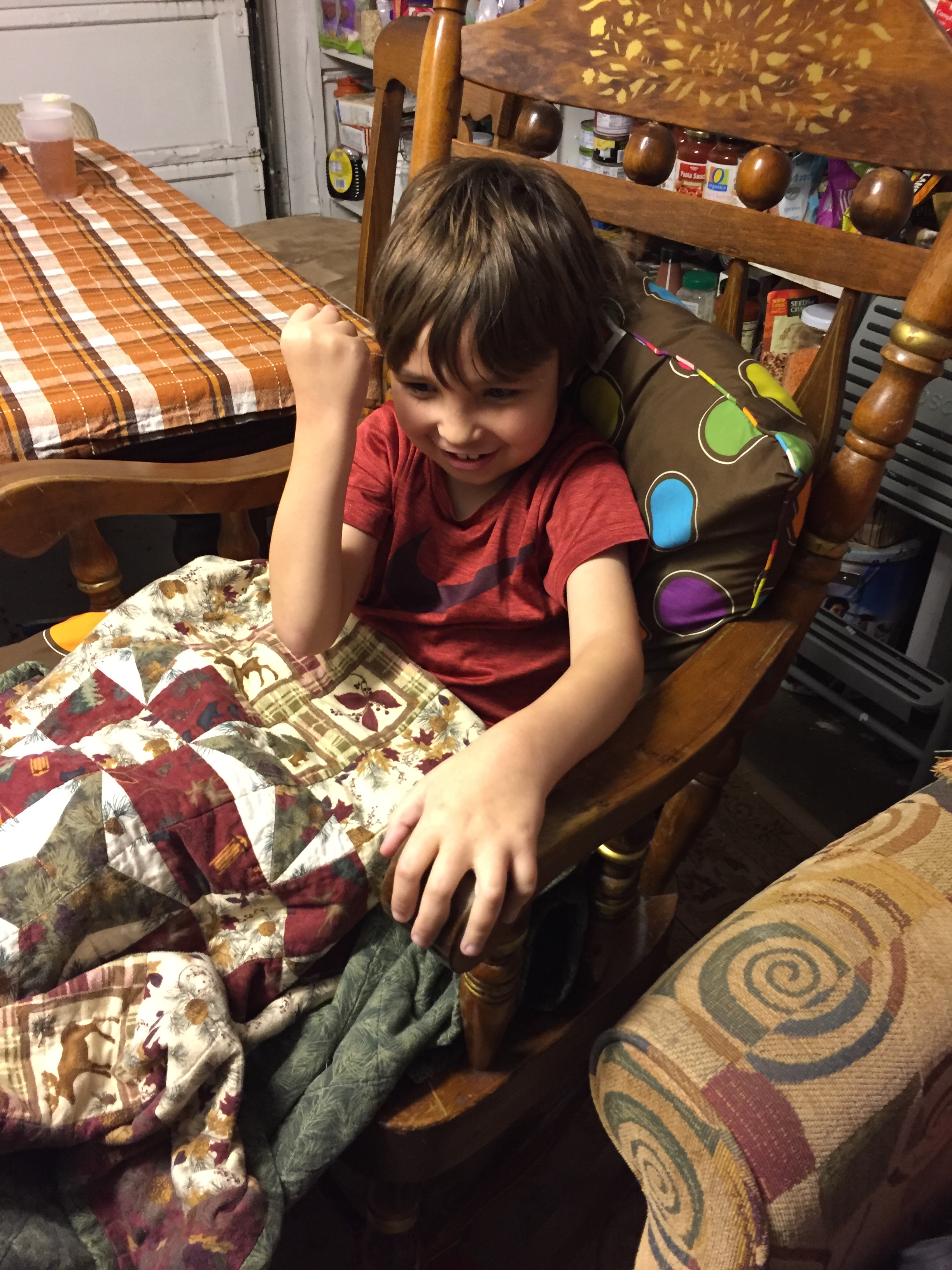 Jake was happy to show Anthony and Allison how to play Wii, after the meal.  (As if they didn't know how, but they were good sports!)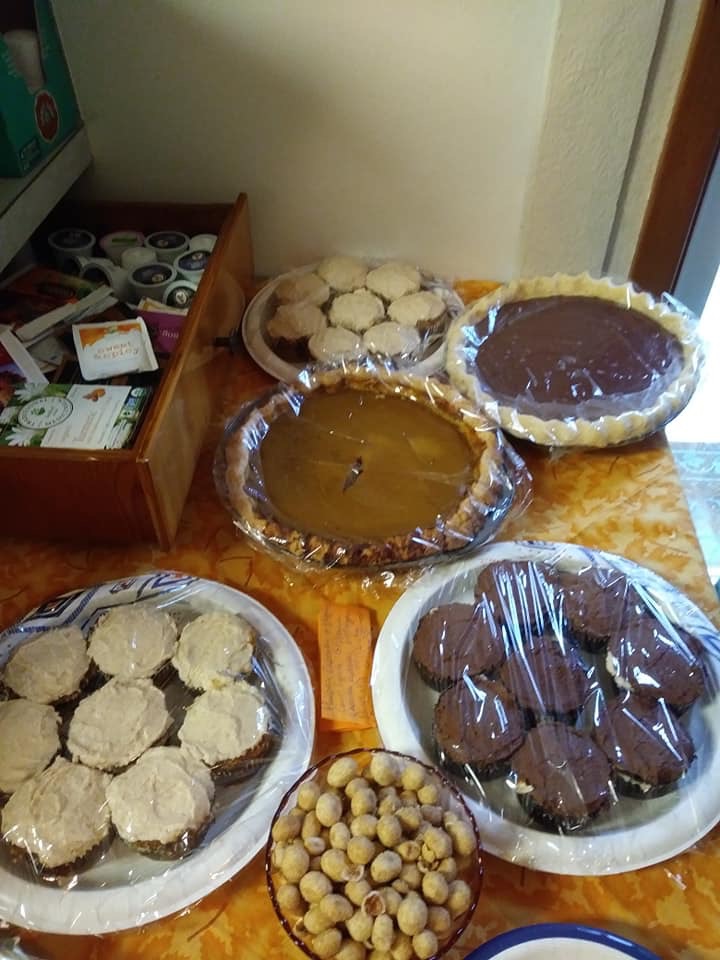 My oldest daughter, Abbie, was stressed after a long work week, so baked and baked and baked until midnight.  Boy did we eat good.  When you added all these tasty desserts to the lemon meringue pie my nephew made, the apple one I made, and the cookies Patsy made…..boy, oh, boy!  And, the best part (or the worst), was it was all gluten free.  Some was dairy free as well, for those who needed it.  I ate WAY too much, but Rob, the determined did not.  We got all the extra food out of here–sent home with our guests, except the part of the feast we felt was best to keep.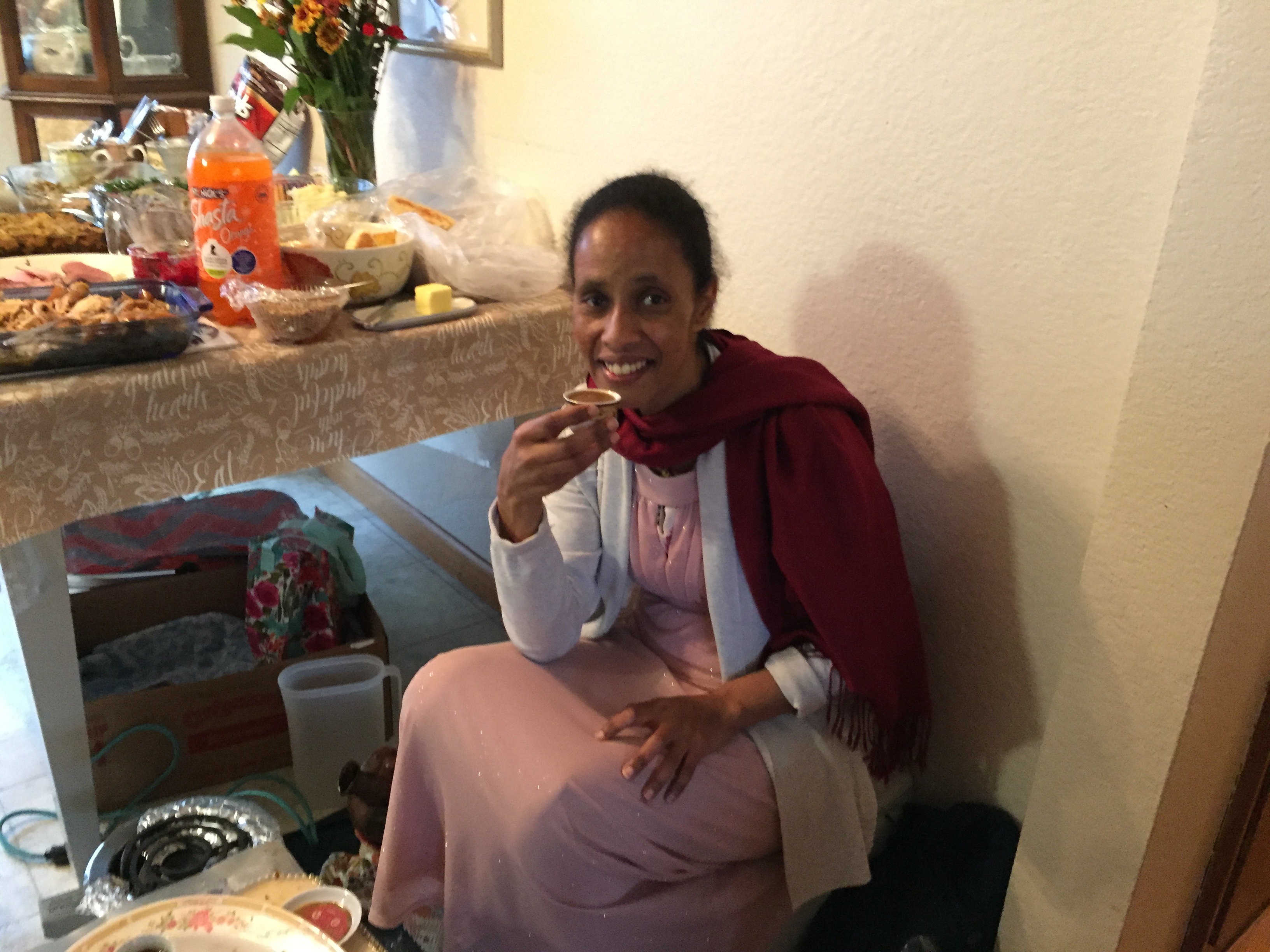 Of course, we had coffee, made by queen of coffee herself:). It is so good.  There's nothing quite like it.  Needless to say, the other coffee remained neglected on Thursday.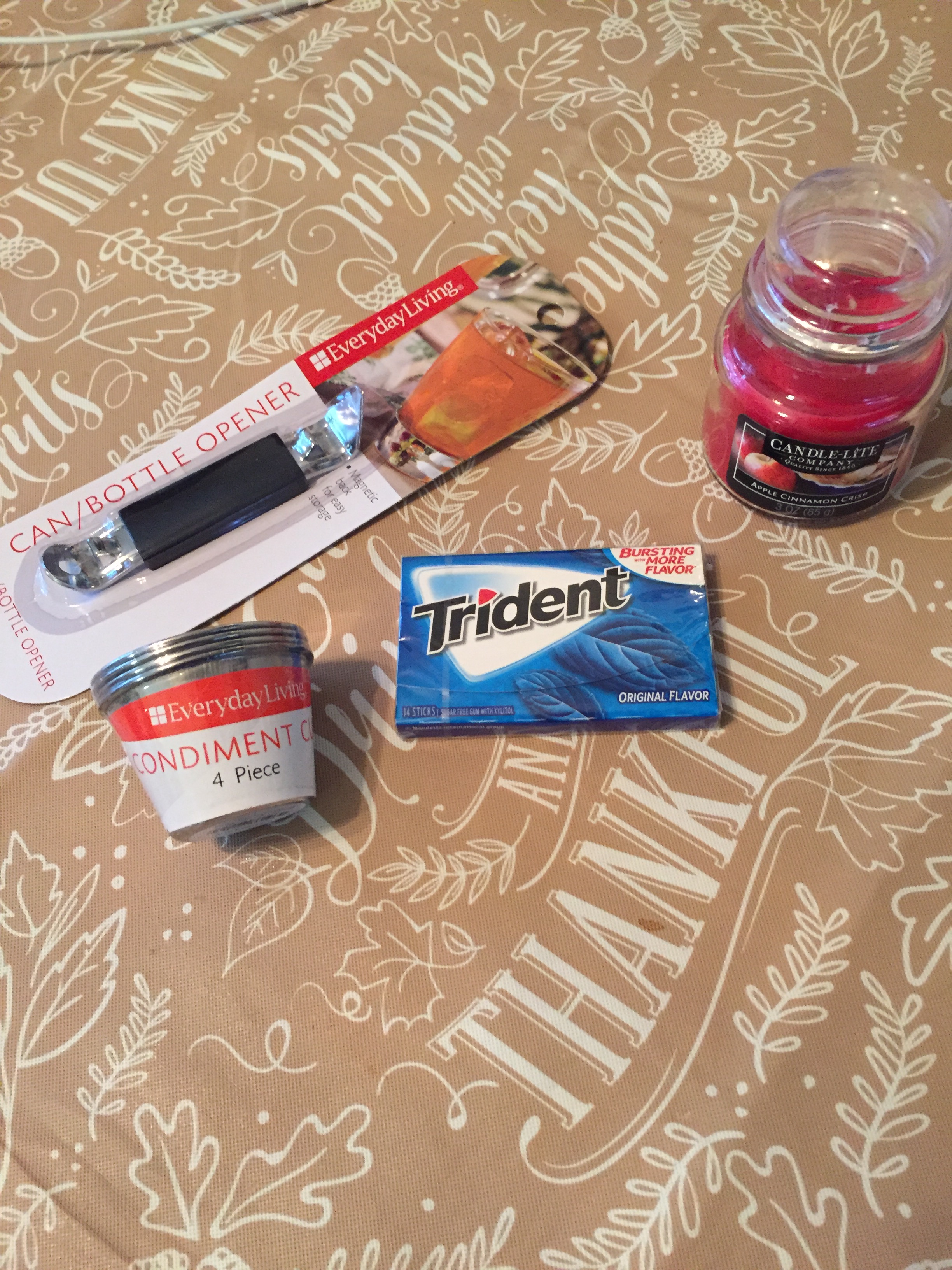 When I went to Fred Meyers on Saturday, I was surprised with several freebies.  I knew the gum was the Friday freebie, but was not expecting condiment cups, a can opener, and a little candle.  I was doing a little grocery shopping, because that's all I seem to do lately:), and got the bulk curry powder and cloves I was after from there, along with several items such as 99c pasta sauce (5), 99c gluten-free crackers (3), and $1.99/lb butter (5).  I was not able to get bulk poultry seasoning there.  They were out.  I guess the "secret" of buying bulk spices to save lots of money has gotten out.  Ibotta has been doing a rebate at Safeway only (it's not offered at other stores I shop at) of red lentil pasta.  The first time I bought it, it cost $2.79.  I got a $3 rebate.  I also got a coupon for $1.50 off 2 boxes and the rebate popped back up.  I went back Saturday and got 2 boxes.  They were a little more expensive–a little more than $3/box.  The cashier ran my $1.50 coupon twice, and took off $3.  I pointed it out to her, not wanting to cheat anyone, and she said she was leaving it, and have a nice day.  So, I ended up paying around $4, and will get $3 back for one box, making the average of the 2 boxes around 50c/box.  Today, the rebate popped up again, expiring in 12 hours.  I've sent Rob for one last box.  This is simply a new product that they clearly want people to try, and I'm delighted!  I'm sending some to Lovana in her next care package, since she eats vegetarian and it's high protein, and am eating a box soon, since it's gluten-free. With these high-value rebates and many other lower-value ones on things I needed to buy,  plus some bonuses I qualified for, I've been able to get my Ibotta account built back up again, which is awesome since I cleaned it out for some of the great holiday sales.  My comedy still continues–I went to the store at least 7 times over the past few days–no matter what I buy, I seem to out of something daily–odd things like Dijon mustard, cornstarch, cloves, curry powder, along with normal things like milk and eggs–we are just cracking up every time I announce that I'm now out of ____!  I guess I'd better start serving 99c pasta sauce on free red lentil pasta:)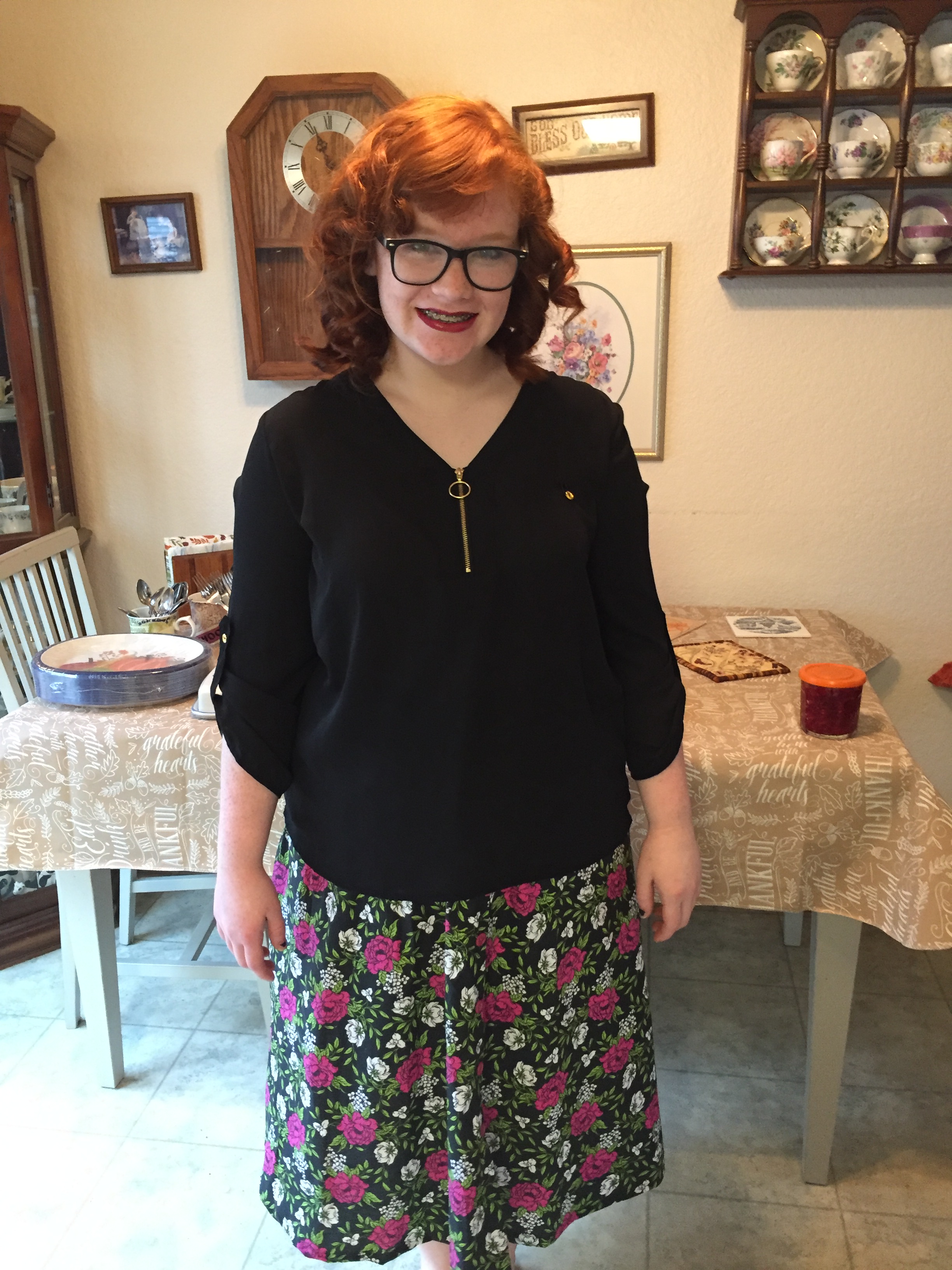 I've been able to do a little sewing lately.  This skirt was one I've had in progress for a while, but finally finished in time for Patsy to wear for Thanksgiving.  I got the top for only $10 at Fred Meyers and was super happy at how nicely it went with the skirt.  You cannot see in this picture, but there are pink buttons all down the front of the skirt.  I have so many buttons from a large boxful  Rob bought years ago at a yard sale. It was great to use some up and it kept the cost down.
I was able to get in on some great sales at JoAnn's on Saturday.  I used up the last of 2 gift cards I still had from either my birthday or Christmas, and added some cash to get things like interfacing and some fabric for a few projects with the large discounts that were being offered this weekend.  It was fun.  I haven't allowed myself inside of JoAnn's much lately.  I was amazed at the carts piled to the top with fabric, AFTER the cloth was cut–not bolts before it was cut.  There are some ladies out there who are going to do some major sewing or crafting!  I'm sure they must be making blankets or other items for charity.  Or perhaps making something to sell.  Those are the only explanations I can think of for any one person buying that much fabric!!!  In fact, since I was not quite the early bird I planned on being, much of the calico was already in carts, or behind the cutting counter. But, I still found 2 pieces I liked at 70% off.  It was crowded, but people were patient and nice, and I had a good experience.
We had a wonderful holiday week with no school, lots of kids, a huge feast, and time with family and friends, but this week is back to normal.  The routine started again today.  That always feels good, too.  How was your week?