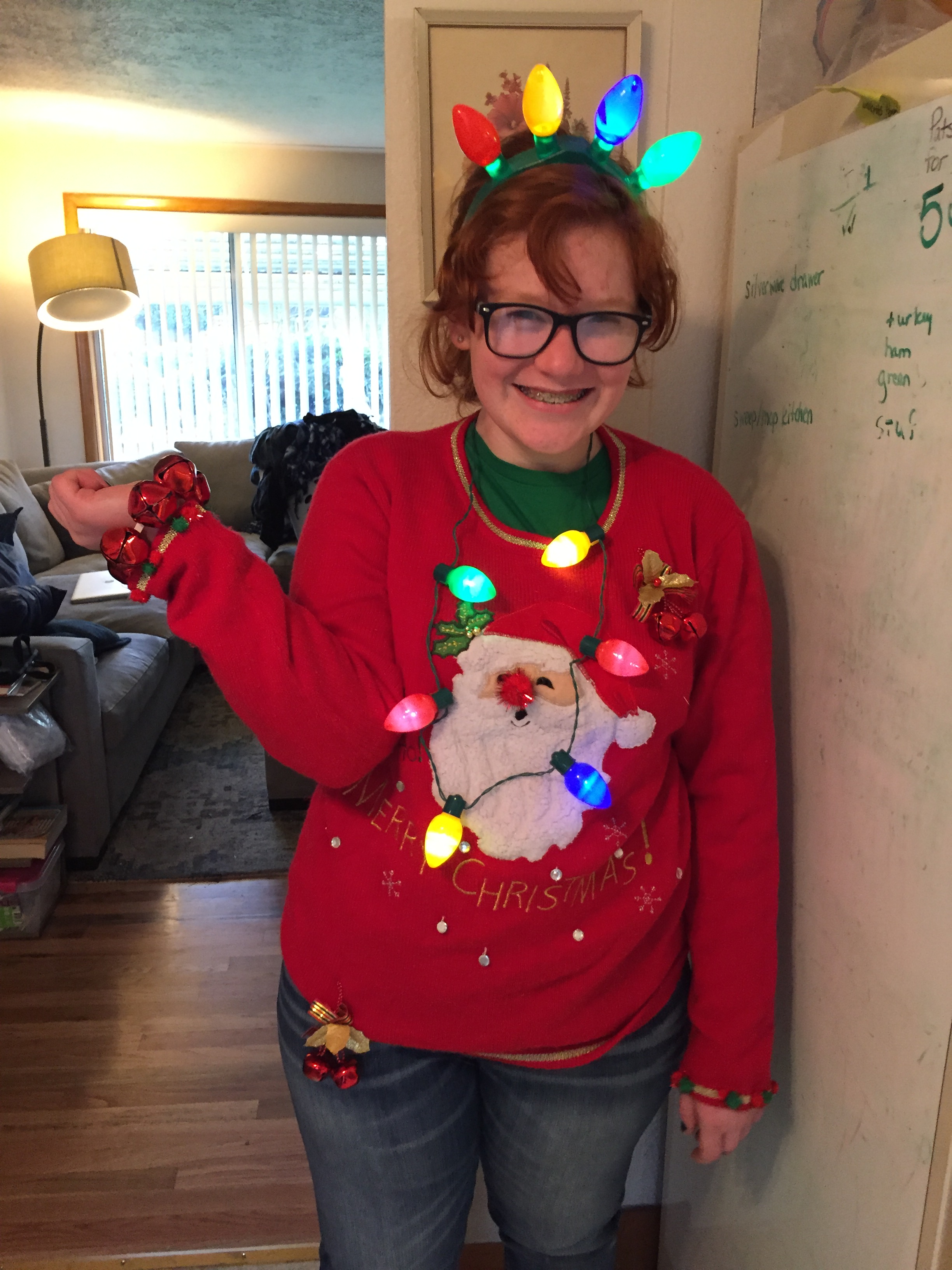 Patsy went to a Christmas party at church last night.  There was an ugly sweater contest.  Rob went down to a thrift shop and got this sweater and then to the Dollar Tree to get things for her to decorate it with.  We told her there was no way she was going to win–it turned out too cute!   She had a lot of fun decorating it, that's for sure!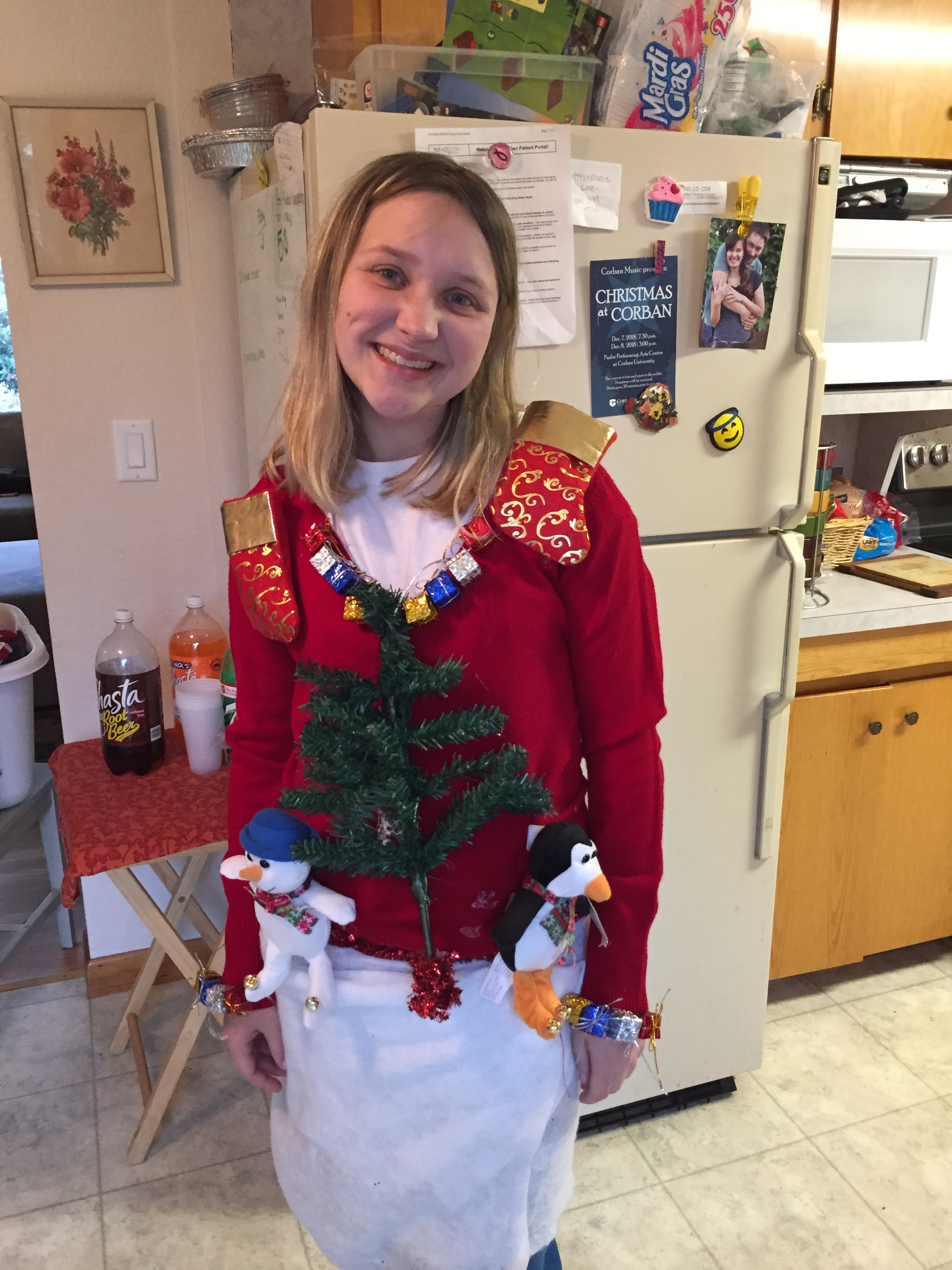 Alissa's was pretty awful by the time she got done decorating. She did not win, either.  I guess a girl in a sweater that had shoulder pads, and was just like it was made–not embellished, but very ugly with no help at all,  was the winner.  The girls had a lot of fun with it.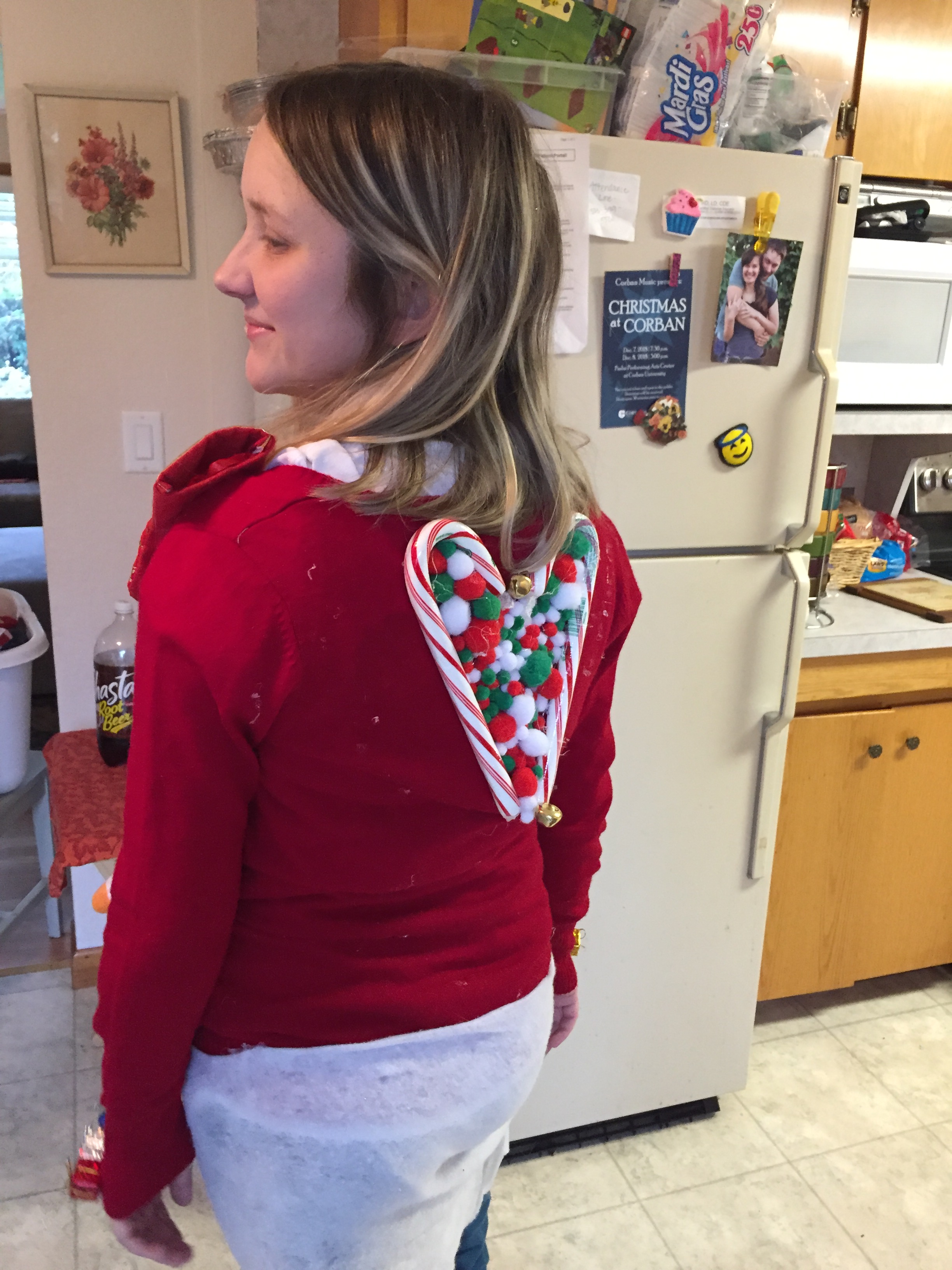 She even did the back of hers because it was so front-heavy that it needed a counterbalance!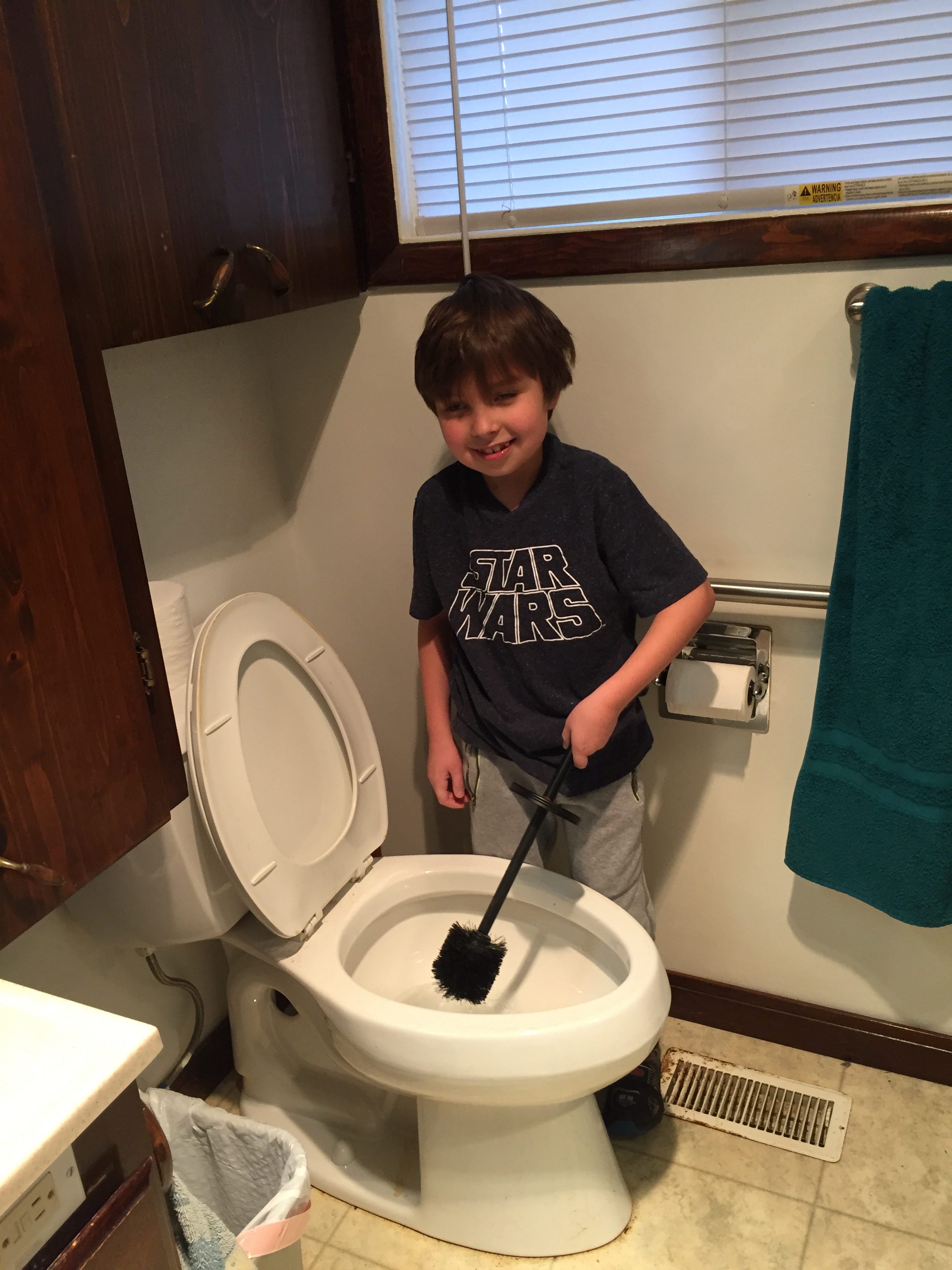 Jake and Michaela spent the weekend, in fact will be with us until Tuesday.  On Saturday morning, it was chore time, and I said they had to help.  Jake thought the funnest chore he could think of was cleaning the toilet.  I wasn't about to turn down that offer!  So, he and Patsy cleaned the bathroom while Michaela and I put a bunch of things away.  We made the chores fun, they didn't last long, and a couple of things got done.  Win-win-win!
I have read until I am hoarse.  I read the first Boxcar Children book to Jake.  We read part of "Eddie and Gardenia" which is by Carolyn Haywood, his current favorite author.  Then, our library hold copy of "Here's a Penny" which is also by Carolyn Haywood came in, and we had to go down there and pick it up and start to read that.  We are about 1/2 way through.  Rob played Plant Bingo (a botany learning game) with him because he loves it, not to teach him anything.  That he is learning while doing it is a nice bonus.  Rob took Michaela to her Horses of Hope arena where she volunteers and rides, but there was no work to do yesterday–it was done by other volunteers, so she just rode.  That worked, too. It was cold.
Then, Rob set Michaela, Jake and Patsy to wrapping presents.  All in all, they got quite a bit done, and had fun doing it.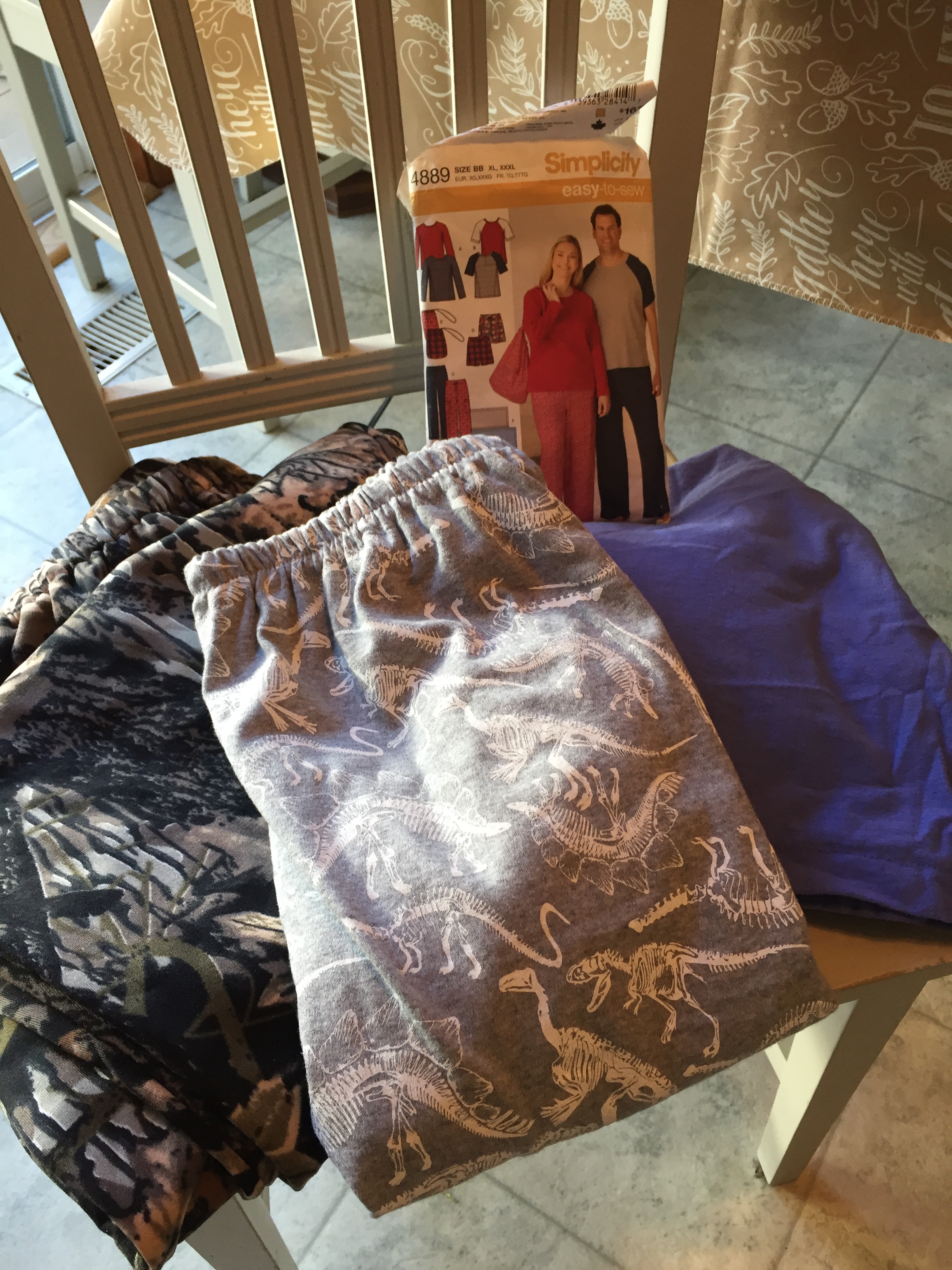 I've been sewing all week.  Those blue shorts are the sleeping shorts I sewed and gave Rob to wear.  The camo fabric is a pair of long pants that are slightly fuzzy inside–good for cold evenings and the dinosaur fabric is another pair of sleeping shorts.  He will get the long pair and the short gray pair for Christmas.  I used Simplicity 4889, a pattern I've had for quite a few years.
I put it all away because the kids were coming, but I do have a couple more things I want to make after they go home and I can get it all out again.
We cooked lots of meals, as normal.  I made potato soup with ham in it, roast beef with carrots, sandwiches, toasted bagels and English muffins for the kids, tuna salad, and more.
I went and got a few marvelous deals at the grocery store.  99c peanut butter, 99c milk (1/2 gallons), and a few other things.  I also got some salad stuff and veggies on the reduced produce rack.  A really tasty honeydew melon was my favorite buy–it only had 1 small soft spot, which I cut out.  I'm so often disappointed with honeydew, but figured it was worth a dollar to take a chance on this one, and it was very good!  Every thing on that rack is $1.  I happened in at the right time–the produce man had just put out 2 huge boxes of things that needed to be sold right away.  At that store, they put them in little mesh bags, and whatever's in the bag costs a dollar, but it all has a little problem, which I trim off.  I'm feeding my healthy hubby lots of sliced tomatoes due to those little bags:). I'm not sure why some of those tomatoes were in there.  They were perfectly good–not even a bad spot.
I hope your week went well. I plan to keep working slowly towards Christmas, but I'm feeling pretty good about getting ready with a minimum of stress.  How about you?