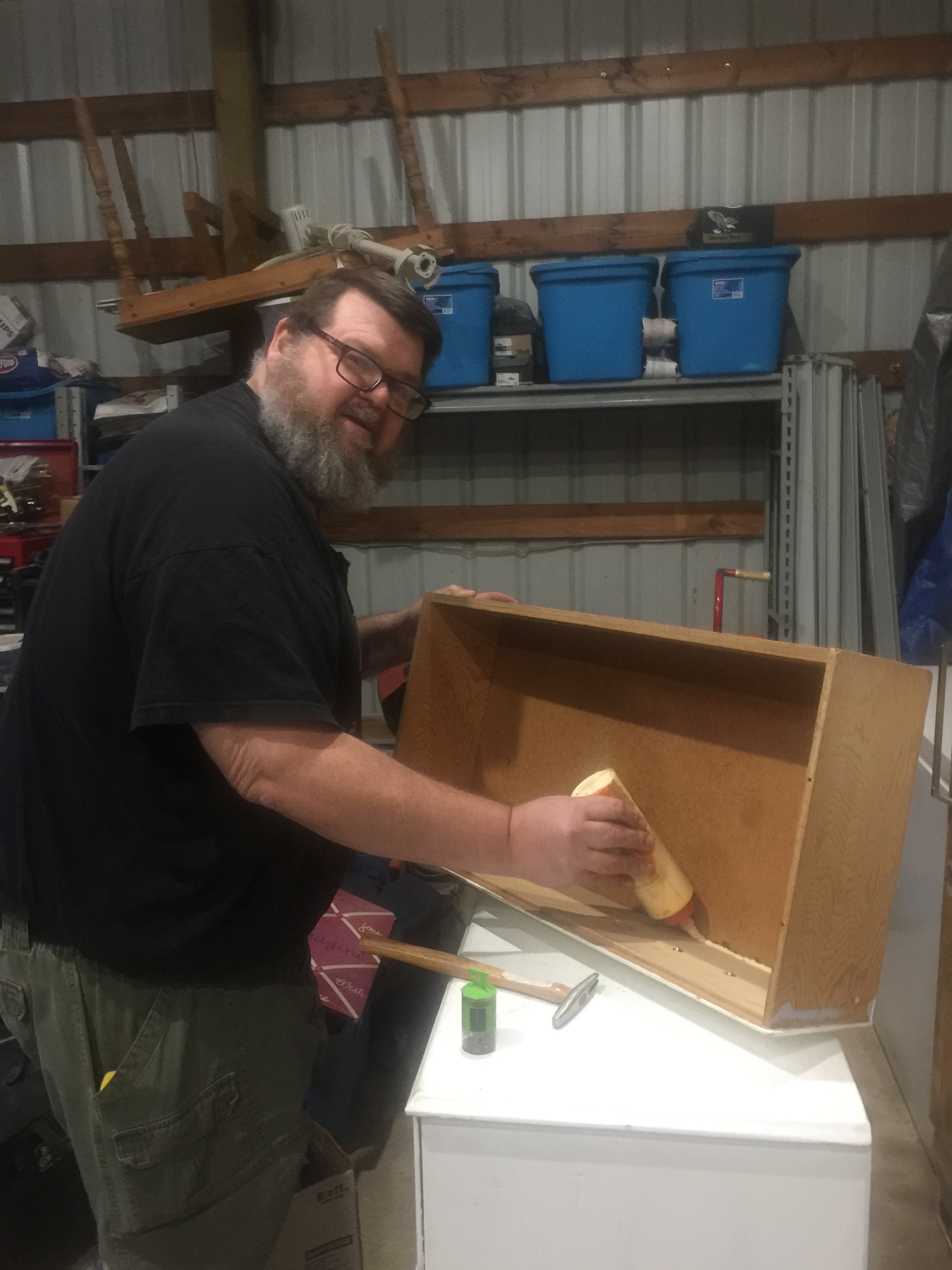 We have been doing a lot of cleaning and reorganizing. While doing so, we noticed that this dresser had drawers that were completely broken, so Rob repaired it. We got this dresser years and years ago, for the first 2 girls we adopted, over 30 years ago. It has been painted and repaired many times, and it's now back in great condition once again.
We collected a few bags of torn wrapping paper from Christmas, and have been using it to start fires in the mornings, along with kindling that Rob cut from free scrap wood collected around town. There are a few businesses around town that use wood to make products such as flooring and doors, and they put bins of free scrap wood out for anyone to take. Sometimes he gets really nice scraps and uses them for cutting boards, and the rest we use to start fires.
I made broth from the turkey bones from Christmas. I froze most of it.
We were given a Christmas gift that enabled us to do a Costco run. We didn't choose what some would call exciting items–we got toilet paper, ziplocks, garbage bags, things such as that, but it was exciting to me to get those things stocked back up. We got a few food items as well. We also got a date out of it. We dropped Patsy off at a youth event, went to Costco, and bought one of those yummy cooked chickens and one container of salad and ate our lunch in the car.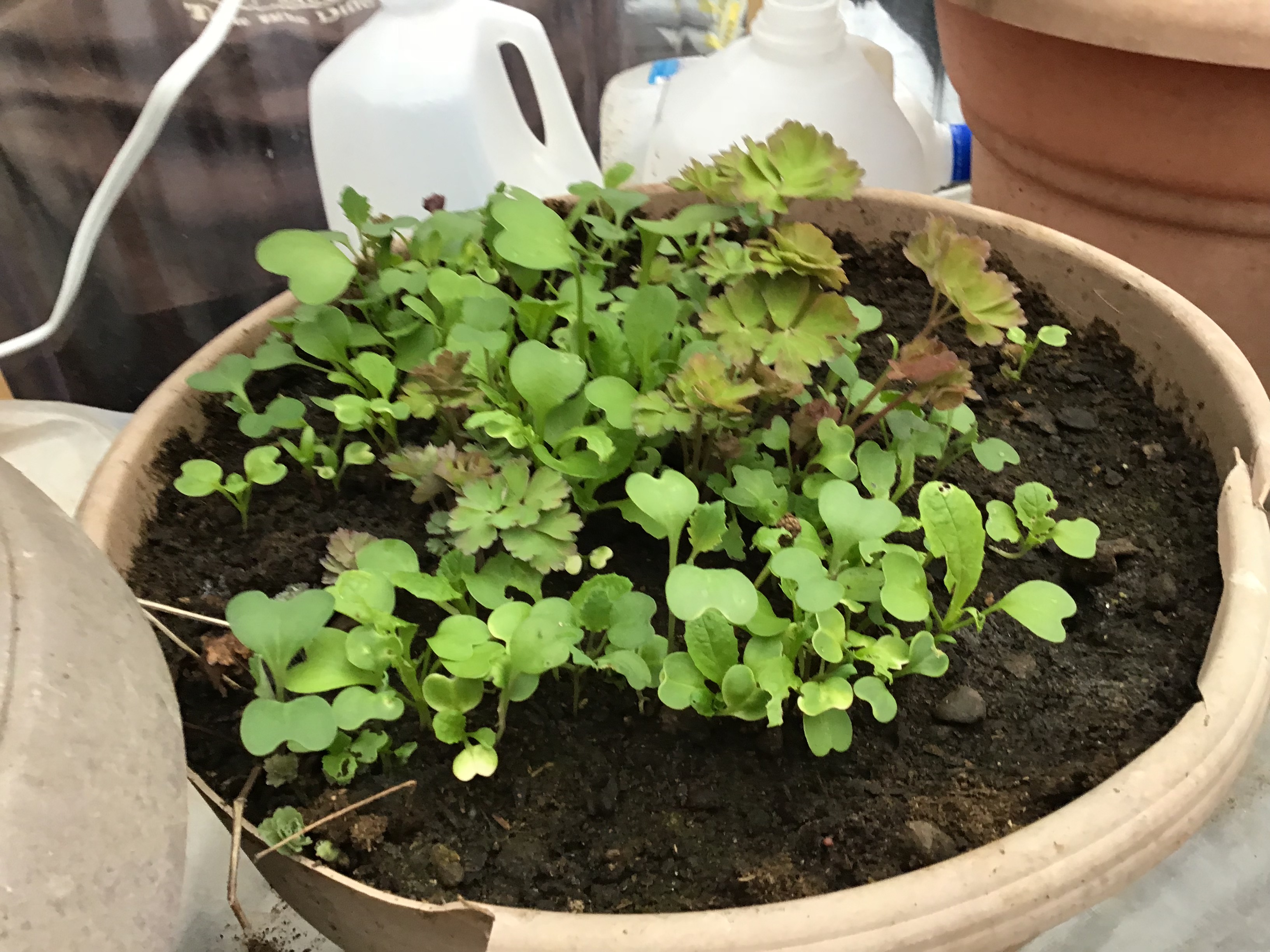 Jake's greens are growing! (There is a Columbine flower coming up, as I used a pot that had that in there just in case the seeds didn't sprout for him). He was under the weather today when he was here, and hasn't looked at them lately, but I know he will be here next weekend and hopefully can see them then. He was not himself, but was glad to snuggle on the couch under blankets and do the forbidden act of eating crackers on the couch while asking me 4-5 times to take his temperature with the thermometer. I'm not sure why it fascinated him so much–he didn't have a fever any of the numerous times we took it, but it did. I kept him here for only part of the afternoon, just to keep his normal Sunday schedule, then sent him home. Hopefully he will get over it quickly.
Patsy was able to do 2 more work projects with the youth group this week, and is well on her way to earning the money she needs for the retreat she wants to go on.
We helped prepare lunch for the teens today. I made a large tossed salad, purchased 4 large sodas for 88c each on sale, and bought one large tub of ice cream. I made hot fudge sauce with mint in it and got some clearance red and green M & M's for toppers. My sister ordered pizza for the main dish. It was very easy today.
As I mentioned last week, I had used my grocery budget up. But, Rob ate all the salad stuff and a few other things were running low. I decided to start in on January's grocery money. I made a plan of what I thought I would use for the next 2 weeks, knowing full well I will need to grab lettuce at least weekly. I had several things that helped me out. 1) There were several free items on my Safeway rewards that I needed to use before Dec. 31, so I got those–2 boxes of Safeway pasta, 1 dozen eggs, and $2 off a bakery item (I used it towards a package of gf buns), and a bag of mini chocolate chips. While I was there, I got 99c/1/2 gallon milk, cottage cheese, 99c sour cream and a few more items like 88c soda. I also used a few Bottle Drop dollars to help out with that store's haul. 2) I got a few Christmas clearance items at Fred Meyers, while getting produce: a package of Christmas cards at 75% off for next year, and the Christmas M and M's. 3) I earned around $6 with Ibotta rebates. 4) When I stopped at Winco for the ice cream I'd forgotten I had promised to pick up for Patsy, I saw ham for 77c/lb. I immediately grabbed the 2 allowed.
I spent a $10 JoAnn reward they sent me. I also spent a little fun money I had. I did not buy fabric, as I have plenty, but little odds and ends and some clearance Christmas paper. I found one Star Wars print that had no Christmas markings at all for Jake's upcoming birthday, some leopard print paper for Michaela sometime, and a few ribbons that went with those and the other rolls I picked up. It was great that there were several selections that were not Christmas-y at all, and I will use them for birthdays. What wasn't inexpensive was the package of iron-on patches I bought to mend some of Patsy's clothes, but hopefully they will work to fix the holes.
How is your week going? Are you getting organized after the holiday and back to schedule? I hope to during this upcoming week after a little more holiday fun:)