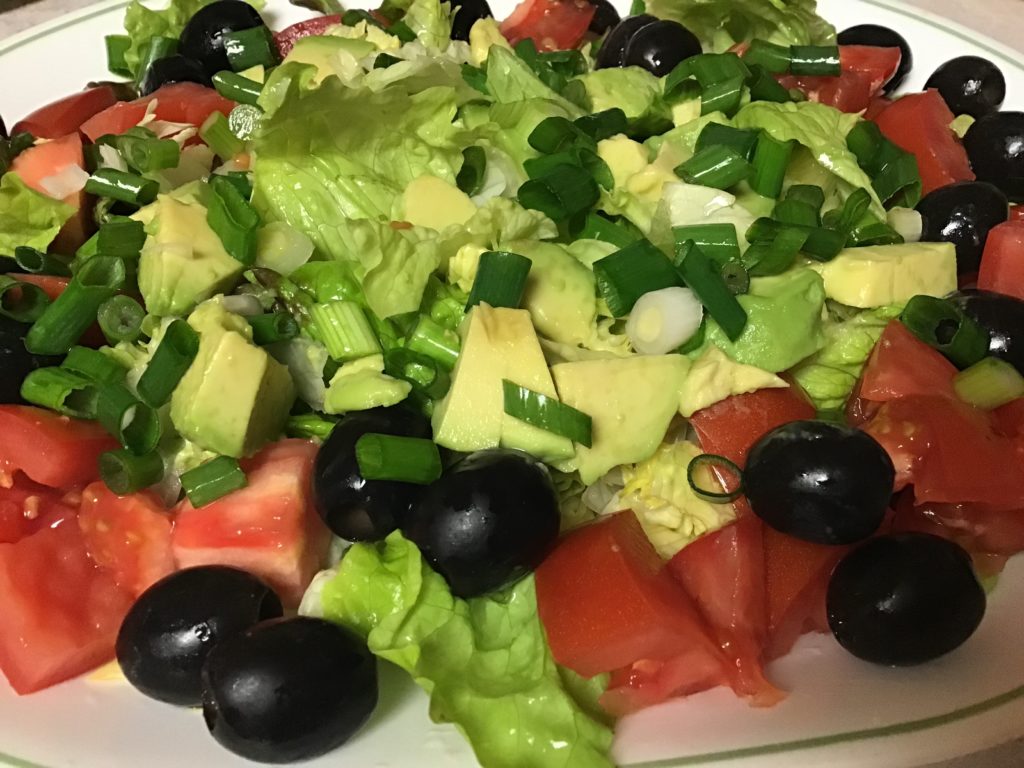 I served lots of salads and veggies this past week. One time, I put it out on a platter and added lots of goodies to make it look different. Somehow, it worked. We felt like we had a whole new kind of salad!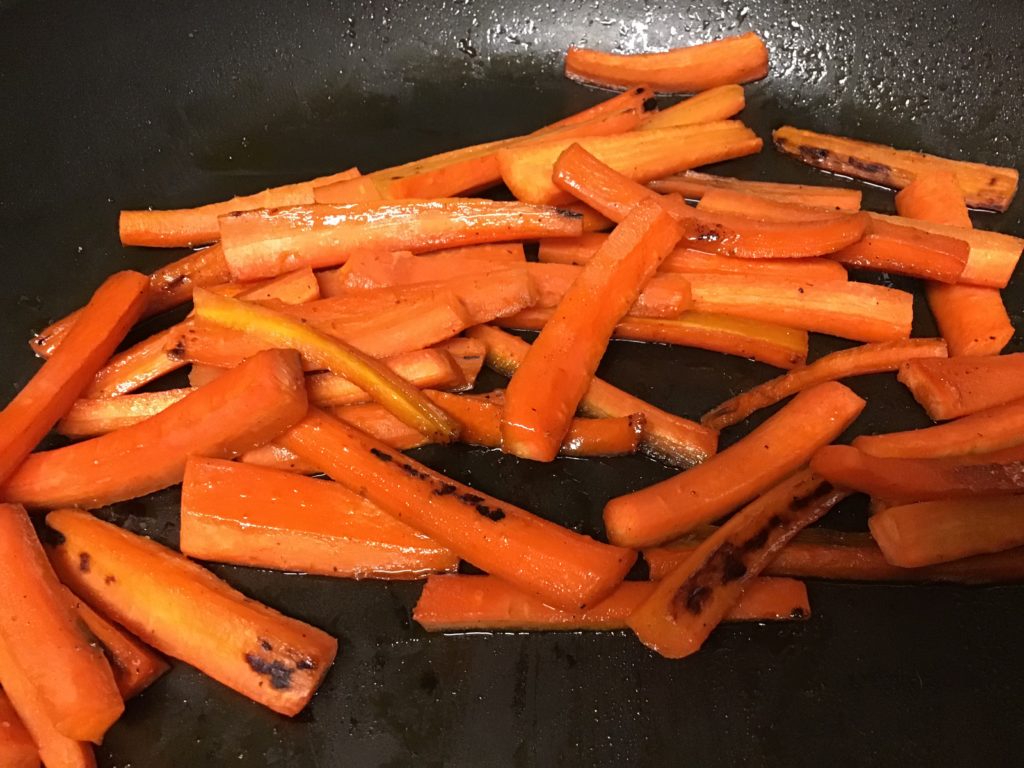 I made carrots sautéed in apple juice. Carrots are one of the most reasonable fresh veggies at this time of year, so we've been having them more often.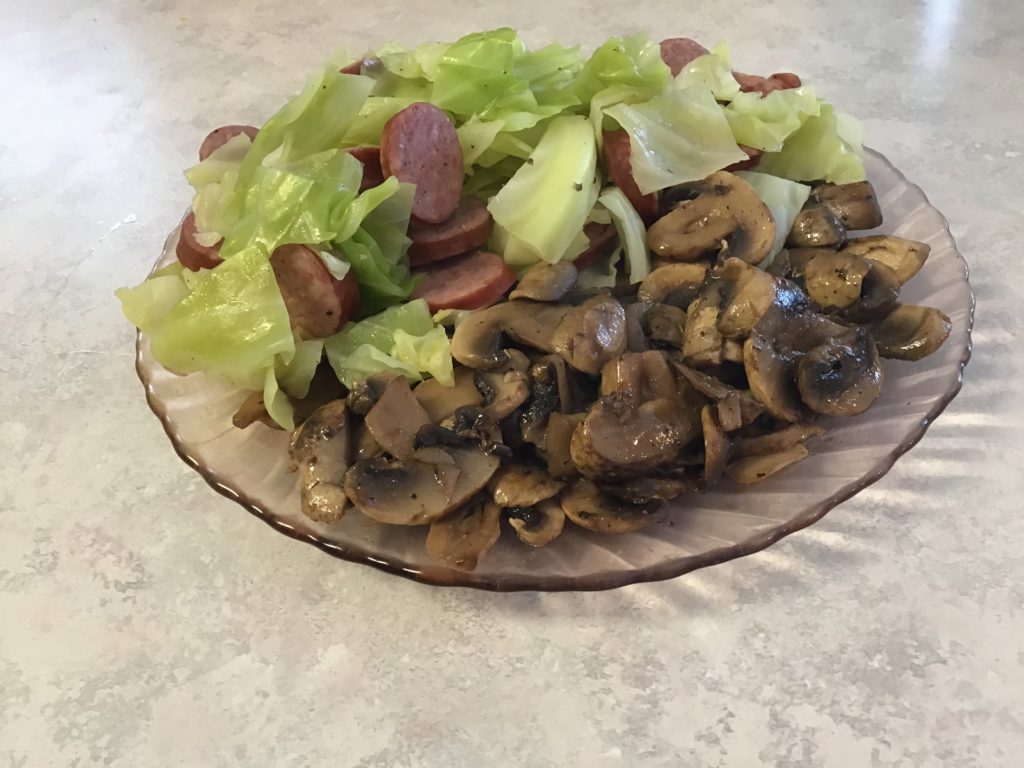 Rob made himself some cooked cabbage and chicken sausage with a side of sautéed mushrooms. The cabbage is also a good price, as it is in season at this time of year and he found 2 large packages of mushrooms on the mark-down rack, so he got to enjoy a bunch of those. We've had omelets from the mushrooms, as well. Another day, I made coleslaw from more cabbage.
I found a bag of frozen pesto cubes in the freezer. During the summer, I make it and freeze it in ice cube trays, then pop the cubes out and freeze in a bag. My recipe is very simple–it includes basil, parmesan cheese, garlic, salt, pepper and olive oil. There are no pine nuts in it. I made brown rice pasta with the pesto last night. It was really good. I ate way too much.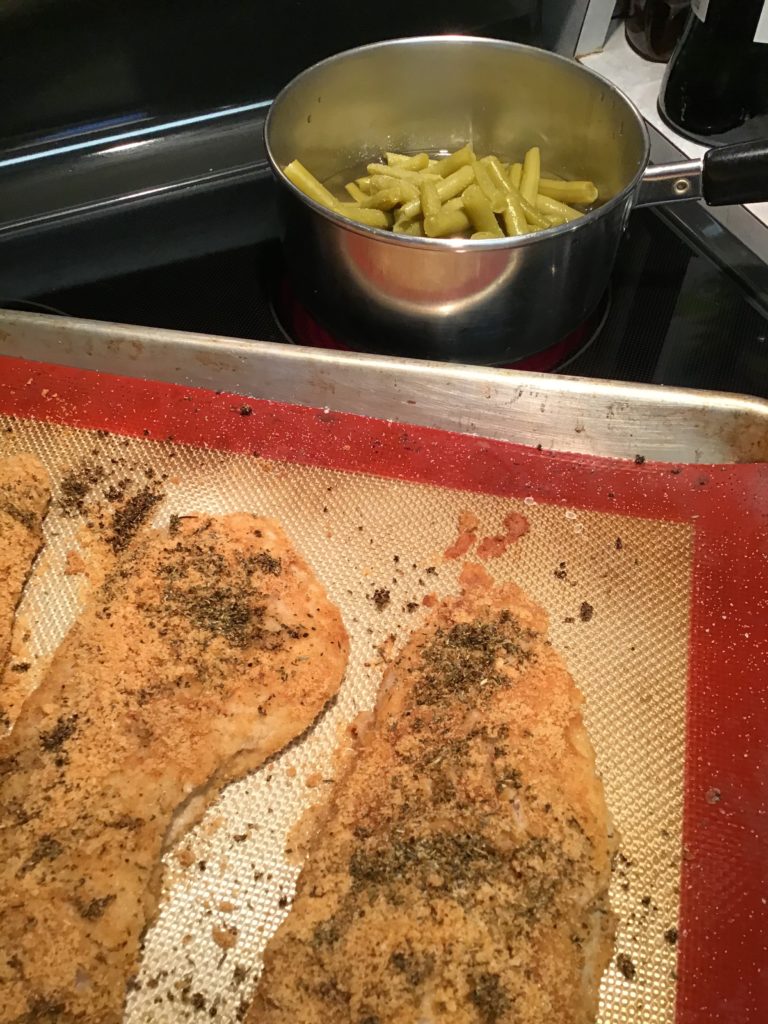 I crumb-coated some rockfish that was in the freezer and served it with the pasta, and home-canned green beans. We ate several jars of green beans this week, several jars of fruit, and quite a few odds and ends from the freezers. I'm noticing that the chest freezer is starting to feel less tightly packed, which is good news since it's hard to see what's in there other than the top layer. It's easier to dig around if it's not too crammed. The 2 uprights are showing some spaces as well. The little freezer on top of the fridge in the kitchen is still crammed because I keep bringing veggies and things in from the shop for immediate use. Now that I'm getting more space, I plan to make up a few more things like muffins to have on hand for quick meals.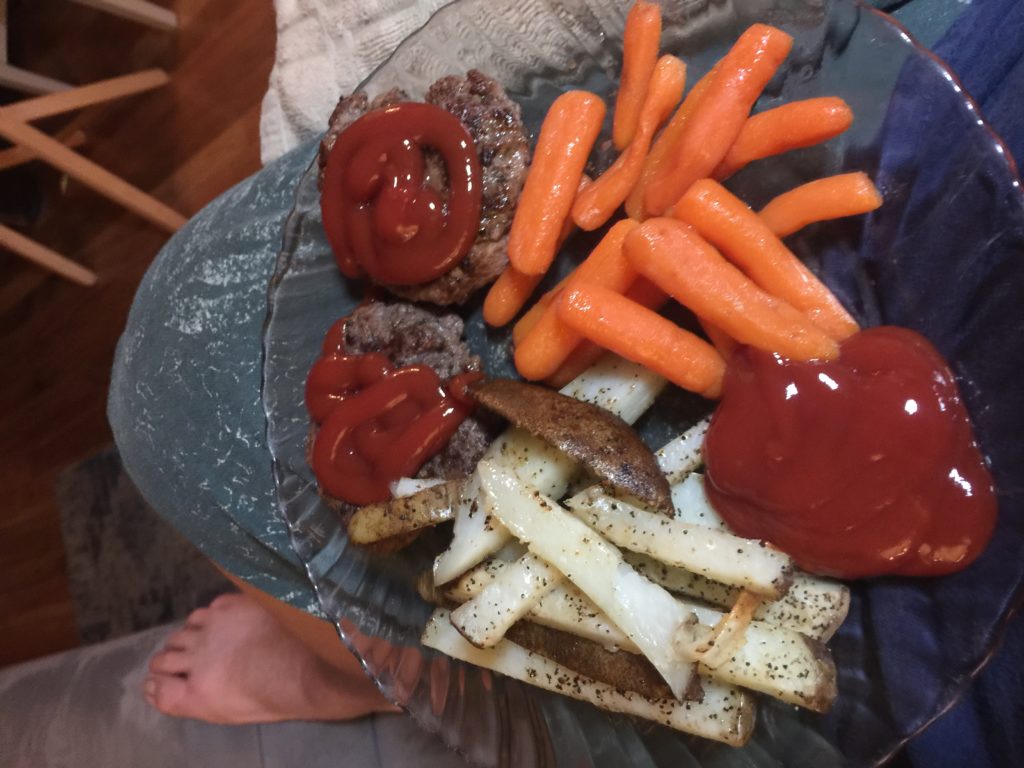 One night, Rob made hamburger patties, baked "French fries" and carrots with a little honey on them. Then, he took a picture of it (that's his foot and knee there) and sent me a picture with the caption "I've got dinner for you." I was super happy he did that, as I was heading home and was starving:).
Patsy made gluten-free crepes. They were really good. Way too good. We'd better not make those too often:).
We ate leftovers quite a few times as well.
I am happy to report that I have finally (hopefully) got things organized again so that I can stop going to the store every few days. I will do another produce run in a few days, and I'll grab eggs if I see them on sale, but the staples are back in the pantry, at least for now. We are ready for a weekend with Jake and Michaela, and have the foods they will eat all stocked up. I have other things I'd rather do than go to the store, so I'm excited about that. Still, the reality is that if we cook from scratch a great deal, which we do, I am going to run out of foods we use, and it's worth the time to me to go from store to store and get the best possible prices to stock back up, so I will always make time for that. I haven't checked the ads yet this week, but last week I got butter for $1.99/box…..it's aways worth looking:)