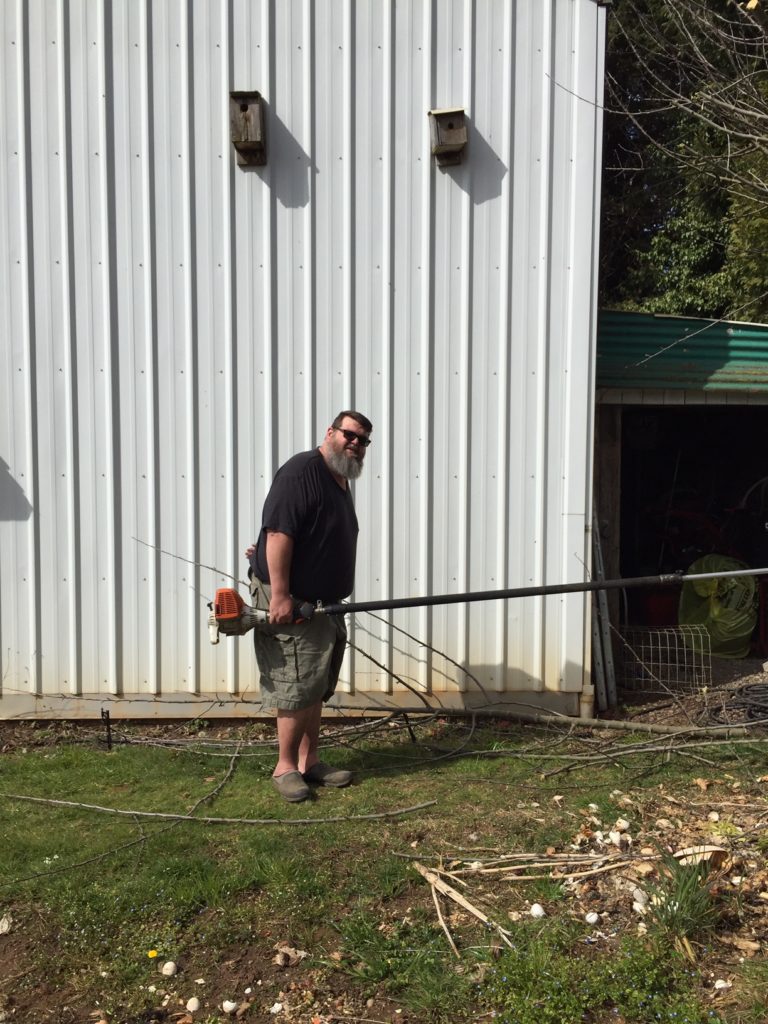 The weather changed for the better this week. Rob was able to take his saw on a long pole and attack the apple tree.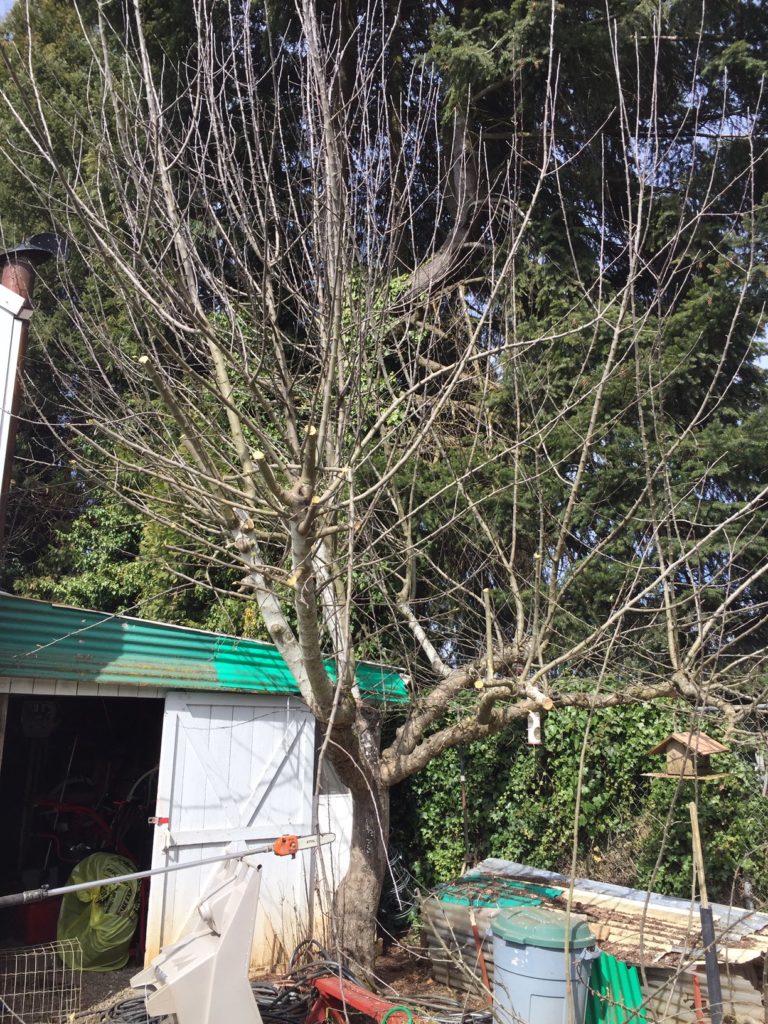 It was so tall from years of not being pruned that most of the apples were unreachable last year. He stood in one place and severely pruned it while I hauled the branches away into the garden where they will be further broken down and removed over time.
You can see that most of the tree ended up in the garden. Now, it has a chance to re-grow. We did notice that the trunk itself is quite rotten, so we are not sure it it will live for long anyway, but it now has a chance to be useful for a few more years.
I will admit that I was a bit stiff this morning, but it feels so good to get stage 1 of a big project done.
Rob found more free boards and we cut them up for fire-starting. It's nice to not have to skimp on the boards because they get the fire going so easily each morning. Today was the first day since last fall that we did not build a fire as it was quite warm here. I know we have many more "fire-building" days this spring though, so it's great to have more kindling.
I received the southwestern beans and the oat milk for free when I did my shopping. All of the gluten-free products were a gift from friends. Wow! It was so nice of them to think of us. We really appreciate it.
I did quite a bit of grocery shopping this week. I am getting the camper ready for camping, as we will go later in the month. I always keep a good pantry out there, but there are always things I've completely cleaned out at the end of camping season that need to be replenished every spring. There are also things I've "robbed" throughout the year when I run out of an item in the house. One thing I did was empty the little freezer out there, and used a bunch of the items that had been in there since October. We save a lot of money by stocking the camper well. Little stores in small towns are usually what are found near campgrounds, and are generally much more expensive than what I can buy food for on sale at my regular stores around here, so we just buy a few items if we really need them while we are camping.
I got 2-lb bags of shredded cheese for $3.99 using a digital coupon. I bought 5.
The biggest bargain was some Tyson frozen chicken breasts Rob scored. I had been to Fred Meyers looking for the 5-lb bags that were in the ad for $9.99. I had a $2.50 Ibotta rebate on them, which would have made them $1.50/lb, a really good price around here. They didn't have any. Rob called around, found some at a different location, and went to get them for me. When he got there, the meat manager said she had WAY too many and was going to mark them down for him. To his amazement, she marked them down to $4.99/bag, and said he could take all he wanted, she needed to reduce her inventory! He took 12. I could do the rebate on 5. When all was said and done, it worked out to about 79c/lb. Amazing! We are going to can some, as we've used a lot of what we canned last summer. We are also on the schedule to feed the college group at church in early April. They will get chicken! Their group has a budget for these meals, and we will certainly be able to stay under it this month for them:).
I used our YMCA membership 2 times this week. I got lots of free exercise working in the yard.
We wanted to do something special with Patsy on Friday after school, since we've been spending so much time with my niece and nephew. We didn't want to break the bank, but still wanted it to feel special for her. So, first we took her for a haircut at Supercuts (one of those walk-in inexpensive salons). I have many talents, haircutting is not one of them. Ask any of the 8 children. Then, we took her to Safeway, where I got round 1 of my groceries and we bought chips. We also let her have all of the Monopoly tickets, as she likes opening them and putting them on the board. While at Safeway, we bought some nail polish remover and a new bottle of polish and rented 2 Redbox movies. At home, we watched the movies, painted our nails (except Rob, who declined the offer), and ate chips (except Rob, who declined that offer, too). Then, I let her enter all the Monopoly 2nd chance codes into my phone, something I've never wanted to do before, but she did, so it was a simple fun activity for her. She earned some reward points, which didn't amount to much, but I'm glad she had fun. The next morning we took her swimming for a little bit, and when Rob went for the chicken, she went too, and he got her some ice cream. I think she enjoyed her weekend.