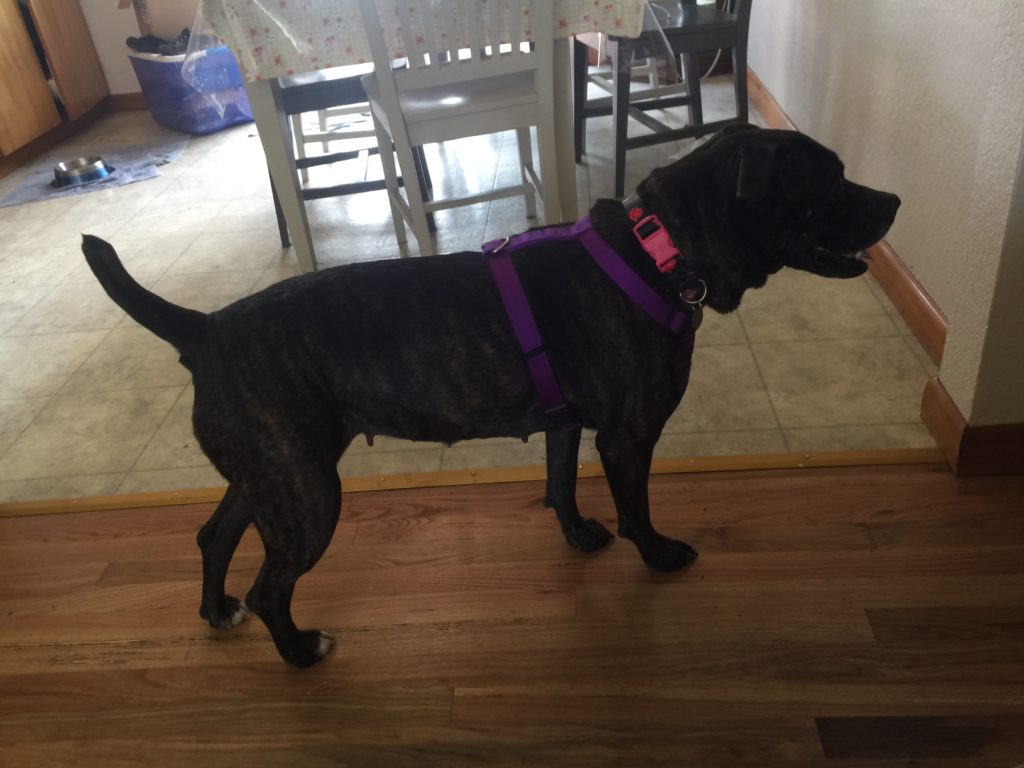 After several months of looking, we finally got a dog this week. We had several criteria to meet. 1) It needed to be a gentle dog to be a companion for Rob since he is stretched out in pain for some time each day in the back room. 2)I needed to be able to handle the dog as I would be the main dog-walker. 3). We needed to be able to afford the rehoming/rescue fees.
It has been an insane journey. After all the media hype about how many dogs need homes, we were shocked at how hard some places made it to adopt the dogs they had.
One place wanted us to promise to never change the address and phone number on their dogs' microchips. Really? What if the dog ran away and they couldn't reach us, the new owners? That didn't make sense to us.
One person on Craig's list wanted a $900 rehoming fee. Really? What was it? A SOLID GOLDEN retriever?
We understand that the rescue places put money into the dogs. We understand they often spay or neuter them, and get them veterinarian care when they need it. We planned to spend some money, but so many places wanted several hundred. When a dog was cheap or free, it went so quickly we couldn't even get out to see it before it was gone. We began to make this a matter of prayer–that we could find the right dog for us.
One night, Rob searched the local county dog control/pound's website to see what they had available right now. (He also searched several others, as he has been doing regularly). They had a couple of options available that looked good, so he ran over there on Tuesday while I was up visiting a friend to take a closer look. They were easy to work with, brought out several dogs for him to meet, accepted his application and approved him on the spot, and he brought home a dog that same day! He was so surprised that he had found the right one, and it was so easy, that he had to leave the pound and come back after he purchased some dog food! This dog was only $20. Yes, $20. She is older, very sweet and quiet, but we think she was slated for the happy hunting grounds in the sky pretty soon if she had not been adopted, and they really wanted to get her to a good home. She is a Boxer mix. We think mixed with Pit Bull, to look at her, but who knows what else. She seems to have had some training in the past, but I'm already working with her each day to learn more things. Her name is Safari, and I think we are going to be very happy with her.
We bought a large crate and she happily went into it while we were gone to church this morning. I've been walking her for 1-2 miles each day, broken up in shorter walks. She has not had an accident in the house and seems to be letting us know she wants out. She hasn't been barking or chewing things. She's been gentle with Rob, not jumping on him or pulling him over as he is unsteady. I'm not sure what they told her at the pound, but she clearly took the adage, "be a good girl for them" to heart. I'm hoping she will keep up these good behaviors. So far, I'm delighted.
We received a free vet check-up when we adopted the dog, so we will go to that on Tuesday.
I did do some other things this week to stay frugal. I cooked a lot from scratch. We were going with some friends to a potluck at the day camp where 4 of our friend's kids attended this week. I volunteered to make the potluck food, and took plenty. I did berry-peach crisp, brownie bars, zucchini bread and taco salad, which I assembled right before we ate. I made lots of salad this week, as our lettuce is prolific right now. I made Mexican-flavored pork, using home-canned salsa verde. I've used or shared almost all of the pea pods from the first crop. I'm making vegetarian taco lentils to take to a friend tomorrow, and for us to eat. Rob loves them.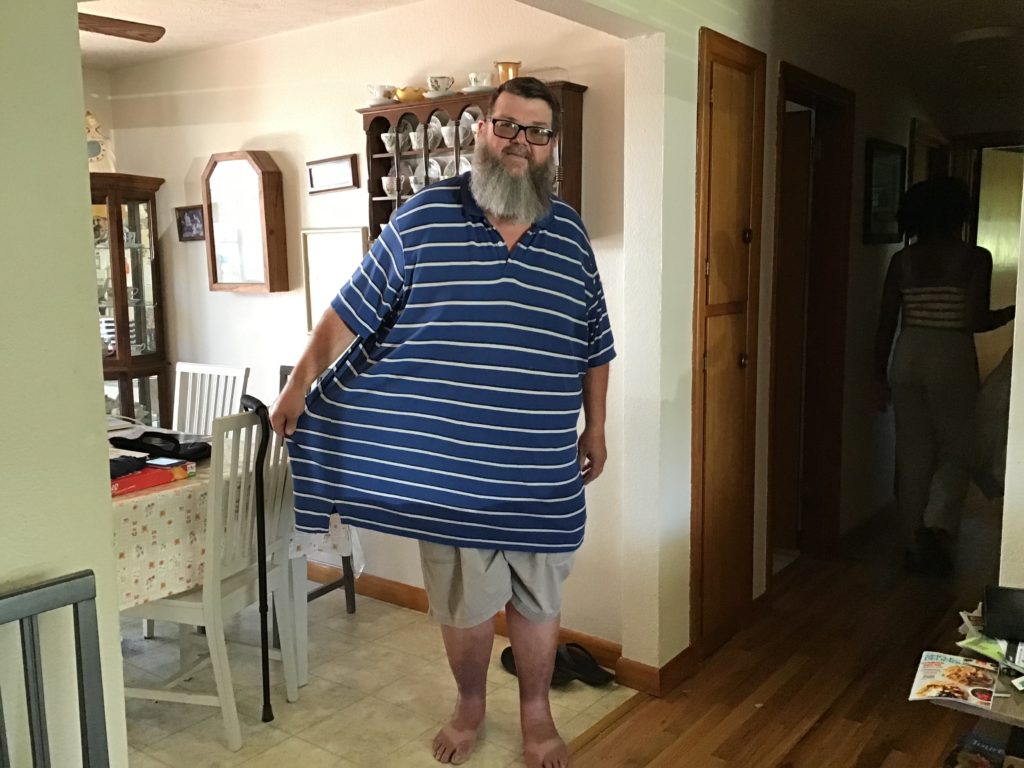 Speaking of Rob, he goes to the doctor for a weight check-in tomorrow. We are pretty sure he is more than 10 pounds down since last month. He's been working so hard, and staying within the 1000 calorie/day limit the doctor set for him. It should be a fun weigh-in.
I worked in the garden several times.
Patsy gets to go swimming at an aquatic center for free with her youth group tonight after evening church. She's excited.
Rob scored big-time at a garage sale. They were selling absolutely everything. He bought unopened peanut butter for 25c and a can of Costco chicken for 25c. He got lots of spices for 25c each. The only thing I threw away was the baking powder–it was so expired I didn't think it would rise any more. The large container of pepper alone……several dollars worth.
We read library books and watched library movies and I took Jake to a mid-week show as part of the summer reading program. I took Michaela to a birthday party at Chuck E. Cheese–she had fun with her friends. Rob took her shopping for a gift, and the stuffed animal she chose for her friends was under $10, and the girl seemed happy with it. The summer will involve more activities with Jake, as well as a few extra hours now and then, as Jake doesn't have school. There is plenty to do that is not expensive, but still fun, as well as the chores, reading, etc. I have him do daily.
Well, I'm off to check those lentils. I hope your week goes well, and that you have a great 4th of July!