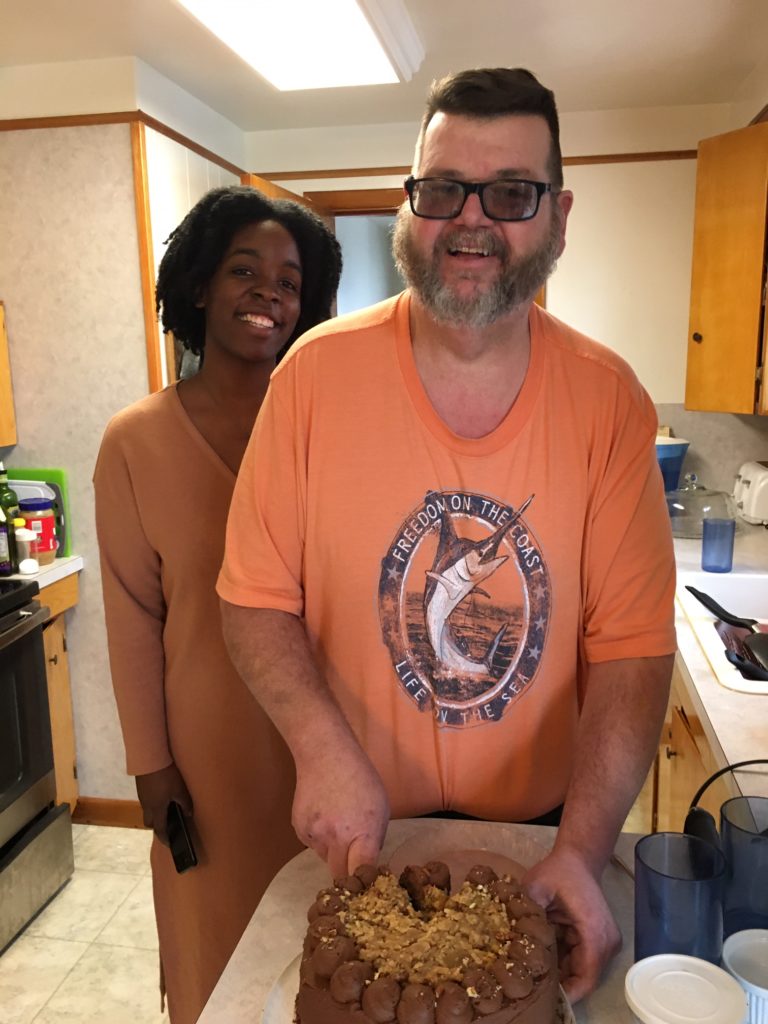 This past week has gotten away from me, to say the least. I'd better get busy and post before this week is over!
It was Rob's birthday on Sunday. The big family already celebrated it, but Lovana wanted to made him a special cake. It was so good! We had to take a small slice each, then freeze the rest for later, or we would have eaten the entire thing, I'm sure. It was that yummy!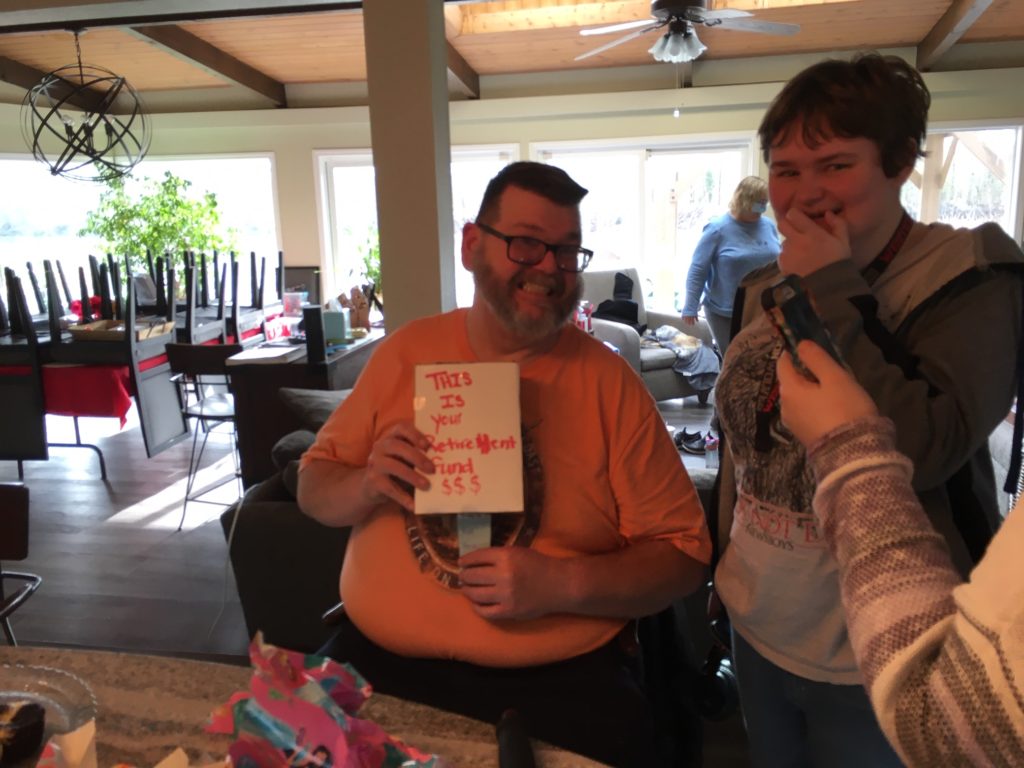 Patsy spent quite a bit of time making Rob a "retirement" fund gift. She taped a ton of old Monopoly money together, and then put it in a box so that when he pulled, a long line of money came out. It was silly and fun.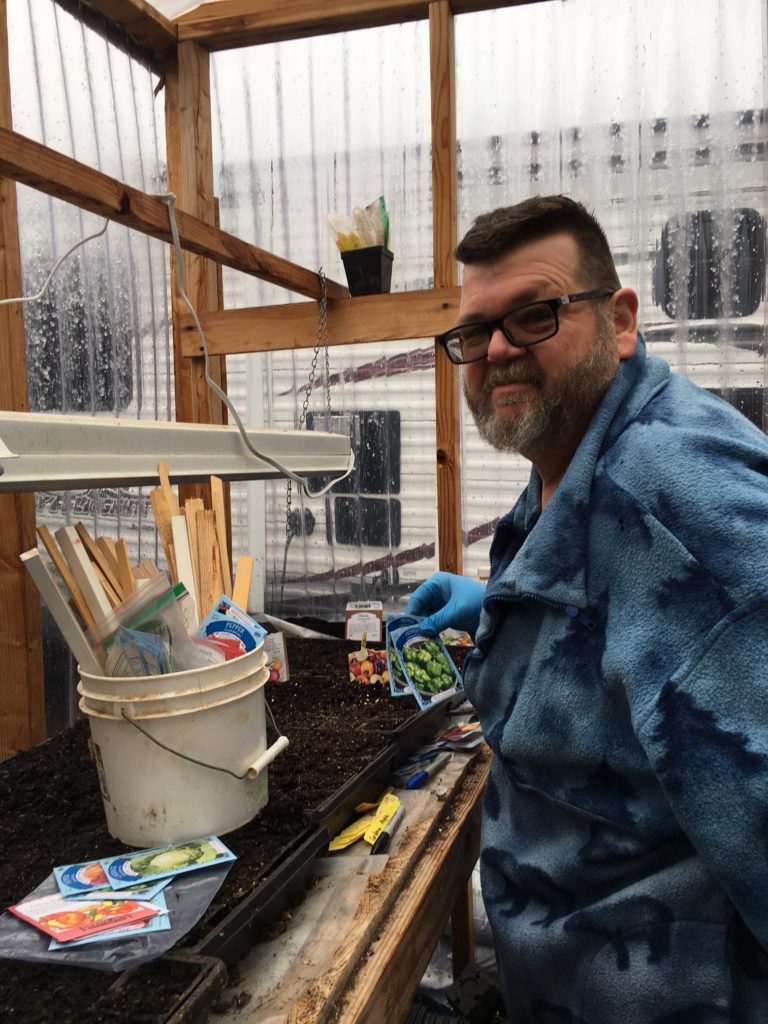 Rob and Patsy cleaned out the greenhouse. Then, he planted some seeds. As you can see, some of the seeds are from the Dollar Tree. They were 4/$1. There are some varieties there that work just fine for me. I'm more picky about some other varieties, and ordered from both Territorial and Pinetree. I'm happy to pay the higher prices for a variety I specifically want. Some crops, like green beans, I never gamble with. I want so many to can. And, tomatoes need to be disease resistant around here, and also need to yield early. We were able to hit a 20% off sale at Territorial, which I have never seen before. He planted peppers, cabbage, broccoli, basil and a few flowers. We will plant other things closer to our planting time, but peppers, especially, take a lot of time to grow in our very cool greenhouse.
I stumbled upon ham for 69c/lb. at Fred Meyers. I bought 2. We used one for Family Sunday dinner and we are all loaded up with leftover ham this week to munch on for easy dinners. The other one I froze. I restrained myself from buying more, as my freezer is supposed to be getting emptied, not filled, as summer draws nearer!
I boiled the bones from the ham and made lentil soup from the resulting broth.
Rob baked a whole chicken.
I boiled the chicken carcass as well and made Rob some more "special" soup–which basically means every low-calorie/low-carb vegetable I can lay my hands on, cooked in broth. He's making sure his weight stays down in anticipation for next week's doctor visit.
My grocery shopping was focused on the list of things I've run out of and produce. It's been one of those weeks, where I've run out of the "odd-ball" items like soda and red Jello (Jake's favorite).
I made a very small bowl of scalloped potatoes and ham. We love it, but can't eat much of it right now.
My sister instigated 2 outings. One was to a bounce house park and the other was to Get Air, a trampoline park. We took some young friends of ours to the first one, with Patsy going along as an extremely good sport and excellent climber of bounce house stairs after the young ones. The second time, it was geared for the older ones, and Jake and Michaela were super excited to get to go. Patsy had a great time jumping with her cousins, some friends, AND her AUNTIE, who had a ball bouncing and bouncing. It did look fun, but I was content to sit with the purses, basking in the knowledge that I had already ridden almost 7 miles on the exercise bike at the Kroc Center that morning. Whew! Glad I did!
After bouncing, my sister took the lot of them off to eat dinner out, but I went home and cleaned the bathroom. Not fun, but sorely needed. Patsy had no trouble choosing between the 2 options:). Can't blame her for that! She enjoyed her dinner very much, and it was very nice of my sister to include her in all the fun.
Next week is extremely busy, so I've been trying to do extra housework and get the laundry caught up so that things are easier then.