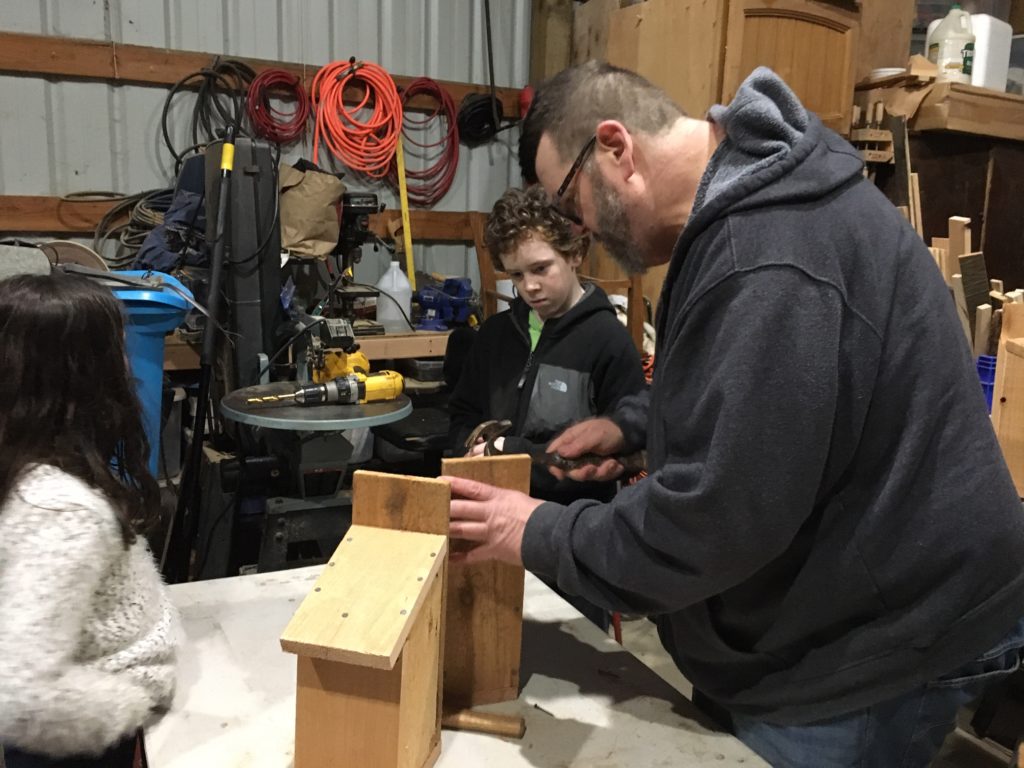 Rob made bird house kits for the 4H club to hammer together at their meeting this week. All the boards were donated to him for this purpose by one of his friends who owns a small sawmill, so our project was very inexpensive.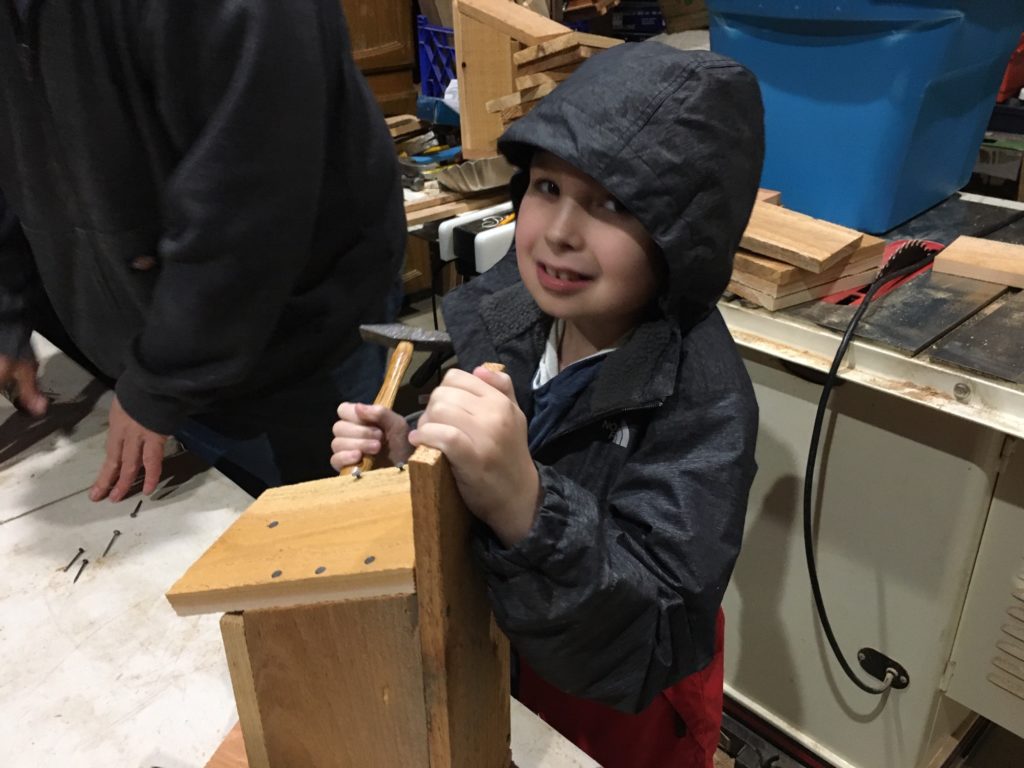 The kids had so much fun. Jake was very happy because his daddy agreed to come and help the kids with the hammering. Even I got roped in, although I'm not very good at using a hammer.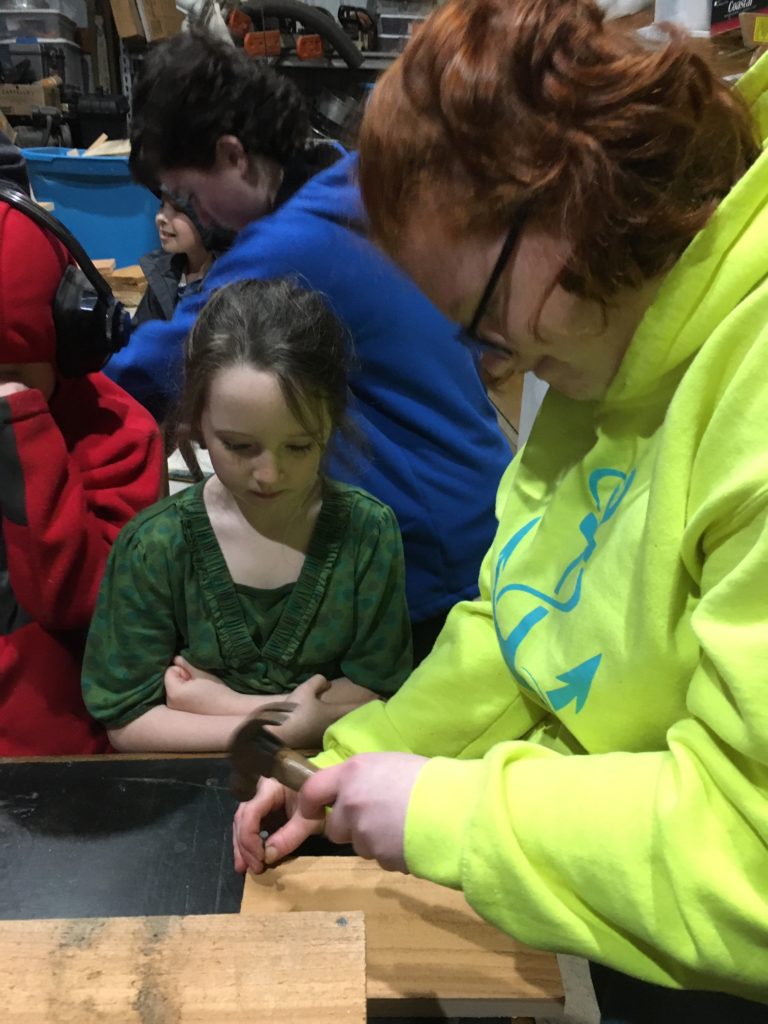 Patsy, on the other hand, is very good with a hammer and so she made her birdhouse the day before and helped the younger kids on the day of the meeting. Ones who knew how partially hammered some nails in and let the younger builders hammer away, driving the nails the rest of the way in.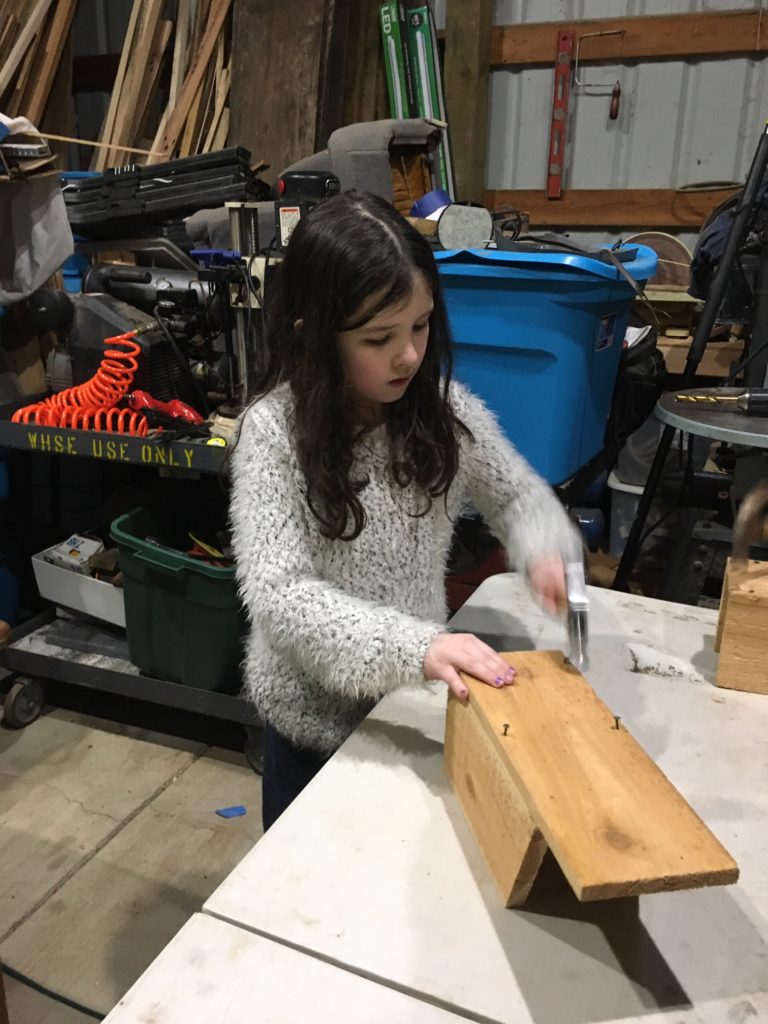 Some didn't need much help, others lots of help.
Then, we all went back into the house and made little baggies of home-made hot chocolate mix and ate dinner. Then Rob hauled whoever wanted to go down to the church for the youth/childrens' activities and I cleaned up the mess. It comes in handy to have a 15-passenger van–no one has to feel left out. There's room for them all!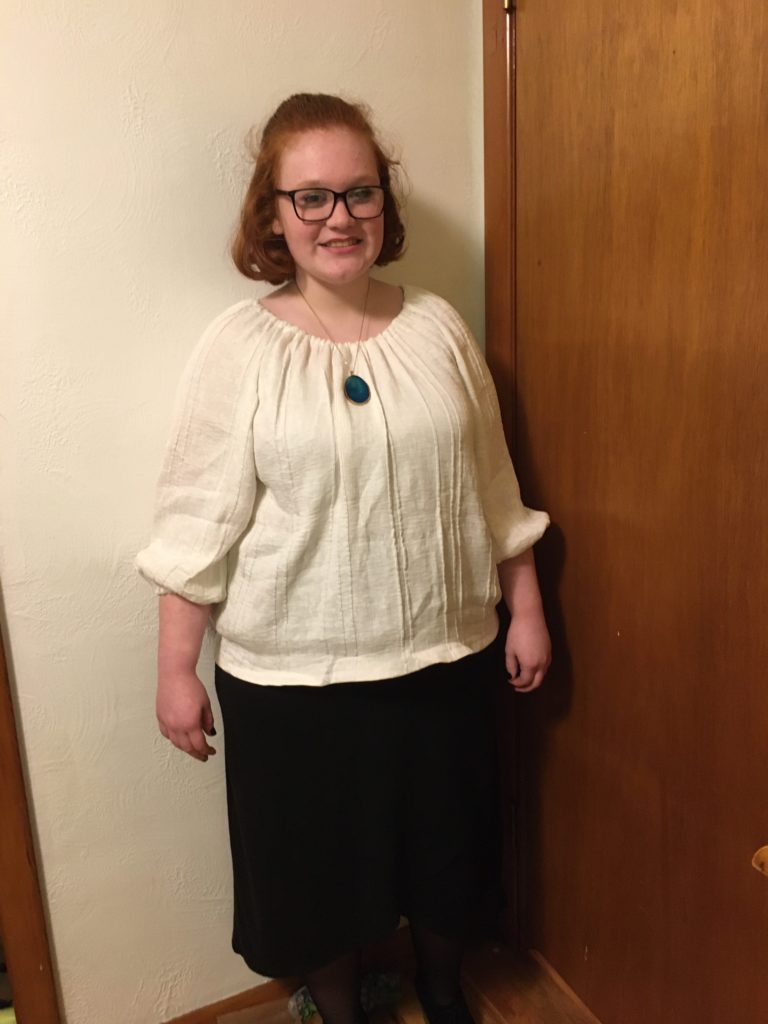 I finally got the blouse sewed for Patsy, just in time for her to wear to a wedding.
The wedding was beautiful, and so tastefully decorated. I wish I had taken pictures of the decor. They used a woodland theme, and sticks were cut from friends' property and little lights were put all over them. There were large branches for a backdrop and small ones for centerpieces for the tables. The way I'm describing it does not do it justice, but it was absolutely gorgeous. There were candles in the shapes of birch logs, and circular wood chips sprinkled around the main table. It was lovely and elegant. The family catered the reception themselves and the food looked amazing and was displayed in dishes surrounded by wooden boxes they had built to add to the woodland theme.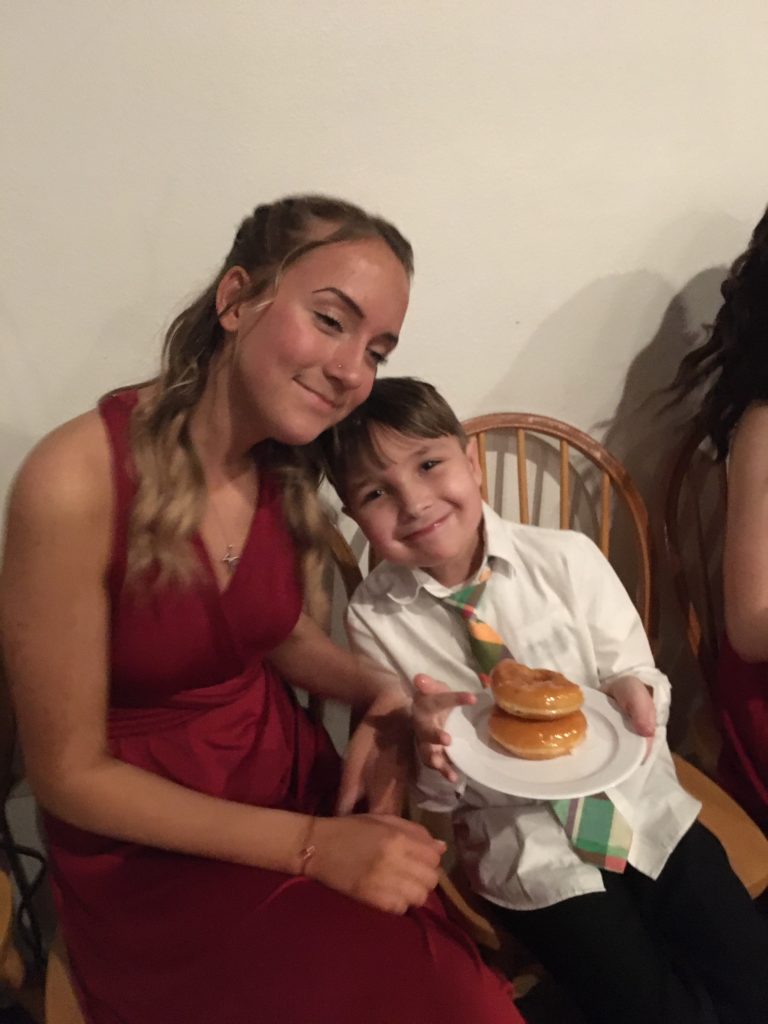 One of Jake's best friends, Willow, is one of the bride's sisters, and he loved sitting by her at the reception after she finished her bridesmaid's duties. As you can see, they had donuts as one of the main desserts. They were on plates and on dowels on a rack that hung on the wall behind the table. You could take one with a tong. Jake and Michaela ate 2 each!
The bride and her family are close friends of my sister and brother-in-law, so they helped out most of the day, while we kept Jake busy at our house.
We really enjoyed the ceremony and reception. We didn't stay late, but instead came home and got some rest.
We cooked many items over the weekend in preparation for a busy week ahead. They are in the fridge to grab in a hurry– soups, BBQ'd pork, thinly sliced turkey breast and chicken and other goodies. We don't have a meat slicer, but have been having a lot of success with Rob-sharpened knives. We have been making our own less-salty and less-processed lunchmeat this way lately.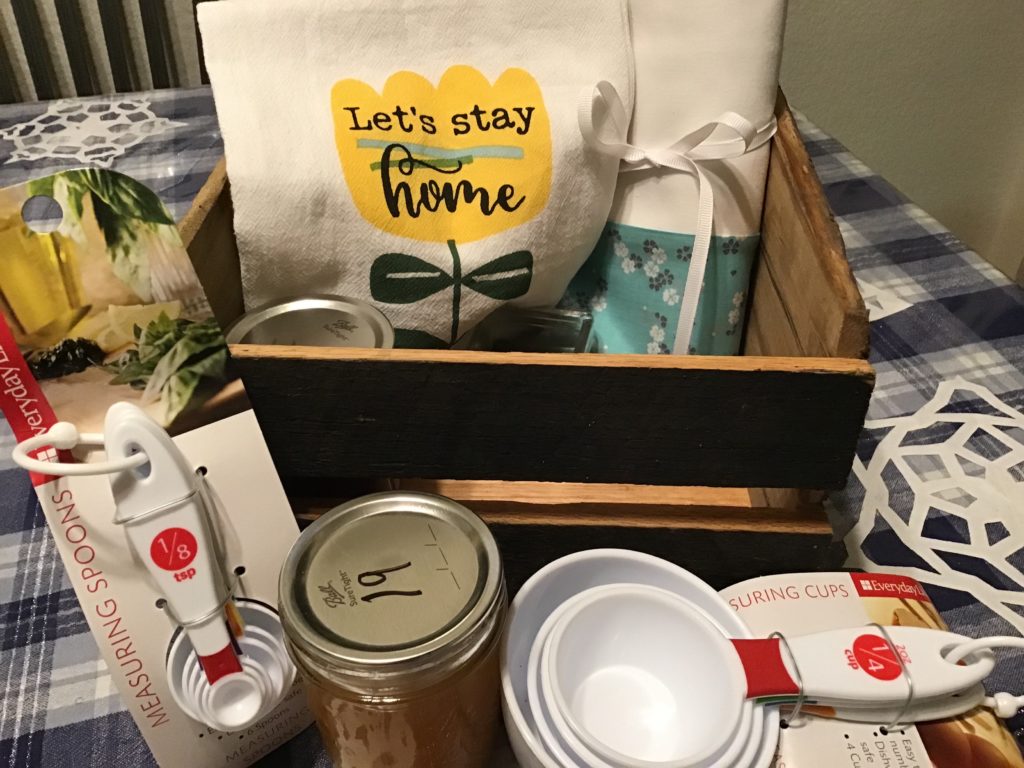 Rob made me a crate and I filled it with a few goodies for a bridal shower I actually could not attend, since I was at wedding No. 1. It's crazy that we've not had a wedding for a long time, and this month, there are 2.
I put in jam, salsa, measuring cups and spoons, a set of pillowcases I made, and a cute towel plus a bundle of dish cloths. This gift was for the shower I could not attend, so I had Rob drop the gift off at the young lady's house ahead of time. For the wedding itself, Rob made a wooden cutting board and will pair it with 2 super good knives. He did the same for the bride and groom for the wedding we just attended.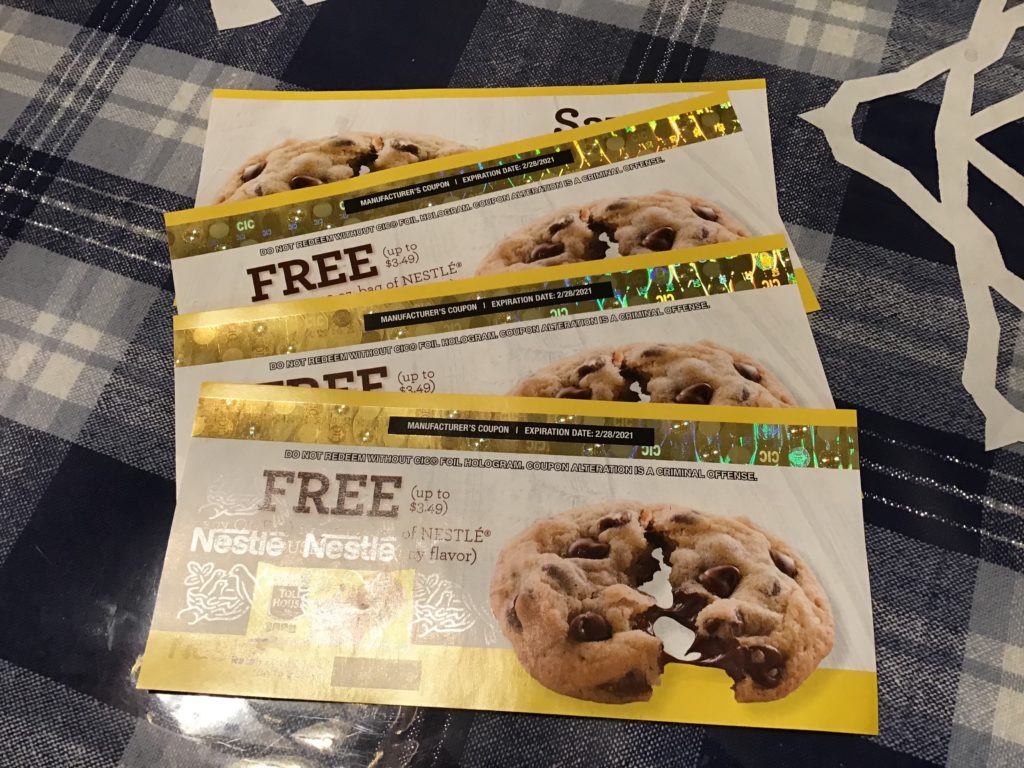 Recently, Rob picked up 3 bags of "Unicorn" white chocolate chips–they had rainbow colors on them. They were on the clearance rack for 99c/bag. When we tasted them, they were very bitter. I wasn't worried about it because they were so cheap, but I did e-mail Nestle to let them know the red food coloring taste was coming through loud and clear, and not in a good way. I threw them away. I was very happy and surprised when the man I was live-chatting with wanted to send me free coupons for more chocolate chips. I explained they were on clearance, but he insisted, so I said "thank you." I dug the bags out of the trash, sent him the barcode numbers as requested, and I got these coupons in the mail this week. There are 3 free bags of Nestle chips of any flavor and one $1/off coupon.
We have a very busy week ahead, and it feels good to be as prepared as we can be so we can get through it all, and still stay frugal! At least that's the plan:). I'll let you know how it turns out.