Most of this week was rainy and wet. On the day we homeschooled Jake, one thing we did was venture out with umbrellas for a nice walk–he's required to exercise daily for P.E.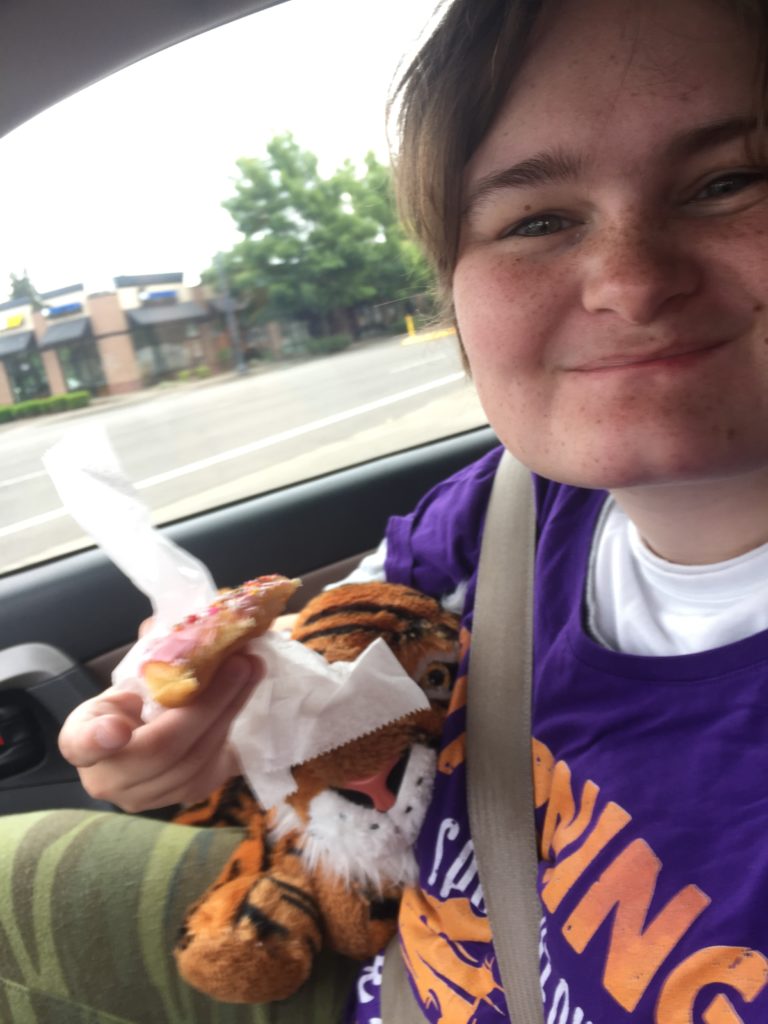 Rob took Michaela train spotting.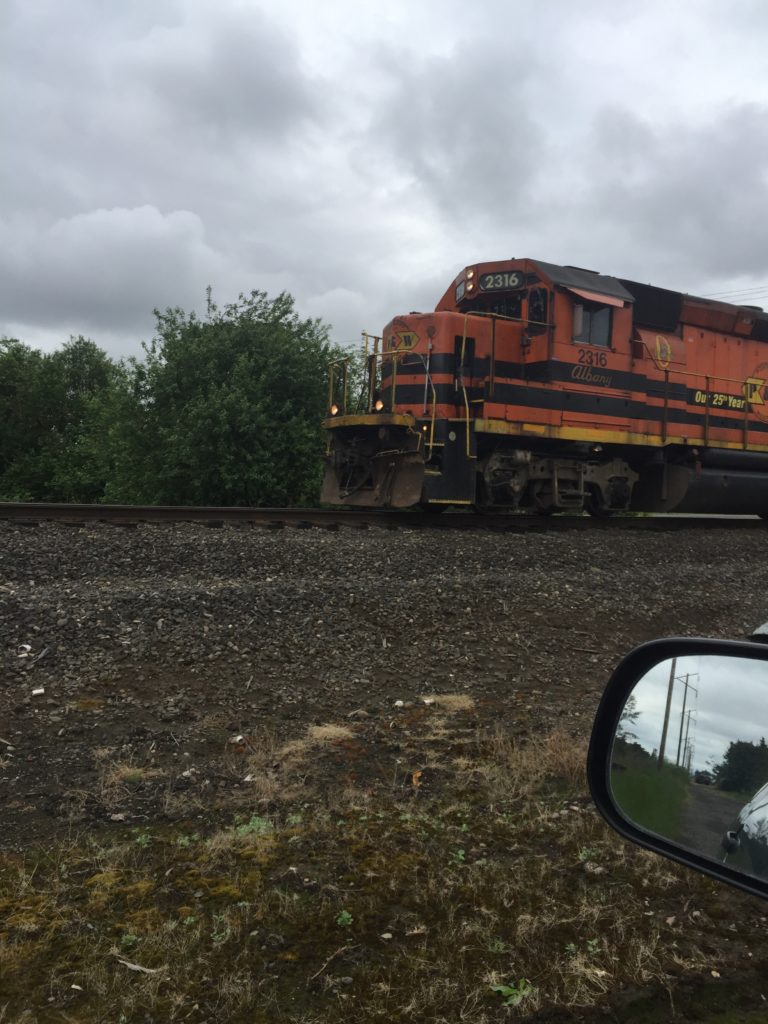 They saw one this time!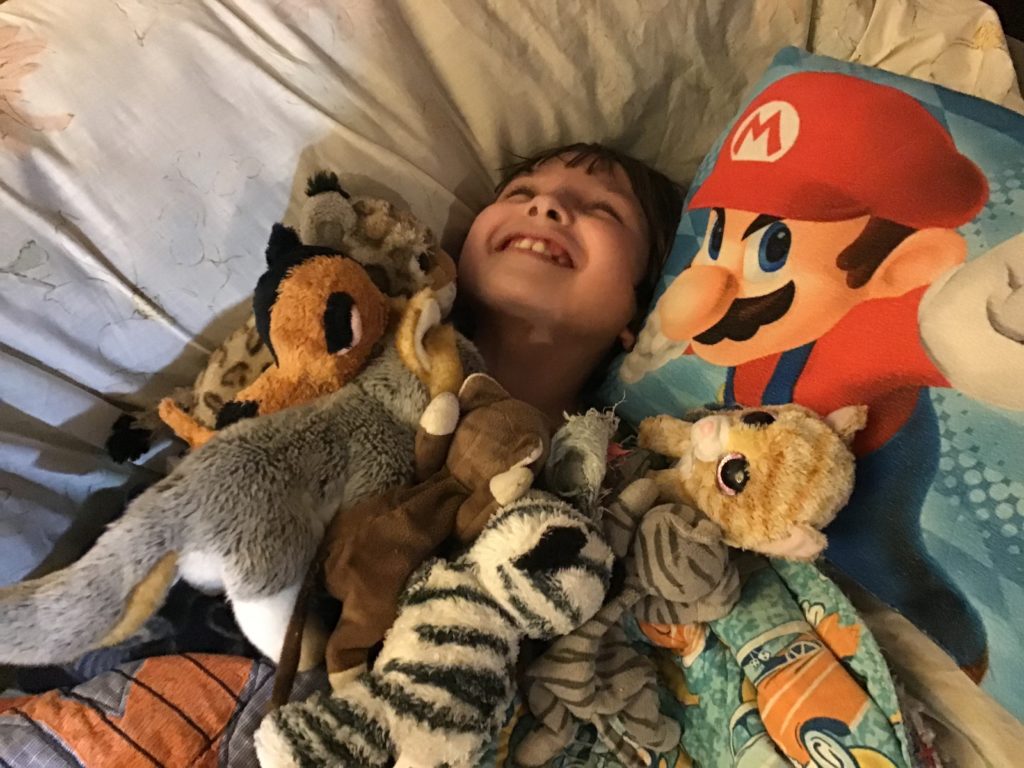 Jake spent the night, as he's been doing every Wednesday. His Mom works Wednesdays and Thursdays, from home, and needs complete peace and quiet to do so. This is a great schedule for us, as well, and he loves it, school and all.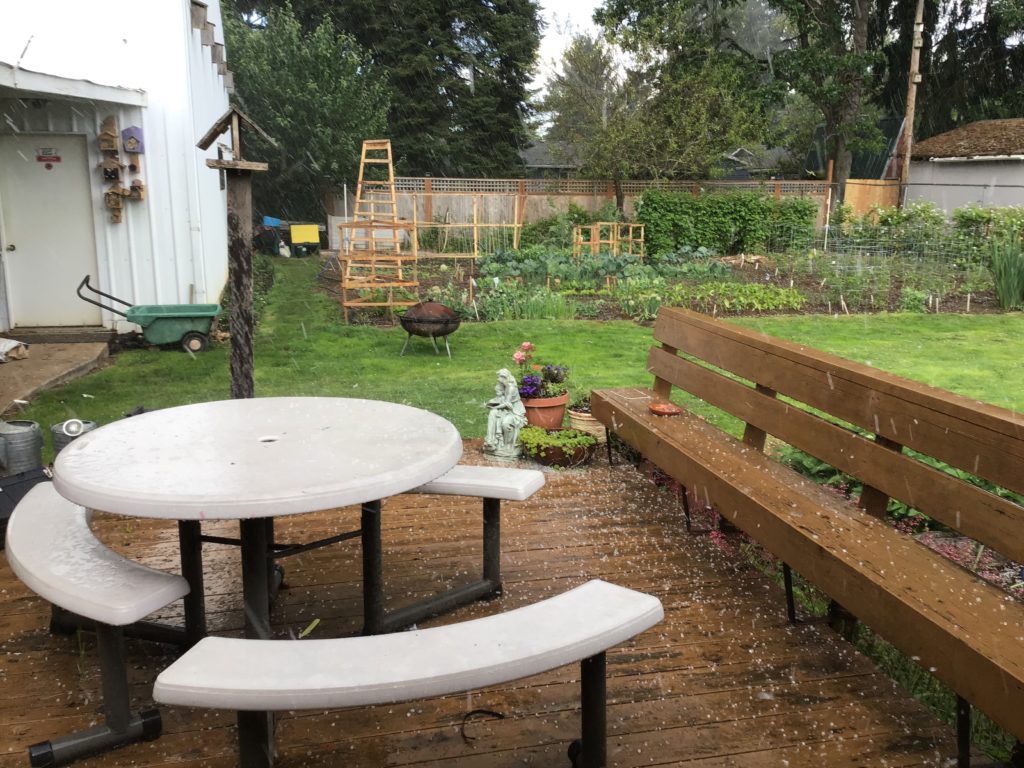 One day we had a pretty bad hail storm. It was brief, but violent, and beat down some lettuce, put holes into cabbage leaves, crushed some spinach, and laid low some other delicate garden plants. Thankfully, most things survived, or will outgrow the damage with no problem, but a few had a setback, to say the least.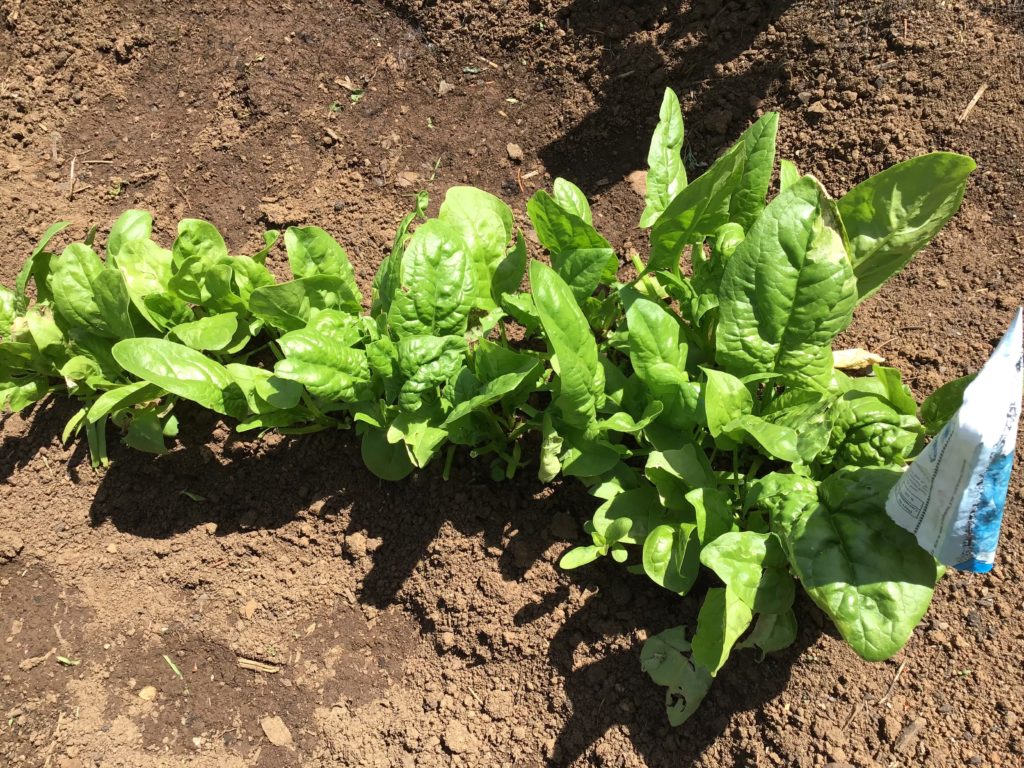 I went ahead and picked the outside leaves and the damaged ones off the spinach and Rob ate them in salads this week. I froze 2 very small portions for later, using the torn up leaves that way. The inner leaves have already grown since then, in the few days since I did it.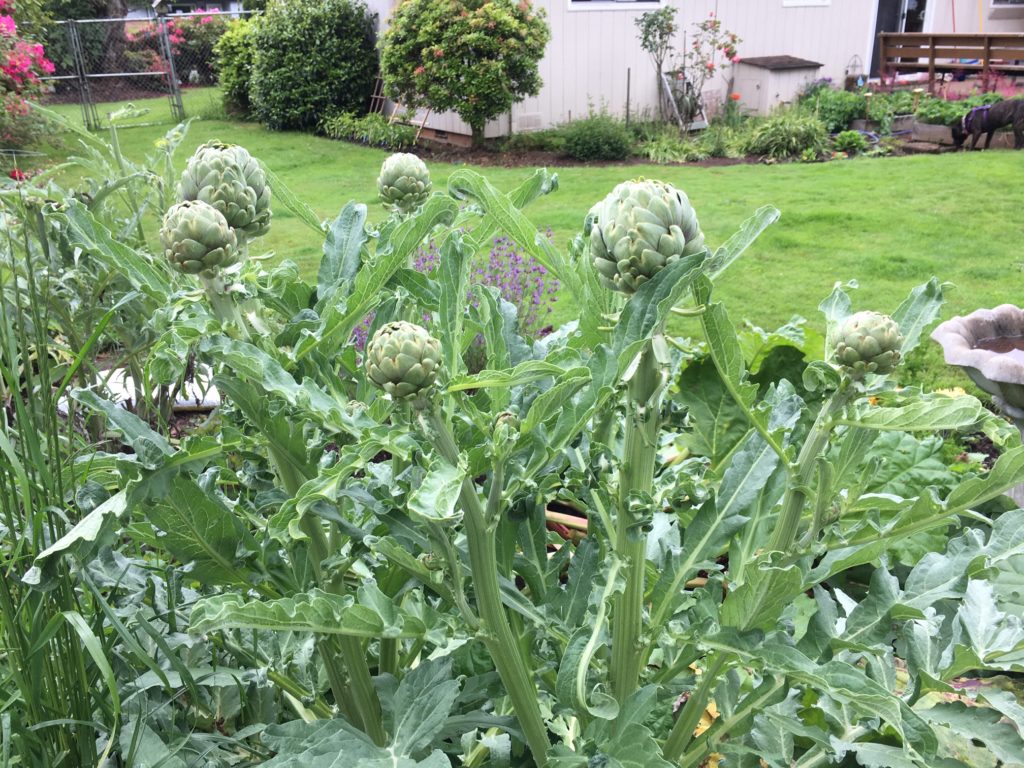 We picked most of the artichokes on the bushes. I froze 2 packages of artichoke hearts from the small ones, shared some and have some to eat.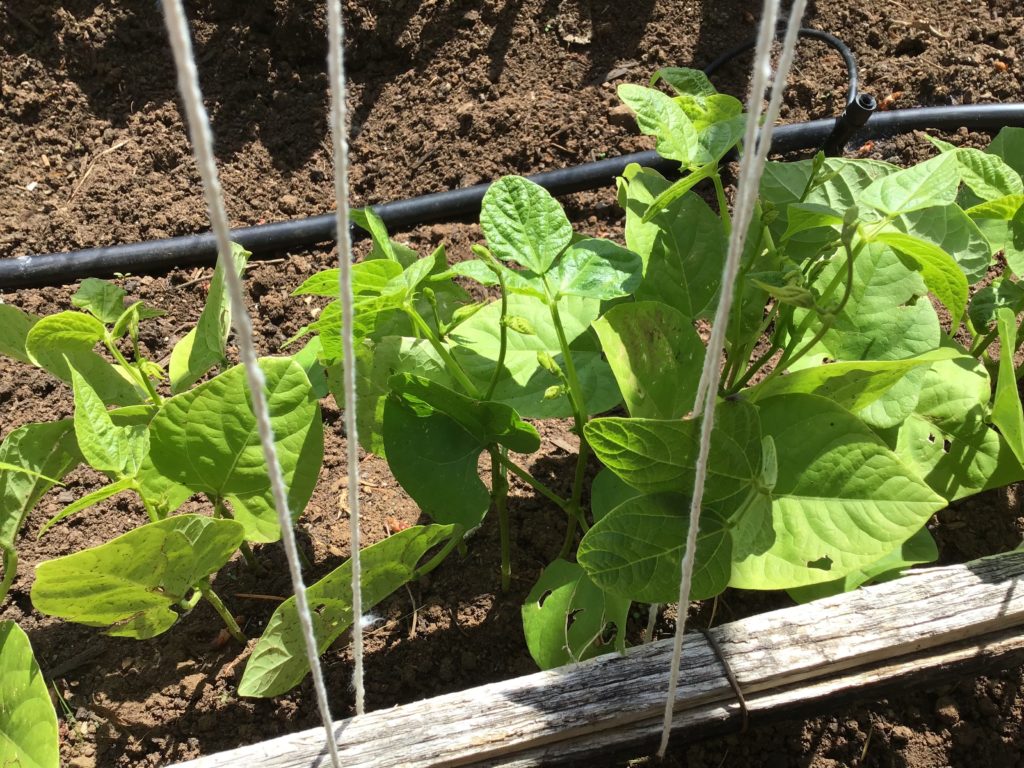 We put strings up on the pole bean trellis so they can climb up as they grow.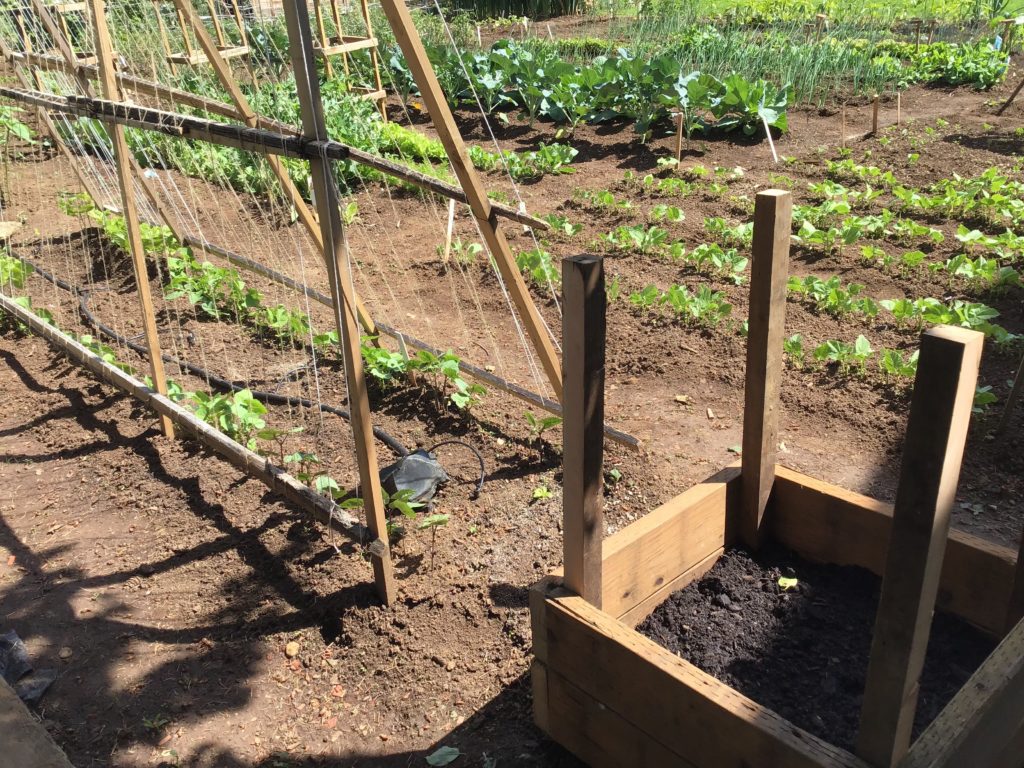 The box on the right is a potato box Rob built after seeing it on U-Tube. The bottom box has some old potatoes in it, covered with dirt. (As in, we did not buy them, they are left over ones that are trying to grow anyway and some his mom couldn't eat in time, I guess–). The idea is that as the potato bushes grow, they are covered with dirt and another board layer is added, making it taller and taller. Supposedly, the potatoes will continue to make bushes and then more and more potatoes as you stack it higher and higher throughout the season. He thought it would be fun to try. He used reclaimed wood and junk potatoes…..so it's a fun experiment for no out-of-pocket for him.
Every time I think the garden is full, I find another place to tuck a few more plants…. Like celery under the sprinkler tripod. They say it likes it really wet. Rob planted some really old seeds that have been around for several years, and got them to grow. There are more, but no more space right now.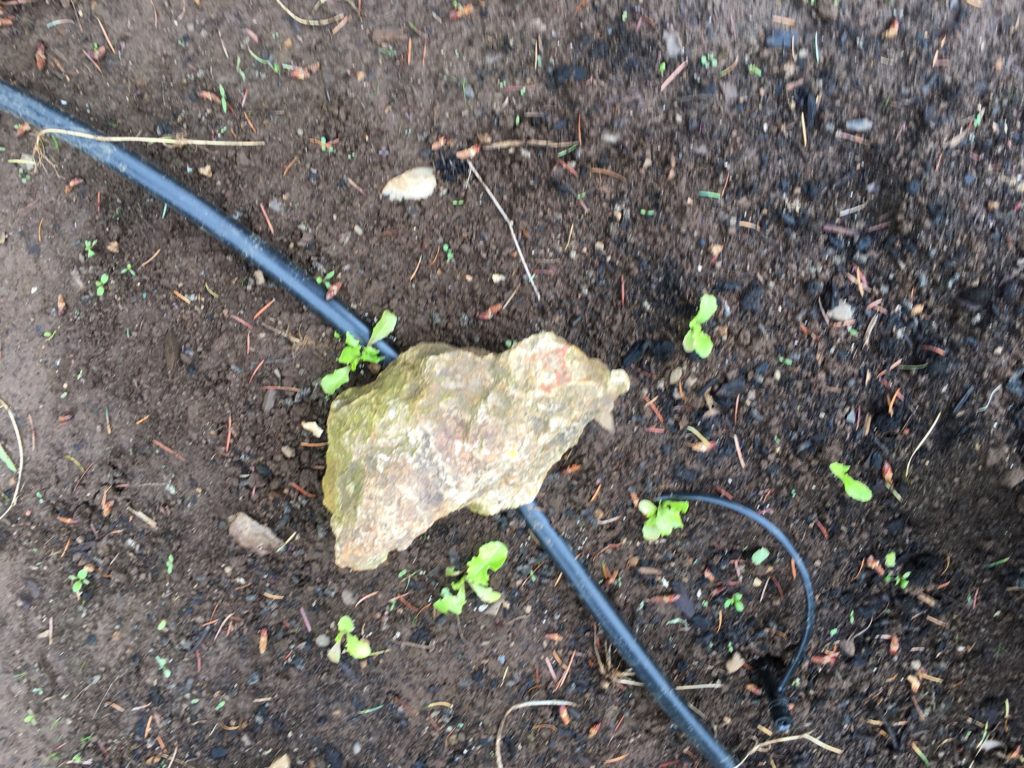 Tiny head lettuce plants around the rock that holds the sprinkler head and hose down….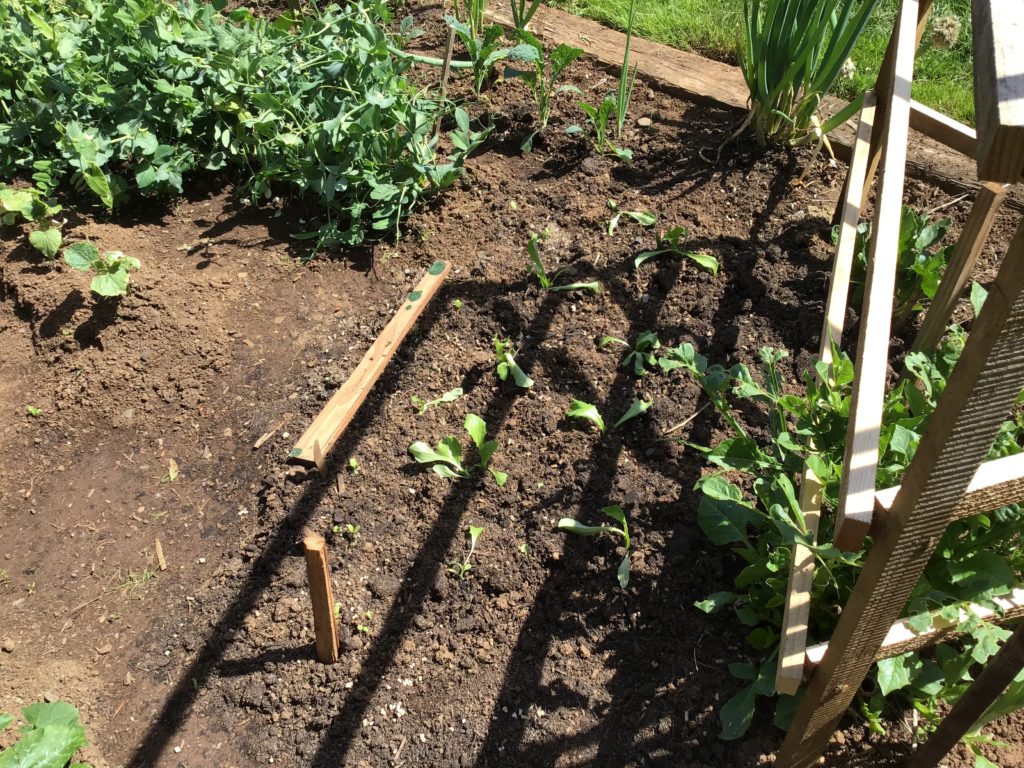 More head lettuce by the dahlias….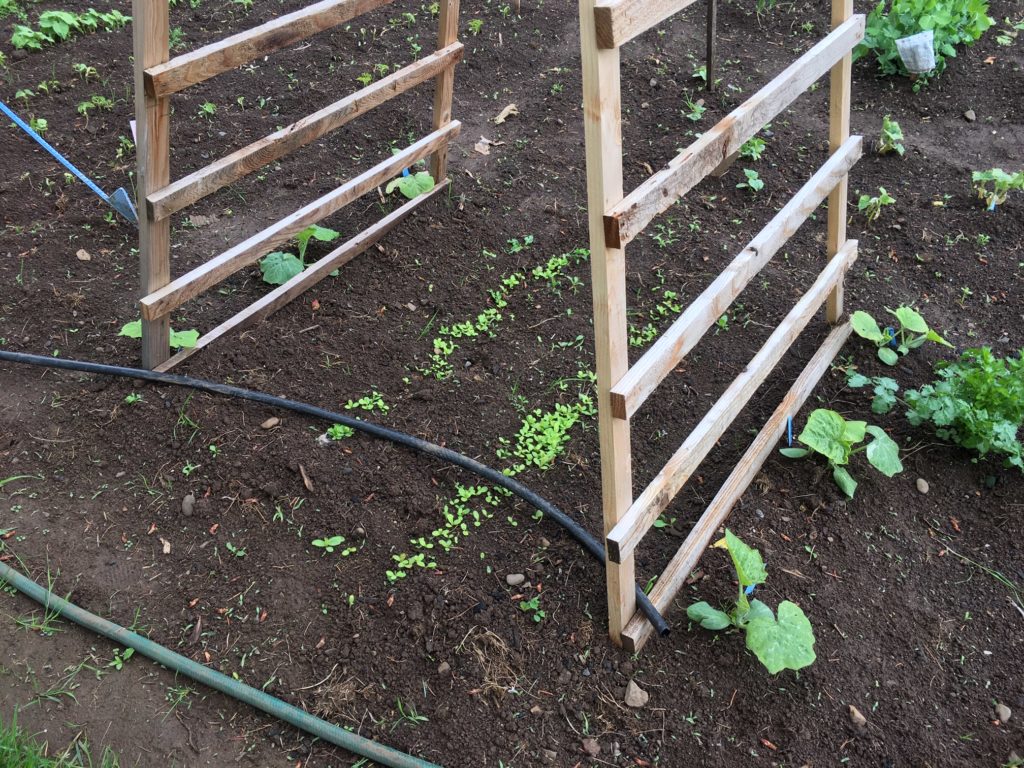 …And leaf lettuce under the Tronboncini trellis. Rob can eat a head a day, if it's small, or close to a gallon ziplock full of leaf lettuce, when he's in a salad mood, which is almost always. He's been eating lettuce at least twice a day, stir-fried snow peas, zucchini and mushrooms with onions and peppers for breakfast with his eggs….you get the idea of how much produce we are going through right now! I'm going to keep planting lettuce everywhere I can, all summer long, and fill in every area with other succession plantings as space fills up. He's got another batch of lettuce growing in the greenhouse, so I can plant it out when space frees up. It's all worth it to me!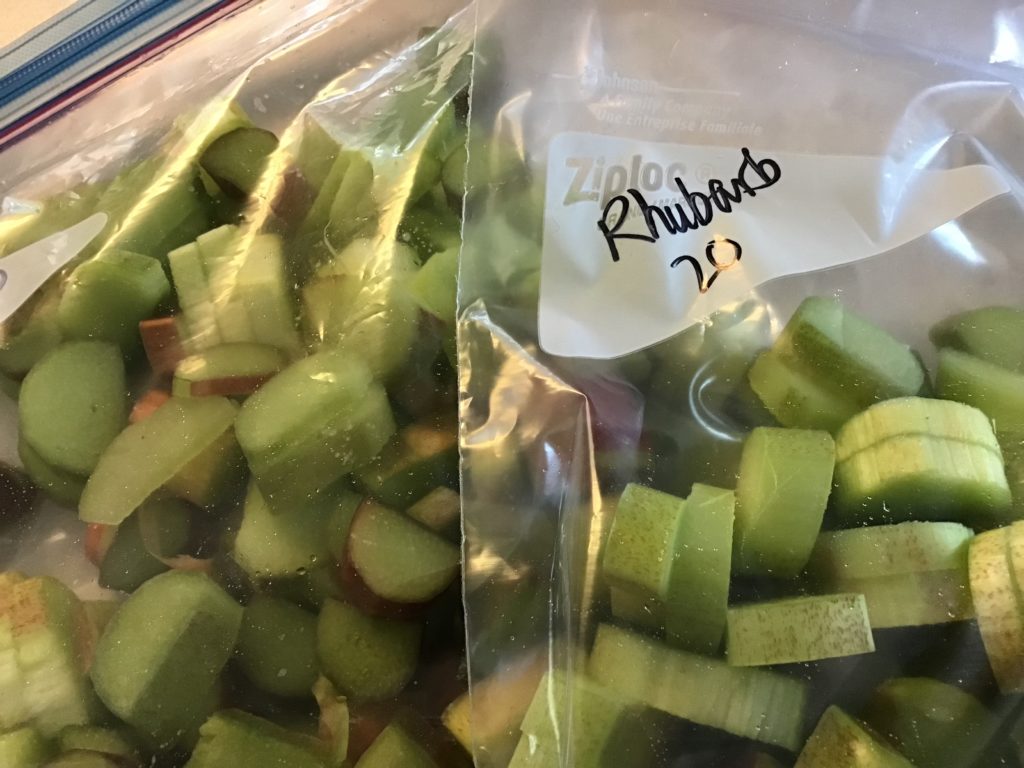 I picked all the rhubarb. I froze some and shared some.
We did get into the garden to weed and hoe, but not until the end of the week. There is plenty left to do in the upcoming week, and the weather promises to be very nice. I'm glad, because some things really need some sunshine to explode with growth. They are just sitting there, waiting for the opportunity.
I made banana bread again, using up the rest of the bananas Rob found in the chest freezer.
He stumbled upon 10 pound bags of chicken for $2.90–29c/lb. He bought 6. He was at the store getting prescriptions and a little produce. Go, Rob!
This was the week we usually would not shop, since we've been going every-other-week, so it was a real blessing that he had to go in there for another reason, and found the chicken.
Our county is opening up a little. For us, since we have so many underlying health conditions in those we have around us, it won't make much of a change for a while. Speaking only about ourselves, my diabetes and asthma keep me at home. Rob absolutely cannot risk getting sick before his surgery. As it is, he's got a couple of owies on his legs that are being well cared for so they will hopefully be healed in time. But, it's still encouraging to see that things are moving forward. Let's hope this pandemic continues in the right direction! In the meanwhile, I can be found at home, pulling weeds:).