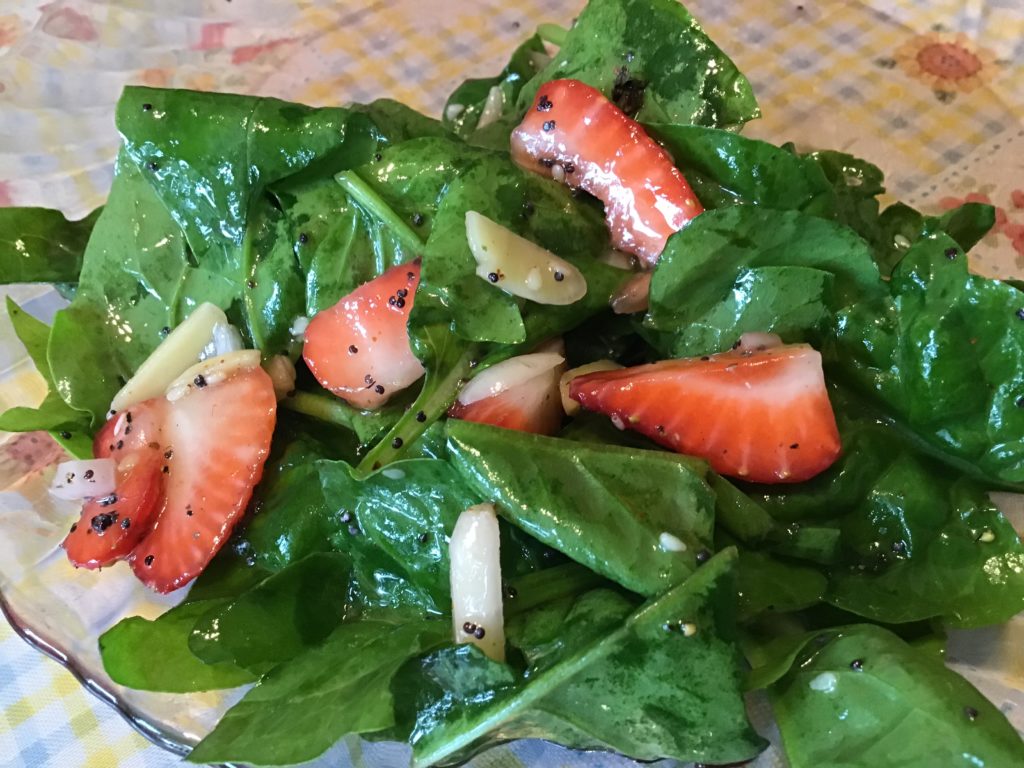 This week, I was able to cook some really delicious meals. For one, I was able to make strawberry spinach salad twice, using the small handful of berries that ripened, along with the garden spinach. I have picked the outer leaves of the spinach 3 times, and we have consumed every single leaf. The bushes look decimated, but there are a few more leaves trying to grow yet again, so I gave them a shot of fertilizer and am hoping for at least one more picking before they go to seed.
Most of the meals this past week were based on one of the 10-lb bags of chicken Rob found last week. It was $2.90 for the entire bag. We had barbecued chicken. The drumsticks were marinated in teriyaki sauce. The thighs were bbq'd with seasoning salt and purposed into various meals, such as salads, sandwiches, pieces of chicken on a plate, etc. We also used a jar of our home-canned tuna in some meals, had lots of salads and veggies, and ate popcorn for several snacks.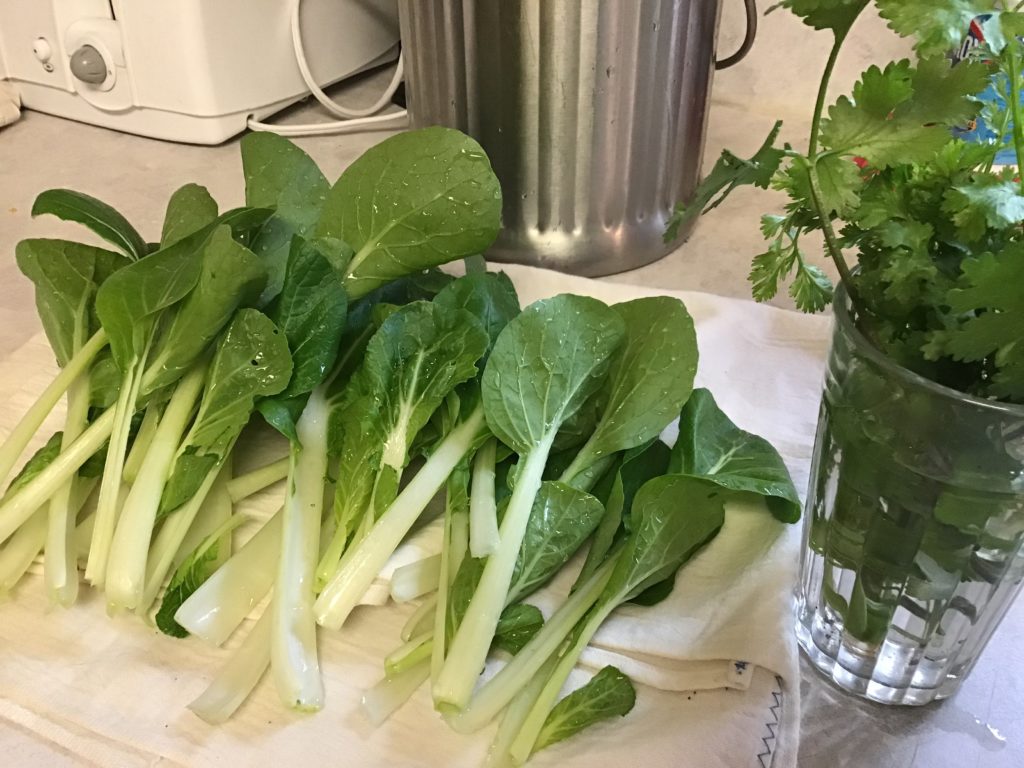 Rob continues to eat veggies for breakfast, lunch and dinner, so I was delighted to pick more pac choi for him to stir-fry up for his breakfast scramble. I also picked quite a few more snow peas and lots of cilantro. We continue to buy other vegetables for him to eat. His weight is slowly creeping downward again–success!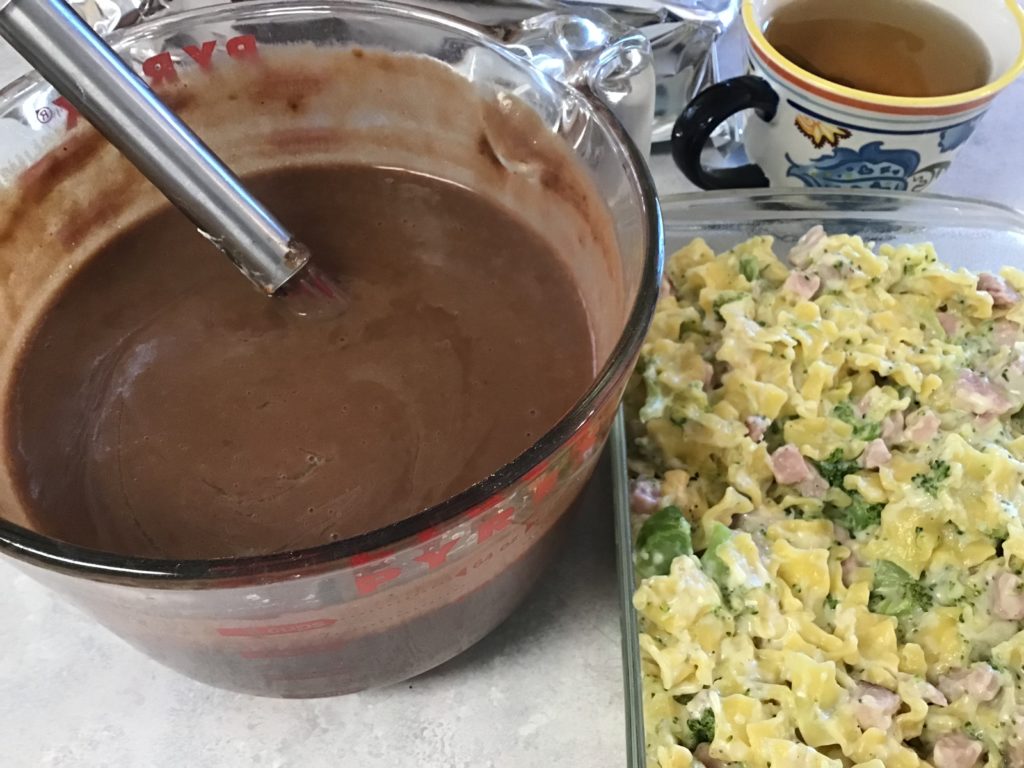 I made a casserole with ham and broccoli. I got the recipe from a magazine. It's not a favorite and I'm not sure why. But, there it sits in the fridge! The simple chocolate cornstarch pudding, on the other hand, is almost gone even though I made a double batch. One way we've been using part of that is in popsicles. Patsy is really enjoying the home-made fudge pops, as a change from her usual pear/raspberry popsicles that she eats by the handful.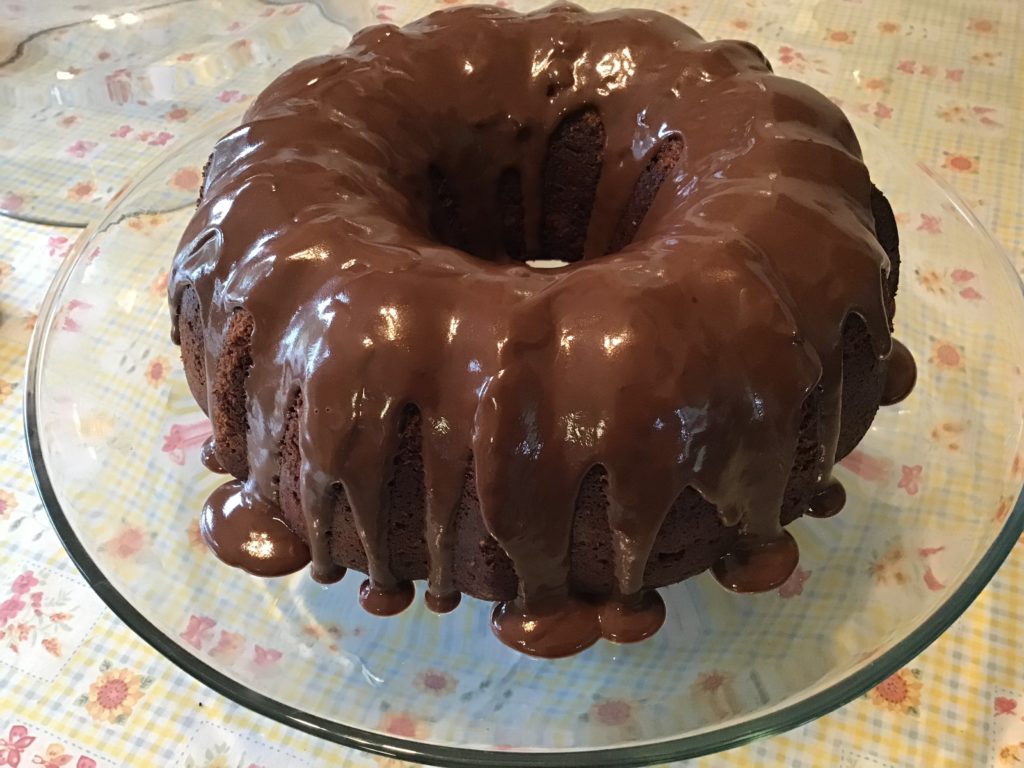 Several of the nieces and nephews have birthdays at this time of year. We generally have one big party for all the cousins at once that have birthdays near one another.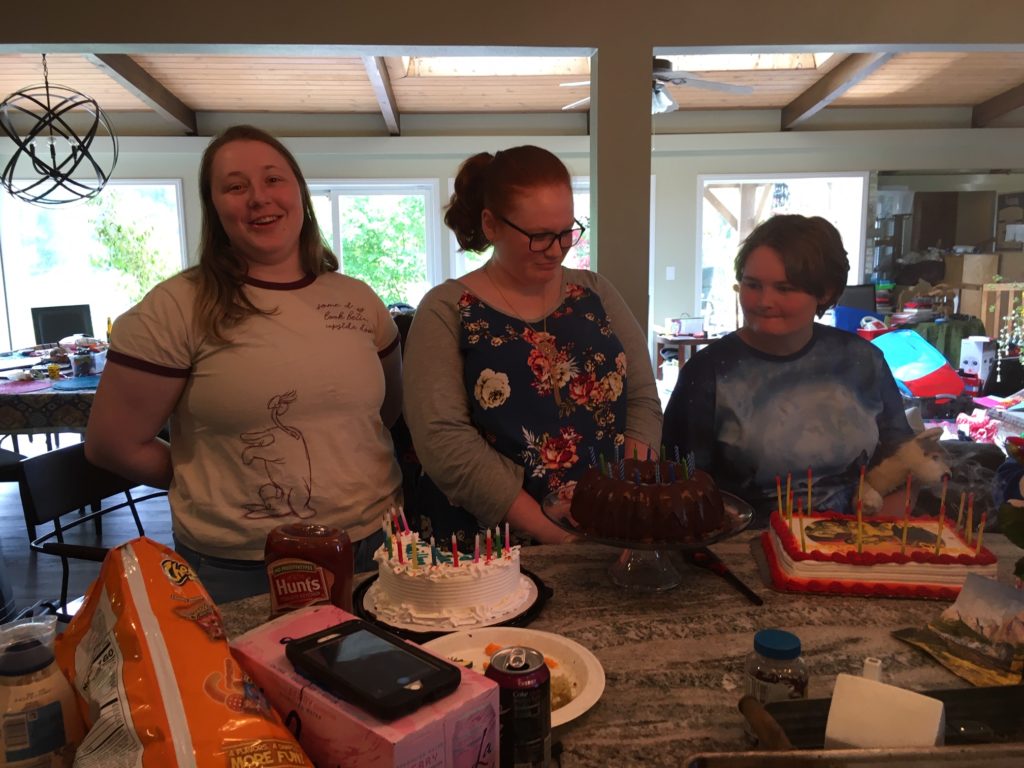 This year is different, so we just celebrated Michaela, her sister, Caitlyn, and Patsy yesterday at a small party, with only the ones attending who have been in close contact the whole pandemic. I made a chocolate bundt cake for Patsy's cake, Caitlyn got an ice cream cake, and Michaela had a white cake with white frosting and white filling with a picture of the Lion King on top for hers. It was so nice to be able to celebrate with the kids! (Patsy's birthday is not for another week, but the other 2 girls has theirs this week).
I helped Rob fix a broken sprinkler in our watering system. He provided the know-how, bought the part, started the job and instructed me on how to crawl around down on the lawn and hook it up and set it! I'm so happy to have it fixed, and I love having a system to water for us without moving sprinklers. It cost much less to do it ourselves, but I would not have had the courage to do it without his excellent instructions, since I'm not mechanical.
I continued to weed and hoe in the garden. I've harvested what was ready and planted a few more seedlings in any extra space I can find. I put in a 25c packet of spinach seeds. It may be too late to get much from them, but it was worth a quarter to me to try.
We've given the front yard some attention, but more is needed to get it whipped into shape. I hope to get to some of that this coming week.
I spent a morning organizing Patsy's school books from last year, and I listed them on e-bay and sold most of them yesterday. That money, after fees, will go straight into the bank since I've already purchased her new schoolwork. I spent some time organizing the new year's work, and she has done 2 day's worth of it, so she's off to a good start. We will not do school every day since there is so much outside work to do, but will do some when there is time.