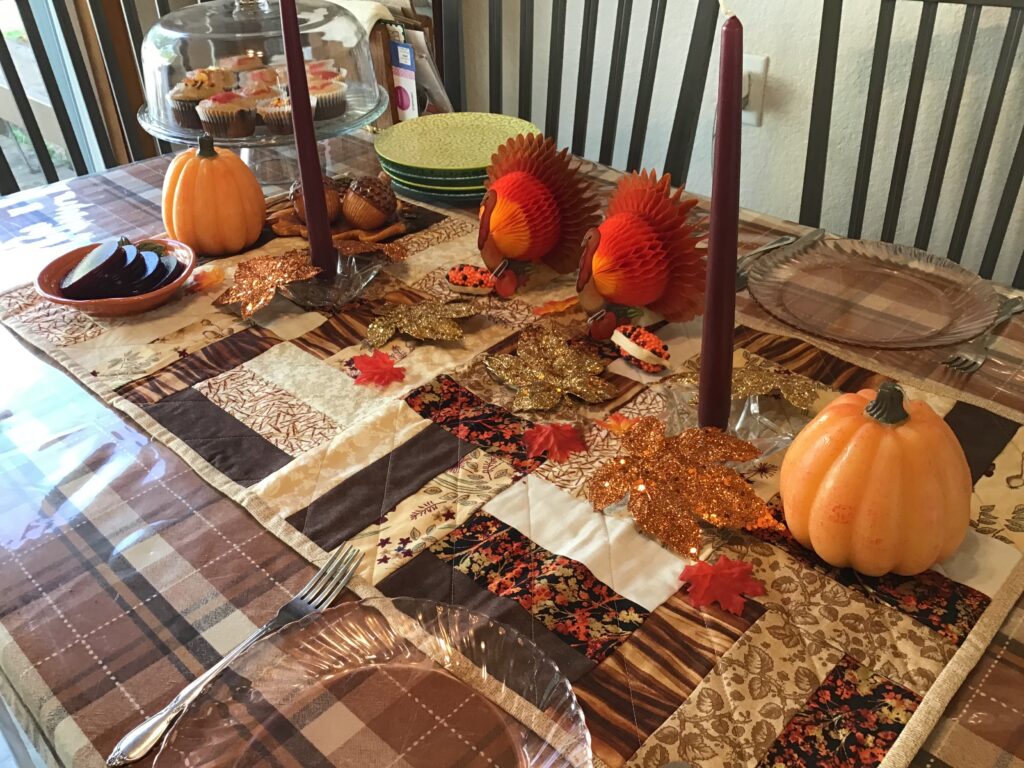 We had a nice, quiet Thanksgiving at home. I used table decorations from past years, and a lovely table runner my aunt made for me as a gift one year. Even though it was just the 3 of us, Patsy enjoyed decorating the table and we cooked all of our traditional favorites like turkey, ham, sweet potatoes, mashed potatoes and gravy, cupcakes, and more.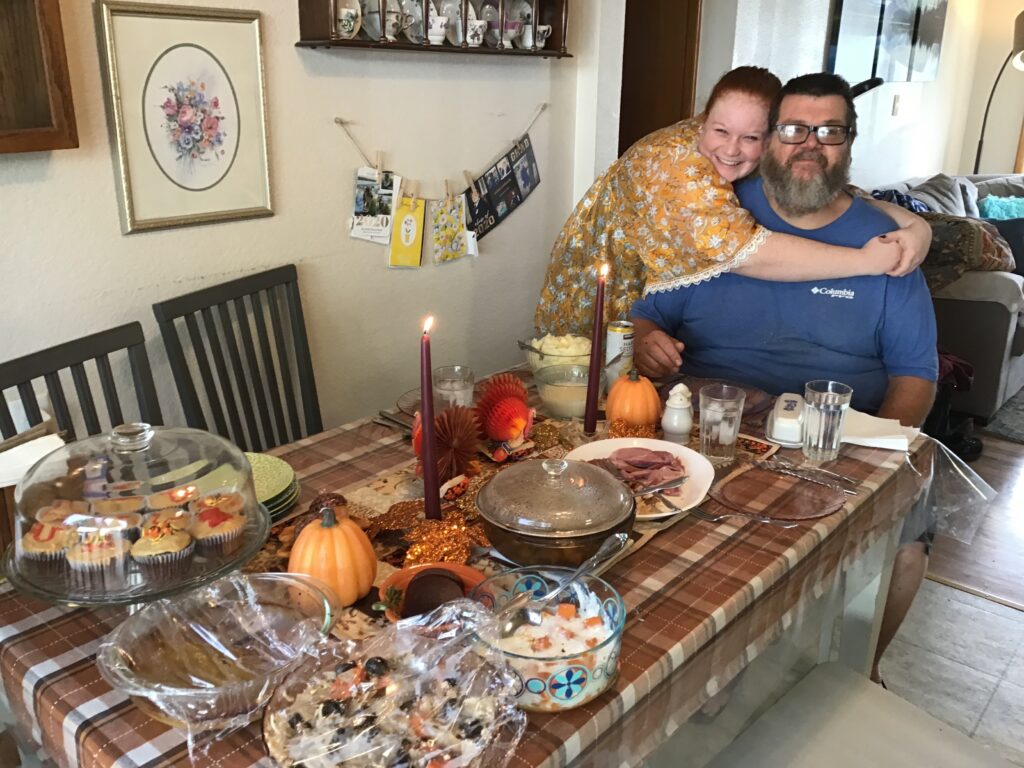 It turned out to be quite a feast! We even remembered to light the candles:). My sister, her family, and my aunt dropped off a little Thanksgiving cheer during the afternoon in the form of caramel corn and M and M's. It was especially nice to briefly see their cheerful faces. For dinner, we watched a movie as we munched finger foods. I made artichoke/spinach dip, clam dip, and dill dip and we had raw veggies and chips to dip into them. We also played a few rounds of "King's Corners," a card game.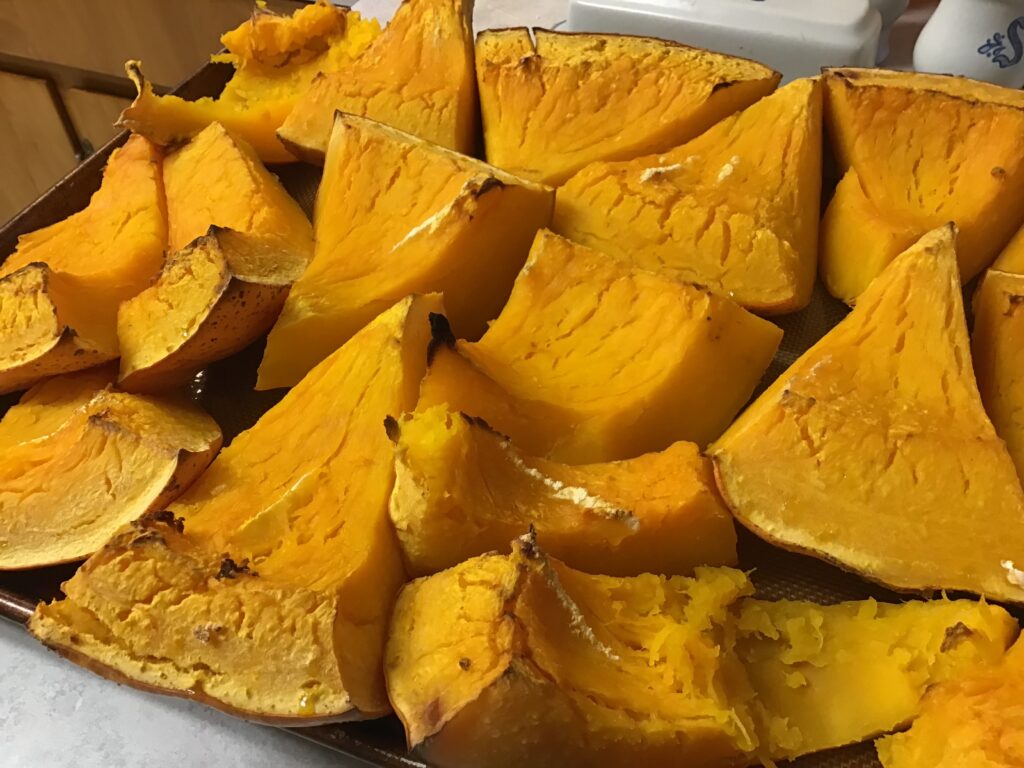 We cooked a couple of the squash Rob purchased at a roadside stand. His cousin has since given us a couple more, so we will get those cooked up soon. I have 6– 2-cup cartons in the freezer now, and in addition, we ate and cooked with a bunch. Since that is another thing I was completely out of, I am delighted to get the freezer stocked again. I use cooked winter squash in any recipe calling for pumpkin. We like the flavor better.
I took the kids for the free school lunches a couple of times. They got some things they liked, such as a hot dog, white and chocolate milk, apples and baby carrots.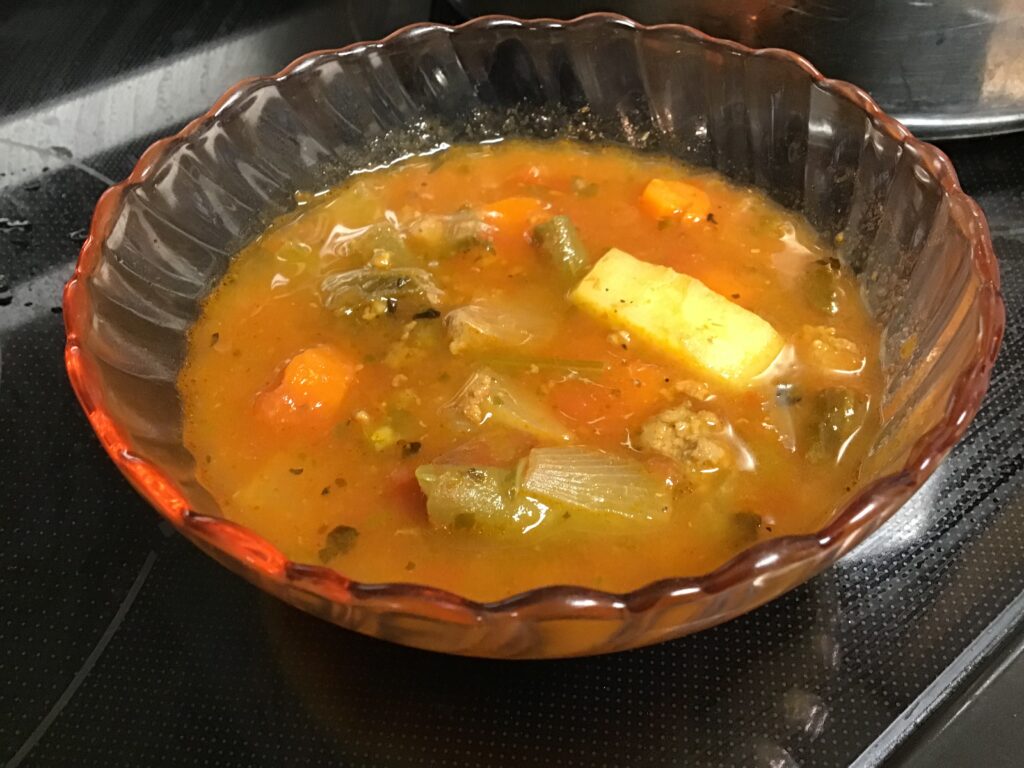 We ate pretty simply throughout the week and made a special effort to clean up any leftovers to make more room in the fridge for holiday food. We ate leftovers Friday and Saturday. On Sunday, I made vegetable soup, and turkey burgers. I made such a large pot of soup that we will eat that all week, and I'm sure I will need to freeze some. I also made a new menu plan for the week, focusing on using home-frozen and home-canned foods, along with pantry foods. I don't need groceries for a couple of days, but am getting quite a list of things we've used up. I hope Safeway runs another $10 off $50, because I have enough of a list to easily use the coupon this time. Last month, I struggled to use it. That coupon usually is at the beginning of the month, so it would start next Wednesday if they run it this month. It will last until the following Tuesday. By then, there will be even more things on my list, I'm sure. I may need a little milk to get through, but I hope to limit my shopping again this month.
Patsy and Rob got the Christmas decorations out, and Patsy put them up.
It was a simple week. We are on a Covid "freeze" here in Oregon. We are supposed to stay home. So, I did. I haven't left the house since Wednesday, and that was just to pick up Jake to watch him for the day. I'm a bit of a homebody anyway, but that is longer than usual, even for me. Rob only left once, and that was to take some bins over to Lovana's house. He's been cleaning the loft of the shop and found quite a few bins of her things that belong over there. He actually put in quite a bit of time up in that loft, cleaning, this week, and I hear it looks much better. I'm sure when I go up there, I will be thrilled that there are less bins and things are more organized.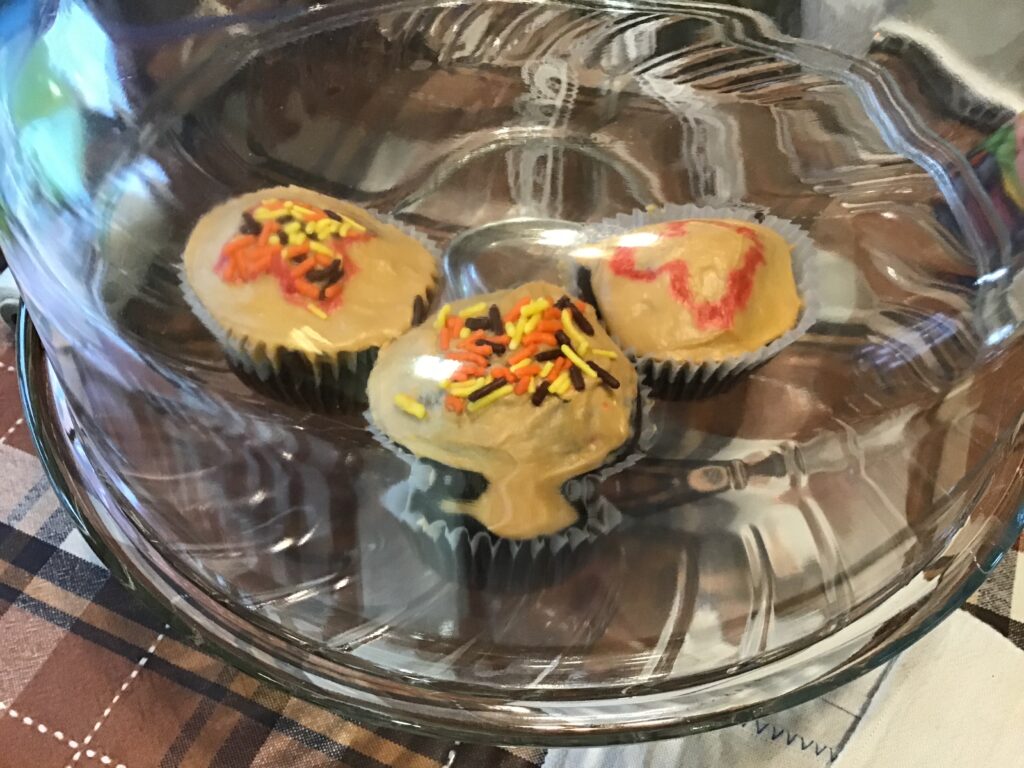 The "freeze" is supposed to lighten up next Wednesday. But, until then, I plan to stay home and eat cupcakes. There could be worse things that could happen to me in this world:).