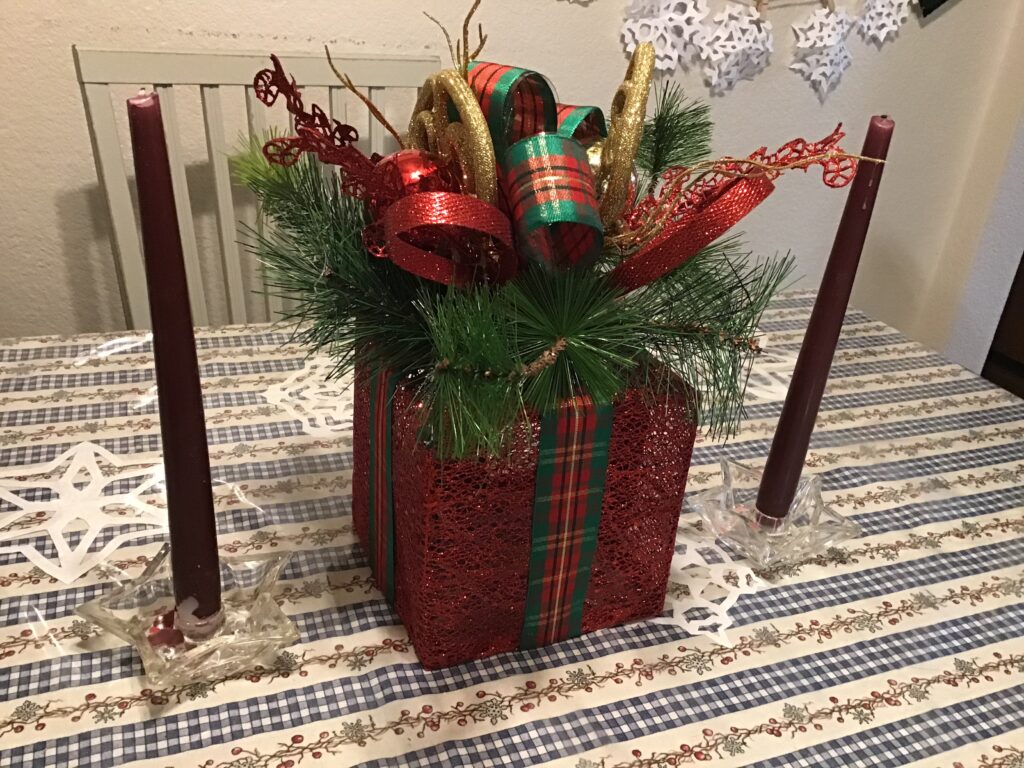 We have spent the past few days exchanging Christmas gifts with family and friends. It's so nice to have them all purchased and wrapped and almost all handed out! There's a little more delivering to do, but that will be soon finished. It was nice to have mini-visits with some people as they either dropped things off or we did.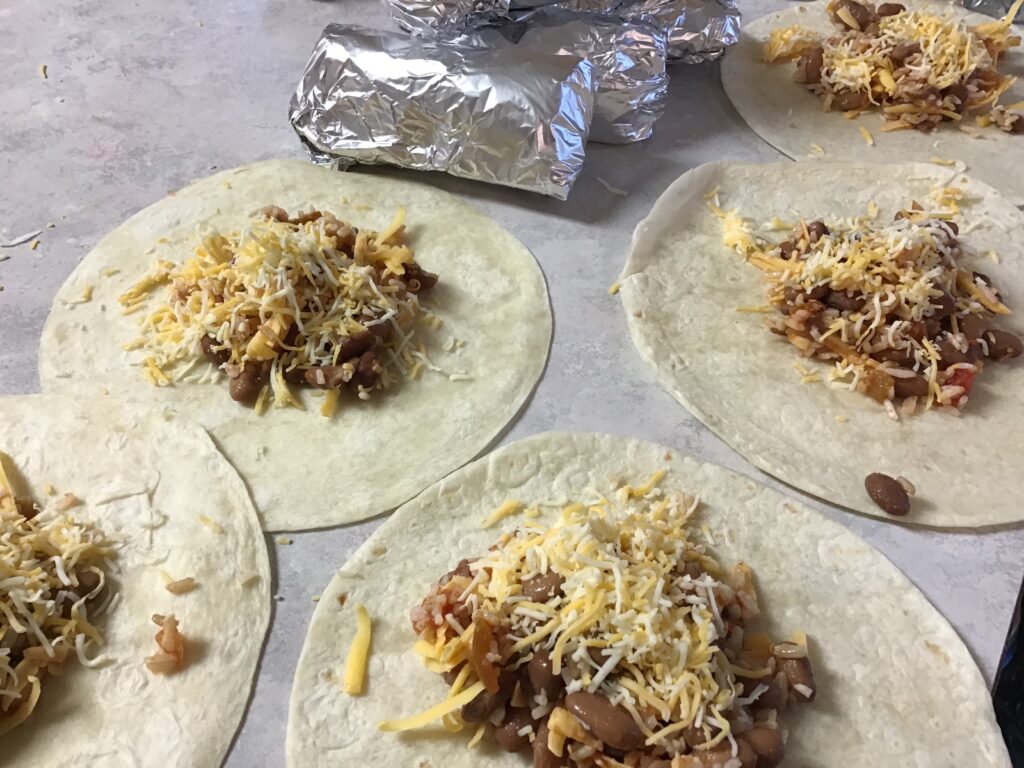 I made up a huge batch of rice/bean/cheese burritos for the freezer. One bag was sent off as part of a gift, along with some banana-chocolate chip bread. The rest were frozen for later. Patsy will eat these every couple of days and they make a quick lunch or supper. When I sent Rob to the store a couple of weeks ago for tortillas, they were quite expensive–over $2.50 for one package, and I had asked for 2. He got them, because he was there and we are limiting our store trips. They were soon eaten because Patsy absolutely loves them. I needed a better solution for mass production of burritos for gifts or mass consumption by Patsy! Thankfully, while he was in the Dollar Tree getting a few items for Christmas, he found them for $1 per package. He grabbed a handful, and I was in the burrito business!
I spent a couple of hours perusing old magazines for recipes that used foods I have on hand. I found at least 20 recipes I could make that looked good, marked them with sticky notes and added them to my menu plan. I went ahead and menu-planned for the next 2 weeks, and Rob picked up the groceries I needed. I should be done for the year now:). Sounds funny, doesn't it? It's amazing that the the year went both so slowly at times, and so quickly at others.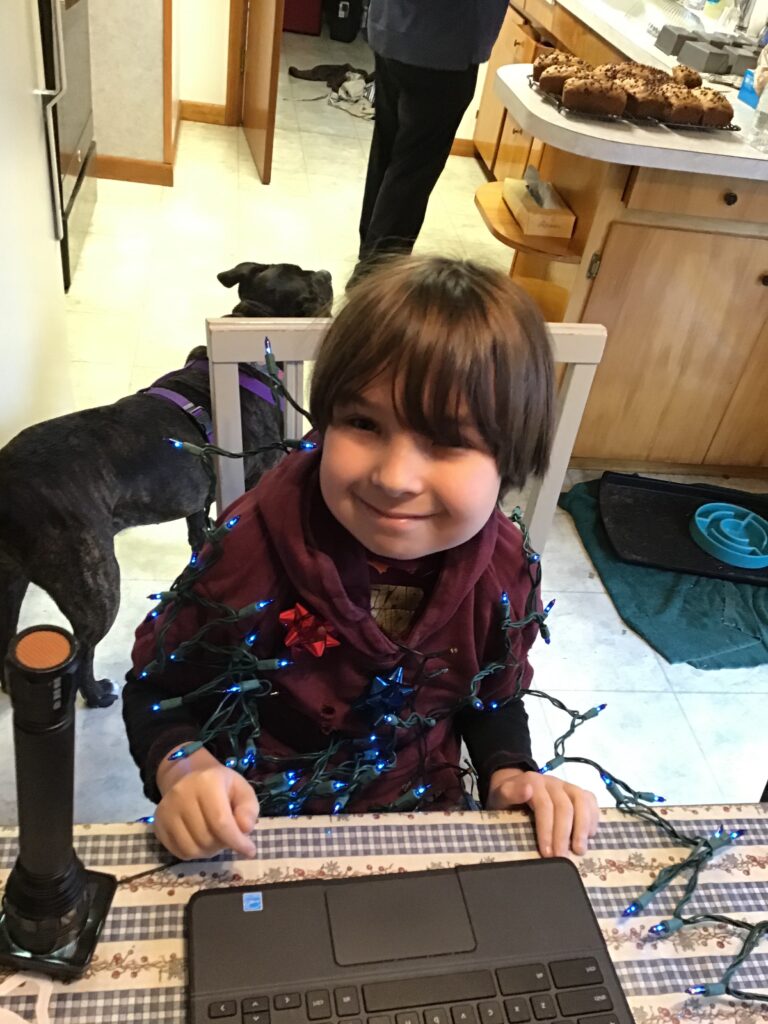 Jake needed an "ugly sweater" for his Zoom class for school. His dad fixed him up with lights over his normal shirt, and they promptly quit working, so Rob fixed him up with yet another string of lights at our house. He also has a bow, as you can see, and he was pleased as punch with himself and his "sweater. " He showed his class, then we put it all away and no one was stuck with a sweater that would not be worn again. He does about an hour and a half on the computer, and does homeschool the rest of the time. I supervise/help on Thursdays. I concentrate of Language Arts, and do whatever his mother tells me to do. I read, read, read to him for one thing. We recently finished the book, "Caddie Woodlawn" and are now working on the Wright Brothers.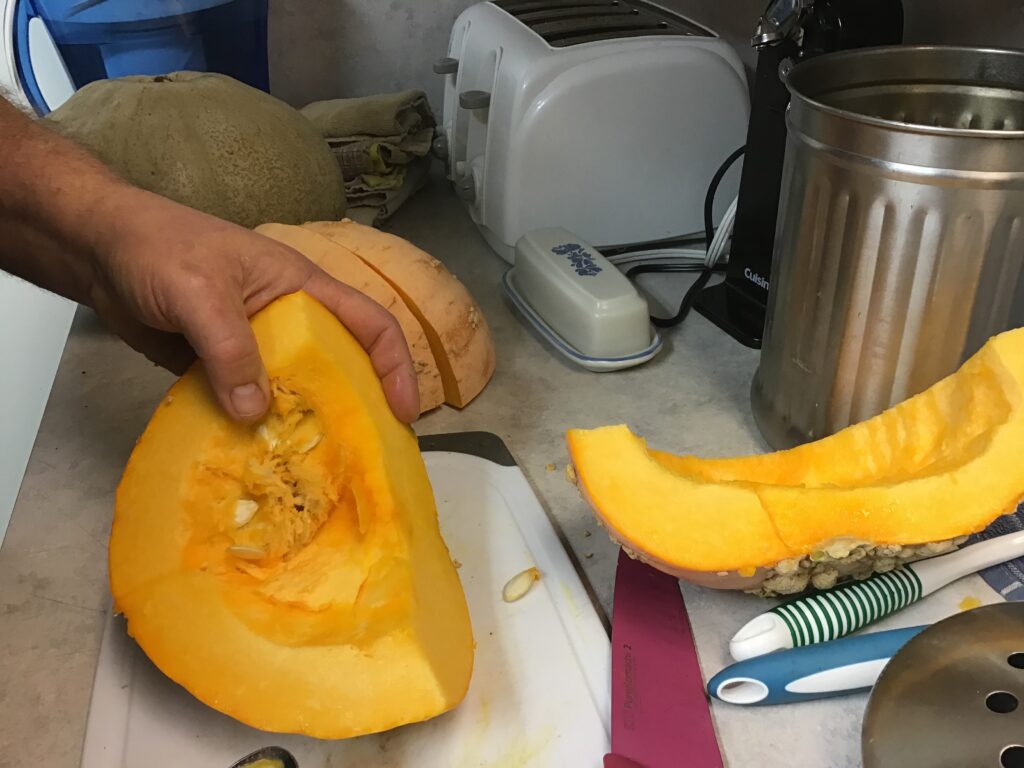 We were given several squash. Rob cut 2 up and we baked them and ground them with the Foley Food Mill.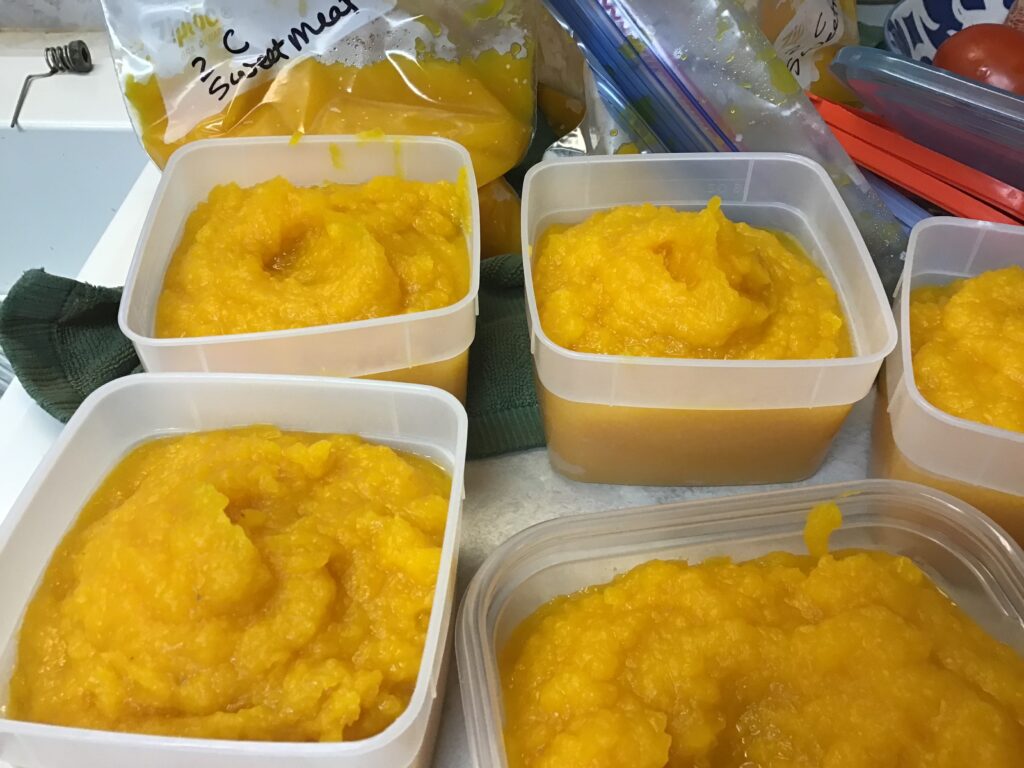 Even though each time we cook squash, we eat a lot of it immediately, I am getting a good amount frozen now. One of these was much sweeter than the other, so I froze the sweeter one for eating in cartons, and the less sweet one in baggies for baking. That way, it all will be used and enjoyed.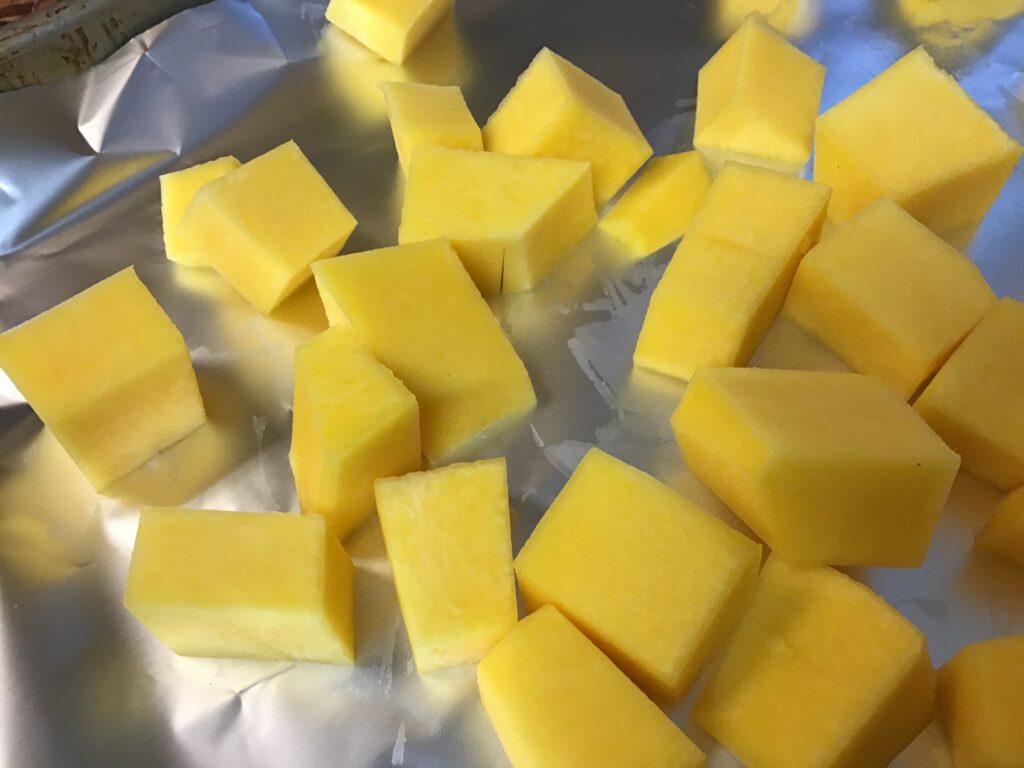 While I was at it, I cut up a Butternut and roasted it with olive oil and salt.
We snack on the cubes and put them on salads.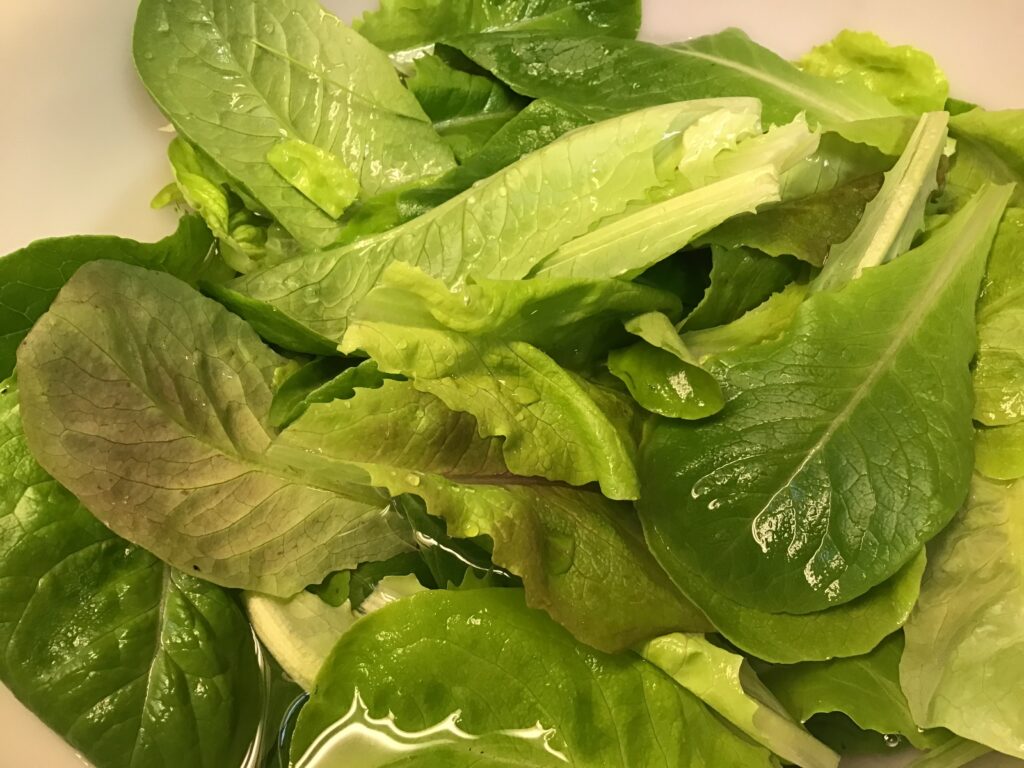 We picked the first batch of lettuce from Rob's planting in the greenhouse. This is a kind from Territorial called Yukon Blend, promised to do well in cooler weather, plus some Buttercrunch. So far, the greenhouse has been completely unheated. The weather has been quite mild for this time of year.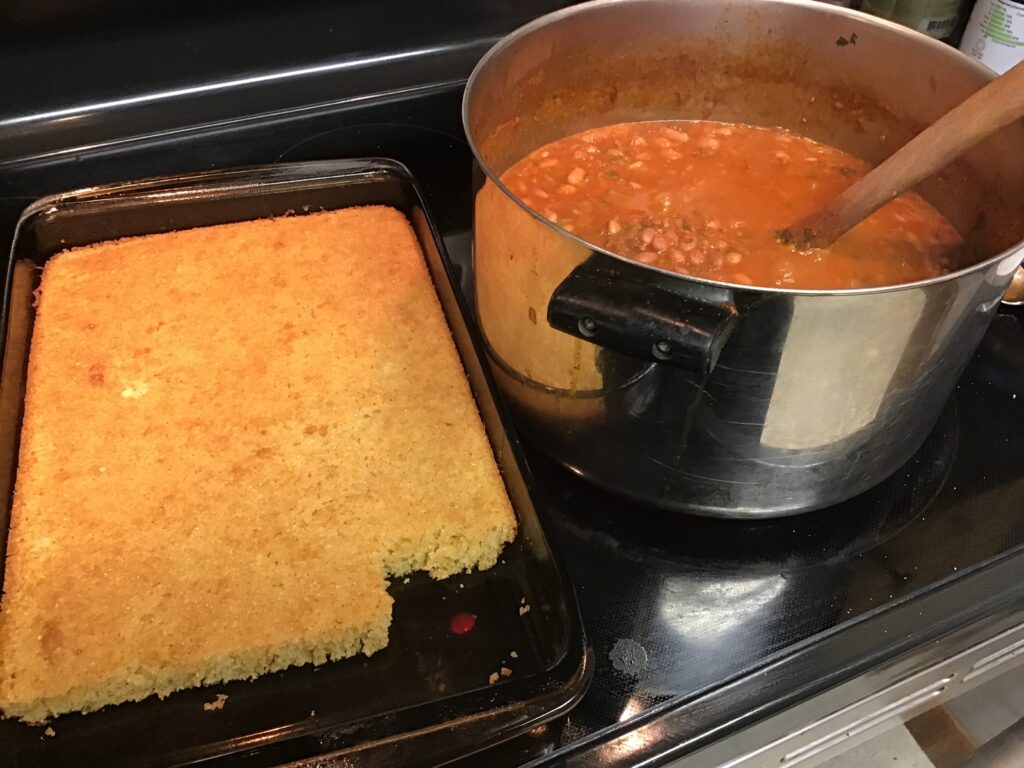 But, it's definitely cool enough to enjoy chili and cornbread along with other soups and stews.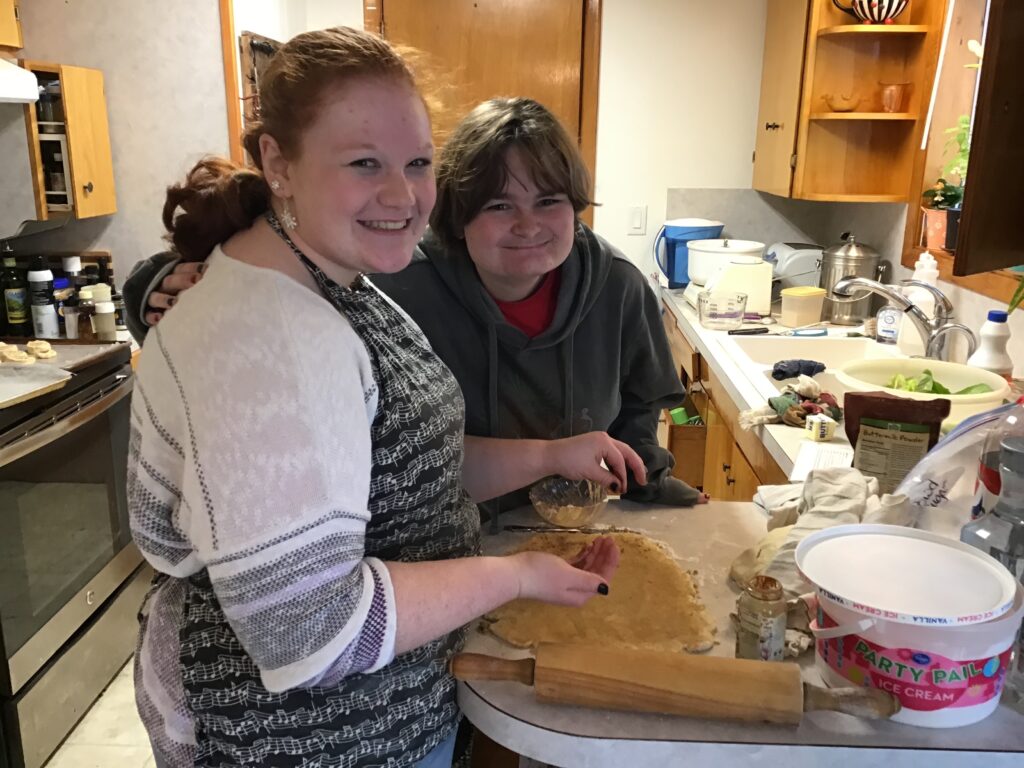 Patsy and Michaela made cinnamon rolls for Christmas Day. Patsy's been banned from making them lately, since they are WAY TOO GOOD! But, hey…Christmas, right? We are always looking for projects to do with Michaela, so Patsy has painted her nails red and green a couple of times lately. She did it again this week.
Rob also took them to McDonald's for the free McFlurry's today. Well, not quite free…you had to make a $1 purchase. It was a great, inexpensive outing.
Have a wonderful Christmas, everyone! We are planning a quiet one, but a fun one. I hope yours is fun, too.