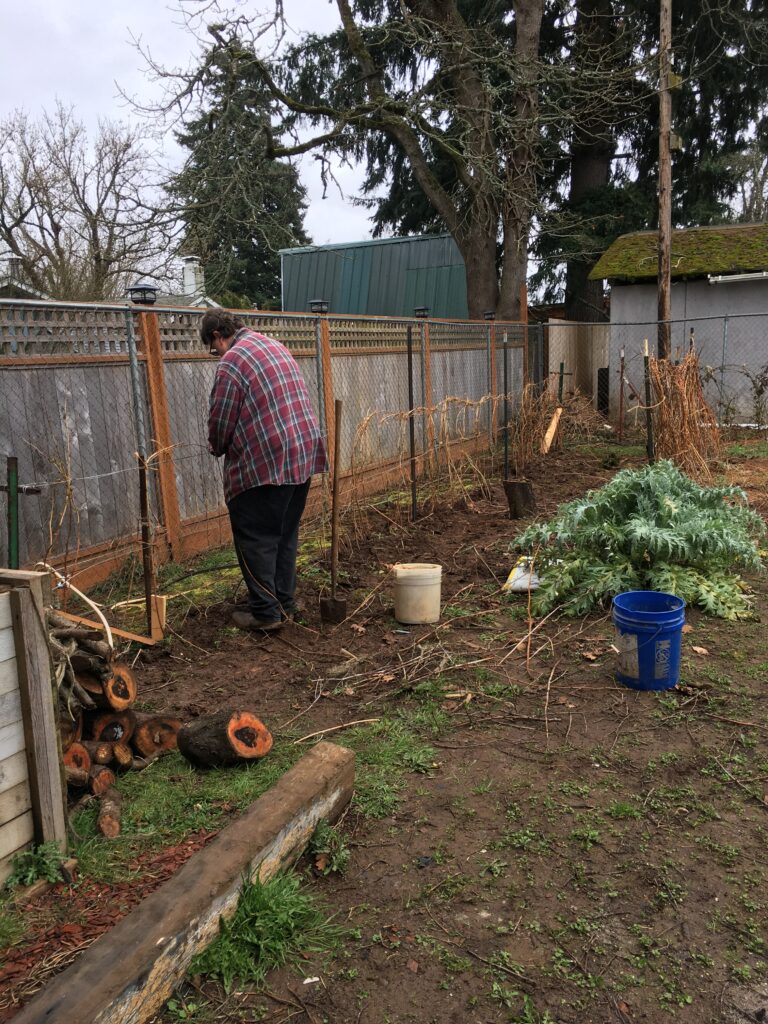 This has been a crazy week, dealing with the aftermath of the ice storm. But, the weather has gone back to being our normal rainy, mild weather, and we were able to get a few routine things done around here.
Rob tied up the raspberry plants. The back row is an everbearing variety that was here when we moved in. The wires were falling down, and the berries were never very sweet. We decided to give them another chance to produce, because they usually give us berries (kind of small, sour ones, but berries nonetheless) early in the spring and again in the fall. So, Rob replaced the wires, dug the stray "babies" out of the middle of the row, and tied them up. With the peach tree gone, we are hoping the extra sunshine and water will sweeten them up.
He also tied up the June-bearing ones that are so big, sweet and tasty that I have carried little plants with me from house to house as I have moved. Growing our own berries saves us a lot of money each year. More than saving money, we enjoy knowing that we have raised the berries ourselves and preserve them for our winter use. We would simply go without most of the time if we needed to pay the going price for raspberries in the winter.
I was surprised to pick an artichoke from those bushes you see by the blue bucket. I really wasn't expecting to find one in the winter, right after an epic ice storm, but……there it was!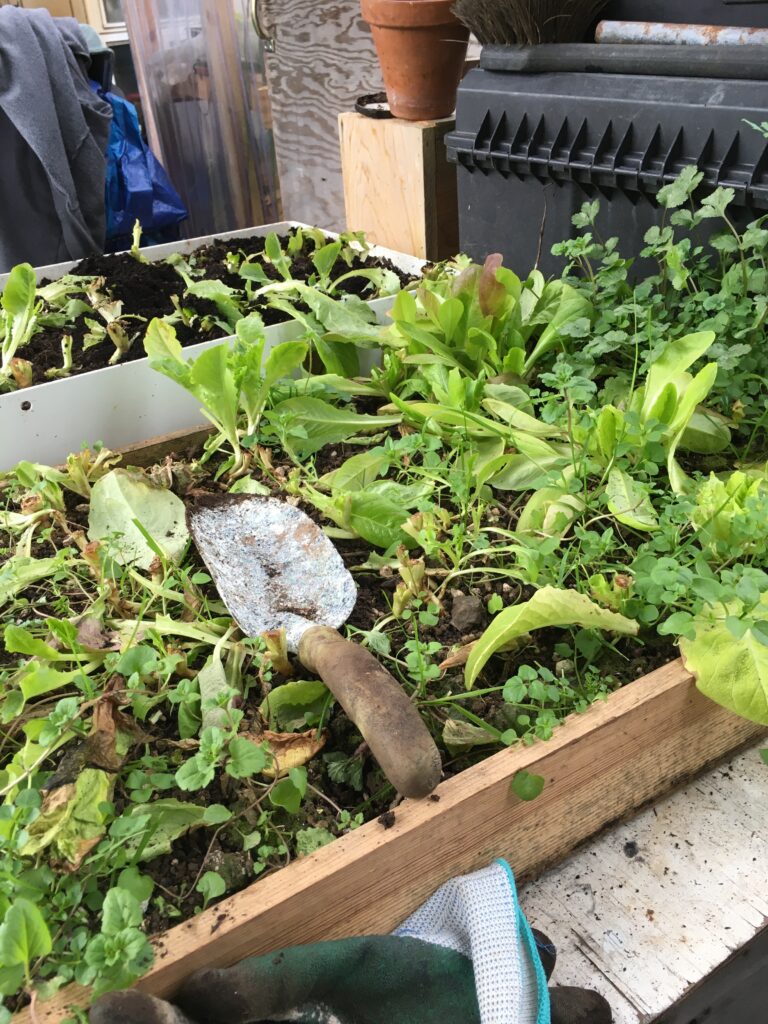 Rob picked all the Yukon Blend lettuce and Buttercrunch that was in the greenhouse. Then, he put the boxes outside, just in time for the ice storm to hit. I went ahead and cleaned out the weeds when I saw that they had survived!!! We might as well see if we get another cutting. This was the second cutting for some of the plants and some did not make it, but some seem to want to re-grow already. Time will tell what they do. They seem to be the lettuce plants that just keep giving:). The cilantro on the side is growing just fine, too.
Rob's tomatoes and peppers are starting to come up. Peppers, especially, take a long time to grow and he likes to transplant his tomatoes a time or two to get them really large.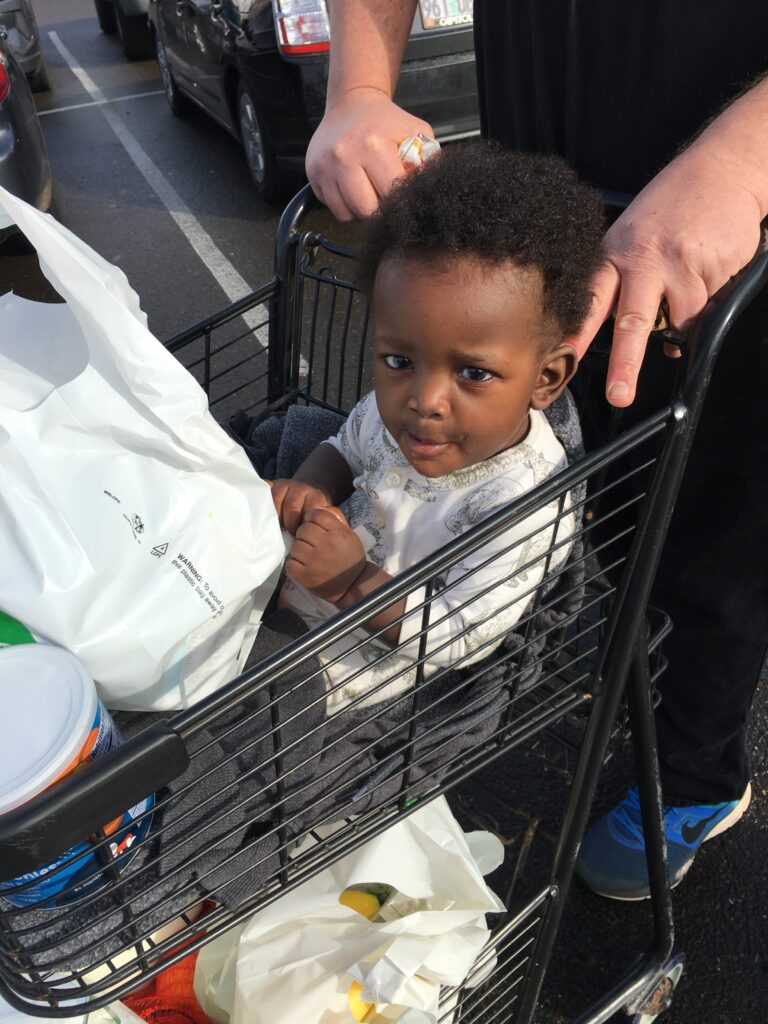 Power has been slow in coming back. The girls and baby are still with us, as theirs is still out. Last night was the 10th night without. They had somewhere to go–here–but it's sobering to think about those who are still sitting in dark, cold houses.
We have been enjoying all the time spent with the little guy. He's grown and changed in just the 10 days he's been here. What a blessing he is. We went to Safeway to stock up on a few things. His mama needed a few things, so he got to go with us. He loved the store, and the people in the store loved him. We had to be careful to keep a proper distance between him and the other customers, some of which wanted to get really close…
I was delighted to get shrimp for only $2.97/lb. That's the best deal I can remember. We got a few other things, too, as we are going through more food with the extra crowd. For the most part, however, we have been easily managing meals with what I have on hand, which has been nice. We've had white rice on a plate with butter, under stir-fry, and with cinnamon-sugar and milk for breakfasts, shrimp, fish, vegetarian vegetable soup, lots of refried beans/tacos/burritos, salads, several jars of canned fruit, Patsy's chicken-peanut stir fry, turkey-rice soup, odds and ends from the freezer, bits from the school lunches, smoothies, and on it goes. It's nice to have such a variety to choose from.
We had planned to make last Sunday our first Sunday back at church, but it was too chaotic with the ice storm. So, yesterday, we loaded everyone up and went. It was so good to be back, even with all the precautions. Rob held Malcolm the whole service and he slept the whole time. So, we even got to listen:). We were wearing masks, far from other people, and they started scrubbing things the minute we left to make it clean for the next service. It was different, but we are so glad we went.
Then, we saw some friends for lunch, and ate a wonderful lunch at their house, all spaced out along their extremely long table. It made my day. I haven't seen these particular friends for such a long time, due to Covid, so it was amazing to get to visit.
I hope all of you that are suffering with bad weather are doing ok. It's been a hard winter for many. I saw a news story on a person that got a power bill in Texas that was several thousand dollars. I don't understand how that could be possible, because I missed that part of the story (dealing with the baby or something). I'm very thankful that they don't figure the cost of power here in Oregon that way–raising the cost when power is scarce. I hope that is not happening to any of you!