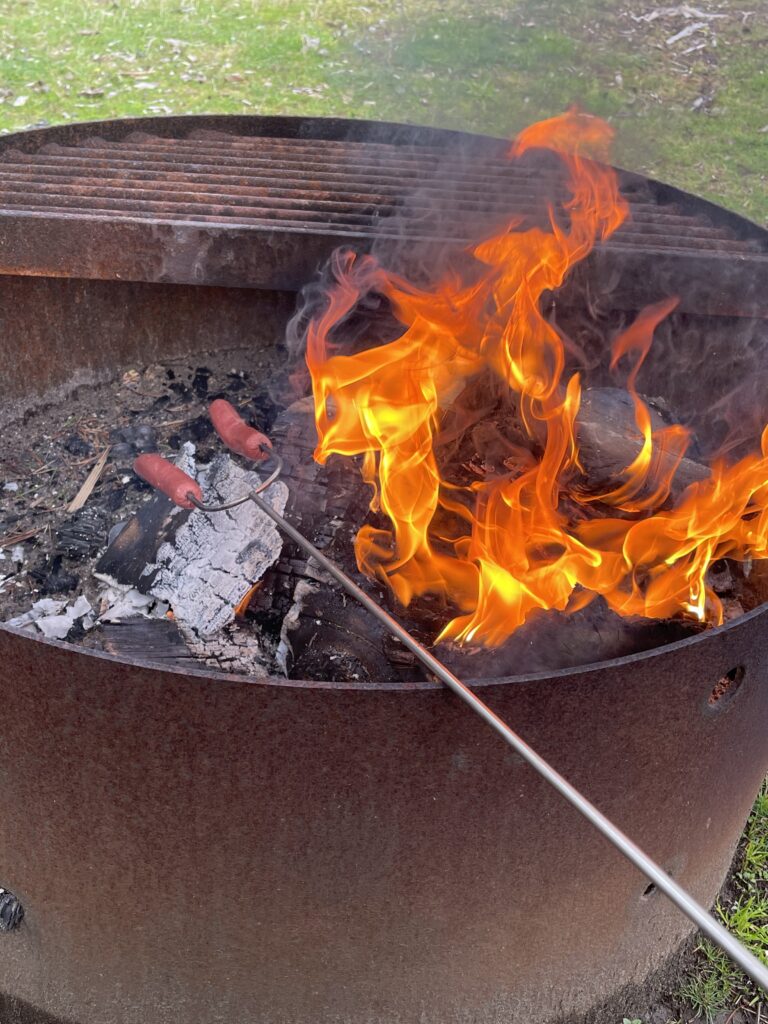 We finally got to go camping! We had hoped to go a week ago, but the ice storm ruined our fun. Last summer, trip after trip was cancelled from Rob's surgery, wildfires, Covid closing campsites, and so on. We hardly got to go. It was starting to feel like de ja vu, but we found an available spot when we had to postpone.
Most of last week was spent busily cooking, cleaning, watching the baby and driving the girls around, as they did not get power until Tuesday night. They were out for 11 nights–they finally went home that very night once power was restored. That day was beyond busy, as there were so many errands, trips to take people here and there, that Rob and I think we drove out 13 times between the two of us to take someone somewhere, or get prescriptions, etc.! Yikes. Hands down, it's the most we've done in one day since Covid started!!!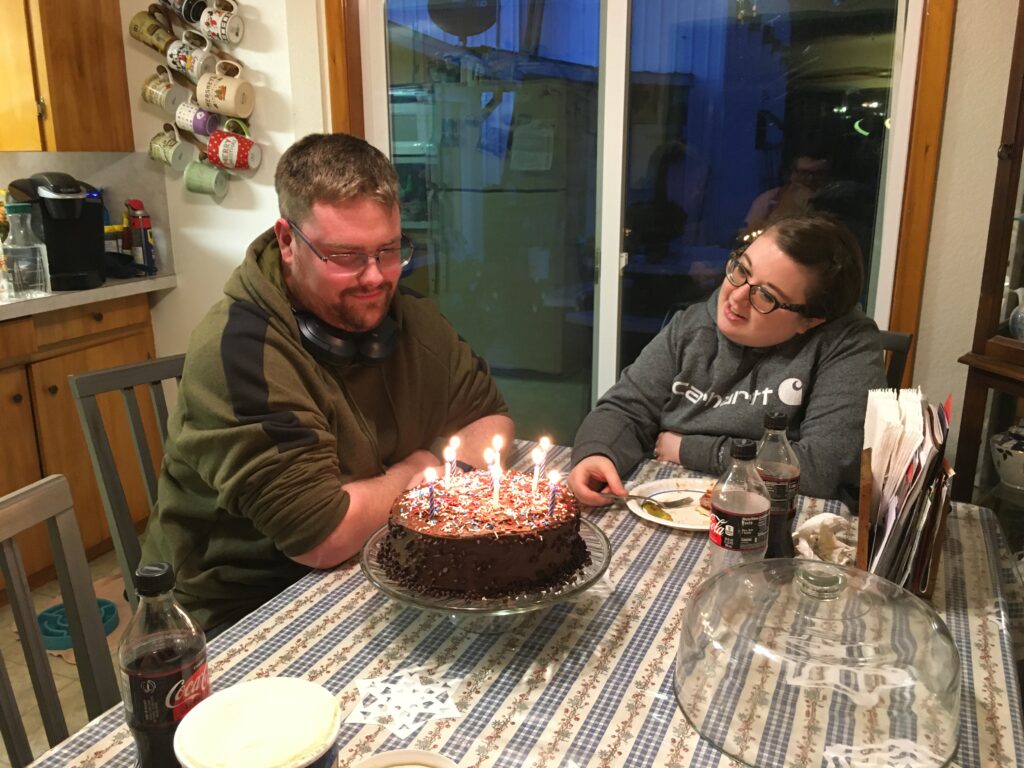 We even managed to squeeze in our son, Anthony's, birthday party. We had to change times on him once, which is not good for autistic/Aspberger's sons, as he loves his routine, so we had to just carry on by putting them on one end of the table, us on the other and all the girls and baby in the other room with their plates. It felt great to be able to get together at last and he had a good time.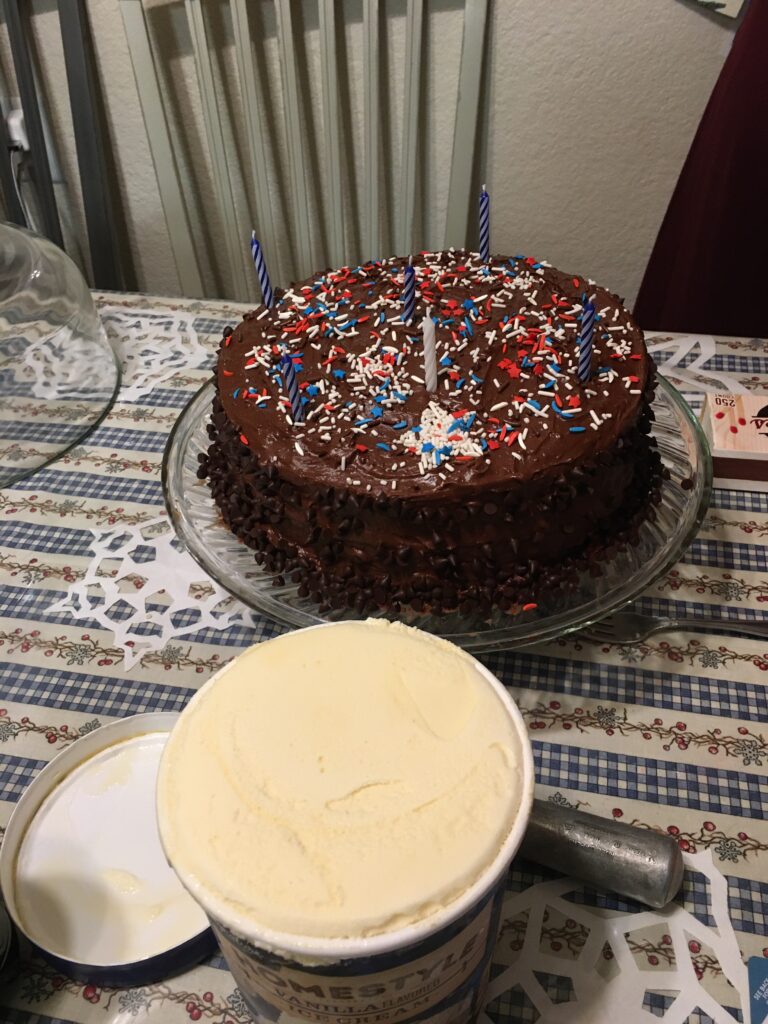 I made him a cake–chocolate, as requested. Of course, this all happened on the same day as all the errands, and the power returning to the girls' house. So, while Rob was taking him home, I took the girls home, helped turn on the breakers, helped clean the rotten food from the fridge, and took Lovana shopping. We went to Grocery Outlet, and she re-filled her fridge. At least most things were bargains at that store. The next day, I picked up a few other items for them that were forgotten, and took a few things from my storage. It was so nice to have extra to share.
The baby was gifted a port-a-crib by one of my friends, and he was popped right in it in front of their gas fireplace and was settling down all cozy and warm when I finally went home.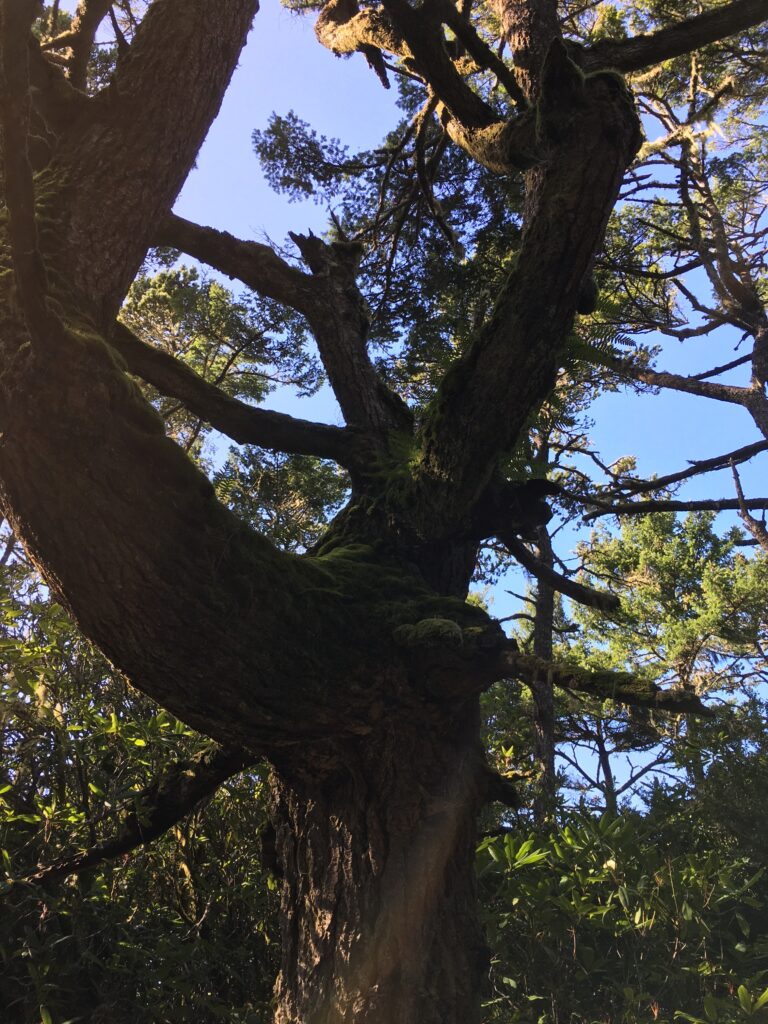 I finished getting ready Wednesday, then we finally got away on Thursday. We were pretty tired, so the first day, we didn't do much, and in fact swapped off taking naps.
We took a few walks. We saw this tree on a hike we took.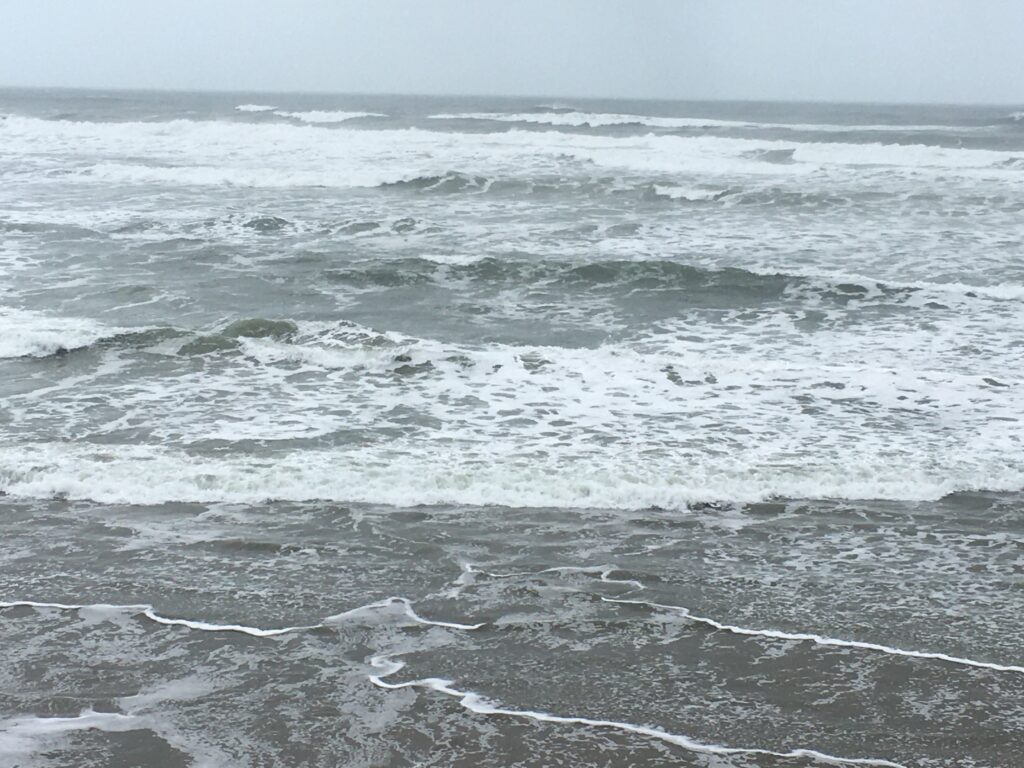 Rob and Patsy went rock hunting, but the surf was so wild, and high that they didn't stay long. Rob felt it was actually dangerous where they were, so left after they scrambled higher onto the path and watched waves cover the path where they just were a minute before. We took a drive one day, and saw even more wild waves. That was the day we got candy at a candy store, and Rob waited in line outside of a little hole-in-the-wall restaurant next door to the candy shop and ordered 2 large fries, thinking we could all share. What he got was 2 huge take-out cartons of plank fries, piping hot and delicious, and we couldn't even finish them between the 4 of us. What a nice treat!
I had been preparing the camper for this camping season for several weeks–cleaning, organizing, and so forth. I had already filled the fridge with fresh veggies and dairy products when we realized we were not actually going last week. I was able to bring all of that into the house, of course, and not waste it. I found great deals when I went to replace it when we found we could get away last Thursday. One item was milk for 44c/1/2 gallon. I prefer 1/2 gallons in the camper anyway, so it was a super sweet deal for me.
We take our own food, purchased at sale prices or in bulk and transferred into containers. Even the most hard-core McDonald's lover realized that we cannot pull through a drive through on our way to camping, so he does not beg us to do that. Whew!!! I cooked several things ahead of time such as chili, pork Chile verde, taco meat, hard-boiled eggs and cooked white rice (for Jake mostly). I bought bagels and cream cheese for an easy breakfast in the car this morning on our way home. (Rob never wants to cook a big breakfast, or even sit down while he is packing up, so eats in the car on the day we go home.). Our camper has a very nice propane stove, fridge and freezer, they are just small. Rob often cooks outside, but we knew the weather was going to be rainy part of the time, so I made other arrangements this trip. We did manage one hot dog roast, though.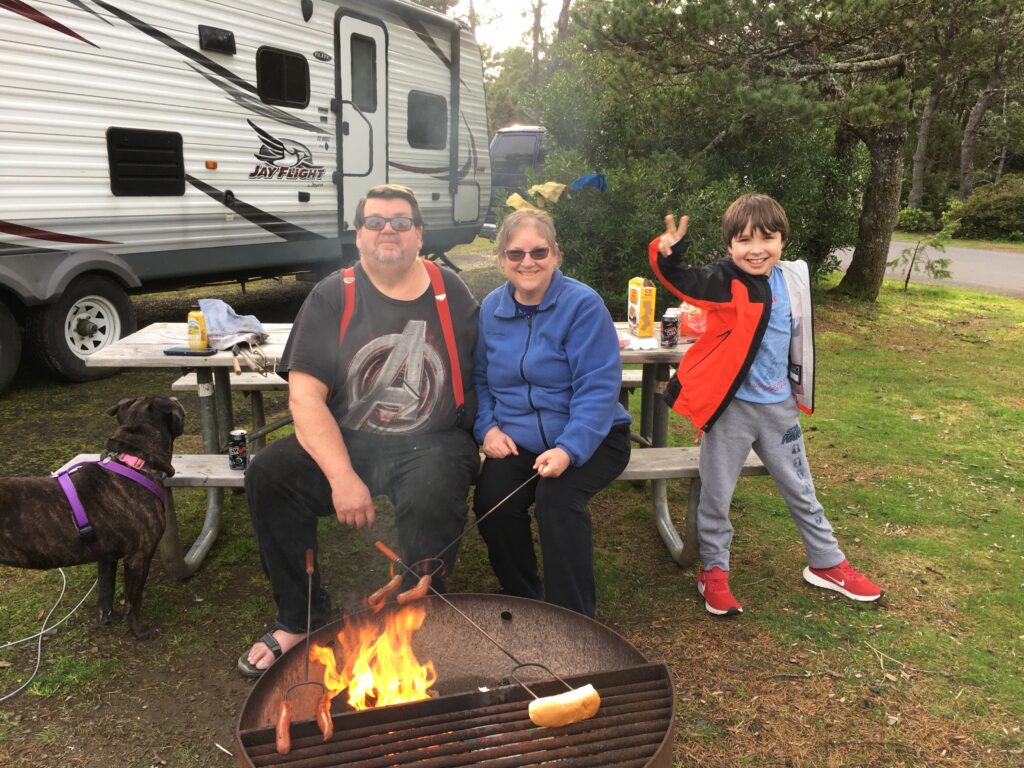 Of course, Jake went camping with us, as he does every time he can manage it. I did several hours of school with him Friday morning, but otherwise, he was free to play.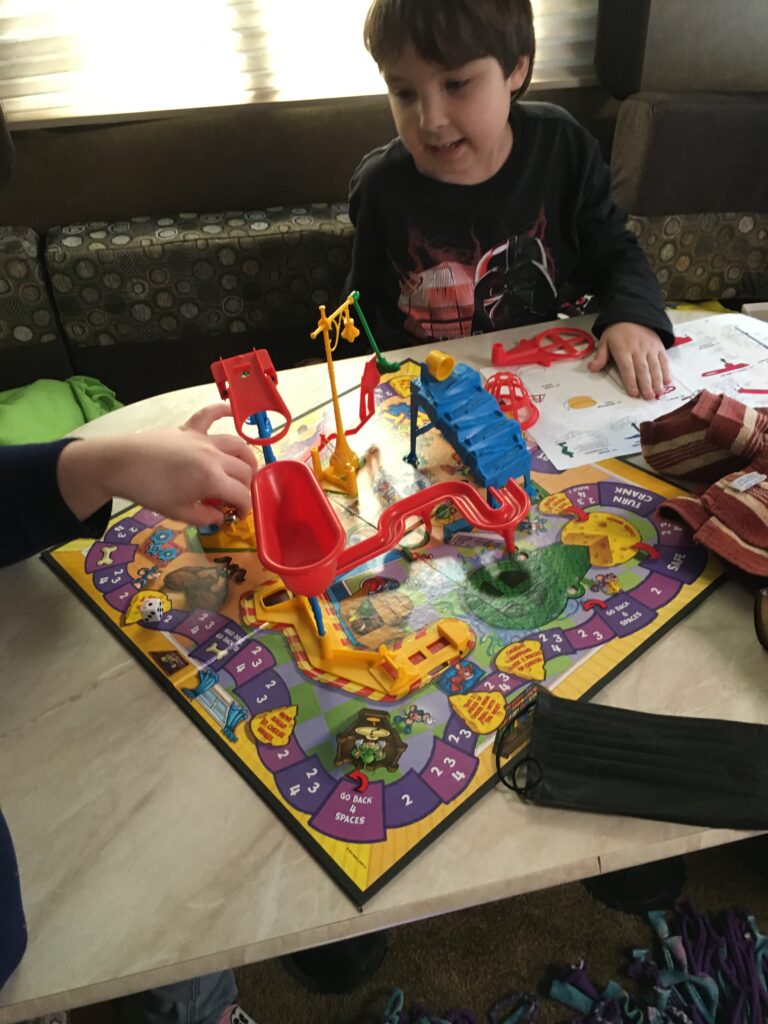 Rob and the kids found a garage sale and Jake bought a Mousetrap game for $1. He and I spent an afternoon building the trap and simply trapping the plastic mice. It was pretty fun. He and Patsy played with it another hour or so, and I put it away for next time we go. We also played Quixx and he built his camper Legos. I read aloud for hours, as he became interested in a book about the Dutch resistance in WWII, "The Winged Watchman."
We even got to go to church on Sunday. We chose one Rob had heard good things about in the town near the campground, and had a nice, socially distanced service. They were following mask wearing to the max, so we felt very safe, and had a wonderful time. Since last Sunday was our first time back in any church building for a year, we didn't want to miss the second chance we had to go! Everyone was as friendly as can be from 6 feet distance, the sermon was enlightening, and the kids got cookies in little packages afterwards, making them very happy!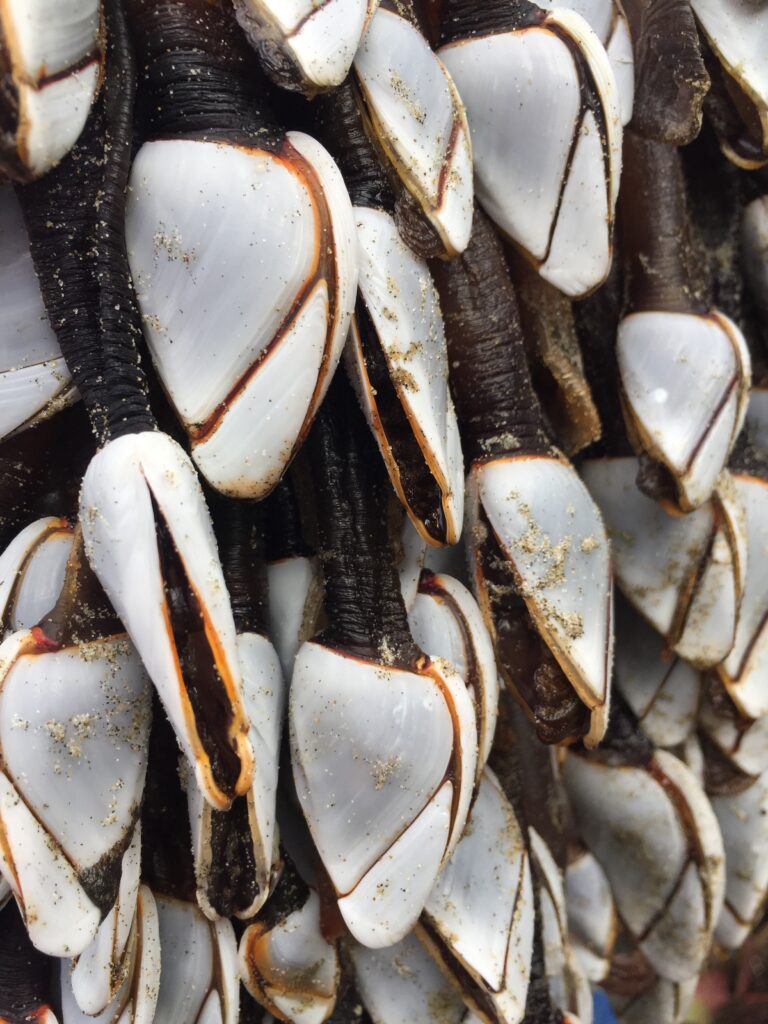 It was fun to get away, and equally fun to come home. We got everything put away, and the laundry was started. The weather was so nice this afternoon, Rob and I took a good walk, then I worked outside in the yard, clipping and pruning and weeding, until the yard debris bin was full, just in time for it to be emptied tomorrow. I always like it when it starts to feel like spring and I can get outside!