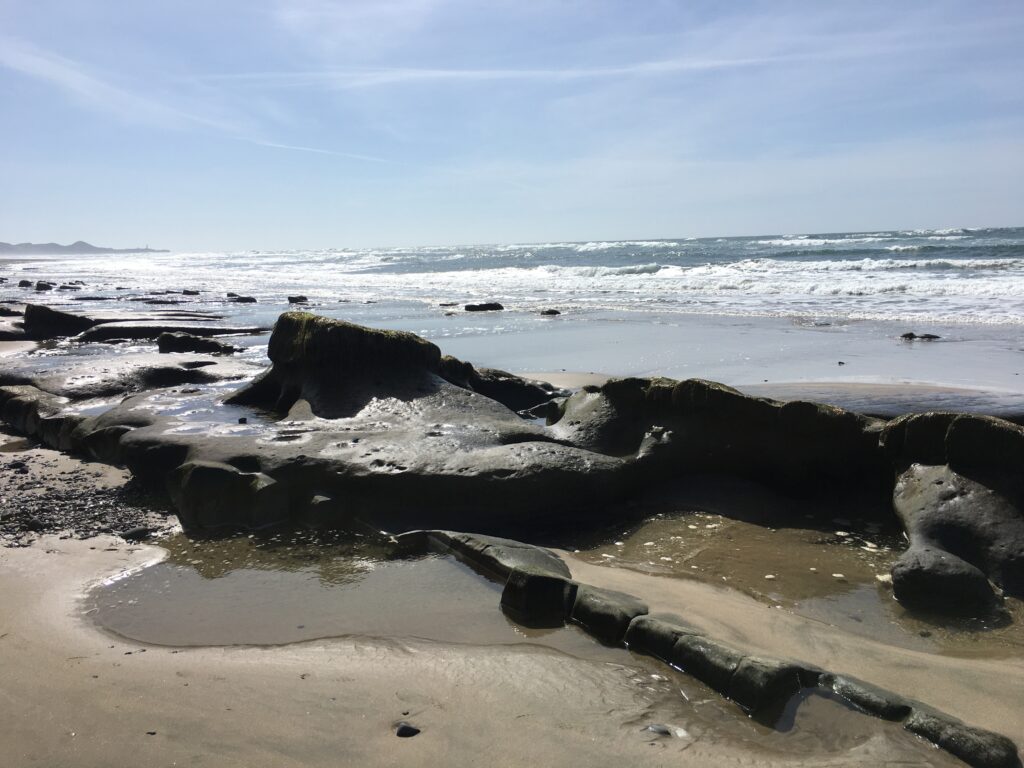 We spent last week at Beverly Beach State Park, camping. We had an extreme mix between gorgeous, sunny weather and windy, rainy days! Thankfully, we had a great travel day to drive down to the coast, and a showery mix on the way back today. During the first part of the week, it was just Patsy, Rob and myself. The second part of the week, we were joined by our niece and nephew. We specifically planned some activities just for Patsy, to spoil her a little while the other kids were not with us, and plenty of fun things for them all, once they arrived. We did crafts, played "hot and cold" as is tradition on our camping trips (with small prizes for them to find), and had glow sticks. There was lots of candy, movies, games and chips, involved. We were thrilled to take the lot of them to church in the nearby town on Sunday morning. Besides the obvious spiritual reasons to attend church, it provided a great outing for our "camper-bound" crew on a rainy morning. The wind blew so fiercely that night that the camper was actually shaking and we could hear it howling. It was an adventure, for sure.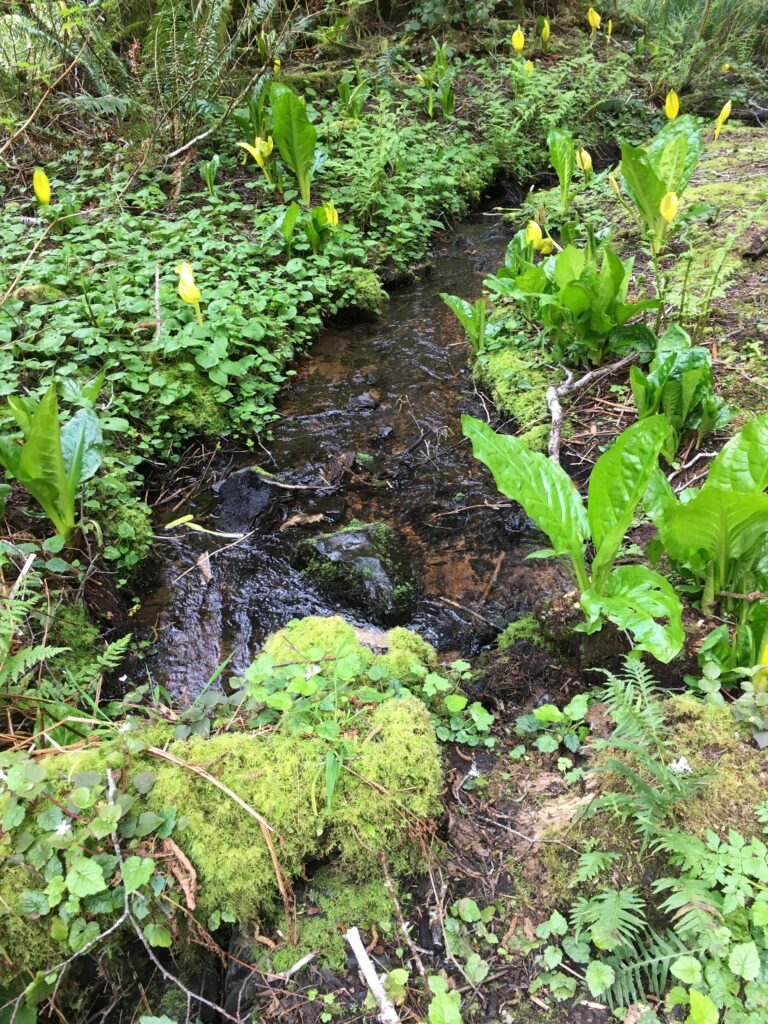 We took many walks and hikes, some on the beach and some on the trail that winds its way around the campground along a pleasant stream.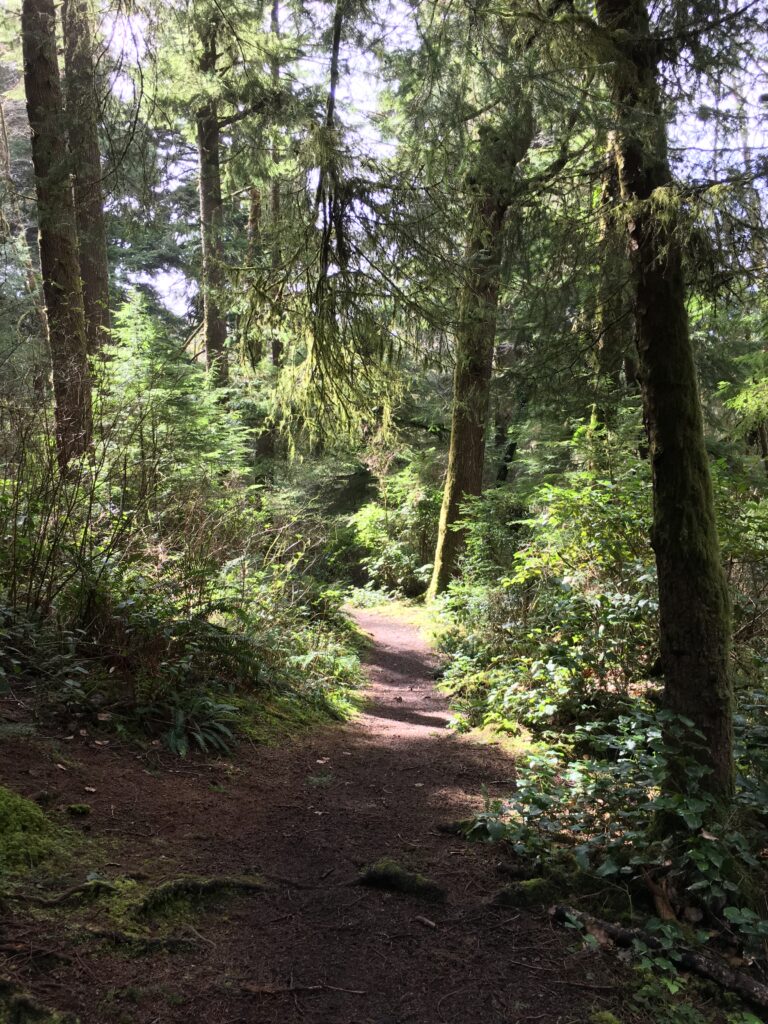 Trails like this tempt me every time and I can rarely resist following them. I hiked this one twice. It wasn't long, but it was lovely.
Another day, we drove down the coast, and yet another time we hiked a trail from the Newport Jetty to the South Beach State Park day use area.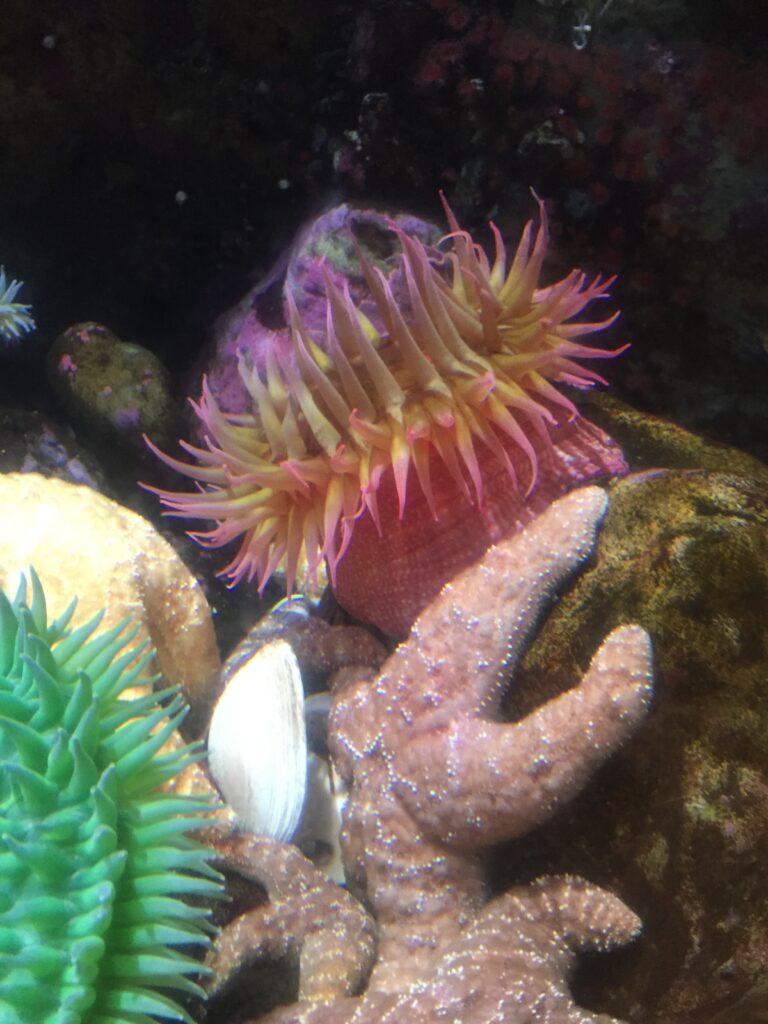 We visited the Oregon Coast Aquarium twice. We got a membership on-line before we went. The first time, we just took Patsy. She got to look at everything she wanted to without having to share her trip with the other kids. Then, we went back once the other two joined us, and we all enjoyed it again, together.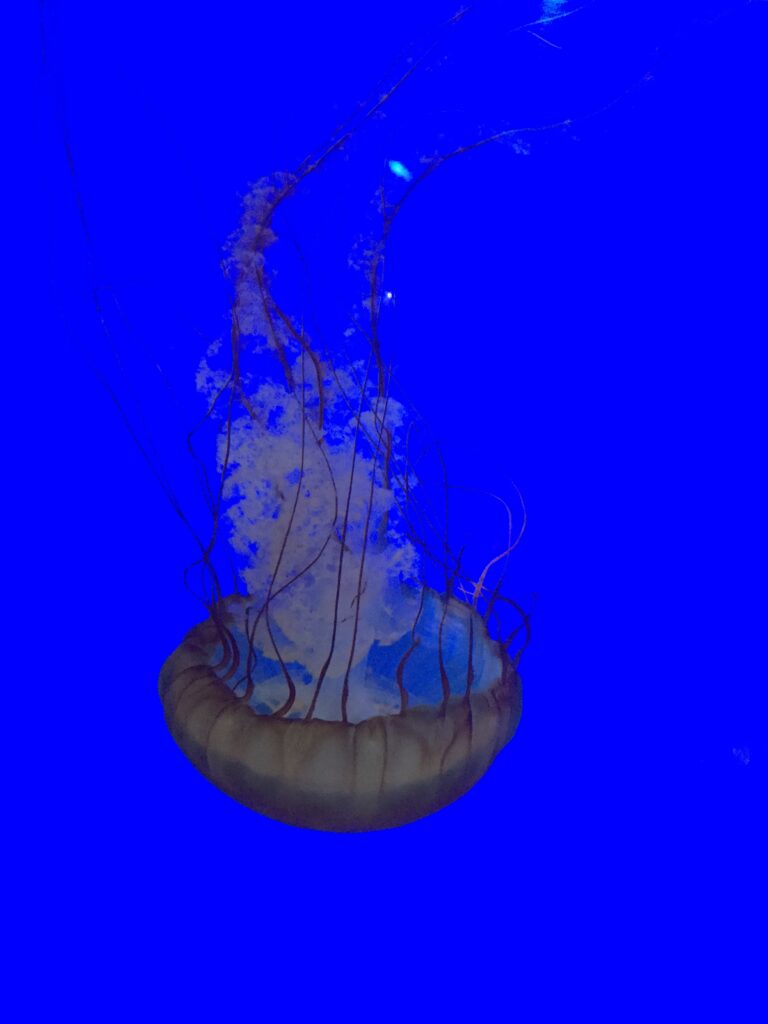 We had to call and get a ticket reservation each time, which was waiting at the ticket booth for us, for a certain time. We had to wear masks, and there were markings on the floor, so we could distance ourselves from others. Everyone waited patiently for everyone else, and surprisingly, we didn't feel rushed and everyone got to see everything for as long as they wanted to. It was a one-way walk through the aquarium, and you could not backtrack. But, I believe you could have gone around again, if you wished. We were tired by then, so went out. By going those two times, we've already paid for our membership, but still can go all we want for the next year. We are thinking Patsy wants to do Marine Biology next year, so I'm sure she will want to visit again, and Michaela, especially, loves all kinds of animals.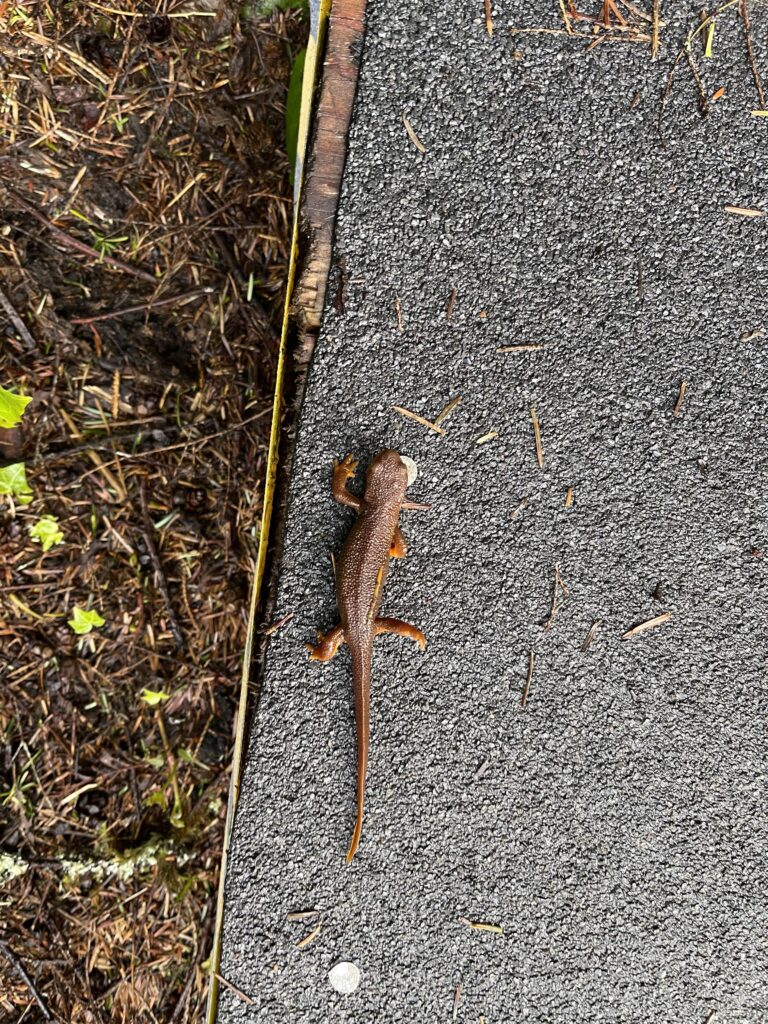 On one of our walks, when we were out quite early, we came upon several salamanders. This one was plodding along, but was quite clumsy, and tumbled off this wooden block placed over a marshy spot on the trail. It was clear that he already had a owie on his back from some previous excursion, but Rob put him upright, and tried to steady him a bit and put him on a better path, but he just started on again immediately, tearing off to run into another little rock or dirt clod. It brought to mind Matthew West's song, "Truth Be Told." It's one of Jake's favorites and he can sing it all the way through, but it goes something like this: "I'm fine, yes I'm fine, oh I'm fine, yes, I'm fine, but I'm not, "I'm broken." (It's easy to find on U-tube). We got a chuckle out of this salamander, who did not have the sense to even rest up a minute or take the help Rob was offering….and while we were laughing at that silly salamander, we knew there was a lesson in there somewhere…..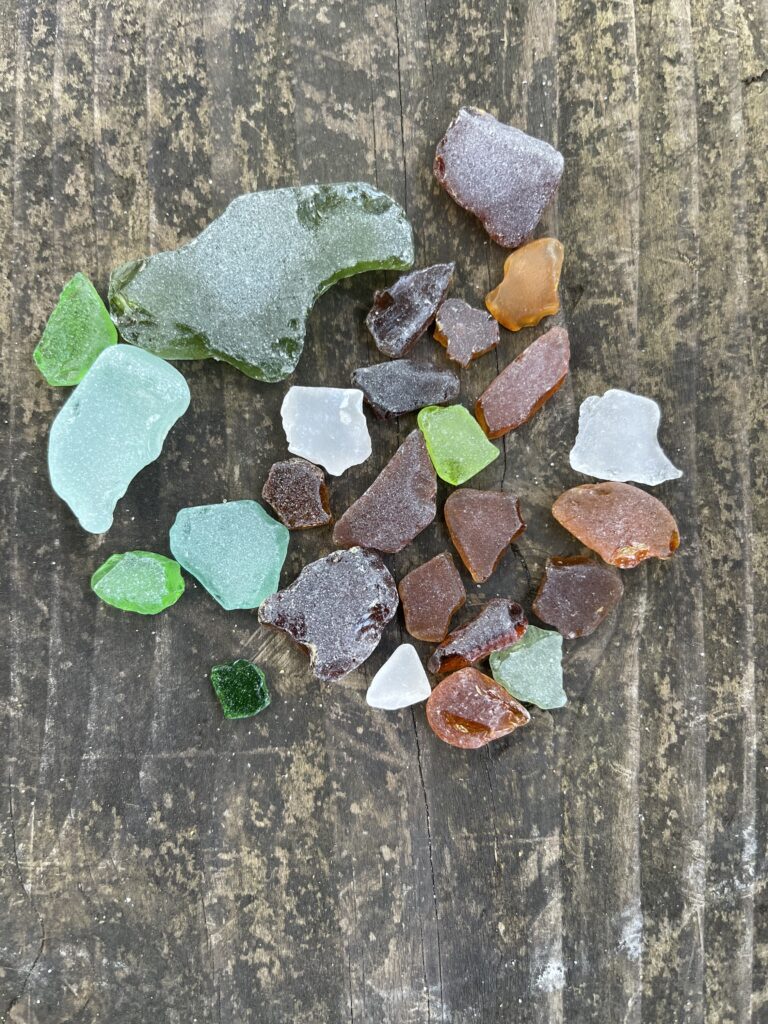 Rob and Patsy went down to the beach frequently and collected agates, beach glass and other rocks and shells. Rob and I took walks together down the beach, then I took them alone when the kids got there. We switched off so someone could stay with them, once they were there.
The campsite we got this time was such a treat. It was up at the front of the campground, and I had an ocean view out of my camper window. Rob got this one by getting up at midnight, the very first day they were taking reservations for this time period, and clicked the button just in time. We've only been able to get reservations in that part of the park once before in our whole life, so we enjoyed every minute. Next time, we will camp elsewhere, but that will be fun, too!
I've been doing laundry since the moment I walked in the door, but there's more. We used a lot of old towels, due to the mud and sand. I'm glad I have a washing machine, and we were able to take enough clothes and towels that we did not have to visit a laundromat, as we've done when the big kids were small. It's always nice to not have to spend a lot of quarters:). Tomorrow, we will have a day to get back into the groove of things, and back to work on Wednesday. I have a bit of cleaning to do in preparation for Easter, a little cooking to do, and the garden is starting to need some attention. Last week was fun, and this one will be, too, in a different way!