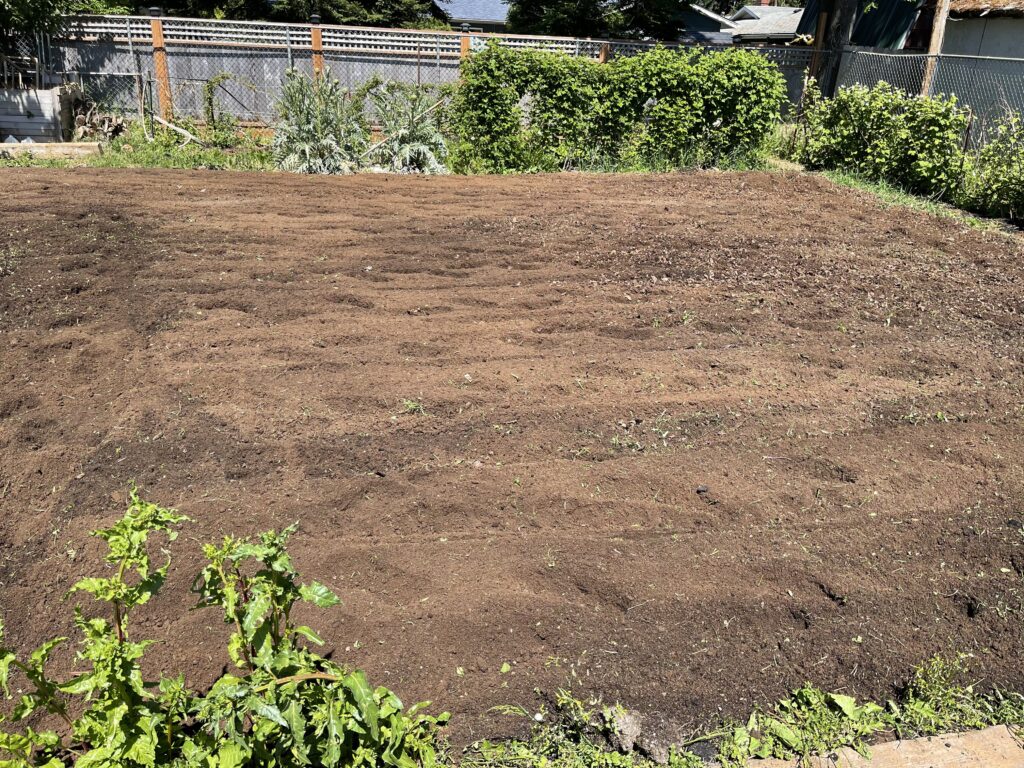 The garden is tilled!!! Rob found a man on Facebook Marketplace who came and tilled it for $80, far less than we had feared. That's actually less than it would have been to rent a tiller. Now there is no pressure for our tiller to arrive. When it does, we will still be happy to have it, as we will have to till it all up again in the fall.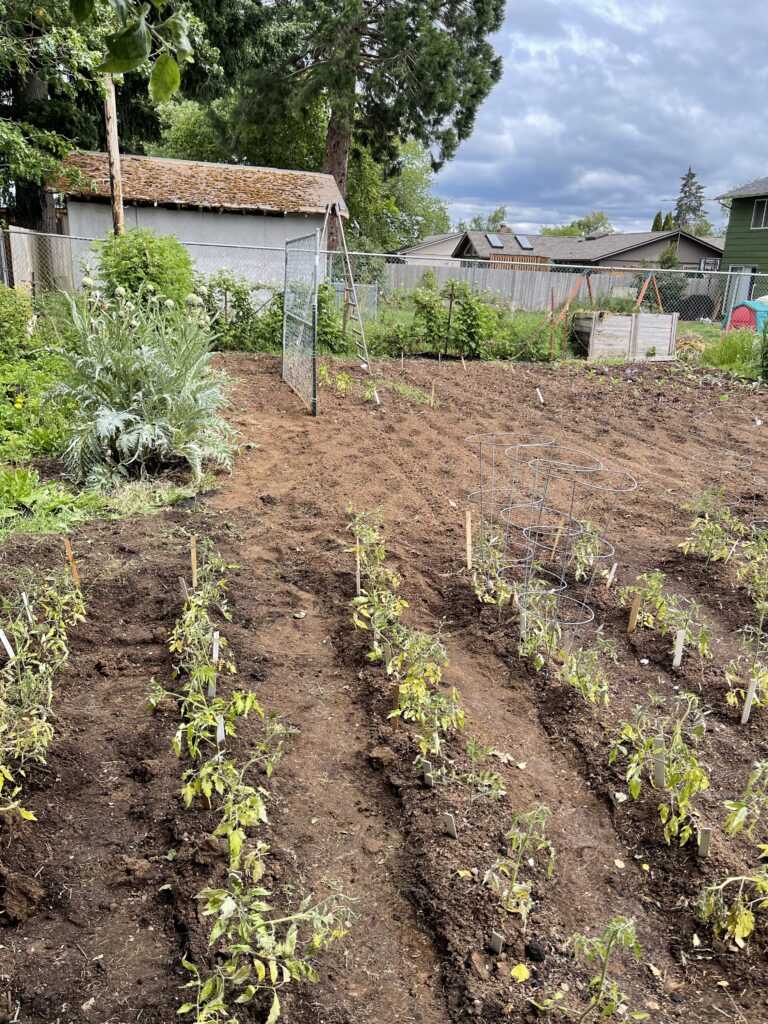 We've started planting in every spare moment we have. I have a large chunk of time today, Tuesday, and will hopefully get the center planted. Rob had time to plant tomatoes and cabbage and he put up the trellis yesterday. I will do pole beans on it.
I've planted zucchini, cucumbers, carrots, a few bush beans, a few peppers and a few onions. There is lots more to do. The onions are especially time-consuming to plant so I like to do a few at a time.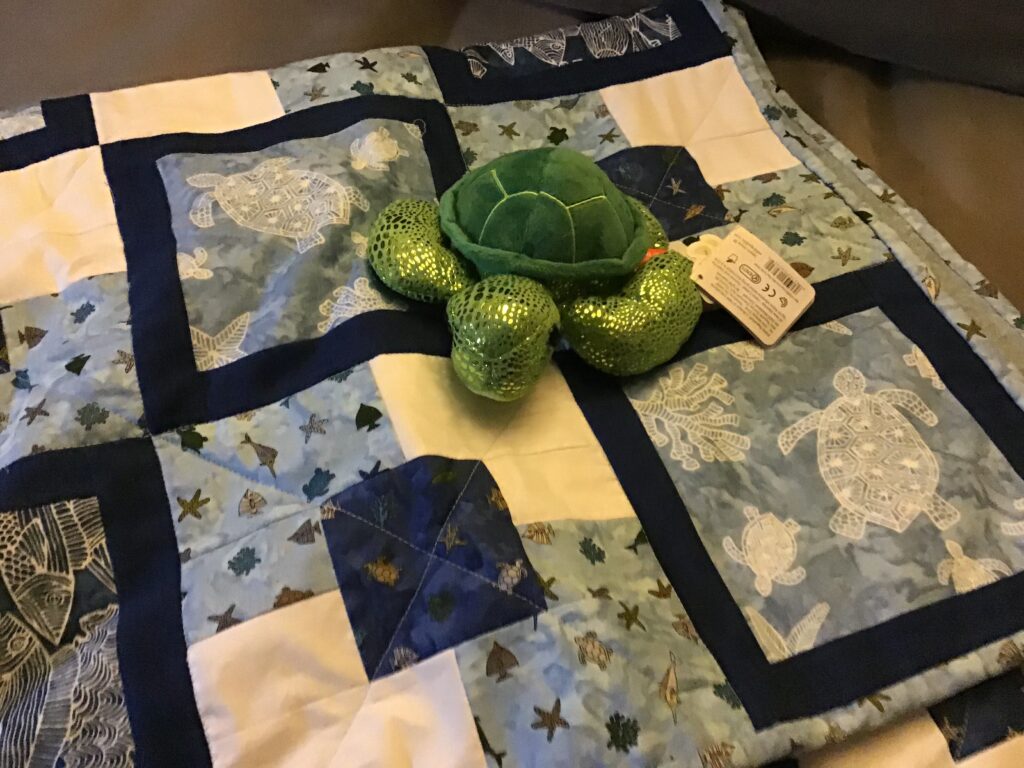 I finished up a baby quilt on Friday and paired it with a stuffed turtle for a baby shower on Saturday. I finished up the binding while sitting in the hospital, visiting, so that all worked out.
The week was very busy, as a family member needed a surgery. The family has divided up care taking between several of us. My first job was to do hospital duty. So, we arrived as planned, and…..were promptly sent away due to not enough beds available because of emergencies. What a let-down! We went back the next day and surgery did happen. Whew! That hospital has a policy for Covid that only 1 person can come be with the patient. The same person. We could not swap off. So, I spent quite a bit of time down there, as I was the one. Now that our loved one is home, I'm just on the schedule with the rest and the patient is improving by leaps and bounds. It's very encouraging!
One of my sisters made a very detailed schedule with who is where, and when, who takes them to the follow-up dr. appointments, who cooks which day, and so forth. As long as we all follow the schedule and switch and swap when we need to, we are golden! It's good to have so many willing hands during a busy time like this.
Rob picked up the slack at home with our daughter and has cared for my niece and nephew when needed. He made several meals for us and for me to share, planted what he could and kept everything watered.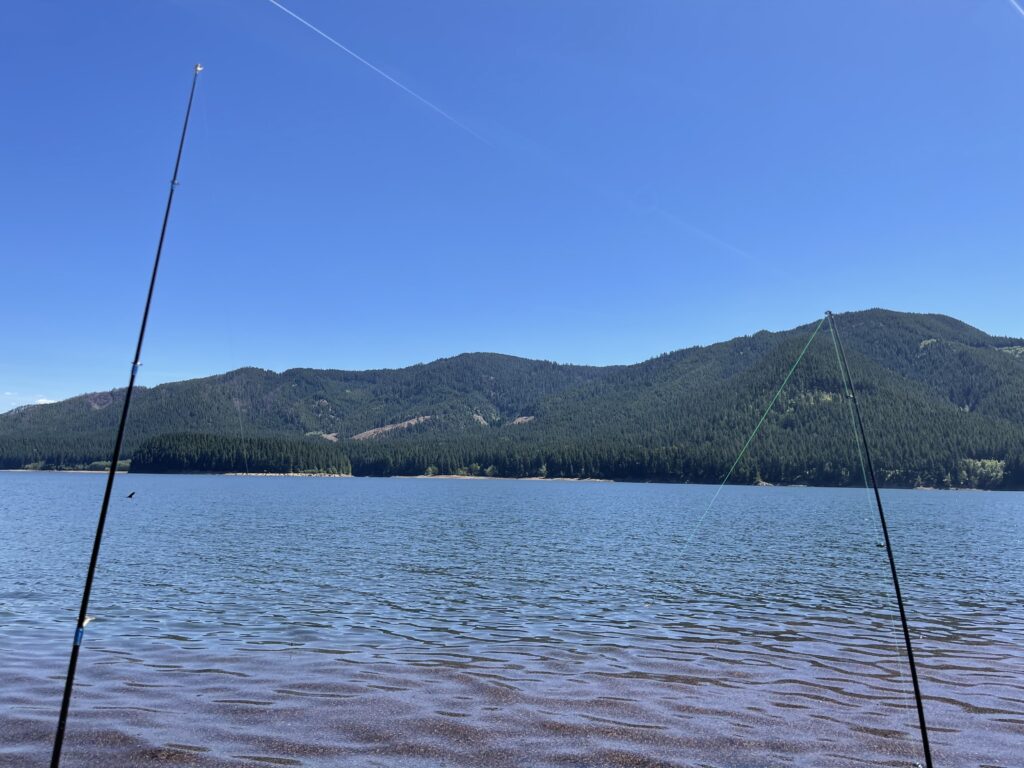 One day when I had spare time, Rob and I took all 3 kids fishing. Although nothing was caught, the girls waded in the water and Jake fished and fished and fished. He sure wanted to catch something, but it was not to be that day. Maybe next time. With fishing, there's always a next time:).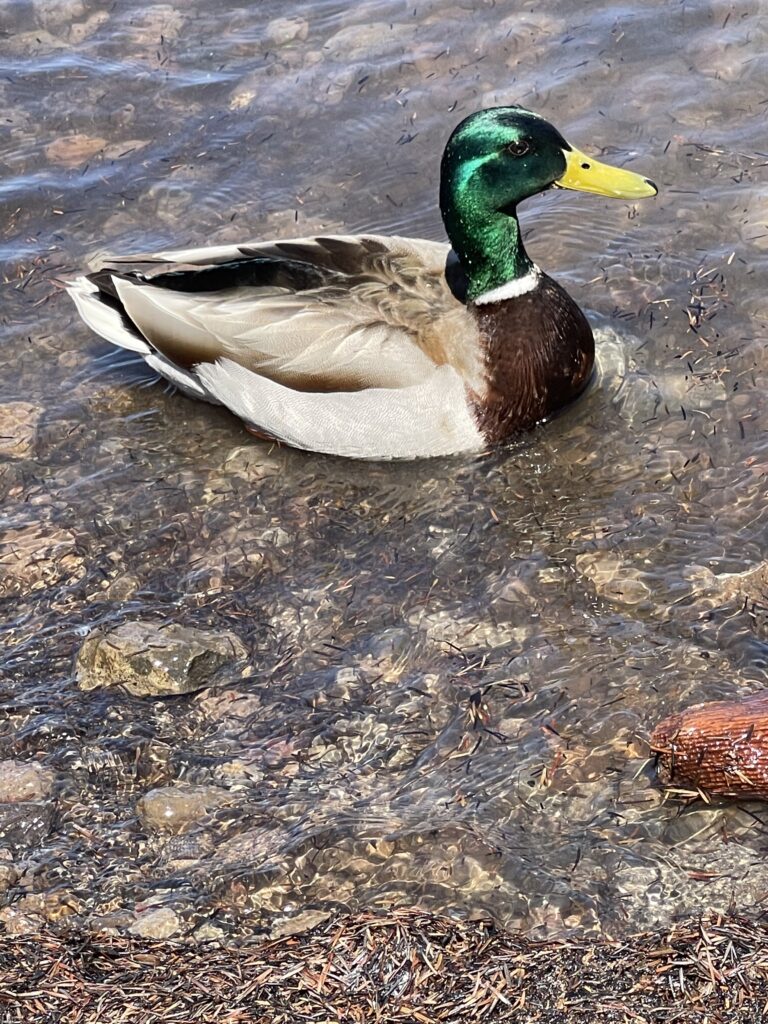 After fishing/wading/eating, we drove over to Detroit Dam and drove across. Michaela wanted to walk across, so she and I did. The kids had a great time.
Looking at the wildfire damage from last summer was sobering, and yet interesting and informative for the kids. I think it's important for them to understand what happened. Even the lake is full of charred evergreen needles, as you can see. There are SO many in the water. For miles and miles, there are charred trees, bare foundations with rubble surrounding them, new construction springing up, and here and there a fully-intact house right next to a decimated one. We drove all through the town of Detroit and the place we all stayed last summer is entirely gone, as are most of the houses surrounding it.
But, not all is gone, and the town seems to be making a valiant effort to re-build. We wish them the best with this challenge. There is a lot to do, but they have made a good start. We look forward to seeing the area in the years to come as it is rebuilt and the forest is renewed. Brush is being cleared daily, charred trees are being hauled away to be used as they can and there are already areas of re-planted trees springing up. Life is being renewed in the area, and that is a good thing.