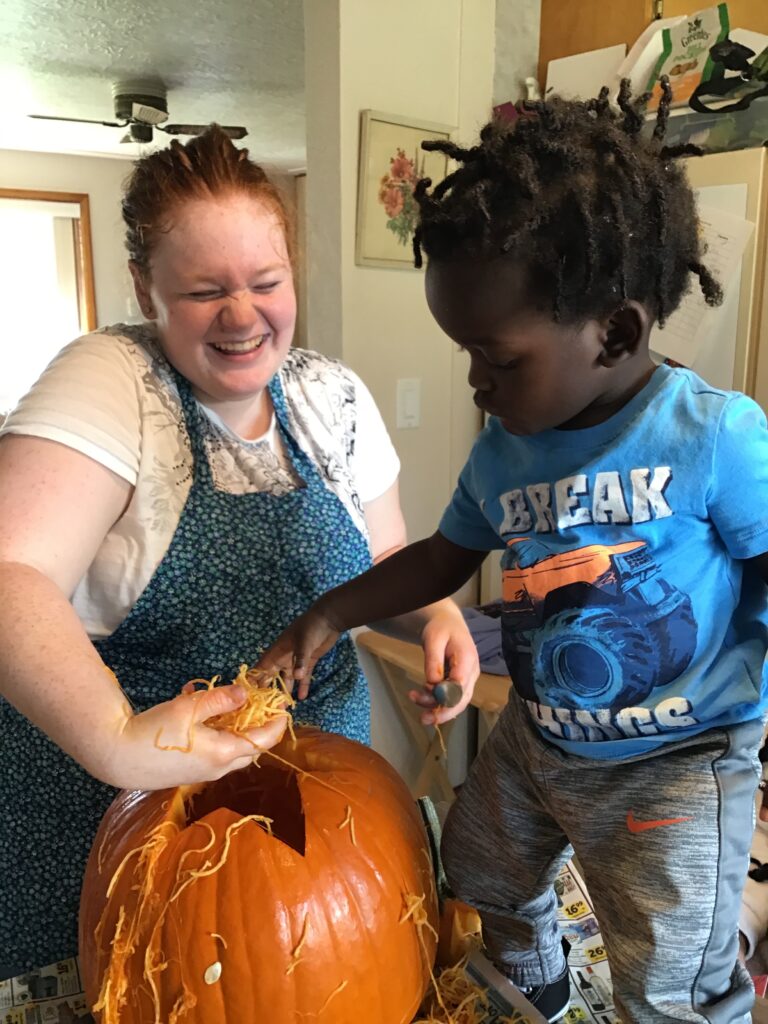 We had a great week filled with family and fall fun. One thing we did was get a pumpkin for Malcolm for only 9c/lb at Safeway. Auntie Patsy helped him carve it. Actually, as fast as she scooped the insides out, he tried to load them back in…it was really cute to watch. We got way more than $1.80 worth of entertainment, just watching the show!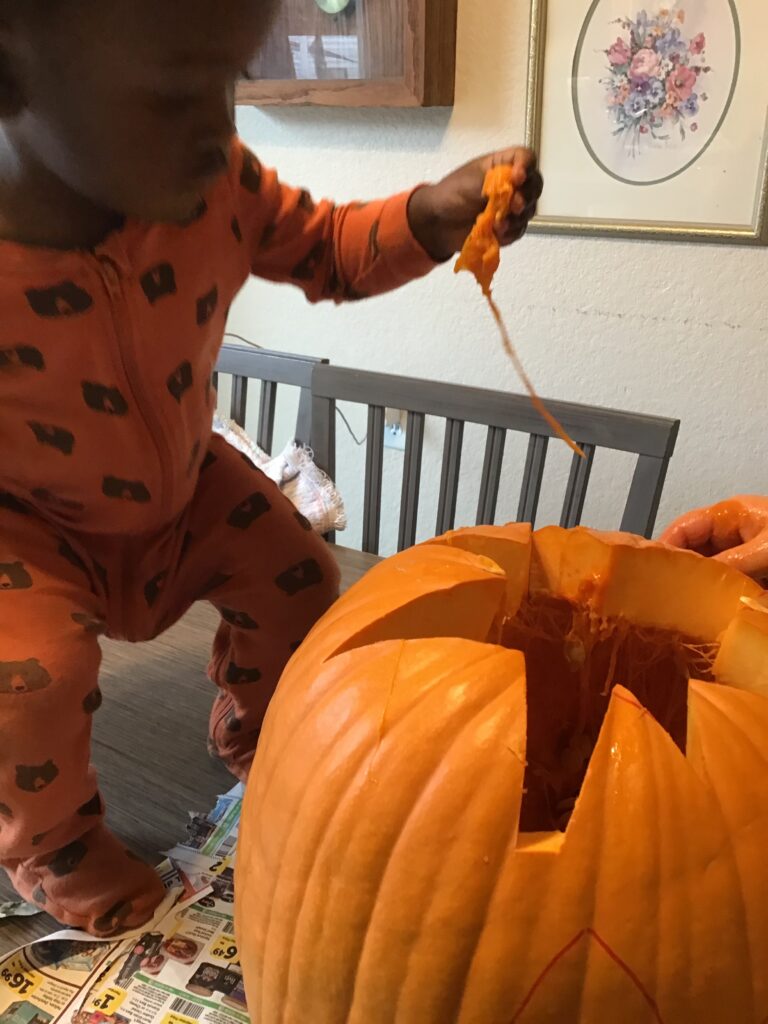 In fact, it was so fun, they did it again the next day with Patsy's pumpkin. All the pumpkins, plus the 3 little pie pumpkins are decorating our front porch and look great.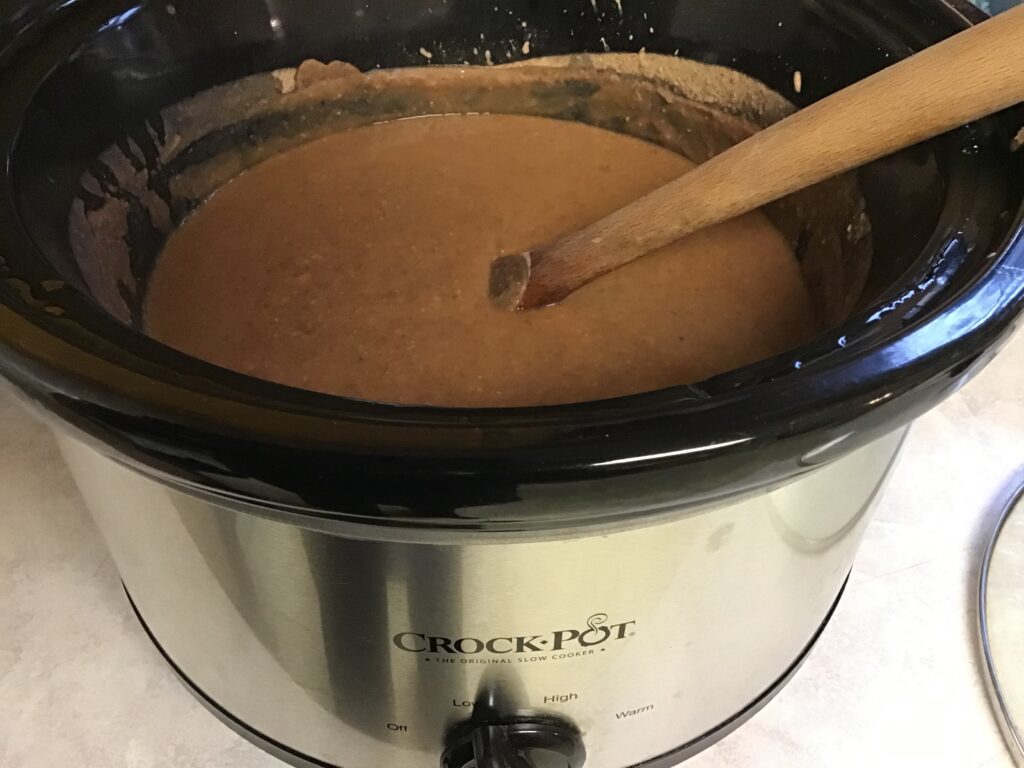 I cooked several "slow" foods this week. First, I made another batch of refried beans. I froze several cartons of those as we have been burning through the ones I made the other day. I also cooked several packages of pinto beans and froze them for future quick meals. I made some split pea soup and also some vegetarian black bean taco soup. I call these slow foods because first I soaked the beans all night, then cooked them in various ways over the next couple of days. They also take a few hours to cook down. After that process, they become "fast food" for me as I have the finished products ready for quick thawing and eating on busy days. I have quite a few dry beans, lentils and split peas out in my pantry as I buy them in bulk when I get low. They are very inexpensive when purchased this way and keep a long, long time.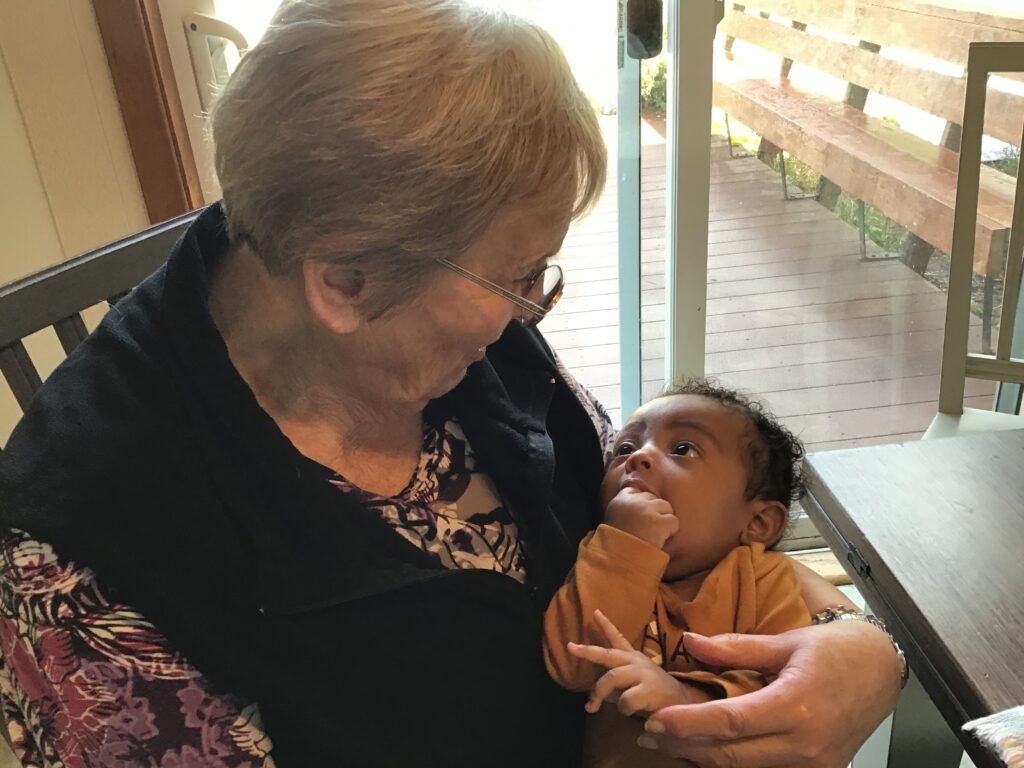 Mom came over one day and the grandbabies came over to play with her. We all had fun.
I got to spend quite a bit of time with the boys this week, as they and their Mama and Auntie are moving. The landlord where they rent wants the house back, and they just finally found a new place to live. So, I anticipate spending quite a few hours with one boy or the other this week as packing and moving goes on. Rob and Patsy already took one van-load of items to Union Gospel Mission for them, but they have a ways to go.
I've been using the grocery ads to keep the pantry stocked up. Butter has been under $2/lb around here lately, and I got 5 dozen eggs for $5. Milk has been 88c for 1/2 gallon and there was Safeway cheese for $5/2-lb brick or bag of shreds.
I fed people the soups I made, a vegetable-beef soup, burritos, salads, bbq'd chicken Rob made, some cube steak he fried, baked potatoes, mashed potatoes, and a big batch of deviled eggs. We used canned and frozen fruits and veggies as well and many other items I have preserved like pickles and relish, red cabbage and apples, peach crisp from home-canned pie filling, dilly green beans and more. The girls and babies are eating over here quite a bit lately, so I just keep cooking. Good thing I love to cook! I'm very thankful for all that I was able to preserve. Once they get moved, they won't eat here as much, but for now, this just works for all of us.
I've also grabbed napkins and paper plates for Thanksgiving, as the shelves continue to empty as fast as they are stocked for some items. We had Patsy run into the Dollar Tree for some plain colored napkins–I wanted red, orange and yellow, since I was having trouble finding fall-decorated ones. She said the shelves looked empty in many places and there were few choices of any kind of fall decor. She got red and yellow. I'm going to use those to supplement the few "pretty" ones I found at JoAnn's on Saturday. I can use my plain-colored tablecloths and Rob found some artificial fall blooms at a yard sale in a free box a while back, and I'm going to make centerpieces from them, so I feel pretty well set now.
The weather has turned rainy and windy. I'm still dashing outside whenever there's a break and pulling old flowers, and weeds so was able to fill the yard debris bin this week, always a triumph for me. I transplanted strawberry runners into a raised bed and pulled out some spent vegetable vines/plants. I was able to pick a few more flowers and bring them in to enjoy.
Rob and I continue to exercise by taking frequent walks. I also push the baby down the street in the stroller whenever I get an opportunity. It's win-win for both of us.