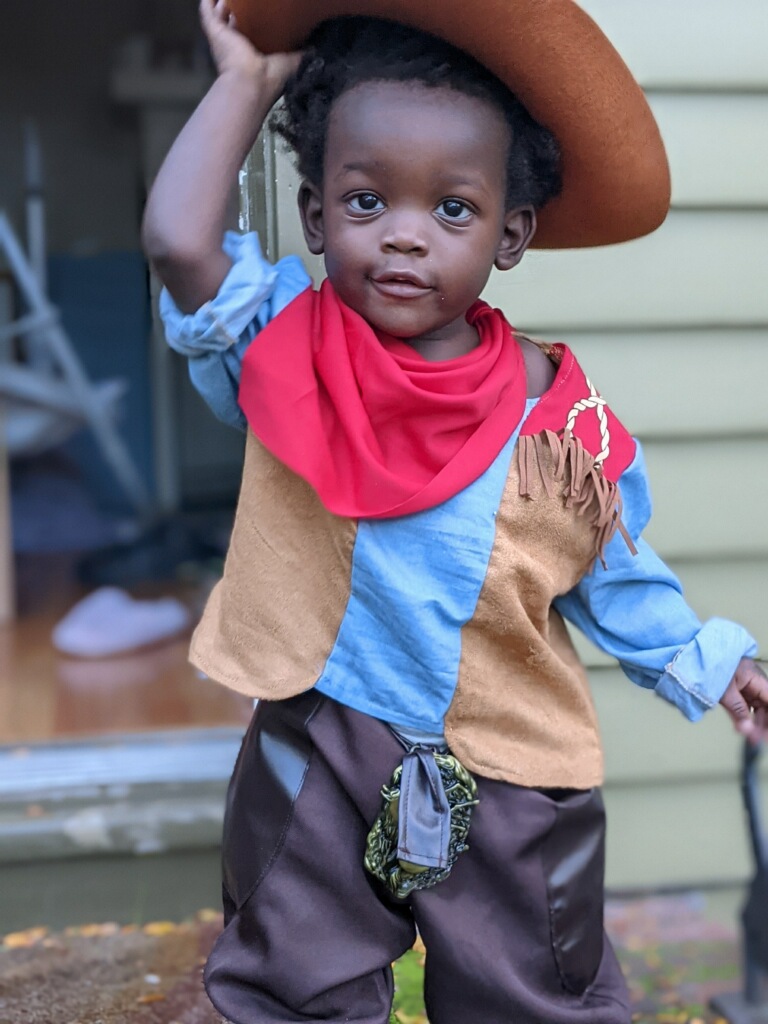 A cowboy….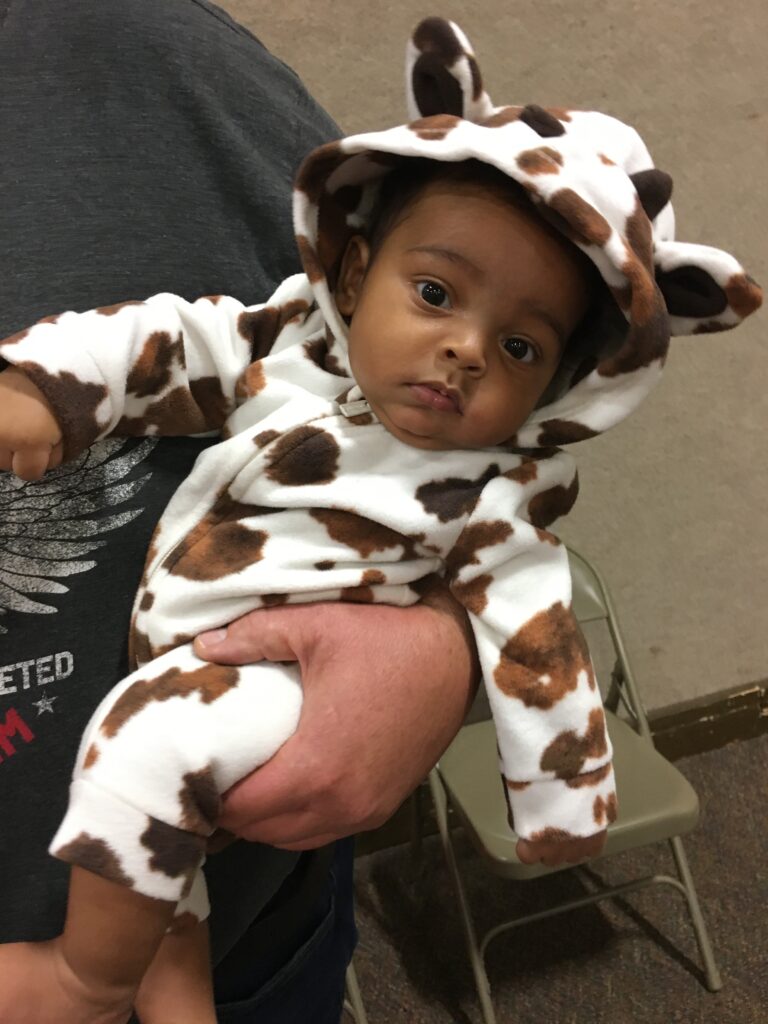 …and his cow:)
Last night, we helped at a harvest party at the church. It was especially nice that the grandsons could come. I think the girls did a great job dressing them up. We signed up to help with whatever Miss Carol needed at the event, so along with set up and clean up. Rob and I were assigned the "treat walk." We used piles and piles of cookies and treats many church ladies made and donated. We played the music, stopped it, drew numbers….and what do you know? Every single person won! :). :). There were so many treats, so why not? We had a ball. I was surprised at how many children did not know what a cakewalk was or how to play. So I ended up leading them around and around the circle. Since we had several hundred children come to the event, and the ones who chose to play this game could do it as many times as they wanted, I ended up with over 12,000 steps by the end of the evening when they were added to the walk and the lawn mowing I had done earlier in the day. It was a double bonus to me! Rob figured some of them were young enough that with things being cancelled for Covid, they likely had never played the kinds of games that were there (cakewalk, ring toss, etc.). There was also a super cool blown-up slide no one had to tell them how to play, and a parking lot full of trunk-or-treat cars, each with a game inside.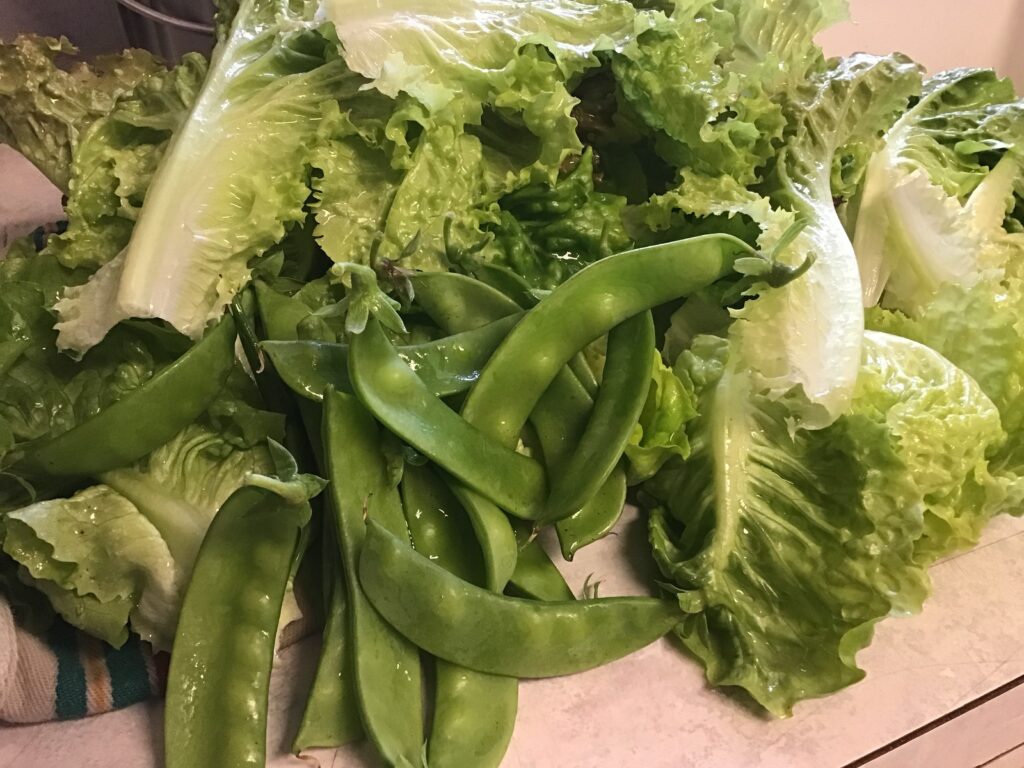 Although much of the week was filled with babysitting, I slipped out to the garden one day and was delighted to find some good lettuce and snow peas. I also kept pulling up old tomato plants and other spent bushes. There's a lot of outside work left to do, but I'm cleaning out the old plants whenever I get a chance, between rain showers. While cleaning out one raised bed, I found some small onions. I thought I had planted some green onions there, but…small, round onions there were. So I pulled them and we are eating them fresh.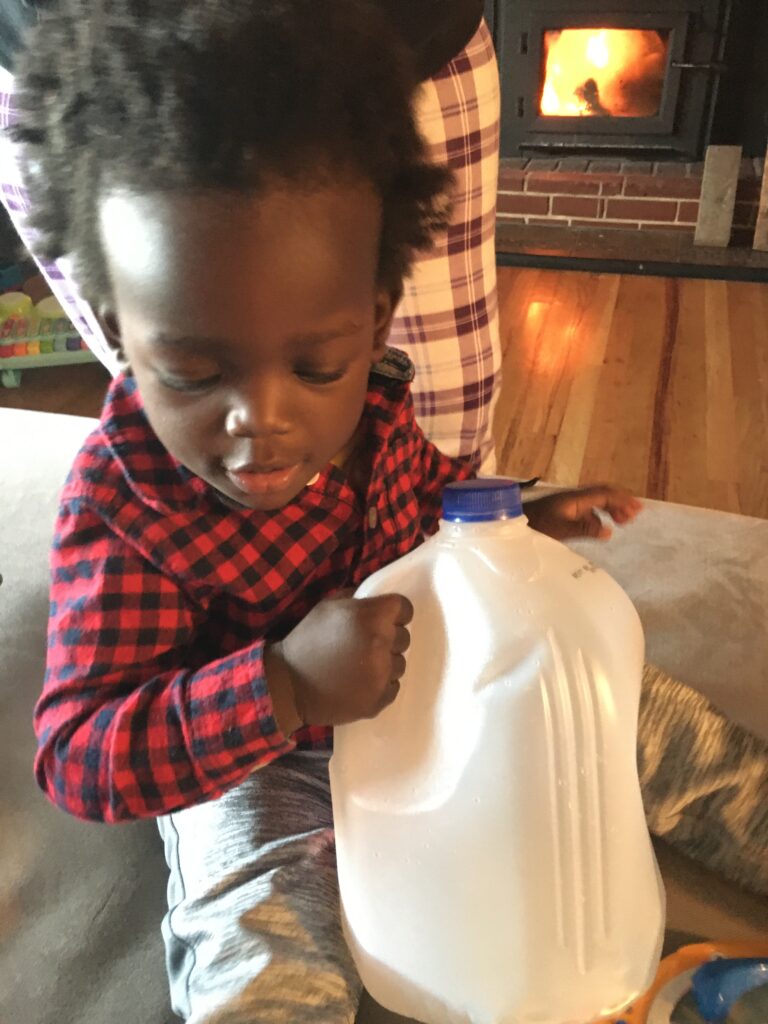 Although we do have a bin full of baby toys that were given to us, Malcolm has decided a partially emptied water jug is a really good toy. He carries it up and down the hall, in and out of the rooms……for quite a while.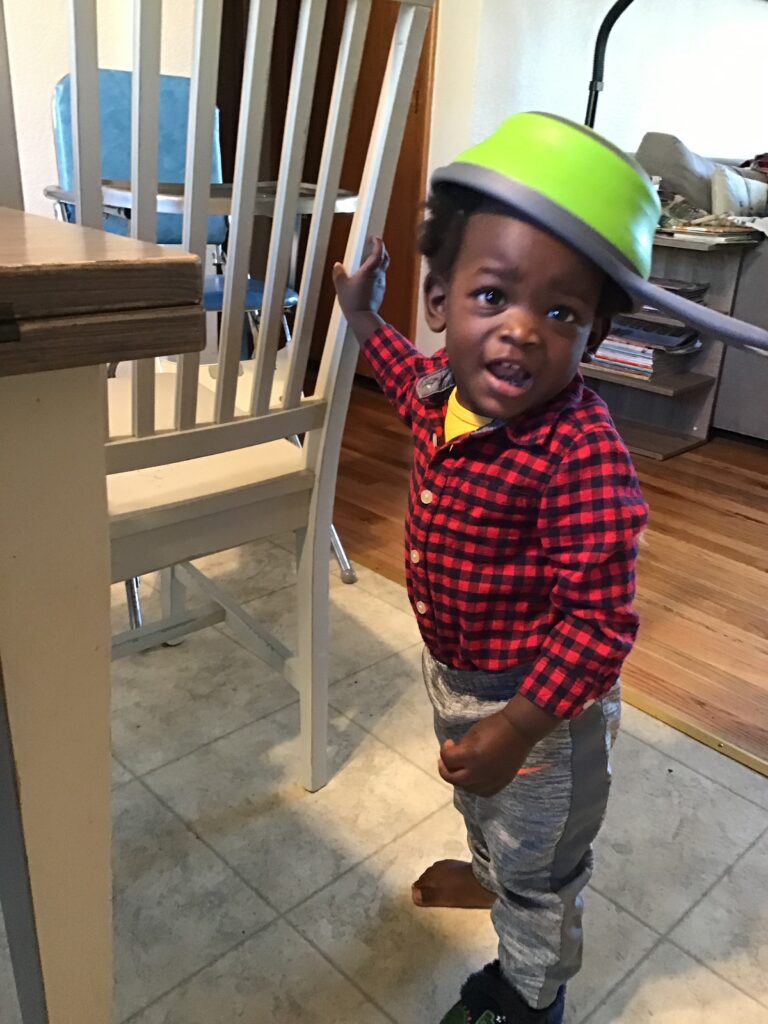 He also has his own style when it comes to hats….although I'm sure the rain won't stay out of that hat! (It's a colander)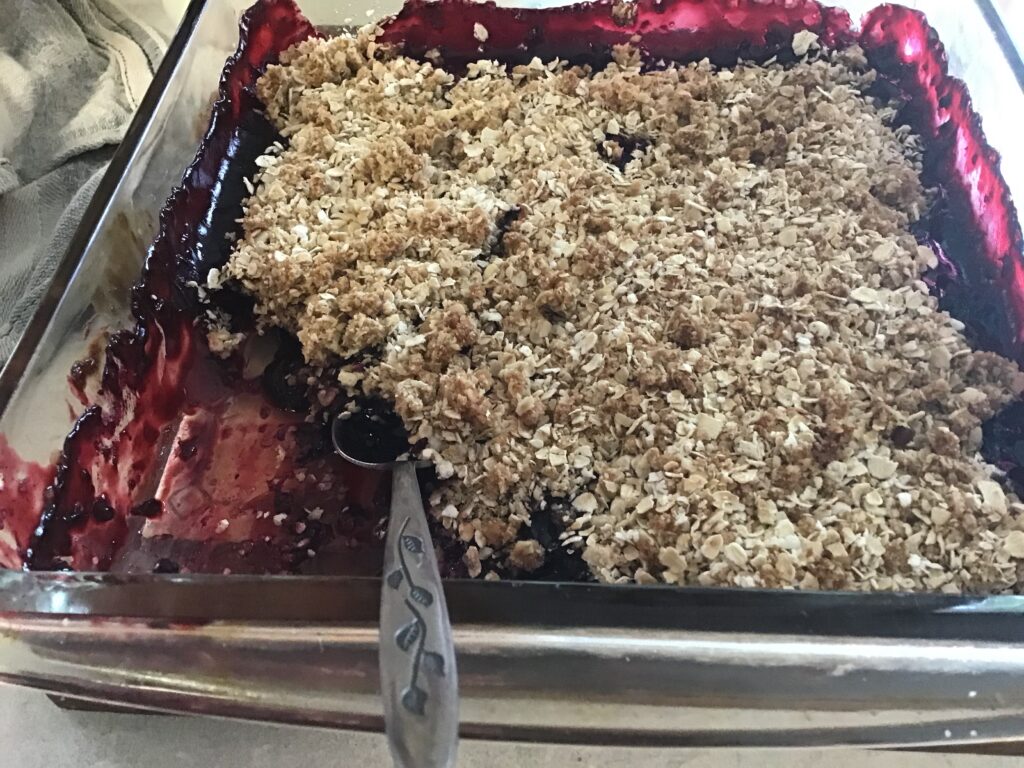 I continue cooking from the freezers and pantries. This crisp was made from lots of odds and ends of frozen fruit. It's mostly blackberries, with a few raspberries, blueberries and peaches thrown in. Ice cream was 77c/carton this week, so we got some. We also got cheese for $5/brick, 67c/lb whole chickens, 97c frozen pizzas, cream cheese for $1/pkg and some other basic cooking things.
Of course, we used our pantry, home-canned and frozen food, and made lots of tasty meals. We cooked the last older chicken left in the freezers, boiled the bones and made chicken-noodle soup, chicken salads, and just plain roasted chicken. I got 2 new packages of ground turkey, so used an older one to make meatballs. I saved the last bit of spinach in a bag by using them in the meatballs, even though they had been placed in a bad spot in the fridge and were starting to freeze a bit. All this rotation, and constantly using things that are coming to the end of their days is a bit of work, but it's what keeps us eating food that is not freezer burned or old, purchased at the lowest possible prices.
Peanut butter was $1 a jar, so I bought 10 and used 1 to make peanut-butter/chocolate chip cookies. Most were frozen. I only have to make these every 2-3 months, as we don't eat many cookies, but I like to have some frozen for times when we want them for one reason or another.
I've had the pleasure of watching babies, mostly Malcolm, for the past 9 days, for at least a little while each day and one overnight, as his mama and auntie are packing. I mostly did that during the evenings, as Jake and Michaela were here for their usual times, plus Jake stayed over one night. Rob, Patsy, and a couple of friends' kids are over there today, helping them actually move it over to the new place. They've been dropping in for meals at unexpected moments, so I've been cooking extra. I'm glad they are finally actually moving now, although I think it will take a few days for them to get settled and the old place cleaned all the way. With the housing market the way it is around here, we are more than thrilled that they finally found a place to move into. It wasn't easy, and it wasn't cheap. But, they have another roommate so they can split the cost, and that helps, so they were able to get a 3-bedroom house. I'm happy for them. I'm itching to get my fingers into their boxes and help them unpack, but they were convinced that it would be more help for me to watch the baby today, so….I'm having a pretty relaxing day after all.