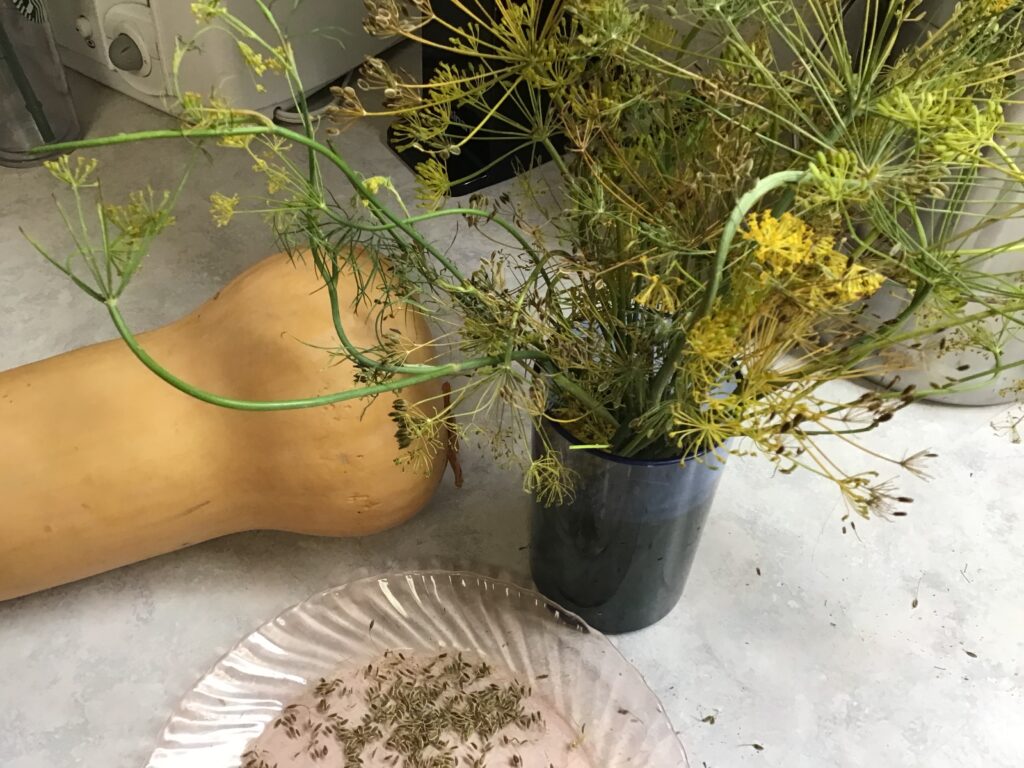 Rob's mom gave us quite a few Butternut squash she got from her brother. One has already been cooked and eaten. They store very well, so we will eat them over the next few months.
The super ugly dill was the remains of my dill patch in one of my raised beds. I saved some seeds for growing, but these seeds are probably immature, so I put them in a baggie for cooking. Rob also used some of this dill in cooking. We are trying to put every last bit of the garden to use, and I've been surprised that a few things are still lingering so late in the season. We finished up the lettuce I had picked and Rob told me there are a few more snow peas out there. I'll have to go pick them soon.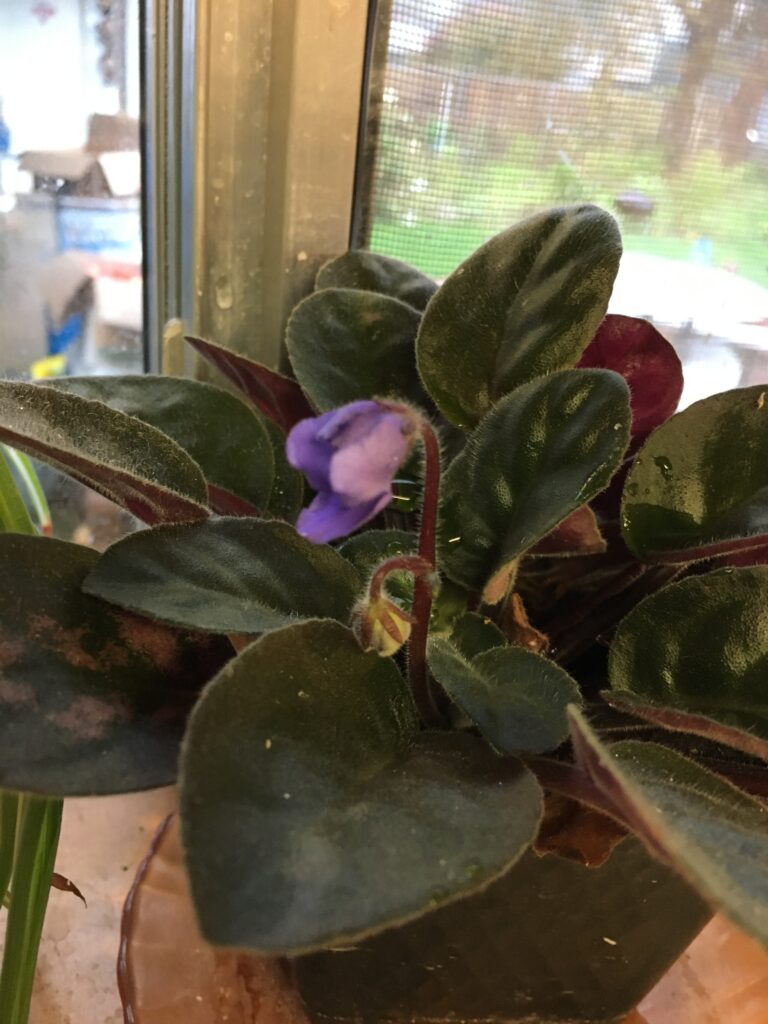 Last year, my niece gave me an African violet. It's blooming! I did not kill it!!! Also, I noticed there were two little plants in the container, so I re-potted them both this week and they now have more room to grow.
I took my grandson to the park a couple of times this week. He loves to hold bouquets of fall leaves we pick up on our way there. I also love that he's wearing the bomber jacket Rob found at a yard sale or thrift store (can't remember) for way under $5. I keep it at our house so he always has a coat there. Today, the kids/babies came to church and then over for lunch after. I pushed Malcolm down to the park and we tried the swing again. He enjoyed it, smiled and even laughed today, for the first time. Before today, such as when this photo was taken, he's not been so sure he likes that swing. We also took Jake down to the same park another time, and went for quite a few walks this week, with kids and without.
Rob and I were just talking this week about how thankful we were that his hip surgery was so successful. He has walked more in the past year and a half then he had walked for years and years. He had a routine re-check on his hip and it's doing great.
I cooked a lot, as we had a lot of people through the house this week. (The busiest day had 4 of my children, 1 niece, 1 nephew and 2 grandsons, along with Rob and I…) I sent Rob down to the store for groceries. I didn't need much–produce and dairy mostly, so I just sent him to the Winco near our house. He got out of there for under $40, which I was thrilled with. I didn't need the specials from some of the other stores this time–carrots and celery are very cheap anywhere you buy them around here, and those were two of my main needs this time.
Yesterday, one of my daughters offered to go buy some groceries if I wanted anything as she was going to a certain store anyway, and they eat here a lot, so wanted to help out. I happily made out a list of basic items I could always use and she brought me those, plus things that were on sale there, such as 2-lbs of shredded Kroger cheese for $3.97, potatoes for $1.99, whole milk that her baby drinks, the spinach I forgot to write down for Rob…stuff like that. Rob had asked for some sausages that were on sale and she didn't know which kind he liked, so got him 4 packages, all different kinds. He's already eaten the hot Italian package. Yum, I guess–I left it to him:). Then she threw in a couple of bags of chips for good measure and donated it all to our cause. That really helped out this week, and kept me under budget.
Here are some ways I keep in budget when so many keep coming over for lunch/dinner/every time in between:
I almost always have white rice cooked and ready to go in the fridge. They eat it with butter, salt and pepper, or with milk and cinnamon sugar or one adds it to her stir-fry. It seems to be a favorite of all.
I make soup for those who eat it. Since I'm dealing with special needs and lots of preferences, Rob and I are the ones who eat the most of that.
I buy meat and seafood on sale and in bulk–for example, last summer I got shrimp for under $3/lb. and bought several 2-lb. bags, which we are using now. That was the best price I'd ever seen. We are expecting our 1/4 beef to be ready one of these days. When chicken was 67c/lb, we got 4. 2 girls eat only seafood and dairy–no other meat, one son wants hamburgers all the time, some visitors only want cinnamon sugar toast or cold cereal or ramen noodles….you see how it is around here, so I get everything on sale or in bulk if possible, especially protein. My grandson, however, will eat every single thing I give him, other than bananas. How refreshing and fun to cook for, I must say:)
I do a lot of taco/taco salads as people can add or subtract at will–and it's one daughter's favorite meal of all time, and enjoyed by all.
I often make baked potato bar–same story–they can add or subtract at will.
I use dry beans to make refried beans, chili, chili mac, and other recipes. These are very economical.
I make lots of crisps and other fruit-based desserts or just serve canned fruit in a bowl, as it is very accessible to me in the summer to can or freeze and I always have lots on hand.
What do you do when lots of people come over to eat at your house?