We took the babies to the beach this week. Zai went straight for a little creek that meandered across the sand. It was pretty cold. Good thing he had his coat on:). After he soaked himself and we changed him, we spent the rest of the time chasing him, and pulling him back from another plunge. It was so cute. We all had a blast.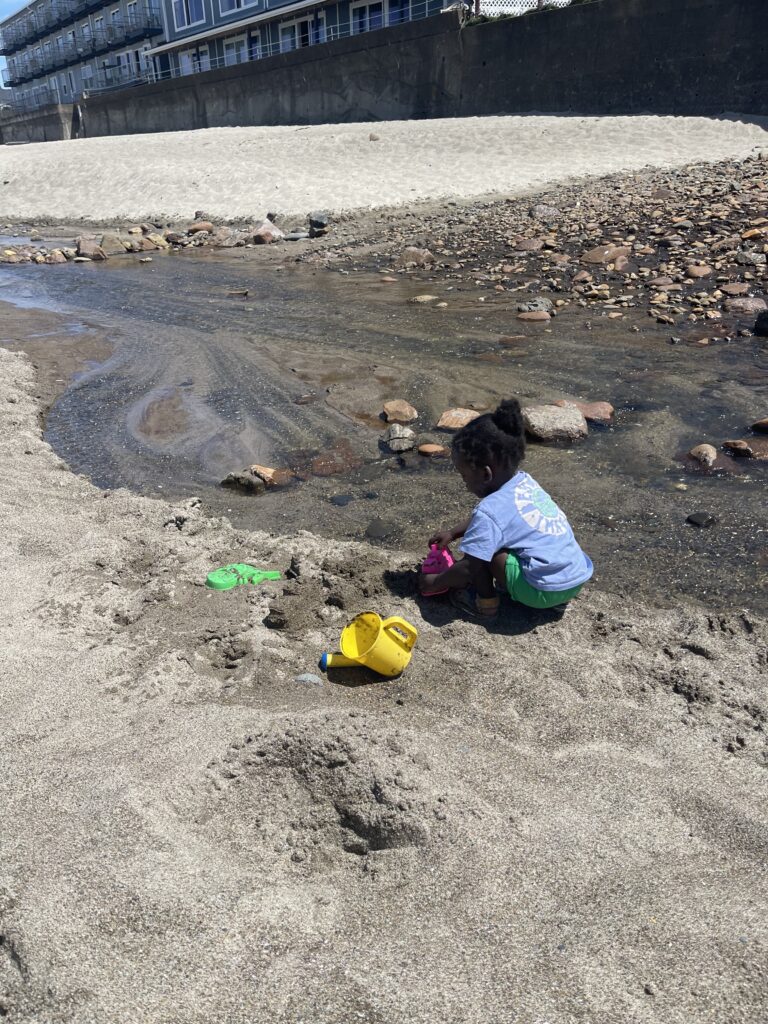 It was one of those rare, perfect beach days. There was little wind, lots of sun, but not too much, not too many people and a little river for the kids to more safely play in and by. Malcolm was content to sit next to the creek and dig, unlike his brother.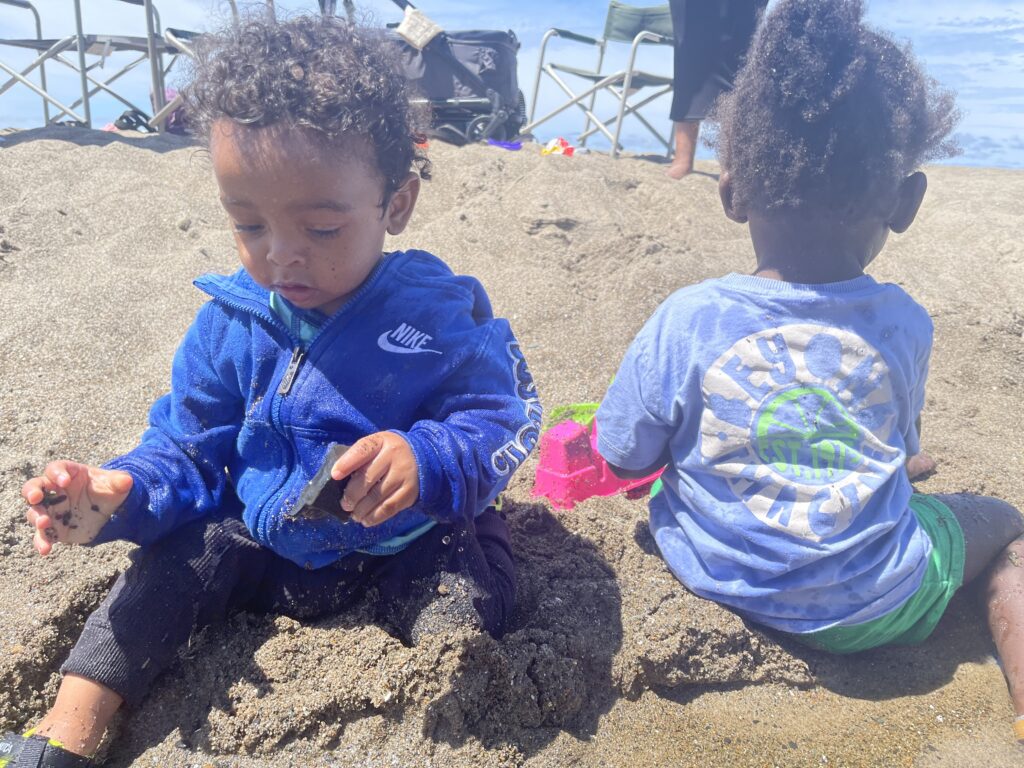 We kept it frugal by dividing the fuel costs and packing a big picnic lunch instead of eating out. Even if the food at all the restaurants had been free that day, I think a picnic was the best idea for those sandy, sandy boys anyway. We took sand toys we've had for years. After letting the boys play in the sand, we drove down the coast a little bit and stopped at a small rest area. The tables in the shade were full, so we just used our own lawn chairs and had our picnic overlooking the ocean next to our van.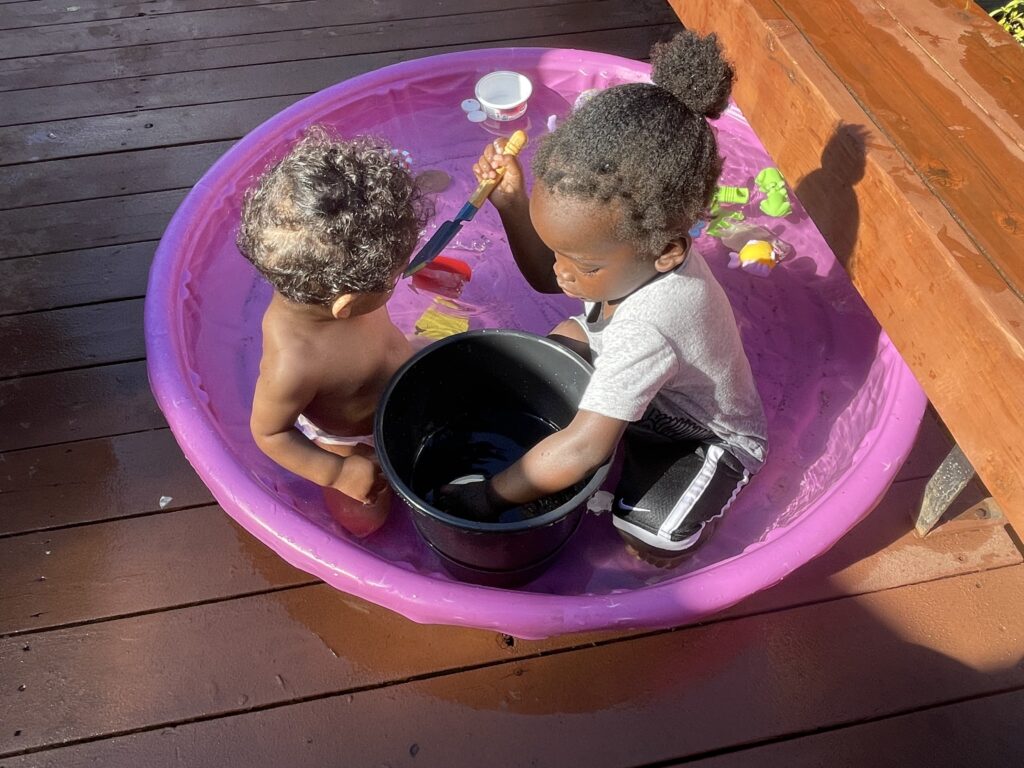 The week had quite a few very warm days, so the pool on our deck got a lot of action. I got some swim diapers at last. I paid full price for them. The next day, Rob found a package on clearance at another store for $3. He grabbed them.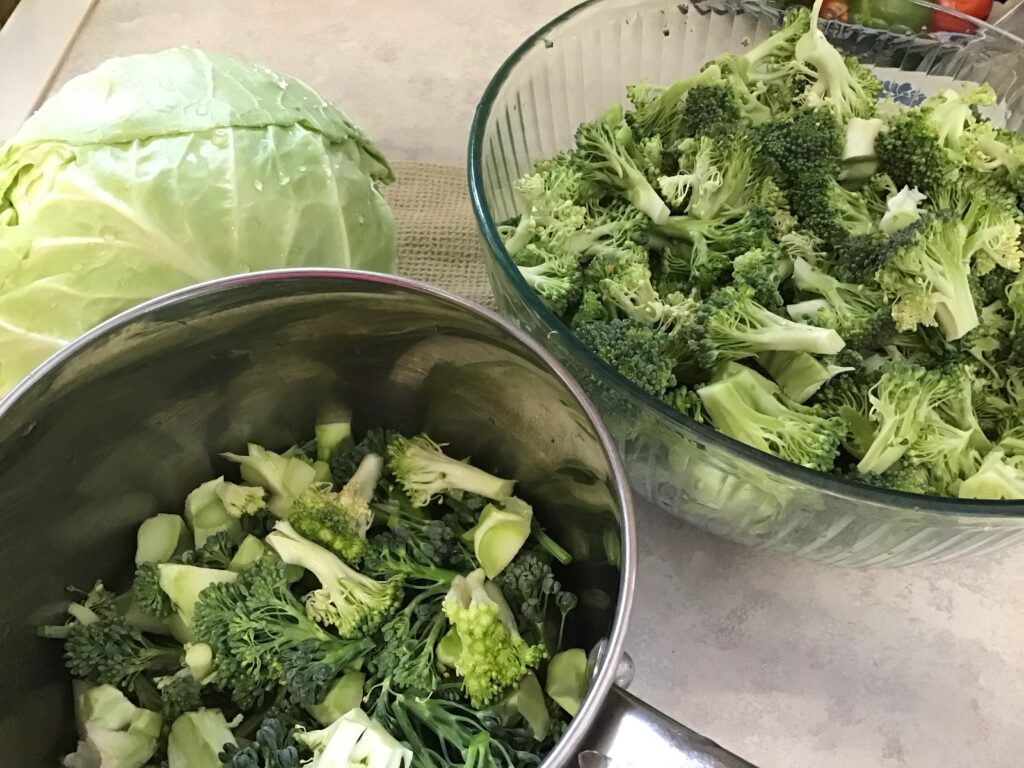 I picked most of the broccoli. It may make more side shoots, but all the big central heads are gone now. I froze several baggies and made a batch of broccoli soup from some tougher stems and some florets that were a little more loose than I like to freeze. I also picked snow peas, lots of lettuce, cabbage, a few small tomatoes and one mis-formed zucchini that I believe did not pollinate correctly.
I weeded when I could and mowed the lawn. Although my little landscaper with his bubble-blowing lawn mower will work for food, there's still plenty for me to do around here, so we just keep chipping away at it every day.
We used food left over from the parties and spent about $10-$15 for odds and ends we wanted/needed at the grocery store.
I used as many little bits of food that were hanging around from the parties last weekend as I could, along with garden produce, in my meals. We ate a lot of salads. Today, I used the small ends of cream cheese packages left from some frosting in macaroni and cheese, along with some cheddar and mozzarella. I used up the last little bit of heavy cream in the broccoli soup I made, along with milk. I used buns up, along with extra burger patties and hot dogs, and the pulled pork from Saturday. I made a stir-fry with snow peas, onion (including green onions I'd pulled a while back, but were still good), noodles and chicken thigh meat. I also added a little broccoli.
Rob bbq'd hamburgers again Monday with some more of the buns I had popped into the freezer for our adult son, Anthony, when he and Allison came for lunch. Their group home has moved and is now 10 minutes away from us rather than 30-35. I anticipate we will be able to have so many more of these mini visits, rather than needing to rely on long holiday visits only. They have only lived there for a little over a week, and he already called me yesterday to let me know they would love to come today. I'm glad he is excited. I'm excited, too! I had agreed to help take the babies to their well-child checks in the afternoon, so it was great to be able to visit for a while, then move on to the next thing without having to say "no, there isn't time." Although they have transportation sometimes, many times we drive them at least one way, and now it won't take an hour of driving to get them or take them home anymore.
Ice cream was left here, both home-made and purchased. I've been bringing one partial carton after another into the house freezer, and they just disappear like clockwork.
The brakes went out on the car. Rob's friend offered to help him fix them on the 4th, so that's what they did early that morning. We still had plenty of time to celebrate, and I'm so excited it got done. His friend has a mechanic shop, and graciously used both it and his holiday to fix our car. I'm feeling very blessed.
I got a great deal on diapers at Safeway. They were $14.99 for 64. If you got 2 boxes, it was an additional $10 off. It ended up $20 for 128 diapers. I had tried the Safeway diapers out on Malcolm before I did this and they work just fine for him. (Zai was just gifted a huge box of diapers, so he didn't need more this time.) It is a long time since I bought many diapers, but that just seemed like an amazing deal to me.