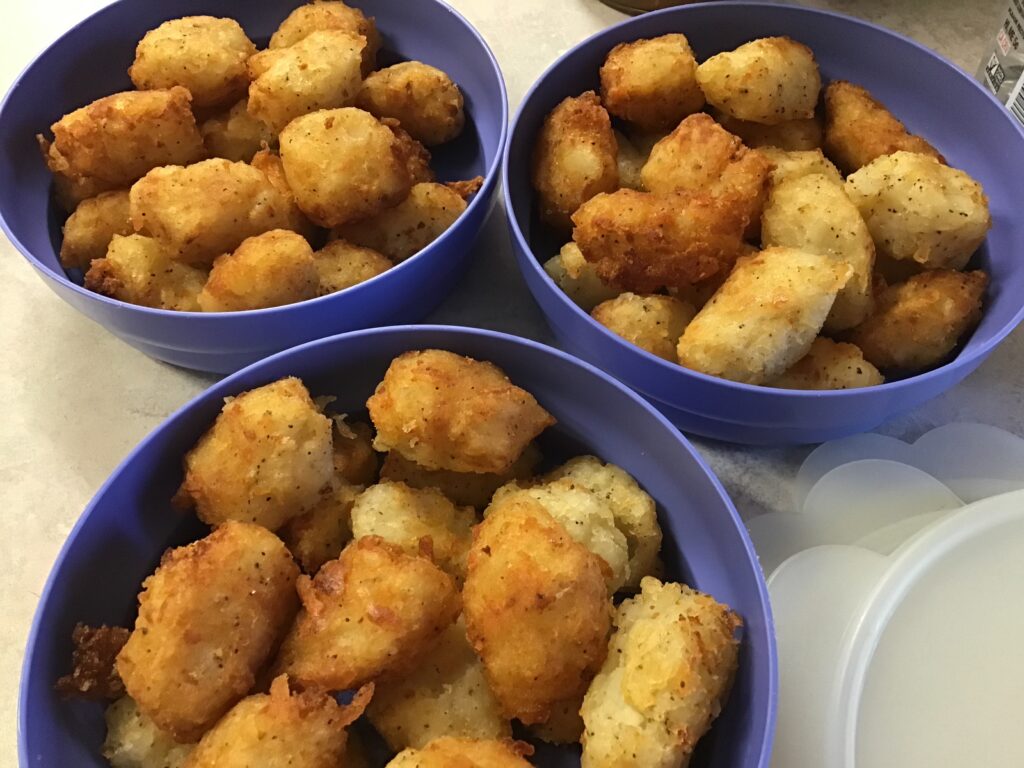 Recently, Rob found a good deal on potatoes. They were a little over 20c/lb. He bought several 10-lb bags, as I asked him to do, because potatoes have been over 50c/lb around here. I've seen them for about $4.50/10 lb bag and higher the last 2 weeks. This has been a steady price for several weeks now, and this is fall–a time where potatoes are usually less expensive due to the new crop.
We ate mashed potatoes, baked potatoes, diced and fried potatoes. I canned several quarts and many pints of potato chunks. I made potato salad twice. They were huge bowls and I shared with the college group and served it for my sister's birthday.
I set 20 lbs aside in the garage, in a cool, dark, dry place, and put one bag under the sink, which we've mostly eaten up by now. I checked them this morning. Much to my dismay, they weren't looking great. It's no bargain to pay less for something if you let half of it rot…a person might as well pay the full price for fewer good bags, but obviously, in this case, we didn't know they were going to go bad quickly. Normally, they last a long time when stored in my garage.
I didn't want to can any more potatoes, so I got creative.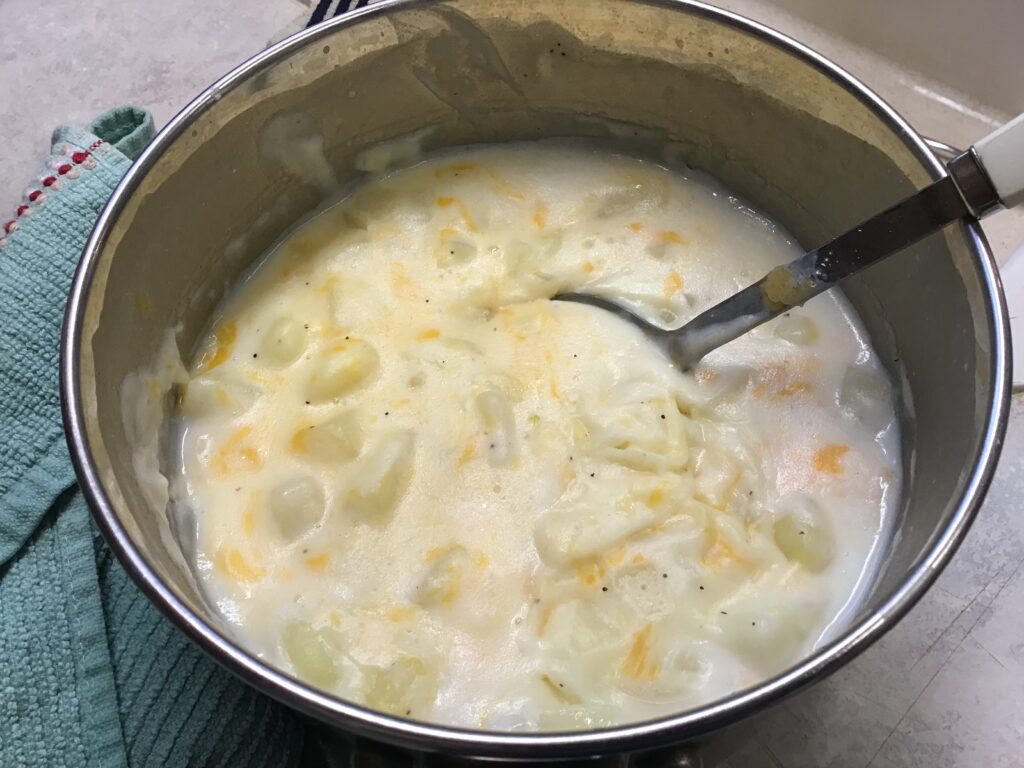 I made a pot of potato soup. It's very simple. I just diced potatoes and one onion and cooked them with salt and pepper in some water until the potatoes were soft. I mixed some cornstarch with milk and added that and cooked until slightly thickened. Then, I stirred in some cheese and it was done.
I baked 4 potatoes that looked good.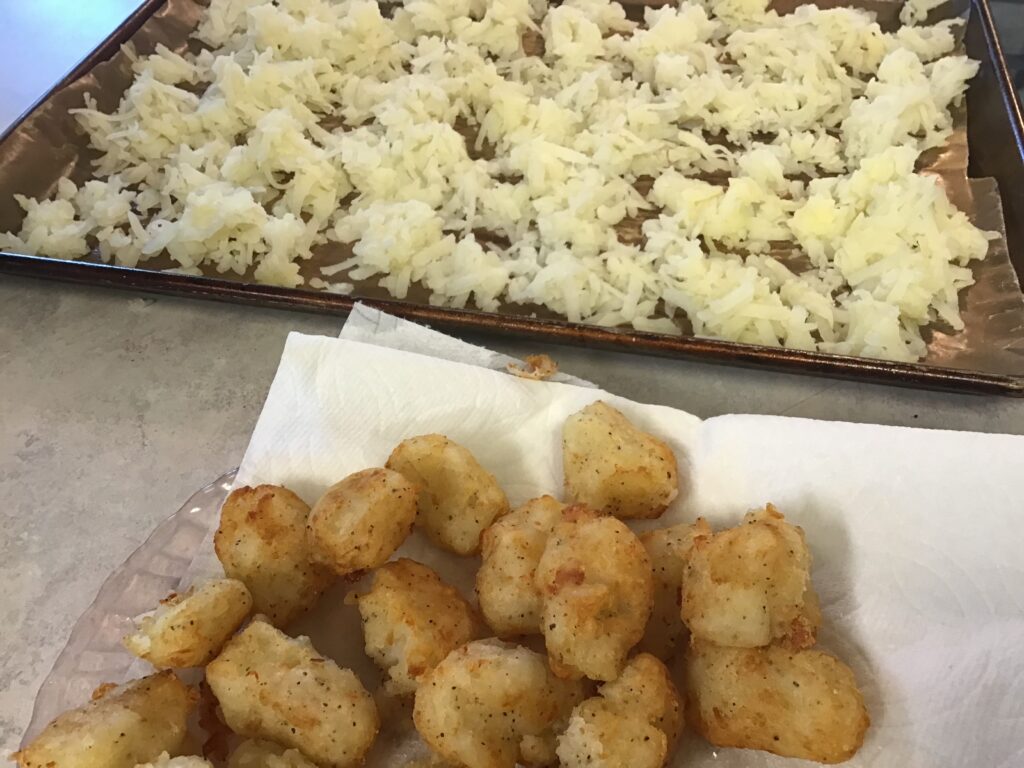 I peeled and parboiled over 1/2 of my big pot full of potatoes. I left them whole, and cooked for about 10 minutes. Then, I grated one tray full. I then froze that flat in my chest freezer and will transfer them to a baggie when hardened up. They are hash browns. The internet gave several choices of how to keep them from browning, and this is the method I chose.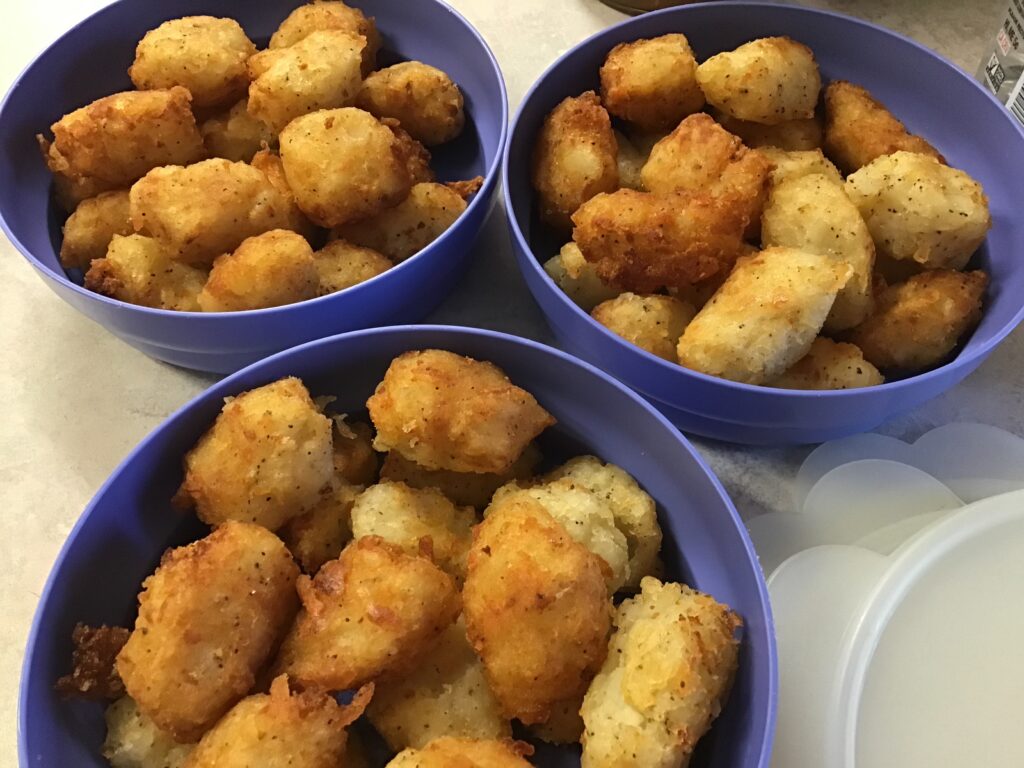 I took the rest of the parboiled potatoes and grated them into my largest Pyrex mixing bowl. I had about 2/3 of the bowl full of shreds. I put in 2 Tablespoons cornstarch, 3 Tablespoons Bob's Red Mill 1-1 flour, 1/2 tsp Xanthum gum, 1-1/2 teaspoon salt, a dash of Cayenne pepper, and a dash of regular black pepper, and mixed it all up. I formed into little "tots" and fried in hot oil until brown on both sides.
This was a mixture of several recipes I found on the internet. Many of them had cheese, but I didn't want to add that at this time, as my purpose was to use up potatoes!
We ate a bunch, and I am freezing 3 containers for later. I will either bake in the oven until hot and crisp or use my air fryer to warm up. If this is something we end up using and liking, I may experiment with cheese, or more cayenne, not cooking before I freeze, and many other ideas I have rolling around in my head. But, for the first time, I followed what most recipes advised, and we'll see how we like them! The ones we ate fresh were SO good!!!
There is still a partial bag of potatoes that will need using up very soon, so I have plenty more to experiment on….if I hurry:)