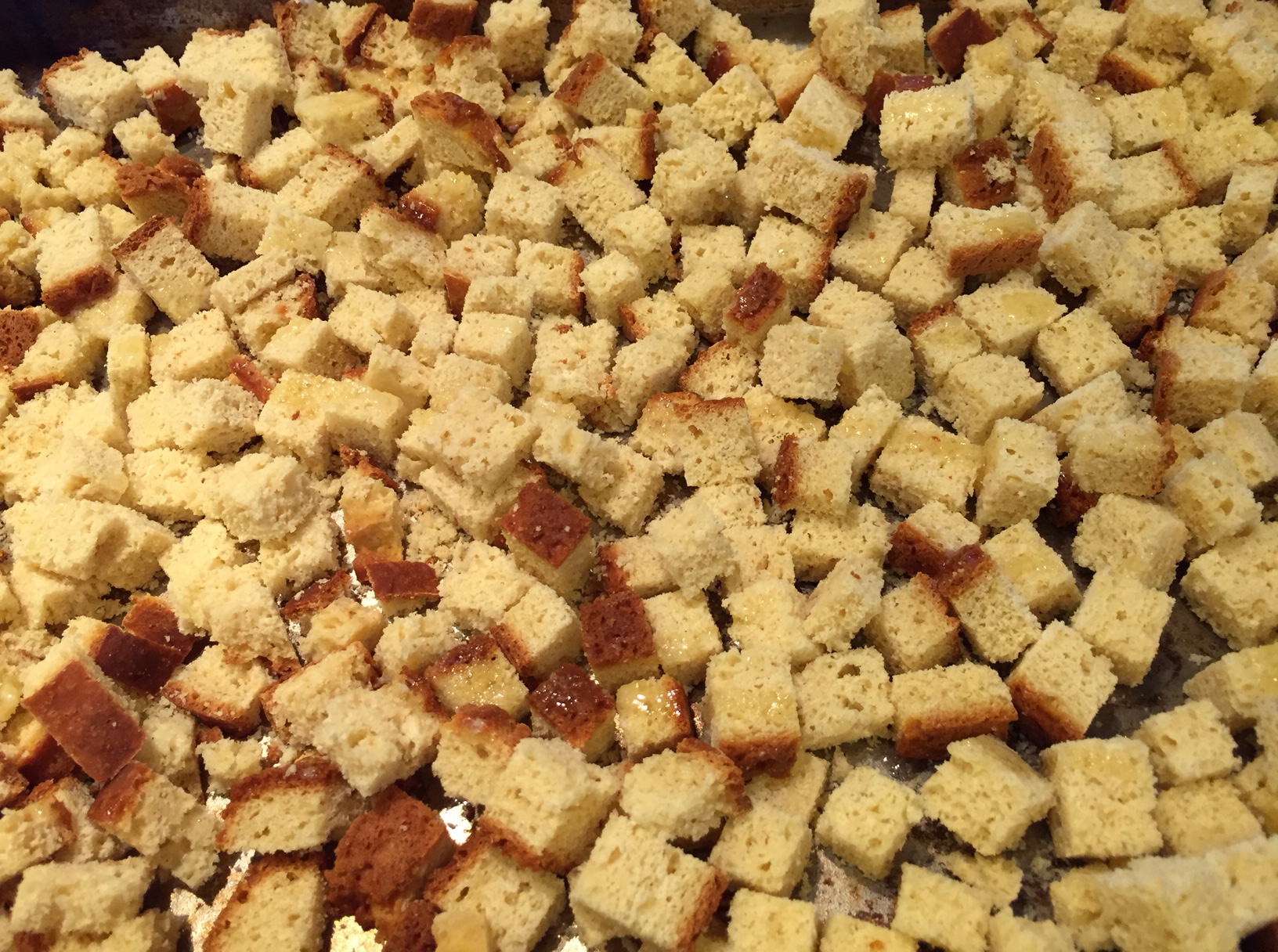 I wanted to make stuffing for Thanksgiving.  I needed it to be gluten-free, but I didn't want to pay the price for packages of gluten-free stuffing mix (I would have needed several boxes at around $5/package) and I didn't want it to be either too dry or gummy.
I decided to take a loaf of gluten-free bread I had in the freezer.  My daughter made multiple loaves during the summer because she was practicing for the fair, and we just froze them all.  It was unsliced, so I sliced and cubed it.  I divided the cubes between 2 cookie trays, drizzled a little butter over them and sprinkled on some seasoning.  I used poultry seasoning on one tray and Bragg's mixed seasoning on the other.  My plan was to use one batch for croutons if it made more than I needed, but I ended up using it all.  Then, I baked those trays at 350 degrees for 45 minutes, stirring every 15 minutes.
The bread cubes were definitely dried out and crisp, but a little chewy in the middle.  I had 1/2 pan left of the gluten-free cornbread my mom had brought over.  I had some frozen broth from a time when Rob had cooked a chicken with apples and onions, so it was apple-flavored chicken broth.  Regular chicken broth would work well, also.
Thursday morning, I made the stuffing.
2 quarts homemade stuffing cubes
1/2 of a 9″ x 13″ pan of gluten free cornbread, crumbled
2 onions, diced
4 stalks celery, diced
1 can sliced water chestnuts
2 large apples, cubed
2 cups broth
2 Tablespoons poultry seasoning
1/4 cup melted butter
salt and pepper to taste
Salute the celery and onions until soft in a little vegetable oil.  Pour bread cubes, cornbread, the vegetables, apples and water chestnuts into a very large bowl.  Sprinkle with poultry seasoning, salt and pepper.  Mix thoroughly.  Drizzle with the melted butter.  Pour  1/2 of the broth over the mixture and stir.  Check to see how moist it is.  If it is still very dry, add the rest of the broth.  Check again.  Add more broth if needed.  Mine took about 2 cups of broth.  The cornbread I had was quite moist but the cubes were quite dry.  I did not want the cornbread to be gummy so I stopped adding broth when there was still some definition to the cubes–the stuffing was not all stuck together into 1 big ball when I mounded it on a spoon, but it did not just fall apart, either.    The cornbread broke down into little bits that kind of held the cubes together.  I poured it into a flat pan–mine is larger than 9″ x 13″ and baked it for about 1 hour at 350 degrees.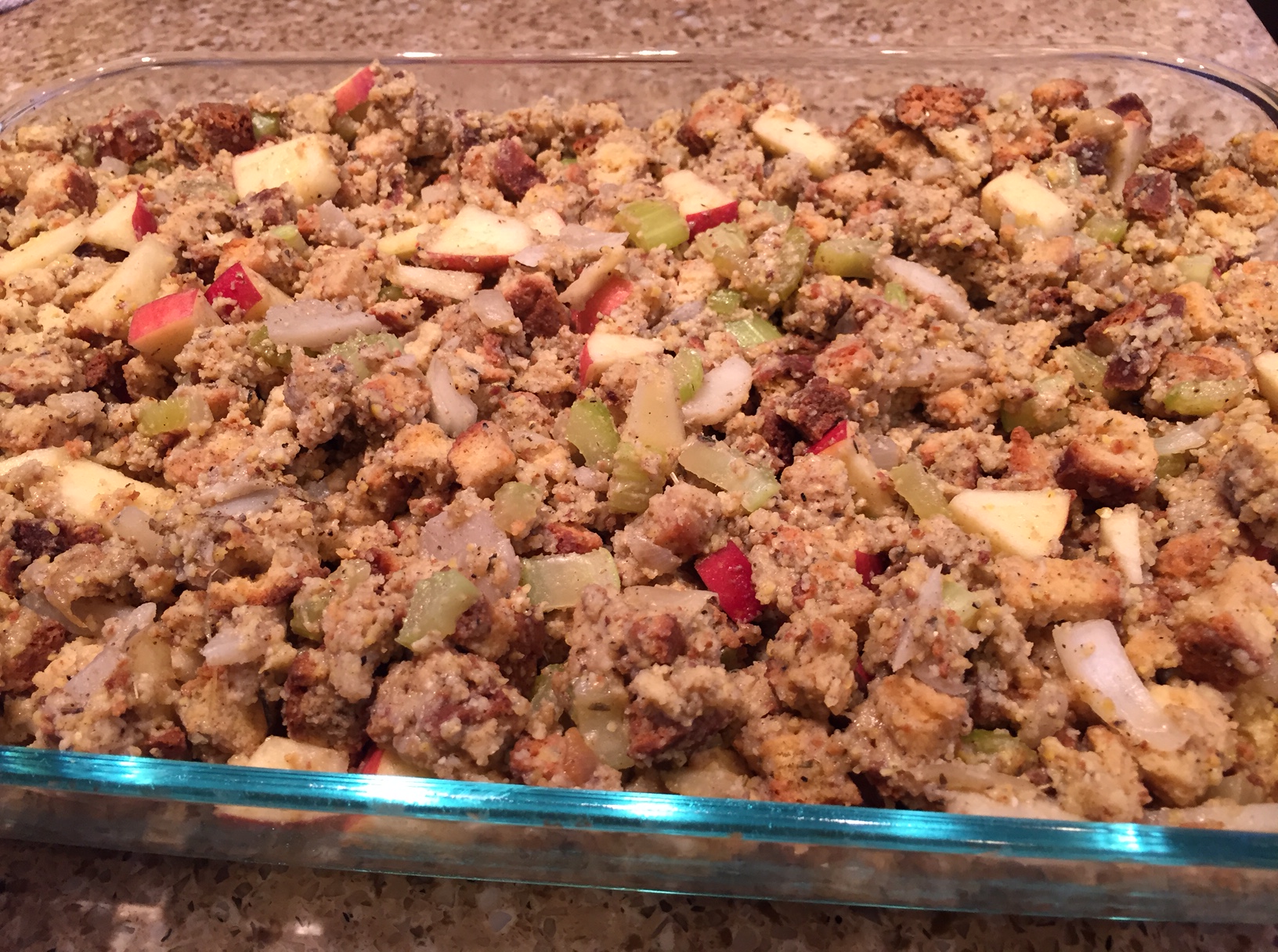 It turned out amazing!  It had wonderful flavor from the apples, onions and celery and a nice crunch from the water chestnuts.  It was not gooey or too dry.  It was economical, too, when I used the homemade croutons.  I was very pleased with the results.