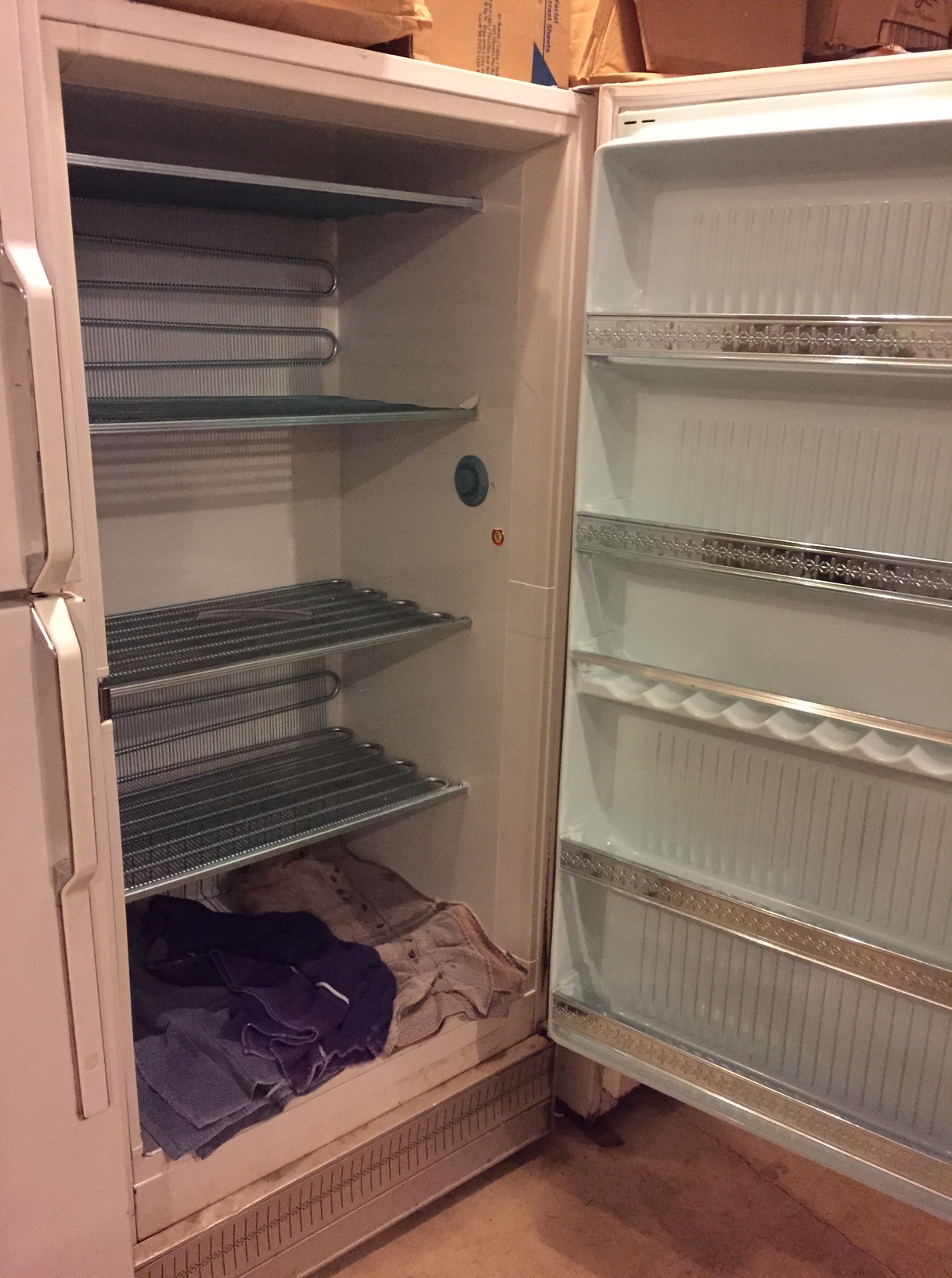 On Tuesday, one of my sisters came over and we organized and consolidated freezers and emptied 2 more.  Both were allowed to thaw and will be wiped out.  Then, this one will be re-loaded with items from one of the freezers that I have decided not to keep.  I felt very successful, because now I have 2 empty freezers that I am going to give away on Saturday.  I have explained that the freezers are not new, or energy efficient, but have worked well for me, and both families wanted one.  So, I'm hoping they are a blessing to them, but they are not out any money if these freezers don't work out for them.
For those of you who are new readers, I have been working for a few months to reduce the number of freezers I have (5 uprights and 1 chest, plus the 2 in the refrigerators).  I have so many because we have been raising our own meat (pork, turkey, and chicken), plus preserving fruits and vegetables from our gardens and u-pick, and buying 1/2 beef each fall.  Now we have our house up for sale, and don't want to move so many freezers.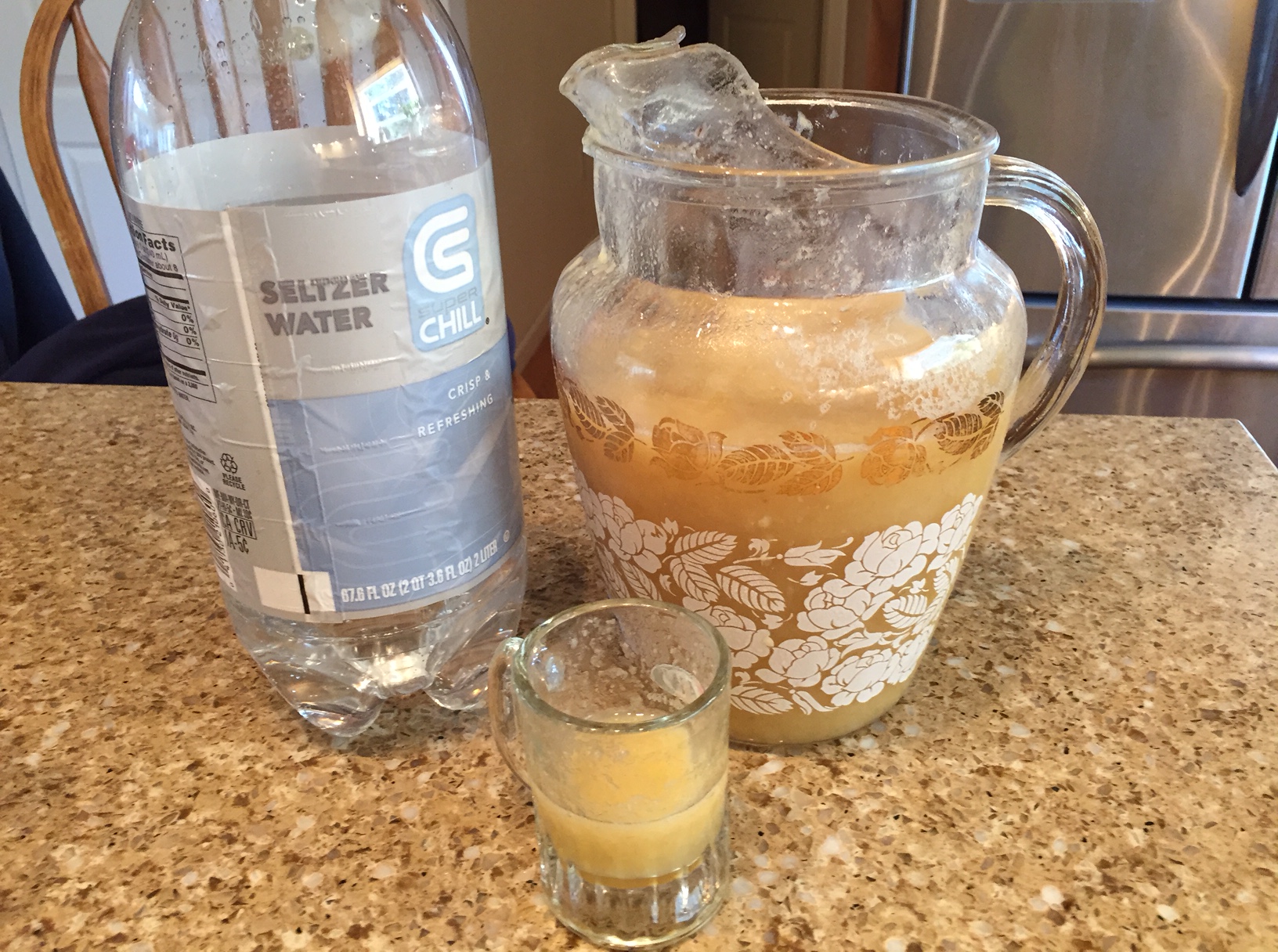 I found some frozen banana punch and a bottle of seltzer.  We drank that for dinner one night.  It was some I have made for parties, years ago, and needed to be used.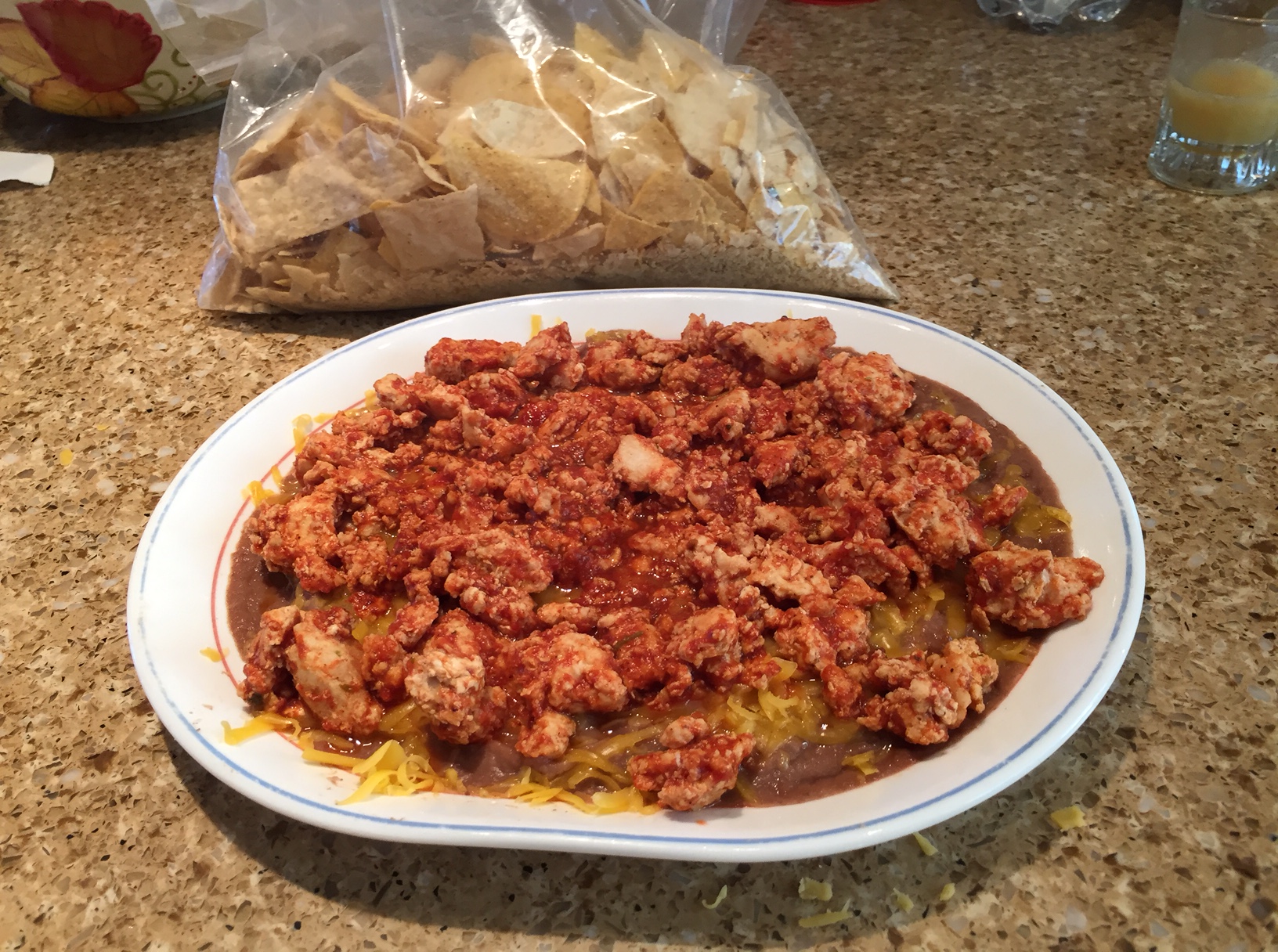 I found something labeled "Chinese Chicken Morsels" that were so freezer-burned I had to throw them away.  Instead, I used some ground chicken that was very old, with some frozen home-made re-fried beans and some cheese, and some chips that were getting a bit stale to make a nacho.  I added some tomato sauce and LOTS of Mexican seasoning, and it turned out ok.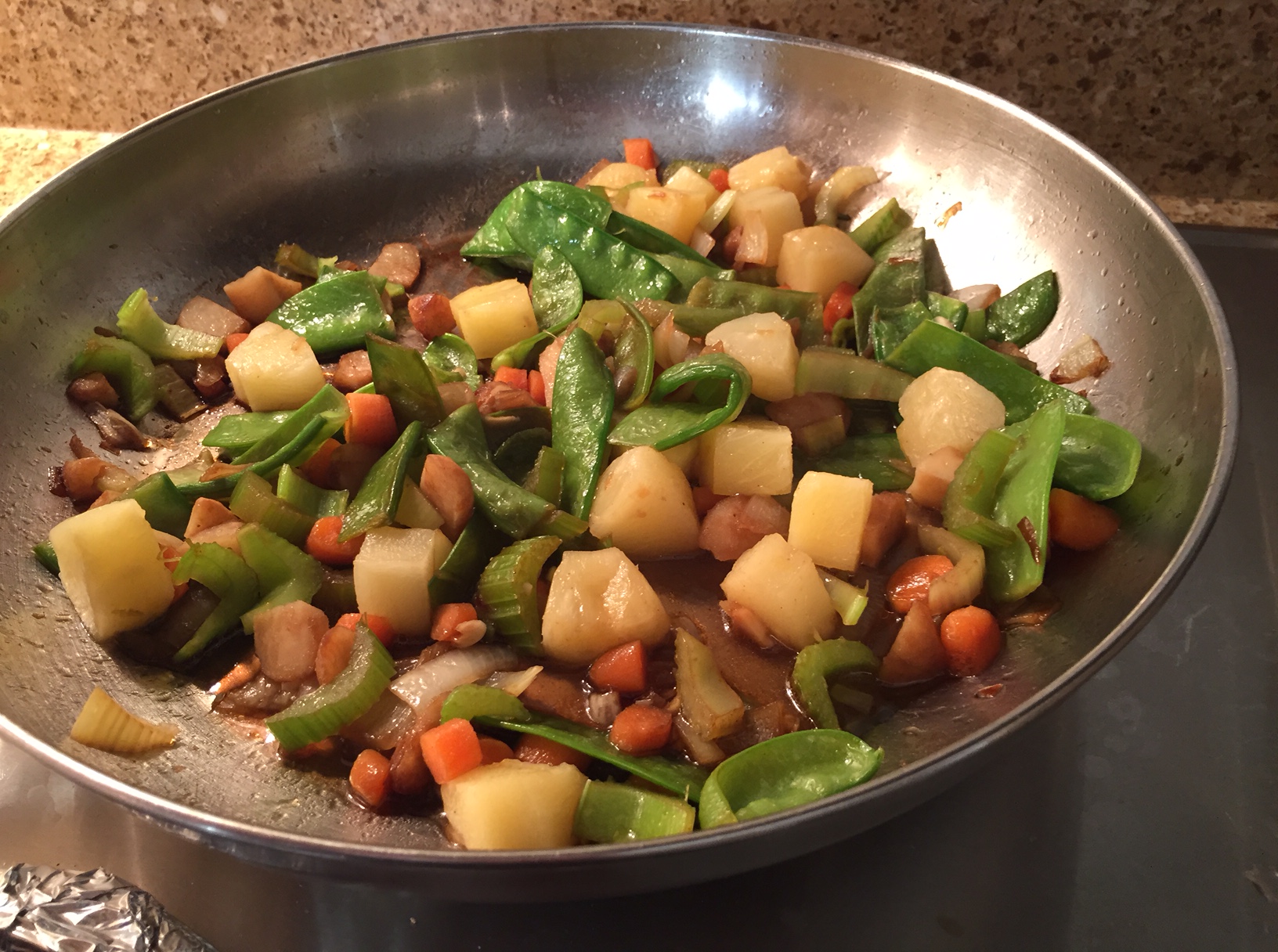 I found some snow peas I had frozen last fall, about 7 water chestnuts left over from last week's shish kabobs, and some pineapple from the kabobs, too.  I added celery, onion, and about 4 baby carrots that were in the fridge drawer.  I stir-fried it up with soy sauce, planning to add the chicken morsels.  Instead, it became our vegetable.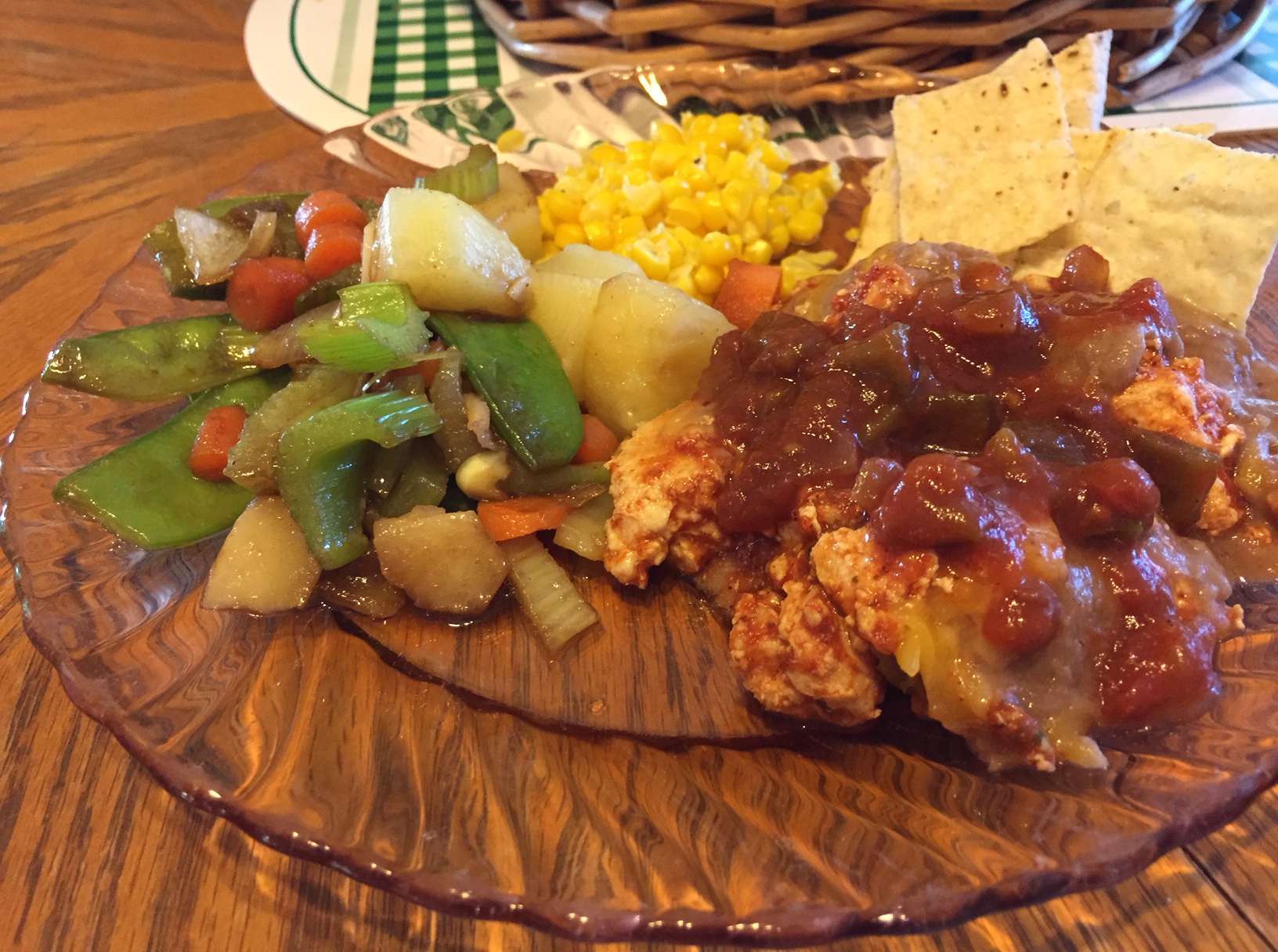 I also cooked some home-frozen corn.  This was a very strange Chinese, Mexican and American International dinner, but everyone ate it up!  Who knew?
We also ate some frozen turkey from a while back in our enchiladas last night.  I had intended to have leftover pork, but that pork was really yummy, so…….turkey it was.  Some frozen chili got used at lunch Wednesday.
Today, our home was shown 2 times, once at noon and once at 3.  I packed some food in a cooler, after cleaning a tidying for a couple of hours and we went off to a near-by town to do errands.  Imagine our surprise when we returned an hour and a half later, and they were still here.  So, we drove on by and sat for quite a while looking at a lovely stream at the end of our dead-end road.  When we returned, they were still there:)  So, we drove on by the other way, and went for a drive.  At around 2 (2-1/2 hours after we had left our home),  we crept up our back driveway, put the warming groceries in the camper fridge, and hid out behind our shop.  They were still here.  Our realtor needed to speak with us about an offer we received (super low, we are countering–in fact, so low I'm not sure anything will come of it at all, but who knows?), so she showed up at 2:15 and told them good-bye and we had our meeting for a few minutes, at which point we needed to leave so the next prospective buyers could come in.  Whew!  What a day.  I think it's great they came, though.  Hopefully, they loved it!  And, I was able to use up the rest of the lunchmeat, 2 sandwich buns that we found in the freezer, 2 crusts and 2 slices of bread, the last of the lettuce, and some other items.
I was able to get a load of home-canned items up from the basement and have been serving applesauce, peaches and green beans from that supply.
I'd like to take the freezers and cupboards down even more before we move.  On the other hand, I want to maintain a stockpile as well.  We worked hard to raise that meat and produce, and don't think we are going to be able to raise any more for some time, especially since we are going to be living in the camper in-between this house and the one we buy.  So, it's a balancing act.  We have places to put the full freezers and I will "shop" from my storage each week.  The camper freezer will hold quite a few items.