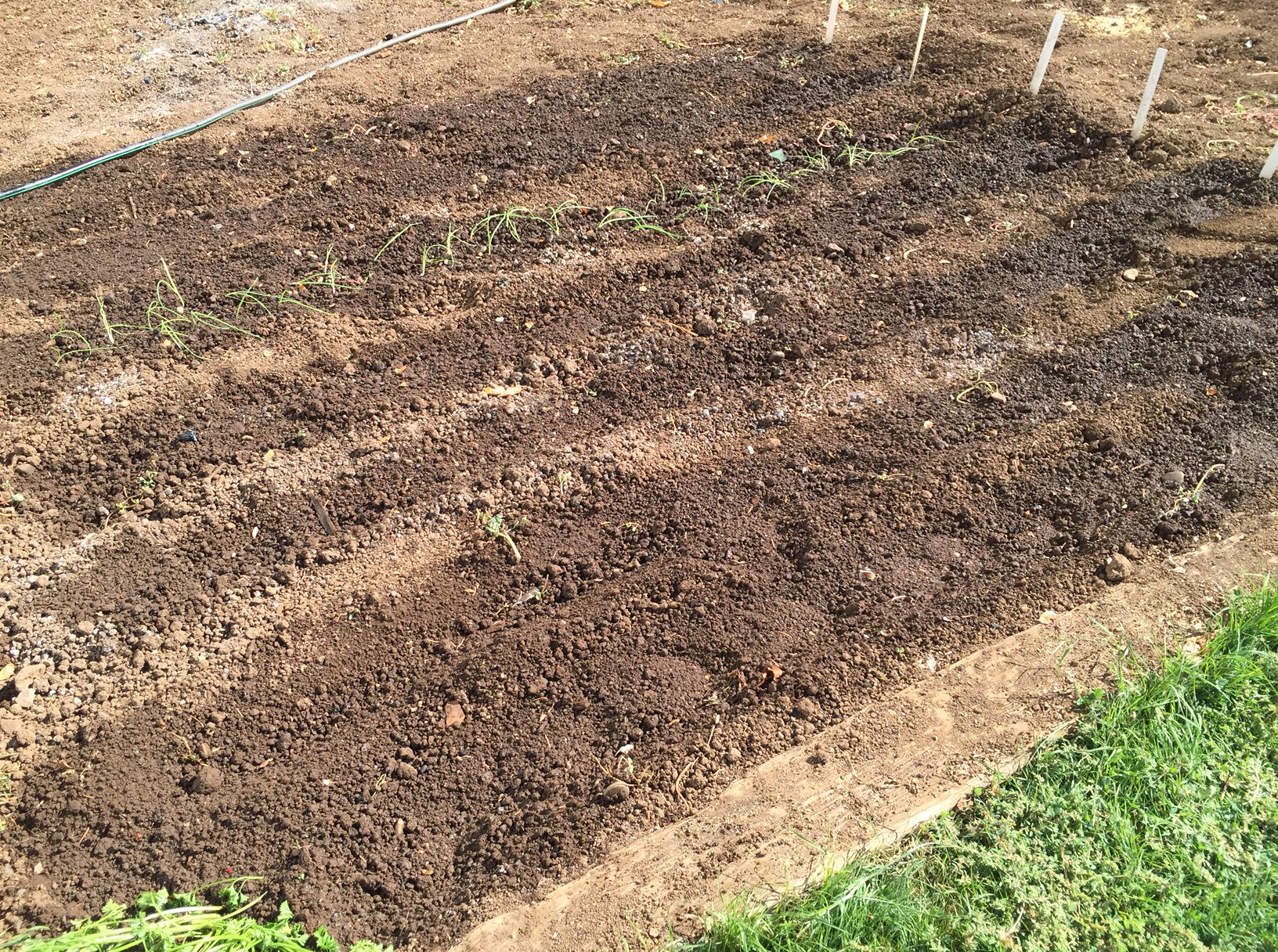 I planted a few fall/winter vegetables at our new house.  I focused on varieties I thought would have a chance of making some food before it gets too cold.  I put in some lettuce, spinach, snow peas, boc choi, chard, a few beets and carrots, green onions, and some Walla Walla onion plants.  I dug off a chunk of the parsley plant from the garden, but have serious doubts about its chances of survival.  It was almost 100 degrees for several days, so we watered this 2 times per day so that the seeds will have a chance of germinating.  As of yesterday, there were literally thousands of tiny weeds sprouting, but no veggies yet.  Hopefully, today….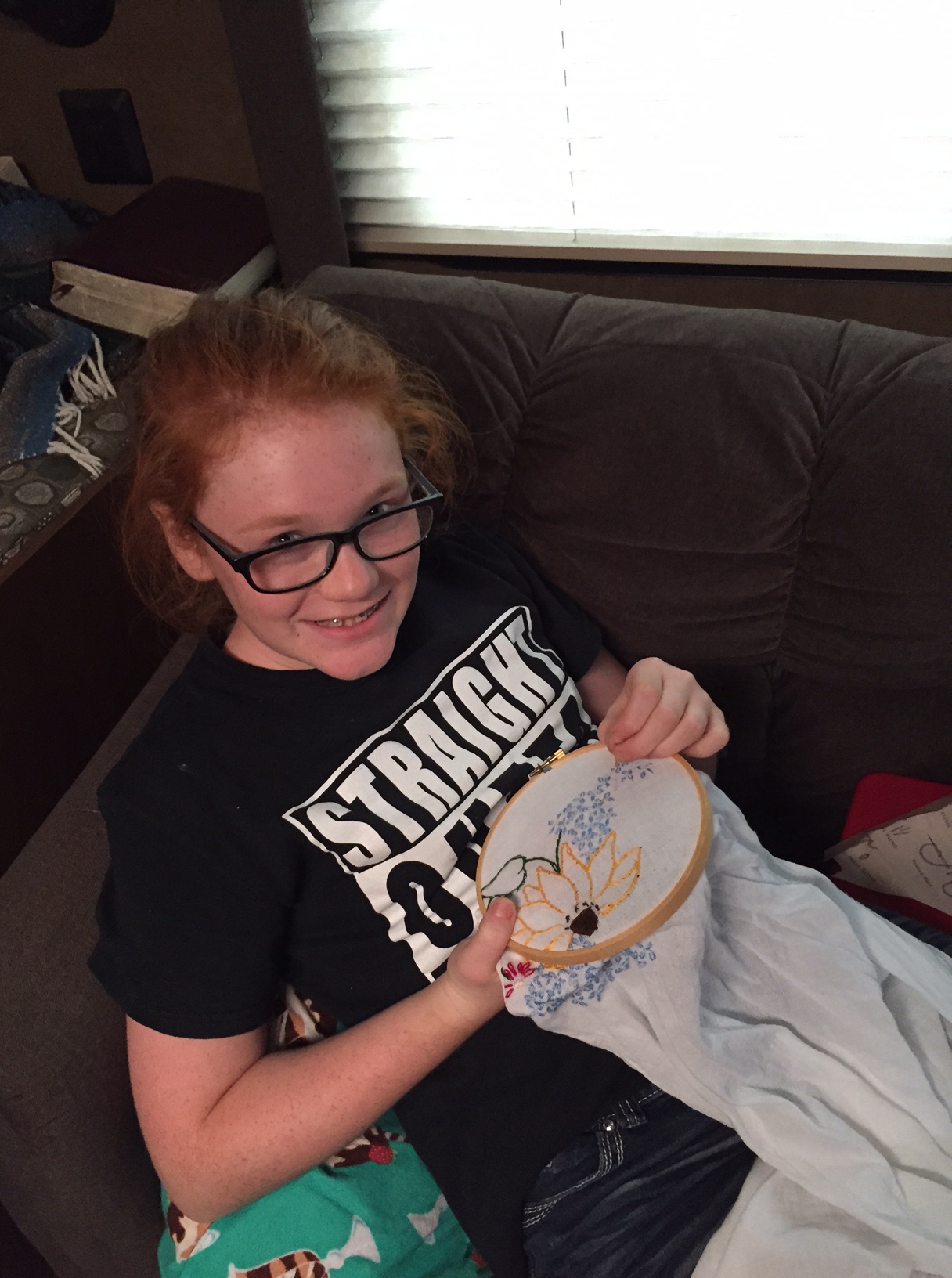 Patsy worked on her embroidery a bit this week.  So did I.  Things are so chaotic right now, it was good to do something calming.  I like to use the finished towels for gifts or in my own kitchen.  I find the flour sack dish cloths at Walmart in a large bundle, and the last time I bought some they were less than $1 per towel.  Then, I stamp them with Aunt Martha brand iron-on stamps, which are not costly and can be re-used.  They work extremely well to dry dishes with–better than some other towels–and the hand embroidery makes them so pretty and turns them into a nice gift.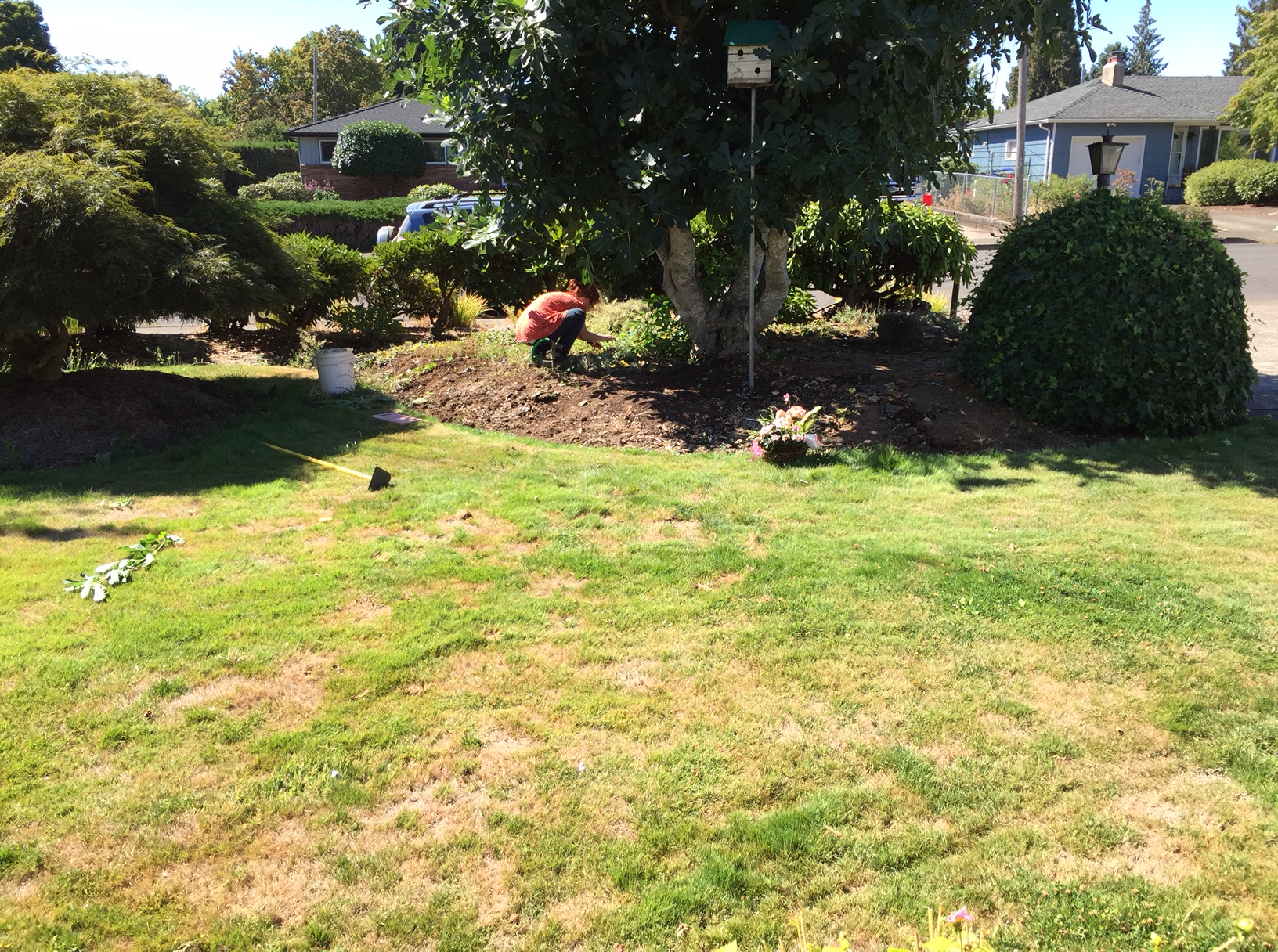 I've been working on the flowerbeds in the early mornings before it gets too hot.  There is quite a bit to do.  We got garbage cans delivered and there is a yard debris can.  I filled it 1/2 full already with branches and blackberry bushes and ivy clippings.  Otherwise, I'm making a compost pile with the weeds I pull.  Garbage service is much less per month than it was at our other place, so that was a welcome surprise.  I got the largest garbage can available, plus the recycle and yard debris cans for about the same price as a small can at the other house.  This is great because we haven't had garbage service all summer and have been putting it in Rob's Mom's can as she does not fill it, throwing it away at parks when we are camped, and literally saving it when we have too much.  Also, we have generated quite a bit while painting.  Later, we may downgrade to a smaller can once we get caught up and unpacked and save even more, but I'm grateful for the extra room right now.
We are watering a lot.  There is an old well that is hooked up for irrigation purposes.  It's hooked to an automatic watering system.  We feel spoiled, and delighted that we don't have to pay for the water.  Hopefully, we can get the lawn greened up and the flowerbeds watered.  Some of the plants look pretty stressed.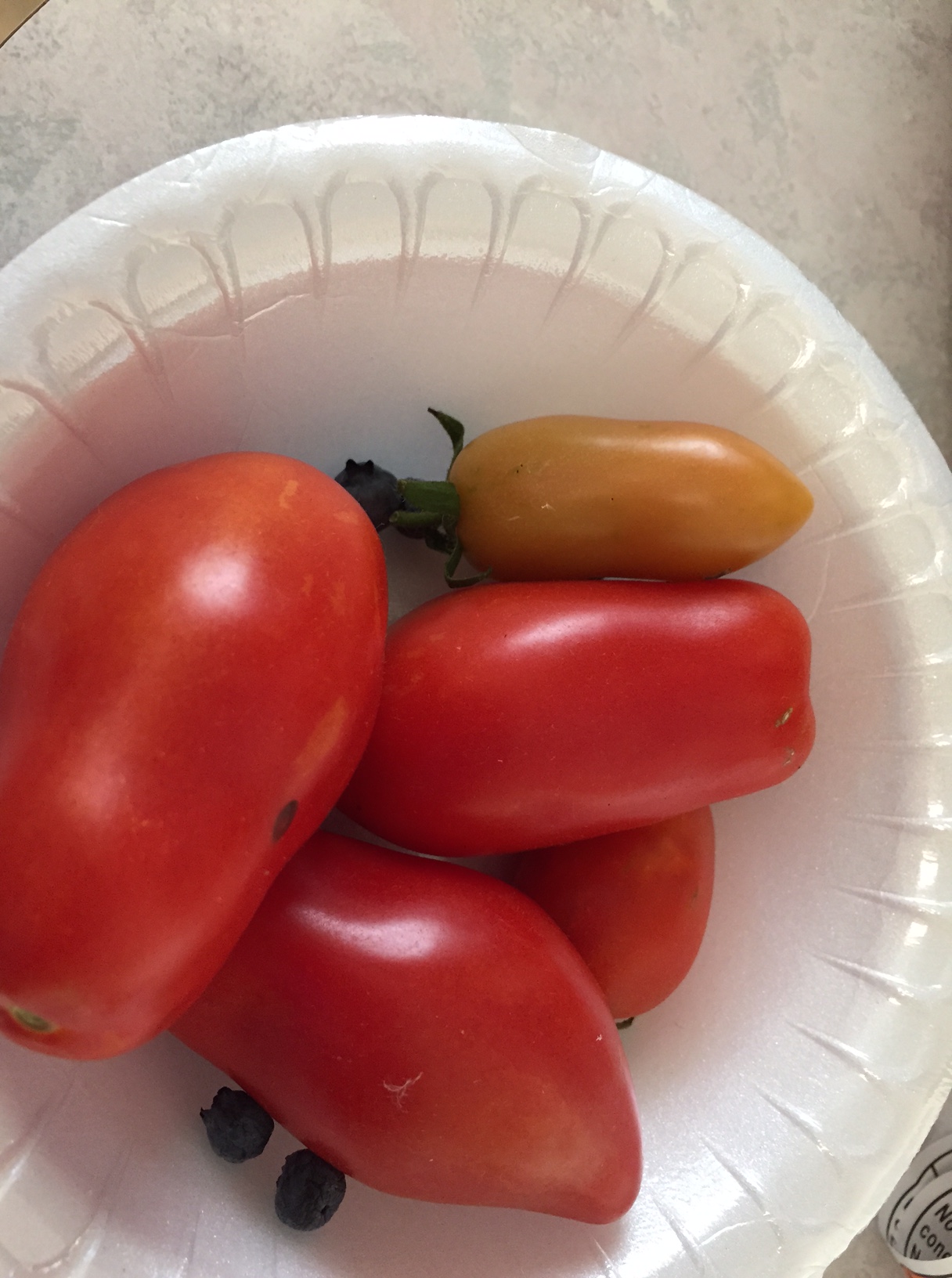 I'm continuing to harvest from the garden at my sister's house.  It is getting away from both of us, since she is working a lot right now, and I'm spending every day driving down to Salem, and working at the house.  Still, it is still producing well, and I'm taking the time to snatch veggies when I can, and so is she.
I've been able to do a lot of cooking this past week.  I have been able to get quite a few boxes of my food storage put onto shelves, with Lovana's help.  It's been nice to be able to pull food from that.  Boy, I have more dried beans than I remember–:)  At the new house, I've been working with 1 small frying pan and the microwave, and making lots of sandwiches.  I mean lots.  I've also been using my other sister's house to cook some more substantial meals, like spaghetti from a jar, and hamburgers and tacos with lots of garden veggies.  I've cooked a little bit at the camper.  I found my pots and pans while unpacking boxes on Saturday.  I've also unearthed my silverware, glasses and tools like turners and scrapers.  No plates so far, but I've got paper ones.  It's like finding old friends after several months!  I'm planning to cook more and more down there.  Such a luxury to have a big refrigerator!  Yesterday, my niece organized it–it just had some food thrown in there from all the coolers I keep dragging back and forth, and lots and lots of drinks for everyone to drink while working.  Now it looks better and I can find things more easily.
We will continue to take loads down from our remaining container.  Rob is rounding up guys to help on the next 2 weekends to get the heavy stuff moved.  Even though it's a slow process, it is very helpful to us to not have to hire movers.  The shop is stacked with piles of bins and boxes, as is the garage.  I'm unpacking slowly, and have the kitchen and food storage well on it's way to being organized.  There will be several things that don't fit, and I'm sorting them out as I go.  Today, we can start setting up the beds and other rooms. I'm not sure when we will be able to sleep there–but I know it's soon!  I'm very excited.