I've been asked for the recipe for the cake I made for my sister's birthday last week.  It's a recipe from an old cookbook that I altered to make gluten-free.  Here's what I did:
1-1/2 cup butter
3 cups sugar
5 eggs
3 cups Bob's Red Mill 1-1 gluten-free flour (this blend includes xanthum gum)
1/2 cup cocoa powder
1/2 teaspoon baking powder
1/2 teaspoon salt
1 cup milk
1 teaspoon vanilla
chocolate chips to sprinkle on top (I think I used about 1 cup)
Soften the butter.  Cream butter and sugar, add eggs.  Add the rest of the ingredients, except the chocolate chips and mix well.  (I did all of this in a bowl, with a spoon, but I'm sure a mixer could be used.)  Divide the mixture between 3 loaf pans that have been sprayed with non-stick spray.  (I've done it in 2 large loaf pans, or 3 slightly smaller ones, and feel it cooks better in the 3 slightly smaller ones.  I also made cupcakes from this recipe last spring–just cook for less time and leave the chocolate chips off or stir them in)  Sprinkle chocolate chips on top of the loaf cakes and bake them in a 350 degree oven for 1 hour-1 hour and 10 minutes or until firmed up and done in the center.  (The trick here is to get the center to cook without getting the edges too crisp or even burnt.)  Cool on a wire rack for 10 minutes, then turn out of the pans and finish cooling.  Makes 2 large loaves or 3 smaller ones.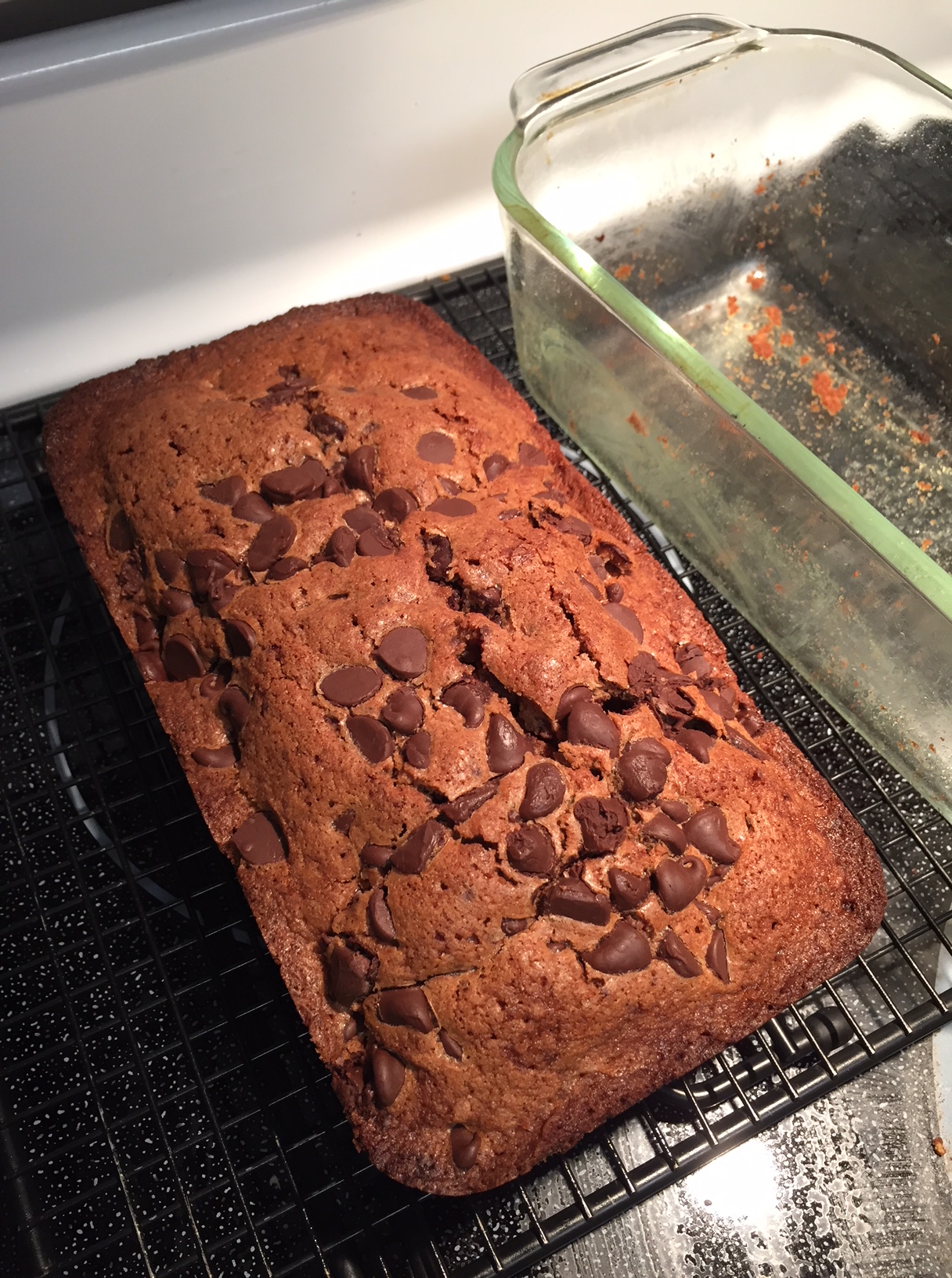 There are several things I like about this recipe.  First, it does not need frosting, so it is easy to transport. Second, it can be divided into the individual loaves so I can make a batch, use one loaf and freeze the rest for another day, which is a time-saver for me.  Third, it is gluten-free and tastes really good!  It can be "dressed up" for a party, or used for lunches.
If you don't need to make gluten-free cake, it works well with regular flour.  I used to make it that way, years ago.  It is basically a chocolate pound cake with chocolate chips sprinkled on top.  When I modified the recipe, I did add more cocoa powder than the original recipe, because……chocolate cake, chocolate chips, chocolate candy bars….need I say more?  Enjoy!