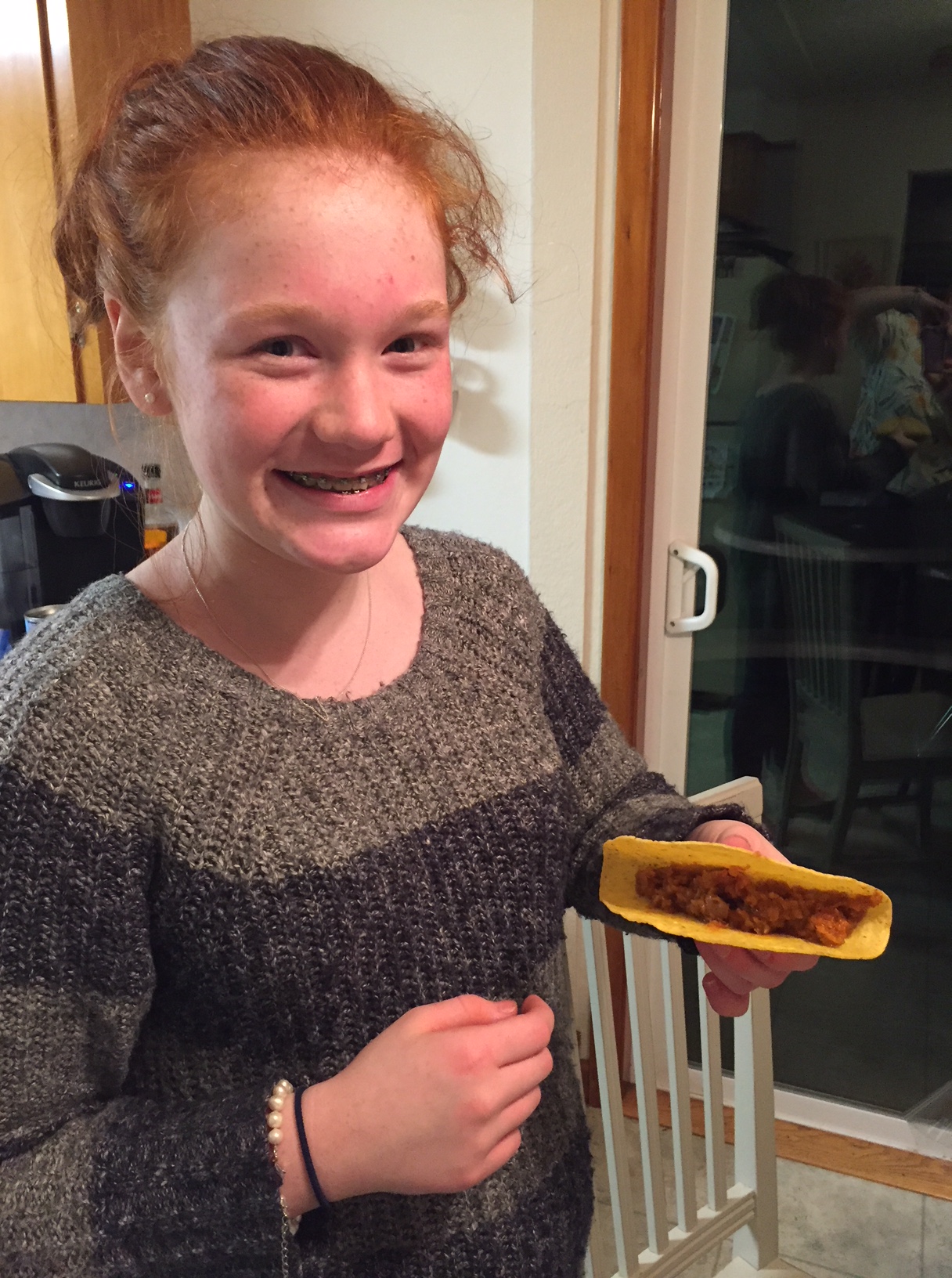 This was a week where I tried to encourage everyone to eat up things in the fridge so I can have more room for Thanksgiving food.
Patsy is holding an African taco–she put some of Harnet's special lentils into a taco shell and ate it for dinner 2 nights in a row.  The second night, she put it into a flour tortilla instead:)  Almost  every time I see Harnet, she generously gives me some of these beri-beri flavored lentils.  They are spicy, but with a little different flavor than Mexican seasoning.  Patsy put a little grated cheese on there, and sour cream, and ……she loved it!!
We ate turkey-vegetable soup again this week.  The entire pot was consumed over a few days.  One day I ate it for both breakfast and lunch.  Rob opened a carton of tomato soup as well, and ate that a couple of times.  Lovana made a batch of muffins, which are all gone now.  She also made apple crisp.  Yum!
I thawed meatballs, spaghetti sauce and several other things from the freezers. I cooked a lot of noodles for Rob to eat for dinner and left for work.  When he got home, he didn't see them, so cooked another huge batch.  We've eaten noodles, sauce and meatballs multiple times since then:)  The kids love noodles and eat them with Parmesan cheese.  Green beans were cooked.
One day, we ate cheese and crackers in the car when we were out and about.
Another thing I thawed was ground roast beef.  I mixed it with Miracle Whip and made sandwich spread.  I also ate it plain, with a spoon.  One night, after work, I put pickles and this spread on gf bread, and had it for my supper.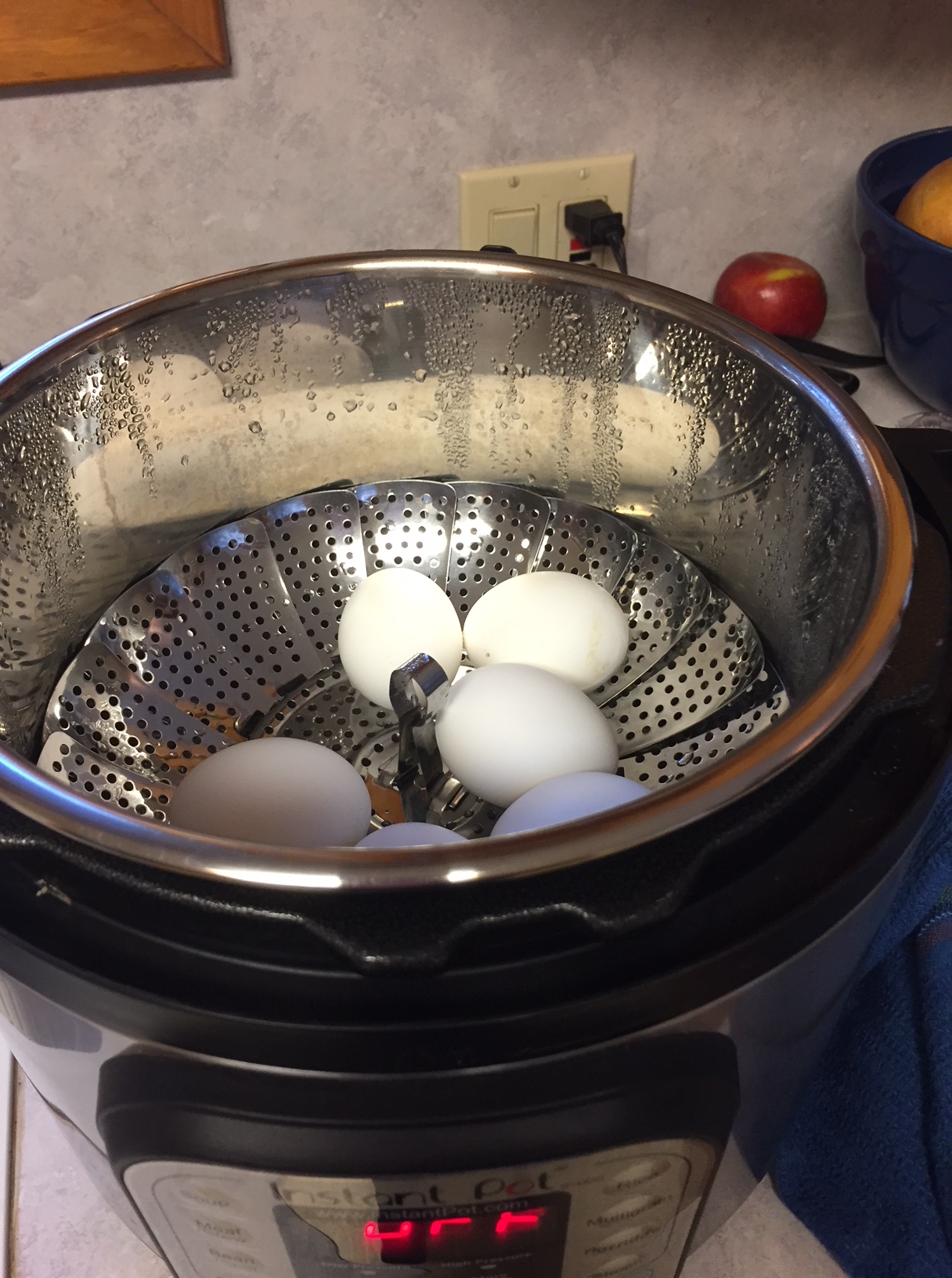 I followed a recipe from the internet to hard-boil eggs in my Instant Pot.  Easy!  1) Put eggs in a steamer and put in pot.  Put in 1 cup water.  Turn pot on "Manual" and set for 3 minutes.  After it is done, I waited 7 minutes and then released the pressure.  They were done perfectly.  They pointed out that you could be very flexible with when you released the pressure–they sometimes left it for 15 minutes.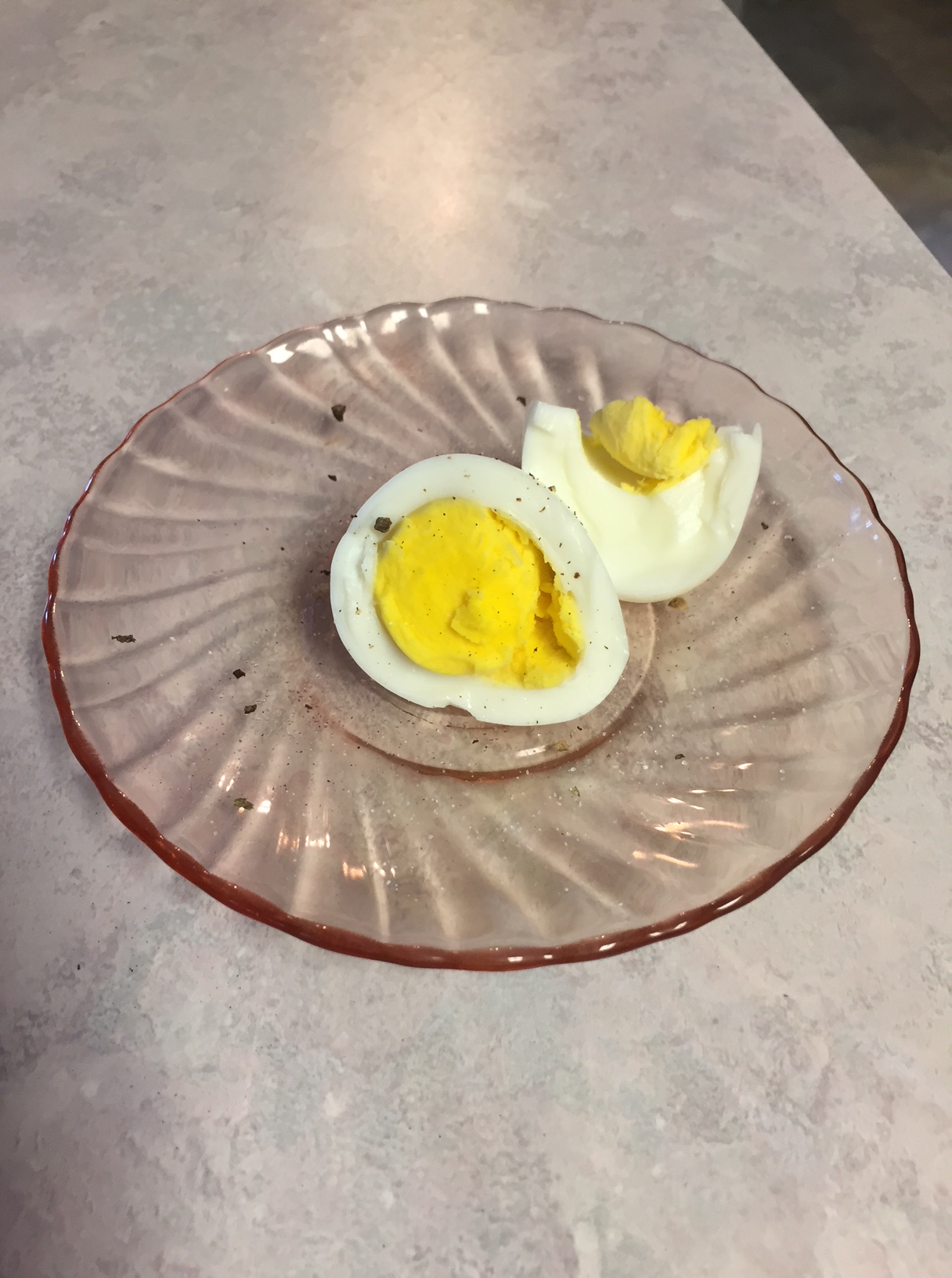 So, the truth is…our meals were pretty repetitive.  Besides these main dishes, we did have odds and ends from the cupboards or fridge, plus scrambled eggs.    When I apologized to Rob for the monotony, he had some good thoughts about it.  His thought is that we are one of the few nations that feel like we need 3 different meals per day, and many, many different ones each week.  He pointed out that when we have visited Mexico, the people we were with mostly ate beans and tortillas every day, with a few differences now and then.  (On this last mission trip, we all paid a fee and the church women cooked food for us with that money, and there was plenty left over for them to have, too.)  When he went to Africa a few years ago, the choice for many was rice.  And they were fortunate to get it more than one time a day in the part of Uganda where he was.  Sometimes there was an egg or other things, but mostly there was rice, if they had any.
On that trip, he was fed well by the people, and his group quickly found out that the food wasn't just for them…the servers would be eating after them from what was left.  After the first meal, where they weren't understanding how it worked and ate a lot, they ate sparingly so the cooks/servers could eat.
So, he doesn't mind the same meal several times in the week.  He feels it is actually more globally realistic, and he doesn't think it hurts anyone at all.  Good thing:)
I made it up to him on Friday night.  We went out for Mexican food, and did a little Christmas shopping, and got these……..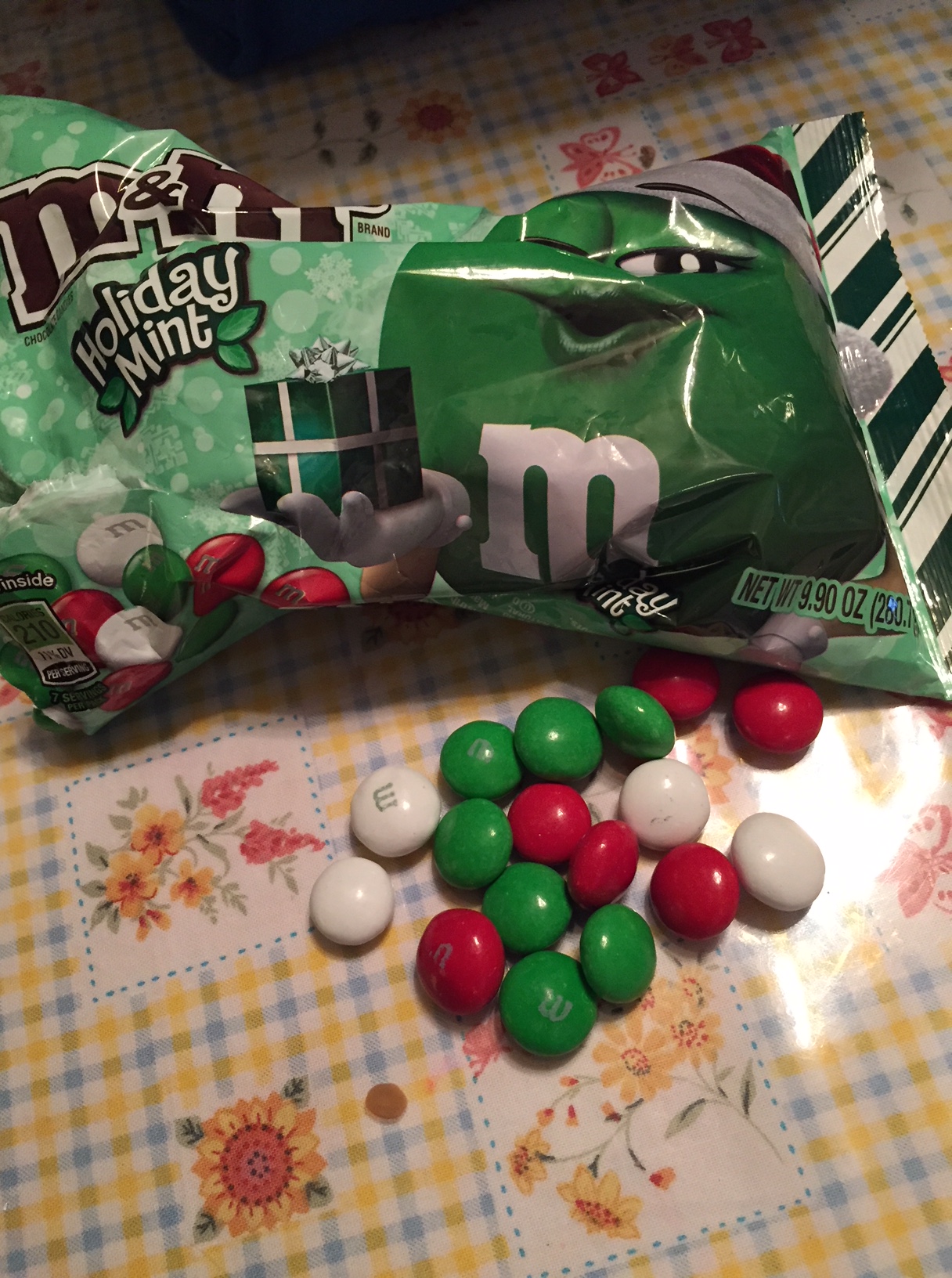 Yum!
While we were out and about, I grabbed the 2-4 lb bags of sugar I was allowed for 99c each at Safeway.  They were out of Safeway sugar, so gave me C and H, instead.  I got some lemon-lime soda for Ja'Ana, as she has caught the same crud every family member has been passing around.
At Fred Meyers, we got a few Christmas gifts, which brought me easily up to the $50 required to get a 49c/lb turkey.  I already have one that I will cook…this one will be for later in the year.  I just can't pass up that price!!!  All that turkey for just under $10!!!
Better yet, I have Michaela's Christmas gift.  Who knew that they would make a ladies-sized Lion King sleeper with Hakuna Matata on the front, a hood like Simba and even a tail!  That movie is one of her all-time favorites–she can quote long passages of it!  Ja'Ana spotted it the other day, and I was so glad it was still there tonight when we went back.  Maybe the other ladies of Salem are not quite as obsessed with Lion King as Michaela is????
I'm not telling what else I got, and I have lots left to get, but at least we got started.
I'd better end this and go to bed–I'm tired after all the cleaning I did today, but feel very satisfied with what I got done.  I'll leave you with a cute picture….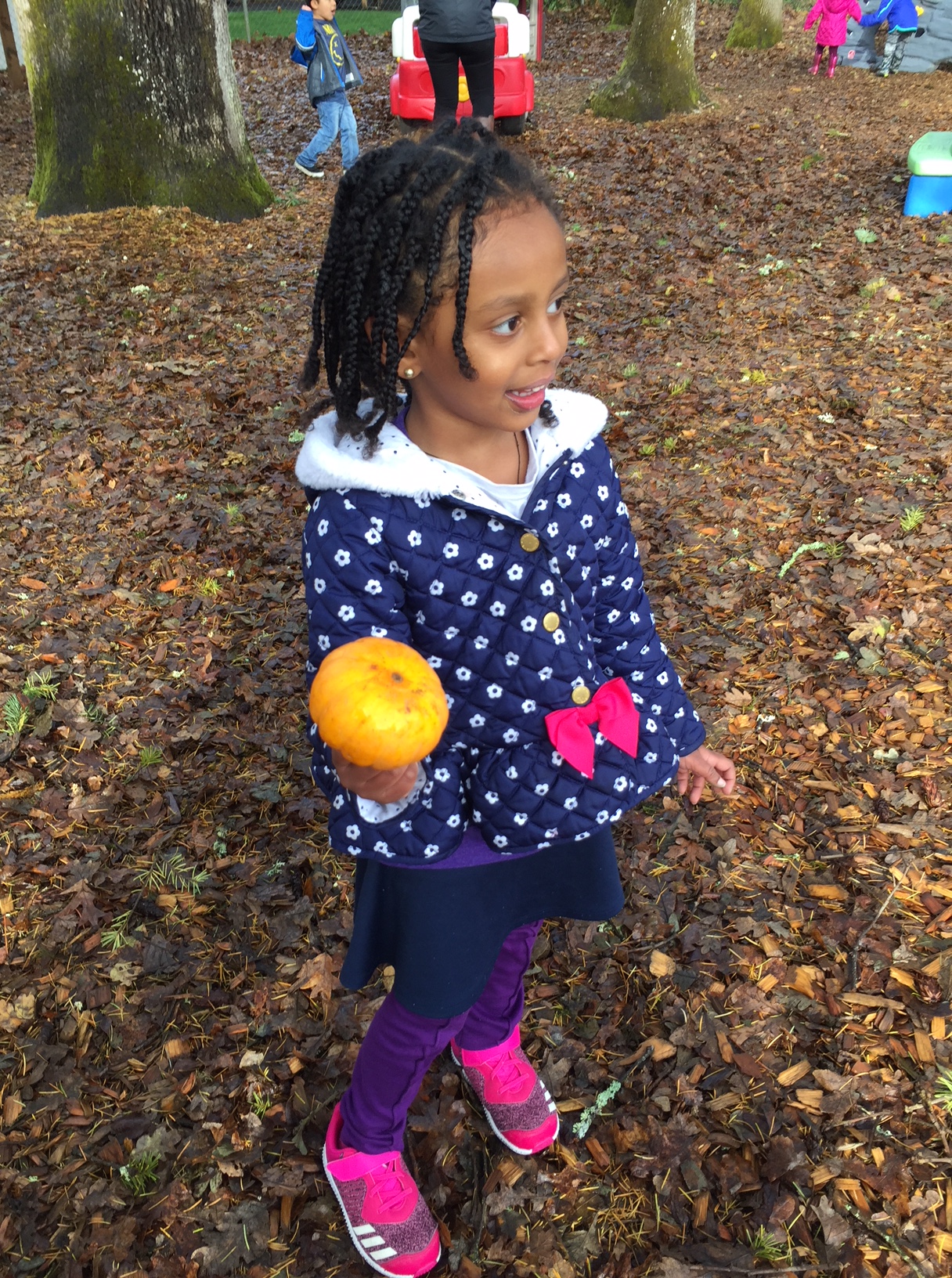 A few of us went and enjoyed her Thanksgiving program at her preschool.  They sang about trees and leaves, and quiet voices and loud voices, and their ABC's.  They fed us refreshments of apple pastries and M & M's.  So cute….