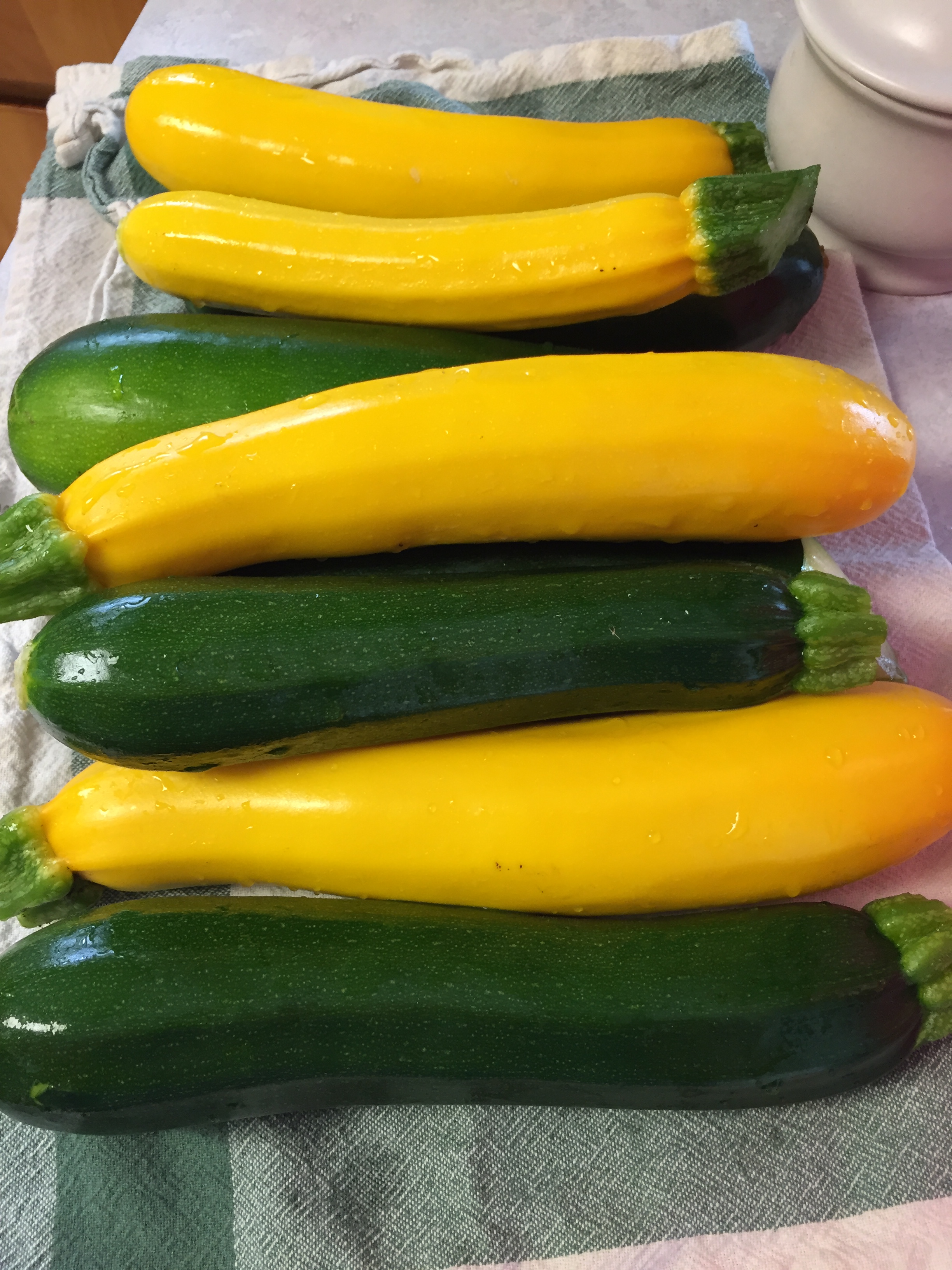 That's just my harvest from today!  Over the past week, I think I've picked around 35 zucchini. I have shared many, many zucchinis, served them frequently, and still have a bunch.  Tomorrow, I have a day off and hope to preserve some of them.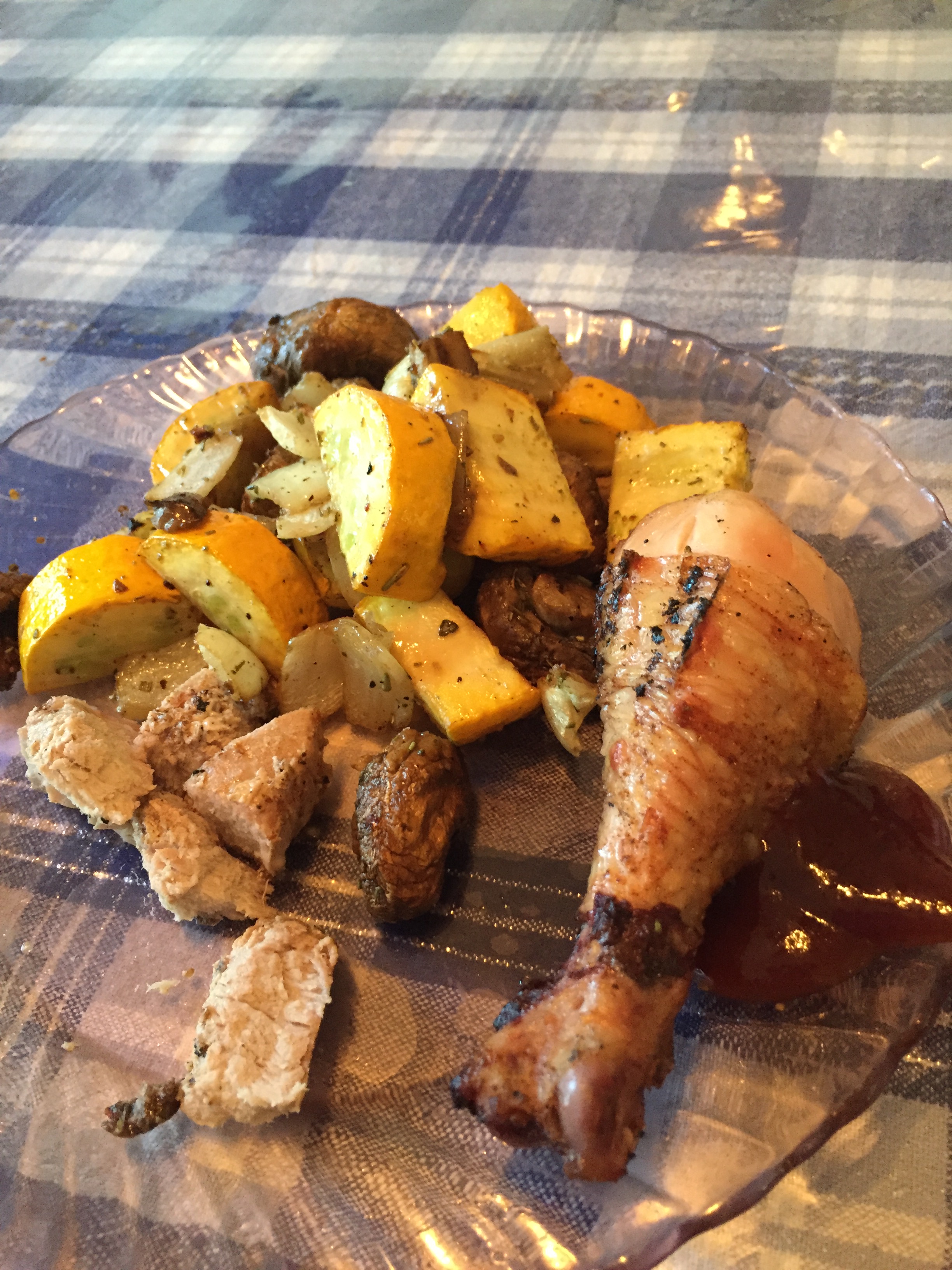 We have had mixed grill basket, stir fry, zucchini bread, gf zucchini muffins, and zucchini cake with browned butter frosting (thanks to Lovana).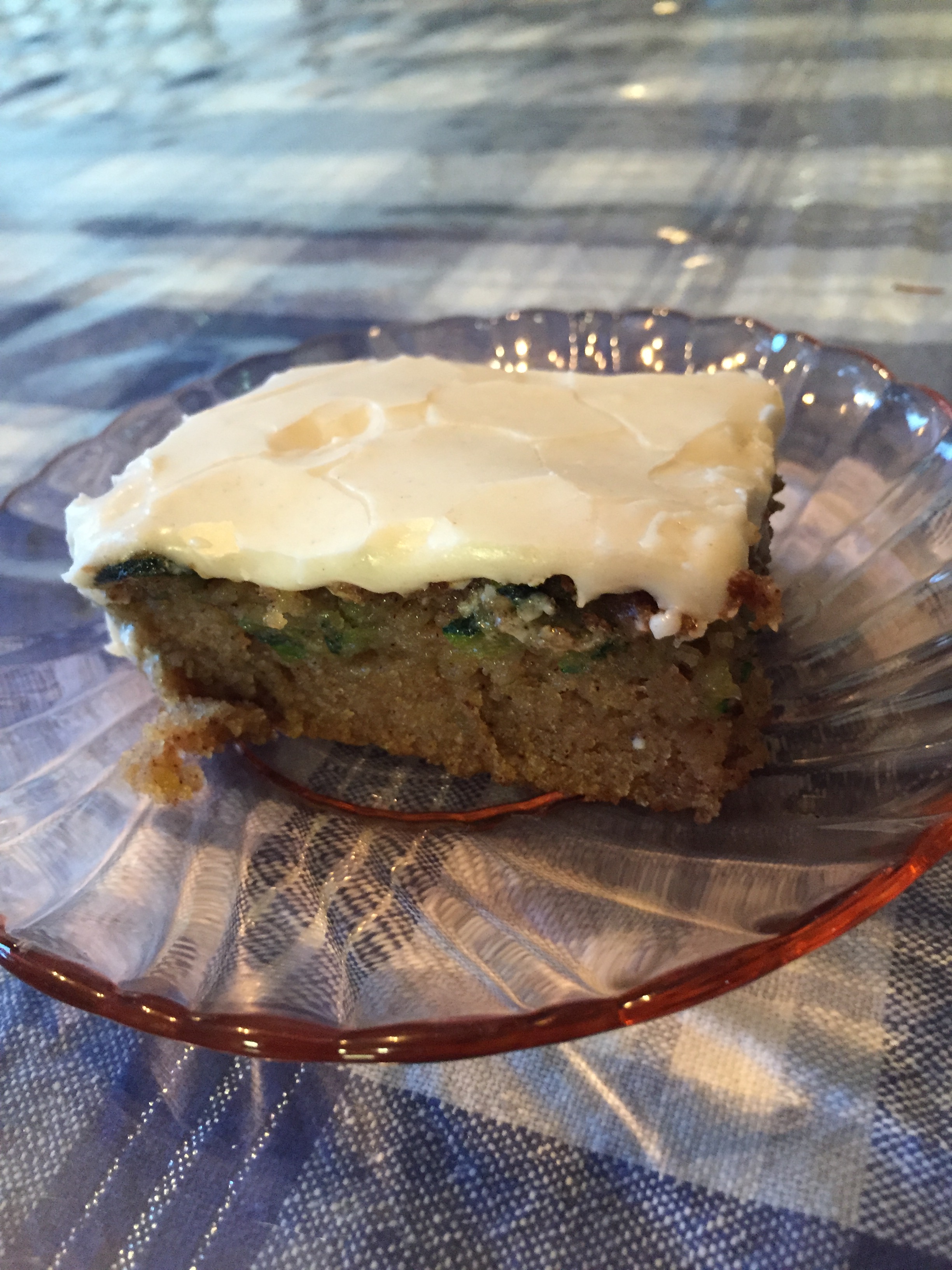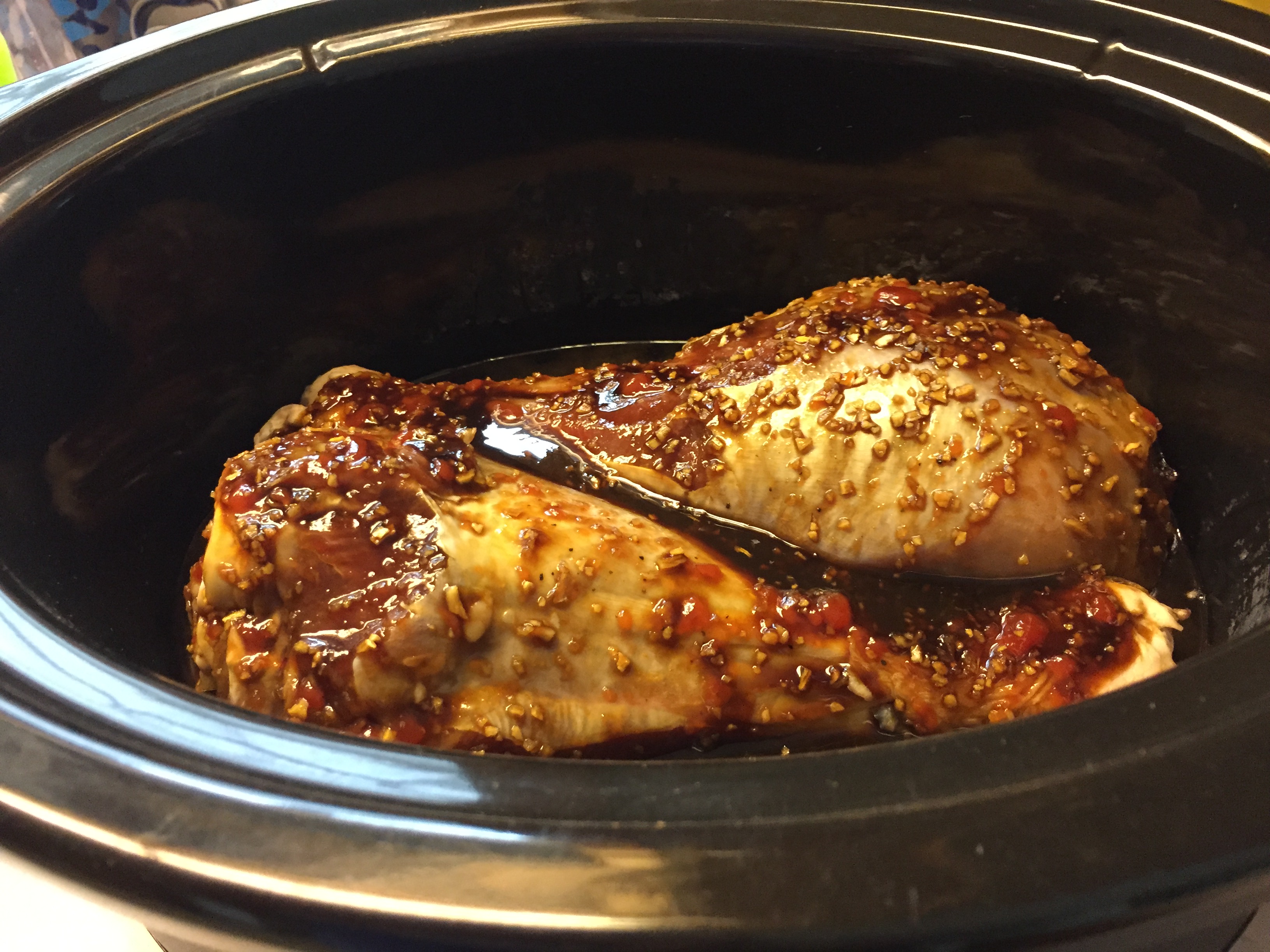 I found 2 turkey drumsticks in the freezer.  They were from our old house! It was time to use them up and then some. I found a recipe in the Fix and Forget It (For Entertaining) cookbook and made it.  It was a BBQ sauce with 1/2 cup ketchup, 1/3 cup molasses, 1/4 cup white vinegar, 3 T Worchestershire sauce, 2 T dried minced onion, salt and pepper.  I sprinkled the drumsticks with salt and pepper, mixed the other ingredients, put the sauce over the drumsticks, set the Crock Pot to "low" and left.  5-6 hours later, it  was edible, and I ate some for lunch, but let it go another 2 hours and it got more tender.  I picked the rest of the meat off the bones and put it and some of the sauce in a bowl and put it in the fridge for tomorrow.
On that same trip to the shop where I was digging into the freezers, I found some pork from our old house, as well.  I marinated it in olive oil, mustard, salt, pepper and a sprig of rosemary.  Rob grilled it tonight, and we ate part of it.  He also did chicken drumsticks, and we ate part of them, too.  Now, I have main dishes for the next 2 days, and maybe more.  There are a few more things in the freezer that need to be targeted another time.
We also got out some beef brisket that we have not known what to do with.  When we bought 1/4 beef, it came with it.  We've bought beef for years, and did not get this cut, but the last 2 times, we have.  So, Rob's been looking on-line and in cookbooks, and is ready to tackle it.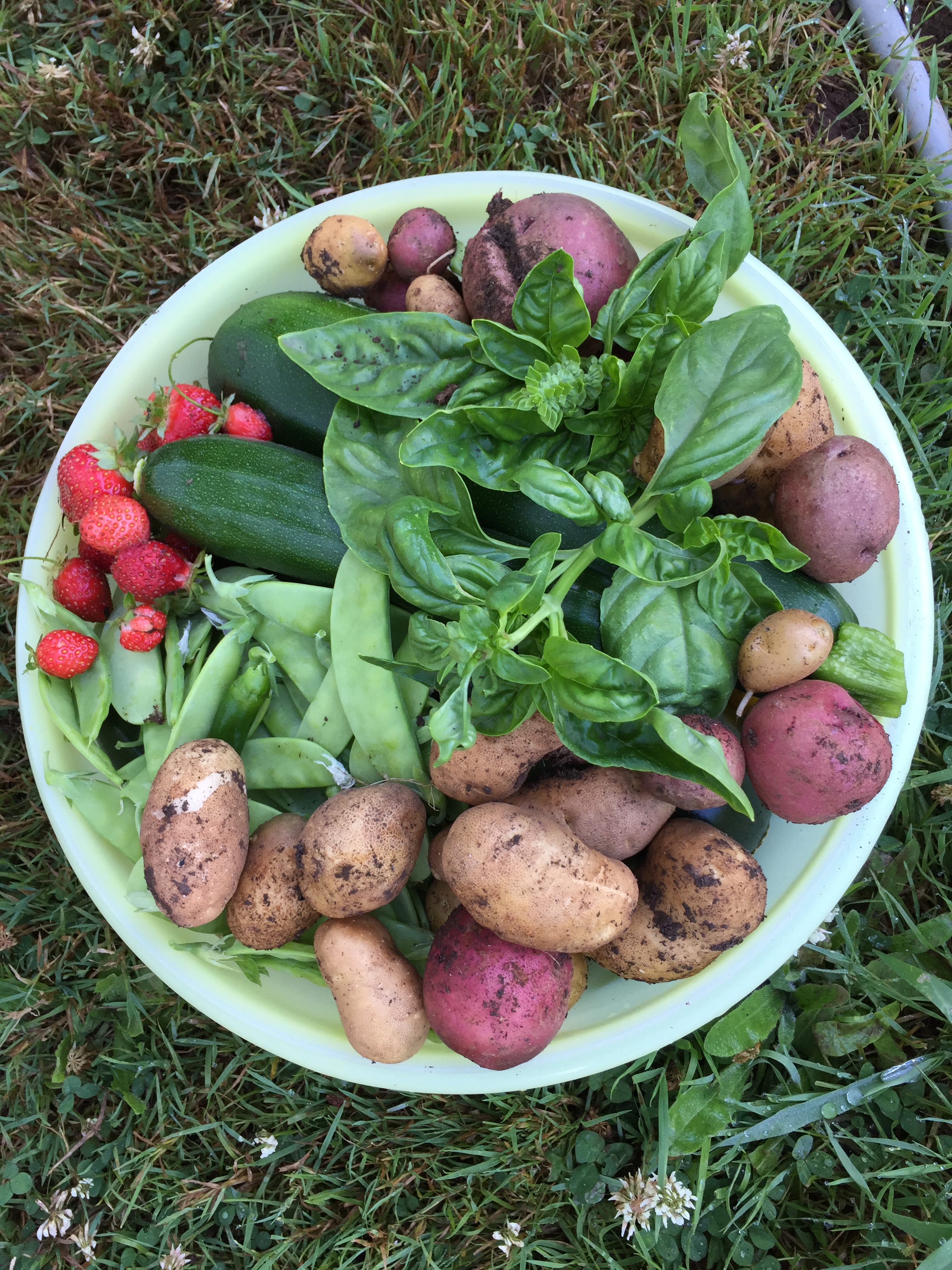 I have been picking lots of veggies from the garden.  The potatoes are the ones that grew all by themselves in the compost heap.  I cut them into chunks and roasted them.  I cooked some garden carrots in a little butter and apple juice for lunch.  I've been freezing all the little bits of strawberries I collect.  I just drop them into the freezer bag.  When it gets a bunch in it, I'll start a new one.  I will have lots of strawberries frozen by the end of the summer, if all goes well.  I got about 2 Tablespoons of shelling peas today.  I'm shocked and amazed that snow peas are still growing, despite the heat wave we've had.
I've been skimming the beans, and have enough for tomorrow's meal. I did lose some blossoms in the heat, but am going to have lots.  I cut what I thought was tons of lettuce a few days ago, but I realized today that we have eaten almost all of it, due to the many salad suppers we had when it was so hot.  I have a few more heads to cut, then will have to wait for some little lettuces to grow.  I'm hoping to plant even more seeds in the next couple of days.  I'm very happy because I was able to eat or share much of this batch before it bolted.  There are a few bolted plants I did leave out there from the first batch–hopefully, they will self-seed and I will have volunteers, or I will collect some seeds.
The tomatoes are just starting. What a treat!
We cooked for the college-aged kids on Tuesday, at church.  It is a fun group to cook for.  It seems that no matter what we make, it's "their favorite" and they slick it up.  We served salad bar, with toppings for both taco salad and chef's salad, pork and beans (cold, right out of the can), deviled eggs, zucchini bread and gf zucchini muffins, and watermelon.  It went well, and they loved it. It was very hot, and it hit the spot.  Of course, we ate with them that night.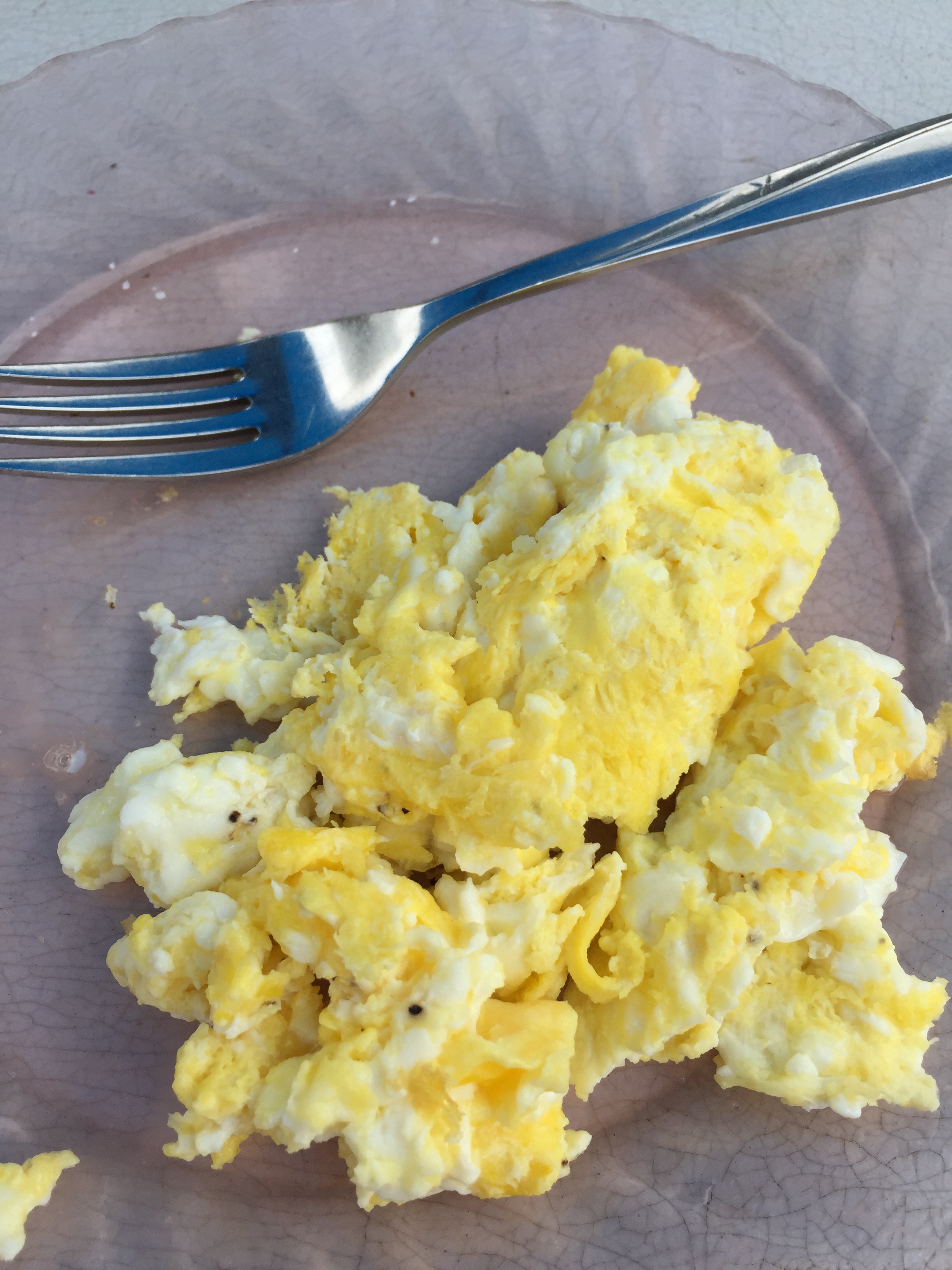 This account would not be complete without eggs.  Just plain, simple eggs, scrambled with salt and pepper.  I was able to get eggs for 99c/dozen and bought 5, just for us.  That does not count the 3 dozen I turned into deviled eggs for the college kids.  Jake decided he is in a mood for eggs.  He has had scrambled eggs more than once this week, and today ended up eating 4 eggs, total–first I scrambled 2, than 2 more on request.  When I got him into the car after our early morning swimming excursion, he gravely explained that he had not had a single thing to eat today, and was HUNGRY!  The last time he told me that, he meant he had eaten nothing but DONUTS, so I didn't take him too seriously until those 4 eggs went down the hatch.  Rob did pick him up very early, and then took him to the pool….
Jake has still been eating lots of ramen noodles this week, his favorite, but it was really nice to see him eat so many healthy eggs.  Other family members have been hungry for eggs, too.  Maybe I should have bought 10 dozen……
The one thing you don't see us eating lately is food from a restaurant.  We just aren't going out, even for French fries.  It's been a few weeks now.  It's been a little hard on Jake and Michaela without the McD's, but they are getting used to me skipping it.  We (their mother and I) agreed before Rob's job ended that it would be better for them to eat less of that food, and boy was I glad we had already decided that when his job ended.  It's been good for both the budget and the waistline.  Rob and I will go out to eat for a date soon, and enjoy every minute of it, and we will take the kids for a treat sometime, but I really want it to be a treat, not an expectation and not too frequent.