Several years ago, we got extra daffodil bulbs when my sister divider hers. Patsy planted them in front near the street and they get prettier every year. The first year there was one bloom on some of the plants. Now they are starting to multiply and will continue to do so until I will have to divide them in the future.Sometimes, we add in a few bulbs from Winco or other places, but mostly these are absolutely free flowers that just keep growing and growing. I weeded a tiny bit in that flower bed, but there's lot more to do.
We spent the week cleaning up the tree Rob cut down last Monday. There's still a bit left to pick up, but the majority of branches are gone. Rob borrowed a trailer to haul them away to my sister's farm. The cardboard box was over some daffodils to keep them safe, and another one was covering the faucet. The chunks of wood will join the rest in the side yard, drying for next year. Then, I'm going to enrich the soil and plant a few things. I have not decided exactly what I'm planting, yet.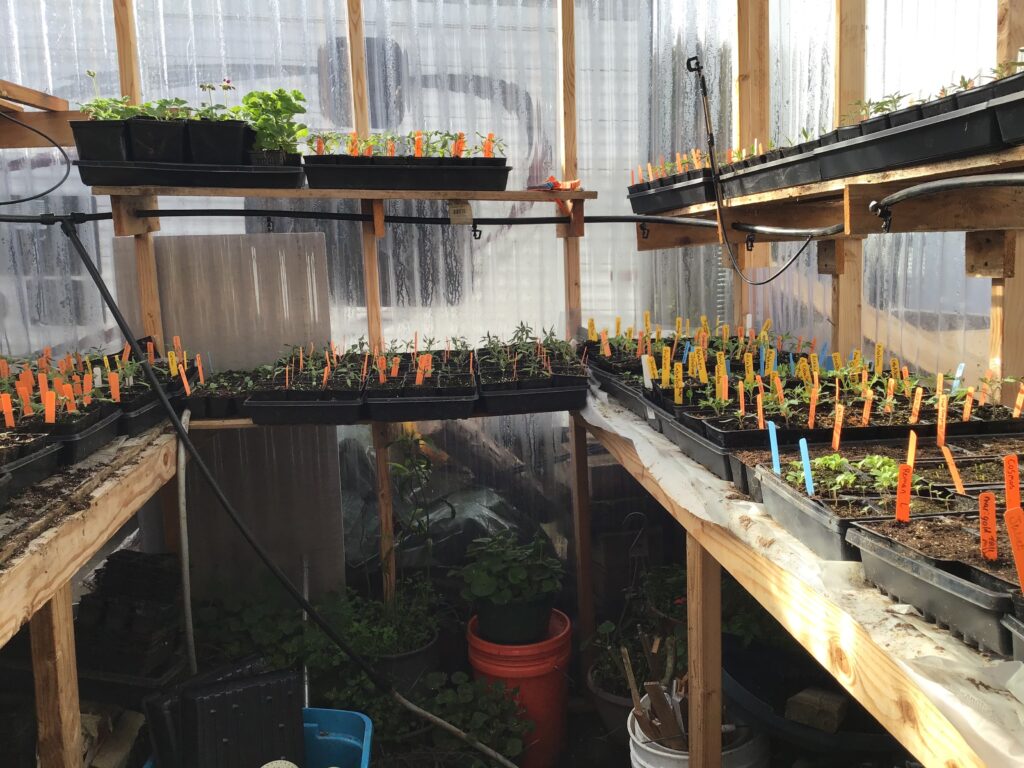 Rob's been transplanting like crazy. He built some shelves up high in the greenhouse and is putting in an automatic sprinkler system to water things when we go camping. He's doing some experimentation. It seems like the next thing he is going to try is 1 minute per day and see how it goes, after drenching them so badly he feared he had drowned them during the last trial run! (Do you notice a theme here lately….we are planning to make it to our camping trips this summer, unlike last summer when they got cancelled almost every time–nothing will stand in our way if we can help it, says the girl who already had to postpone one trip due to an ice storm! But, we will prevail, or if we have to cancel, it won't be from lack of trying to go!)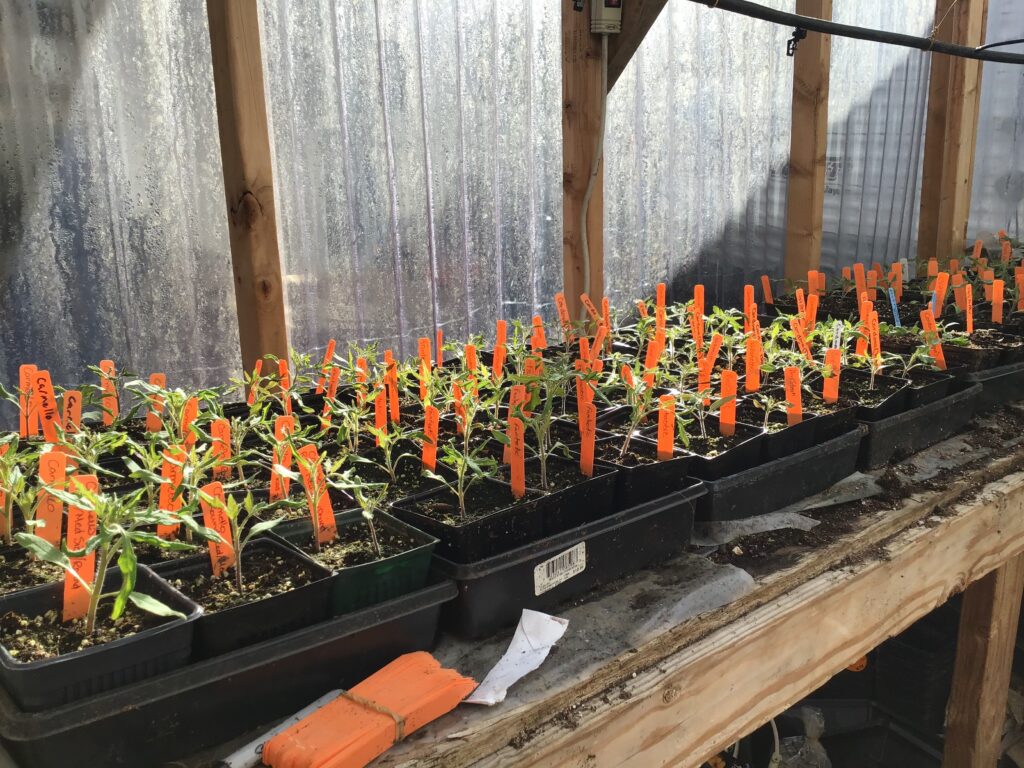 The tomatoes are really starting to look good. They are not all for me, in case you were wondering if I was going on a "tomato only diet" in the summer:).
I made 3 kinds of soup this week. One was vegetable, one was chili and the other was a cream of broccoli, carrot and cauliflower with cheese, made from the little baggies of veggies in the school lunches and milk from the same place.
Rob had to stop off at Costco and grabbed a cooked chicken while he was there, so we've been eating that. He pulled steak from the freezer one day and then found that our niece, Alissa, accepted my invitation to eat lunch here on Sunday after church, so he saved it, cut it into smaller pieces and cooked it when she came over. She loves, loves, loves steak! Her brother and sister were already here, and they were so glad to see her. She works at a camp these days and isn't home as much as they would like. We all were delighted to see her! As the day progressed, the party grew unexpectedly. 2 daughters and grandson came over, too, so I baked a lot of potatoes and cooked carrots, green beans and corn to stretch out the one package of meat he had thawed. It's the garden that just keeps giving! I also used some of my home-canned apple pie filling to make an apple crisp. There was more than enough, and there were lots of leftovers for people to take home if they wished. Funny thing. There are still carrots and beans in the fridge…hmmmm….no one took those….hmmm.
I did some cleaning and yard work. It makes me feel calm when I get things tidied up. Of course, the clean house didn't last long, since Jake and Michaela spent the weekend here, and we had the kids over on Sunday, but at least we started out clean:). It still felt good to know I had done it! I noticed that the kids all spread out nicely without being asked, so I felt happy that they were social distancing on their own.
I finally went to JoAnn's and used some gift cards I received for Christmas. I got some cotton fabric, elastic, thread, and a few patterns. I plan to make some summer dresses for Patsy and maybe a top or two. I may even make myself a cool, flowing, oversized summer dress while I'm at it. Last summer, I wished I had one to throw on after working in the garden, since I often get quite hot out there.
I've been working on a dress for Patsy that was started some time ago, so need to finish that before I start anything else. I also made several masks. Some of ours are wearing out, and we lost a couple. Now that we've been going back to church, I am wearing masks more often.