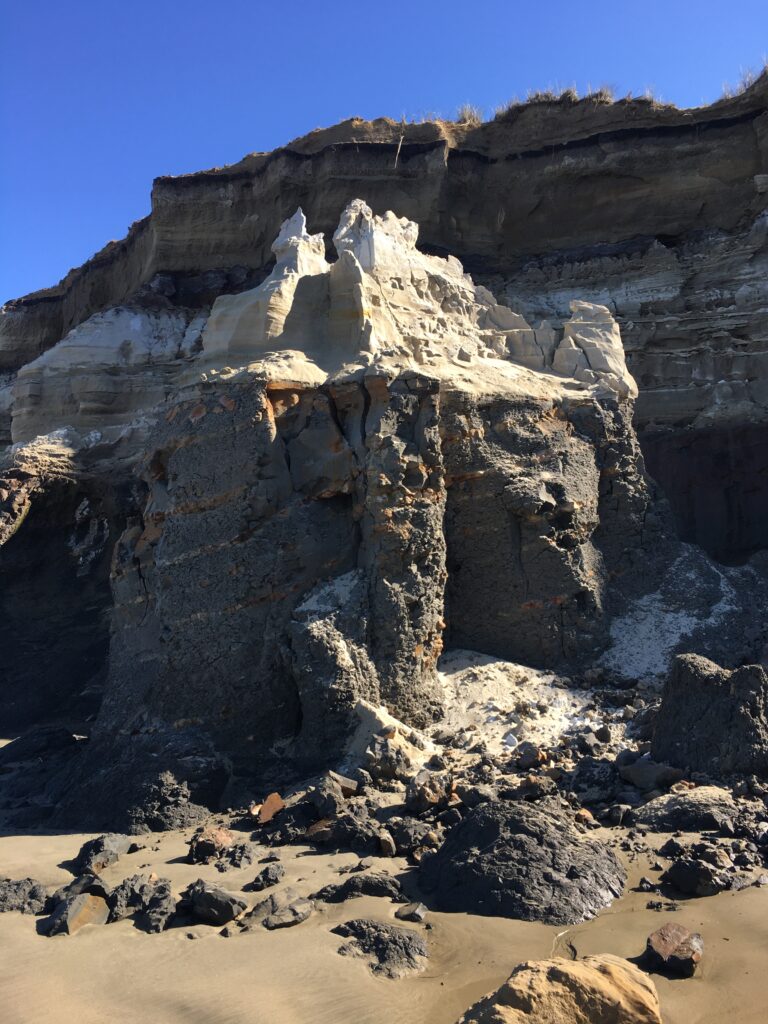 We had another nice, long weekend camping. This trip was different in several ways. One difference is in the amount of outdoor activities we were able to engage in, since the weather was so nice. I'm glad we had so much fun, because this is the last trip for a while.
We had some out-of-town relatives who were staying down at the beach and my aunt got a condo down there so she could visit with them. That condo comes with a crab dock. Need I say more?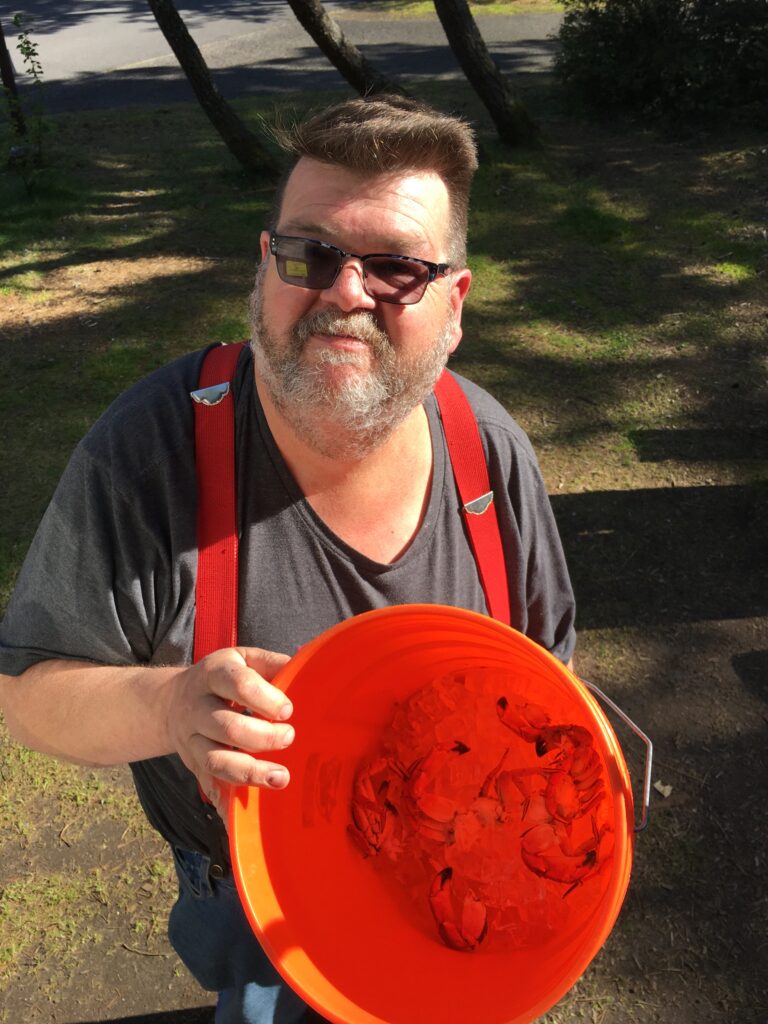 After 2 afternoons of crabbing, a few were captured. They aren't showing up well in this bucket, as they were Red Rock Crabs. One Dungeness was also caught. All were eaten by us, aunts/uncles/nieces/nephews/ etc.
We had one nice, group dinner over at the condo and enjoyed visiting. We were camped at a near-by campground and everyone came and went at will.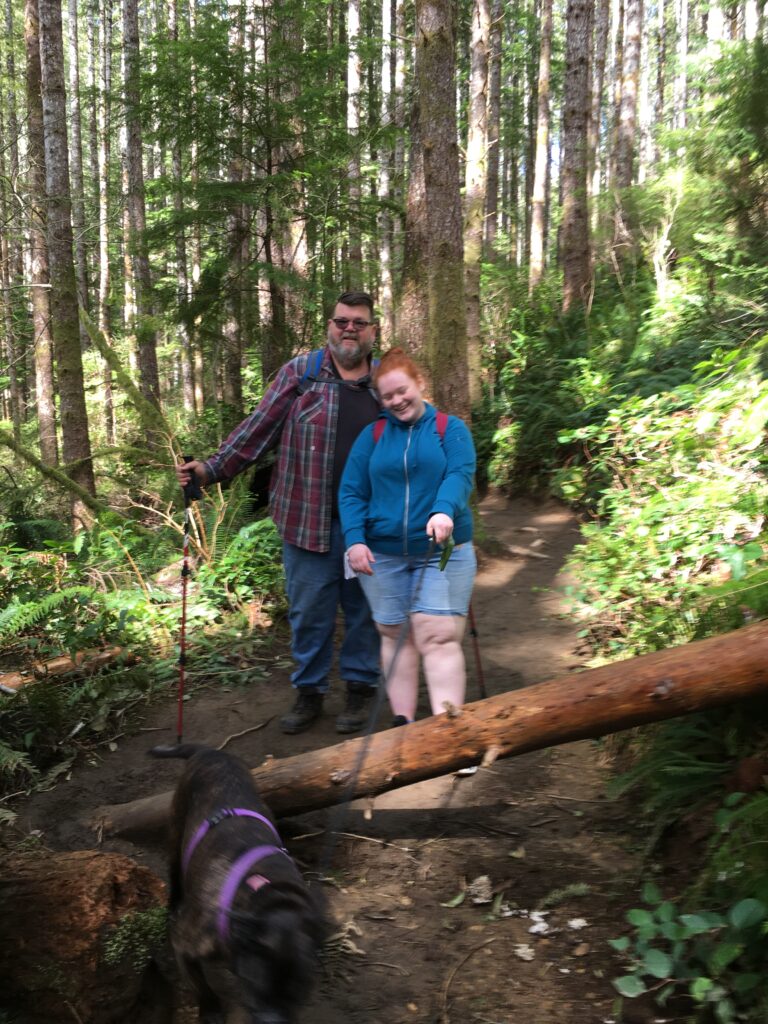 One day, our family hiked the Drift Creek Falls Trail.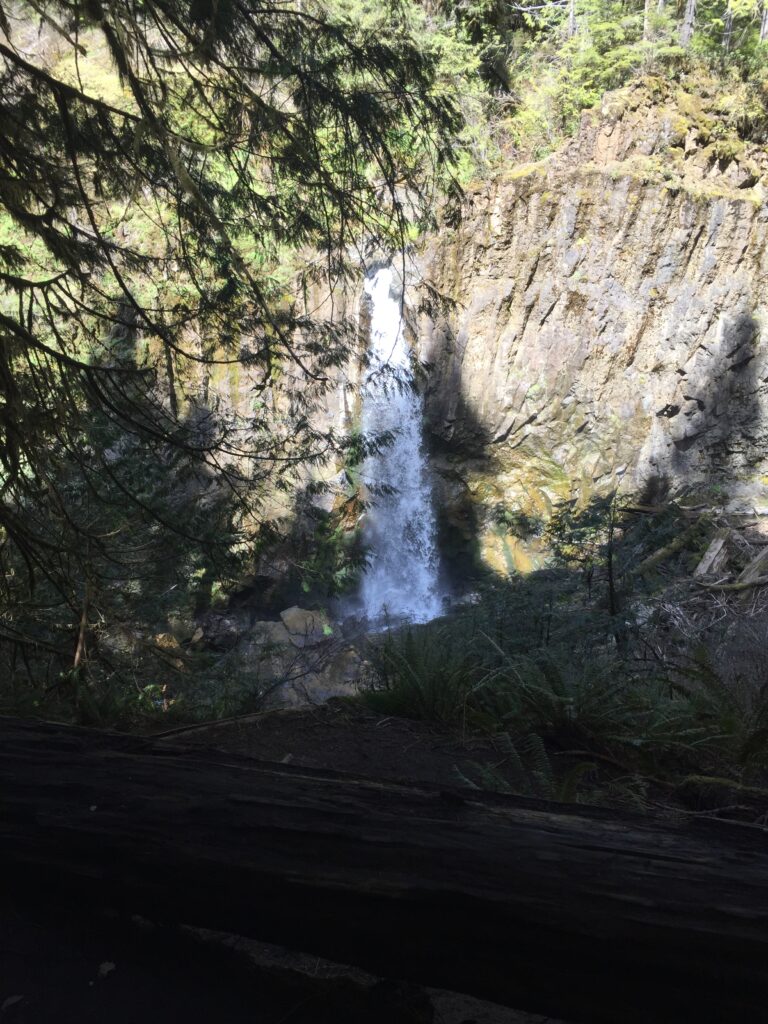 We hiked 2.9 miles down into a canyon, along a little creek, up the other side, across a suspension bridge and to the water fall. We enjoyed the hike very much, especially the part where we climbed right back out of that canyon without too much trouble. We surprised ourselves, in a good way! I will say Rob overdid a little though, because with his 2 trips down to the ocean that day rock collecting, plus this hike, he did over 7 miles. He was a little sore the next day, but the dog couldn't move for 2 days, so…..Rob wins:)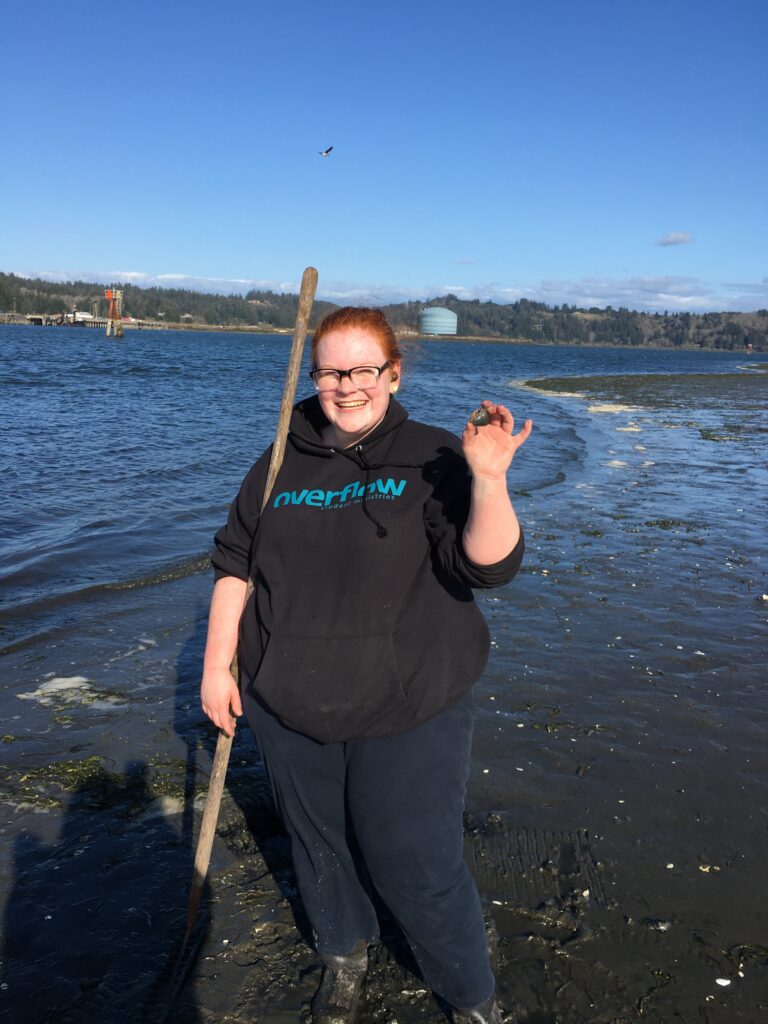 We raked for cockle clams at low tide one day. Patsy got 1 measly clam. The rest of us got skunked. We put the baby back to live another day. We will try again some day when the tide is lower.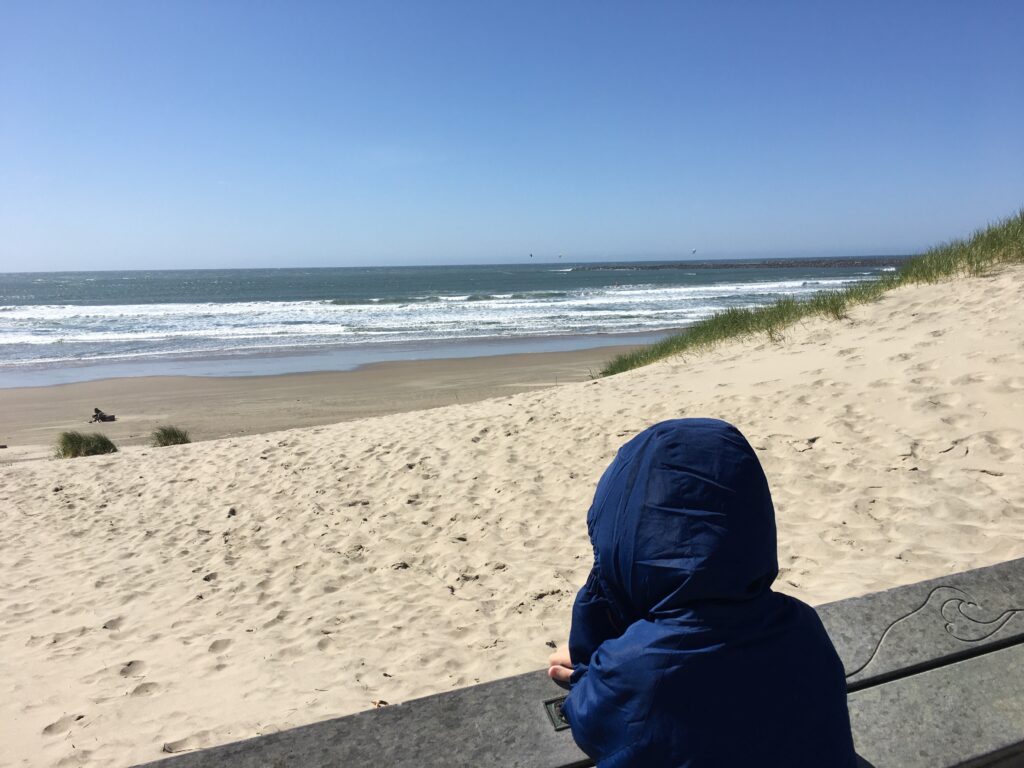 The weather was gorgeous. It only rained one night, and not very much. There was quite a bit of wind at times, which felt cold, but mostly it was pleasant and sunny. Yesterday, while Rob and our older nephew were crabbing, Patsy, Jake and I walked to the boardwalk viewing area. I know the picture does not show them well, but those tiny specks in the sky are people surfing with large 1/2 parachutes (parasurfing?). There was also a windsurfer with a bright sail out in the water. I hadn't seen that before in this location.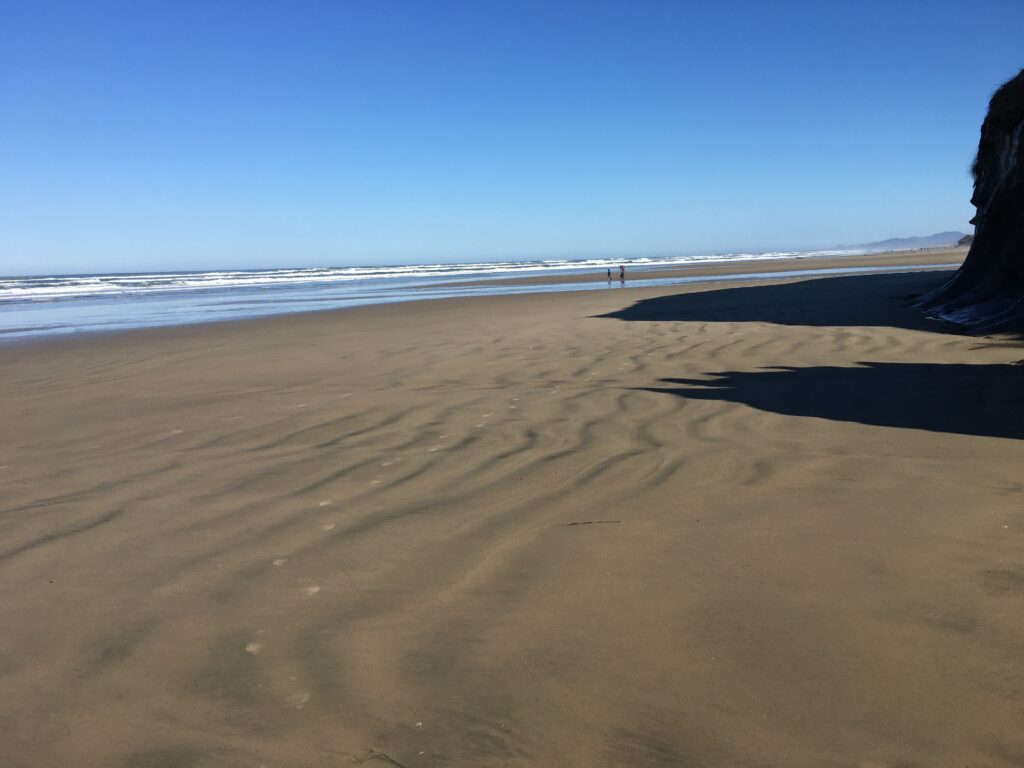 Another different thing for us was today. We needed to come home, but had nothing pressing in the afternoon to return early for, so decided to stay down there until early afternoon. (We usually leave first thing in the morning when coming home). We decided to drive to a nearby beach and take a walk before hooking up and driving home. I was delighted to find that beautiful rock/sand formation pictured above while I was walking. The rest of them hunted for rocks and shells and a certain little boy got his shoes completely wet in a creek, and had to come home barefoot. Now, that's a beach trip. I love it!
As usual, we got a large amount of fun for a very small fist full of dollars. Obviously, nothing is free, and we used gas to drive around. Thankfully, we had some gas rewards on our Fred Meyer card, so we used those. We always save them for when the van needs gas.
We used our park pass to camp. We used the dock at my aunt's condo to crab with equipment we have owned for years. Rob bought some chicken to crab with, but a lady on the dock gave him hers when she got tired of crabbing, so we cooked ours, as it was on ice and perfectly good, and used hers for crabbing. We used our rakes to rake for clams. Rob had recently picked up another one at a garage sale and painted its tines blue, just for this purpose.
The Drift Creek Falls Trail had a very small parking fee, which was nice since our park pass doesn't cover that place.
Several times we put food from the camper in a bag and took it along when we drove somewhere. We got some food from McDonald's and used the app to save money. (McD's is Jake's favorite and we wanted everyone to get to do something they wanted.). We ate meals at the camper and, once, at the condo. We enjoyed visiting with all family members who were there.
I was able to use up several items in the camper fridge, such as spreadable butter, from a couple of weeks ago, and many things from our fridge. I love putting leftovers from the house right into the camper fridge so they get used, and vice versa when we return. I bought a few things from Grocery Outlet before we went and we didn't have to shop, except for milk, while we were there. There's plenty left so I don't have to shop for a few days now, unless I'm SO tempted by the 97c ice cream at Safeway that I can't stand not to get it….
We don't have any more camping trips planned for quite some time, and I'm o.k. with that–there's lots to do around here. We've already started doing the laundry from the trip and I'm looking forward to getting out into the yard and garden as the week progresses. It should be a fun week, in its own way.