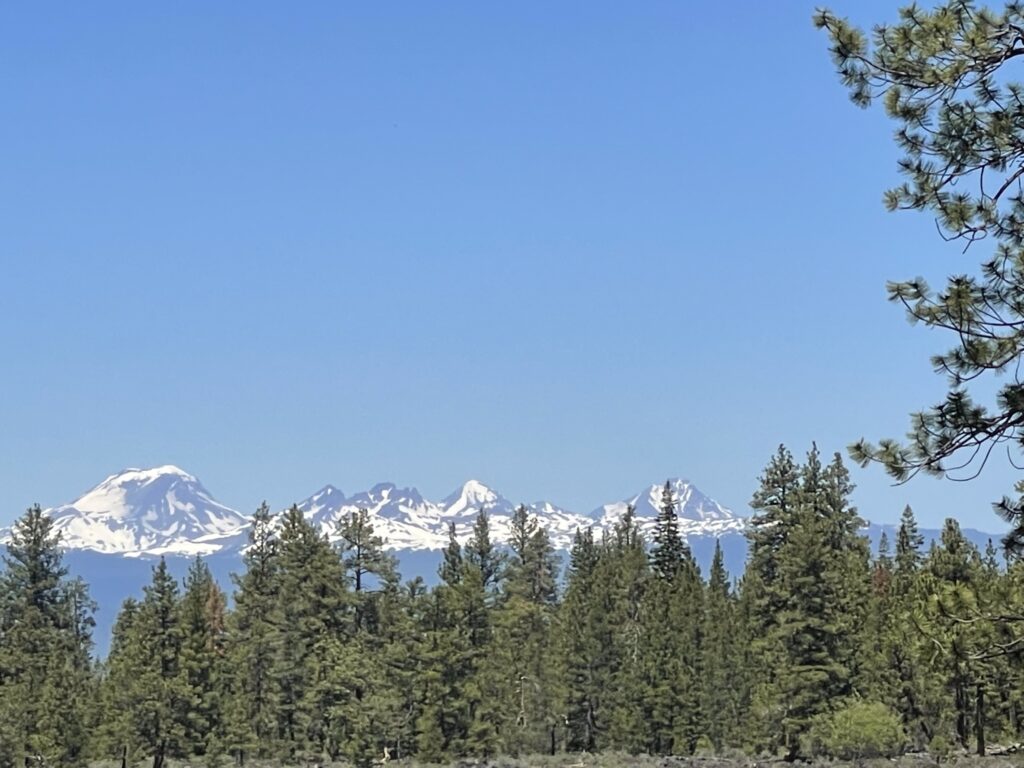 We took a vacation this past week. We pulled the camper over to Central Oregon to visit friends. We camped at LaPine State Park and spent the week doing outdoor activities and visiting. Our friends live only a very short drive away from the park so it was easy to go back and forth. We had planned this trip last summer, but most of our trips got cancelled due to a combination of Covid, Rob's surgery and wildfires. So you can imagine how excited we were to see our friends. It had been way too long.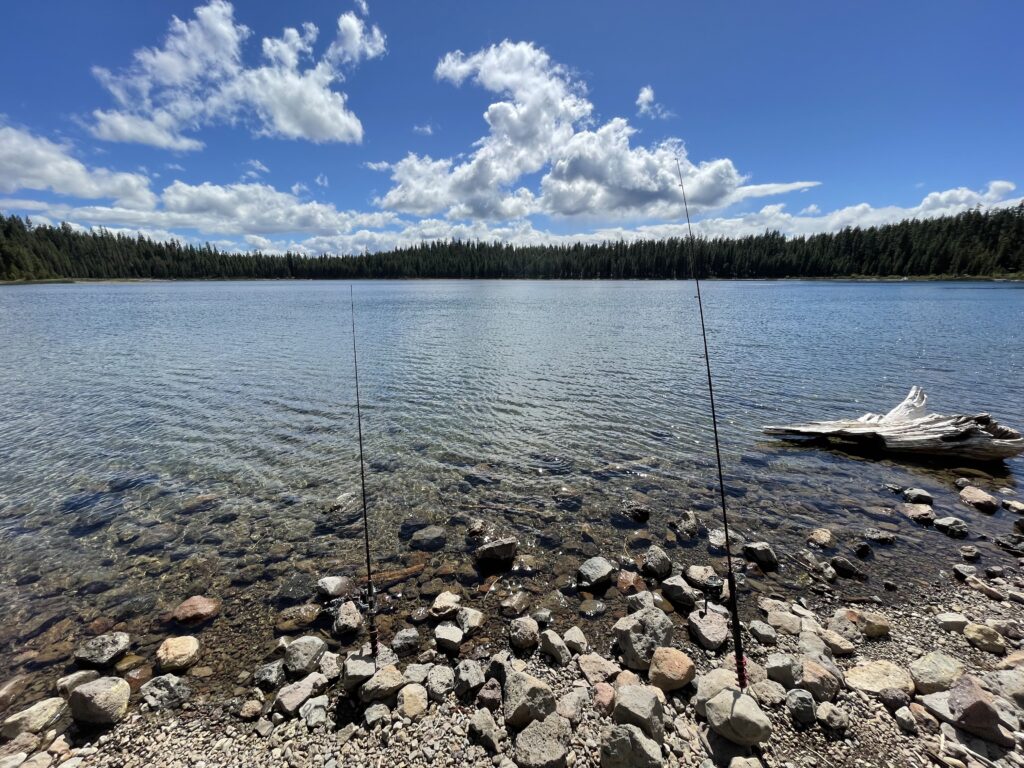 This is North Twin Lake.
Rob went up to that lake several times to fish. He saw lots of wildlife and birds and was delighted when he caught several huge fish. His friend caught some, too, but poor Patsy didn't this time. She still had fun. I went over to my friend's house and visited once and another time we took a walk along the trails in the park where we were camped.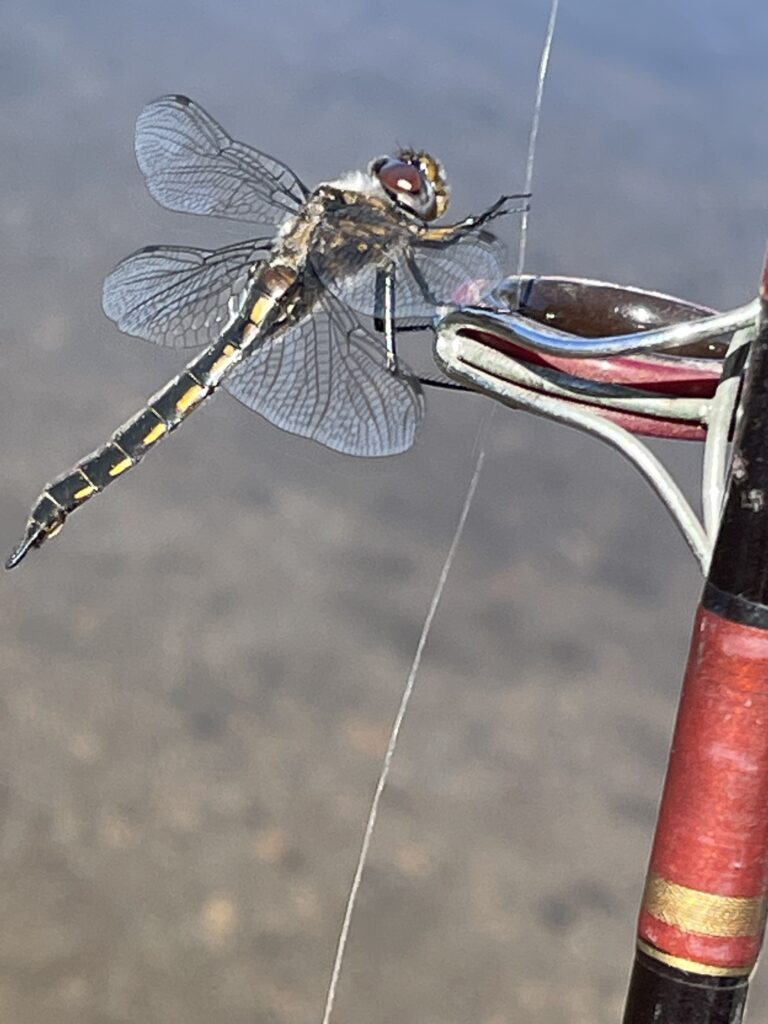 During the trips, he saw this dragon fly, bald eagles, red-wing blackbirds, goldfinches, deer, and more.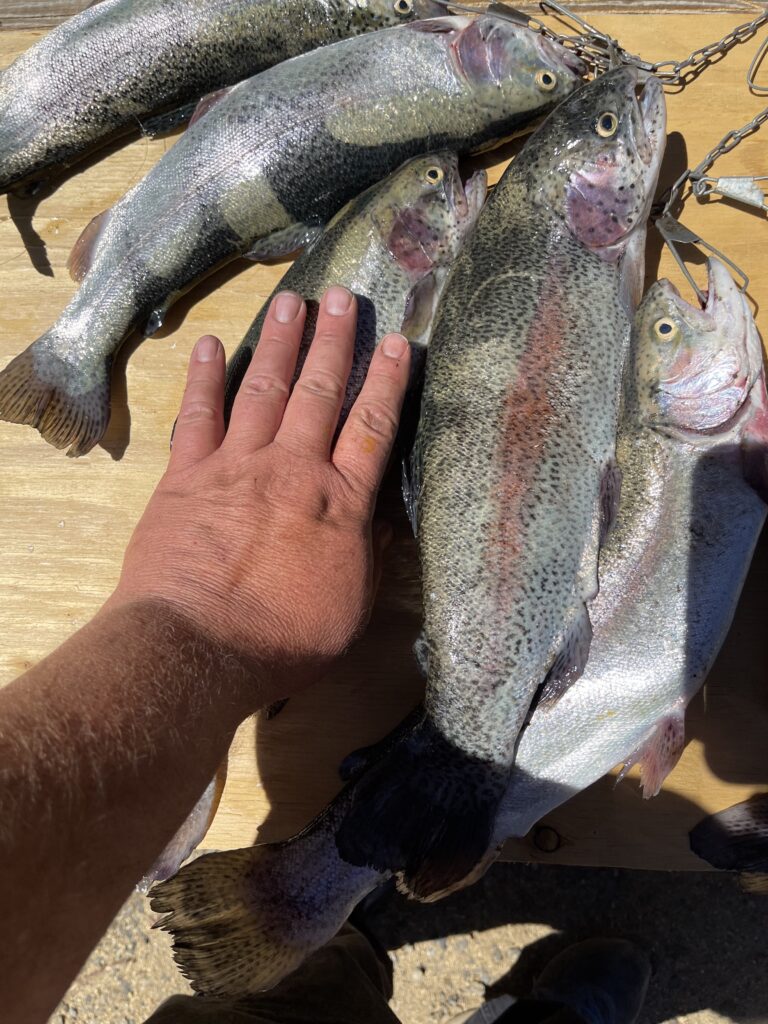 Both he and our friend had great luck. We brought home several large trout for our freezer. Thankfully, he caught the most on the last day before we left and there was room in our camper freezer for several. He brought the rest home in a cooler, on ice.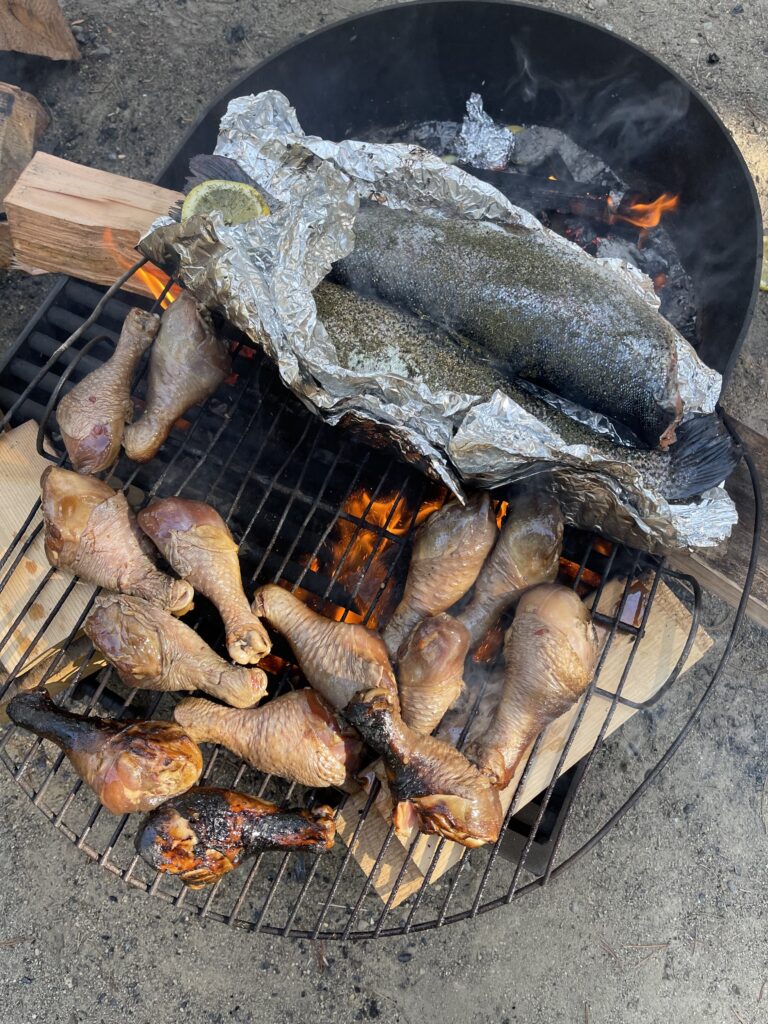 Rob grilled a couple over the fire one evening for us and our friends, along with some marinated chicken legs. I made a large stir-fry that included my home-grown snow peas, broccoli, and onions along with carrots, celery and mushrooms I took along. We also had green salad and home-canned corn. As always, I took food with us and we packed picnics whenever we weren't at the campsite. We got early starts on our travel days, as it was a distance. On the way over, we stopped at a park in Sisters for lunch and a good walk. On the way back, it was tremendously hot, so we forged forward to get over the mountains before the temperature rose too high. It's easier on the van that way and easier to unpack at home before the day reaches it's hottest. We ate over at our friends' house one night, and the last day, after they guys went fishing all morning, our friends took us to a cider company in town with a food truck, live music, a small farmer's market, and relaxing chairs for us to sit on while we ate our Mexican food and visited.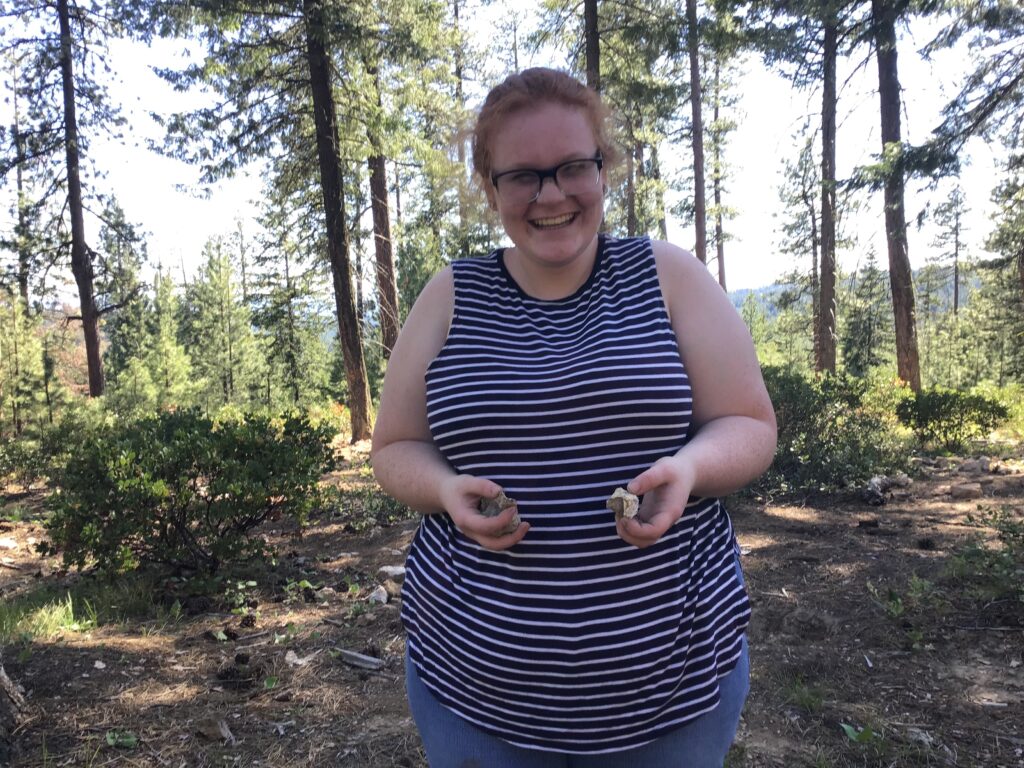 One day we went rock hunting.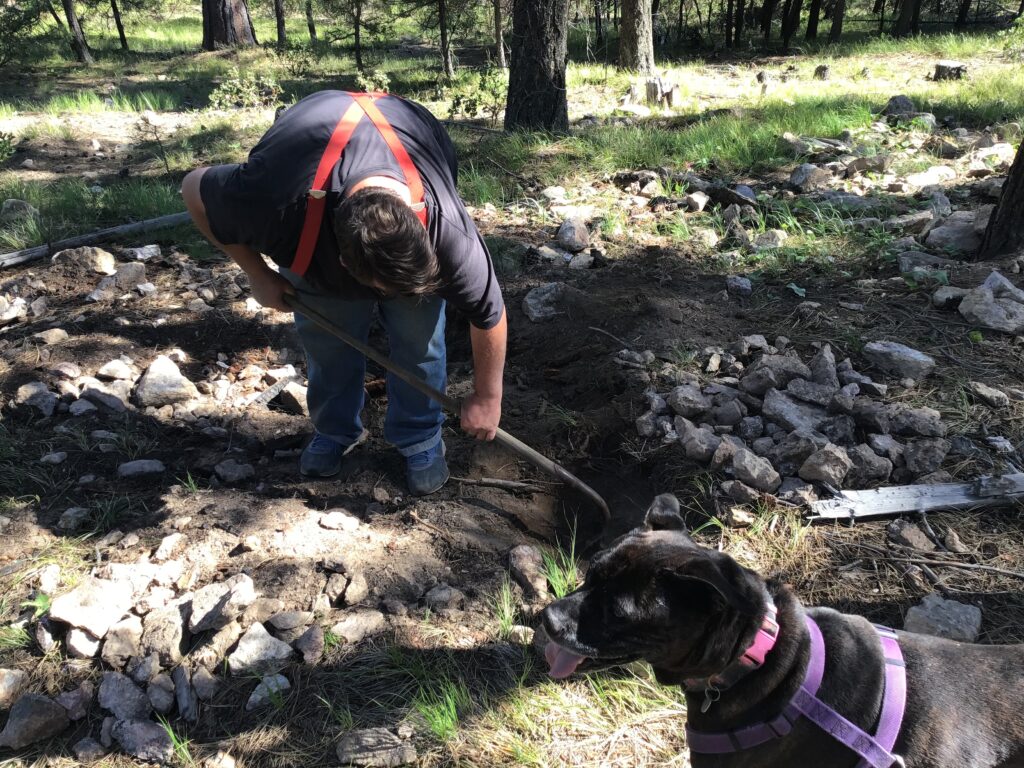 Rob and Patsy dug for thunder eggs. They found a few small ones.
They found rainbow obsidian in one place and mahogany obsidian in another.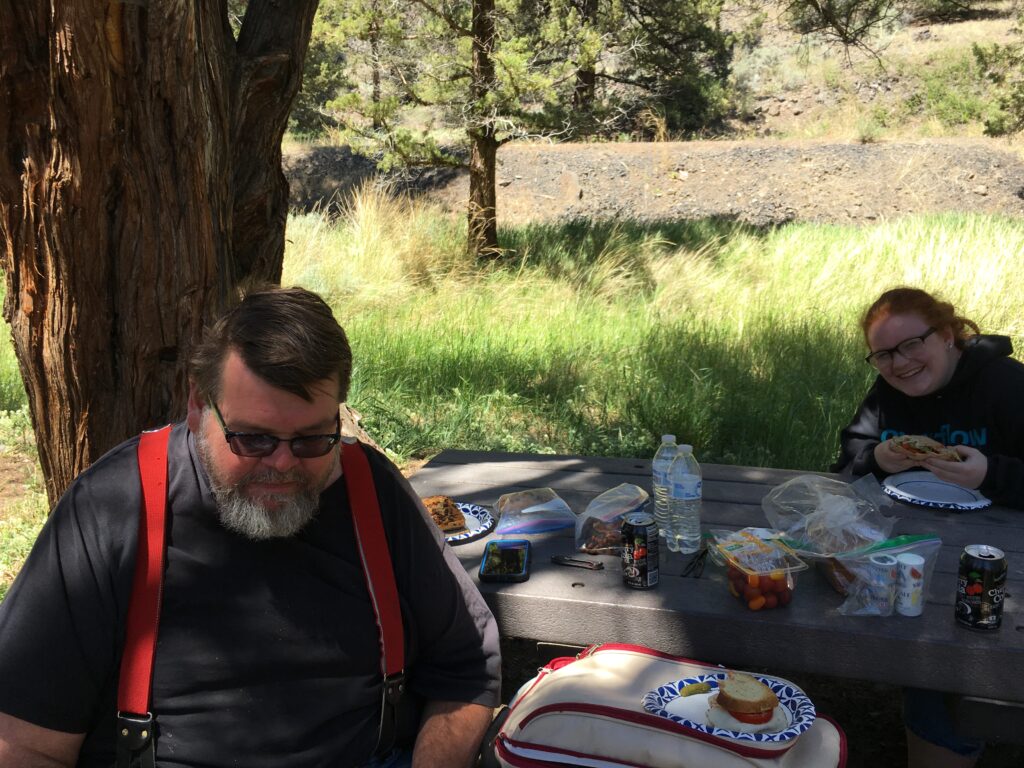 We had a great picnic along the Crooked River.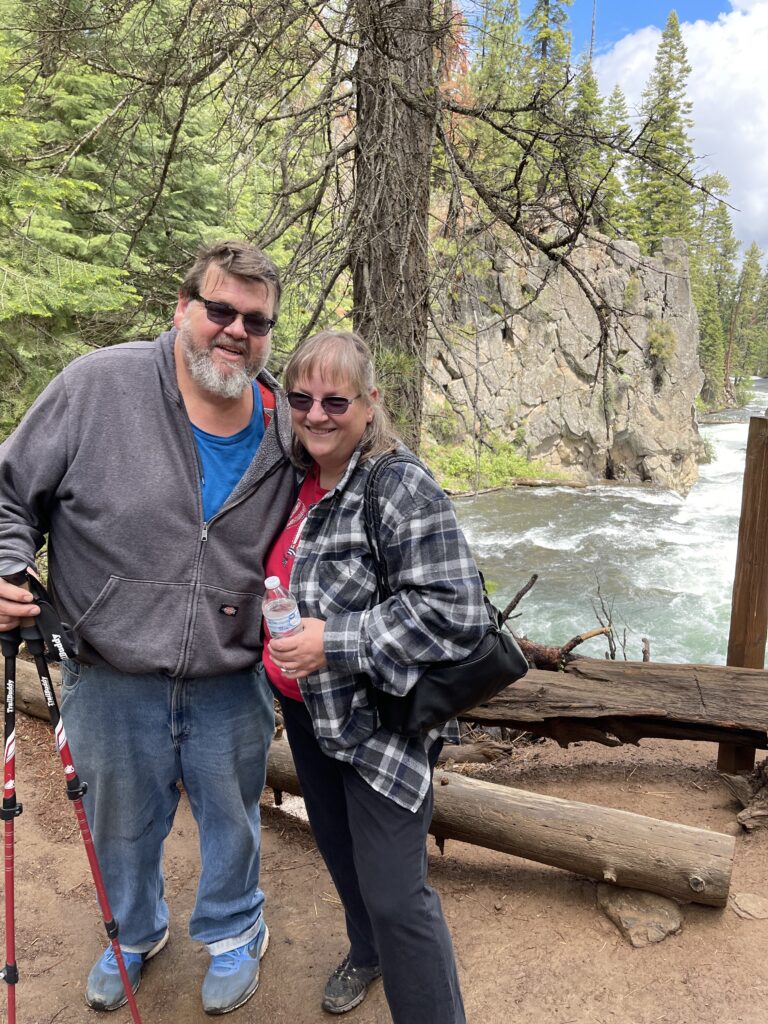 We took several hikes during the week. This one was to Benham Falls. We had not been there before. We hiked down the trail, dodging huge mud puddles from recent thunderstorms, and quite a few bicyclists who were also dodging those same puddles. At least most of them dodged the puddles. It kept us on our toes to leap out of the way of those who went right through those above mentioned puddles….until we reached our destination–we think. We weren't sure we had found the falls, as it was not like we were used to. We were looking for water going over a tall cliff, like at Silver Falls. These falls were more like large, turbulent rapids. We figured it was the falls, though, because of the railings, well-worn path, and large stream of people going to view it:). And, it does fall a bit, especially on the left hand side of the picture.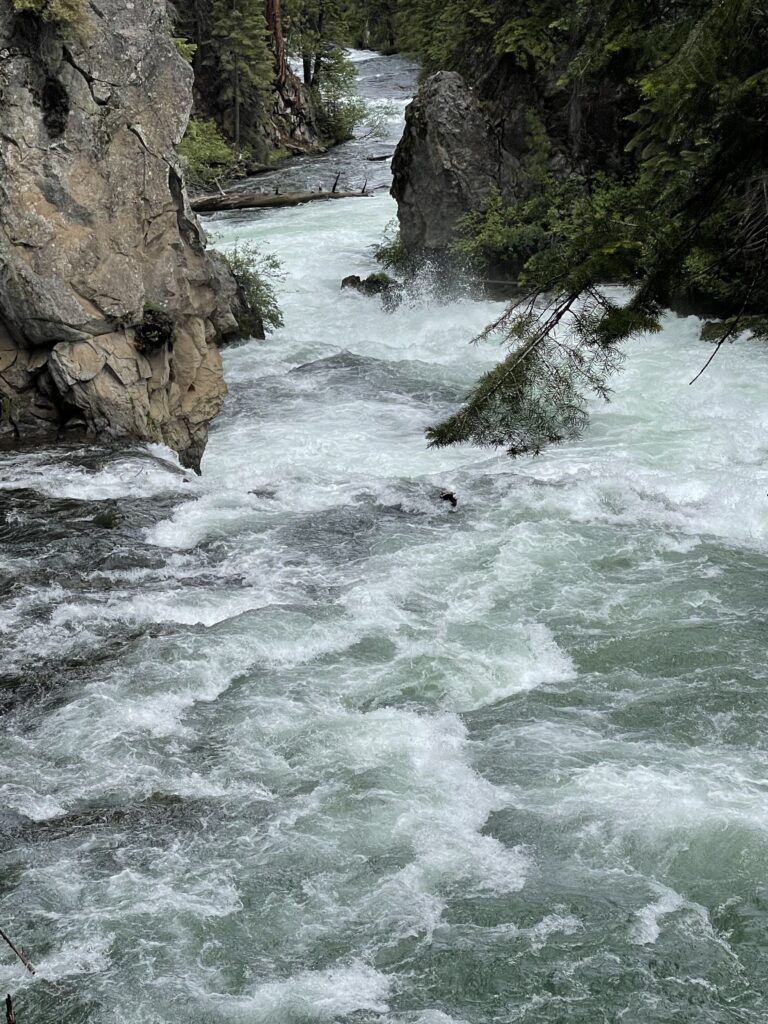 Whether or not it was a typical waterfall like we are used to seeing in our area, it was very breath-taking and beautiful, and we were glad we went to see it. We definitely wouldn't want to go over it in a kayak, even though it's listed in my friend's book as part of the "Paddle Trail of the Deschutes." Yikes!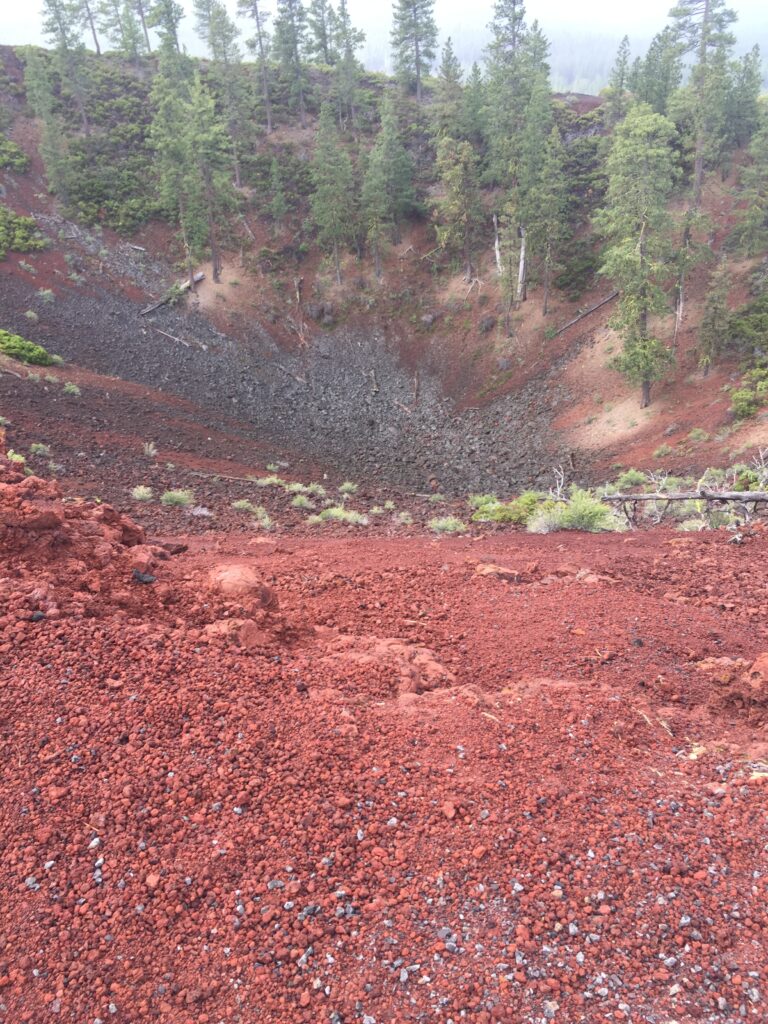 Another day, we drove up to the top of Lava Butte. Patsy had been there once when we first got her, and thought it would be fun to go there again.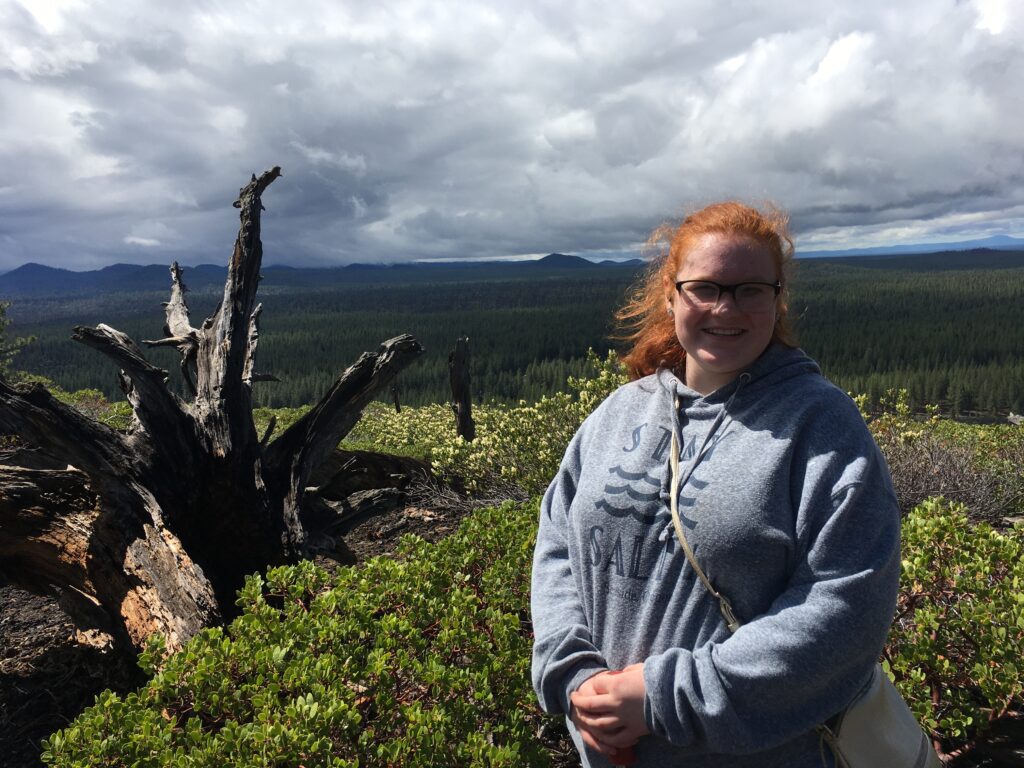 We went up to the fire lookout and had just started to listen to the guide give his spiel, when he said, "Folks, it looks like lightening is on the way. (as a large strike lit up the sky in the distance) You are at the highest point up here. So, it you want to walk around the crater, get going, or I may have to kick you all off this mountain in a few minutes." The next thing you know, Rob had his trekker poles and off we went, along with every other person there. Just so you know….the storm did not reach us after all.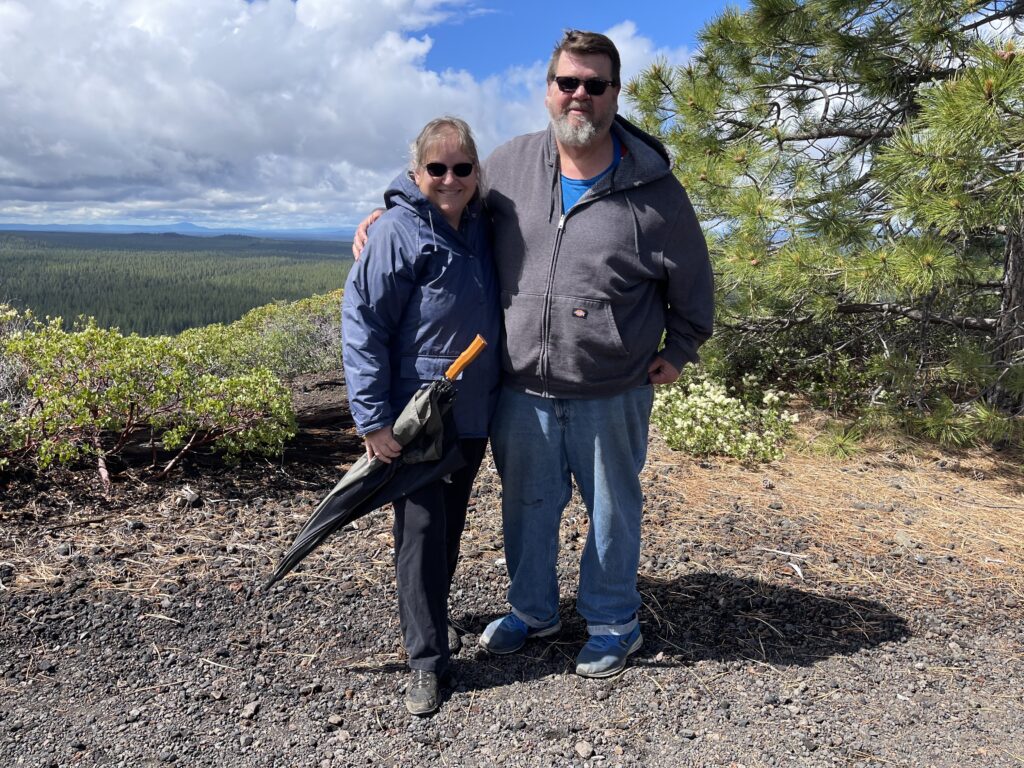 Rob has not been able to walk around the crater for years, so he was eager to go. It wasn't a long hike, but parts were uneven and steep. Like he said several times–"I'm not turning anything down this trip, because I can do it now!"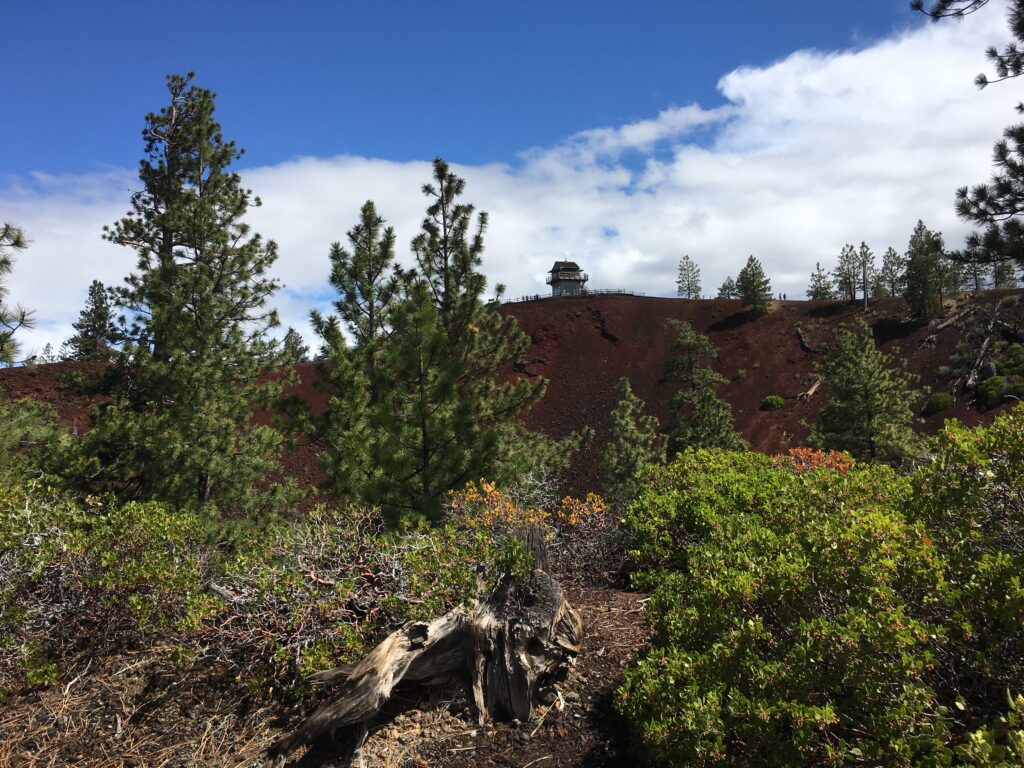 You really do feel as if you are on top of the world up there.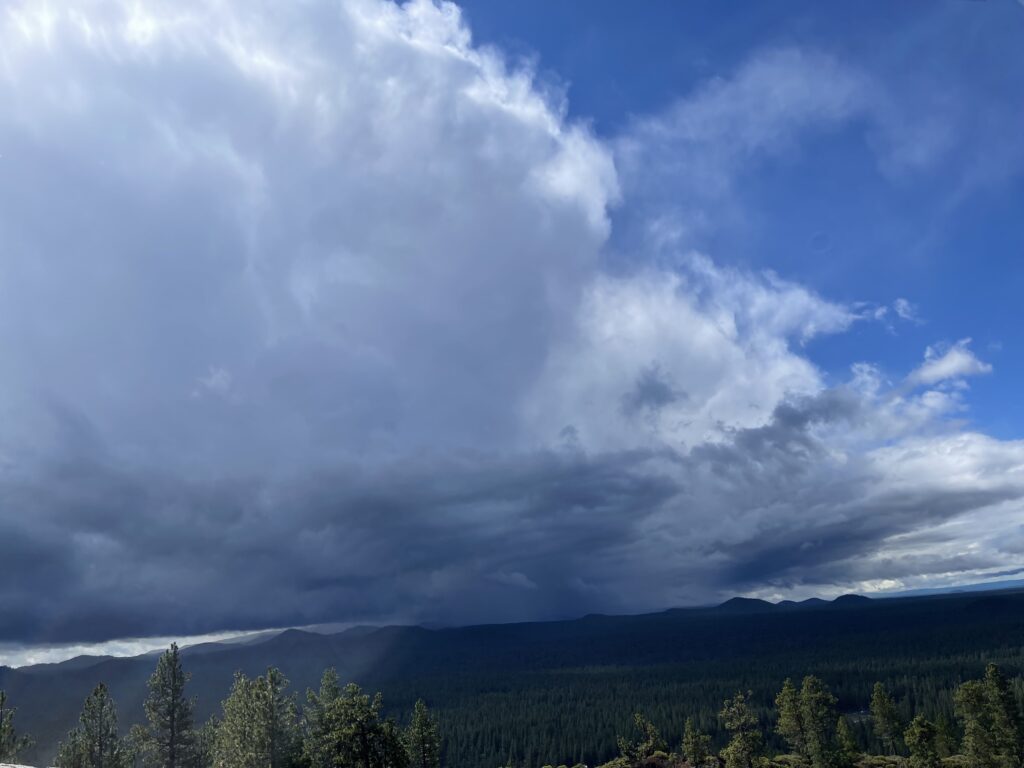 The visitors' center is closed down below, due to Covid. There were some trails through the lava flow that were open, but we did not hike them this time.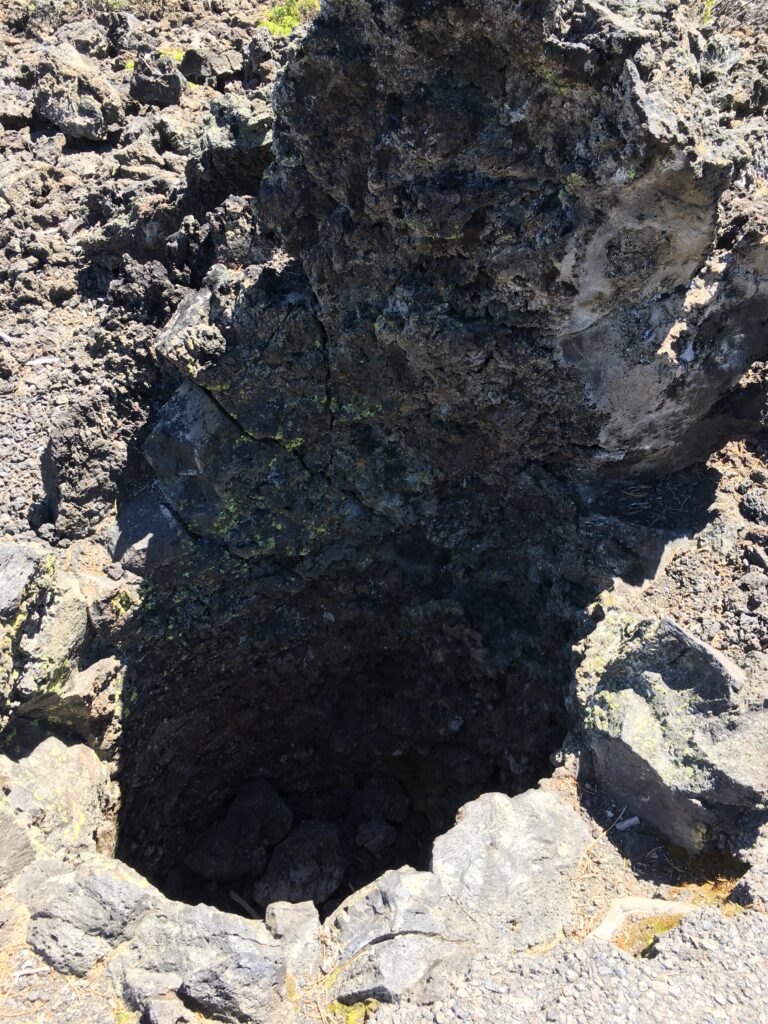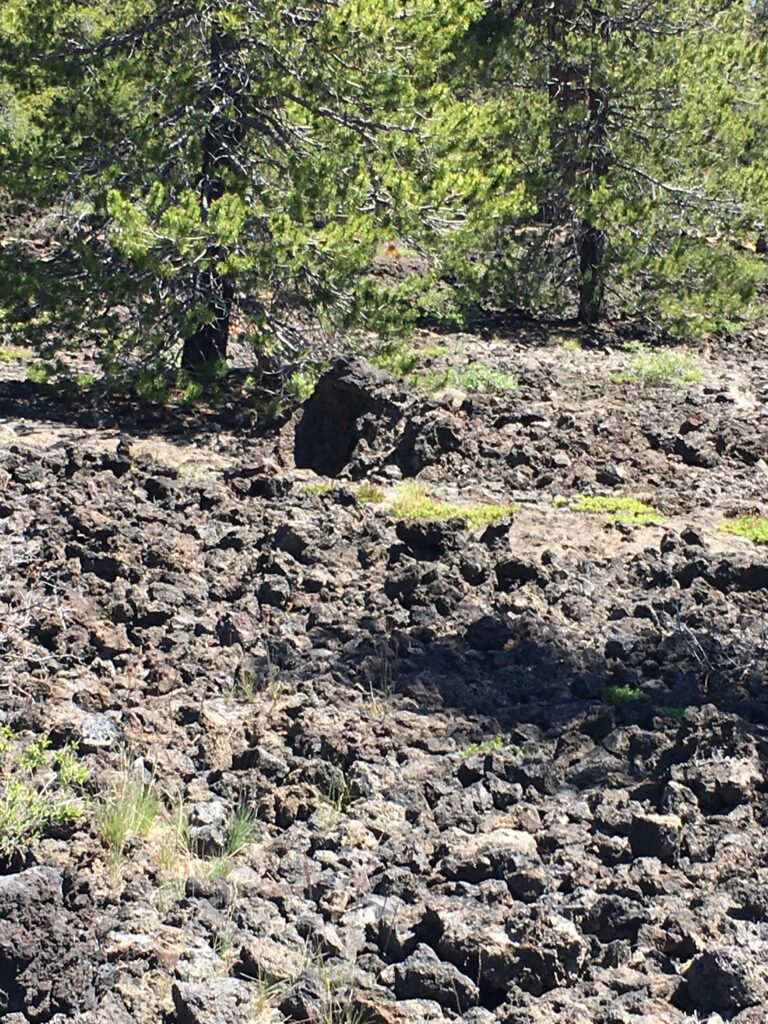 Another day, we drove out to the Lava Cast Forest and hiked the trail through there. We bought a forest pass to use here, at the crater and at the Benham Fall area. We are going to see if there are any places around home that we can go to and use it more.
It's amazing to see flowers growing in such harsh conditions.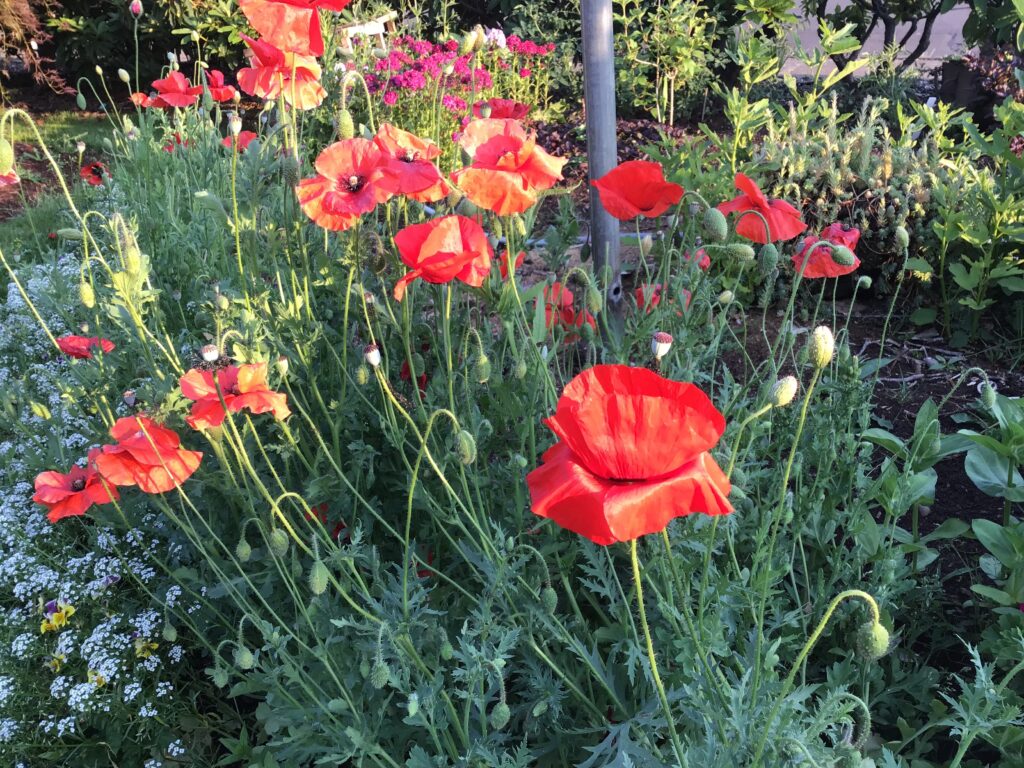 Although is seems as if we got no rest at all, we actually did. It's a good thing, because I've been working outside since I got back home, especially in the garden and yard. I hope to do a garden update post later in the week, if I can find the time. It really grew a lot while we were gone, and so did the weeds. These are Rob's poppies that he grew, next to the alyssum and pansies that he also grew. I loved being greeted by them we we drove in.
It was a great vacation. I'm glad we went, and so glad to have seen our friends, and had ample time to spend with them.