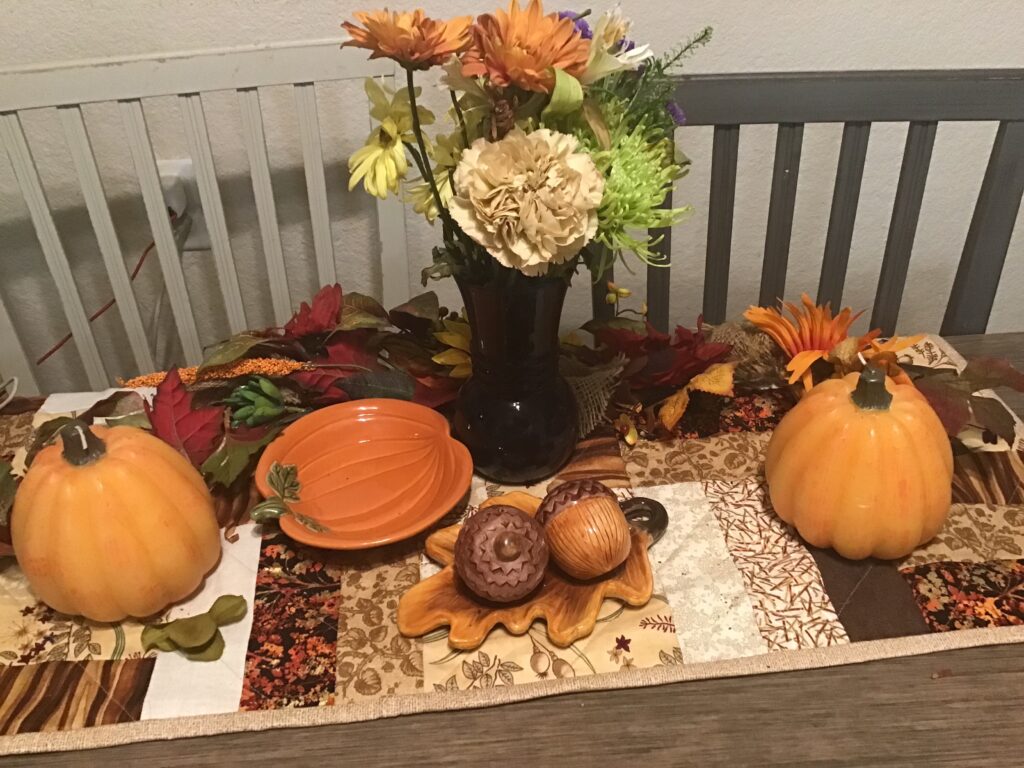 Most of the past 2 weeks have been busy with Thanksgiving preparations–shopping, decorating, cooking, and then enjoying the day itself.
I gathered groceries from several sources over the past few weeks, gleaning sales and good prices where I could. Our menu was a little different this year, but only a little. We are traditionalists at heart, I guess! Besides the traditional turkey, we had shrimp skewers, beef teriyaki skewers, quinoa pilaf, mashed potatoes and gravy, green bean casserole, grilled jalapeños, yams with marshmallows, gf stuffing, apple crisp, gf chocolate and pumpkin pies, Krispie treat turkeys (Malcolm's contribution), salads, and other treats. We skipped the ham this time. Some relatives brought sides and desserts. Some generously gave me $ to buy extra goodies with. Everyone ate and ate, and there was plenty for people to take home, with the hopes that no one would need to cook for a day or two, at least.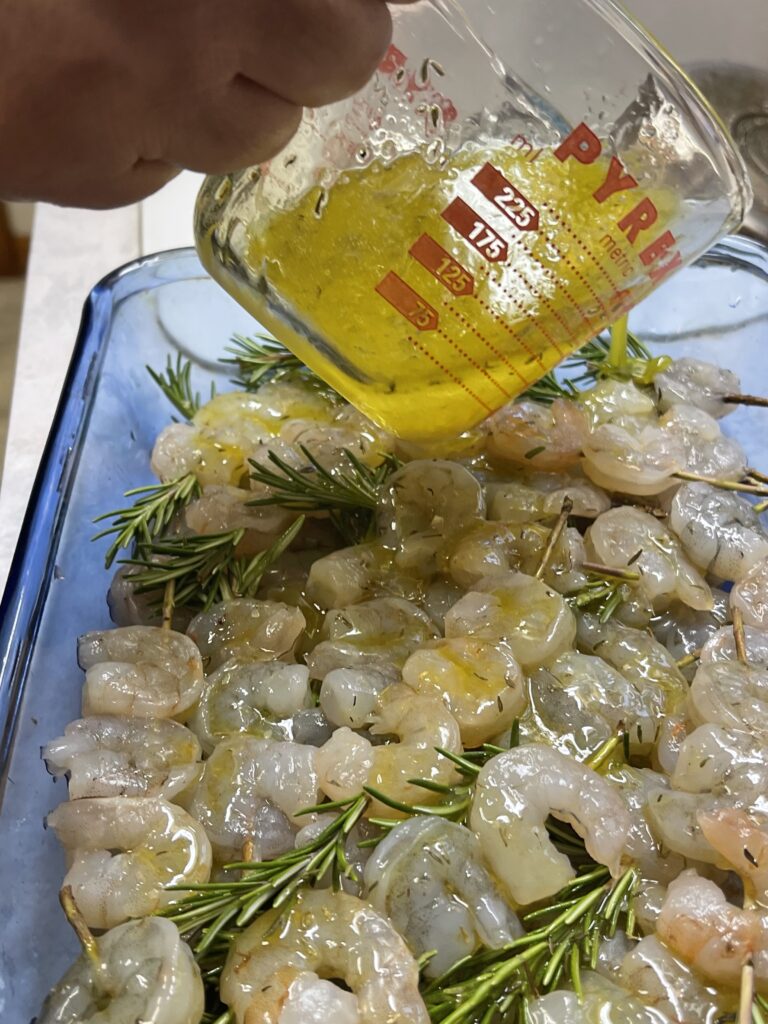 I got the recipe for the shrimp skewers from a cookbook I downloaded onto my iPad from the library. They were threaded onto stalks of rosemary. Although much of my garden is gone, the rosemary is in good shape, so I had all I wanted to experiment with. There was a marinade I poured on and Rob grilled them.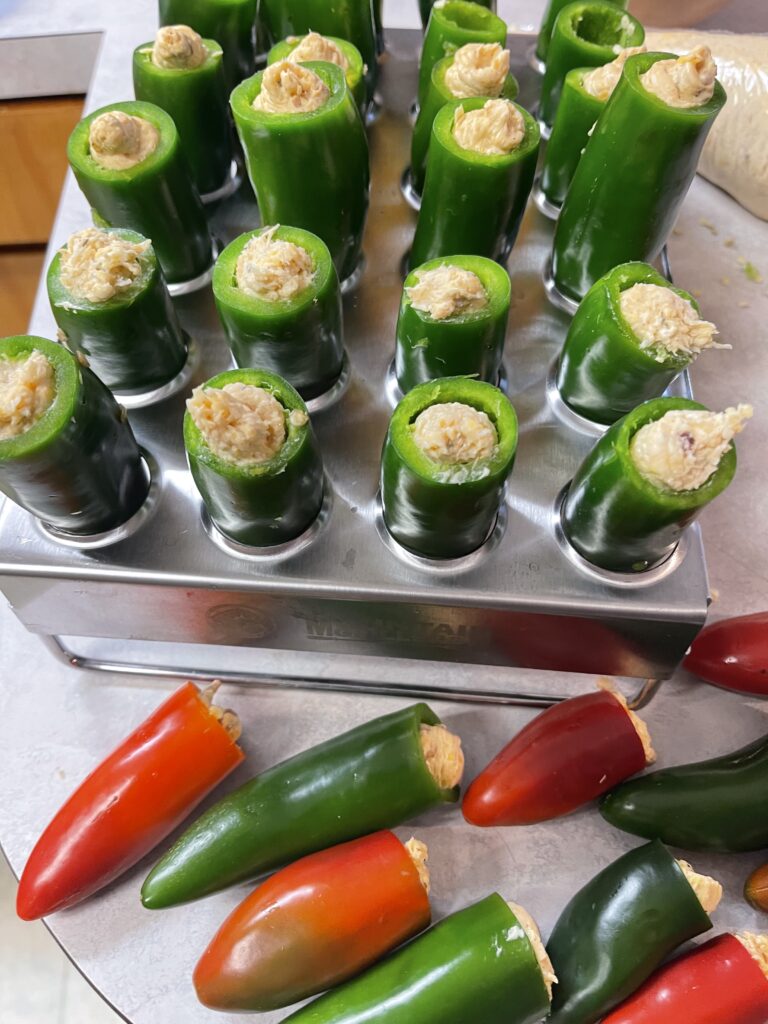 He also grilled stuffed jalapeños. He used cheese and cream cheese and 3 different flavorings: crab, bacon, and cranberry/cheese. They were good, but mine was pretty spicy, so I stopped after one:) A few of the peppers were left from our garden, and the rest were purchased.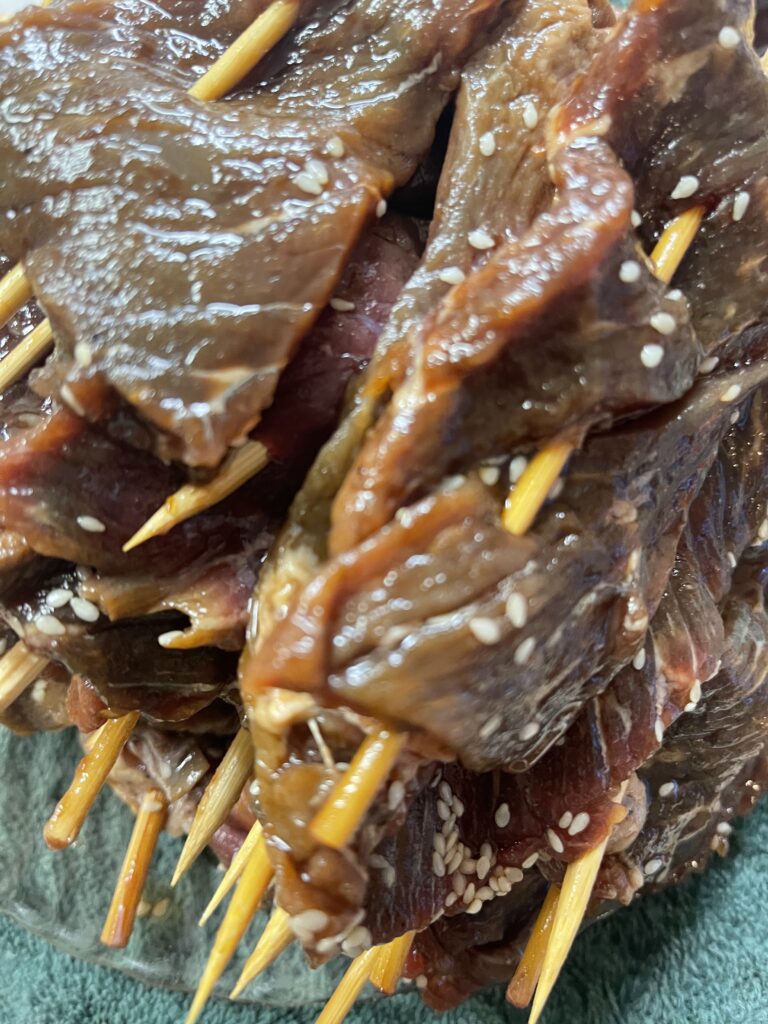 The teriyaki beef kabobs were a hit, as well. Rob also did the turkey on the BBQ, a day or two ahead, and we re-warmed it on Thursday. It helps me so much that he likes to cook outside and does so much on the grill. On Wednesday, I cooked everything I could do ahead and on Thursday morning, I just needed to finish things up (like warm, glaze and add marshmallows to the pre-cooked yams, warm and add topping to the green bean casserole, etc.) and mash the potatoes.
We have been extremely busy around here, besides the Thanksgiving preparations. Through it all, we have tried to stay as frugal as possible, while having as much fun as possible!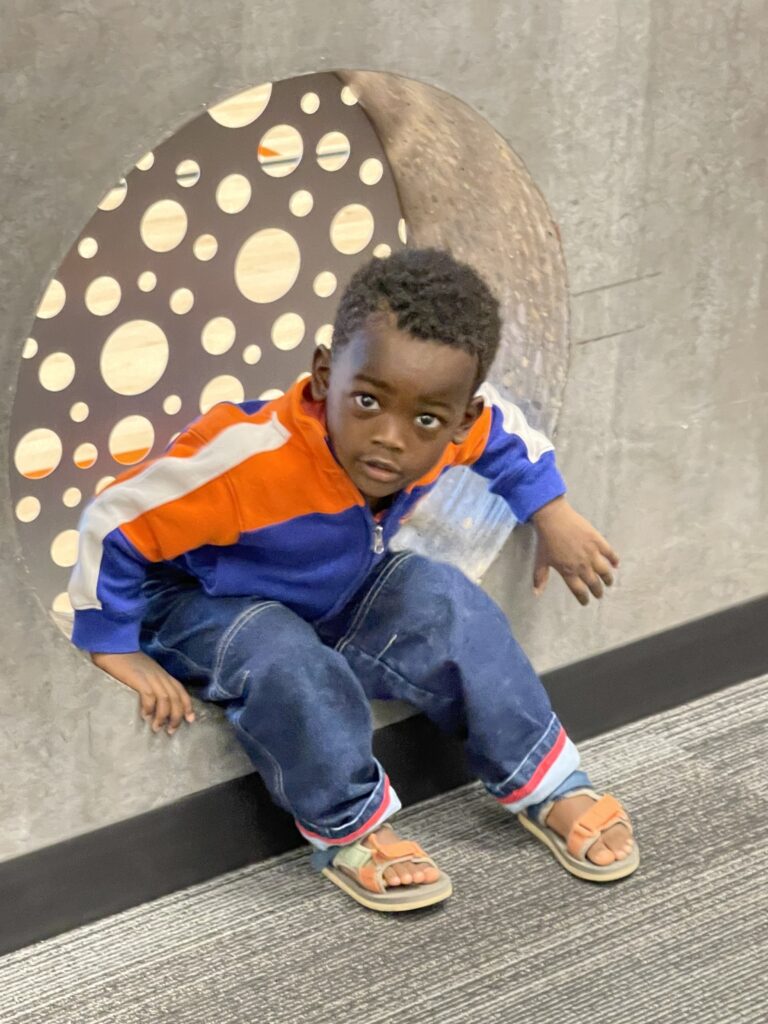 We have been utilizing the YMCA frequently. Jake, Michaela, and Malcolm all like to go into the pool as often as possible.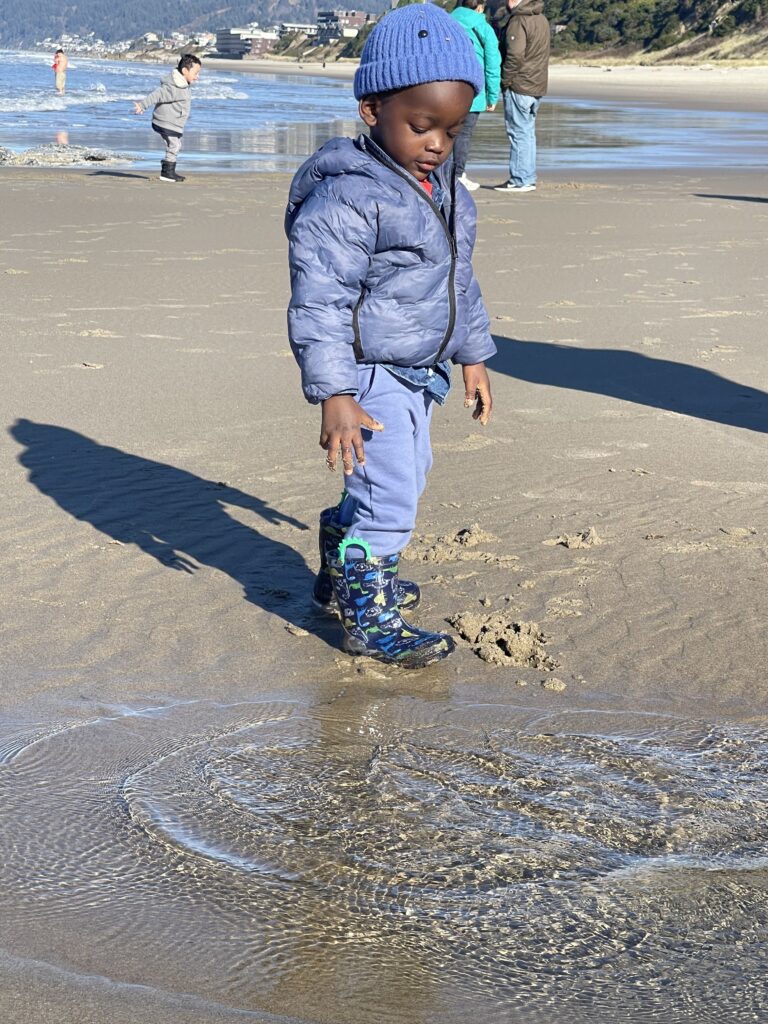 Our oldest daughter and her husband invited us to come to the beach last Saturday. They spent Friday night, but we joined them for the day Saturday.
The most surprising thing we saw was a bearded dragon lizard that a family had down on the beach, enjoying the weather. They graciously let Malcolm pet it all he wanted, then went on their way.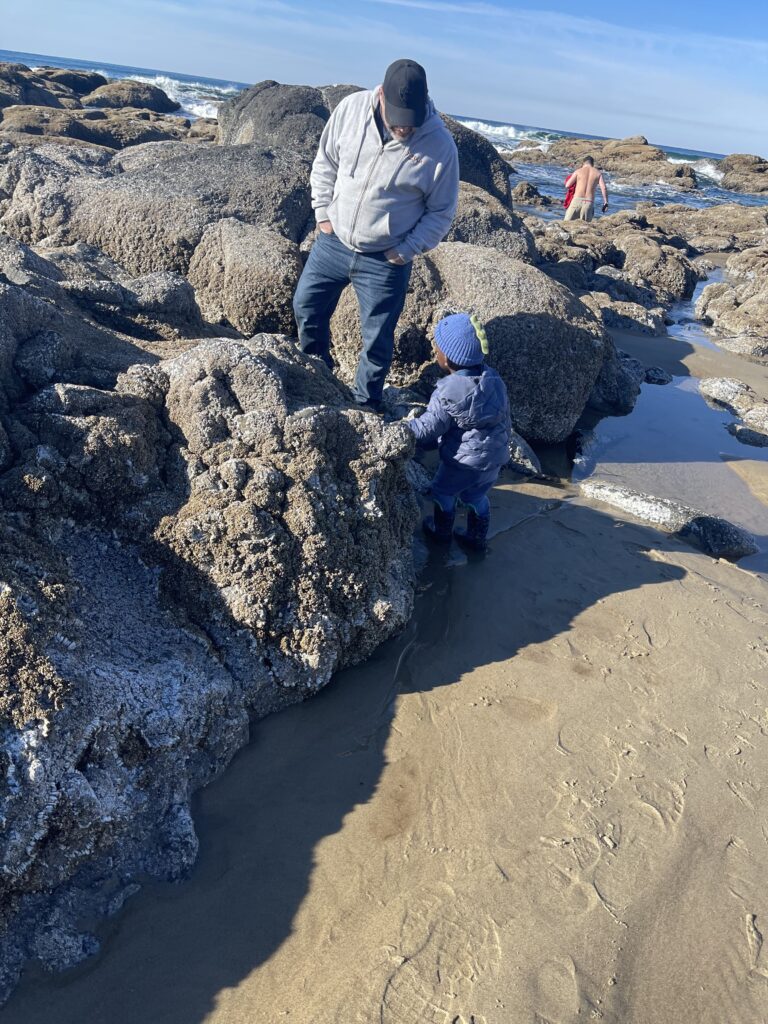 It was a perfect day at the beach! Our son-in-law showed us a place to drive right down onto the beach that we had not ever been to before and we all enjoyed some time on the sand. Then we went to Mo's for lunch.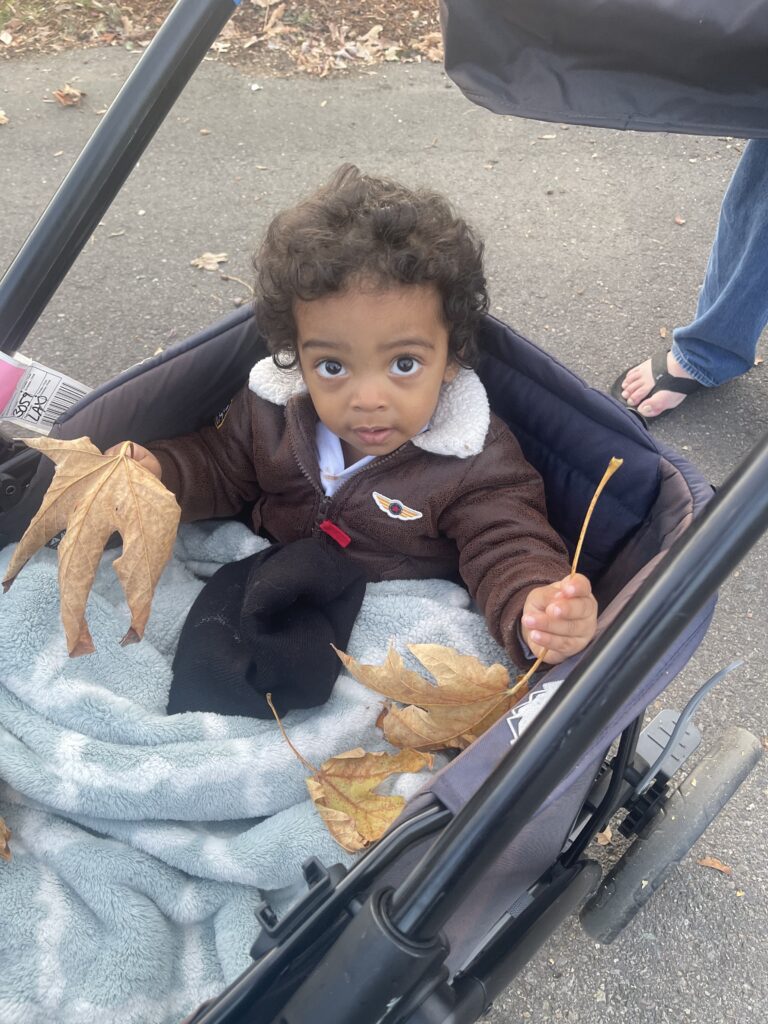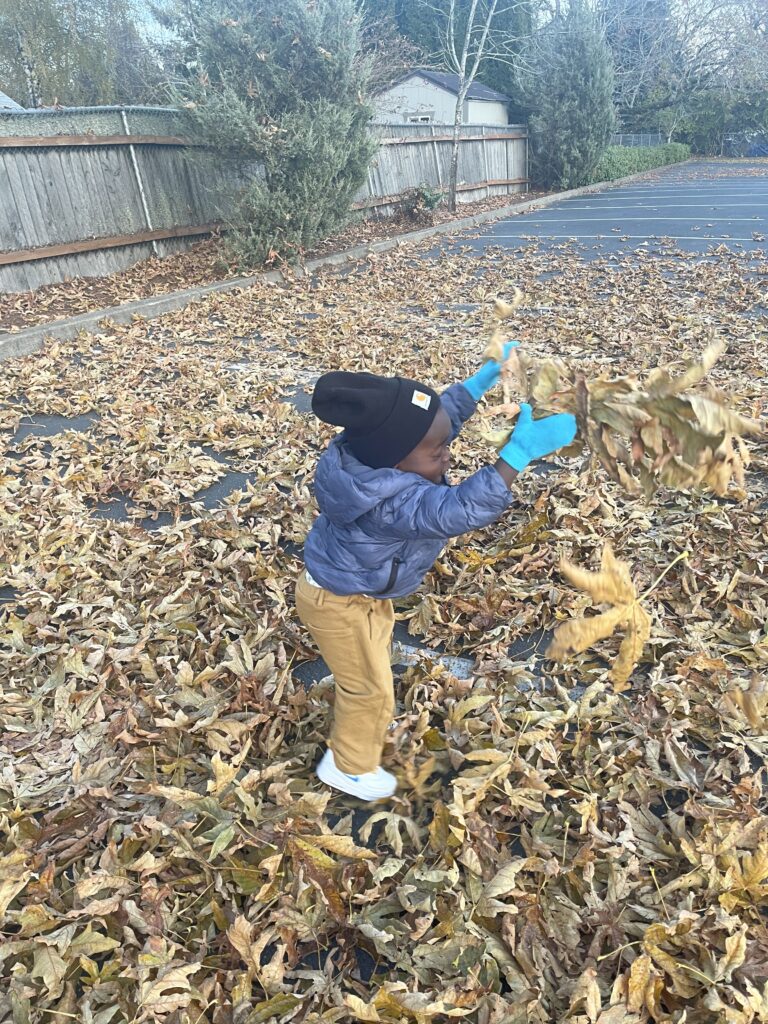 Last Sunday afternoon, we had both babies and did some serious leaf throwing while we were on a walk.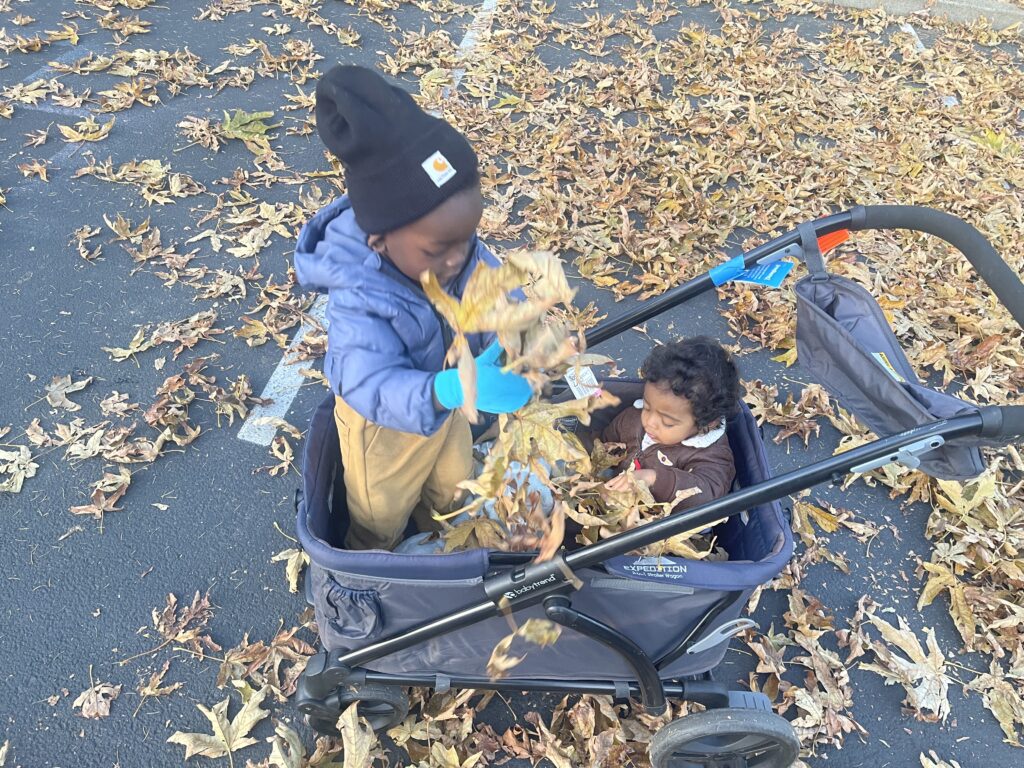 We all had fun!
After the whirlwind that was my past 2 weeks, I did absolutely nothing Friday. Nothing. I laid in bed, ate leftovers, played Candy Crush, took a nap, and read books. Saturday, we hit a few Black Friday sales, mostly on-line, and I did enjoy a trip to JoAnn's to finish up my remaining gift card. I'm glad I did rest up, because tomorrow is Monday! It all starts up again, first thing in the morning.
I am in the Christmas choir at church and our drama/singing is next weekend, so I need to go to practice every day except one, then do the performance 3 times over the weekend. I have not done anything like this for a very long time, and I'm excited to participate.